After countless Dakar rally victories, motocross series titles and enduro championships, it is natural progression for KTM (Europe's biggest motorcycle manufacturer) to share some of their vast experience and resources toward developing their Street bike segments.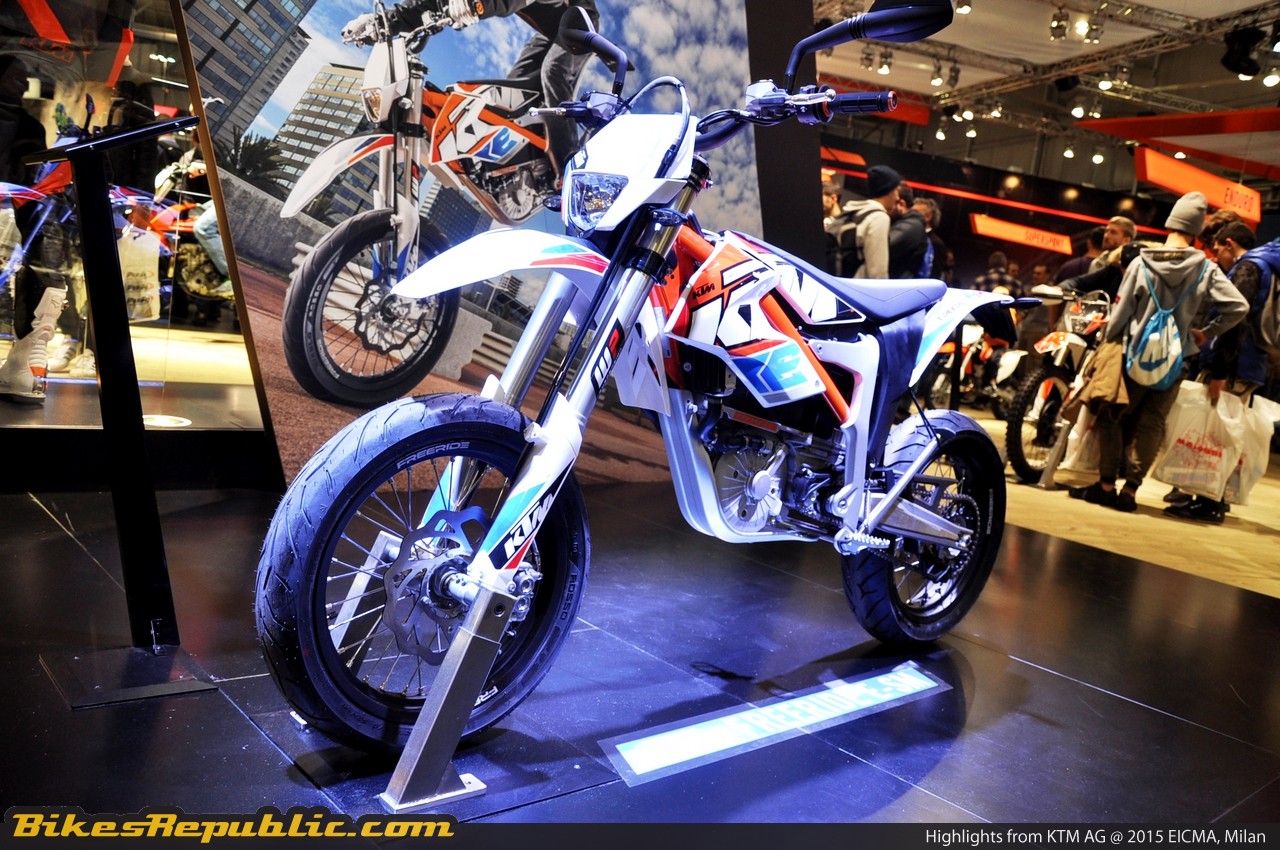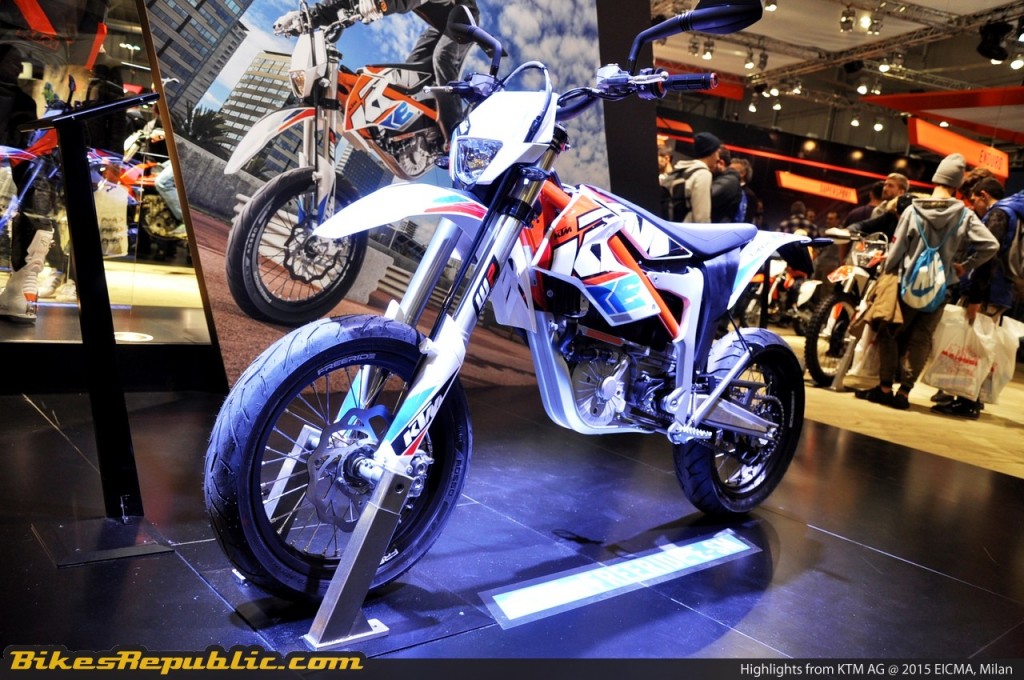 On one hand, KTM has been the first mass producer of motorcycles to commit to electric motorbikes; meaning it now enjoys a substantial development lead. On the other, KTM has kept up its commitment to the development of two-stroke engines for motocross and enduro models even though they were abandoned by many competitors.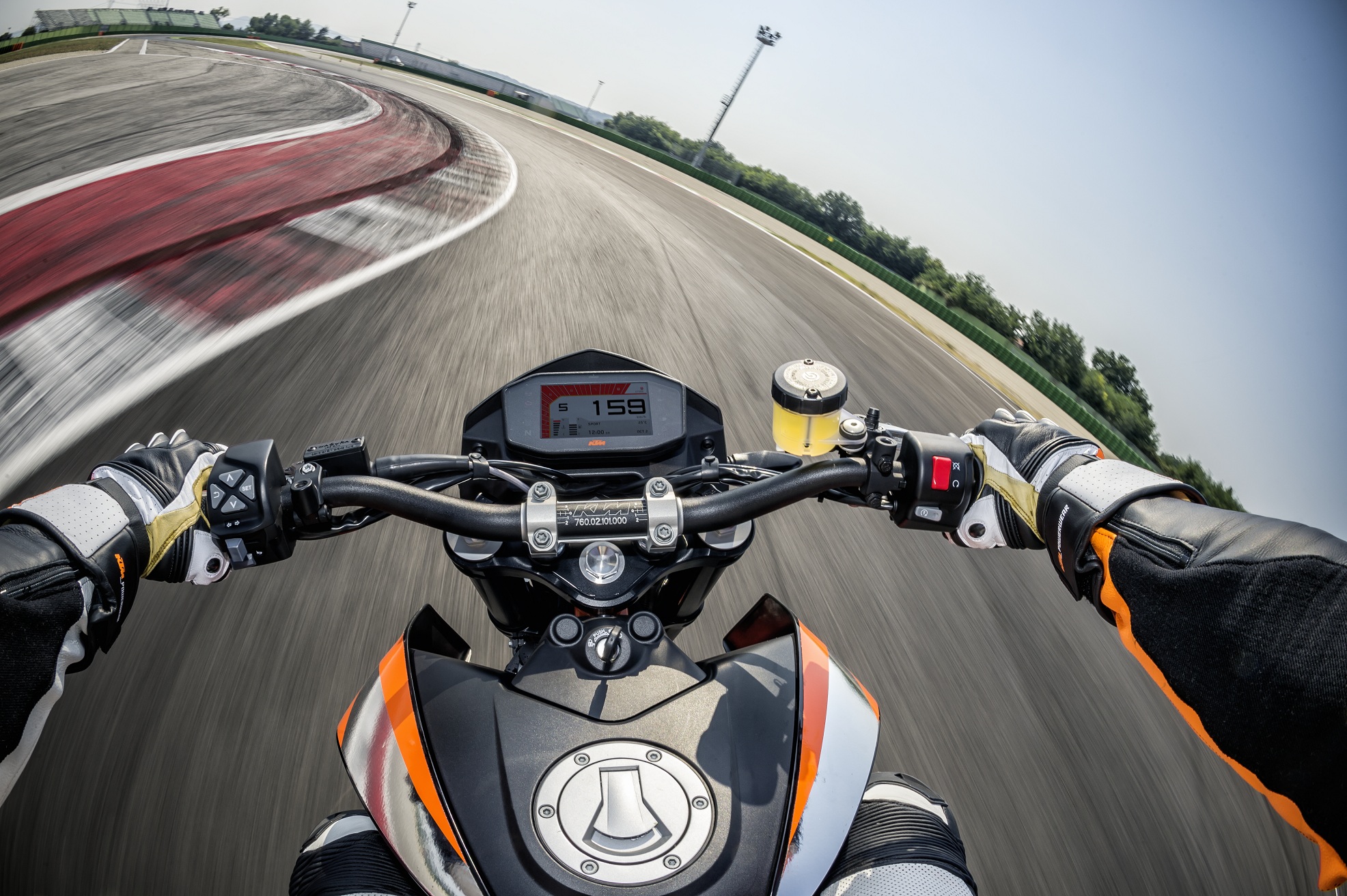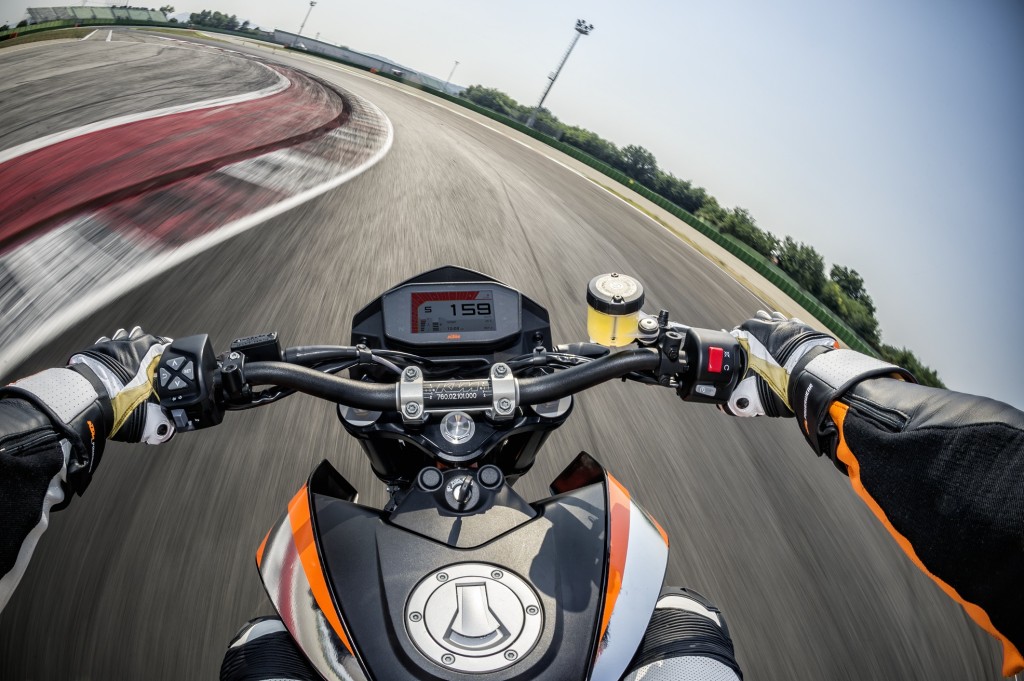 For 2016, KTM keeps expanding its two-cylinder Street models with the sensational LC8 engine, betting massively on electronic innovation such as the lean-angle sensitive ABS and stability control (MSC). Then again, the fans of the single-cylinder Duke cult are not neglected, but indeed spoiled with the introduction of the new 690 DUKE generation for 2016.
Here are the highlights of KTM's latest models for 2016:
1. KTM 1290 SUPER DUKE GT:
With the 1290 SUPER DUKE GT, KTM forcefully extends its Street range at the upper end of street bike's spectrum. The star for 2016 is a perfectly equipped, lightweight and agile marathon sprinter with plenty of power as well as a vast package of the latest riding assistance systems.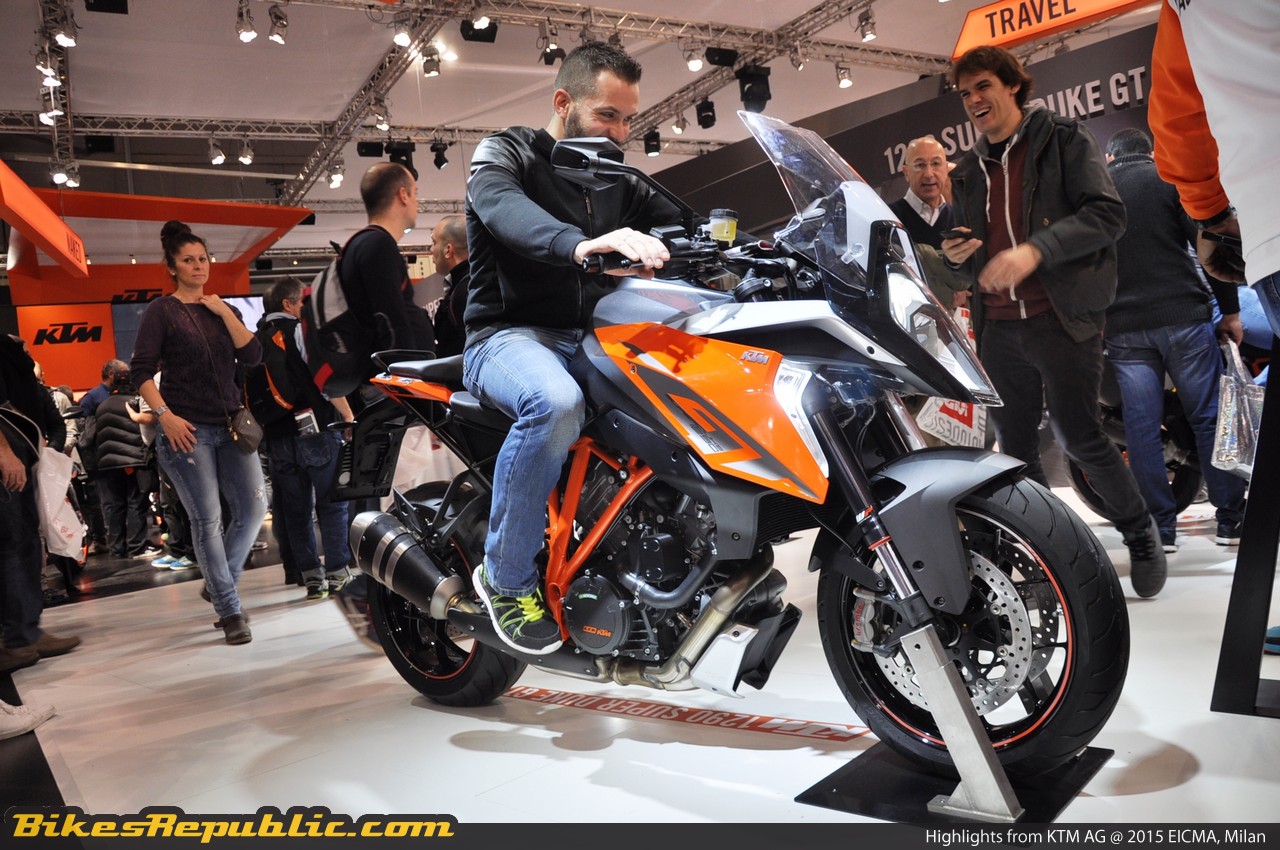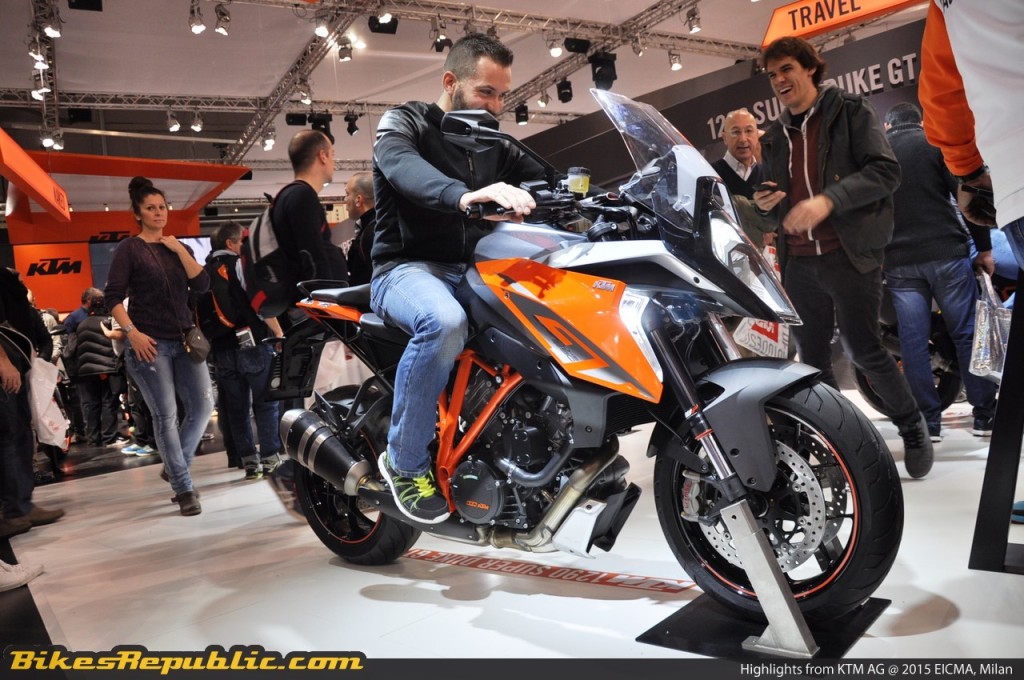 Besides the Motorcycle Stability Control (MSC), traction control and the C-ABS (both lean angle sensitive), it includes the latest KTM Ride Mode technology as well as a quick-shifter as standard.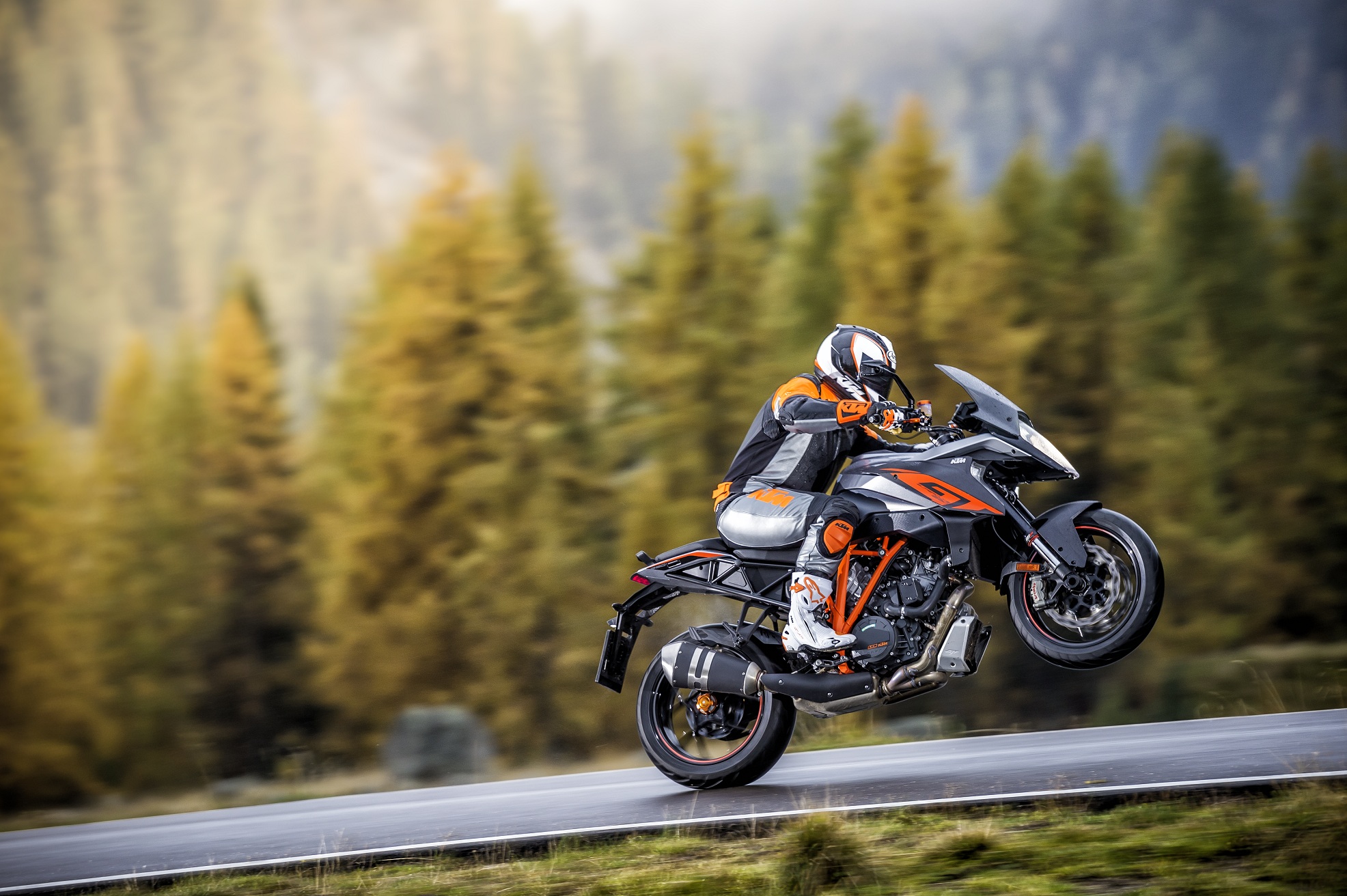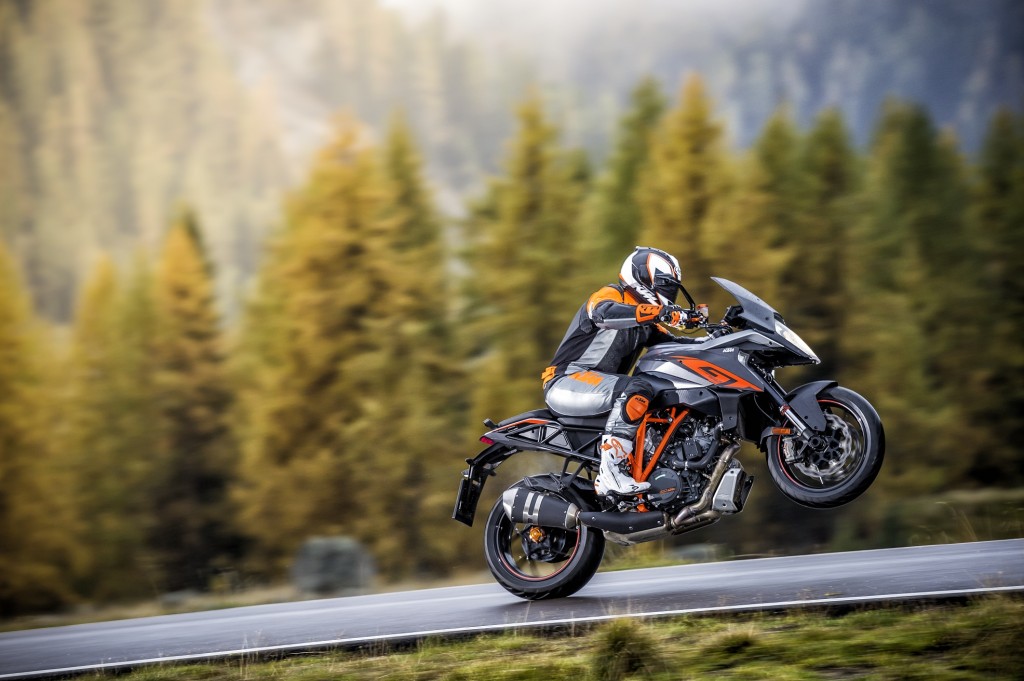 KTM shores up the long distance capabilities of the 1290 SUPER DUKE GT with a comprehensive touring package; a 23 liter tank, a lengthened rear subframe (with integral mounts for the optional panniers), heated grips, cruise control, comfortable seats, the wind and weather protection of an adjustable windshield, LED cornering lights and LED daytime running lights.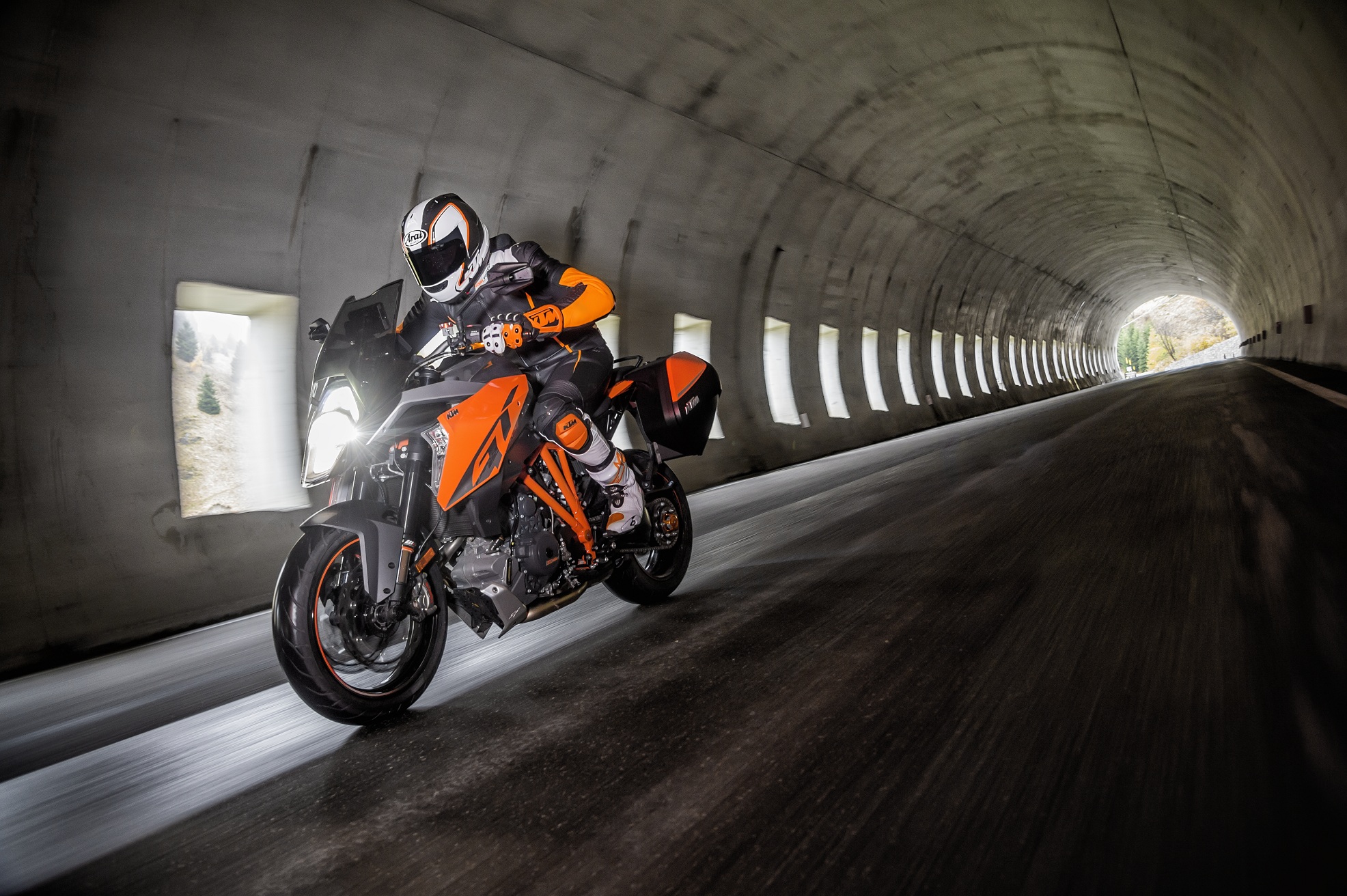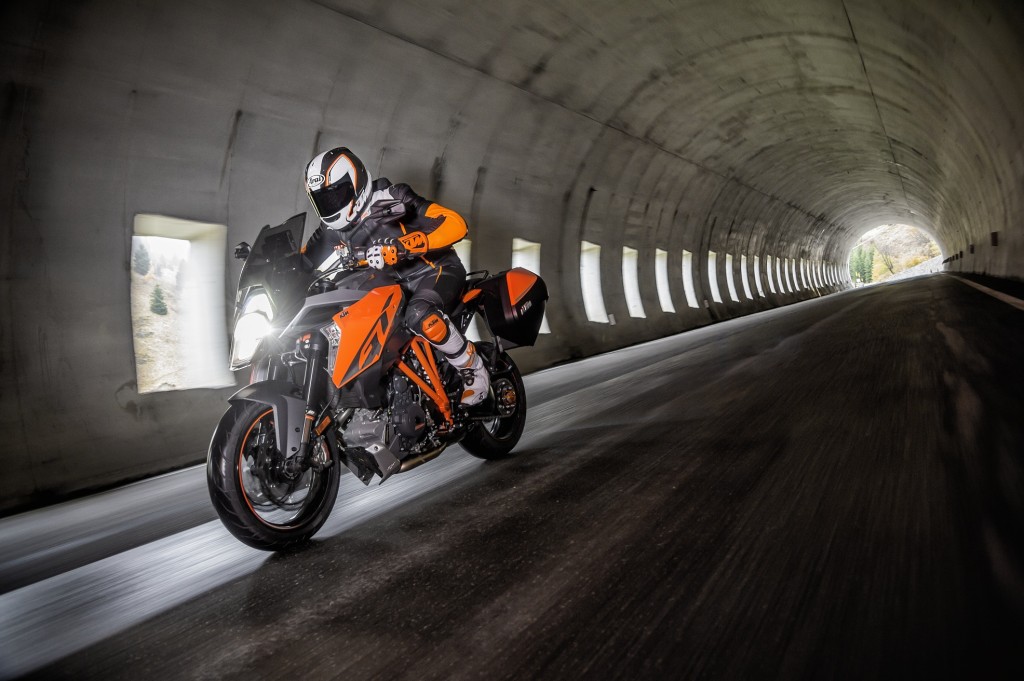 With a more than comprehensive equipment package as well as its 173hp LC8 engine and semi-active suspension, the 1290 SUPER DUKE GT masters the whole range from comfortable long distance motorway travelling to weekend thrills including the occasional track day visits.
2. KTM 690 DUKE
More than two decades after the very first DUKE, KTM launches a new generation of its popular street fighter in an impressive manner that the single cylinder engine is all but obsolete even in a Street bike whilst complying to Euro 4 emission control standards. The 690 DUKE is now more alive, more appealing and more modern than ever.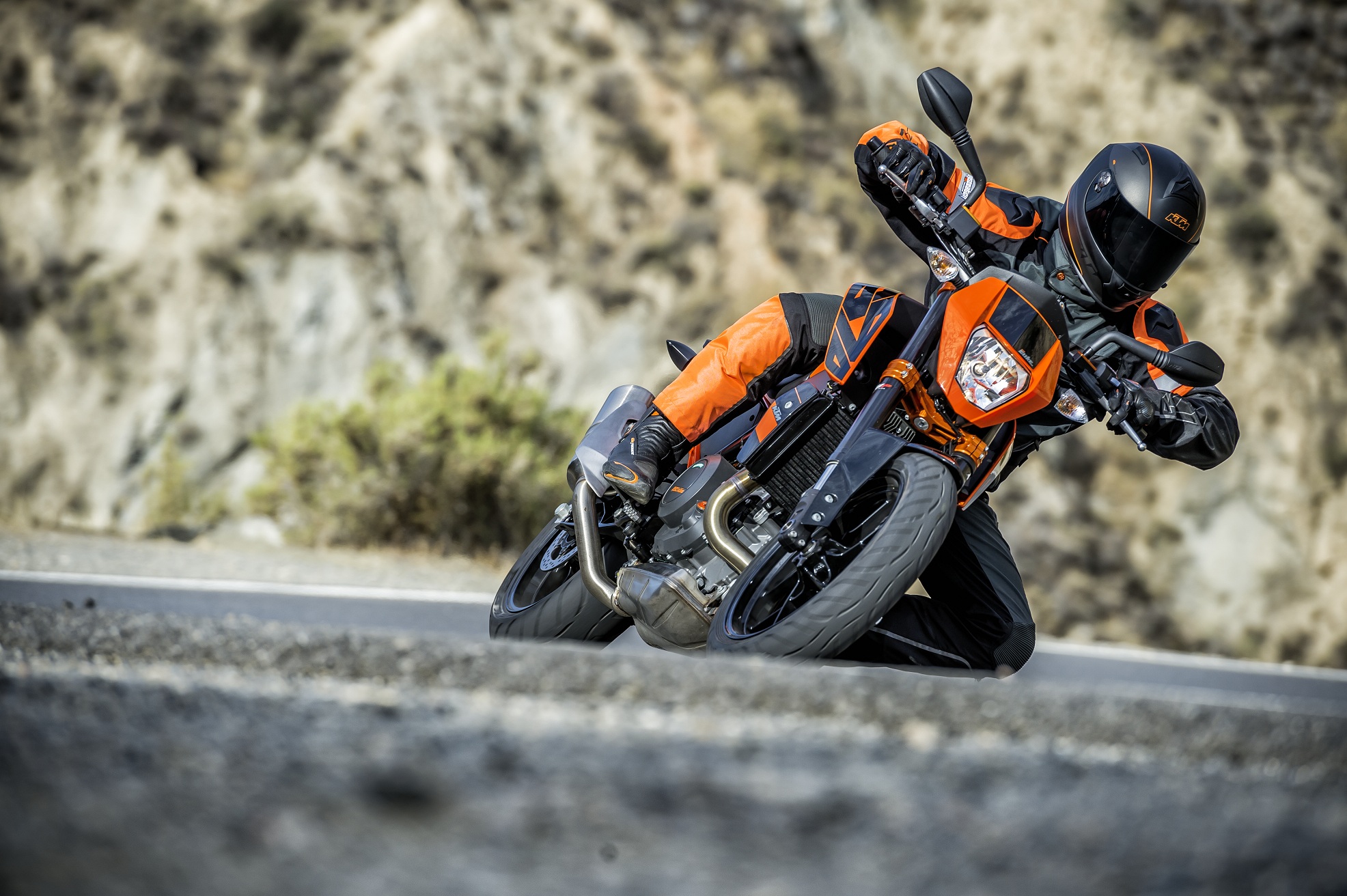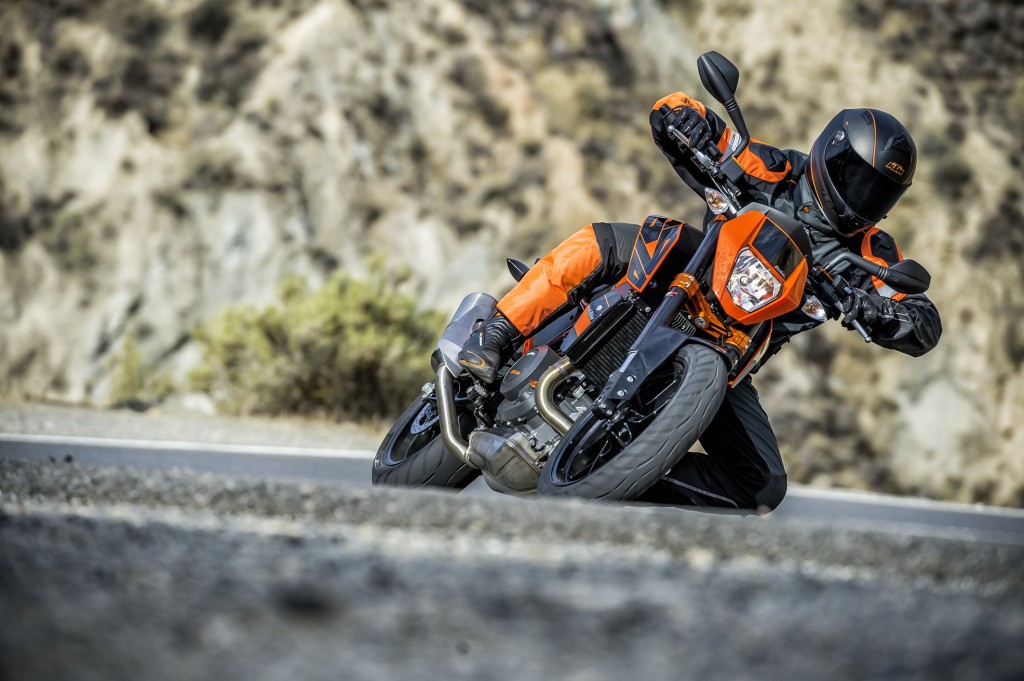 The brand new engine puts out a full 73 hp of maximum power. Despite this, it offers plenty of smoothness and refinement thanks to multiple balancers, as well as an even wider powerband than its predecessors. The modified steering geometry brings even more stability and precision to the agile chassis of the 690 DUKE.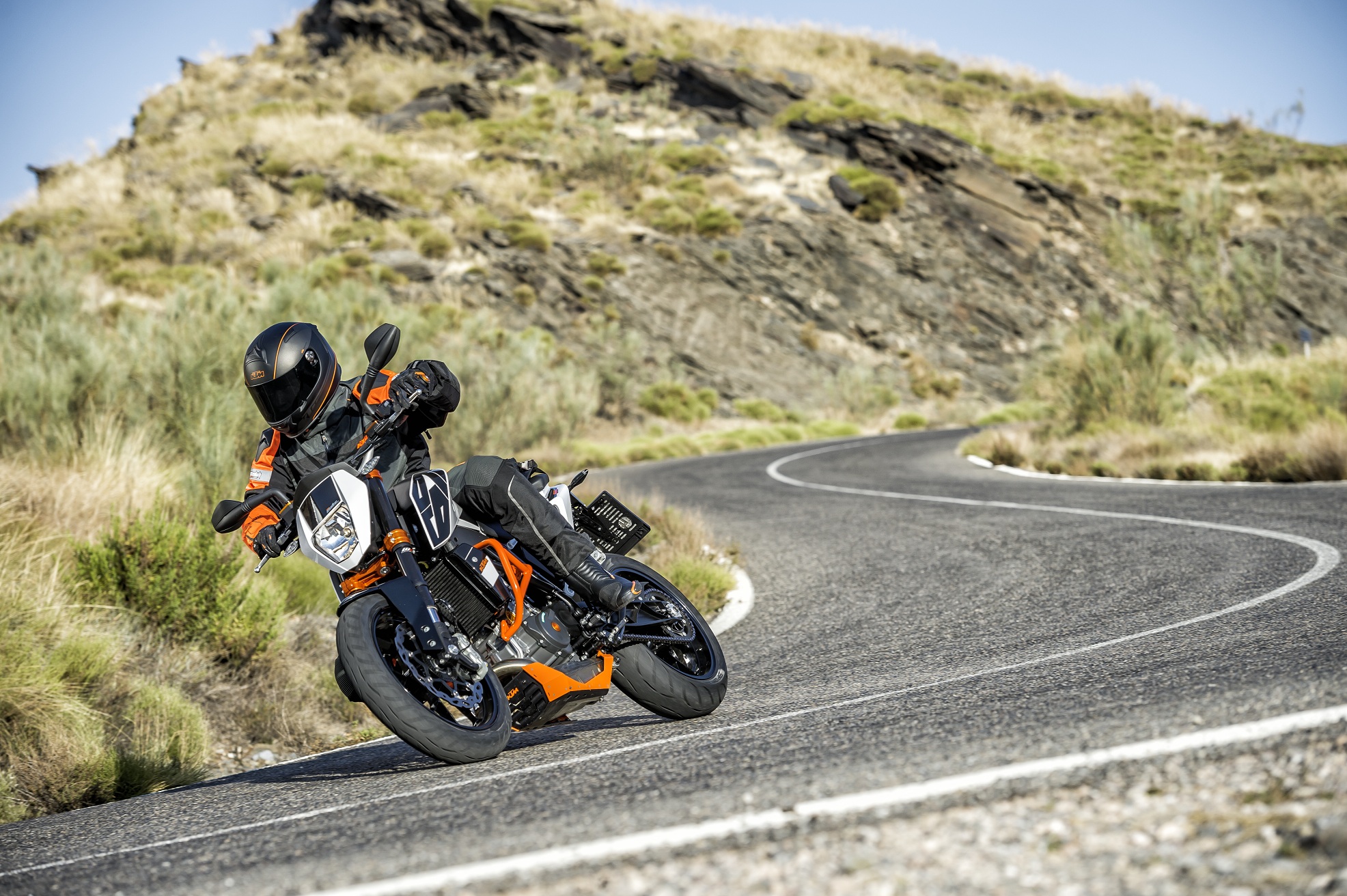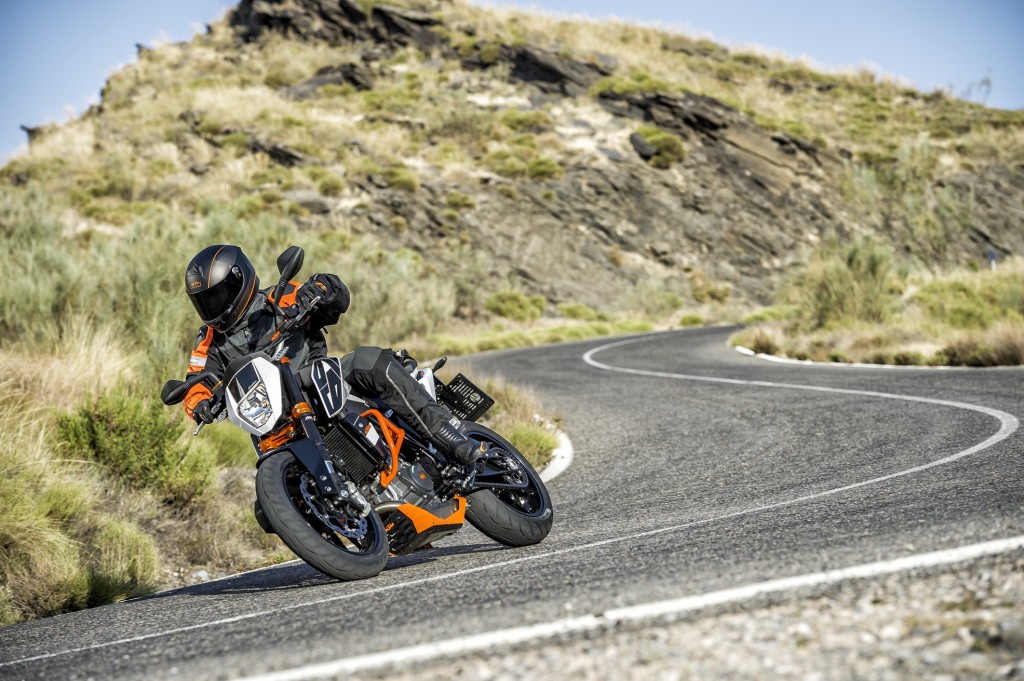 And there are lots of other perks as well, like the on-board computer, a large, multifunctional TFT color display and ABS as a standard. In addition, the potent single can be adjusted with an optional Track pack which includes a Sport and Rain Ride mode, Traction Control (TC), Motor Slip Regulation (MSR) and a Supermoto mode.
3. KTM 1290 SUPER DUKE R SPECIAL EDITION:
KTM proves year after year there is never a standstill moment in their Mattighofen HQ. This has also resulted in the Special Edition of the 1290 SUPER DUKE R (entering its third production year in 2016).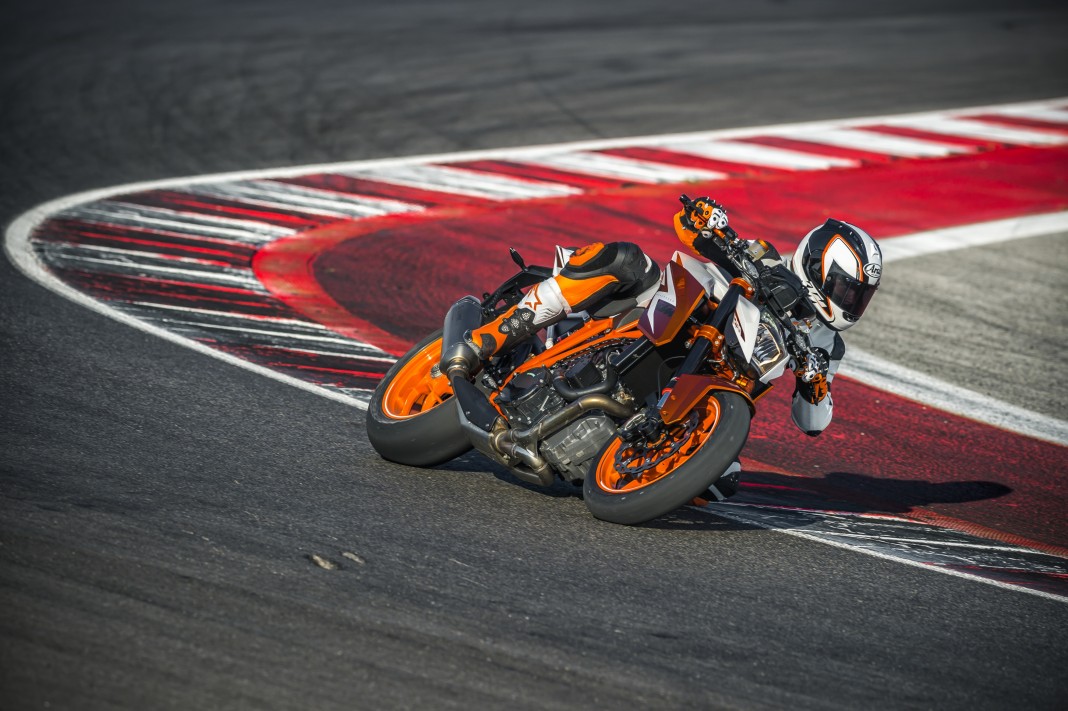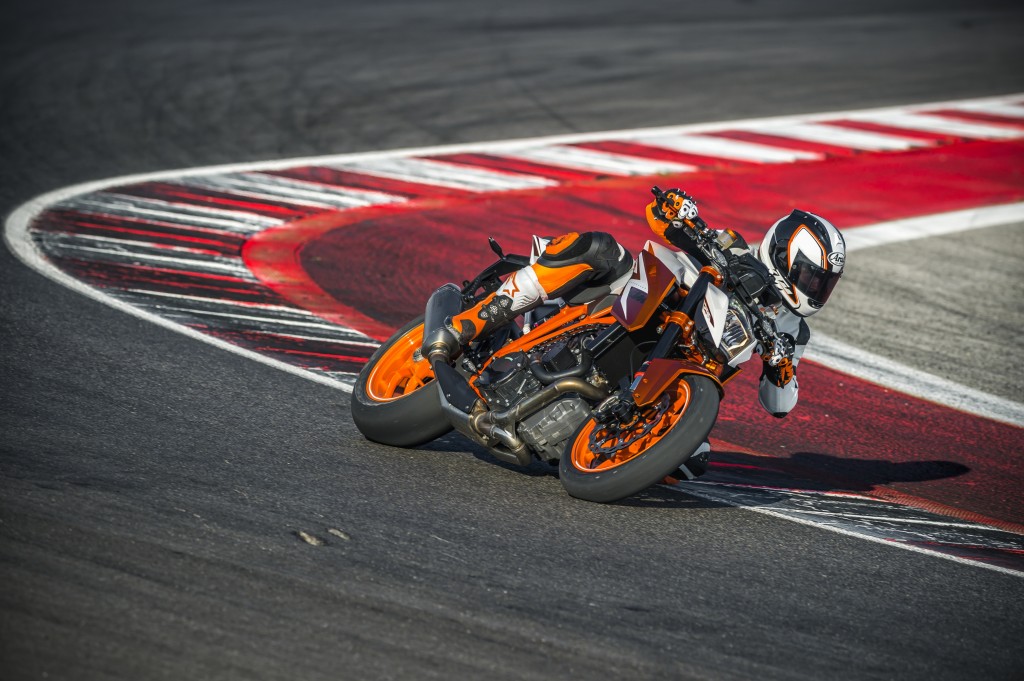 For all those who long for even less weight, even more sound and even more individuality, the new SDR model now comes with the SPECIAL EDITION package.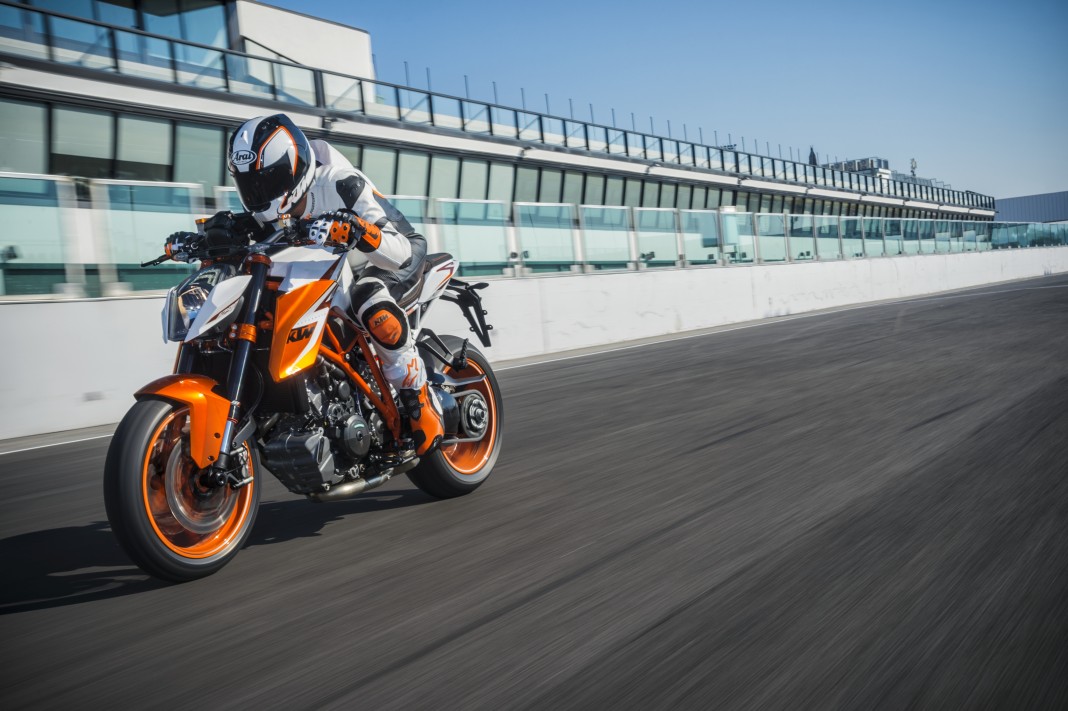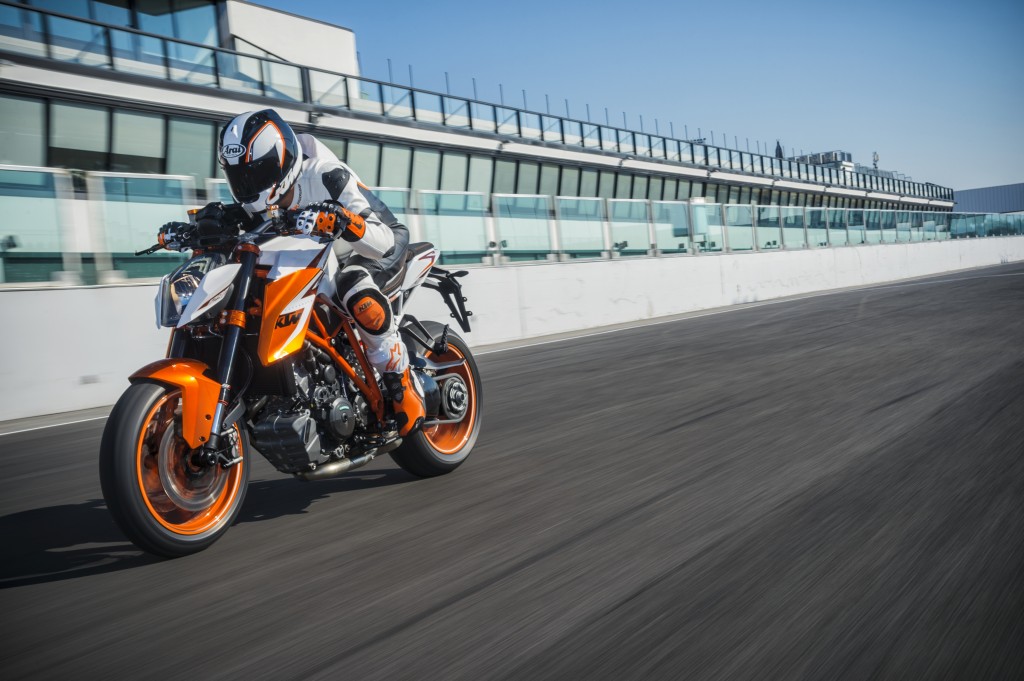 This upgrade treats 'The Beast' with a whole host of top quality KTM PowerParts; an Akrapovič titanium silencer (reduces the weight while adding extra sound), wave brake discs (offer better feedback and braking stability) for extreme USE.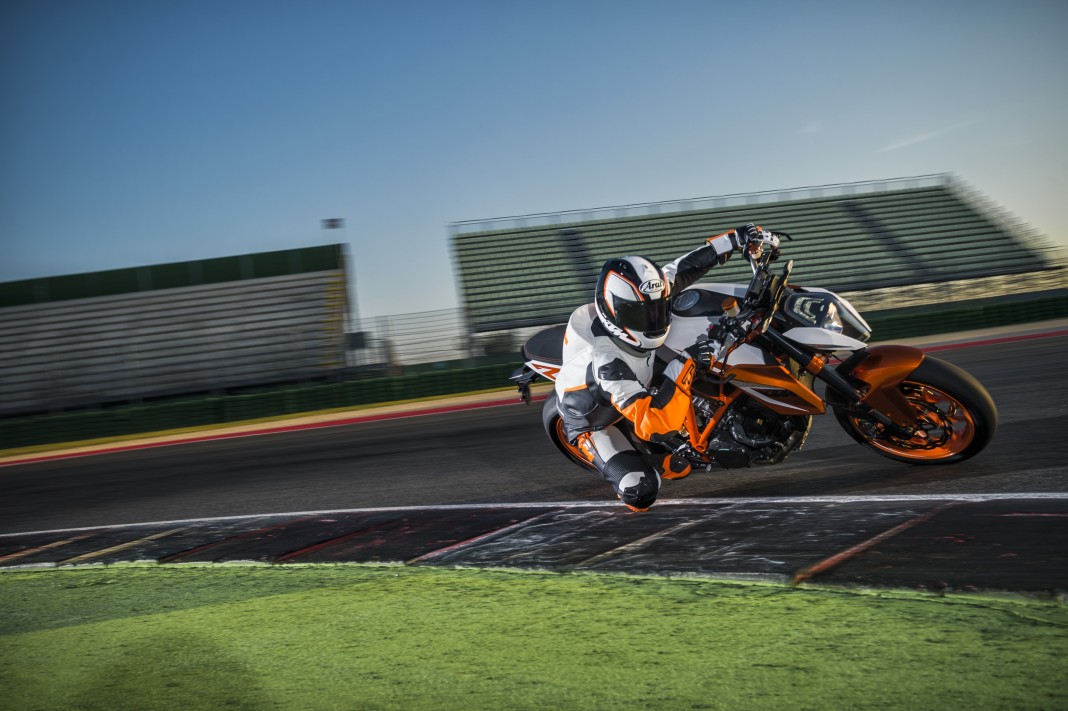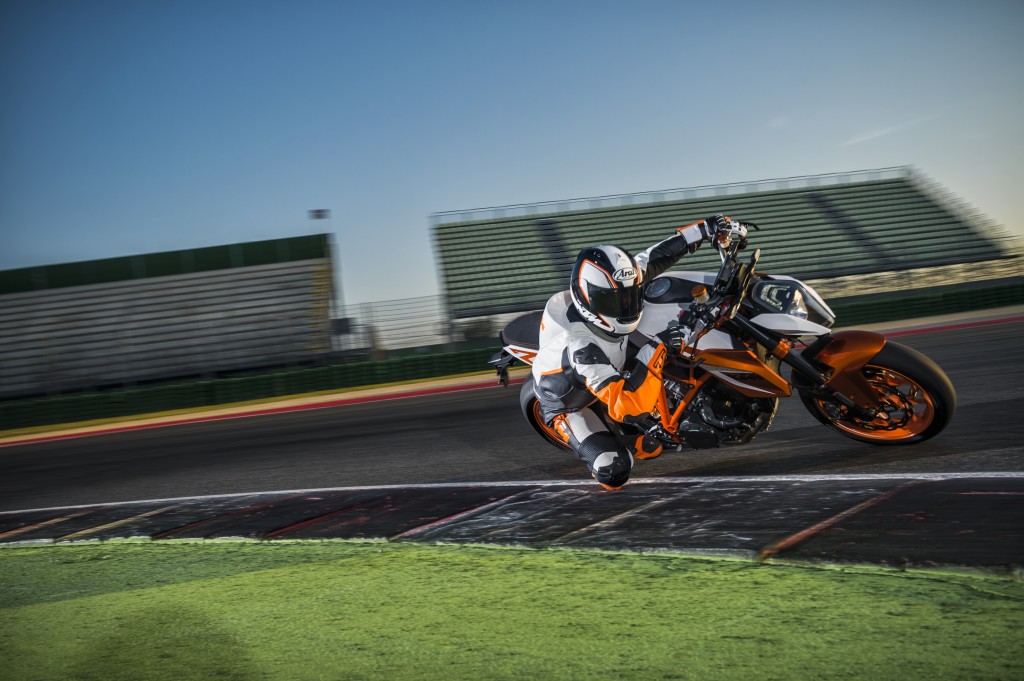 Stiffer CNC triple clamps help optimize steering precision under ferocious braking, coupled with the adjustable control levers. A revised seat profile serve to optimize ergonomics specifically for track use. Finally, a unique paint design and classy accessories (made of orange anodized aluminium or carbon fiber) make for exclusive finishing touches.
4. KTM 690 DUKE R
The new 690 DUKE is also available as an 'R' version for model year 2016, distinguished by a full 75 hp of durable maximum power.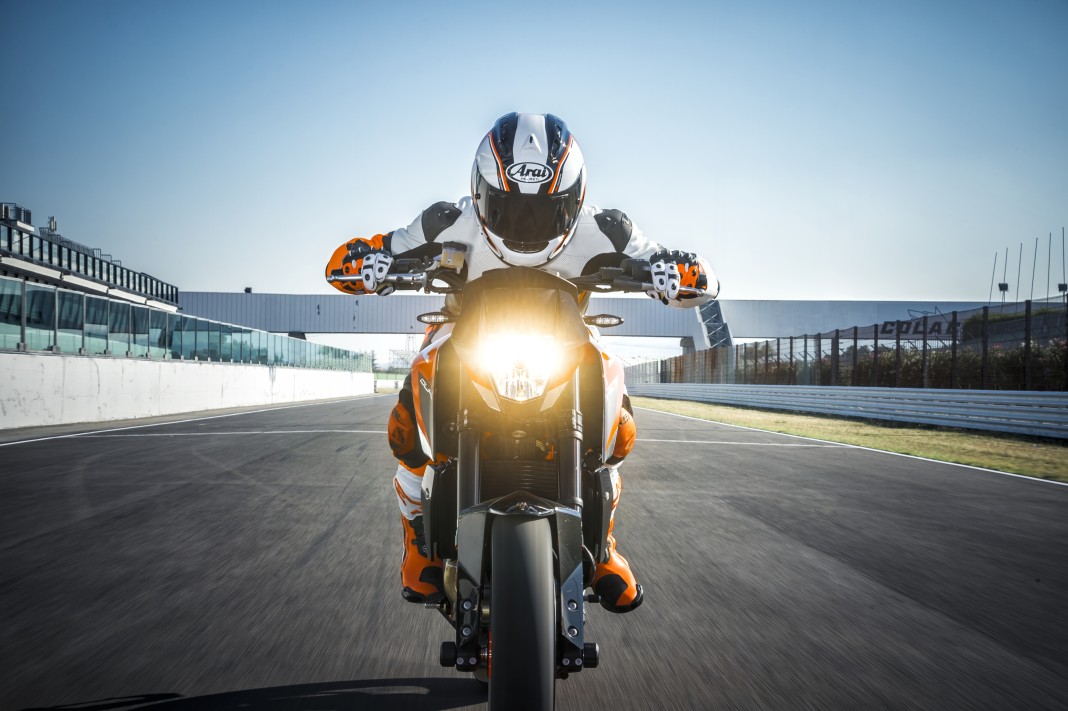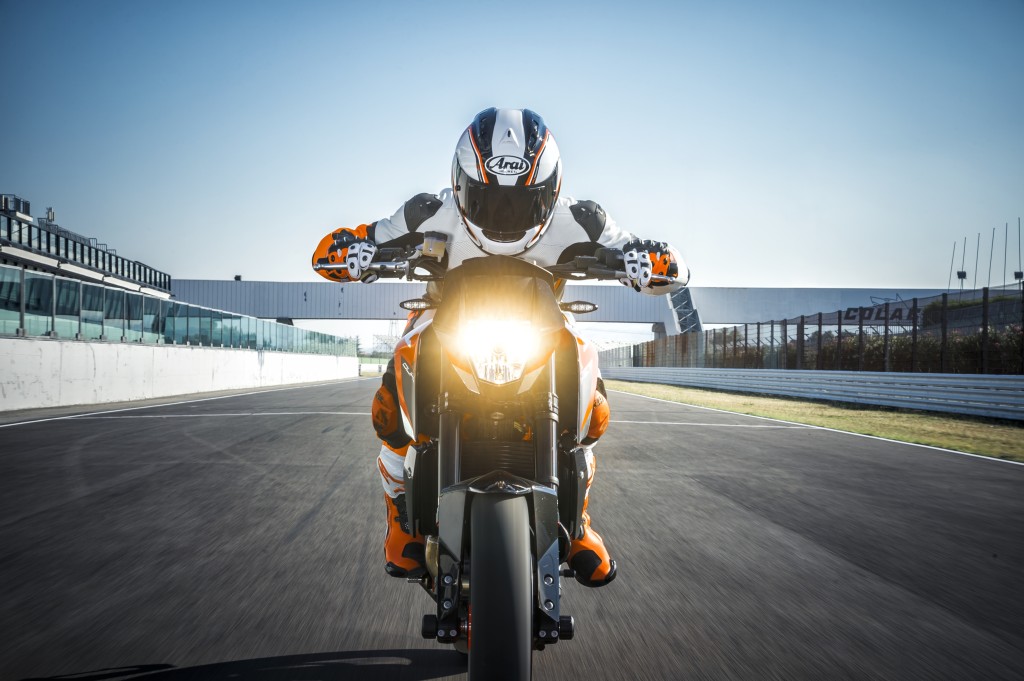 Among others, the extra horsepower is a result of the 690 DUKE R's high quality Akrapovič silencer. In addition, there is a Brembo Monoblock braking caliper and a fully adjustable WP suspension that also allows tuning and even greater lean angles than the 690 DUKE.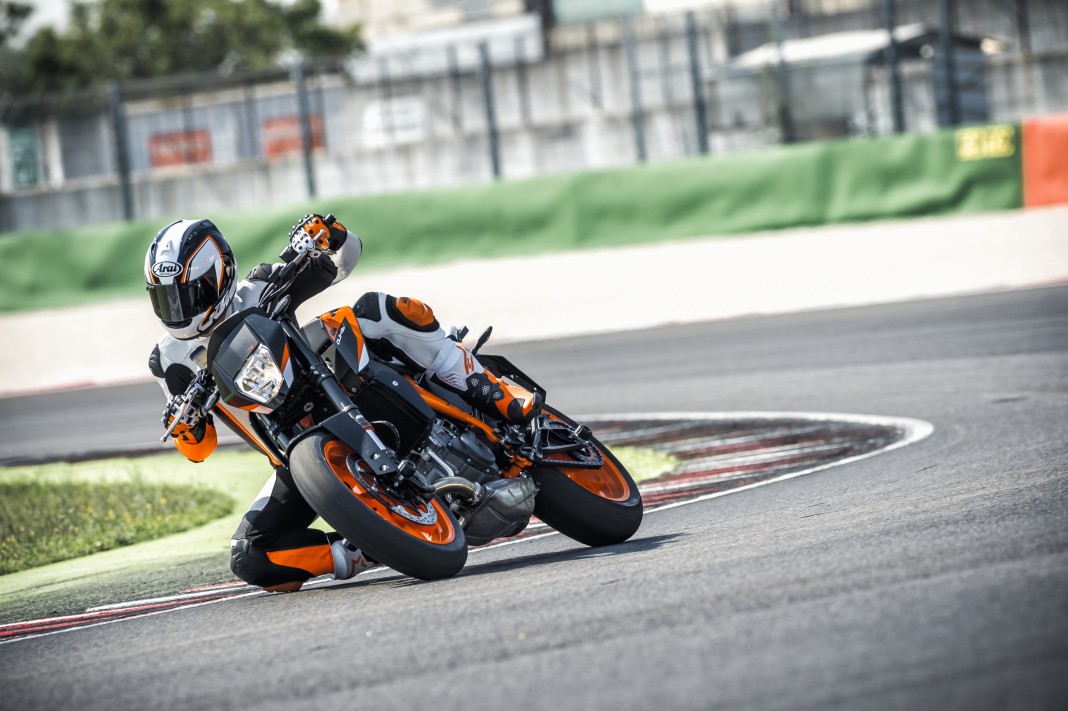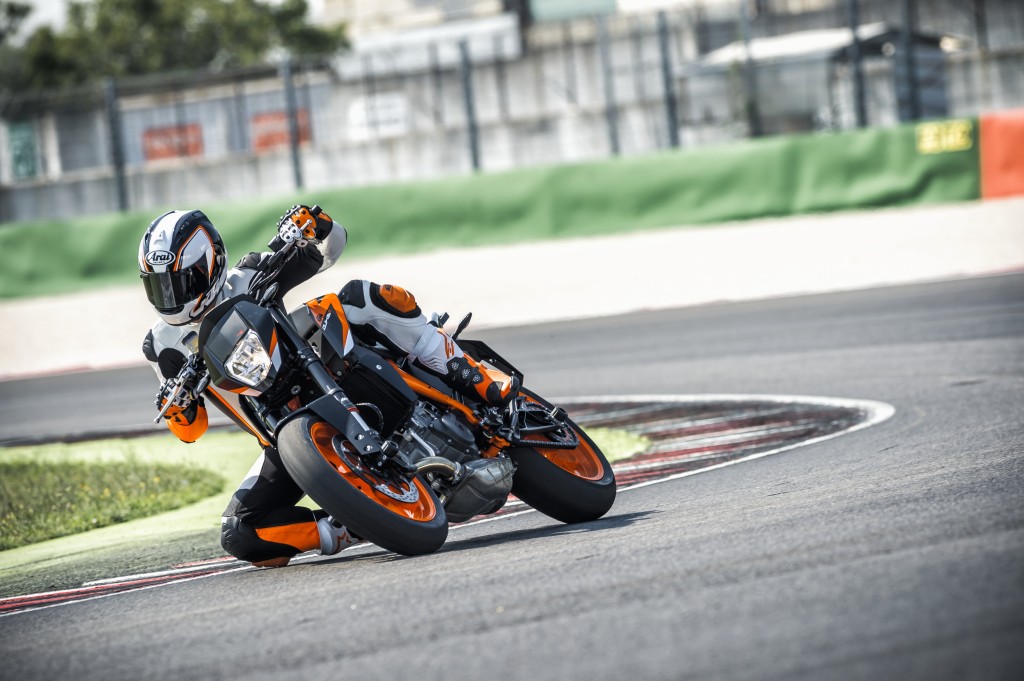 The 690 DUKE R comes equipped with lean angle sensitive ABS, Motorcycle Traction Control (MTC), Motor Slip regulation (MSR) and the Supermoto mode. Of course the 'R' also benefits from everything that is new about the 690 DUKE, like the KTM Ride Mode technology, the new TFT display and the updated steering geometry. Great-looking parts like the cutting edge LED indicators and racy pillion seat cover round off the 'R' package. Insiders recognize the 690 DUKE R at the first glance by its wheels and frame in the typical KTM Orange.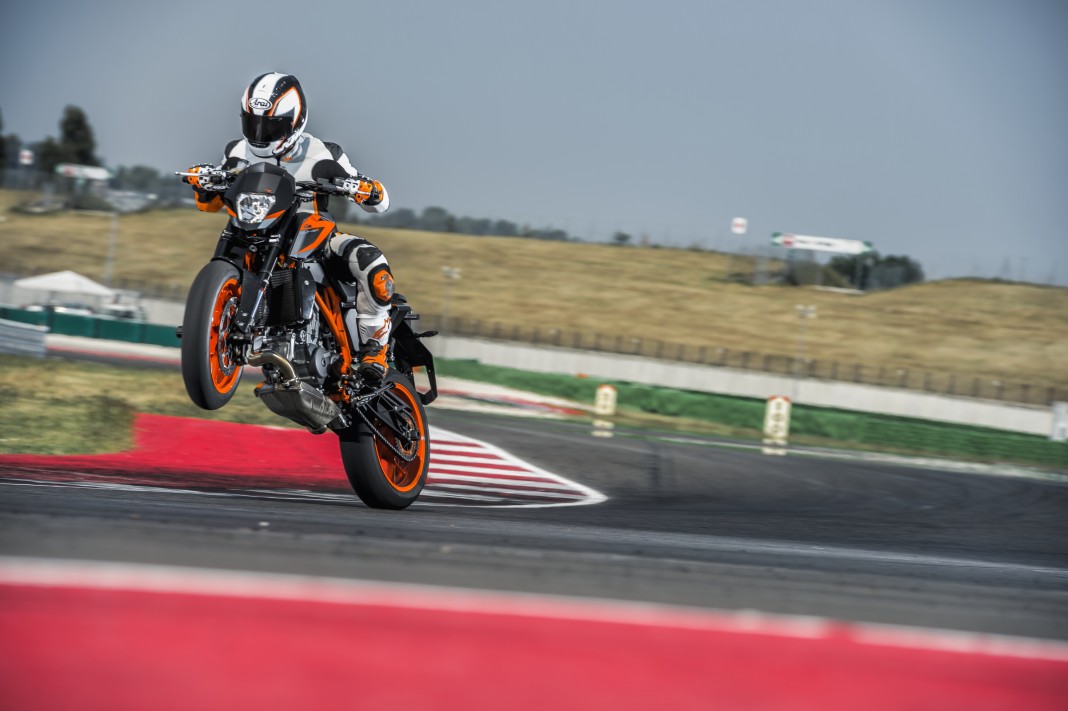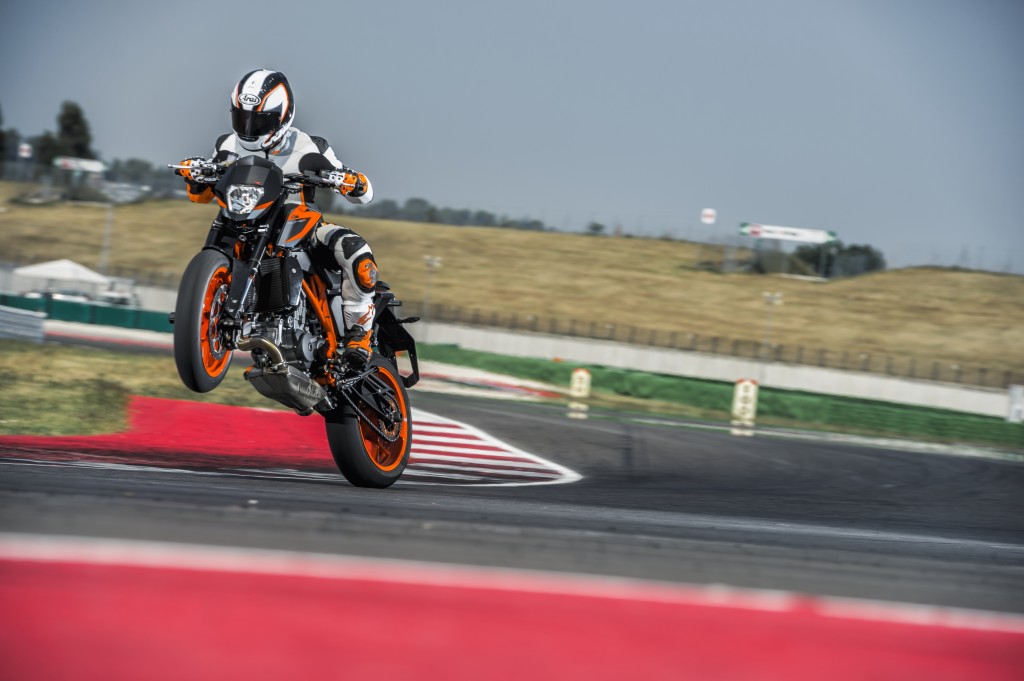 So we've gone through the 4 latest street bikes by KTM AG.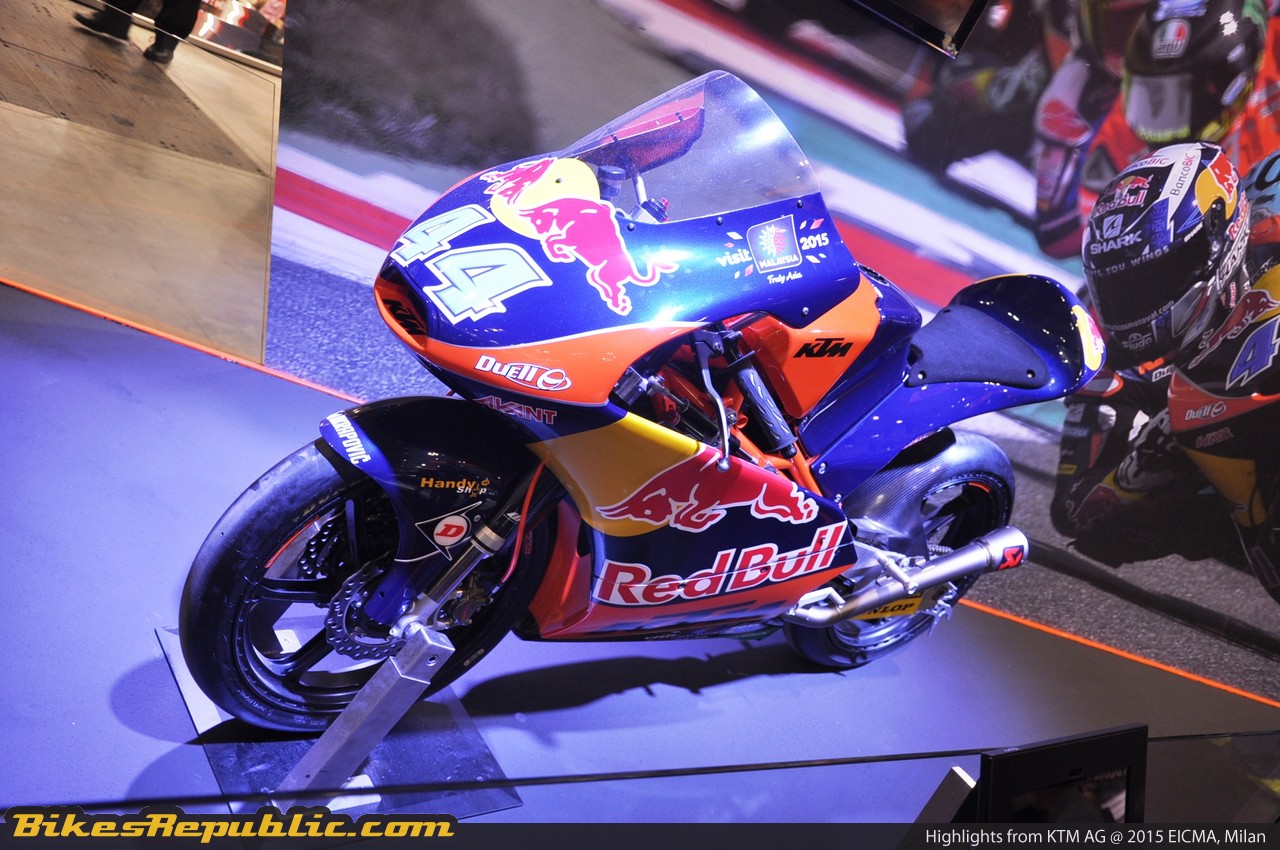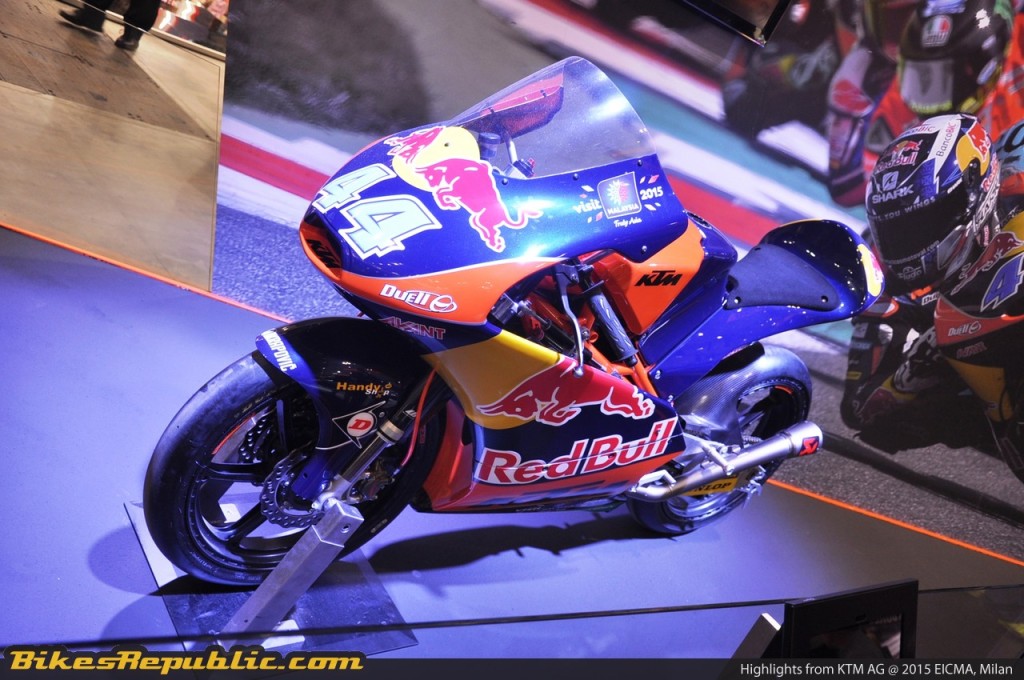 With a positive attitude of the 'doers' at KTM reflected on their street bikes, offroad thumpers and race-track machines all over the world, they all share the goal of being among the best. So far, they are doing a great job at that!