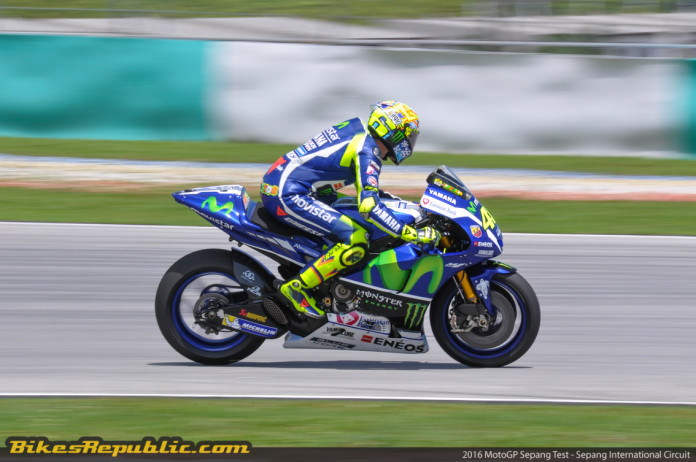 Recap of the first two days of the 2016 MotoGP Sepang Test sessions.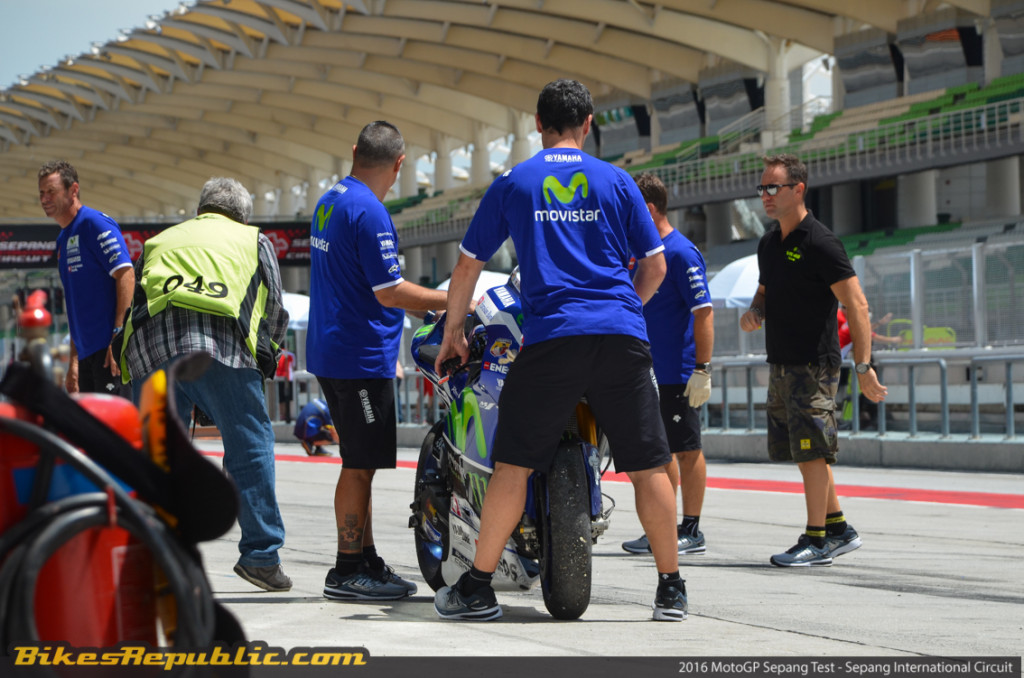 2016 marks a turning point in MotoGP. Several changes were made in the technical regulation, most notable which being the introduction of new spec-ECU and the supply of new spec-tyres from Michelin.
The first pre-season tests were already done about three months ago in Valencia, Spain, but this second round of testing in Sepang, Malaysia has been regarded as the 'true test' for all teams and riders.
Day 1
Despite the scorching heat and the heavy downpour that followed it, Day 1 in Sepang was productive to say the least. It appears most teams have gotten to grips with the FIM-regulated controlled ECUs. More importantly though, riders and teams were granted with improved new tyres supplied by Michelin this time round, and all signs look rather positive.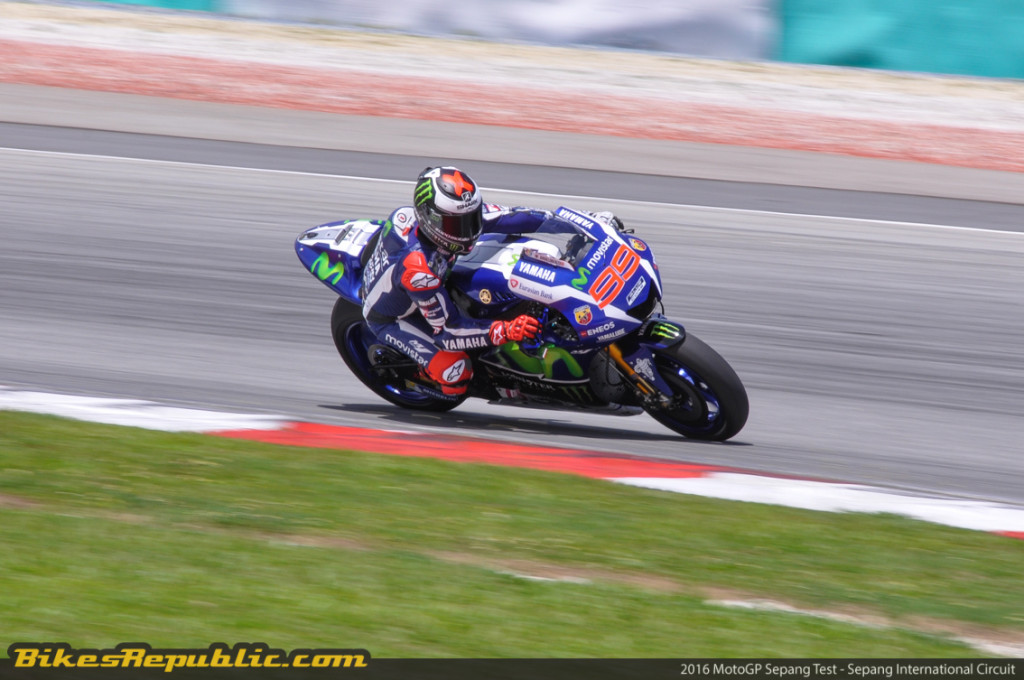 Reigning world champion Jorge Lorenzo asserted his authority early on, dominating the time sheet on Day 1 after lapping the 5.5km-long Sepang International Circuit (SIC) with his fastest time of 2:00.684. Not far off the pace was teammate and title challenger Valentino Rossi with his best time of 2:01.717 ranking him second fastest.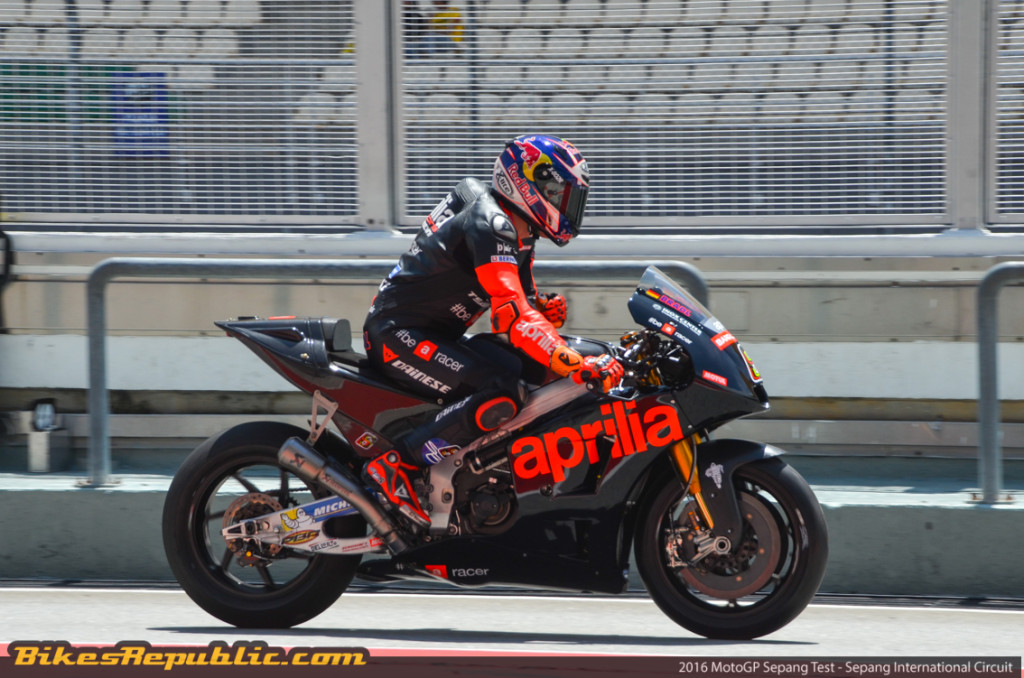 Dani Pedrosa led the Repsol Honda factory team's efforts after ranking third fastest by clocking in his best time of 2:01.780, whilst teammate and former world champion Marc Marquez trailed further down in seventh with his best time 2:02.278. Since Valencia, the factory Honda outfit has shown some signs of struggle, with both teams and riders aiming to remedy issues surrounding the 2016-spec RC213V as they entered the Sepang tests.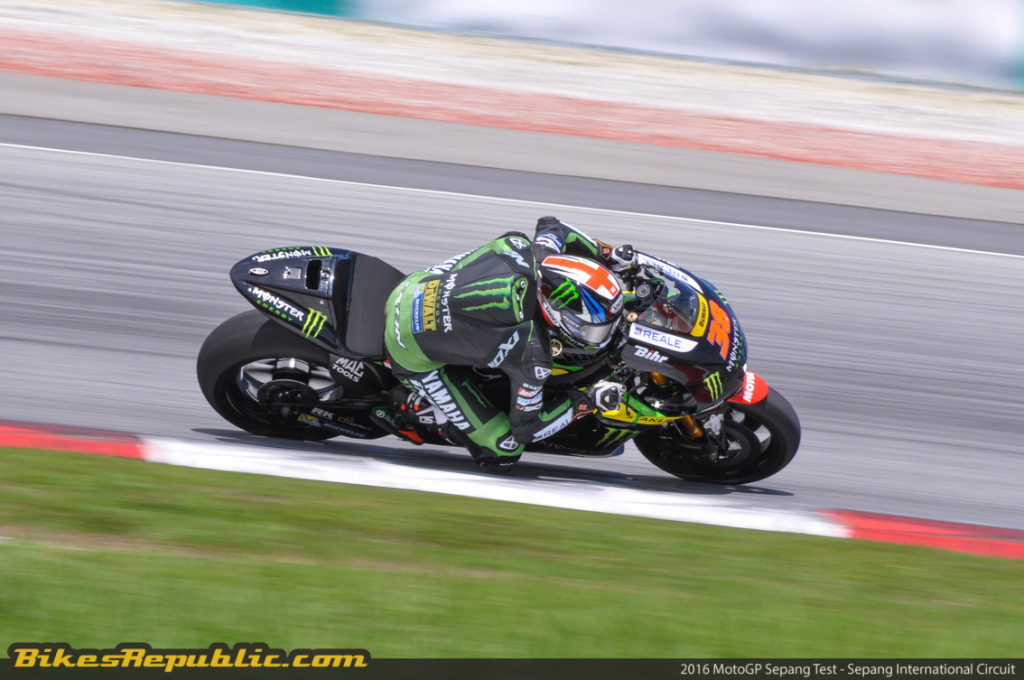 Notably, Day 1 saw some of the satellite teams coming in close to the timing of some of the leading factory bikes. One example came when satellite Ducati-powered Octo Pramac rider Danilo Petrucci's time outperformed factory Ducati rider Andrea Ianonne's time, allowing the former to rank fourth fastest whilst Iannone settled for fifth.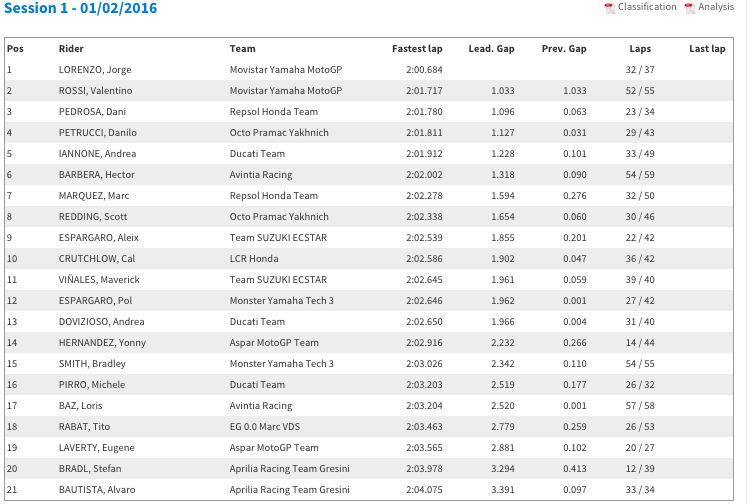 Day 2
The shift to focus on hard tyres led to surprising turn of events today as Jorge Lorenzo sees his best time sandwiched in second place between two satellite Ducati bike and riders. The reigning world champion fell in the early parts of the day, reducing his seat time astride the 2016 Yamaha YZR-M1 race machine. He would eventually rank as the day's second fastest at 2:00.155 – roughly half a second better than his time set in Day 1.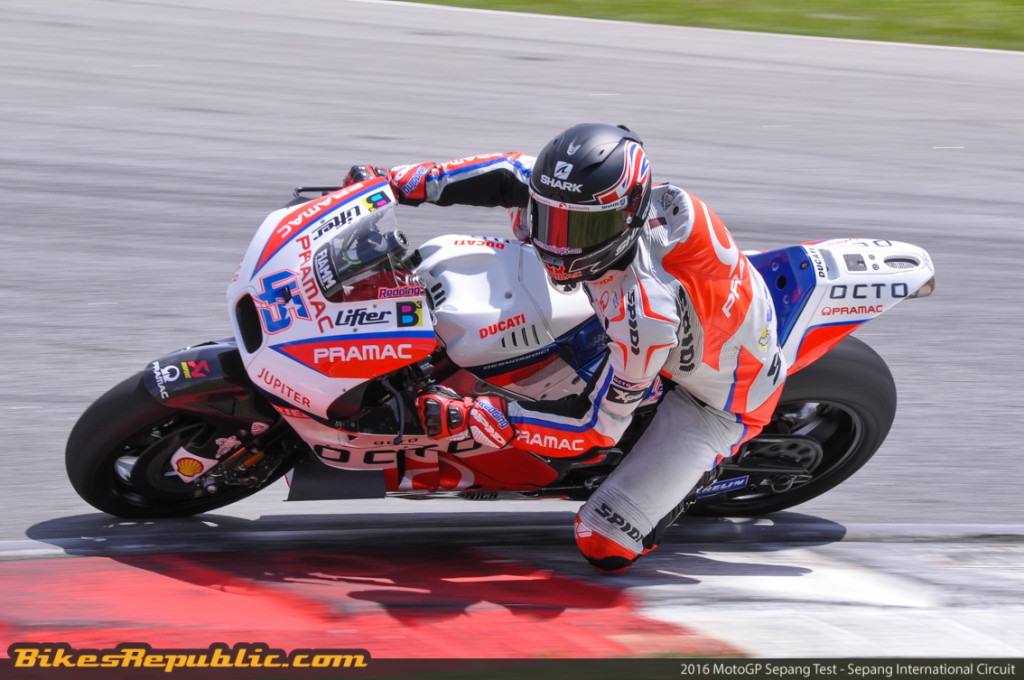 The surprise here were the performance of two satellite Ducati bikes. Ranked as the day's fastest was Octo Pramac Yakhnich Ducati rider Danilo Petrucci who clocked in a blistering time of 2:00.095. The day's third fastest time also belonged to a satellite Ducati bike and rider, this time by Hector Barbera astride the Avintia Racing machine.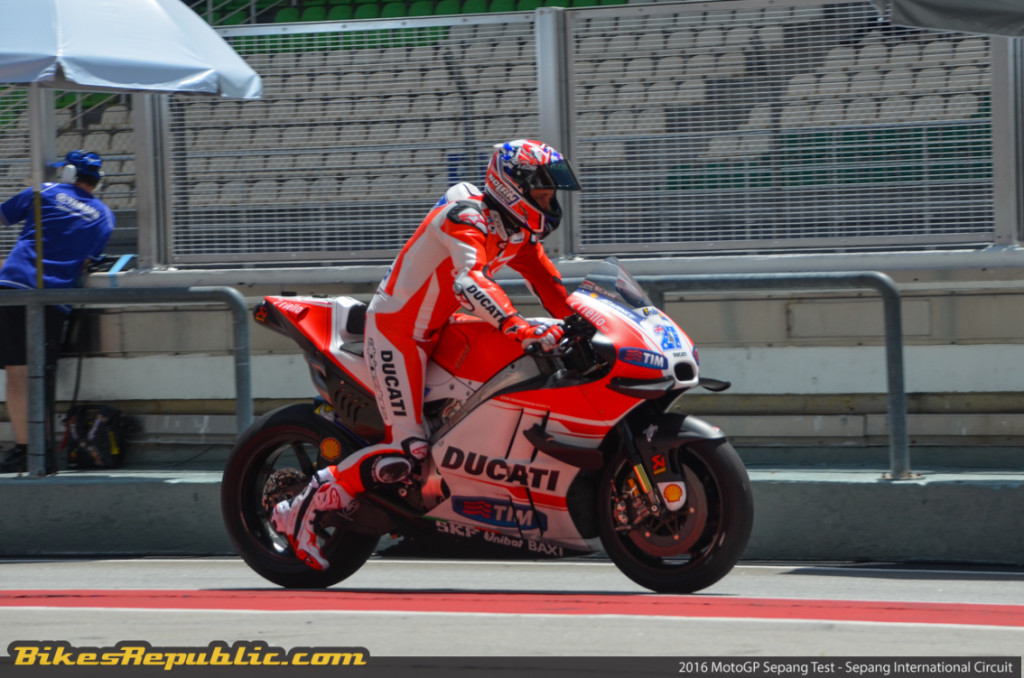 Most riders logged in a plenty of laps today under the clear but scorching hot weather of Sepang. But the biggest news today was the sight of Casey Stoner making his testing return. Fresh off the factory Ducati team's private test session over the weekend, Casey joined the field today to log in 45 laps around Sepang.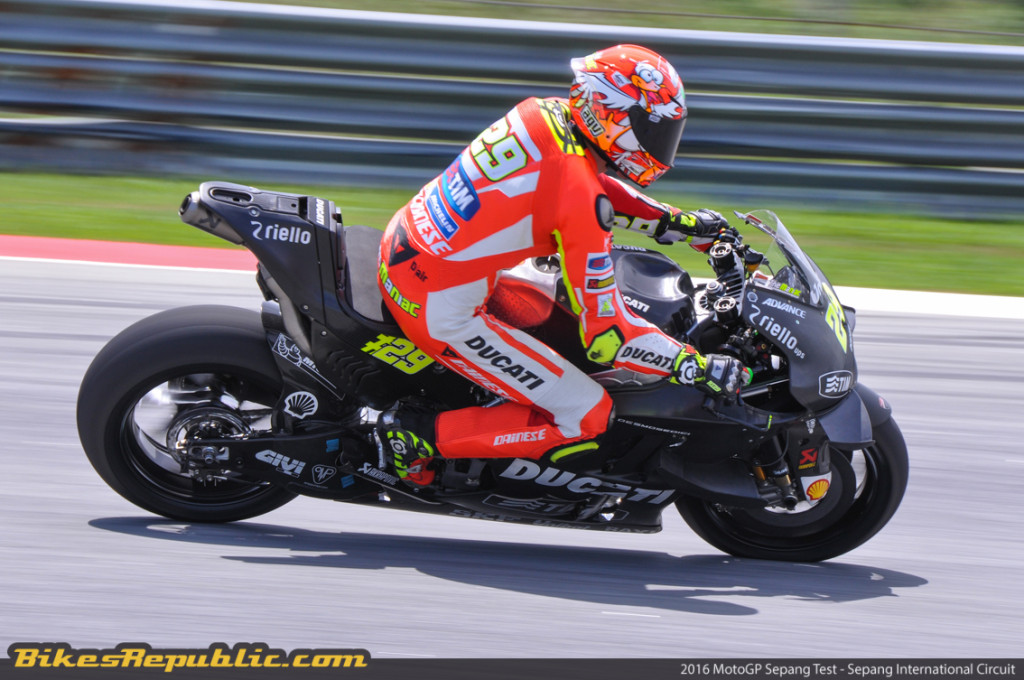 By day's end, he would rank ninth fastest after clocking in 2:01.103 – only slightly off the pace of leading factory Ducati rider Andrea Iannone who stood as the eighth fastest rider with his best time of 2:01.052.
Day 2's timesheets pose stark differences compared to the previous day's sheet as the top 10 ranks featured a good mix of both satellite and factory team riders and machines. The dominating times set by the two satellite Ducati bikes in first and third is perhaps an indicator of the new spec-ECU rule being at play.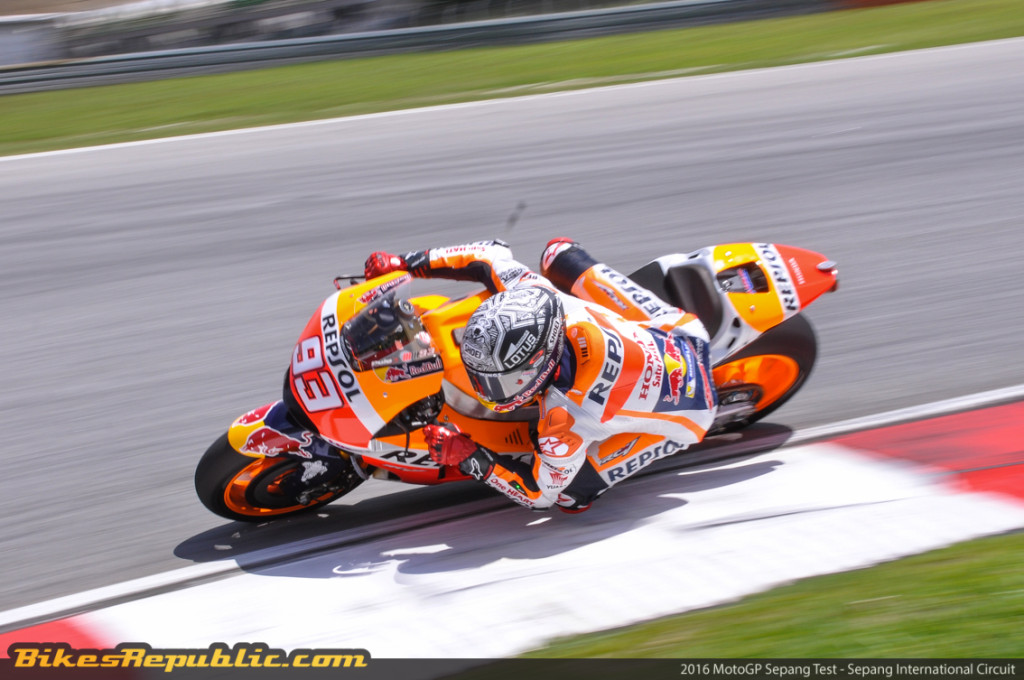 However, it is the Michelin tyres that are under the microscope today following an incident involving Avintia Racing rider Loris Baz. Word around the paddock indicates that the soft compound tyre he was testing exploded during the test, resulting in a dramatic crash on-track. Not much is being said about it, but more details are expected following a last-minute meeting held on-circuit after the day's session ended.
We will have more as we cover Day 3 on the ground here in Sepang tomorrow. In the meantime, you can see more images in our extensive gallery posted below.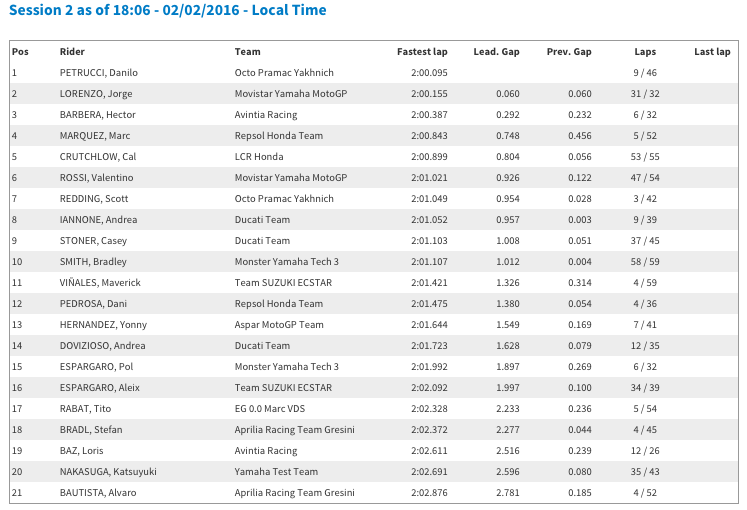 2016 MotoGP Sepang Test – Day 2