Tree Movement (M) Sdn Bhd has finally announced that their first 2017 Treeletrik T-90 electric scooter is finally available for purchase.
The announcement was made earlier today when Tree Movement elected MyANGKASA as their official Malaysian distributor during the signing ceremony held at the Royal Chulan Hotel, Kuala Lumpur.
The 2017 Treeletrik T-90 lead acid battery variant is priced at RM10,494 (basic price with GST) while the lithium-powered version will be announced very soon.
Local electric vehicle firm Tree Movement (M) Sdn Bhd has just announced that their flagship 20117 Treeletrik T-90 electric scooter is finally ready for public purchase starting from today. The announcement was made earlier today during a signing ceremony with the National Malaysian Co-operative (ANGKASA) as their main distributor here in the country.
Treeletrik has actually introduced their range of electric-powered scooters back in July 2016 when their made they made their first ever grand debut. With an entire range ready to lead the market share of electric motorcycles here in the country, their first ever Treeletrik T-90 is now ready and waiting at all of their authorised showrooms around the country.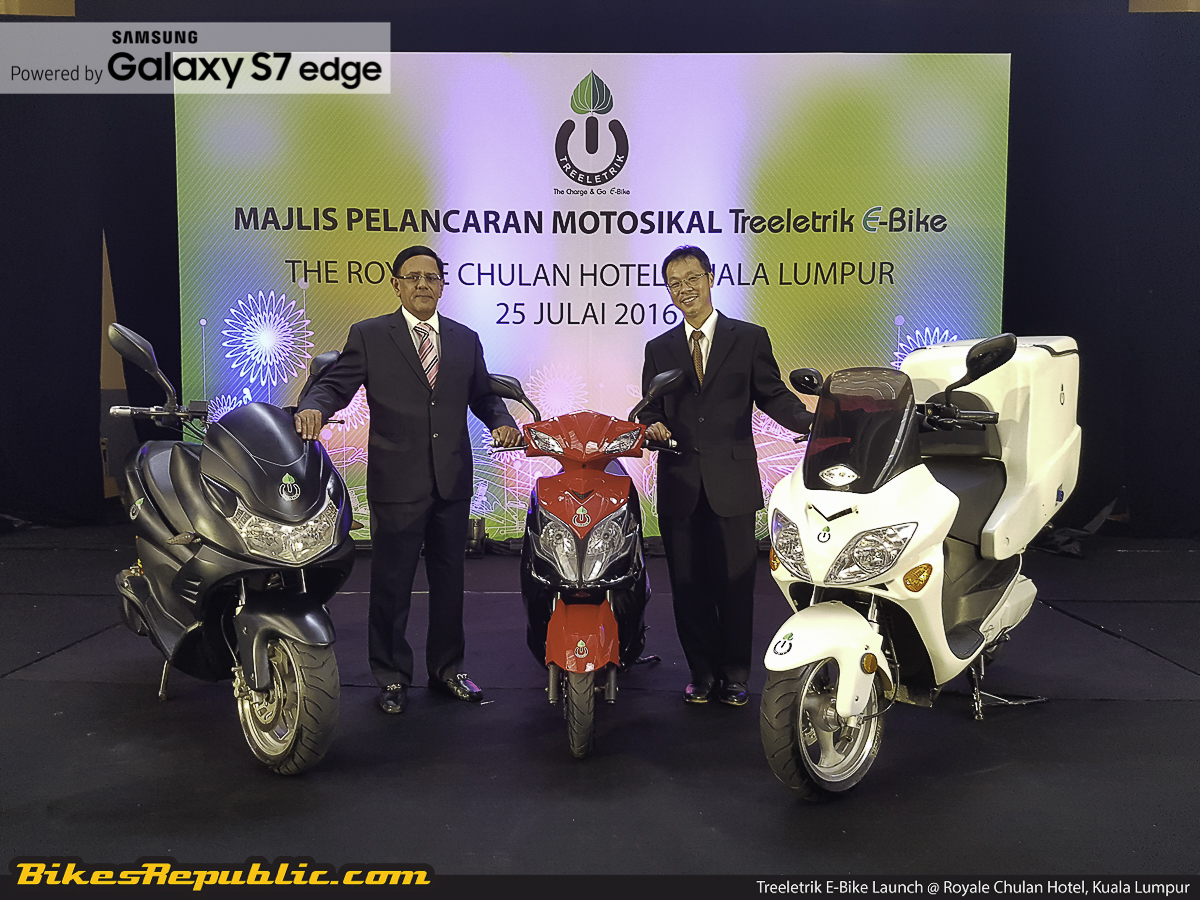 CLICK HERE to know more about Treeletrik's debut back in 2016.
There are two different variants for the T-90 with the current variant gets its juice from a lead acid battery whereas a lithium battery version will be announced in the near future. The 84-volt battery sends all the power to the 5000watt brushless motor which in turn drives the rear wheel that's mounted directly on the rear hub.
It is claimed that the T-90 has a travelling range of around 80km – 100km for every charge when riding at average speeds. This in turn makes it a good substitute for those who live near city areas while at the same time reduce their carbon footprint dramatically as the T-90 produces no toxic fumes or even contribute to noise pollution thanks to its very quiet electric motor.
The lead battery alone weights a hefty 98kg but for every six to seven hour full charge, the T-90 is able to hit a maximum speed of 80km/h which is more than enough when you're going through the hustle and bustle of city streets.
Treeletrik's ambitious plans to sell over 100,000 units by the year 2020 comes from a very decent initial investment of RM10 million together with an overall estimate budget of RM50 million. Based on their calculations on the main benefit of using their flagship scooter, an estimated amount of RM5,684 is said can be saved in the period of three years as compared to using a small capacity petrol-powered motorcycle.
The 2017 Treeletrik T-90 electric scooter has been priced at RM10,494 (basic price with GST). The lithium-powered T-90 will be available in the near future. The premium-looking T-90 scooter comes in four different colour options; black/green, black/orange, white/blue and white/red.
Together with the launch was the MyANGKASA LIFECARE FASTLANE program where they are able to assist in emergency services to future Treeletrik motorcycle owners around the country. Both owner and machine will be able to get the assistance 24 hours a day to assist in any emergency situations such as accidents or breakdowns. Now that's a proper after-sales service.