The Kawasaki J300i is an export model scooter built by Taiwanese based motorcycle manufacturer, Kymco. It is built for long commutes and is perfectly comfortable and adapted to life on the move in vibrant cities. We covered 160 kilometres with it during the test ride organised by Kawasaki Malaysia, but hardly felt the distance, and I am not even trying to sugar coat anything here. The J300 is a handsome looking scooter and tops that off with plenty of party tricks.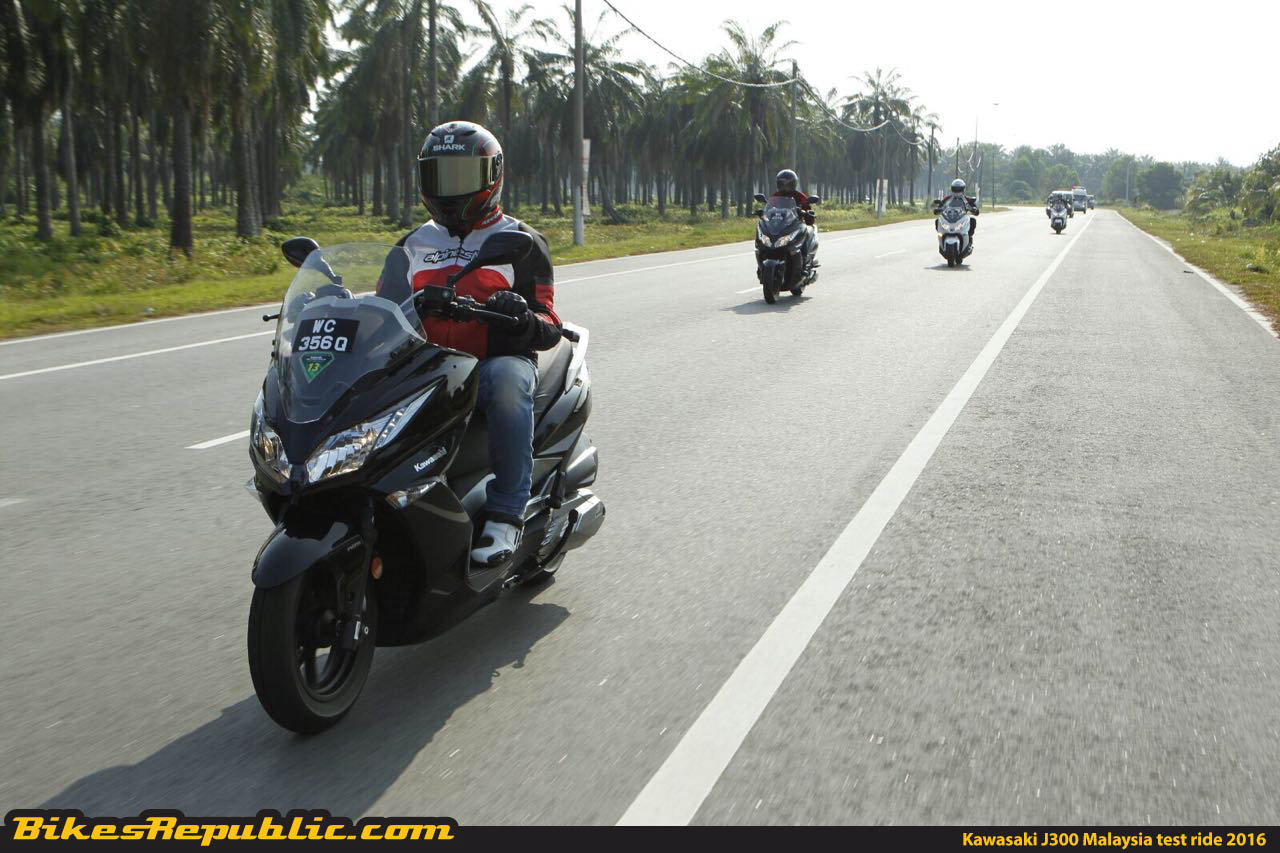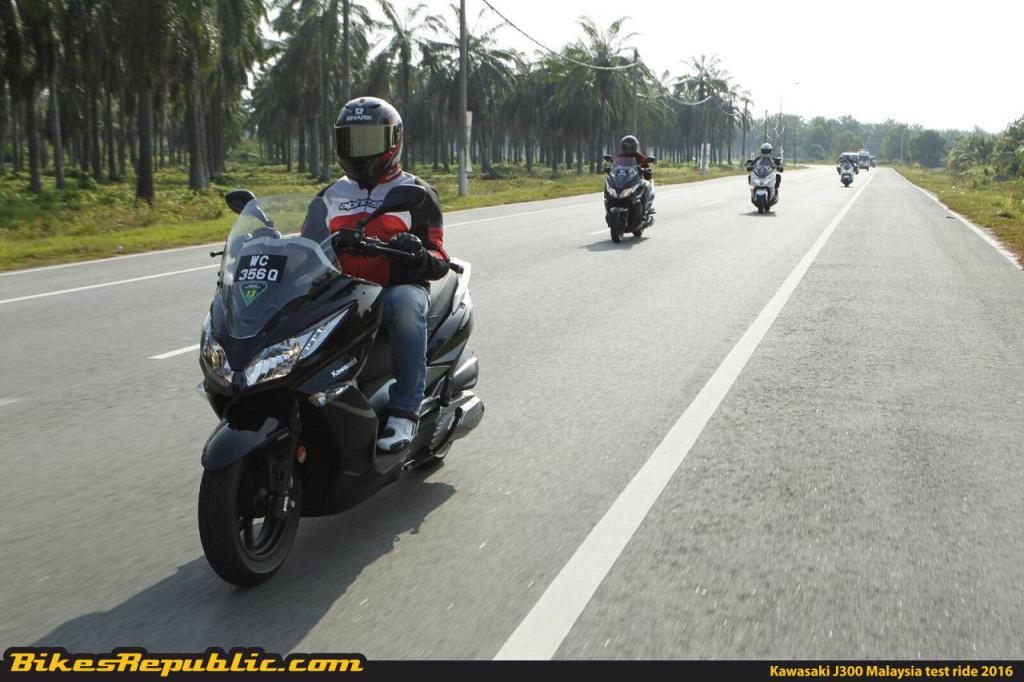 So what is it really?
If you have heard that the new J300 is based on a Taiwanese scooter that is already on Malaysian roads, you would have heard correctly. Kymco first introduced the Downtown 300i in 2011, and that is what the Kawasaki J300 basically is, but redesigned and repackaged of course.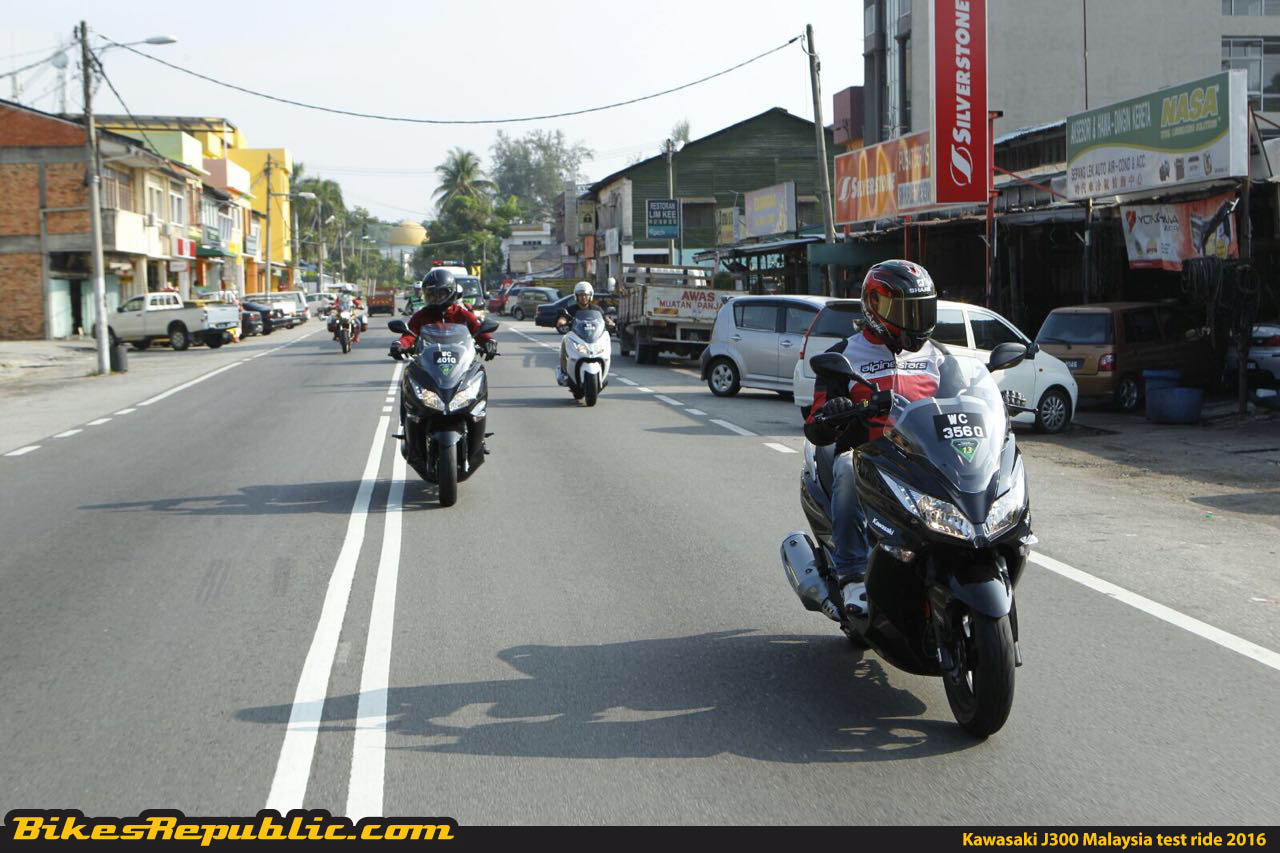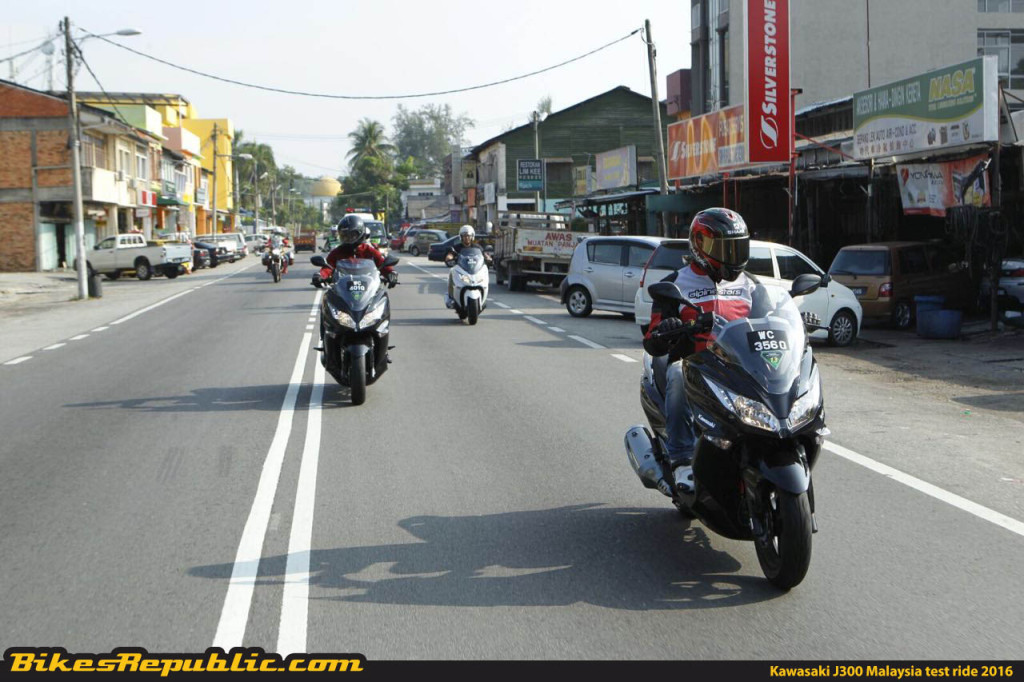 Kawasaki has re-engineered the design of the J300 to keep it within the Ninja design family, but the platform, engine, brakes and suspension are all from Kymco. This rebranding exercise is not a bad thing as some would imagine. The updates to the J300 to keep it unique from the Downtown 300i are all brilliant, but most of all buyers will benefit from Kawasaki engineering and know how, as well as its well-known aftersales service.
How is it like?
Comfortable, a delight to ride but a little cramped for long legs. Other than that it is brilliant. The ride began in Putrajaya to Sungai Pelek to Morib, Teluk Panglima Garang then back to Palm Garden hotel. A 160km loop with a good mix of bad roads, curves, highways and traffic – all of which are situations the J300 is designed to excel at.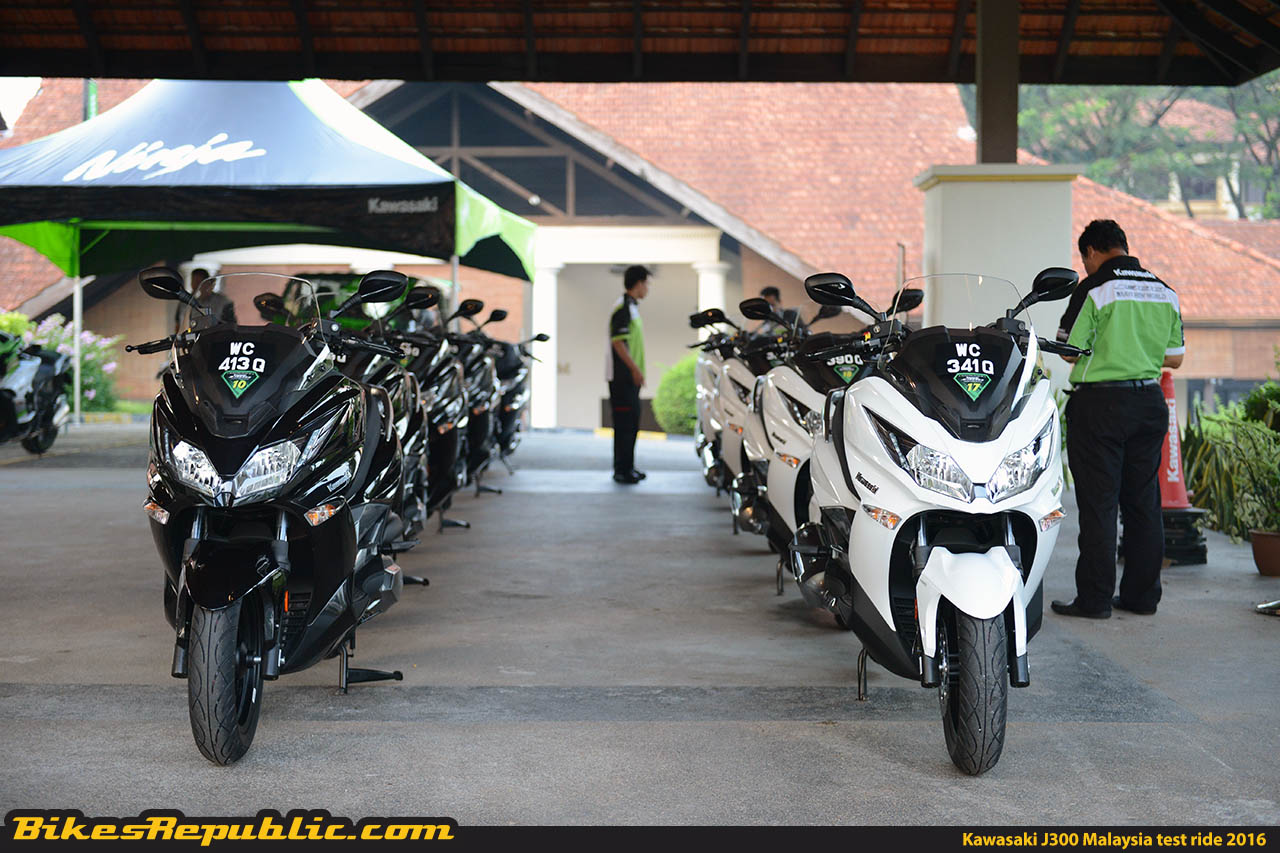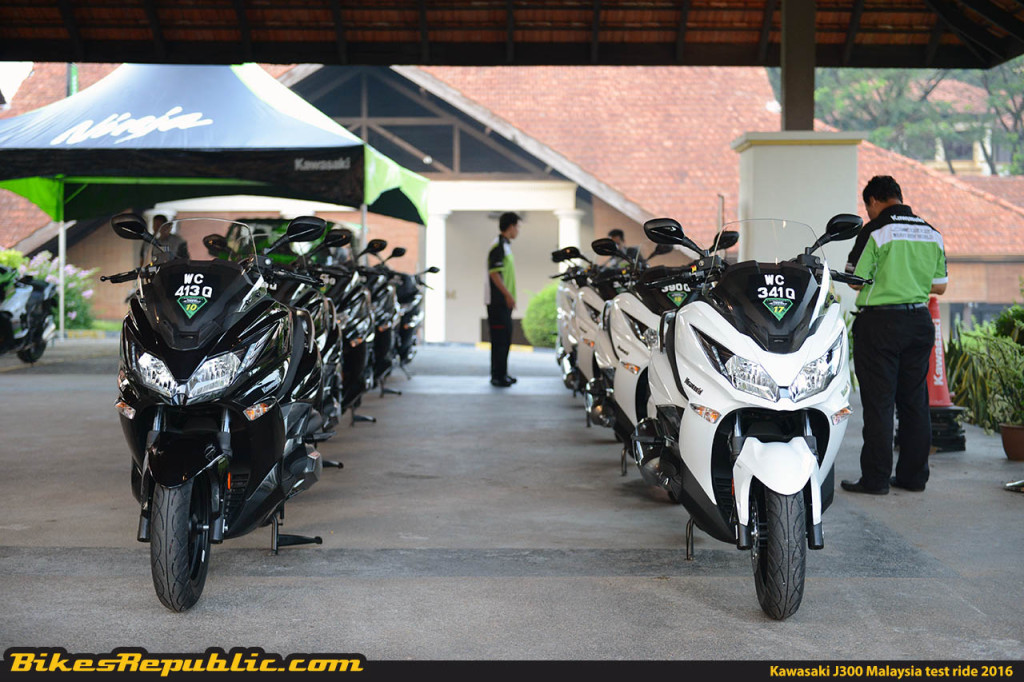 And excel it did. The big seat is plush and comfortable with a tad bit of back support from the heightened rear seat; the pillion sits taller than the rider. Handling is swift and nimble thanks to a 13-litre fuel tank that is placed at the bottom of the frame, and a seat height of just 775mm from the floor, which lowers the centre of gravity, giving better low speed control at the same time.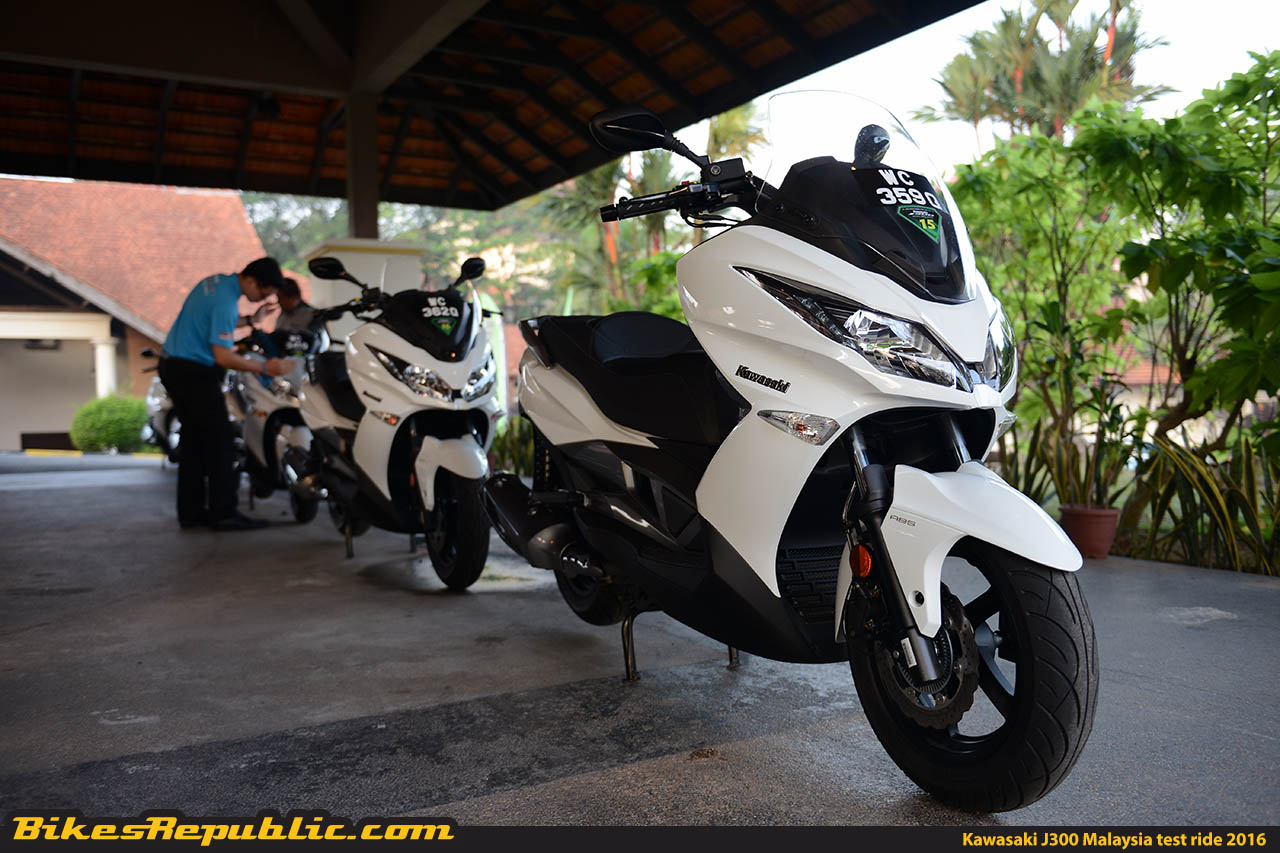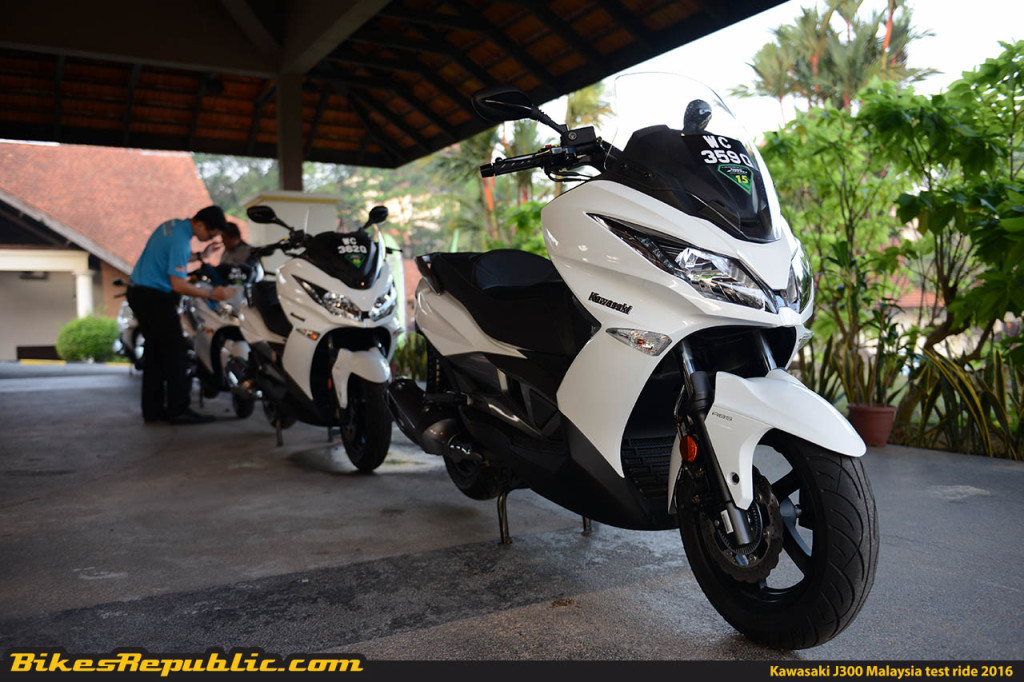 But space is cramped, as it is on the Kymco Downtown 300i – which is fine if you are only going to be running around town, but it could be a pain if you want to munch some distance with the J300.
However, the scooter makes up for that with some nifty storage space. There is a cubbie hole near the handle bar that lets you store your phone (an iPhone 6 Plus can fit in there), house keys and a fat wallet at the same time. The under seat storage area is capable of holding a few loose items like gloves or a water bottle, and a full face helmet together with a half shell helmet as well, so there is no lacking in storage space.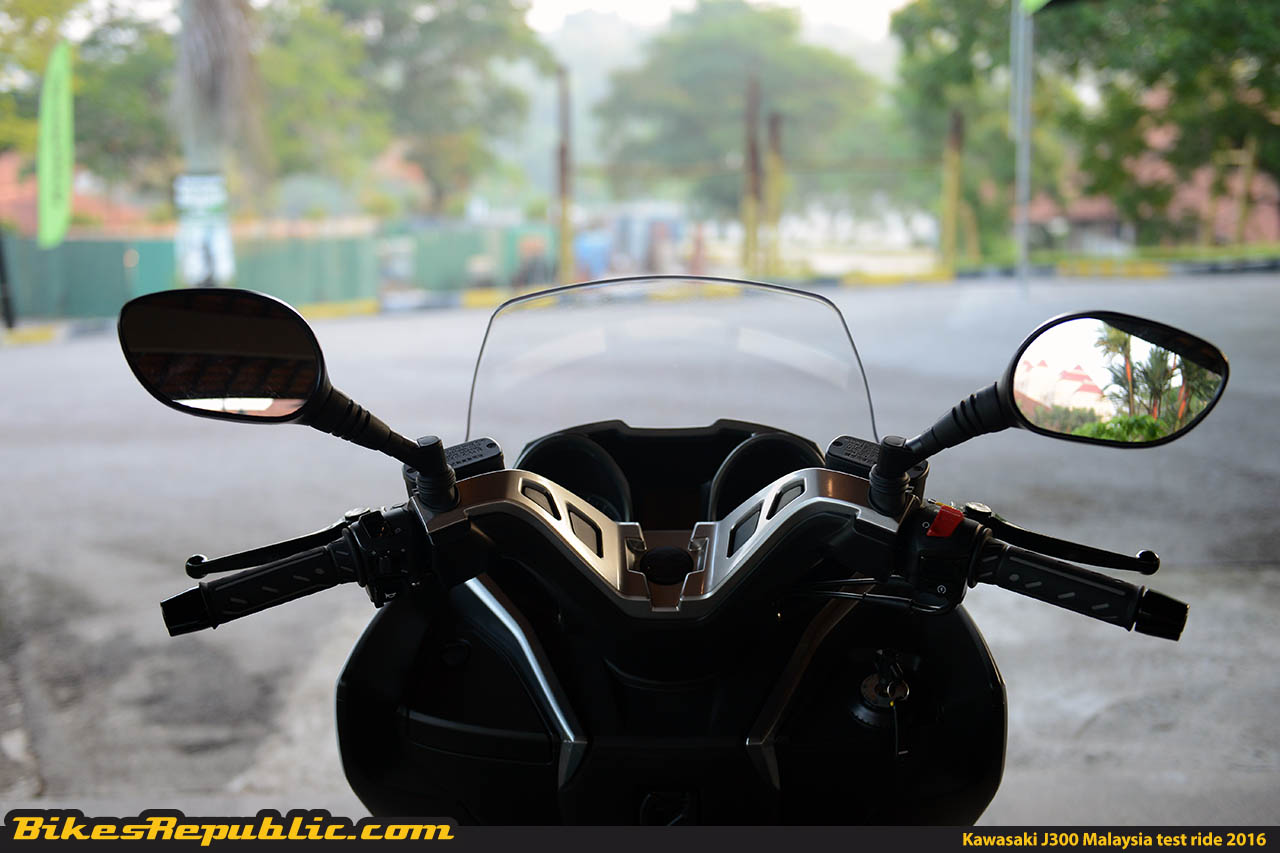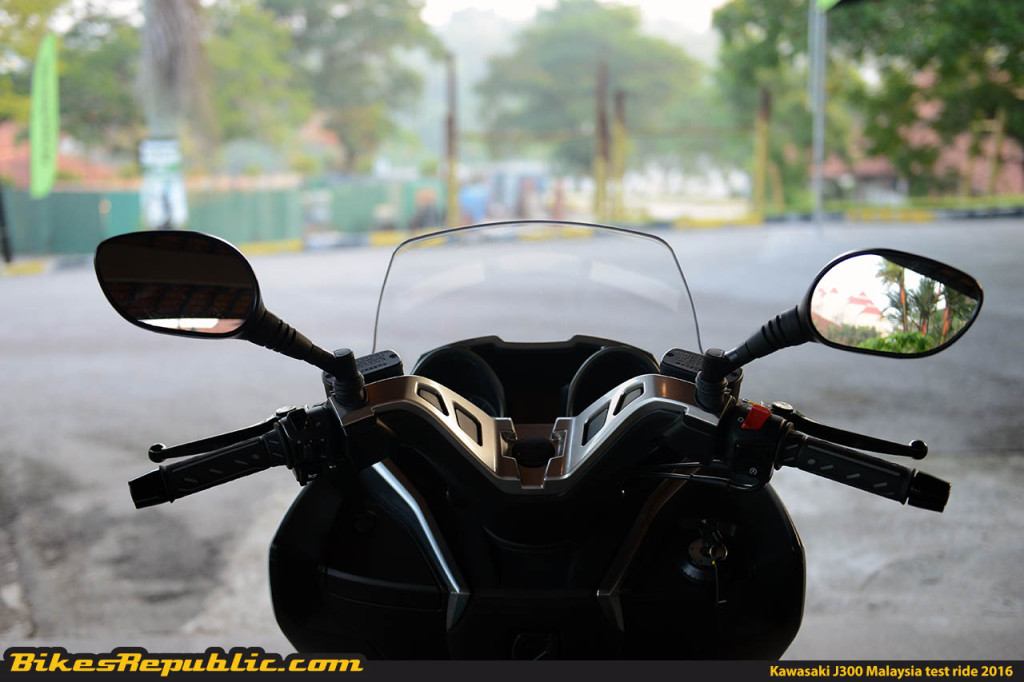 What about the engine?
The J300 is powered by a 299cc, liquid-cooled, SOHC with four valves engine which gives 27.2 hp at 7,750rpm and 28.7Nm of torque at 6,250rpm. And the whole package is connected to a CVT transmission with a centrifugal clutch.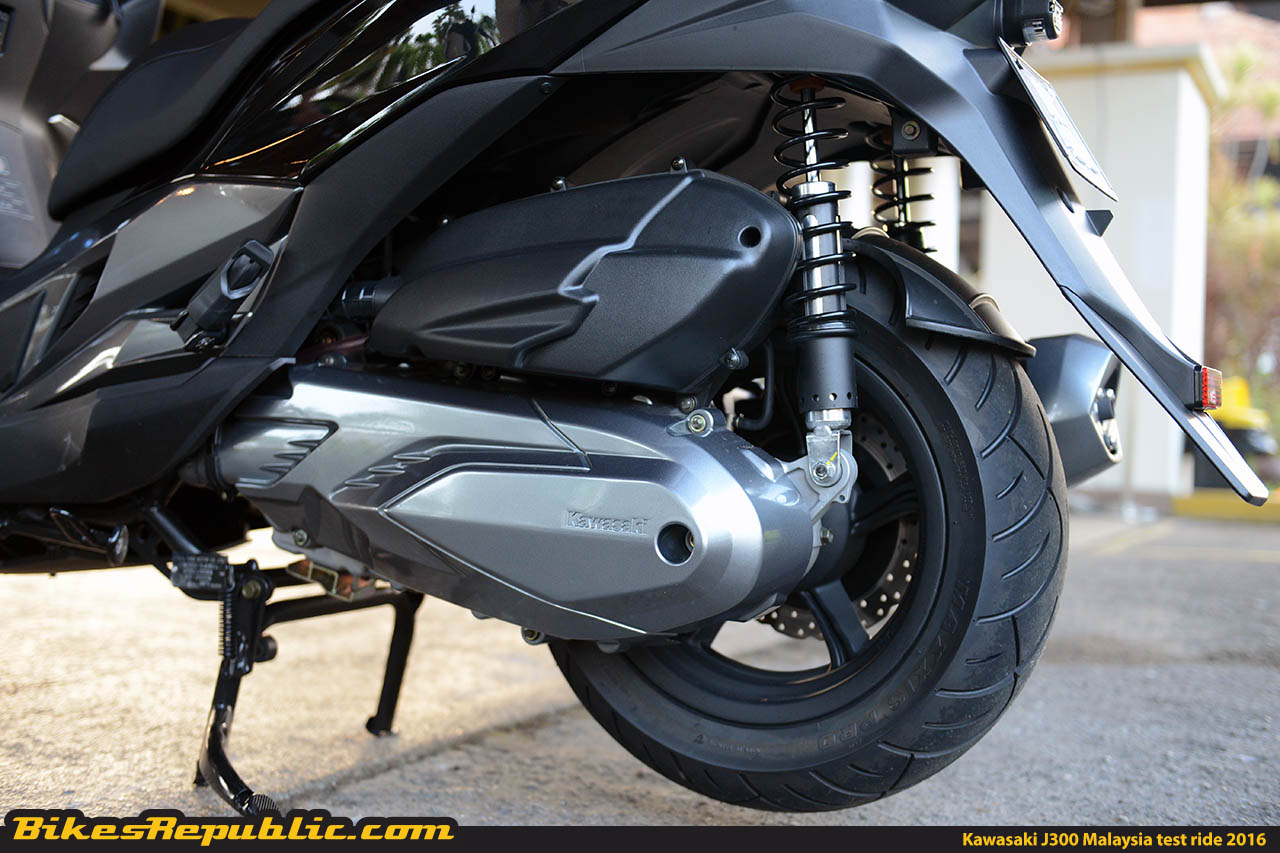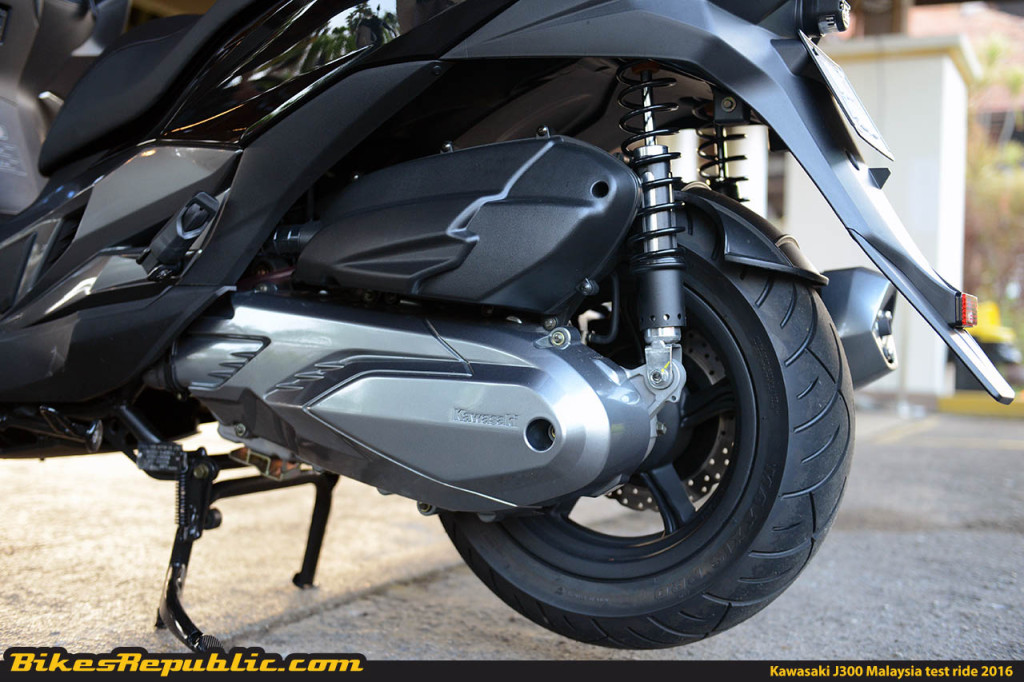 Scooters usually suffer from a lag in power delivery, like an elastic band that first has to be coiled before releasing its power, but not the J300. Power is surprisingly instant and smooth, but some more torque would have been nice for accelerating away from about 120km/h, though I doubt many J300 riders will find themselves in such a situation.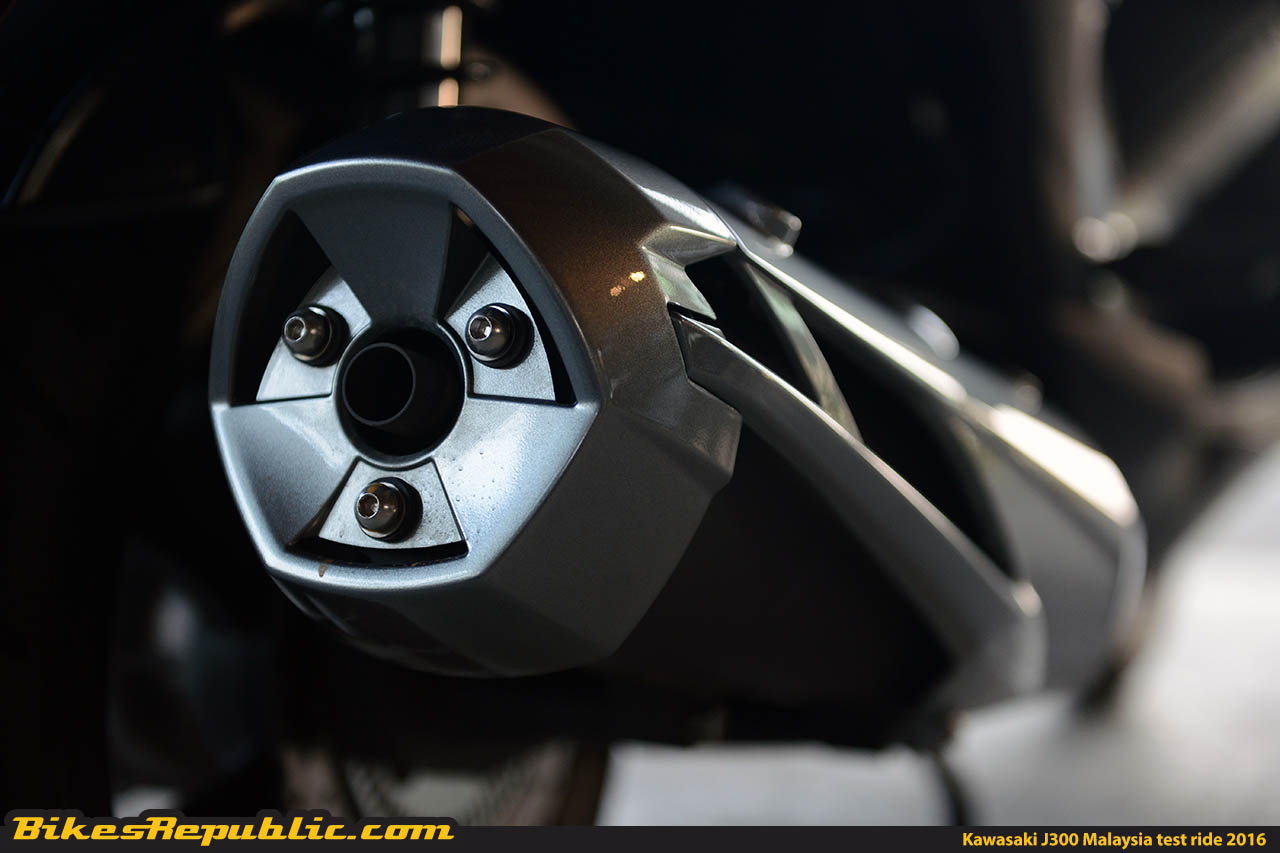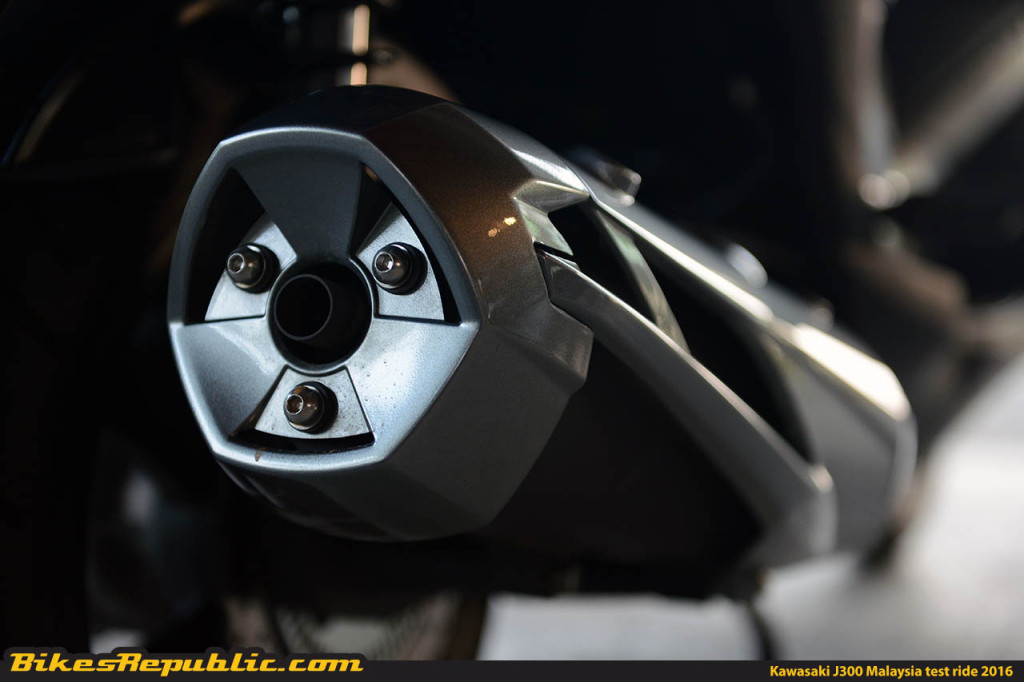 So is it comfortable?
Yes! Very! Too comfortable perhaps because it was difficult to stay focused on the road ahead, though I suspect I could have had too much coffee before getting on the bike. The suspension is managed by a 37mm telescopic fork up front, and a twin shock, 5-way adjustable with preload at the rear.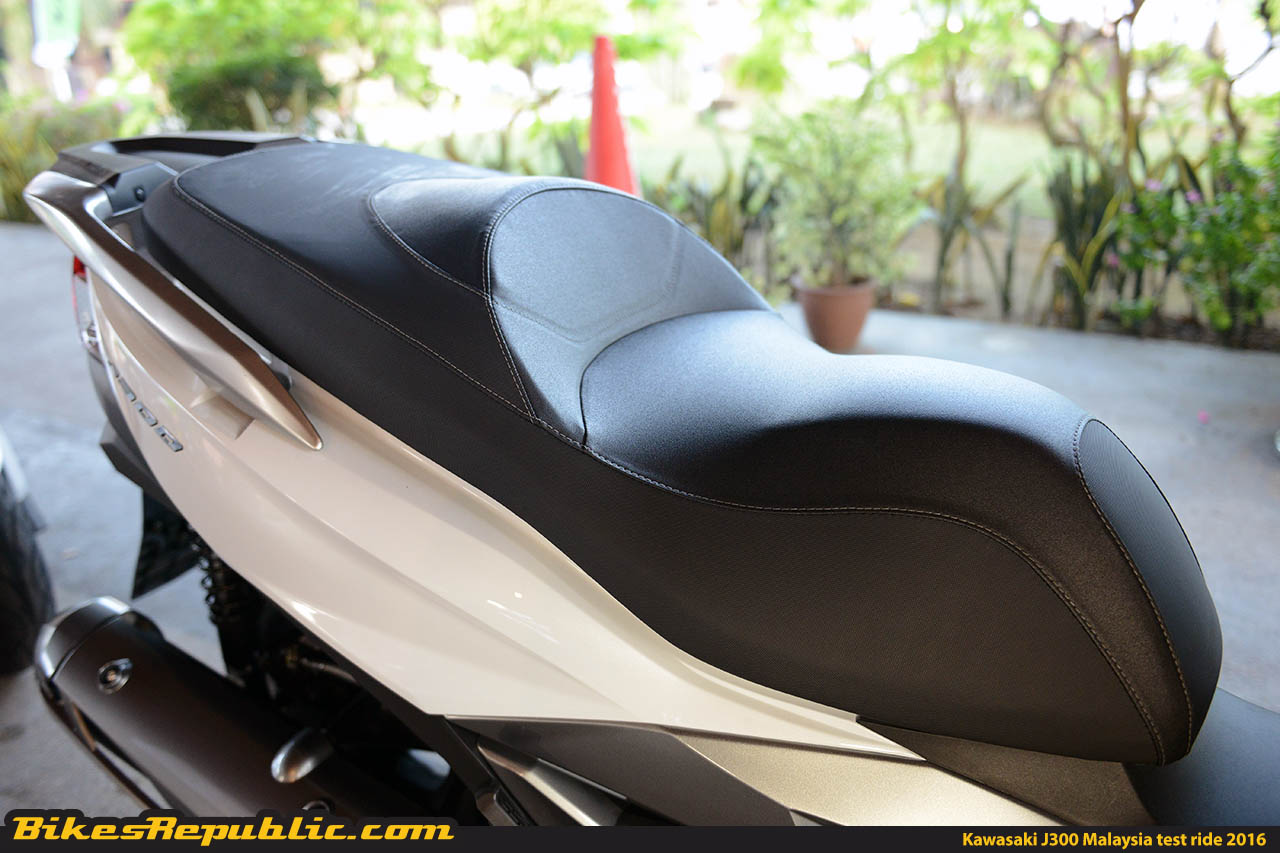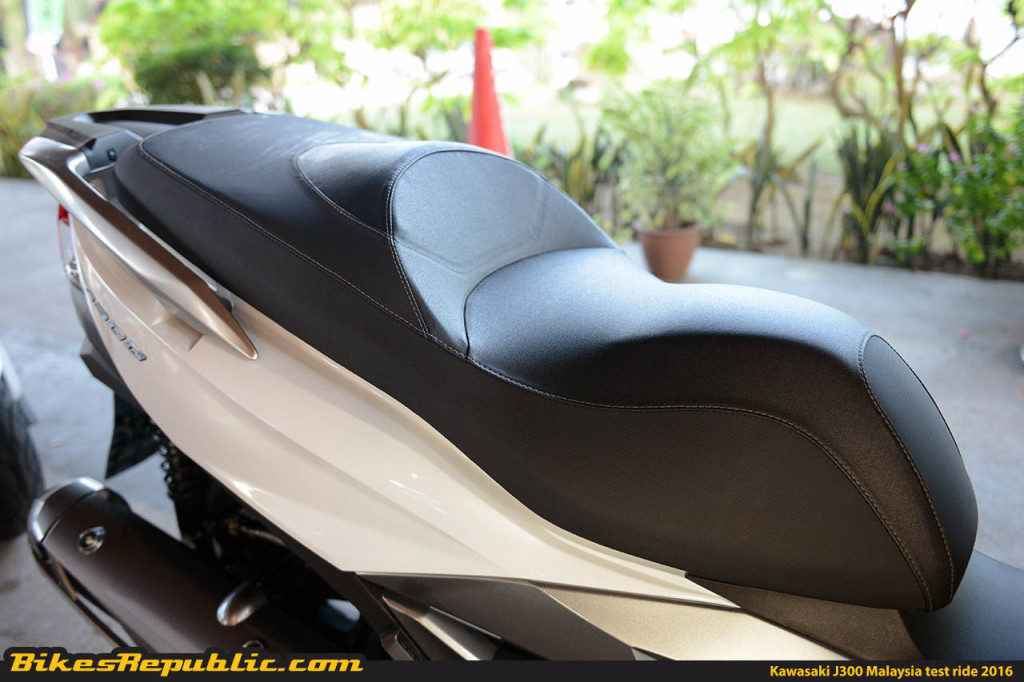 It does a beautiful job at soaking up the bumps and combine that with a plush soft seat, you get perfection.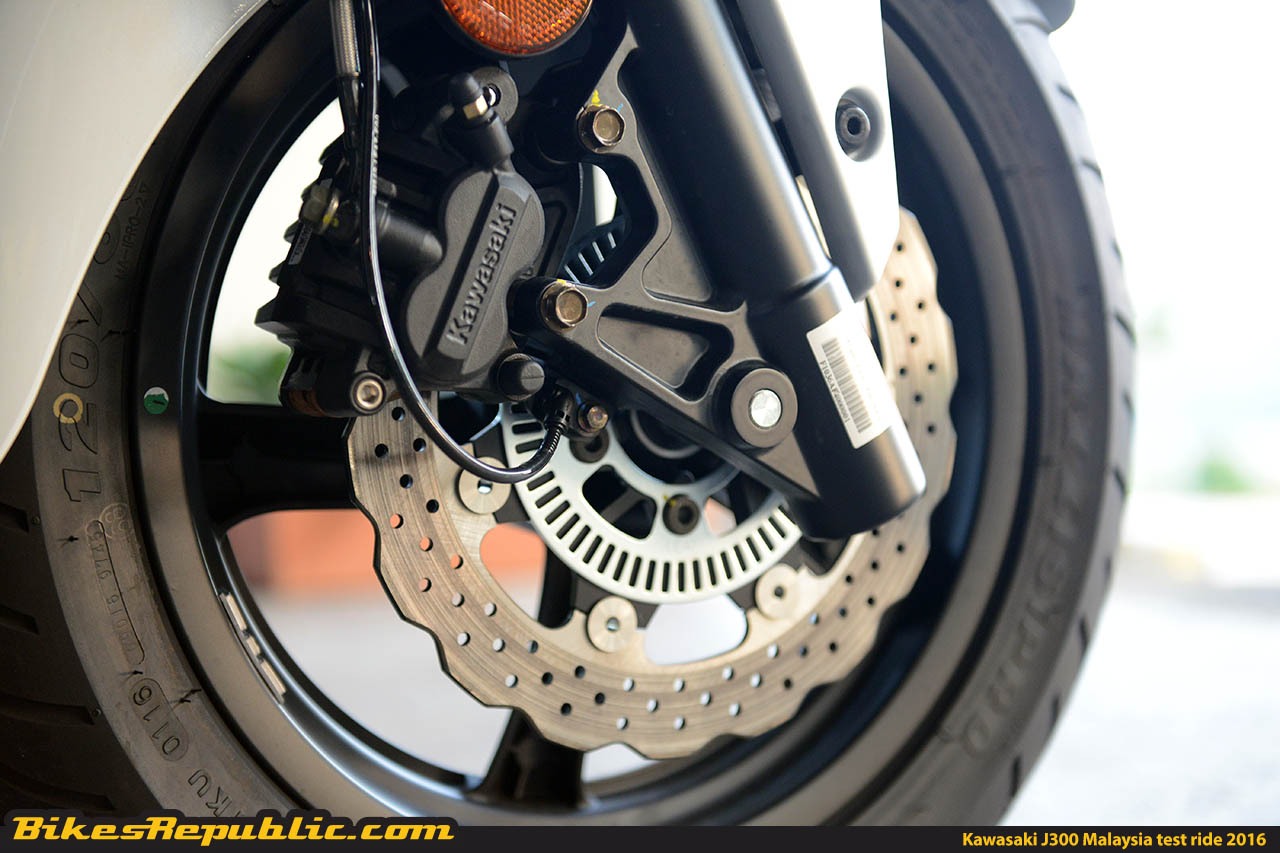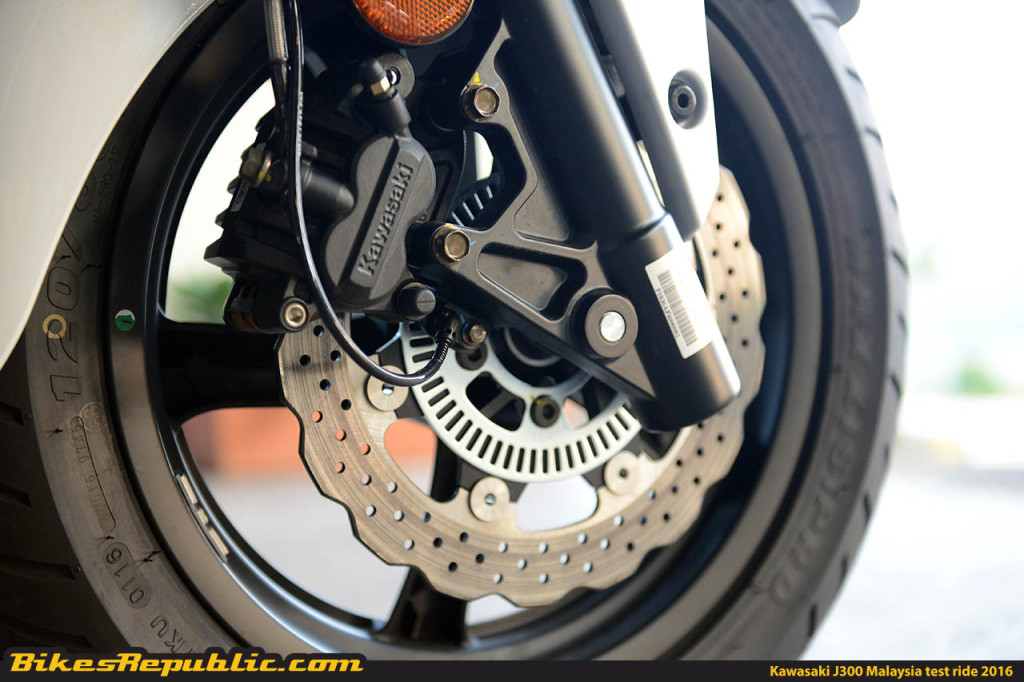 It looks big, how are the brakes?
Easy peasy. The braking system consists of a single 260mm petal disc with a dual-piston caliper up front, and a single 240mm petal disc with a dual-piston caliper at the rear. It comes standard with ABS and having tested the ABS system, I must say that it is not one of those systems that violently shakes the brake lever, rather it sends gentle pulses to your fingers to tell you that the system is working, and that it is okay to take an evasive manoeuvre if you have to. ABS is for the rear brakes only.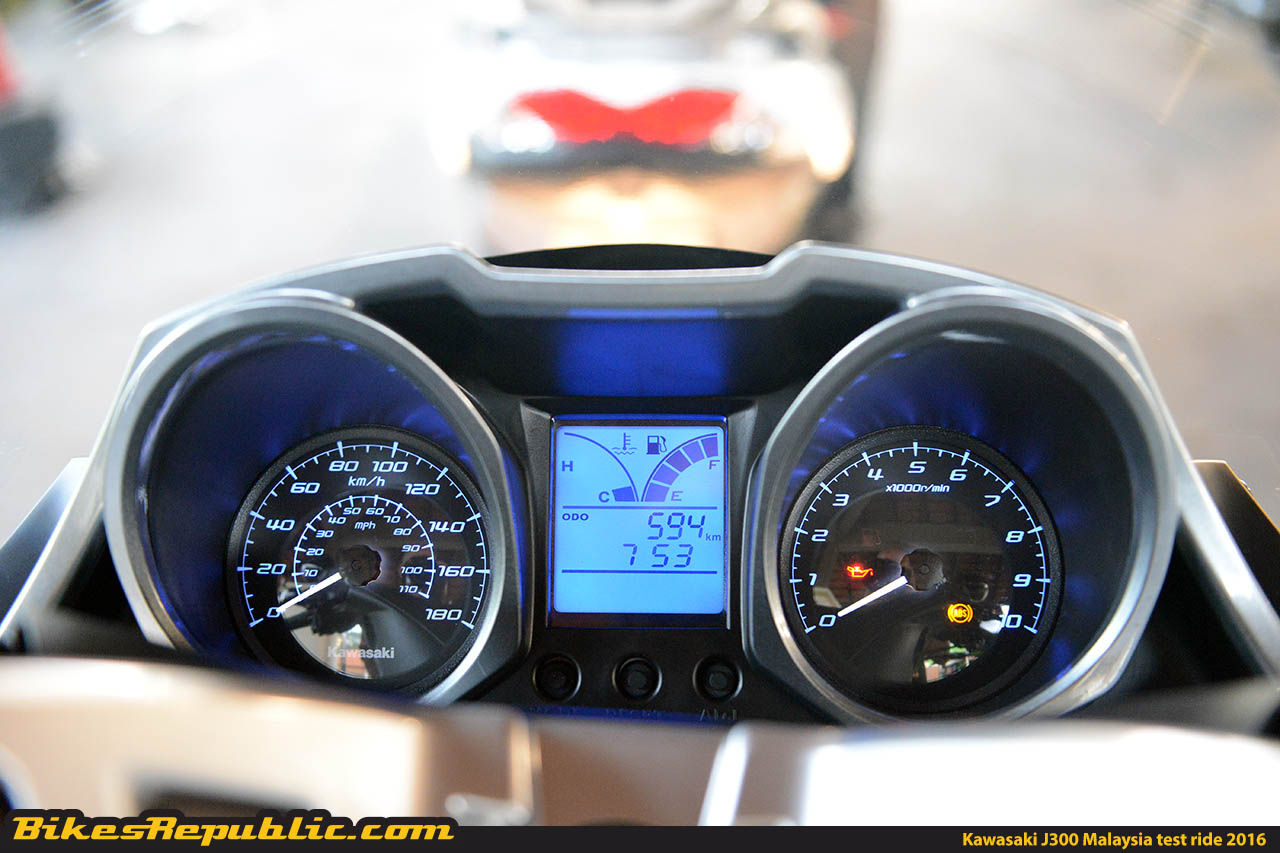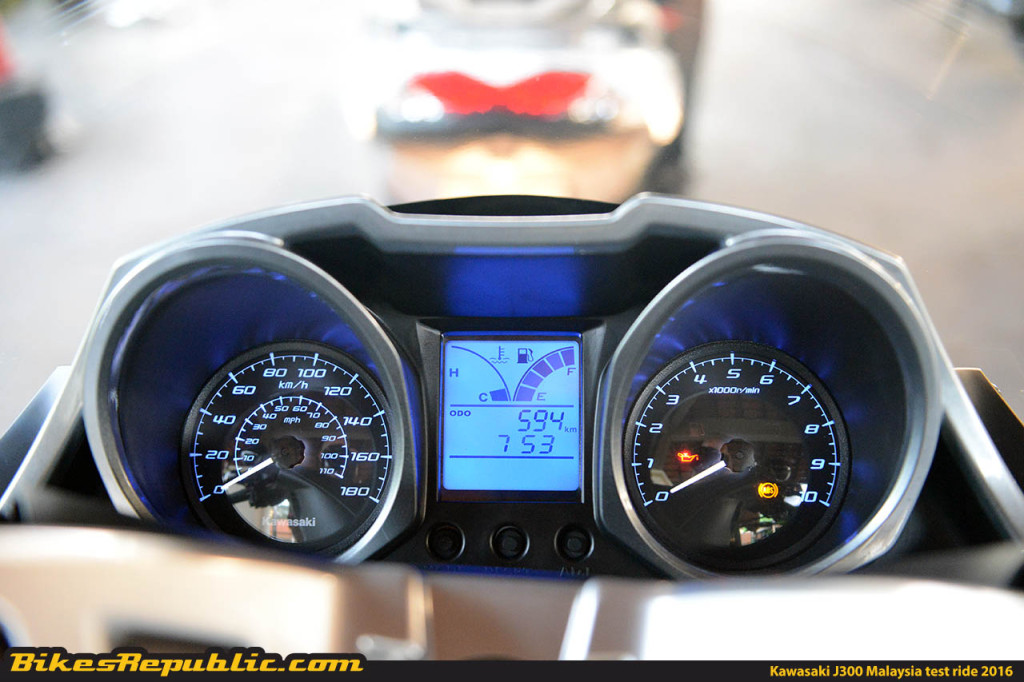 So should you buy one?
RM31,489 with GST is a lot of money considering that the Kymco badged version of the same bike is priced at around RM24,000 before GST. But then again, it comes backed up with Kawasaki's aftersales service which is available throughout Malaysia. Can't say the same about the Kymco though.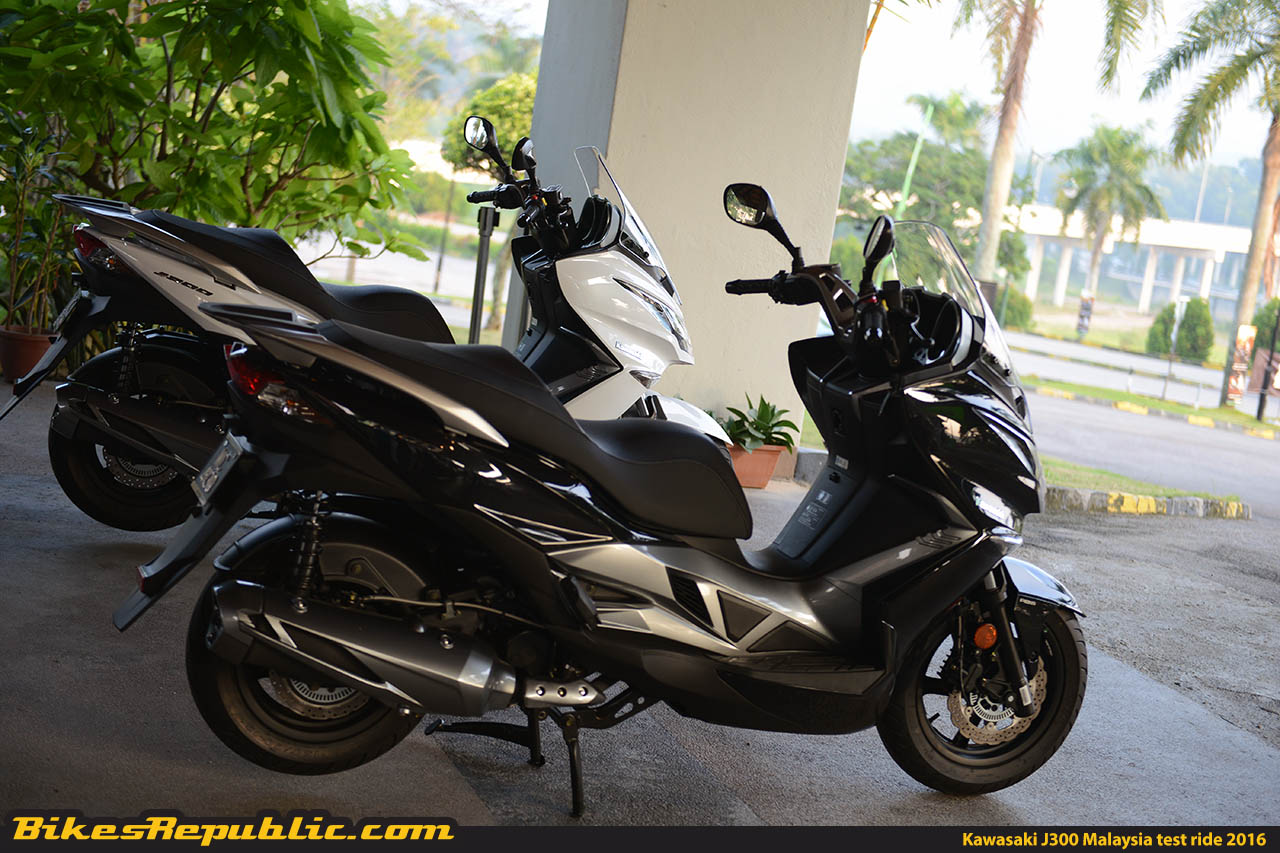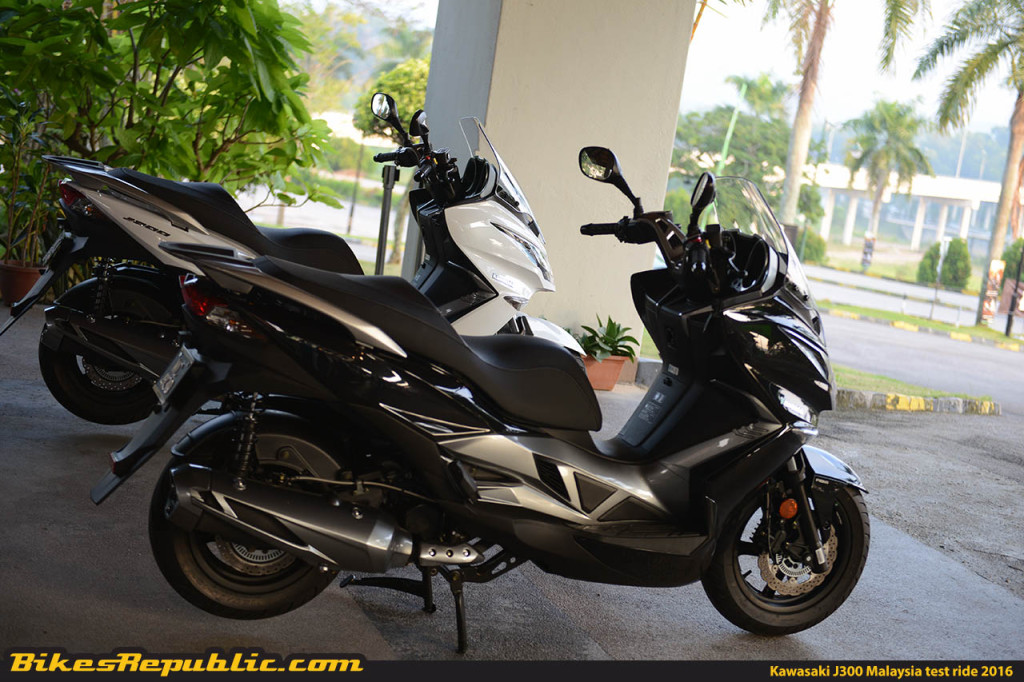 Being so comfortable and with a cruising speed of around 110km/h, it is the perfect scooter for those who live around the outskirts of Kuala Lumpur, or any other city for that matter, and have to commute to the city and back daily.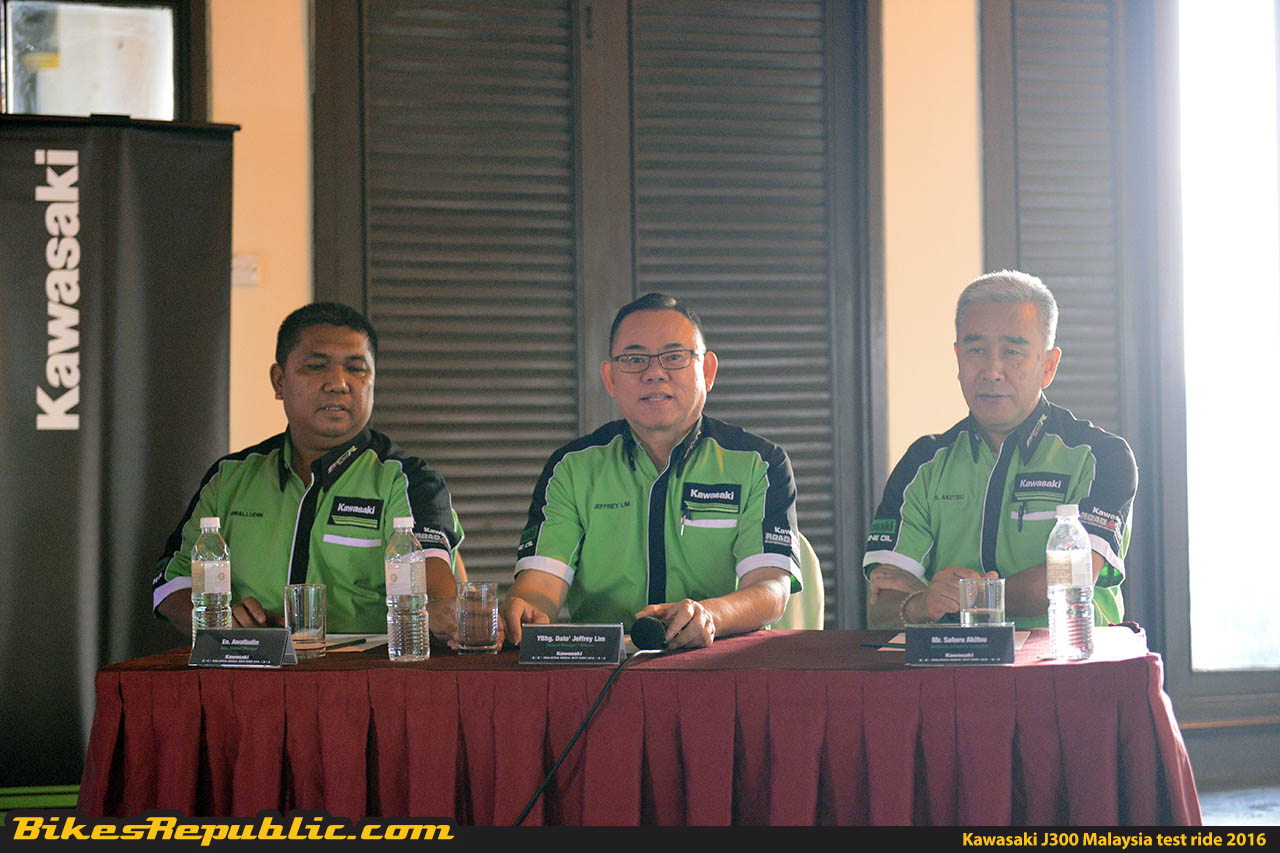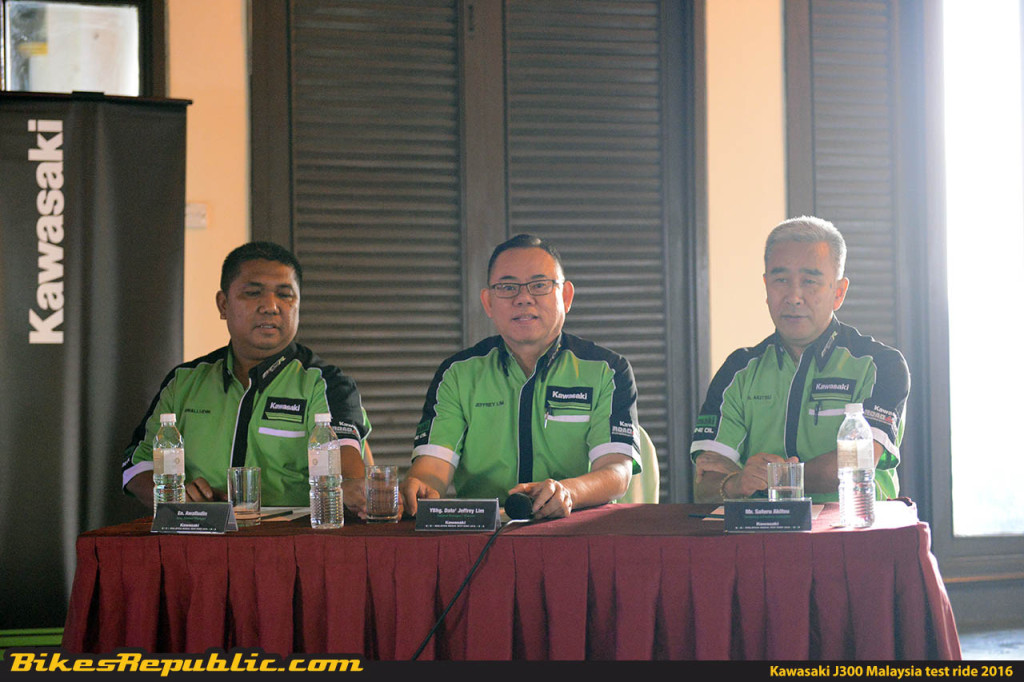 There are other pleasant touches like a 12V power socket to charge your electronics, a foldaway cargo hook for when you want to "bungkus balik" your food, and plenty of cargo space.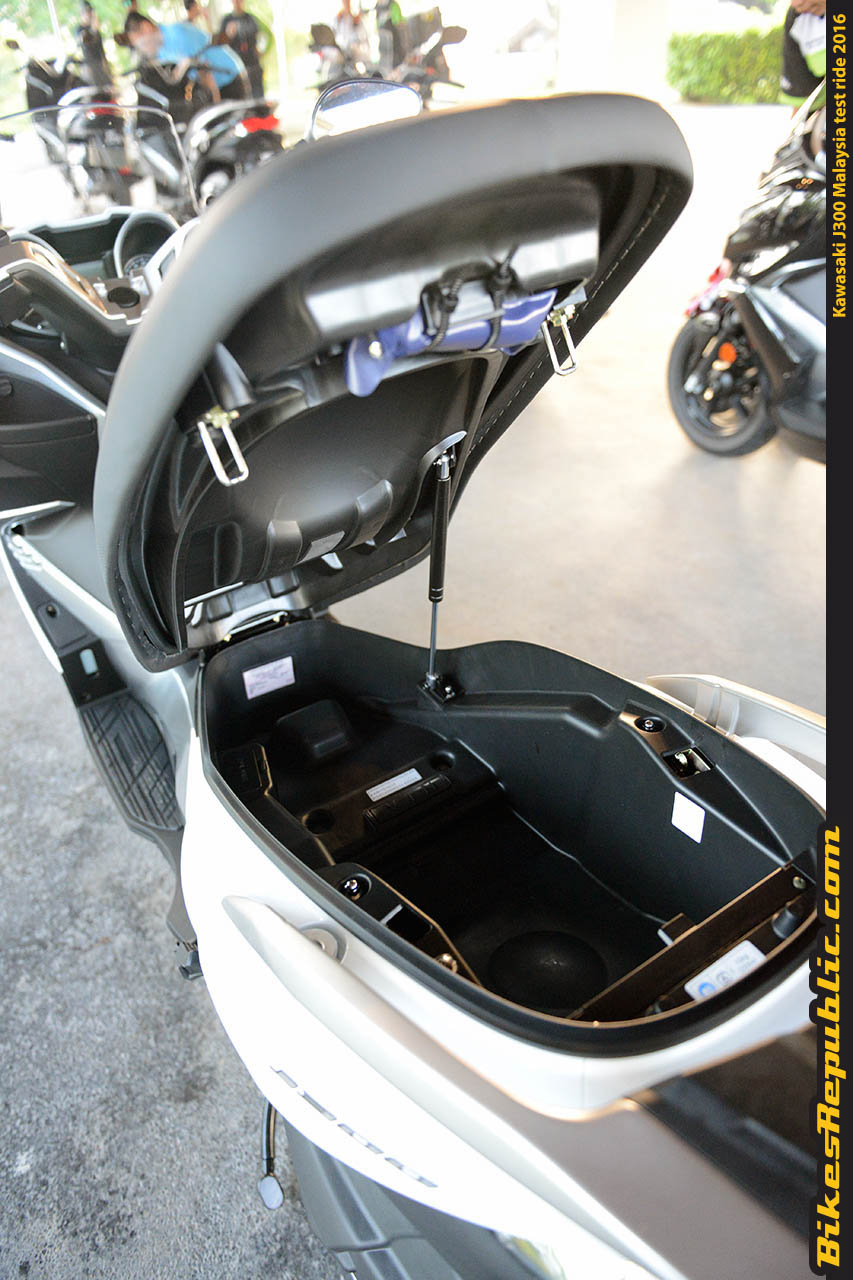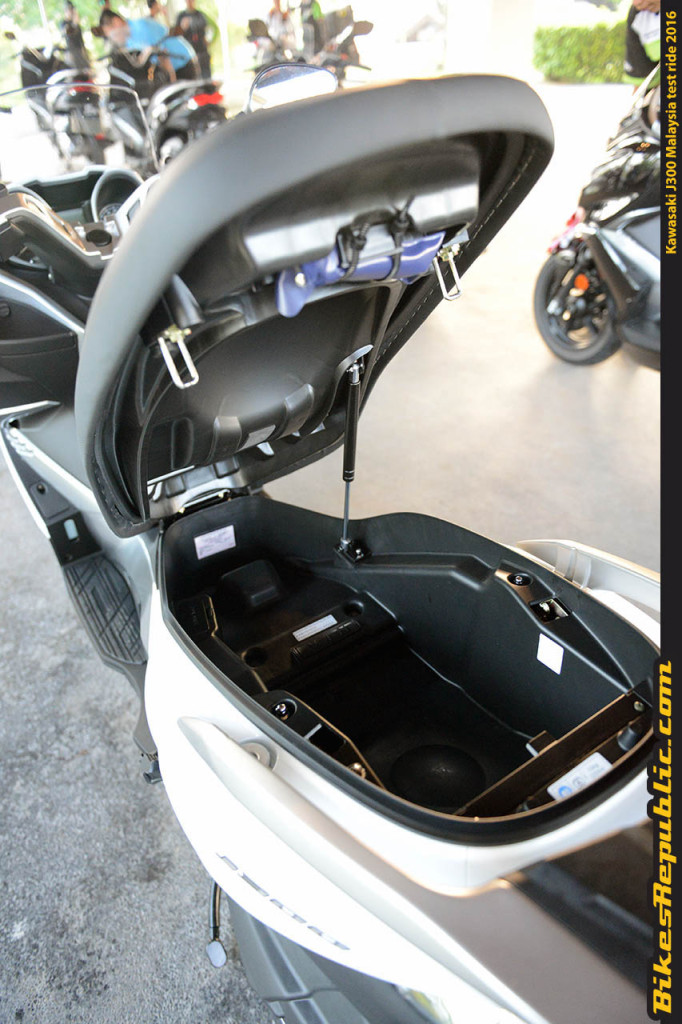 It is not the most athletic in terms of size for when you want to squeeze past traffic to get to the traffic lights, but it makes up for that in so many other ways. So if you are looking at something to beat the traffic with and want something reliable and comfortable, yes you should buy the Kawasaki J300.