Chia Motor PJ Kawasaki Appreciation Night paid homage to those who brought the team to success.

The team captured the 2018 Pirelli Malaysia Superbike Championship with rider Azlan Shah Kamaruzaman.

They had also won the Teams' Championship.
Chia Motor PJ held a special event called Chia Motor PJ Kawasaki Appreciation Night.
The occasion celebrated their success of their rider Azlan Shah Kamaruzaman capturing the premier Superbike Category in the 2018 Pirelli Malaysia Superbike Championship (MSBK). The Chia Motor PJ Kawasaki team had also won the Teams' Championship.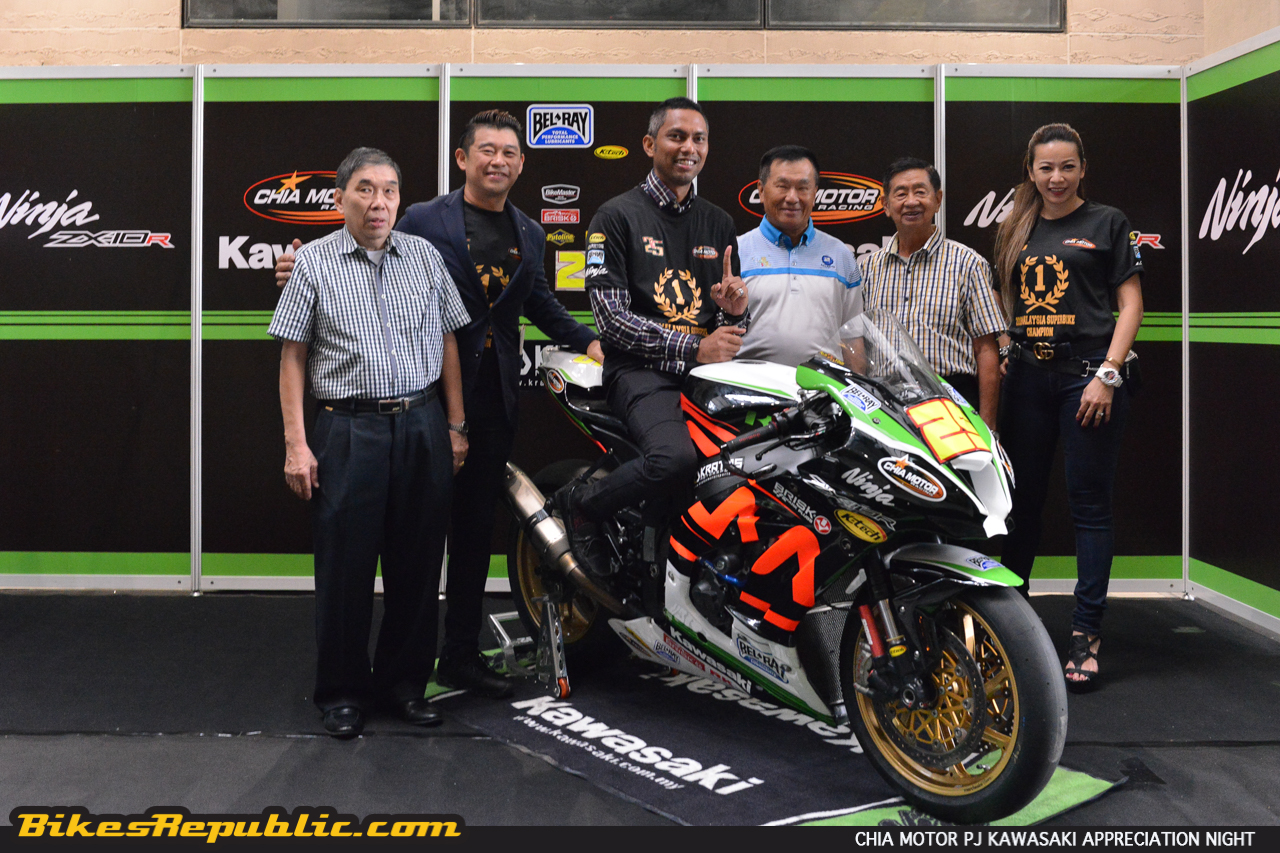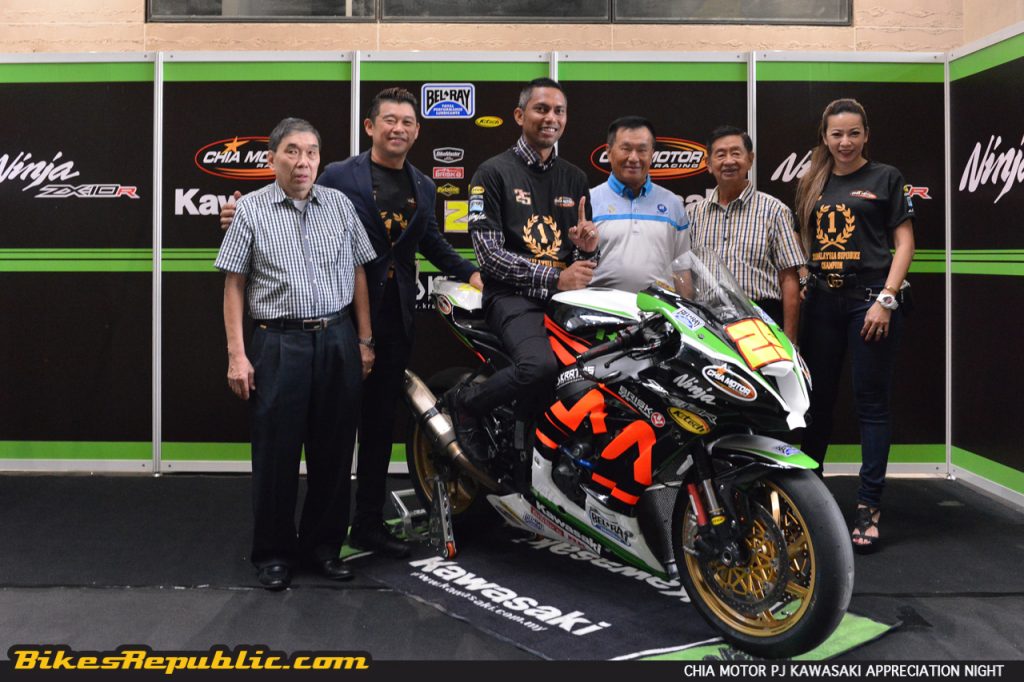 The event began with Chia Motor PJ's proprietor, Keith Chia thanking the sponsors and contributors to the team. It started with Dato' Jeffery Lim, General Manager and Director of Kawasaki Motor (Malaysia) Sdn. Bhd. Keith mentioned that Kawasaki Malaysia had been instrumental the team's success throughout the years. Indeed, the Kawasaki Ninja ZX-10R was the weapon on which Azlan Shah destroyed the competition.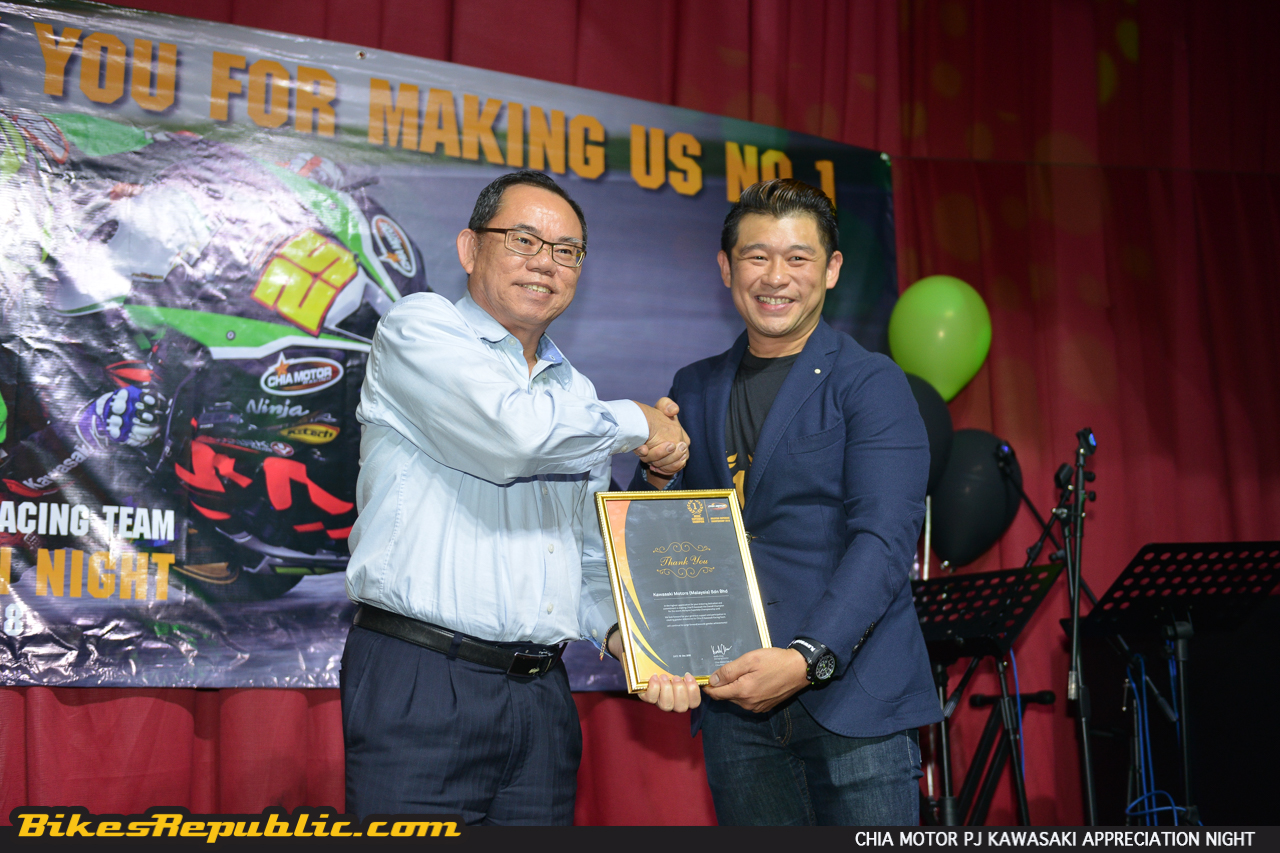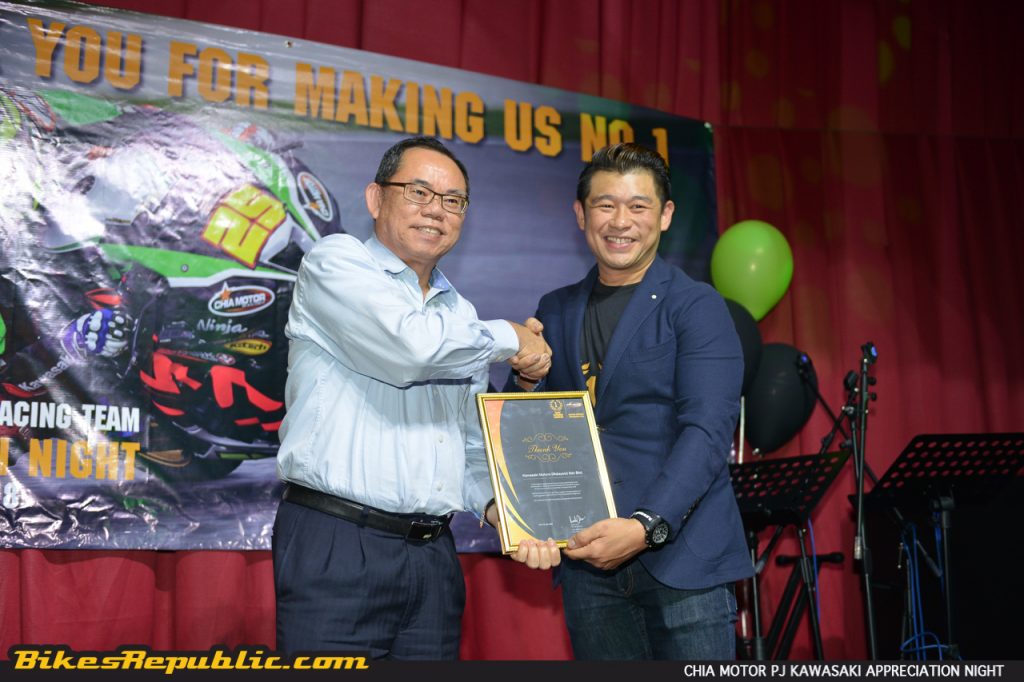 Next up was Kratos Motorsports Sdn. Bhd. who are the official distributor of K-Tech suspension systems in Malaysia. Kratos works hand-in-hand with Chia Motor PJ to supply K-Tech suspension solutions to motorcycle owners who demand the best in suspension technology and handling from their bikes. Azlan Shah's racebike was fitted with K-Tech suspension components, consequently.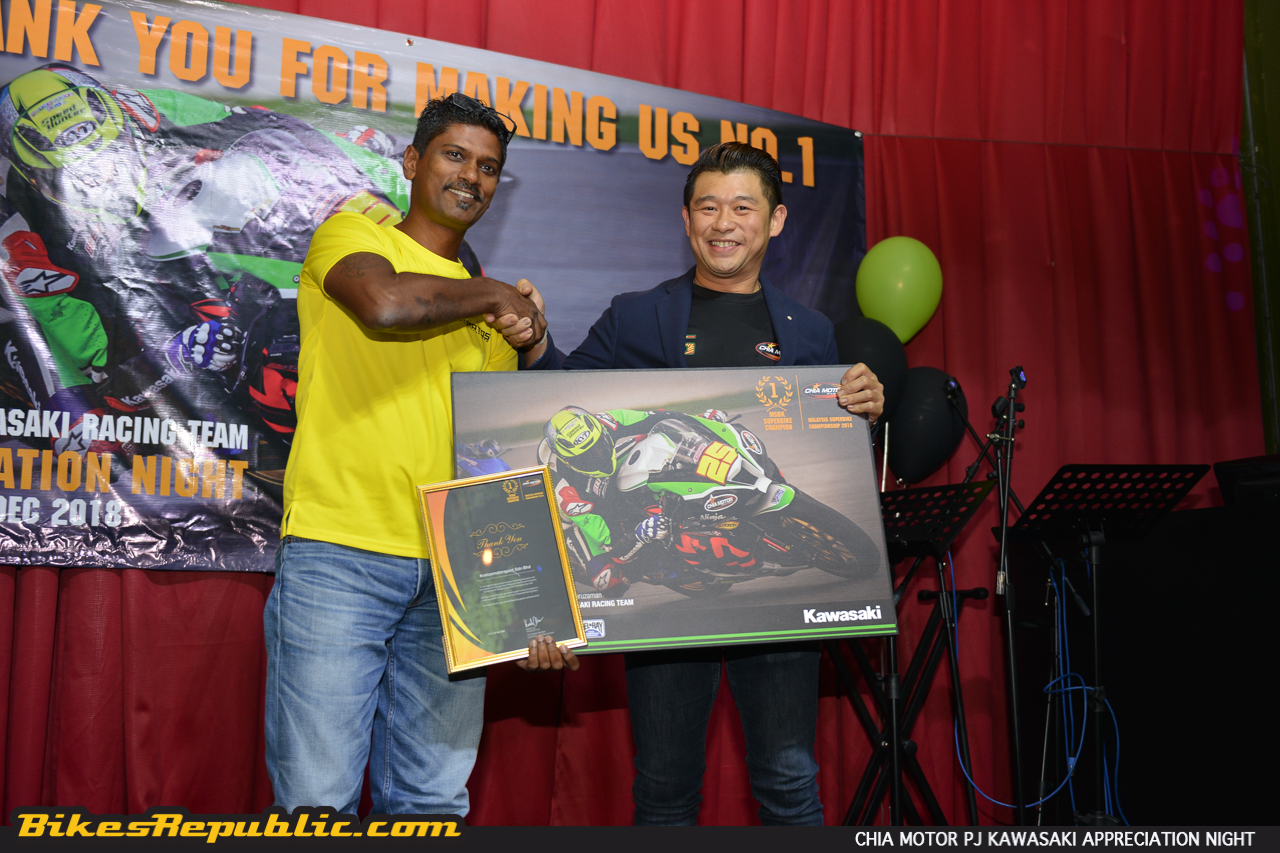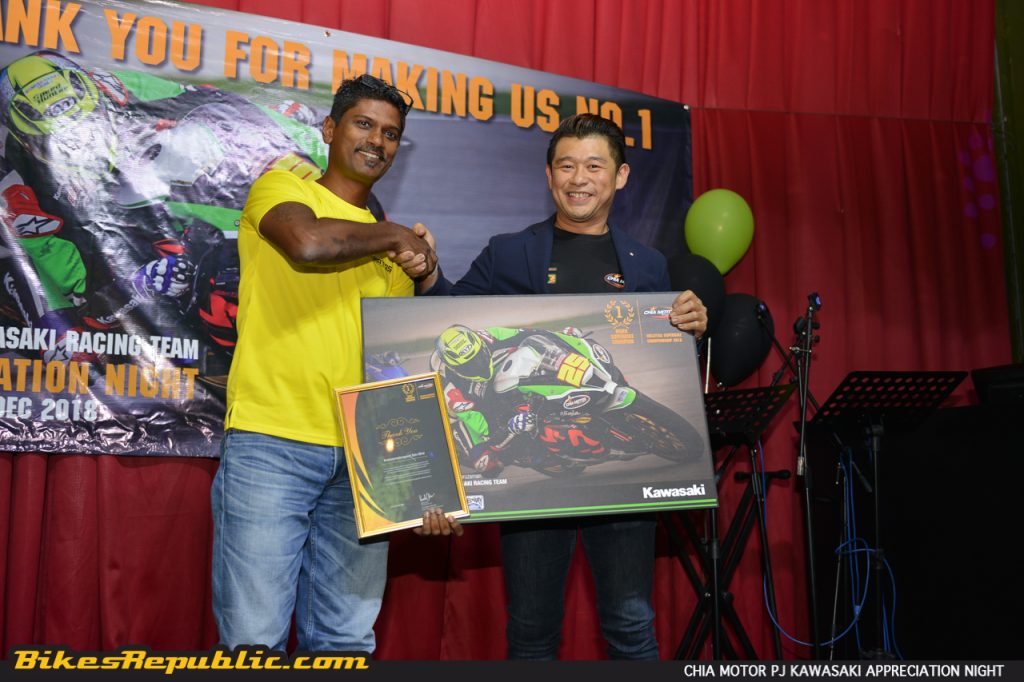 An award of appreciation was also handed to Bikes Republic and Moto Malaya as we covered the team's journey through the entire 2018 Pirelli Malaysia Superbike Championship season. It was a real honour observing the professionalism of the team in carrying out their duties. Managing Editor Keshy Dillon received the award from Keith Chia.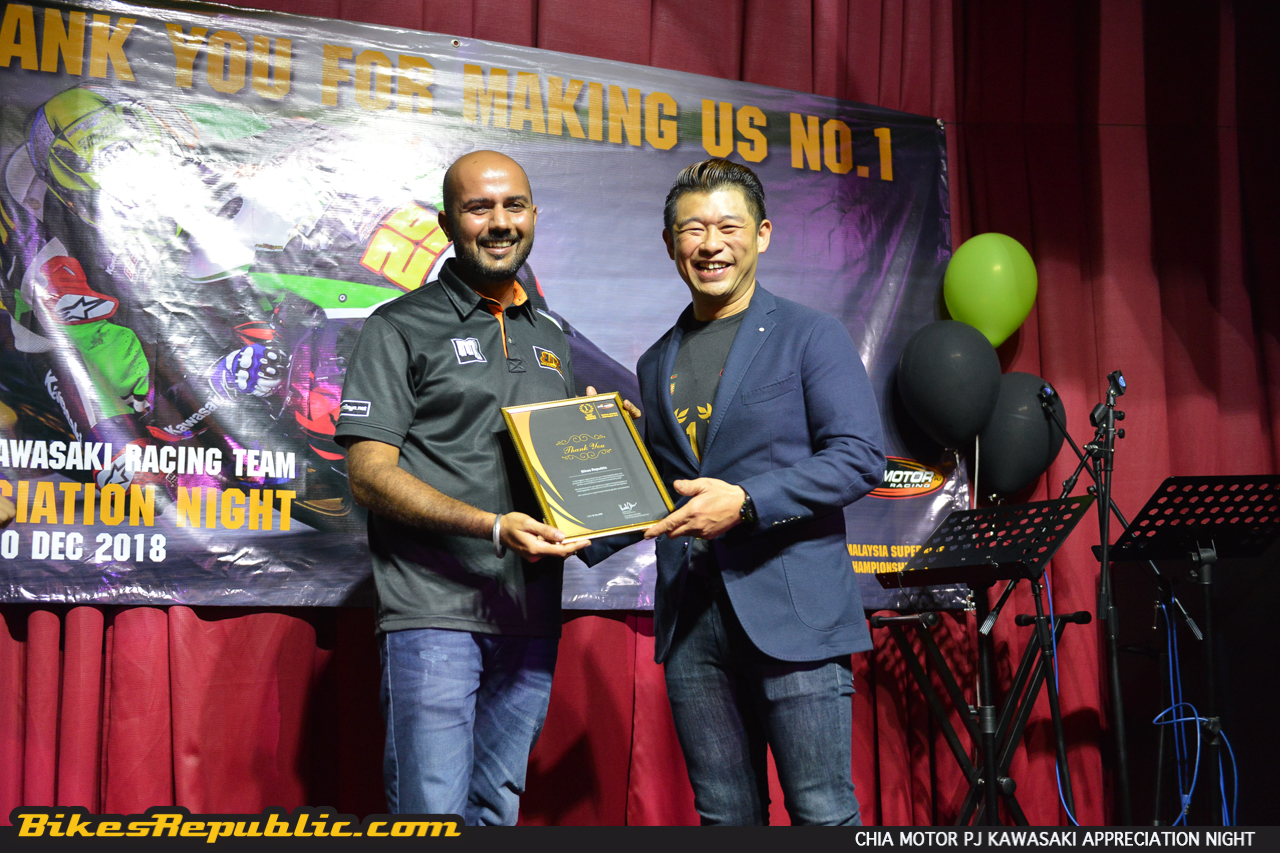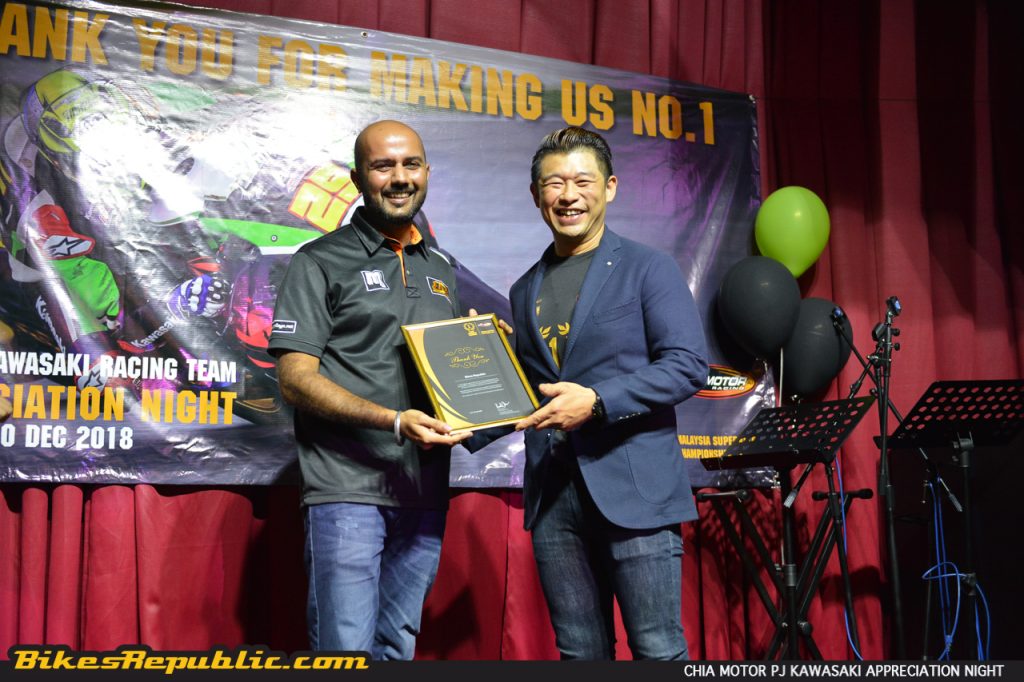 Next up was Mr. Edmund Lim, the Director of Octo Galaxy Sdn. Bhd. Octo Galaxy is the official distributor Eurol Lubricant and products. Eurol sponsors the lubricants used in the team's Kawasaki Ninja ZX-10R.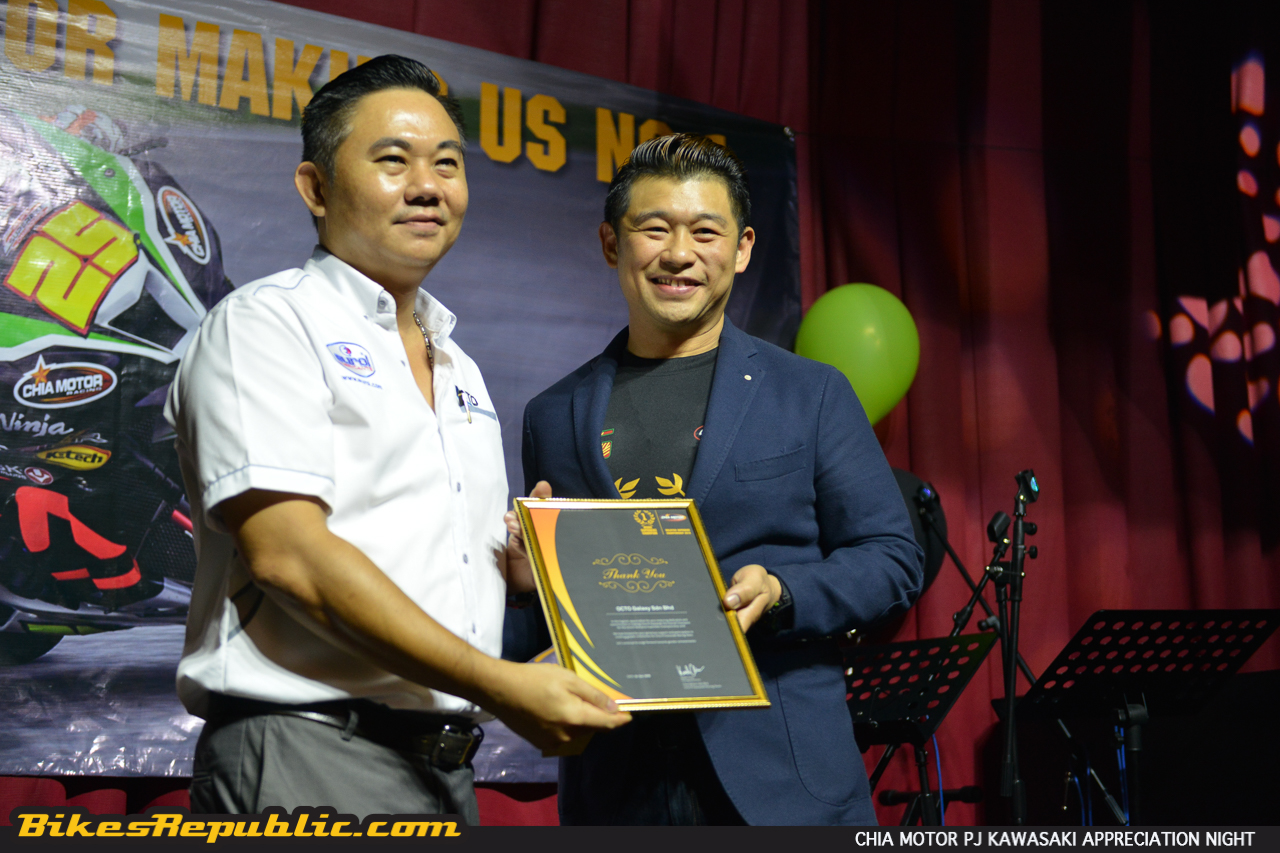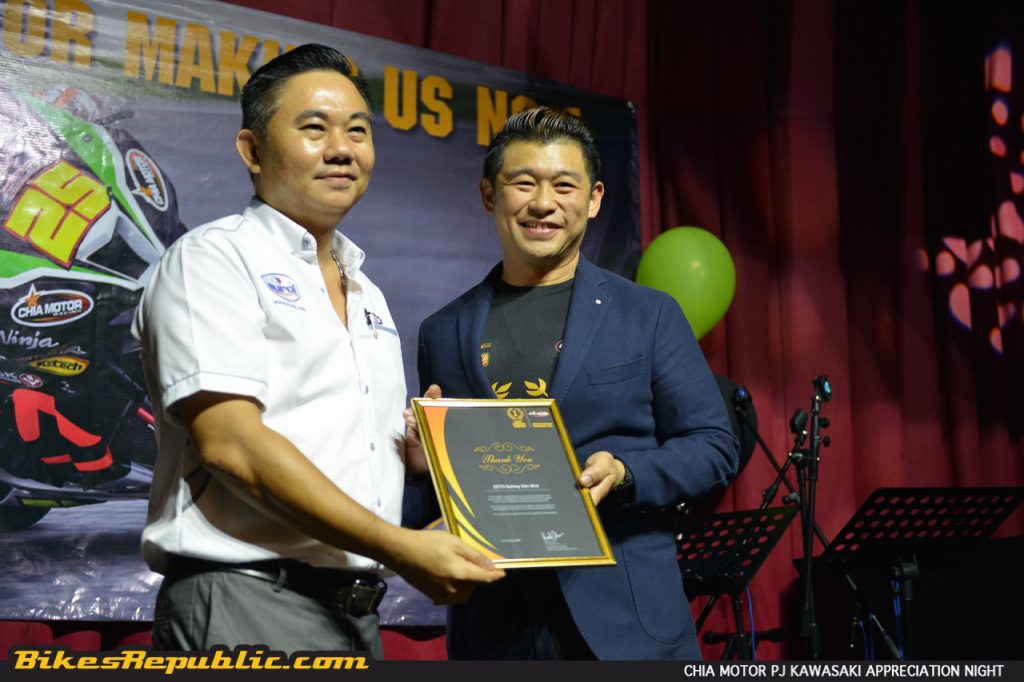 Lastly, a special appreciation award was handed to Azlan Shah Kamaruzaman. Keith was full of respect for the rider MSBK lap record when he qualified on pole for the two final rounds. His lap of 2:07.708s was only 2 seconds away from the times recorded in the full-blown World Superbike Championship round at SIC.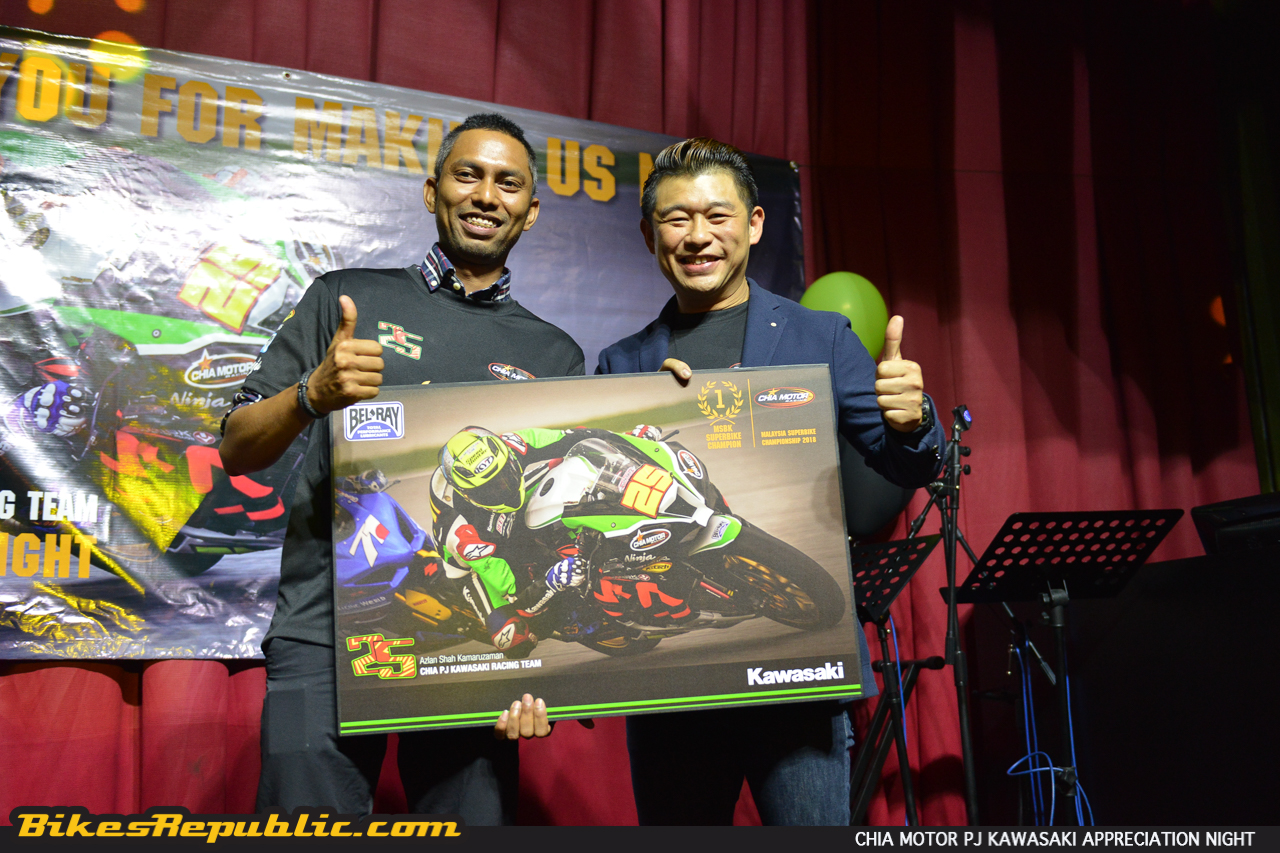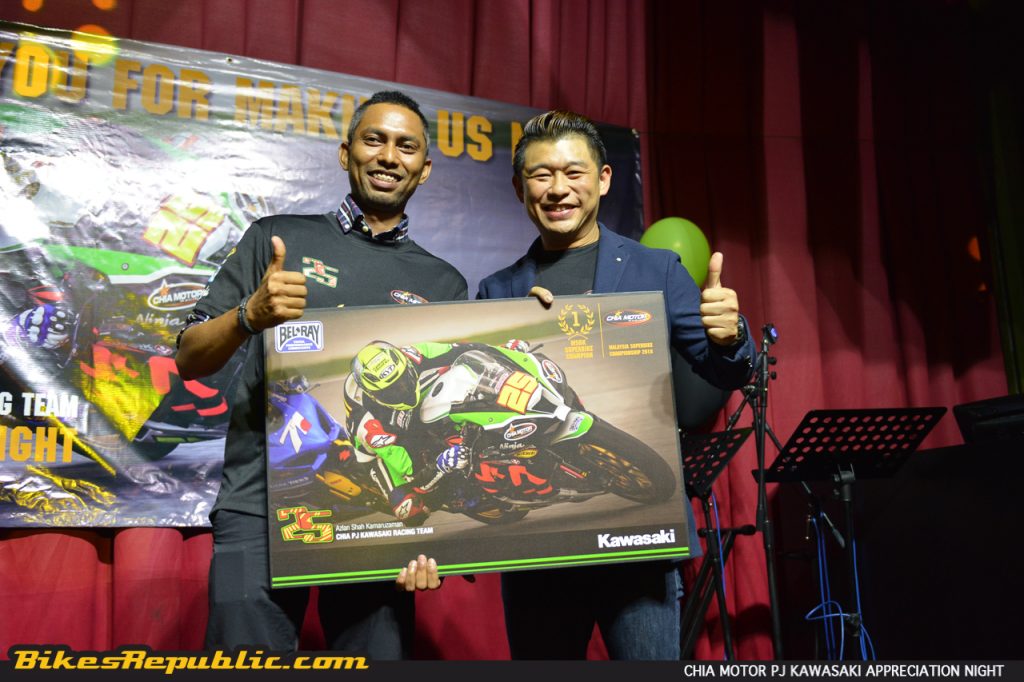 Keith also iterated on how proud he is to be a Malaysian for having a team consisting of all races and religions working together to achieve the highest accolades.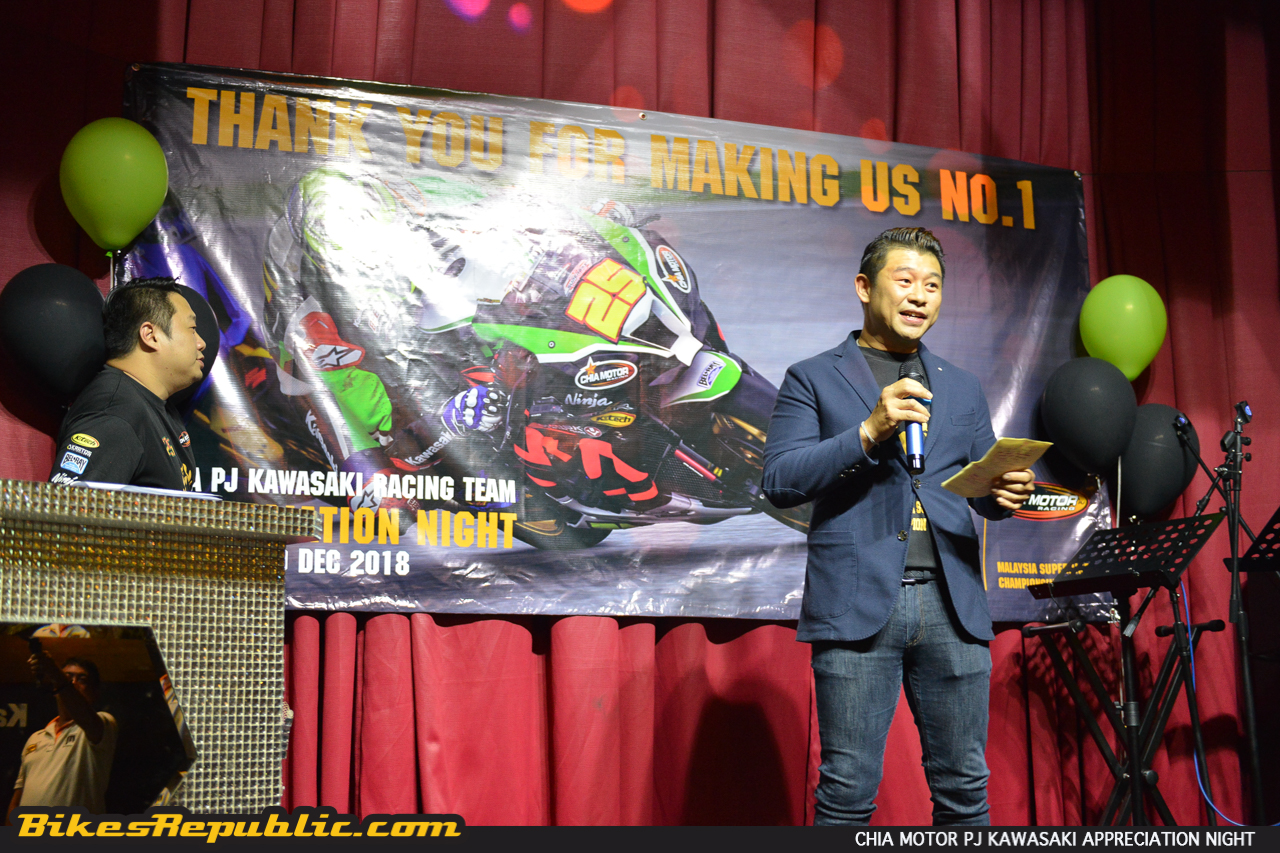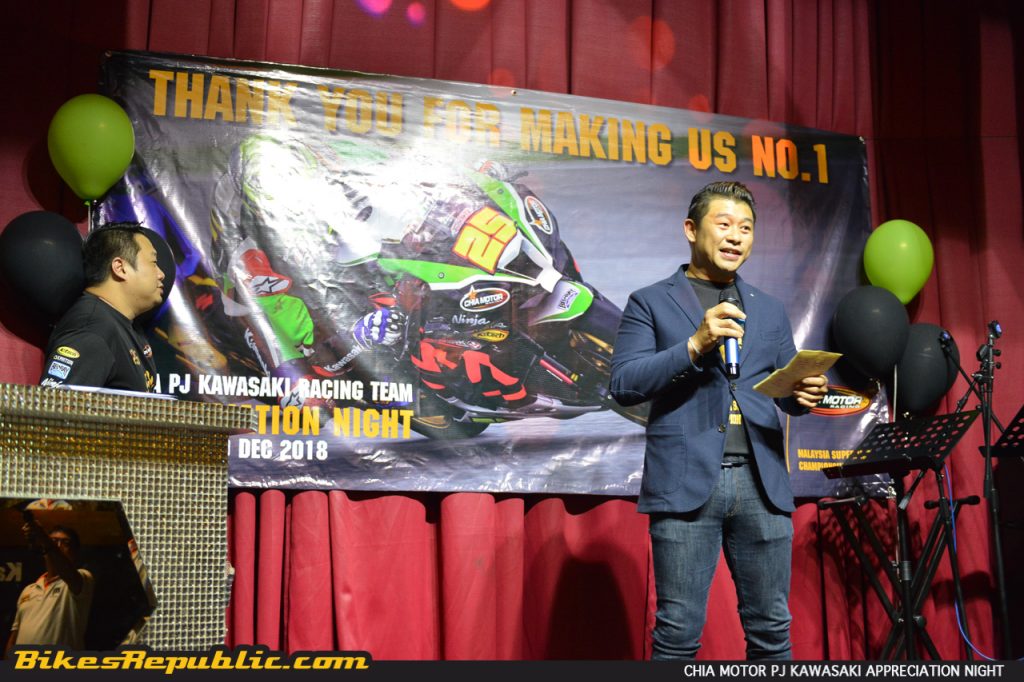 Scores of Kawasaki owners showed up for the evening, too, despite the heavy rain.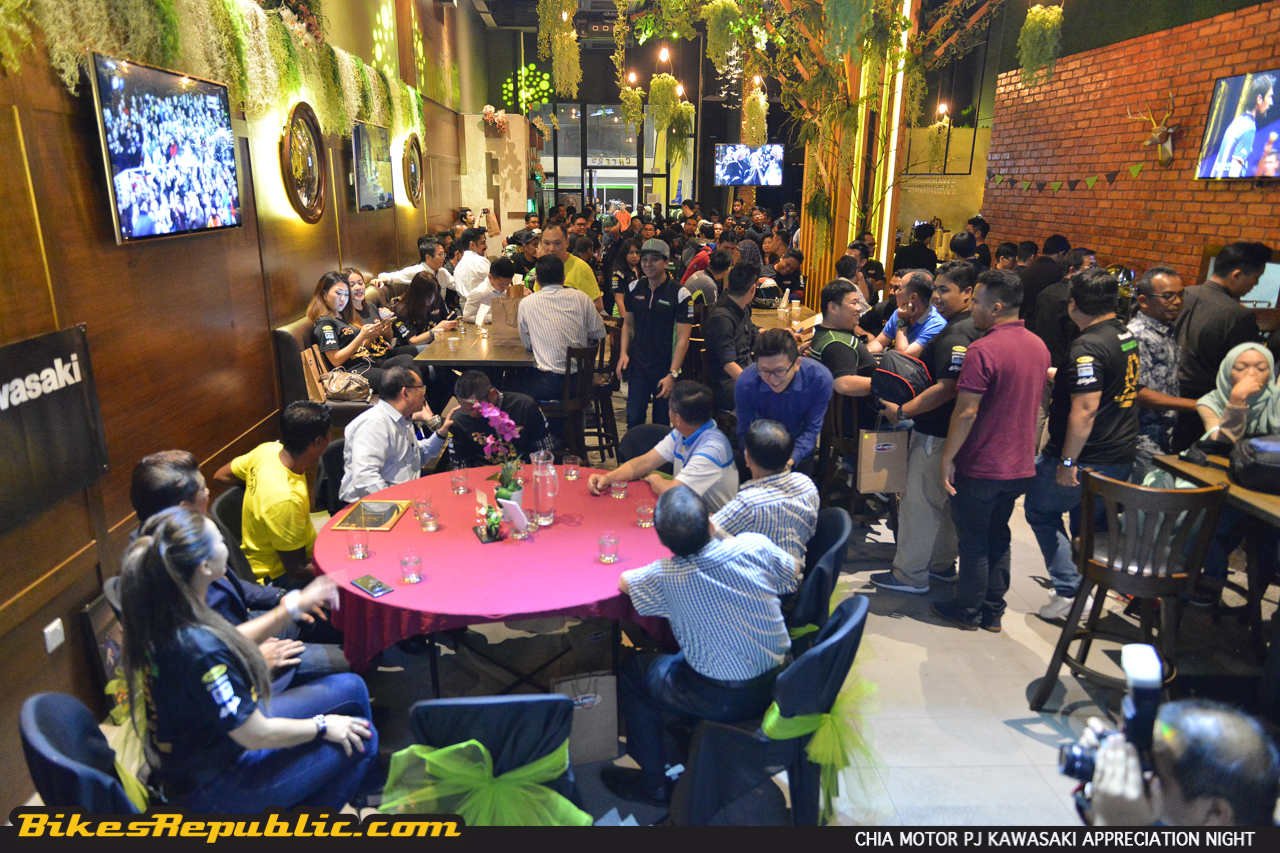 The night continued with dinner, a live band and lucky draws.