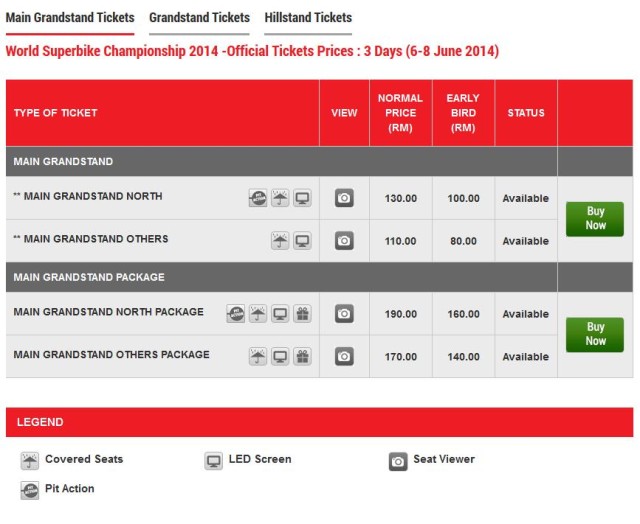 There is no other more official confirmation of the WSBK coming to Sepang, Malaysia than this revelation of WSBK 2014 ticket available for sale that is publicly shown at their website here. Tickets are priced at RM100 for the Main Grandstand North for the early bird and still available right now to buy. This could be one of the most awaited race series that motorcycle fans from Malaysia are waiting for.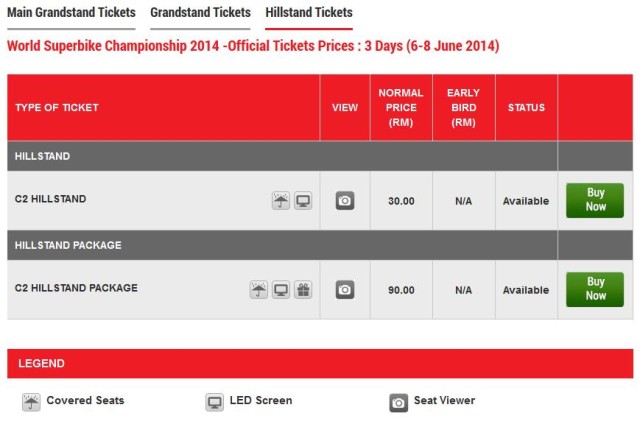 The cheapest tickets available is at RM30 for the C2 Hillstand and that is affordable enough for everyone to start saving now. Based on my comparison to the tickets price, it seems that overall ticket price on every place for WSBK is much cheaper than the tickets for MotoGP. This maybe due to their(SIC) perception about WSBK than is less popular than the MotoGP, but in my humble opinion, I think, there are many more people wanted to see the production bike being pushed to the limit on the track. After the race ended, they can just go back to the shop to check out their favourite production that they like from WSBK race, which they cannot do if it was MotoGP.
MotoGP is interesting too but the bikes are not production bikes, so the races are quite irrelevant to us who wants to look for something that we can buy afterwards. There is a saying,'You win on Sunday, you sell on Monday'. Whether it is WSBK or MotoGP, I'll heading for both of the races. Maybe F1 too. What about you?
via: http://www.sepangcircuit.com/Ticketing-@-Buy_Tickets_Online-%C2%BB-World_Superbike_Championship.aspx