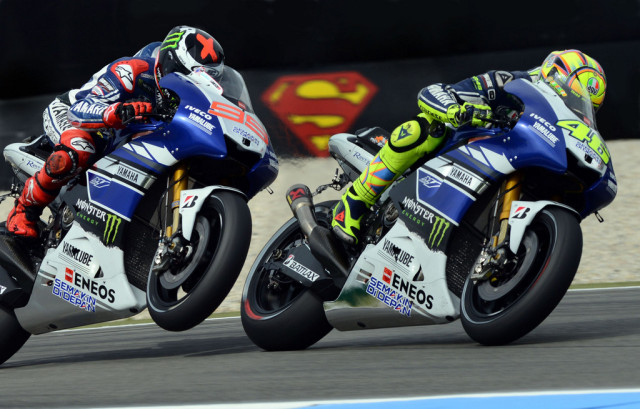 Valentino Rossi delivered a faultless performance today to win the Grand Prix of The Netherlands, his 80th Premier class victory and his first win since 2010. Having shown race winning pace all weekend in all conditions 'The Doctor' was faultless in today's TT race. The nine-time World Champion held his fourth position from the grid into the first turn then started looking for a way past Stefan Bradl for third. By the second lap he was past and with just 22 laps to go he moved past Marc Marquez into the first corner for second, beginning the hunt for Dani Pedrosa and victory. It took just one lap more and Rossi was able to dive past Pedrosa into the final chicane for a race lead he would hold to the flag, crossing the line to a sea of yellow flags and a well deserved return to form. The win puts Rossi on 85 points, now just two behind Cal Crutchlow in fourth place.
While his teammate rightly deserved the honours for an amazing victory, Jorge Lorenzo also shone today. The World Champion gave everything he had and more, defying the pain from collarbone surgery just 36 hours ago in a heroic effort to race. Lorenzo had started from 12th on the grid but had risen to eighth by turn three. By the second lap he had climbed to fifth and was chasing down satellite Yamaha rider Cal Crutchlow in fourth. With 23 laps to go he had passed Crutchlow and began to close the gap to Marquez in third. As the laps wound down exhaustion set in and with 11 to go Lorenzo was re-passed by Crutchlow. With grim determination he managed to maintain pace for fifth position and rolled into the Yamaha pits to an applauding team. The remarkable feat means Lorenzo holds second in the Championship and is just nine points behind Pedrosa as they head to Sachsenring in two weeks time.
Valentino Rossi 1st / 41'25.202 / 26 Laps
"Today was something special, this is one of the best victories in my career because it is one of the most wanted and expected for such a lot of time. I'm so happy because I won a real race where all my opponents were very strong and very fast, apart from Jorge with his injury. It was great from the beginning, I had a good feeling, I could overtake on braking and I felt good on the bike. It was difficult but the finish line was calling me so I had to arrive as fast as possible. We have made a step with the bike, I can ride in a better way so we have to try and stay with the top guys every weekend. Jorge rode an incredible race, we have to say a special great congratulations because he had great courage to do this and also he made an important step for his Championship."
Jorge Lorenzo 5th / +15.510 / 26 Laps
"It would have been impossible to believe some minutes after my crash that this could happen. We were brave to make the operation the same day, if I had waited to Friday the doctors would not have let me race. We made the race today and I was very brave in the first laps because passing the riders with a collarbone like this under braking was really hard. I felt quite good physically at the beginning of the race but after lap seven every lap was worse; it was more difficult to change direction, to brake and to accelerate so I couldn't do more than fifth position. We only lost two points to Dani who is leading the Championship. This fifth position is better than any victory I have had in my career. I hope to have a good recovery for Germany, I will not be 100% but I hope to be better than here. The victory for Valentino and the third for Crutchlow are good for the Championship, I would have preferred Cal to finish in front of Marc but you can't always have perfection! I am happy for Valentino, more than two years without winning has been hard for him so I'm happy for my box partner. After Aragon I think he made some improvements and here he took profit from the opportunity. Lets see what happens in Sachsenring as last year we had some issues and the Hondas were strong but I think if I can improve my physical condition I can be more competitive than this race." 
Wilco Zeelenberg – Yamaha Factory Racing Team Manager
"If you would have asked me a quote before the race I would have said we need to finish and get some points. To fight for the first fifteen laps at least and to be there with the front boys was unbelievable for Jorge. Finishing fifth, having Vale winning the race and having Cal also on the podium is great for Yamaha. The result is great for us as we lose just two points to Dani. I think that is what this race was all about, damage control, we had to try to finish and for sure not to crash."
Massimo Meregalli – Yamaha Factory Racing Team Director
"It has been a double victory today, so great for both results. Vale is back with a victory after two years and eighth months and the last one was also with Yamaha so it has been a great result for all of us. We were also able to gain some points against our competitors so for me it was a very special victory. Jorge did something really incredible. He showed he has the determination that is not normal. That he could race having had surgery just two days ago, has been very impressive, I know what a rider can physically feel when you are on the bike and injured. At the end we also only lost two points to Pedrosa. For me this is going to be an unforgettable weekend. We will leave this place in a really good mood and for sure we are going to start the next weekend totally full gas."
Crutchlow returns to podium in Assen thriller
Monster Yamaha Tech 3 Team rider Cal Crutchlow made a stunning return to the podium in a classic Dutch TT encounter this afternoon. The 26-lap battle was a nail-biting affair from start to finish and a fantastic charge in the second half of the race secured British rider Crutchlow a third rostrum in the last four races and ensured once again that he was unmatched as the outstanding non-factory rider.
Starting from pole position for the first time in his premier class career after a sensational qualifying performance yesterday, Crutchlow found himself down in fifth place in a frenetic opening to the 65th running of the historic Dutch TT. With 90,000 fans gripped by the exciting action, Crutchlow's podium challenge commenced when he seized fourth from heroic reigning World Champion Jorge Lorenzo, who just 48 hours after breaking his left collarbone in practice was producing a superhuman effort to keep the podium in his sights early on. Crutchlow disposed of Lorenzo's threat at the final chicane on lap 15 and he then moved into the rostrum places with an identical move to get by World Championship leader Dani Pedrosa on lap 21. The former World Supersport's blistering speed then saw him brilliantly hunt down Marc Marquez for second as the race reached an enthralling climax. Eager to equal the career best second place he scored in Le Mans last month, Crutchlow came close to pulling off a thrilling overtake at the first corner on the final lap. Marquez though was not to be outdone and after coming close to contact, Crutchlow momentarily ran off track before recovering to claim a richly deserved fifth MotoGP podium that keeps him in fourth position in the World Championship standings.
Bradley Smith produced yet another hugely encouraging display, the British rookie finishing inside the top 10 for the fifth race in a row. Starting alongside eventual winner Valentino Rossi and Pedrosa on the second row after a career best qualifying performance, Smith did his best to keep himself in the hunt for the top six in the early stages to try and gain vital experience from the fastest riders in the world. Struggling in the hard braking zones with discomfort from a recovery left wrist injury, Smith slipped outside of the top 10 but refused to settle for an 11th position he held from the fifth to the last lap. Locked in a battle with Nicky Hayden and Andrea Dovizioso, Smith produced a stunning last lap attack to finish ahead of both to claim ninth for the third time in the last four races.
Cal Crutchlow 3rd – 87 points:
"I am really happy to be back on the podium after the disappointment of Barcelona. It was a great battle right to the end and once again I showed my speed and I was close to finishing second and that would have matched my best result in MotoGP. But obviously after starting from pole position I wanted to win the race and had it not been for me struggling with the full fuel tank in the first five laps, I think I had a chance to fight with Valentino. I can't turn the bike on a full fuel load and then Jorge passed me and he was riding amazing considering his physical condition. It took me a while to get back by him but then I chased down Dani and Marc but it was a case of too little, too late. It was close with Marc on the last lap and I think we touched, so we were lucky he got back on the throttle when he did otherwise both of us could have been in the grandstand! Being back on the podium is great for Monster, Tech 3 and Yamaha and it is another positive result for the Championship. Before the start of the season, if somebody had said I would have been on the podium three times in seven races and been so consistently fast with the best riders in the world, then I would have been happy. Now we go to Germany in a positive frame of mind and hoping to get back on the rostrum again."
Bradley Smith 9th – 41 points:
"With my wrist injury continuing to cause me a problem, today was probably my hardest race of the year. After the operation immediately after Catalunya I expected it to be better than the last two races but to be honest I have a few more problems now. So it was a good race and to be able to get ninth on the last lap is a good situation. The distance to Bradl was quite similar to Barcelona and truthfully this ninth feels better than the sixth I got in Barcelona because today I really had to battle and nobody crashed. The gap to the front is quite similar to Barcelona and obviously the big positive of the weekend was starting on the second row. I knew finishing seventh was going to be a best case scenario because I knew Jorge was going to be coming through. I stayed consistent and my pace in the second half of the race was strong. I still need to work on the set-up for the early laps but I can go to Germany with a lot of confidence. I've scored another top 10 and beaten two very experienced riders on the final lap. And hopefully the wrist will be less of a problem at Germany and I can be in a bit less discomfort than here."