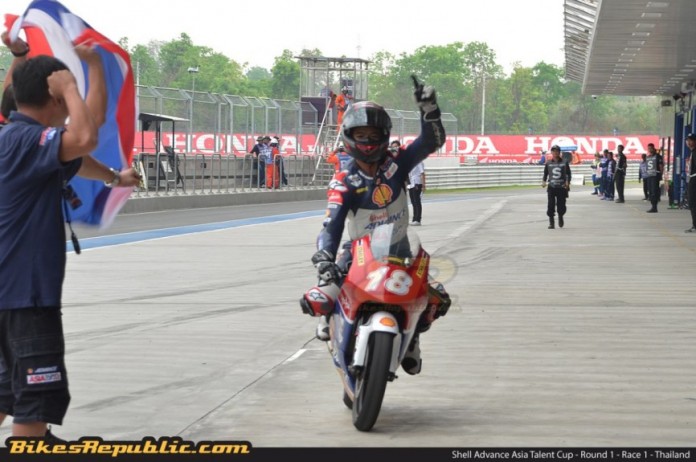 Thai rider Somkiat Chantra makes history after taking maiden series win on home soil in the first Shell Advance Asia Talent Cup 2015 race.
The Shell Advance Asia Talent Cup 2015's first race of the season took off on a thunderous note here in the Chang International Circuit, Buriram, Thailand. The 16-lap race saw Thai riders Nakarin 'Chip' Atiratphuvapat and Somkiat Chantra taking full advantage of their home ground, but the day ultimately belonged to Somkiat who took the chequered flag in first place.
Now in his second season of the Shell Advance Asia Talent Cup, Somkiat took his first victory in the series ahead of second-placed Ayumu Sasaki from Japan, and Indonesian series rookie Gerry Salim who placed third. Somkiat's victory however did not come easy as both he and Chip Nakarin had an intense fight on their hands against the Japanese trio of Sasaki, Takuma Kunimine and rookie Kazuki Masaki, Malaysia's Helmi Azman and Adam Norrodin, as well as Indonesian duo Gerry and Andi Izdihar.
The six-way battle across16-lap unfolded first with Chip Nakarin overtaking pole-sitter Helmi Azman at the start of Race 1, followed by countryman Somkiat seizing the early initiative as well. Despite dropping down the order, both Helmi Azman and Adam Norrodin put up a brilliant fight alongside their Thai counterparts in fending off the strong pace of Kunimine, Sasaki, and rookie Masaki.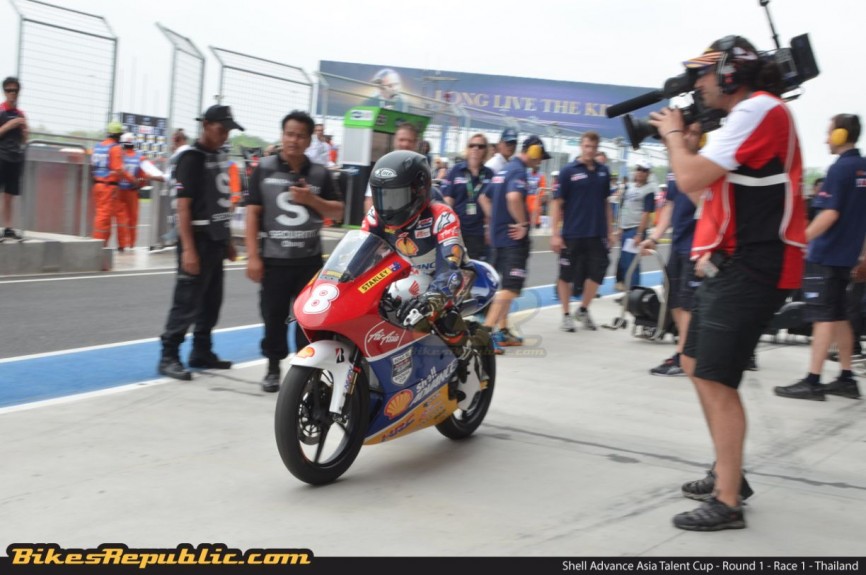 A slight contact between between Helmi and Kunime ended the former's run, whilst Izidihar's strong charges ended with disappointment after crashing out during the mid-point of the race. And, despite successfully fending off Sasaki, Kunimine, and Masaki, Chip Nakarin was forced wide whilst tackling one of the most difficult heavy braking points of the Chang International Circuit with just over a lap left.
The six-way battle's outcome only became clear during the final corner on the final lap, with Somkiat leading the pack to take the chequered flag in front of an elated home crowd with Sasaki and Gerry not far in tow in second and third respectively, with Gerry charting the first podium scored by an Indonesian rider in the series. Rookie Masaki took fourth, with Chip Nakarin settling for fifth, and Adam Norrodin in a strong sixth.
Whilst the Thai's celebrated, the Malaysian encampment's progress in Race 1 is bittersweet to say the least. Despite having secured pole position, Helmi Azman could only settle for eighth place as a result of his contact with one of the Japanese trio in the lead group.
Shafiq Rasol, on the other hand, could only muster a ninth place finish in Race 1, whilst rookie Azroy Anuar classified fourteenth. For the towering Pasir Gudang native Fakhrusy Rostam, his first race of the season came to a disappointing conclusion after crashing out following a contact with Japanese rookie rider Ryusei Yamanaka.
The upshot to this is the improved race craft shown by Helmi Azman and Adam Norrodin. Together with Shafiq Rasol, the trio have kick started their Shell Advance Asia Talent Cup 2015 campaign on a good note, scoring crucial championship points in the process. Hopefully, things would fare better for our boys in Race 2 tomorrow with Helmi still holding the advantage of starting from pole position.
The season-opening weekend's Race 2 is scheduled to take place tomorrow at 11:30am (local time) prior to the weekend's scheduled World Superbike Championship (WSBK) main events. Stay tuned here for more updates as it comes along.
In the meantime, enjoy our extensive photo gallery below or on our official Facebook page as well.
Shell Advance Asia Talent Cup 2015 Round 1 – Race 1 Thailand