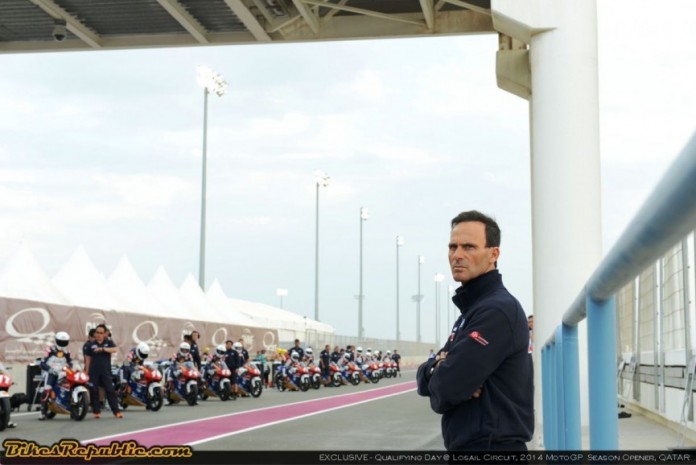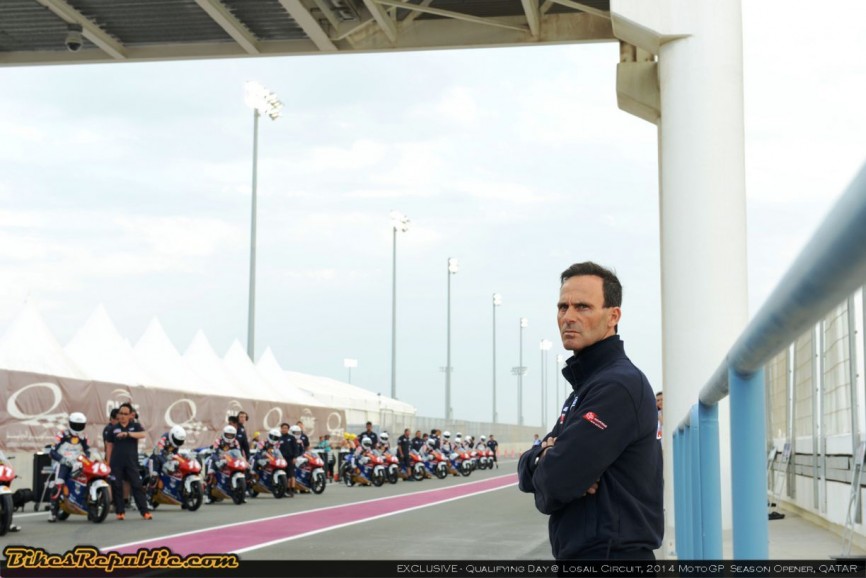 Alberto Puig is not a new name to MotoGP, in fact the man has brought the world some of the top talents in the sport – Casey Stoner and Dani Pedrosa are the two that come to mind.
Puig was a MotoGP racer himself in the 90s but retired after a bad crash, which hindered his progress. He then focused on rider development and management. He is most well known for running the successful Red Bull MotoGP Academy.
The Spaniard is now in charge of developing Asian riding talent through one of Dorna's own efforts, the Shell Advance Asia Talent Cup; a program designed to give amateur Asian riders the opportunity they need to impress on the world stage and maybe make it to MotoGP.
We caught up with the Spaniard at the MotoGP season opener in Qatar, amidst all the tension and stress of running the first ever Shell Advance Asia Talent Cup. Seated at the official SAATC tent, Puig was in an animated conversation with another gentlemen. The two men seemed worried about something, just moments earlier Malaysian rider Ibrahim had had a nasty fall, perhaps they were worried about him.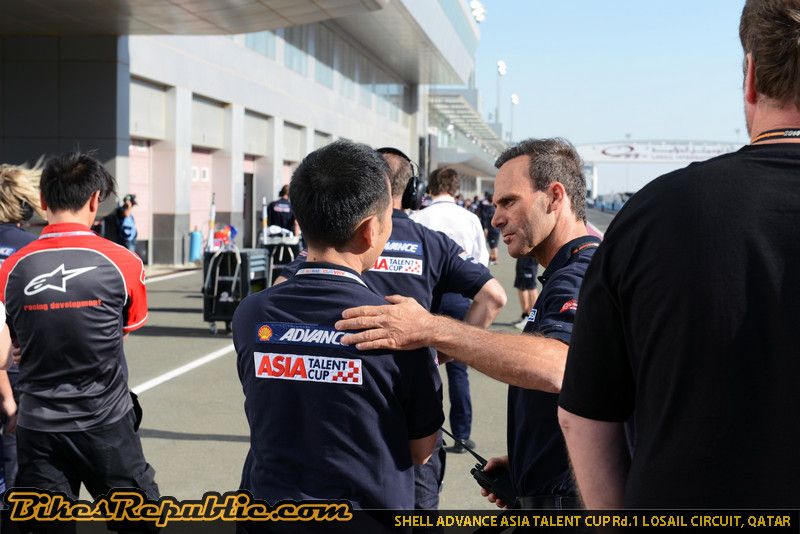 Puig wasn't impressed with the fact that a group of foreign journalists wanted to interview him, he obviously was a very busy man and his frustration at the timing of the interview was plain to see. After settling down at a corner of the tent, the interview begins with one of the Indonesian journos asking about the pace of the race. "It seemed pretty quick, the bikes are fast, what do you think of the race?"
Alberto glares at the journo, obviously in disgust, he says "You think? I think no! Not so fast, it was normal, it is just okay for the first race. But they have to continue to improve for the next race."
This is a man at norm with the high speed life of MotoGP, 250cc Moto3 bikes are not going to impress him, so I ask, "this is your first SAATC race, how can you improve for the next race?"
I am not sure if he understood the question because he just stares at me, then goes on to point at himself with both his hands and says "Me?", in very obvious shock that I did not know who he was. I suspect he misunderstood the question and assumed that I thought that the first SAATC was his first race ever. So I say, "Yes, how will you improve the race?".
This is where it gets interesting as the pint-sized former MotoGP racer looks away for a while, he mutters "well they have to be more…..". Then he suddenly snaps, he lets it all go and says, "You know what, Asian people have to change their mentality. They are too… polite sometimes. They have to be more aggressive like the European riders. They must understand this and they have to change here and now. They have to be a little more strong inside, with a lot more fighting spirit."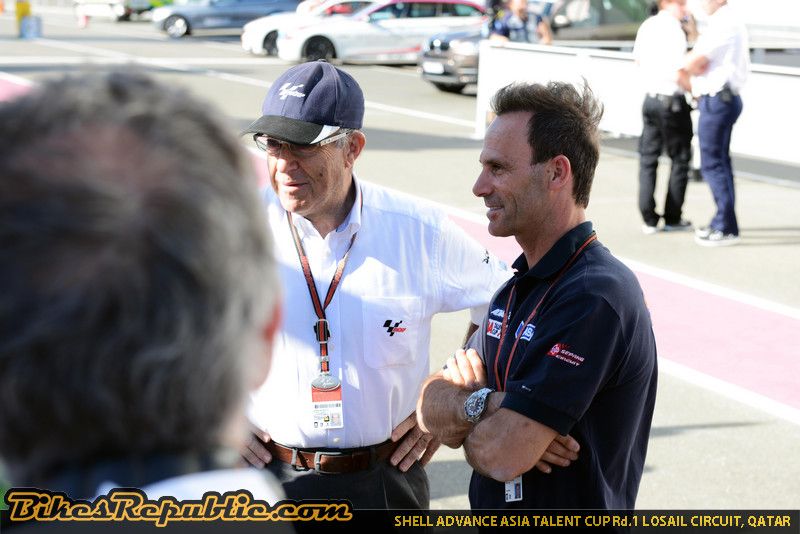 "But we saw three Japanese take all three top spots, how can Asians be too nice then?" asks one journalist, oblivious to the fact that there was no European rider in the series to give the Asians a tough run. Puig still answers the question, "Because Japanese have more experience, and they have more tradition in racing than in Indonesia, Malaysia and China. The Japanese riders are a step ahead."
So I take the opportunity to pop a question about the Malaysian riders and ask what he thought about the Malaysian boys. Again he looks away, almost pitifully and says, "They need to improve, they need to understand that this is a very important chance. If they take it, then it is okay, if not then too bad, they will go back."
"All of them have to have a fighting spirit. Everytime they get on the bike I hope they will improve, they will learn from experience. I hope that. But the mentality is something only they can change inside, they have to understand racing is a tough sport, this is not a joke. If they want to be good, strong riders they have to be animals. If not they will not survive," he finishes.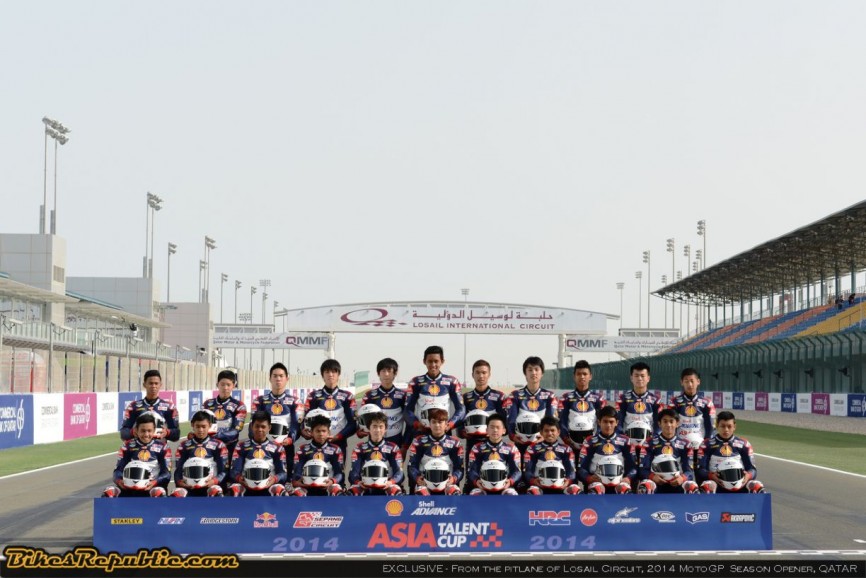 He is obviously a little disappointed with how the first race went, he wasn't in the mood for the interview. It was easy to pick that out, so the interview tones down to more mediocre, less thought provoking questions. "What do you look for when you are searching for a rider?" asks one of the Thai journalist.
"You look for potential, you look for talent, you look for spirit."
But how do you define talent and potential? "Very difficult. If the talent is there and the potential is there you will see it. If not it is very difficult to create talent and potential out of nothing. If you find talent and potential you can work with it to make it better, but if there is no talent or potential, then there is nothing to do."
Then comes the toughest question, the one question that very obviously irritated him, and that one question came from me.
"So lets say that at the end of the year, female rider from Thailand (Sarapuech Muglada) performs the best, do you think MotoGP and the racing fraternity are ready for a female rider? I ask.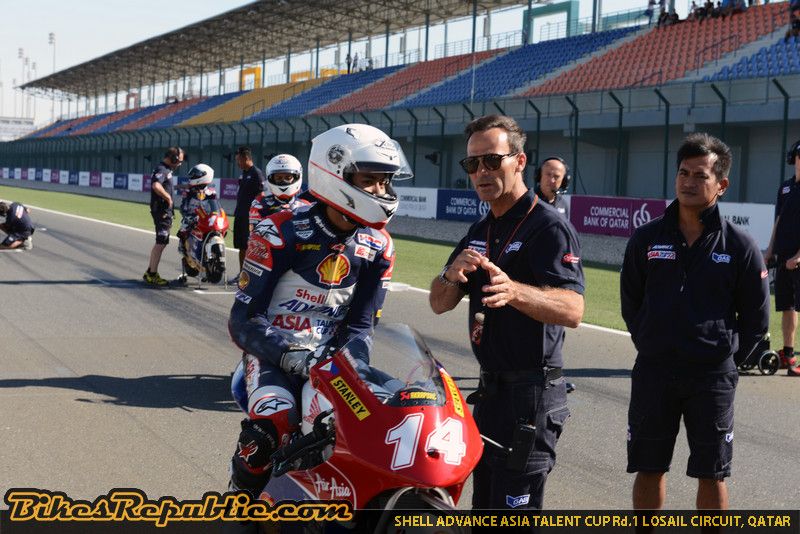 He looks at me, his eyes are full of shock, the expression on his face goes something along the lines of "WTF". There's a moment of silence, then " This conversation has no meaning. I don't know what will happen at the end of the year, I don't know how she will perform later. I only think of the next race in Indonesia to see if they can improve. End of the year is the end of the year. "
Then the interview comes to a close and he just walks away. Perhaps he was busy, perhaps he was worried about ibrahim's fall, but whatever it is, there is a lot going on in Alberto's mind, but one thing is for sure, the man still has a lot of work to do, and he is still searching for the next top talent. And judging from the way he is working, it won't be long before he finds his next top talent.