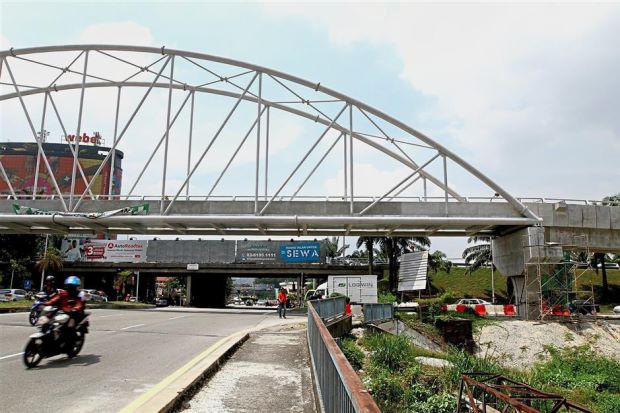 The Federal Highway motorcycle lane upgrading project will include a motorcycle-only bridge.

It spans the busy Jalan 222 – Jalan Templar – Federal Highway intersection.

The project had been delayed and is slated to be ready by early-October 2018.
The Jalan 222 – Jalan Templar – Federal Highway may be the most congested during the rush hours, but it is for a good thing in the future, reports The Star.
As part of the 8.1km-long motorcycle lane and drainage upgrade project which costs RM28 million, a motorcycles-only bridge which spans the intersection will be ready for use by early October. The project starts from Kelab Gold Negeri Selangor along the Federal Highway near Subang Parade and ends at the Kota Darul Ehsan arch, which marks the Selangor-Kuala Lumpur border.
The project had been slated to be completed in June this year, but heavy rain which began in May and change of design delayed it for over a month, explained a Public Works Department (JKR) spokesman. Other factors that caused the delays were theft of equipment, the general elections and long stretches of public holidays.
The project seeks to repair or upgrade damaged road surface and alleviate flooding problems in sections of the bike lanes which spans a total of 16km in both directions.
A check by Bikes Republic revealed that a section of the bike lane after Jalan Barat heading towards Kuala Lumpur had been given a new asphalt cover, although it had not been widened as most expected. However, the section remains closed for some reason.
In the time being, motorcyclists are forced to share the Federal Highway's main throughway with other heavy vehicles, putting their lives and those of others in danger. (Please click on the link below to read our earlier report.)
Motorcycles Allowed on Federal Highway Due to Bike Lane Works
As such, we recommend that motorcyclists remain in the left lane as much as possible should you choose to use the Federal Highway. Since the old highway's lanes are narrower, heavier vehicles drive closer to one another, and this represents dangerous challenges to motorcyclists, especially if you are caught in the faster lanes when the traffic suddenly becomes less congested and speeds of other vehicles pick up.
We hope the Public Works Department and their contractors pick up the pace and complete the project as soon as possible in the interest of safety of all road users.