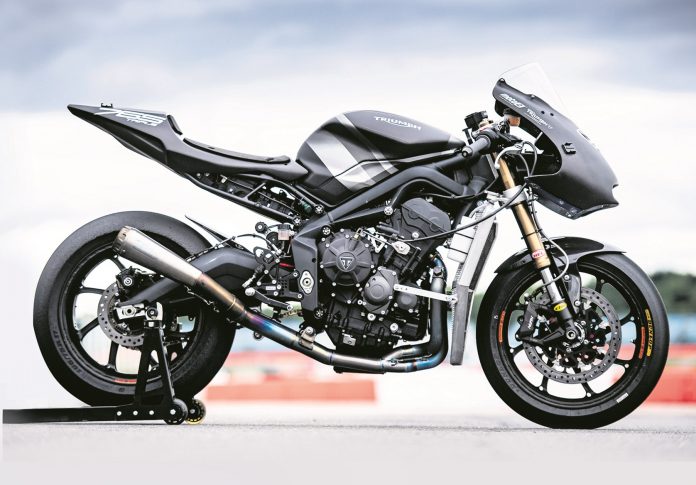 Moto2 riders have tested the 2019 Triumph Moto2 engines.

The Moto2 teams then build frames around the engine.

But how much horsepower does the race engine produce?
The Moto2 field has successfully tested their 2019 Triumph Moto2 engine powered bikes.
But which model was the engine was sourced from? Or more specifically, how much power it produces?
We have already touched on this subject, but a refresher is always good. That's because Dorna has revised a couple of regulations since we published that article.
First and foremost, the Moto2 and Moto3 categories are considered "feeder classes" to MotoGP. That means the two classes are the breeding grounds for future MotoGP riders.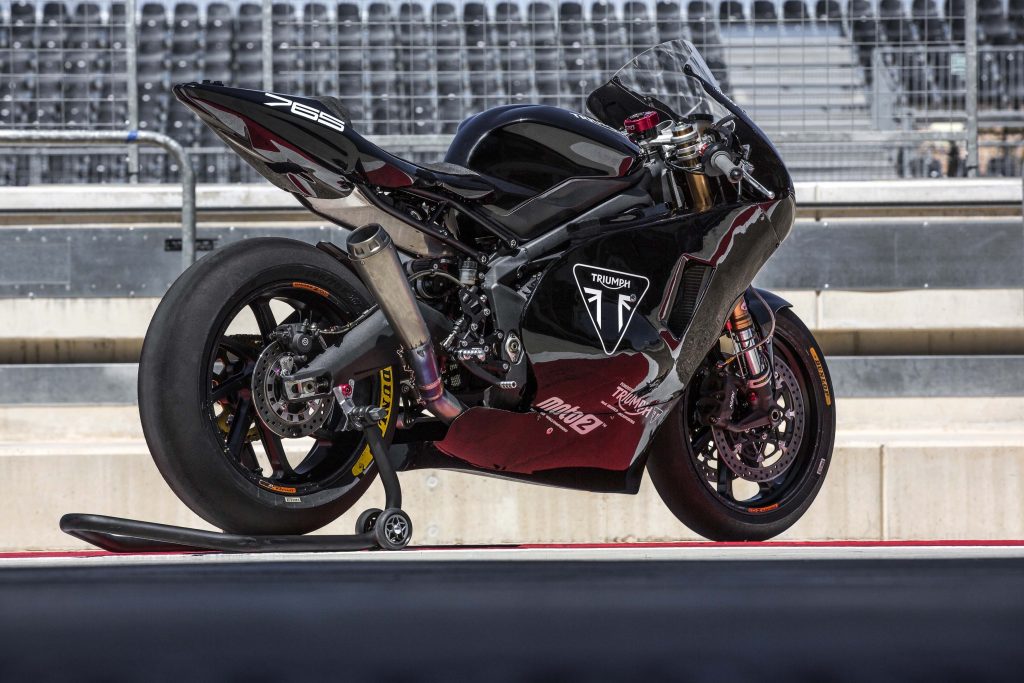 As such, a single spec-engine is supplied to all Moto2 teams. The teams such as KTM, MV Agusta, Kalex, NTS, Speed Up then develop and build their own frames and chassis around around the engine.
The previous sole engine supplier had been Honda. The powerplant was based on their CBR600RR road bike.
The operative word here is "road bike." Dorna wanted Moto2 machines to be as close to road bikes as possible, hence the engines were drawn from bikes you and I could buy. Consequently, the engine also has its power output limited to a certain degree.
Triumph's Moto2 engine is based on the Street Triple RS's 765cc triple, launched in 2017. The street engine produces 121 bhp at 11,700 RPM and 77 Nm of torque at 10,800 RPM. There are 80 new parts in the new 765cc triple compared to the previous 675cc triple.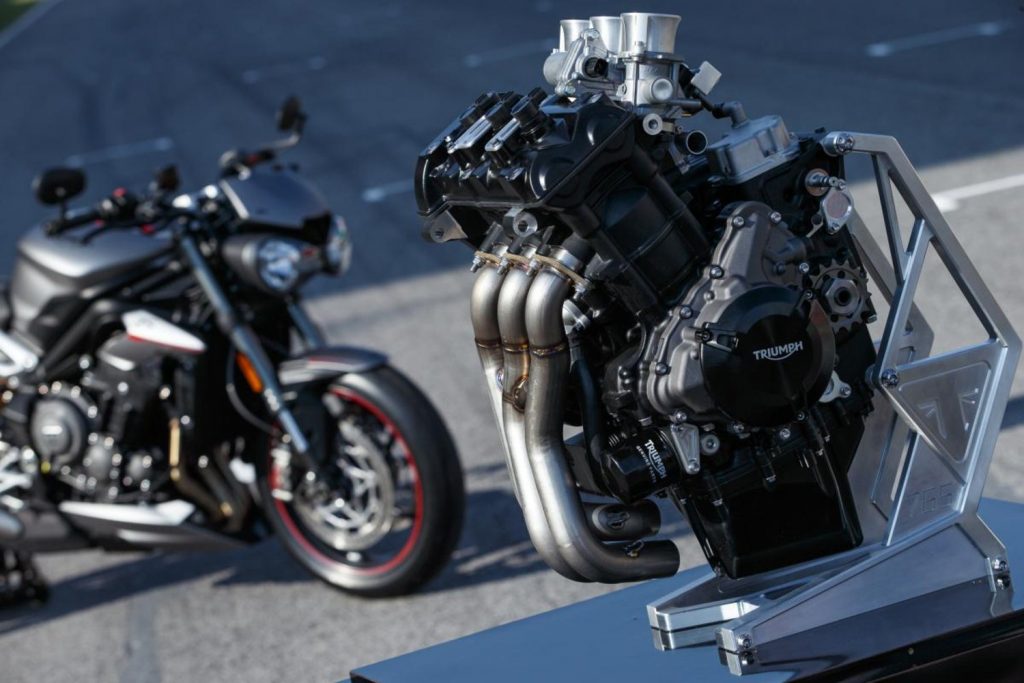 So, how much does power the race engine produce and what was done to it? Triumph has published an official press release.
Engine Testing and Development
Triumph has conducted a multi-phase testing programme to maximize the engine's performance, durability and drivability. The programme included:
2-year development program of factory-based dynamometer and multiple track locations for testing.
Completed more than 2,500 laps at race pace.
Application of high-performance engine coatings.
Development of key engine internals.
Among the changes to the engine are:
Modified cylinder head with revised inlet and exhaust ports to optimize gas flow.
Higher compression ratio (the pistons are standard).
Titanium valves and stiffer springs.
Revised cam timing for higher peak RPM.
High flow fuel injectors.
Low inertia racing alternator.
Revised 1stand 2ndgear ratios.
Revised engine covers to reduce width.
Revised sump to improve exhaust pipe routing.
The revisions yield 138 bhp.
By why not higher horsepower? Because more exotic parts need to be employed to raise the power higher. Additionally, the engine's structure as well as other stock parts need to be developed. Doing so will raise the costs which needs to be absorbed by the teams. Dorna wants to encourage higher participation through lower costs.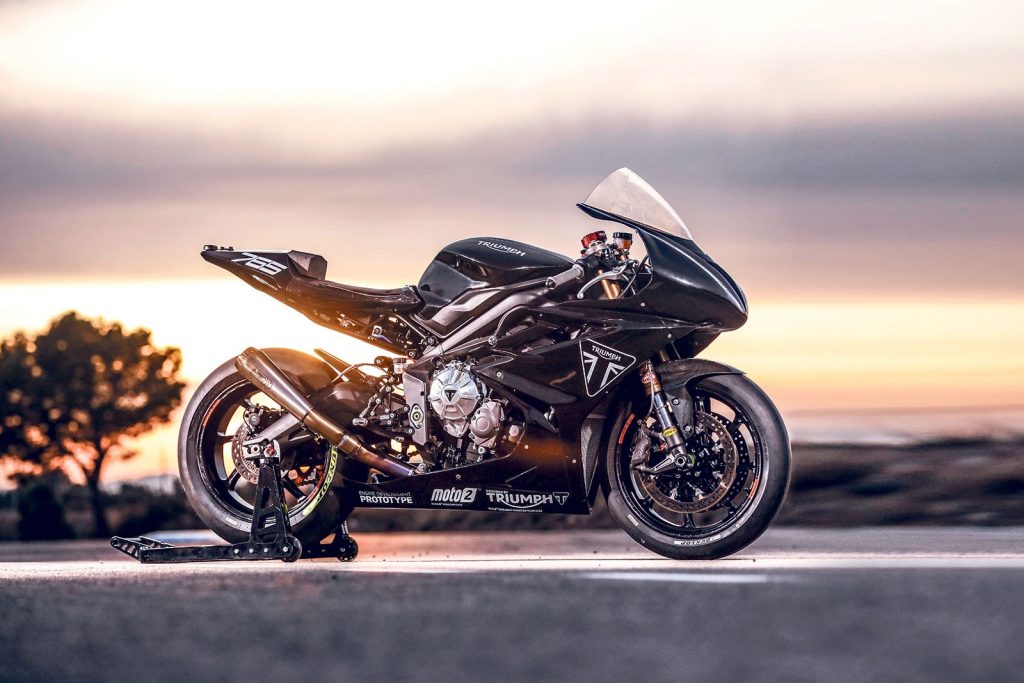 ECU Development and Testing
All Moto2 bikes will employ the standard Magneti Marelli ECU provided by Dorna. The ECU was made in collaboration with Triumph. Dorna is forgoing the traction control feature for Moto2 in 2019, despite announcing otherwise earlier this year. Having traction control would require teams to employ dedicated data analysts which will drive costs up, in turn.
Chassis Development and Testing
Triumph supplied early development engines through Externpro to the teams to conduct tests. The tests were carried out by Moto2 riders.
Results from post-2018 season tests at Jerez
All riders commented that they were familiarizing themselves to the new bike, engine characteristics and ECU. The weather at Jerez was cold over the test period with only brief moments of sunshine and rained on the third day.
Still, the tests revealed that the new bikes were already on the same pace as the previous year's. Indeed, all riders gave positive feedback at the end of the tests especially with regards to smooth power delivery and higher torque, compared to the previous engine.
They should be faster by the first official Moto2 tests starting 20thFebruary 2019 at Jerez.