Sym Malaysia recently launched the 2018 Sym Cruisym 250i and Sym Jet 14 scooters.
Both the 250cc and 125cc scooters are Euro4-compliant with modern and sporty looks.
The Cruisym 250i is priced from RM18,888 while the Jet 14 is at RM6,688 (basic prices without GST).
Sym Malaysia launched their latest scooters addition into their current line-up in the form the 2018 Sym Cruisym 250i and 2018 Sym Jet 14. Focusing on modern design filled with aggressive and sporty cues, their latest scooters not only look great but also good for the environment as they are in compliance with the Euro4 emissions regulations.
The very next morning after their debut, Sym Malaysia gave us a small taste of what their new scooters are capable of. A simple test ride near the hotel compound was organised to help the media members, as well as dealers, understand more on what they are in terms of acceleration and handling in small quarters.
2018 Sym Cruisym 250i – From RM18,888 (basic price without GST)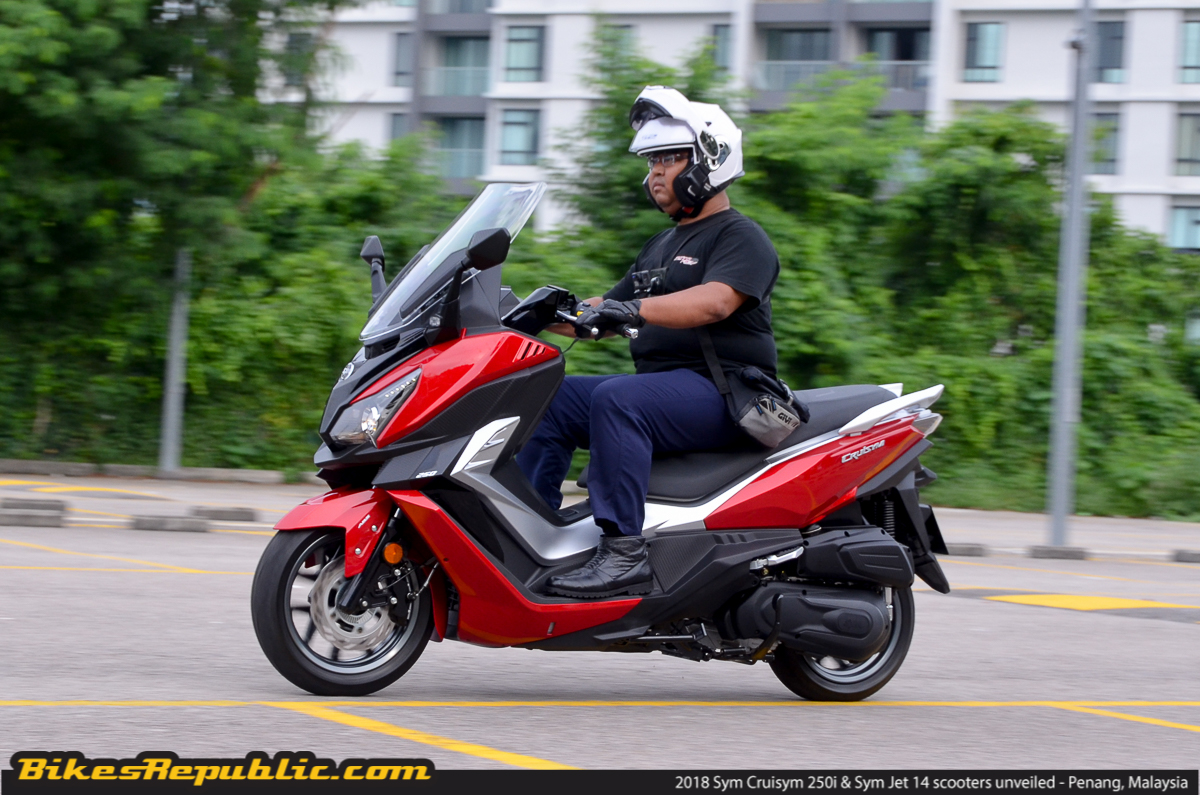 We came a bit earlier to have a look at the new scoots from Sym and we were immediately drawn to the 2018 Sym Cruisym 250i before anything else. It's true when they say that the bike's design is both aggressive and sporty. The first thing that came to mind is that the Cruisym 250i is perfect for those looking for a maxi-scooter which is not associated with the words 'old', 'outdated', or 'boring'. This baby is as modern as it gets when it comes to its looks.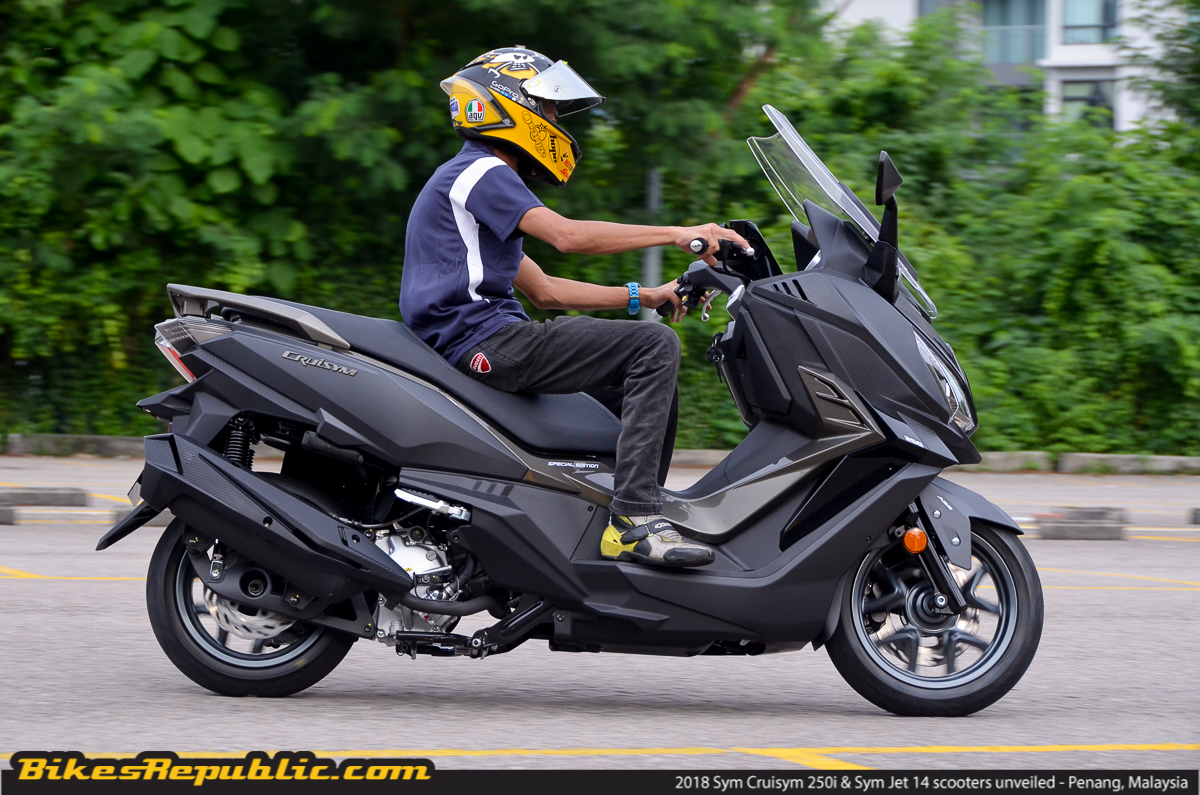 Sitting on the scooter feels a bit weird at first as the handlebars are slightly angled down like a sports bike. It's not an arm position you would usually associate with maxi-scooters but for someone who is about 170cm tall (5 feet 7 inches), the Cruisym 250i's seating position fitted me like a glove.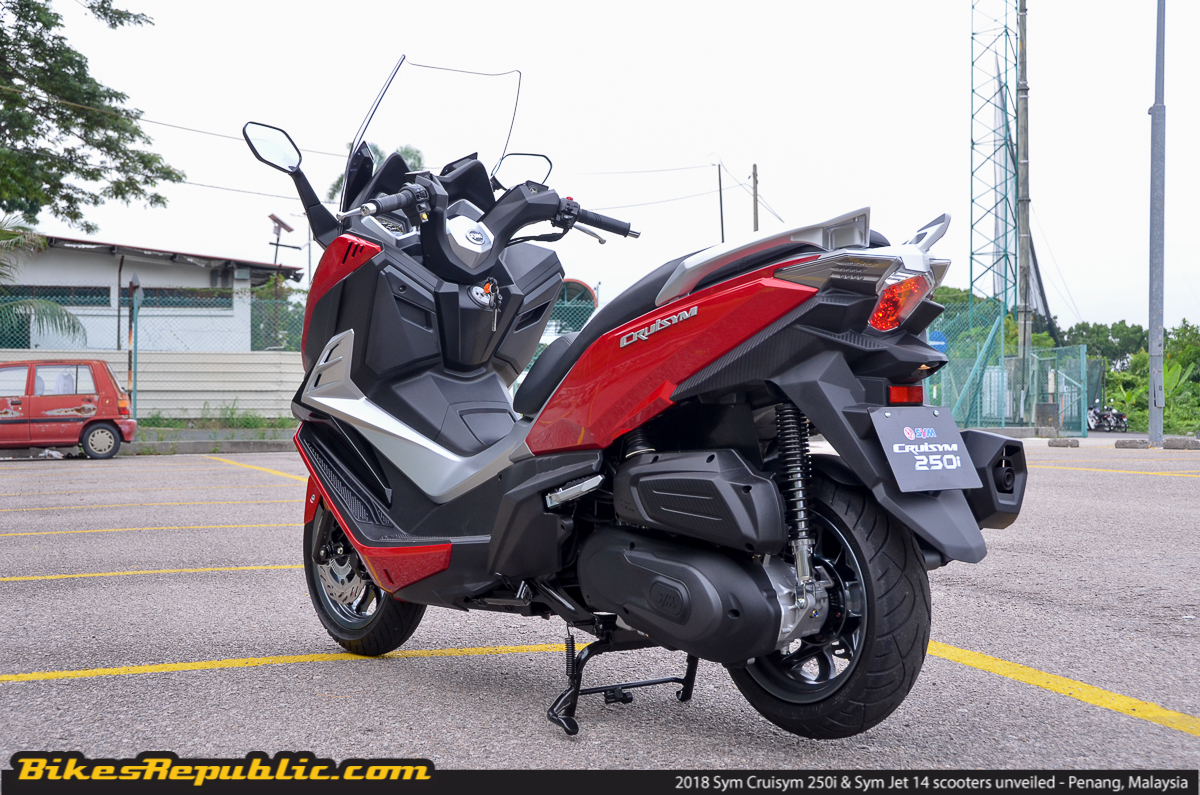 There's some space to position your feet according to your level of comfort. Moving them slightly to the back gives more agility when handling corners and placing them in a forward position offers more relaxation when cruising down highways. That's definitely a big plus point as it has the ability to cater riders of all sizes as well as different riding scenarios.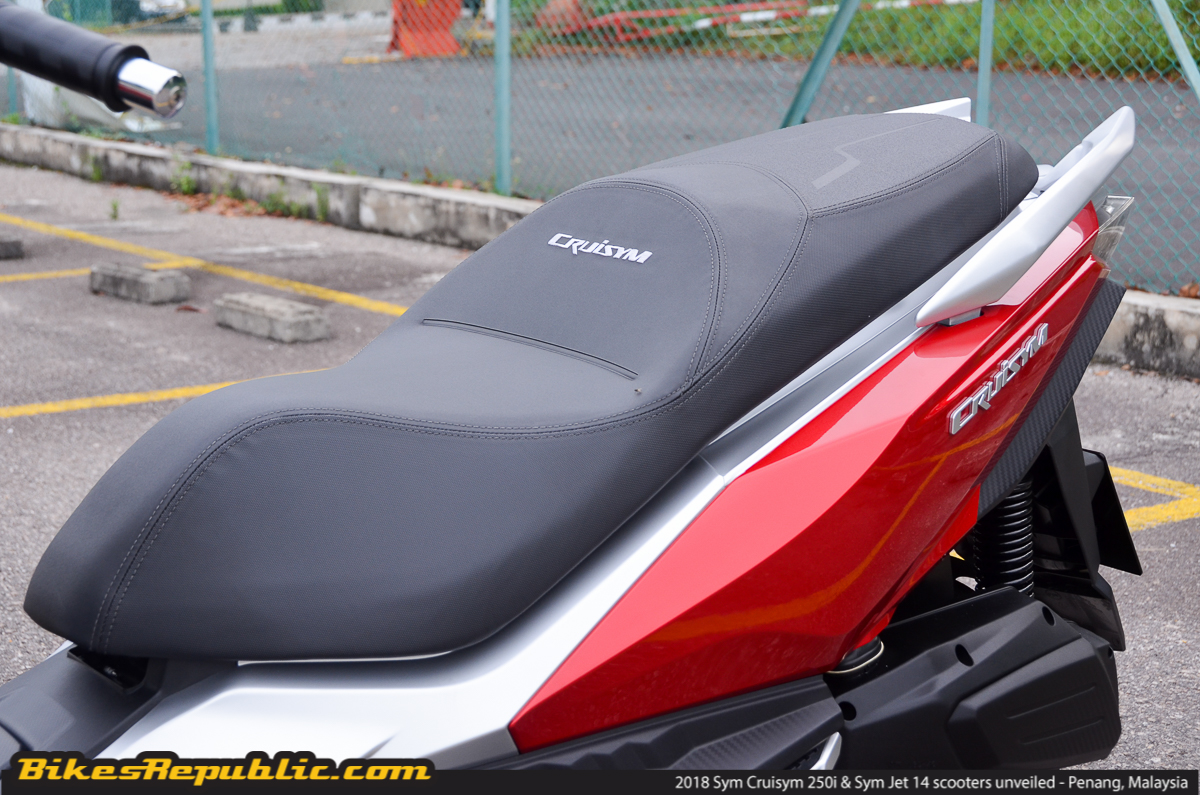 The acceleration department felt smooth and modulation of power for slow manoeuvring was also good. Good enough to overcome riding conditions like filtering through tight traffic jams. This is not bad considering that the Cruisym 250i is 196kg but thanks to its slightly smaller dimensions (760mm width, 1550mm wheelbase, 1440mm height, 125mm ground clearance), riding it at slower speeds offer a lot of confidence to the rider.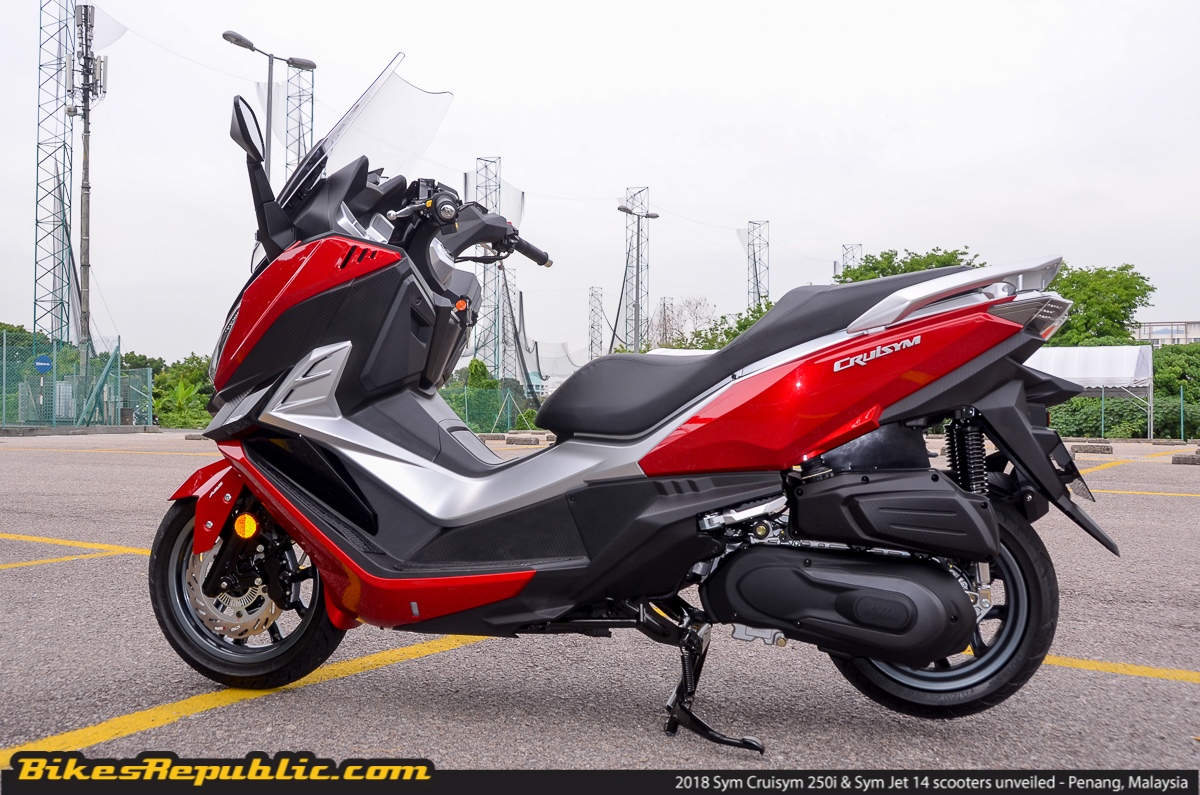 Its Euro4-compliant, 249.4cc, single-cylinder, SOHC, liquid-cooled engine is able to punch out 21.2hp and 23Nm of torque. Not much we can say about how it performs at higher speeds but we feel that those who ride constantly around city areas can appreciate what the Cruisym 250i has to offer. Sym Malaysia did state that it can achieve a top speed of 150km/h which will try to test and prove at a later date.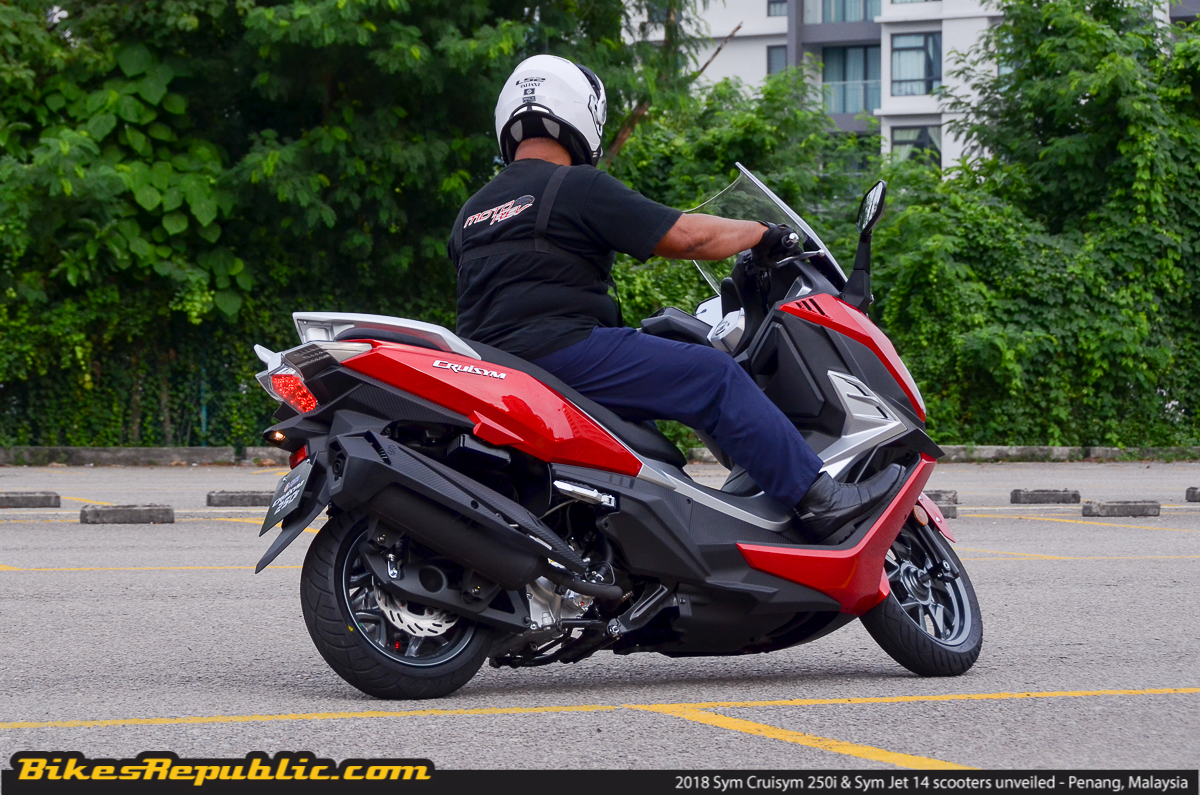 Stopping the scooter felt firm and controlled. Thanks to its package of a front 260mm disc with ABS and 240mm rear disc, performing emergency stops is fast, precise, and more importantly, safe. The front brake lever did feel a bit stiff with lower feel but that'll probably go away after a few kilometres under its belt.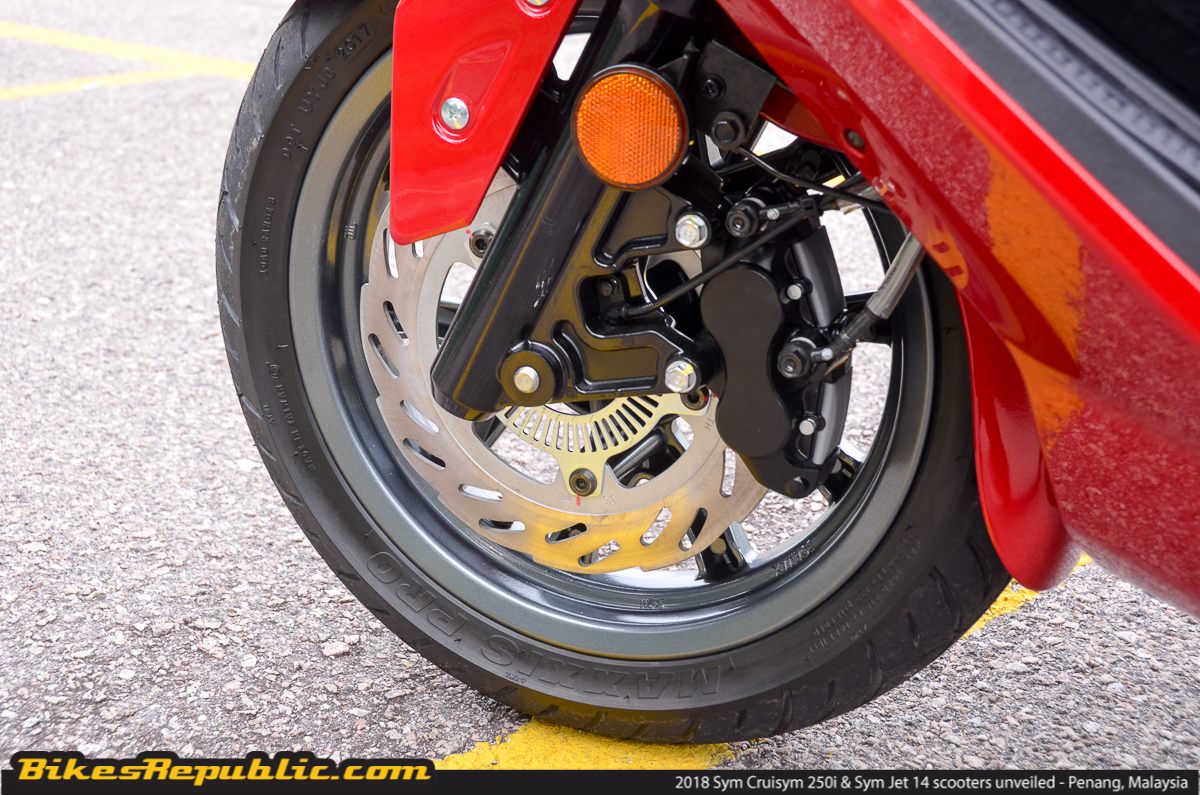 We were also impressed with the amount of storage it has under the seat. Sym Malaysia was not kidding when they say that you can fit two full-face helmets easily. It's probably enough to fit my helmet along with my laptop and all my clothes that I brought to Penang for the two-day trip. This part, we really like.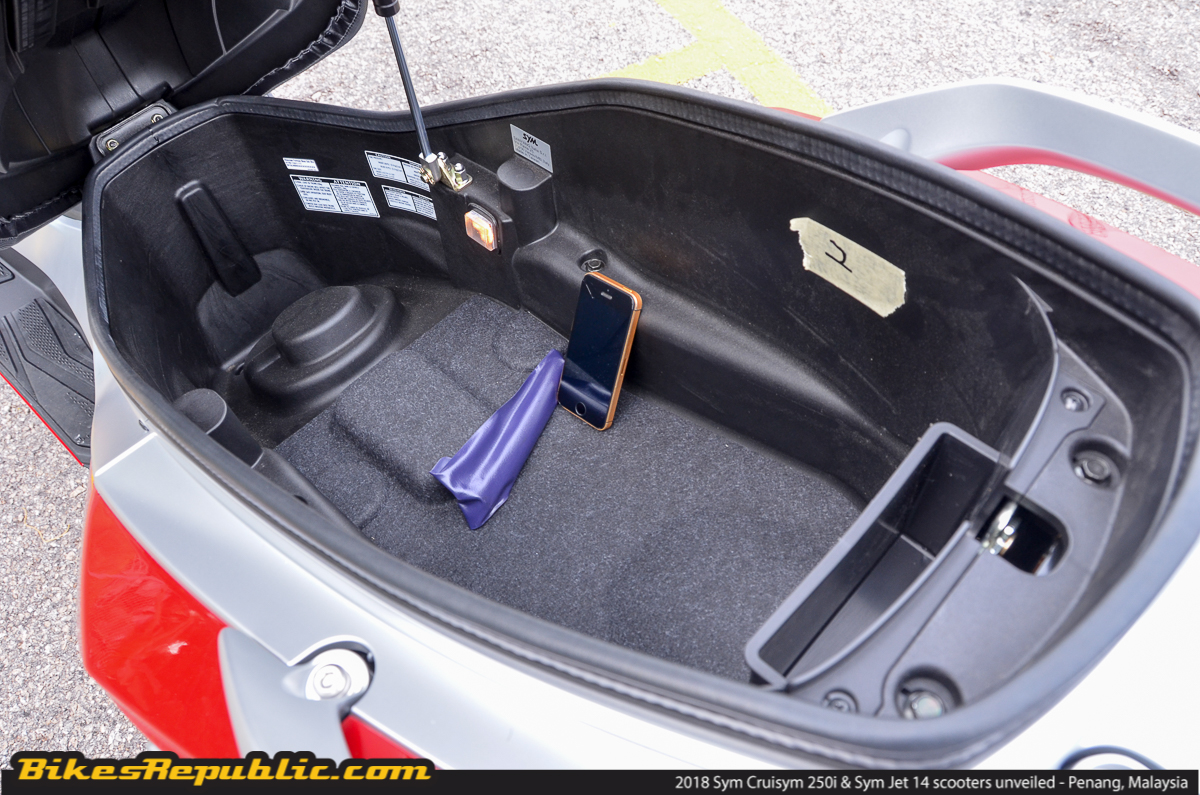 There are also air vents to help keep the rider cool during rides since the front end of the bike is quite massive. A glove box under the right side of the handlebar is big enough to store your phone, wallet, and other things you might be carrying around in your pockets. If you happen to have the phone charging cable with you, there's also a 12V socket and a USB port for extra convenience.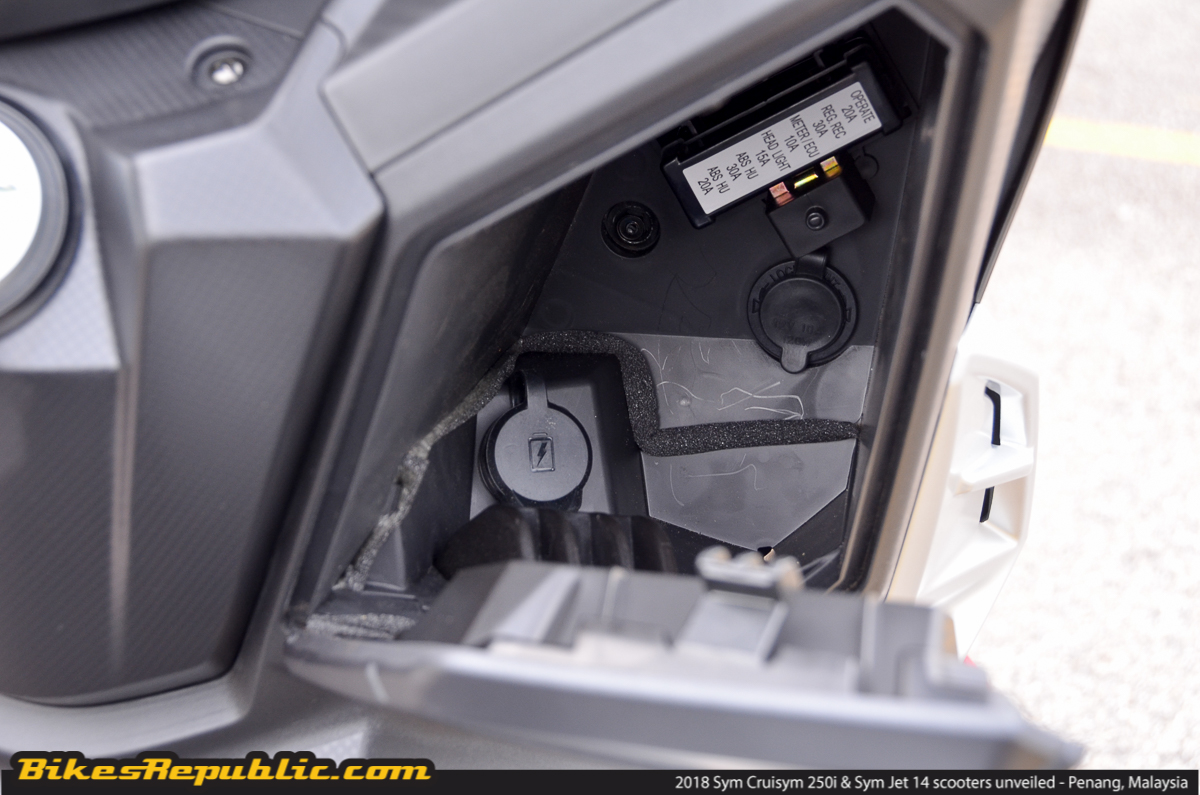 All things considered, the new 2018 Sym Cruisym 250i looks very promising. It might not be the most powerful bike in its category but with its modern edgy design and an RM18,888 price tag (basic price without GST), it's a bargain for a 250cc maxi-scooter.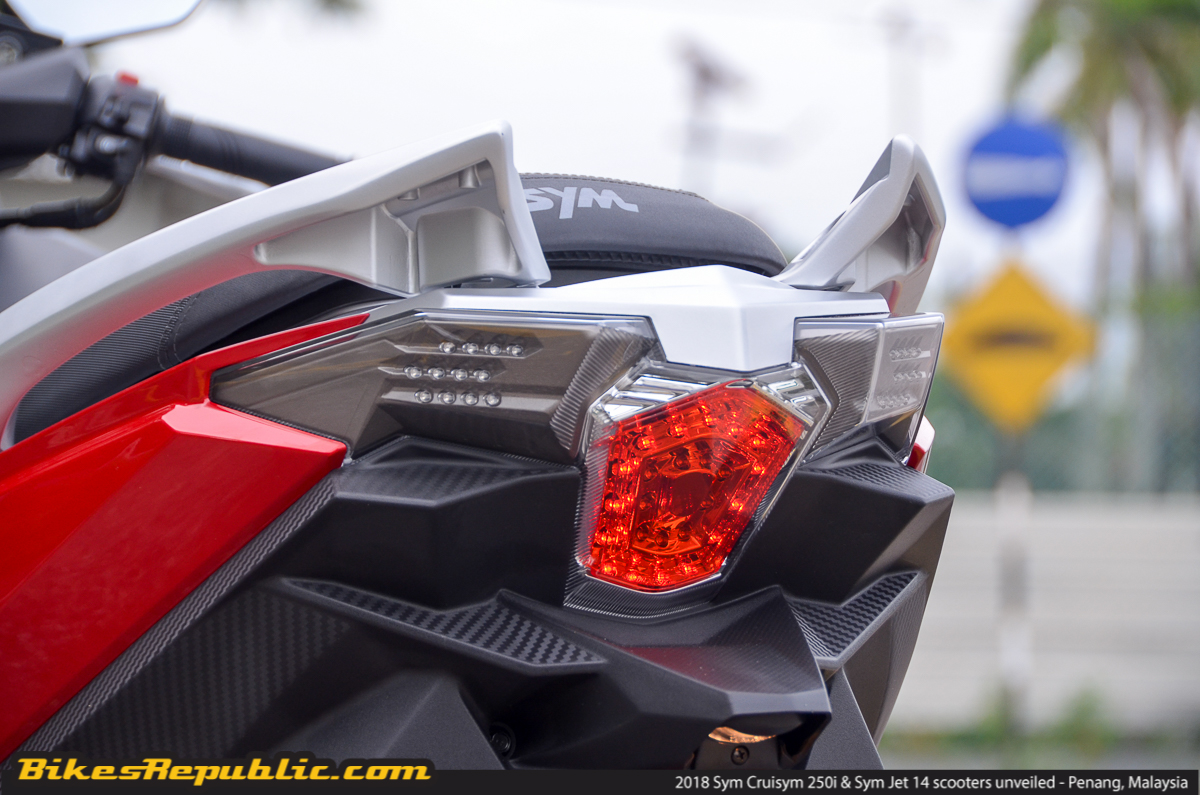 Want more sporty goodness? Go for the Special Edition which comes with the Matte Black colour scheme and carbon fibre accents.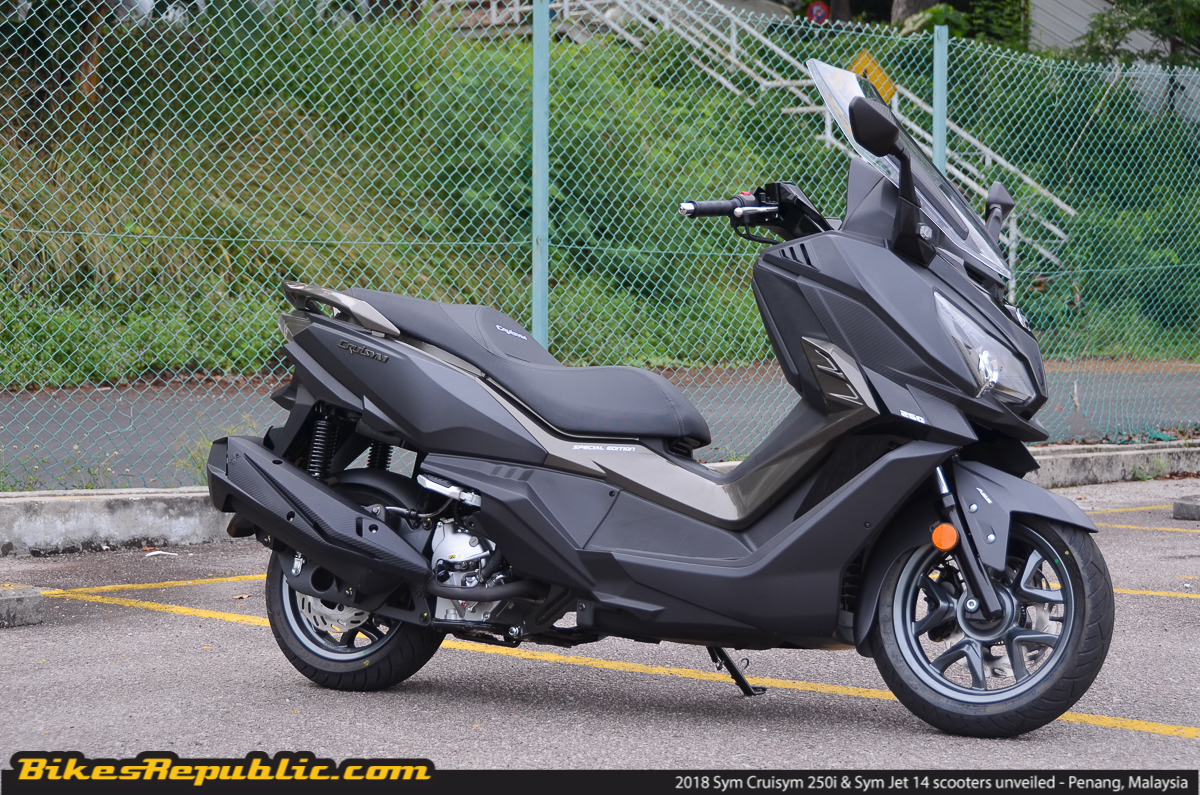 2018 Sym Jet 14 – RM6,688 (basic price without GST)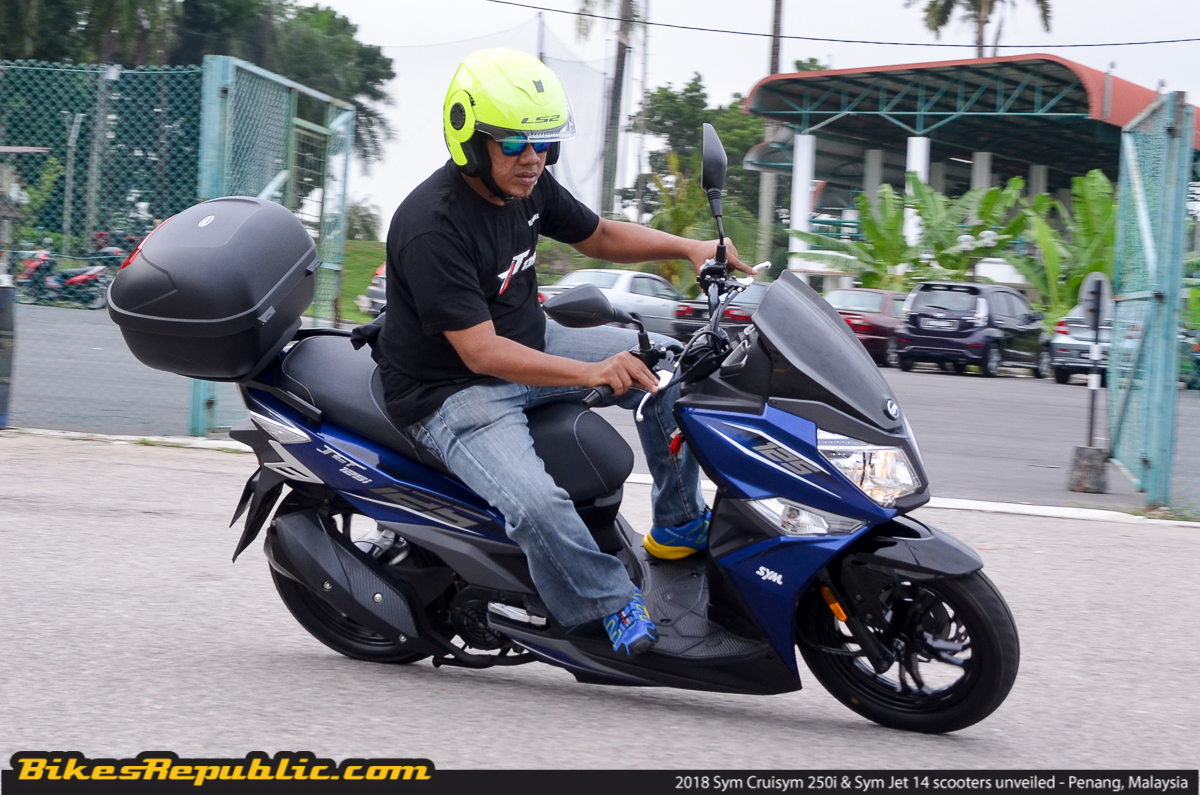 Sym Malaysia probably envisioned the 125cc Jet 14 to be the little brother of the Cruisym 250i. Taking the same DNA and styling cues and putting them into a 125cc scooter does indeed offer a great alternative that's not at all boring to look at. It definitely stands out amongst the rest of the bikes available in its category and with the right marketing strategy, we're pretty sure that youngsters would be flocking to the new Jet 14 as their first two-wheeler.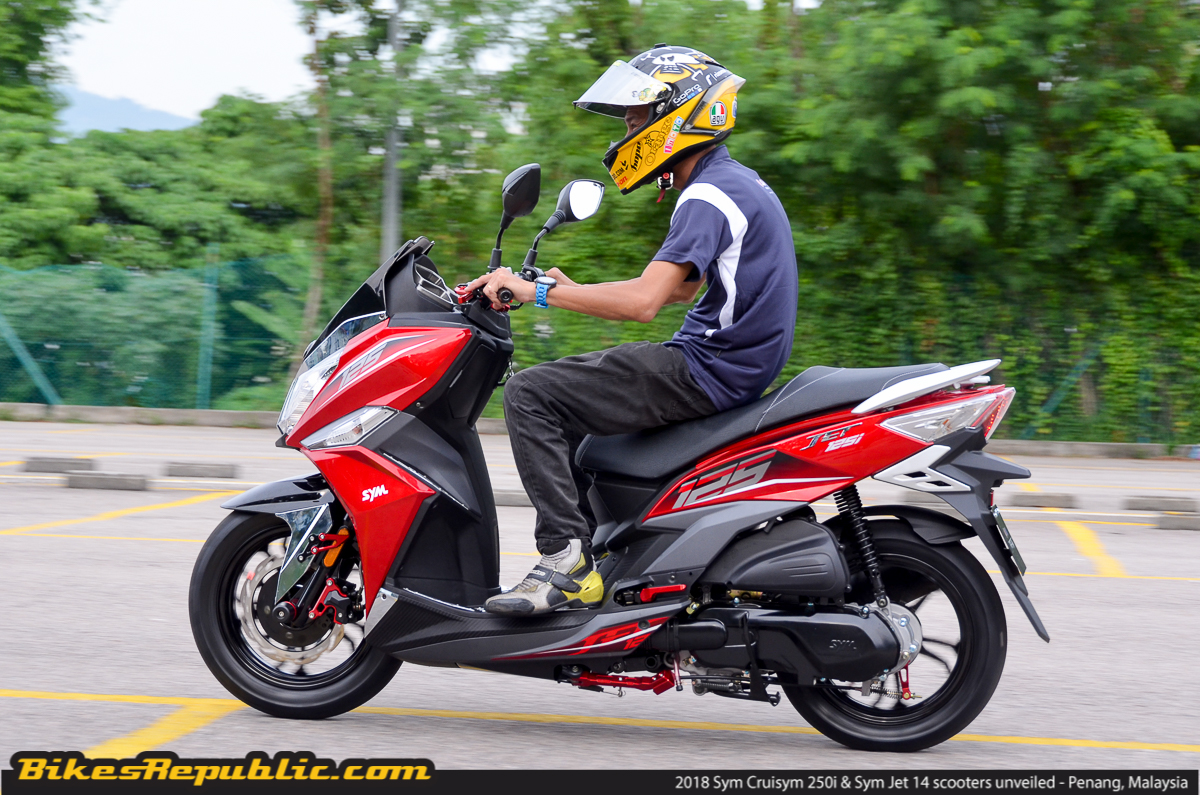 We also have no complaints on the styling department for the new Jet 14 scooter. The same 'modern and edgy' cues are injected into the bike which is why we implied that the younger generation might potentially be interested in the bike. It's even more interesting when they see the price tag of only RM6,688 (basic price without GST).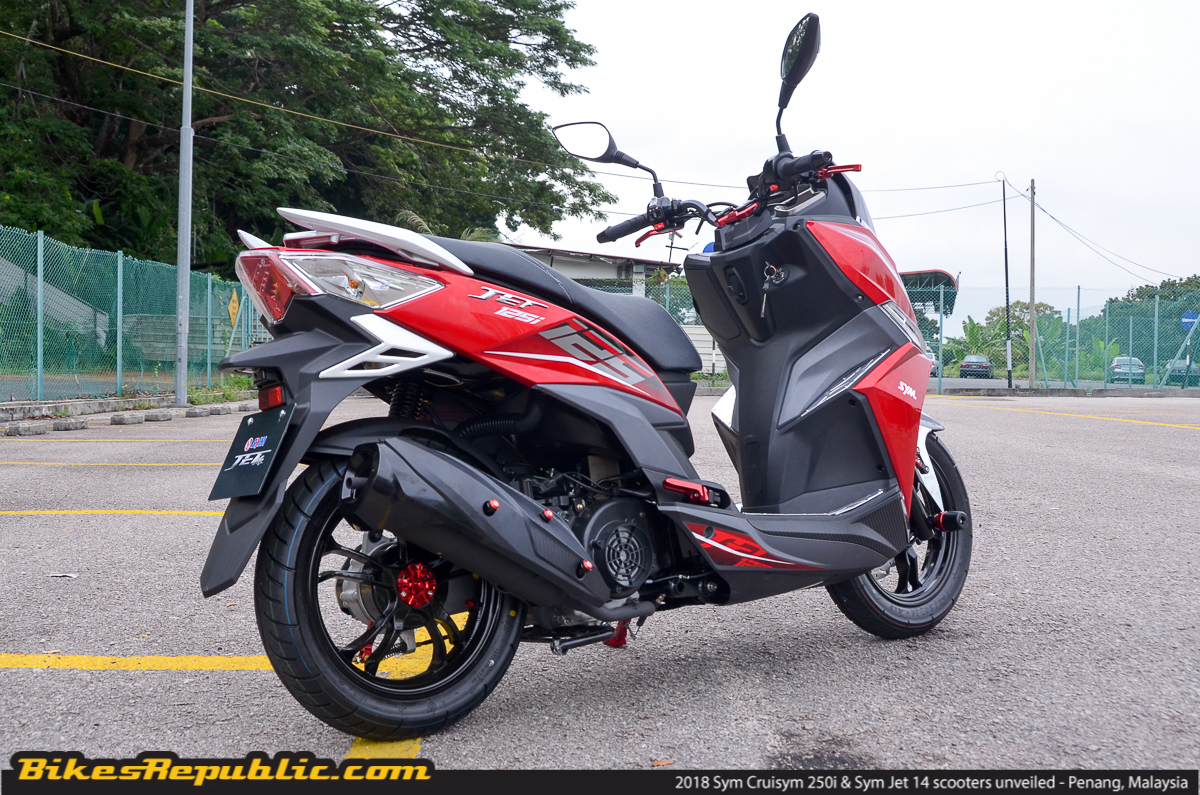 Its 125cc, Euro4-compliant, single-cylinder, air-cooled engine is able to produce 10hp and 9.2Nm which is not exactly sports bike figures but it is enough to hit highway speeds. If you're a parent who wants their children to be safe on the road, we're pretty sure that you don't want to ride faster than the highway speed limit.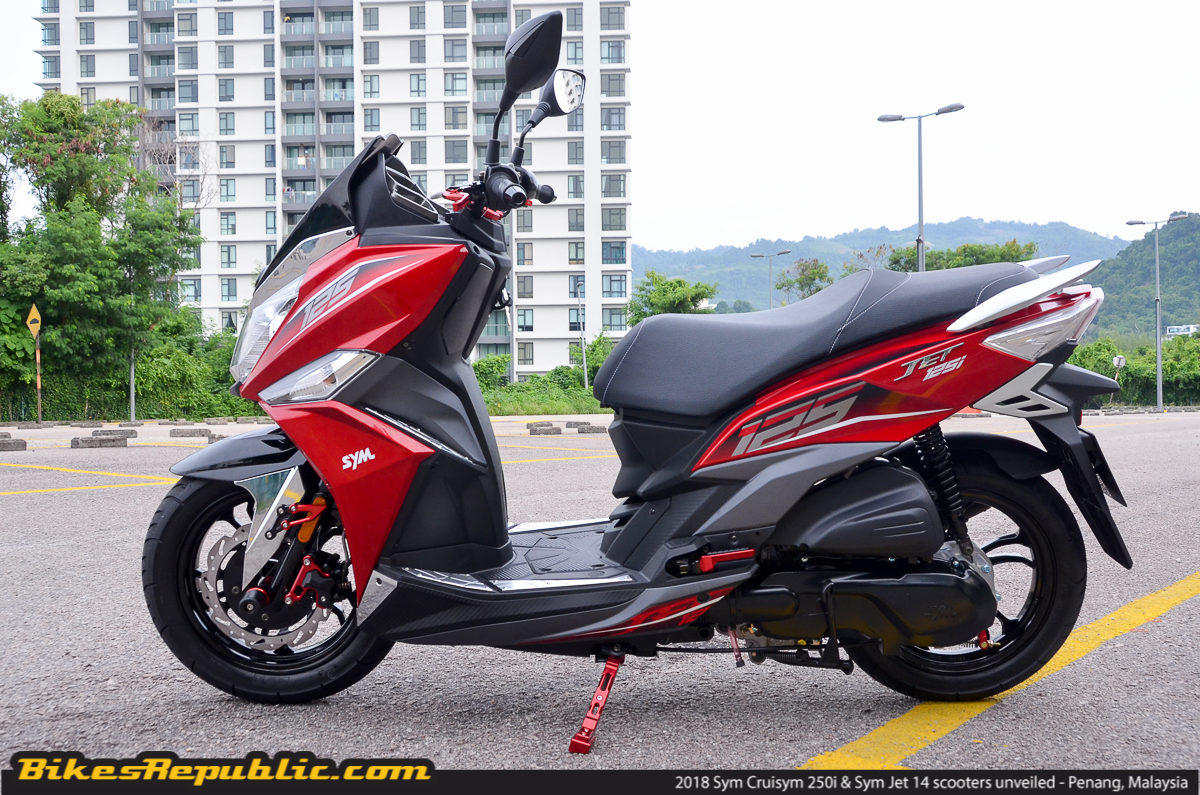 The acceleration is a bit on the slower side which means that new riders have enough time and space to get used to the bike before anything bad happens. It is after all a 125cc scooter pushing a weight of 128kg plus the rider and the occasional pillion. The ride felt average and comfort levels are acceptable but again, a sub RM7,000 scooter is a bargain, to begin with.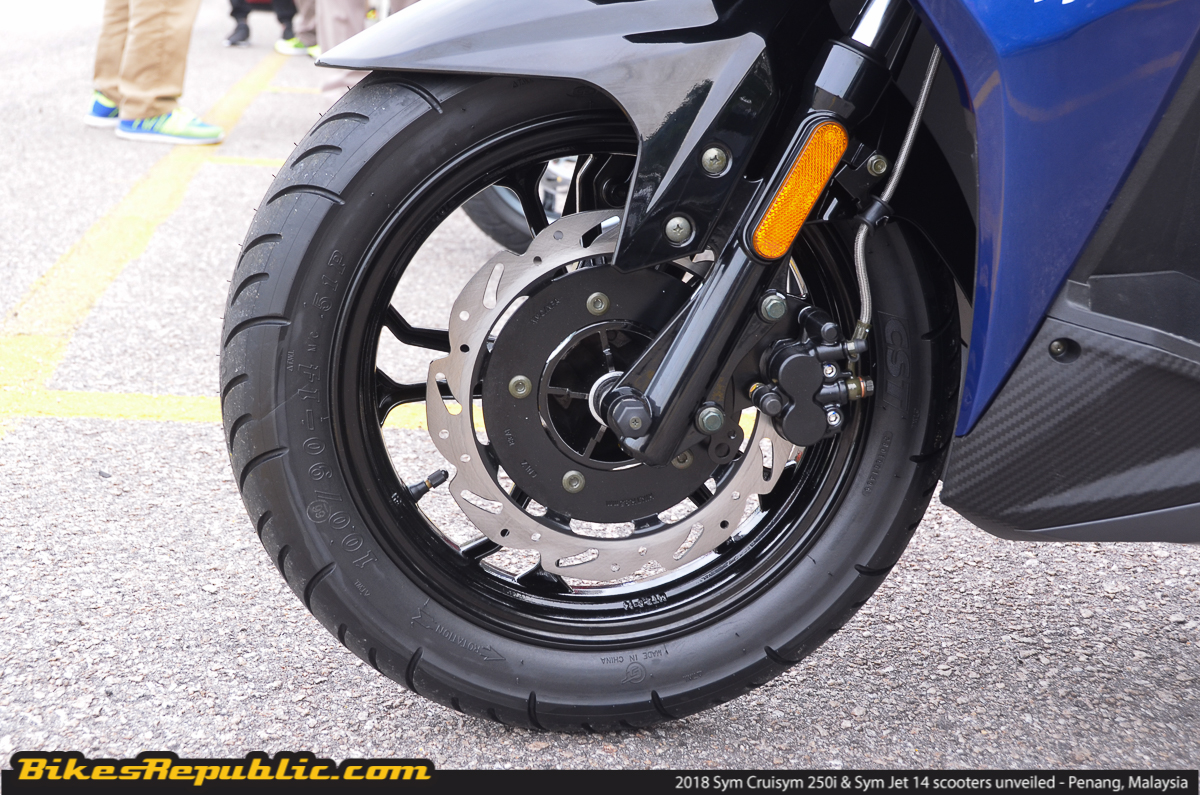 The braking package (260mm front disc & rear drum) needs a lot of practice according to our opinion. The brake levers are stiff especially the front brake and without any ABS, there's a higher risk of locking up the tyres. It won't present too much of a problem since the bike can't be ridden that fast anyway but working the brakes do require a bit more work and finesse.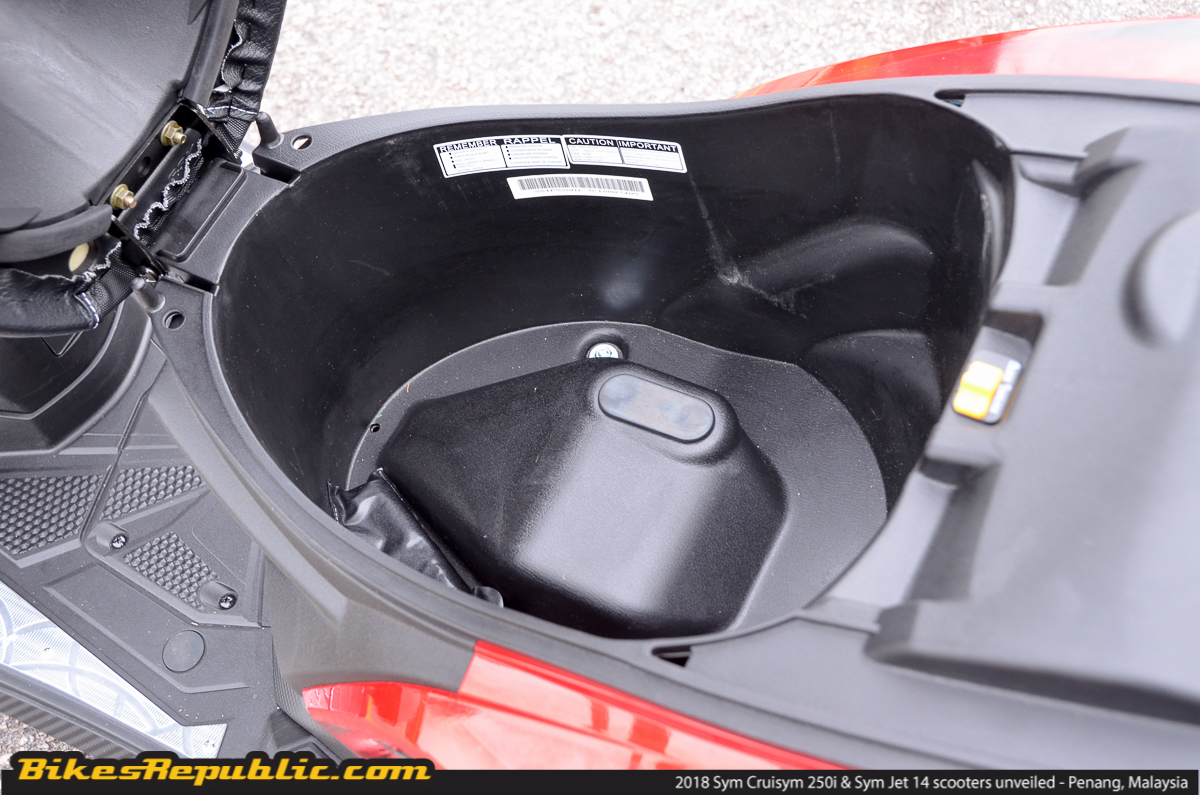 A 7.5-litre fuel tank is fitted into the bike which is quite big for a 125cc scooter. This ensures that the rider won't have to stop frequently at petrol stations for a refill. Other features include 14-inch cast wheels, underseat storage that can fit one full-face helmet (probably medium-sized max), three-ringed dashboard, rear LED lights and more storage space under the left side of the handlebar.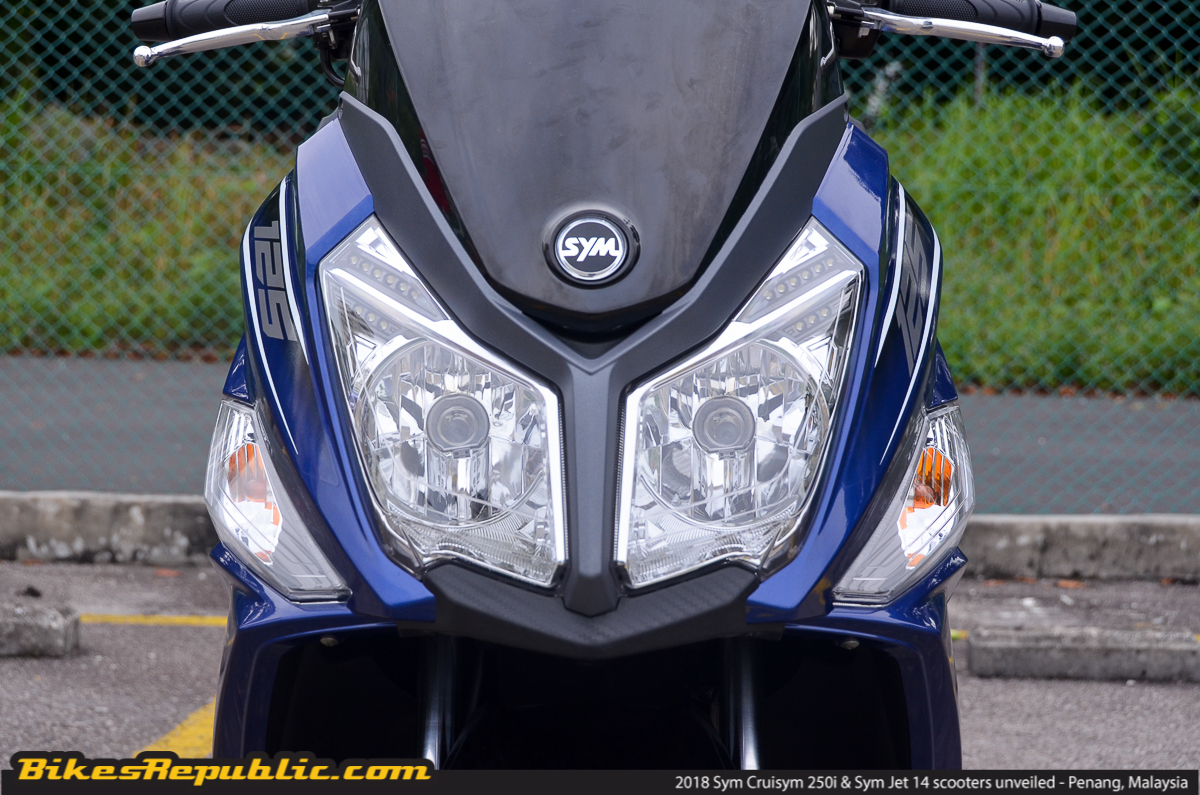 We will try to get this bike for a more thorough testing and review in the future. Until then, we can conclude that the new 2018 Sym Jet 14 is a good scooter to look at (especially the Blue colour option) with decent performance at an affordable price tag.
2018 Sym Cruisym 250i gallery
2018 Sym Jet 14 gallery