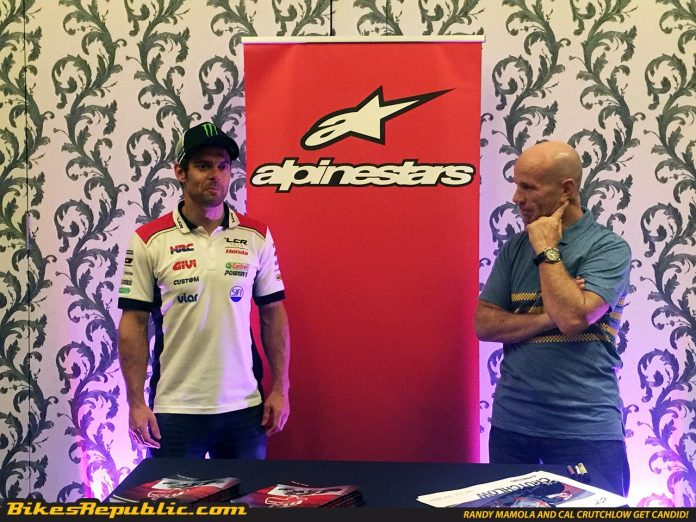 The Malaysian MotoGP is one of the busiest periods in the Bikes Republic calendar. There usually is a bunch of PR events, launch events, meet & greet events and exclusive dinners to attend. A busy period but also a good period as this is the time we meet all our heroes, and are sometimes given a chance to meet heroes from the past.
One of those exclusive dinners was hosted by Alpinestars, the maker of ultra-sophisticated leathers, gloves, shoes and other motorcycle riding gear that are all clinically designed to keep the rider safe in all situations.
The dinner took place at Sama-Sama Hotel the night before race day, and was attended by selected media, Alpinestars distributors from Malaysia and the region and staff of Alpinestars. The dinner was also attended by MotoGP legend Randy Mamola, who was well-known for his on and off track antics.
The American still has his electrifying personality; when Randy speaks, you automatically shut up and listen. He was there as the ambassador of Alpinestars, so he took centrestage and began to share his experiences on track and such.
Randy was about 10-minutes into his talk when suddenly the door opens and Cal Crutchlow walks in. The Brit is also known for his "no-holes-barred" conversation style as he always speaks his mind and does not hold back.
Seeing the two talk about modern races, technology, and Marc Marquez was indeed an honour, an honour we captured on our phone.
We hope you enjoy this video as much as we did being in the same room with these two legends. We did not capture the moment when Cal drops in, but here is how the rest of the conversation goes: