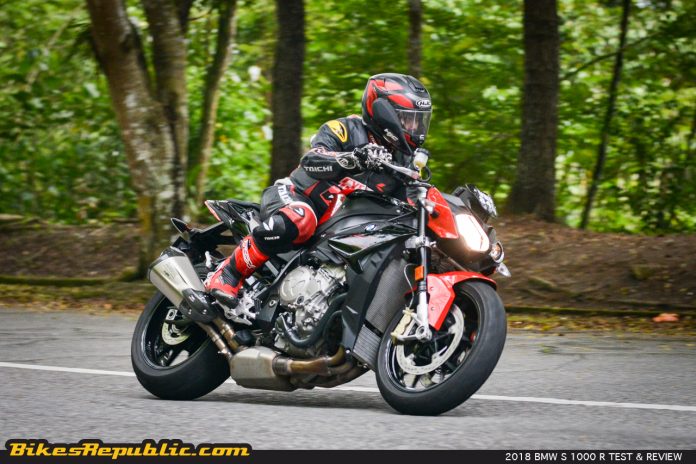 The BMW S 1000 R is the "roadster" version of the frenetic BMW S 1000 RR.

It is tuned for road-riding in particular but won't be out of place on the racetrack.

Priced from RM 82,006.32 (basic selling price with 0% GST).
Yes, the 2018 BMW S 1000 R is the "seductive" (as in "naked') version of the king of superbikes BMW S 1000 RR, but I felt like I was living in the world of the movie, Real Steel.
In 2020, human boxers are replaced by robots. But as with any competitive sport, what started out as a simple idea soon became a venture for large corporations hell-bent to win at all costs. This stratagem meant that the boxing robots became more and more sophisticated and robots of yesterdays were cast aside.
But as the story went along (as with any underdog feel-good movie), the protagonist's son found a low-tech sparring bot that he soon named "Atom." A sparring bot, like real-life sparring partners in boxing meant he had to suffer being bashed around by the superstar boxer on his (the superstar) way to bling, spinners, and er… ladies.
On the other hand, Atom the sparring bot was a stripped-down machine, meant only to fulfill its one intended role.
The S 1000 R was first released in 2014 to complement BMW Motorrad's inline-Four sportbike lineup, which was headed by the rip-roaring S 1000 RR superbike.
You could say that the S 1000 R is the stripped-down version of the S 1000 RR, fair enough, as there are many shared components, but BMW intended the former to be a "roadster" for the streets.
For starters, the engine is tuned for more low- to mid-range torque (as if the S 1000 RR's tune isn't torquey), making it useful for road riding. The R's 160 bhp arrives at 11,000 RPM and 112 Nm torque at 9,250 RPM, while the RR's 199 bhp is found at 13,500 RPM and 113 Nm torque at 10,500 RPM.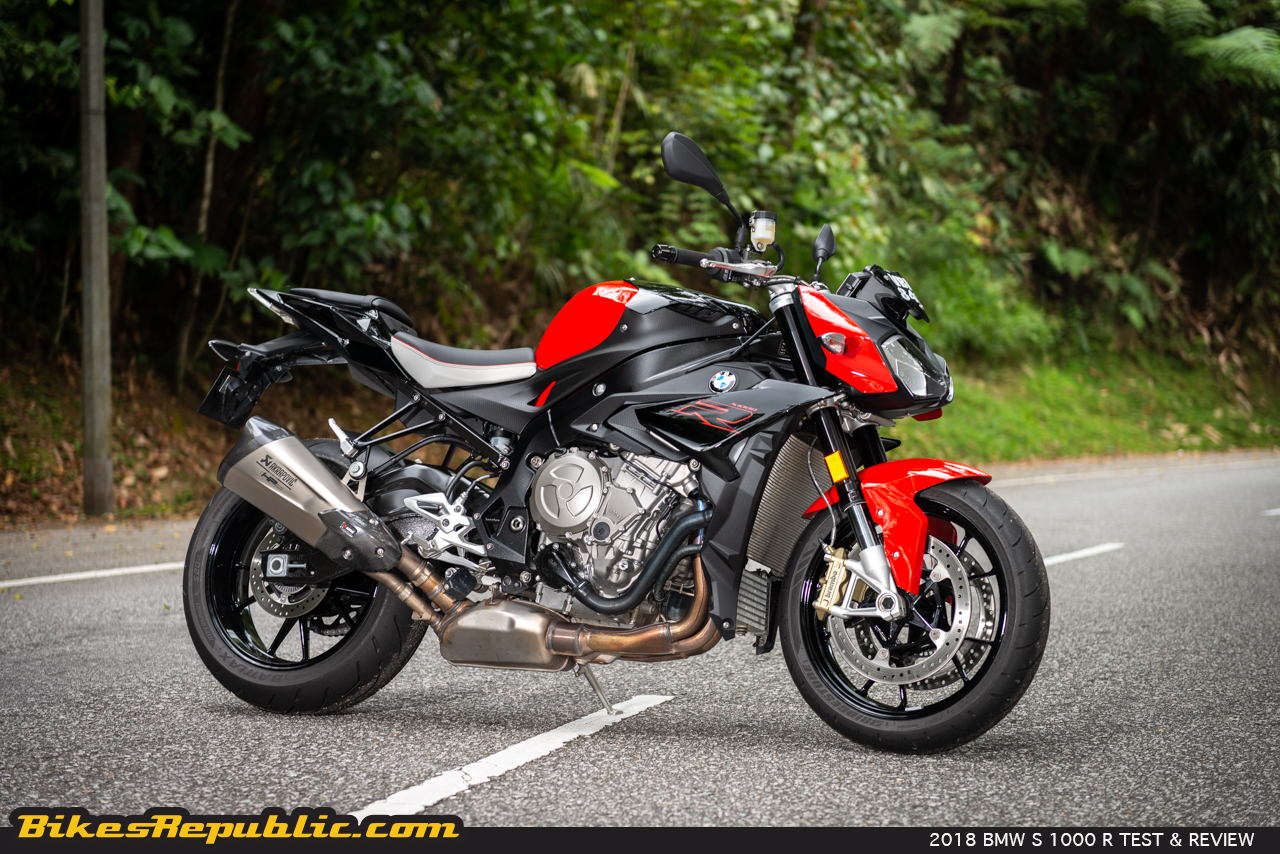 Secondly, this version we tested was in its basic configuration, hence it had Rain and Road ride modes only, no Dynamic Damping Control (DDC) electronic suspension. However, Race ABS and Automatic Stability Control (ASC), as well as shift assistant (quickshifter) and cruise control are standard.
First thing you'd notice is the ergonomics, of course. The wide tapered handlebar is set low but in a position that didn't required you to stretch like a rubber band. My back and torso felt relaxed as I lowered myself into the seat with a satisfying sigh…
Typical of the S-series inline-Four engine, the powerplant idles with a symphony of its parts that produce forward motion. A soft tap on the gear lever engaged first gear while the clutch took up the power in a linear fashion.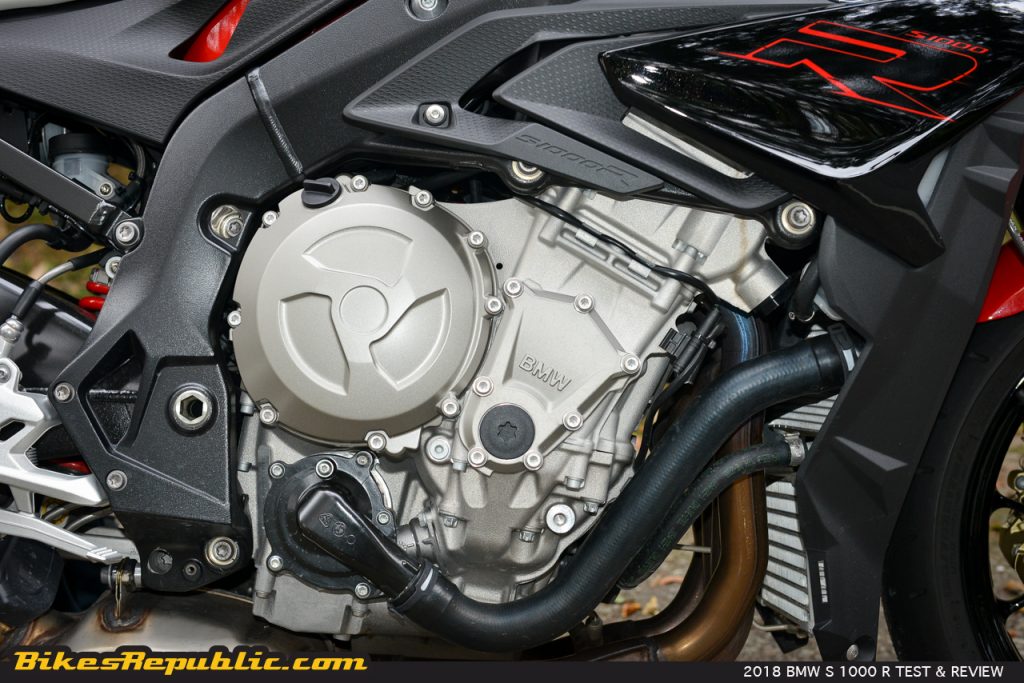 Opening up the throttle past the halfway point predictably produced a forward thrust that turns your frown into an ear-to-ear grin. It pulls hard, oh yeah, but it doesn't scare you like how some open-class naked sportbikes would.
We've ridden all bikes in the market that are equipped with quickshifters but BMW's "shift assistant" still rules, if not technically then emotionally. Each shift was taken care of swiftly and more importantly, accurately without a harsh jolt. But it's that signature "pop" from the exhaust that'll get you. It soon became so addictive that you'd find yourself short-shifting through the gearbox just to enjoy the moment.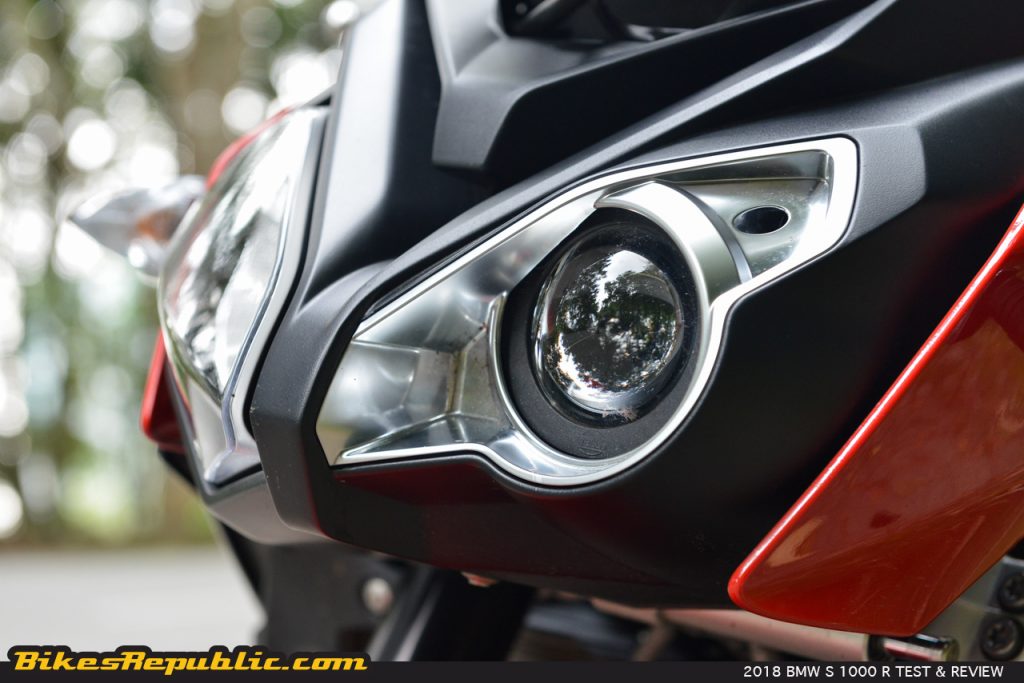 Oh yes, the shift assistant works for downshifts too. The engine doesn't blip hard when you drop it down a cog but the engine's electronics worked well in tandem with the slipper clutch to deliver jerk-free engagement without needing you to touch the clutch lever.
Forward motion was eerily linear, and the S 1000 R picked up speed so effortlessly that the only indication of speed is when you start to fly past traffic like someone had hit the pause button to freeze the world around you.
For more entertainment (or kicks), slow down to 60 km/h in sixth gear, then slam open the throttle. Some bikes we've ridden would judder like a Proton Saga taxi at this point. Instead, the S 1000 R seemed to create NOS from the air it sucked in and blasted forward. I BS you not. If you hold on to that throttle for a few more seconds, you'd be doing more than 200 km/h. Remember, 60 to 200 km/h in just a few seconds.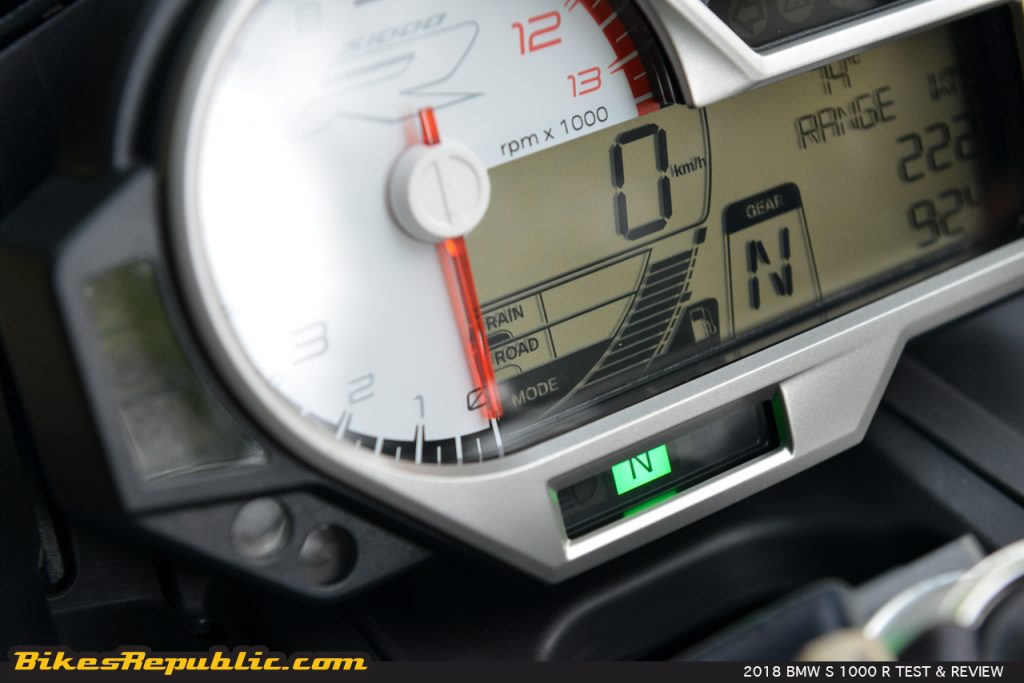 If going straight was impressive, you'd be fully sold when you hit the corners.
Heading down into the sharp right off-bridge from MEX to Bukit Jalil, the bike's suspension had the tyres dig hard into the road. As soon as the front tyre pushed a little it was time to get back on the gas.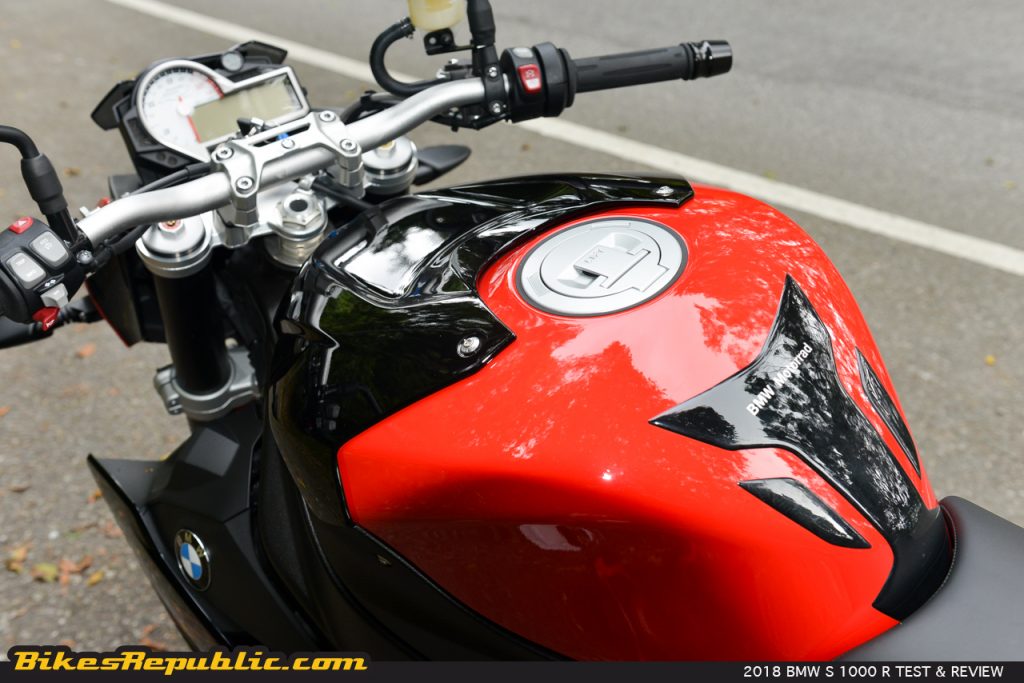 Cornering on the S 1000 R yielded its own sense of addiction: Starting from braking, the Brembos bit hard to a one fingered pull! The engine blipped itself during downshift "vroom," "vroom." Next, the wide handlebar translated my steering effort into leaning over instantly. Fourthly, the engine's back torque (engine braking) was smoothly balanced to provide a smooth rolling speed in mid-corner. The exhaust gave a loud "POP" as I reached the apex and it was at this moment when the front tyre started to push, signaling throttle on. The bike responded to the continuous throttle action and started to stand up naturally. Soon, we blasted cleanly away from the corner while the left foot hooked another gear, and another, and another while relishing the accompanying pops and howl of the engine.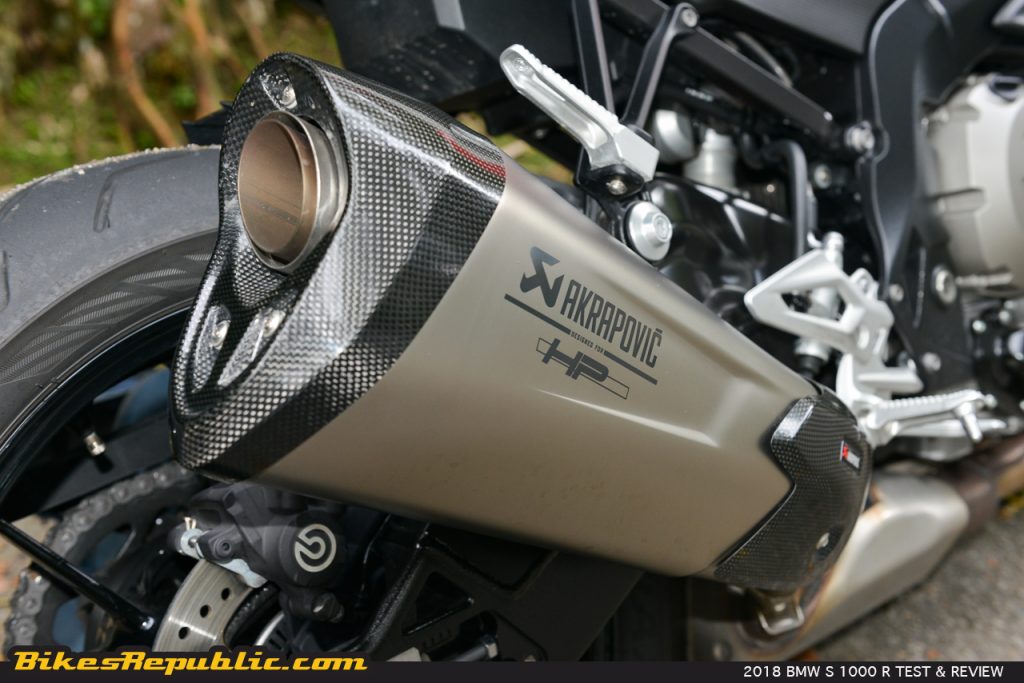 Instant gratification. You don't even need to buy flowers, chocolates, expensive jewelry and a candlelit dinner for it.
It wasn't just about going fast on the S 1000 R, otherwise there's no point to BMW turning the S 1000 RR into this roadster.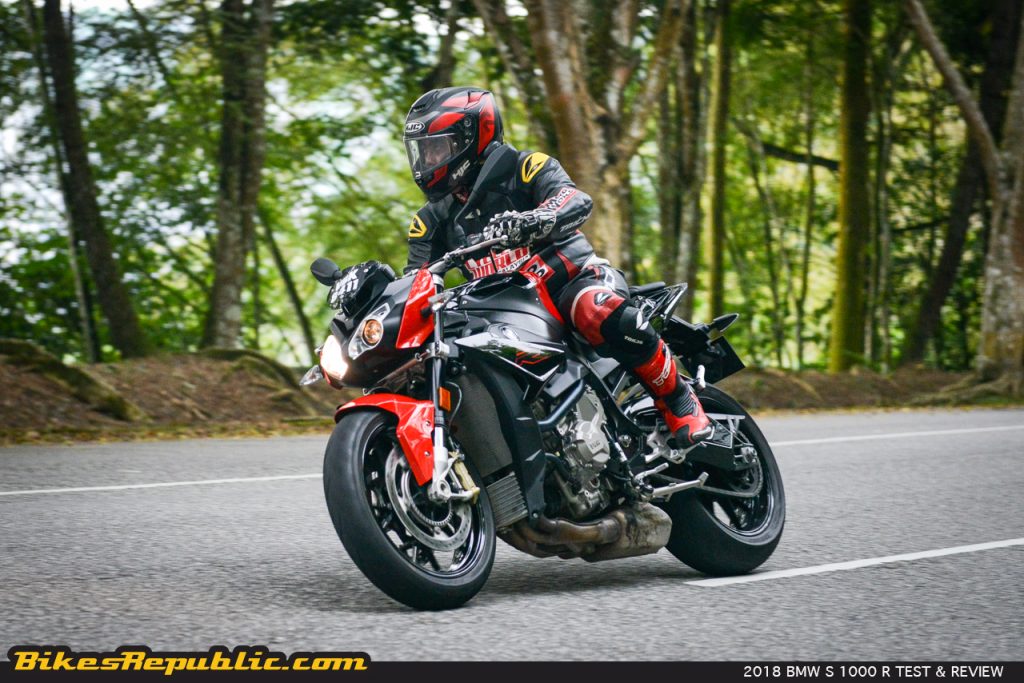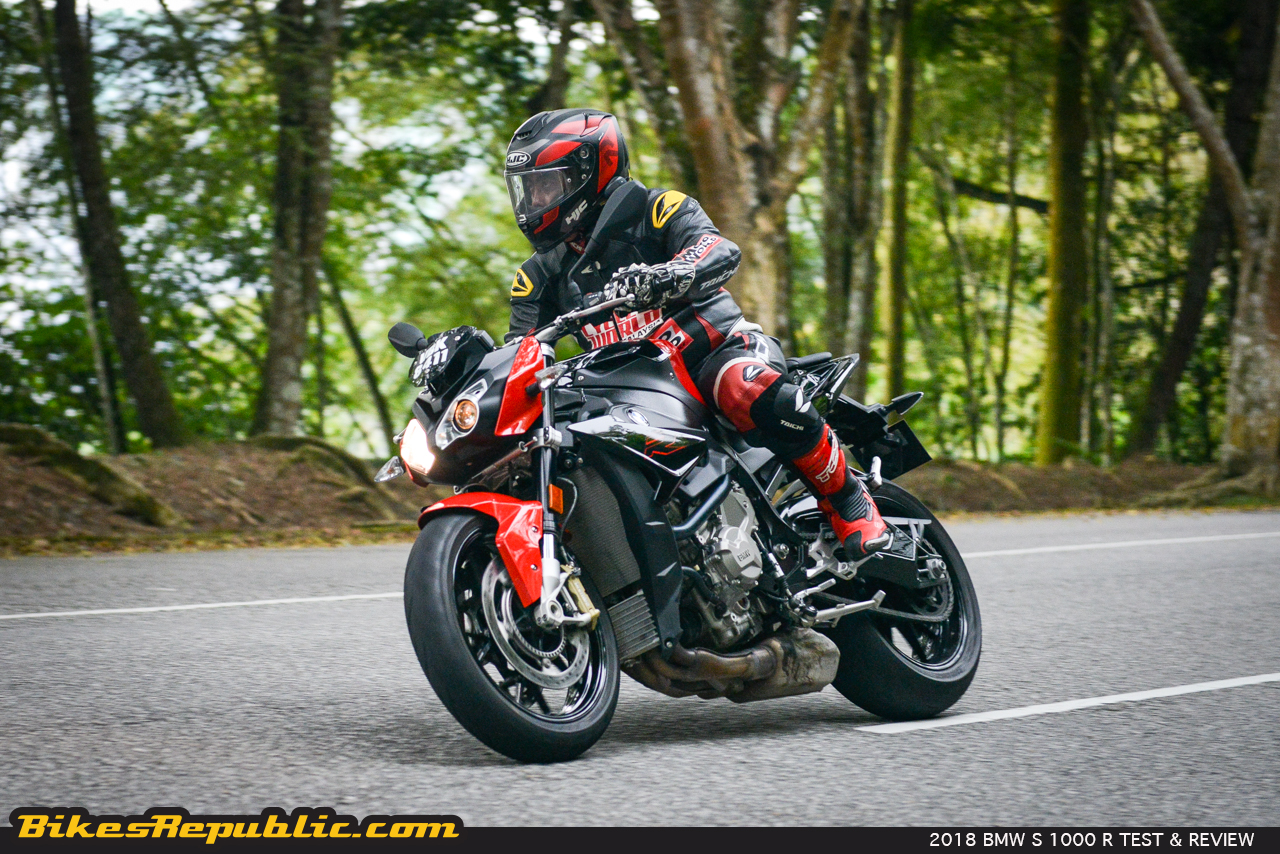 The daily commute became fun since the bike had it all: Acceleration, brakes, light steering, agility and comfort (for a naked sportbike). It was also frugal on fuel if you ride at a sensible pace. The new S 1000 R exhibited a more gracious attitude in traffic, although it did feel like I was pressing the fast forward button on and off when I upped my aggression.
In all truth, the S 1000 R has become my favourite BMW S-series model. As much as I love the march of technology in motorcycles, I don't mind having less of it. Furthermore, the S 1000 R's limits are more easily attainable, especially for those who don't ride regularly at the track. No, that didn't mean you'll outgrow it, instead you may accept it as the bike's charming side and appreciate the fact that you're a good rider on a good bike, instead of having a good bike but unsure if you're a good rider.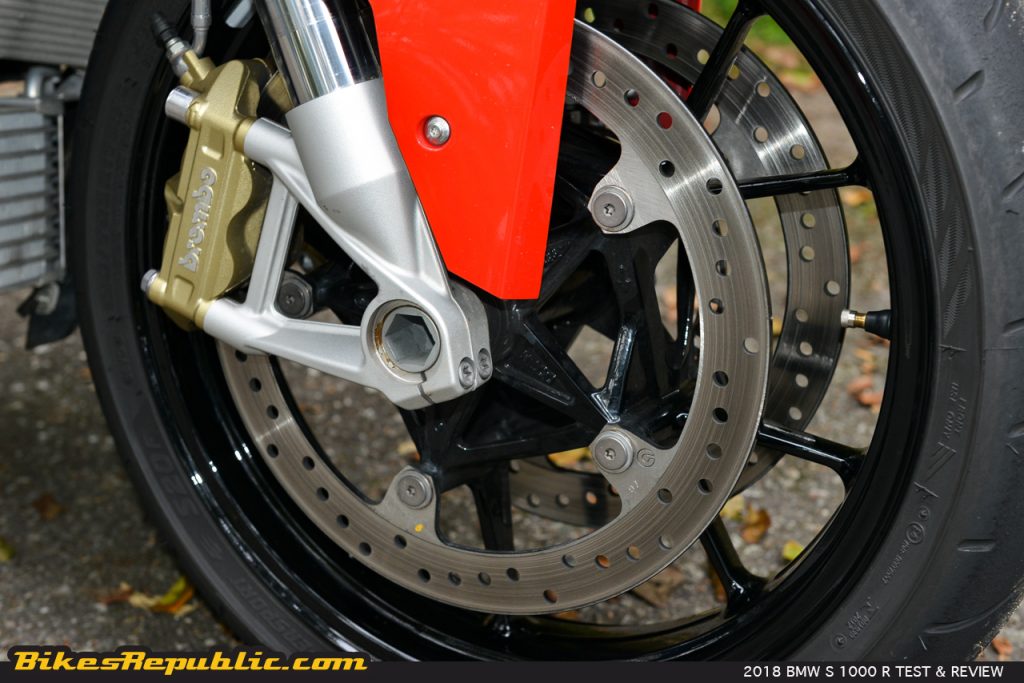 I'm not knocking on the S 1000 RR and S 1000 XR but the R is also more practical for everyday use especially for someone with short legs like me.
Anything that I didn't like? Yes, of course. The signature S 1000 buzz is there but you'll get used to it.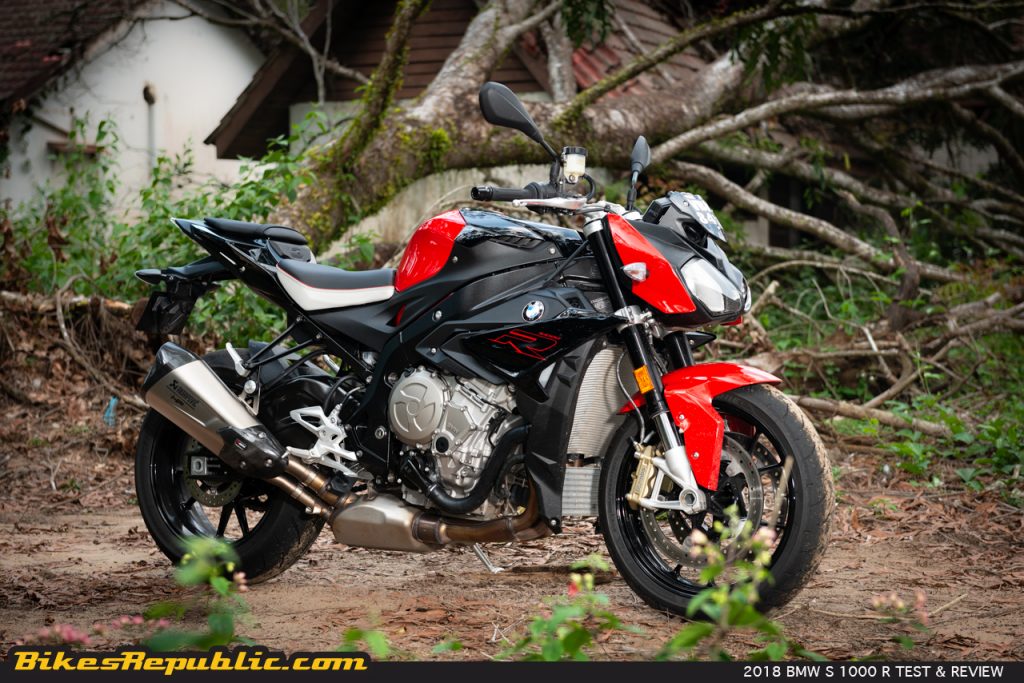 In closing, the protagonist took that low-tech, stripped-down sparring robot which they found in the junkyard all the way to the top to meet the champion robot. The protagonist's robot so nearly beat the super-advanced champion, by taking advantage of the latter's technological advantages when they turned out to be disadvantages.
Hey, everyone loves an underdog. Just like the 2018 BMW S 1000 R.
2018 BMW S 1000 R

ENGINE
ENGINE TYPE
4-stroke, DOHC, liquid-cooled, inline-Four
DISPLACEMENT
999 cc
BORE x STROKE
80.0 mm x 49.7 mm
POWER
160 hp (118kW) @ 11,000 RPM
TORQUE
112 Nm @ 9,250 RPM
COMPRESSION RATIO
12.0:1
TRANSMISSION
Constant mesh, 6-speed with straight-cut gears
FUEL SYSTEM
Electronic fuel injection with ride-by-wire throttle
CLUTCH
Multiple-plate wet clutch, anti-hopping, cable-operated
CHASSIS
FRAME
Aluminium composite bridge frame, partially self-supporting engine
FRONT SUSPENSION
Upside-down telescopic ø 46 mm forks, adjustable for compression and rebound damping
REAR SUSPENSION
Monoshock, adjustable for rebound damping
SUSPENSION TRAVEL FRONT/REAR
120mm / 120 mm
FRONT BRAKE
2 X Radially-mounted 4-piston Brembo calipers, ø 320 mm floating discs
REAR BRAKE
1 X Single-piston caliper, ø 220 mm brake disc
ABS
BMW Motorrad Race ABS
TIRES FRONT/REAR
120/70 ZR-17; 190/55 ZR-17
STEERING HEAD ANGLE
24.6o
TRAIL
98.5 mm
WHEEL BASE
1,439 mm
SEAT HEIGHT
814 mm
FUEL TANK CAPACITY
17.5 litres
WEIGHT (READY TO RIDE)
207 kg