TRIUMPH STREET SCRAMBLER
HOW TO ESCAPE THE DAILY DROLL
There are many war movies. There are also many motorcycle movies. Likewise, there are war movies with motorcycles in them.
But there is one particular movie which immortalized the motorcycle in a war setting. Not so much as an implement of war, but rather as a symbol of freedom, defiance, rebellion against insurmountable odds, way before a copywriter thought up Adidas' Impossible Is Nothing tagline.
No, not Born To Ride starring duck-face-king Jon Stamos, 'though it was a fun movie. And not Star Wars Episode VI: Return of the Jedi either.
We are talking about that 1963 classic, The Great Escape. You probably saw it coming.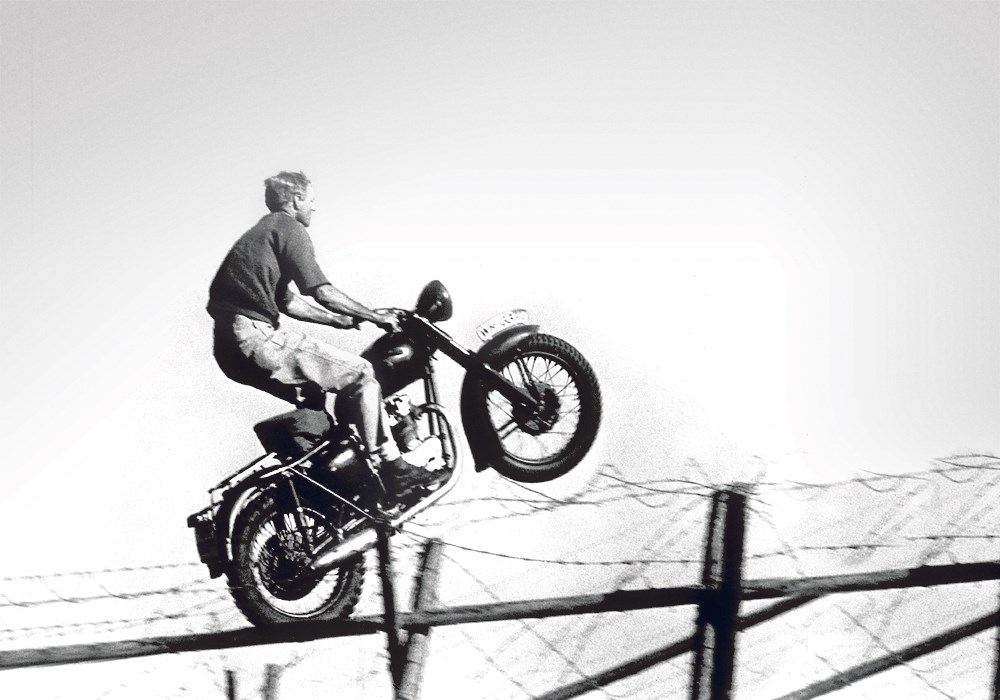 The movie was an adaptation of Paul Brickhill's book of the same name, which told of the first-hand account of a mass escape of POWs from the Nazi Stalag Luft III camp during WWII. 
Entertainment values aside, we saw how much each man gave in the pursuit of freedom from oppression, with many ultimately paying the ultimate price. It's a demonstration man's indomitable spirit to be free – vanquishing walls, armed guards, machine guns, and barbed wires.
The most iconic scene was none other than of Steve McQueen's character (stunt performed by Bud Ekins) jumping over the barbed wire fences on a Triumph TR6 Trophy, which was disguised as a BMW R75 for the movie.
I had just been bitten by the Street Triple RS bug. Fast was just a by-word for this naked sportbike. It was as agile as a 250cc, braked like it had retro rockets, flew through corners like a 125cc two-stroke racer, gripped as if the tyres were made of bubblegum. Out there, in the real world, it absolutely blew everything away. I've never had so much fun on a motorcycle before. And I never got over it.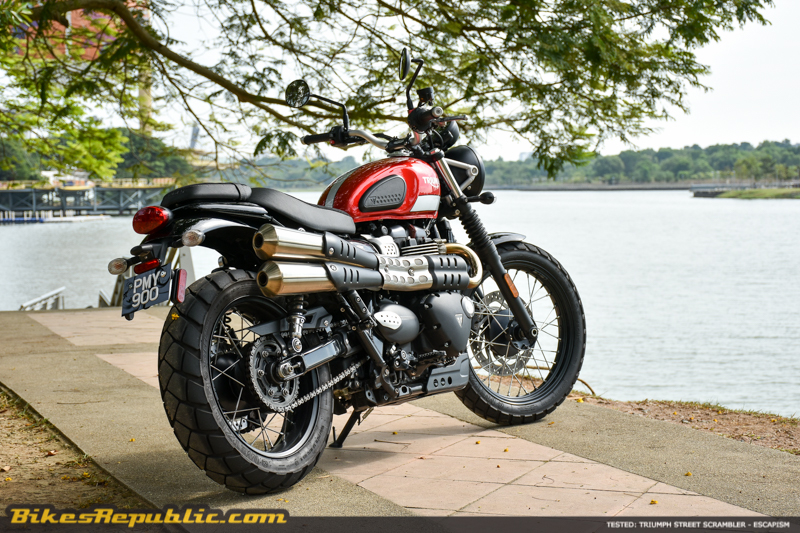 Then just last week, Triumph Motorcycles Malaysia announced that their Penang branch was moving to a different location, hence an official launching was in store. Triumph Motorcycles Malaysia offered a few bikes for the ride up north, along with the RATPack (Riders Association of Triumph Motorcycles).
Still smarting from a broken heart after parting with the RS, I didn't give much attention to which motorcycle I was assigned (Shhh… I was secretly hoping for the RS again). It turned out to be the Street Scrambler.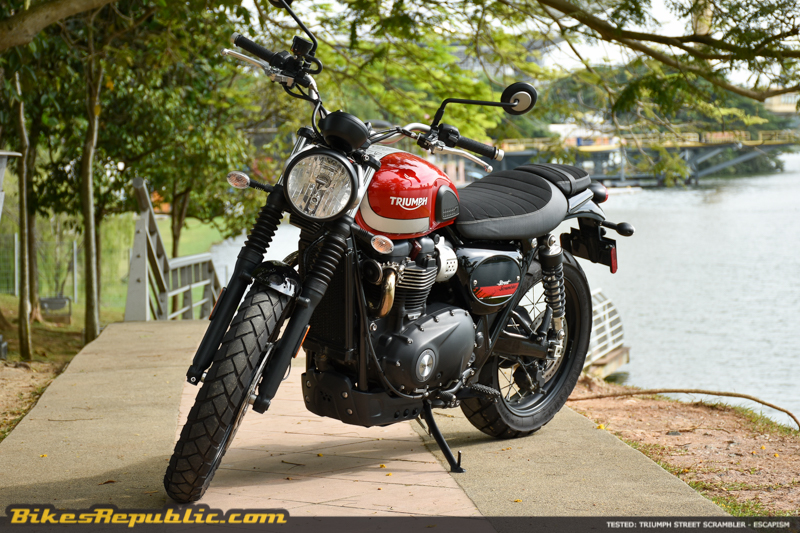 Arie handed over the key and said, "You'll love this one, Bro!"
It sure looked pretty. But those two exhausts sticking out the side like cannons exuded attitude. Additionally, unlike the Street Twin, it had a 19-inch spoked front wheel, and knobbies (Metzeler Tourance adventure tyres, actually), fuel tank respendent in flaming Korosi Red. Instinct told me that although it was basically aStreet Twin, this one's going to be naughty.
Interestingly, the Scrambler harks back to the TR6 Trophy, on which our intrepid hero jumped over the fences.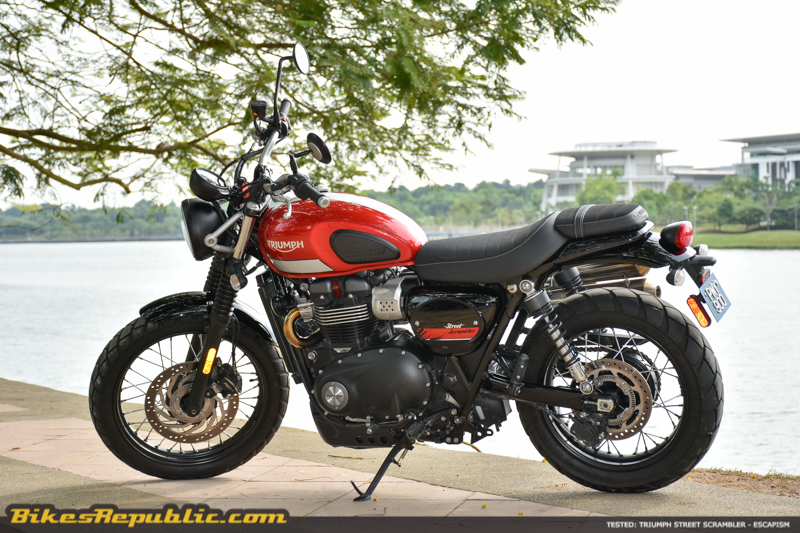 Anyway, I climbed on and the ribbed seat was truly comfortable. The handblebar felt higher and wider than the Street Twin's. The footpegs were placed in a natural position. The ergonomics is definitely friendly to newer riders too.
The exhaust pipes were right beneath my right thigh. Keeping my machismo, I didn't ask Arie if it gets hot.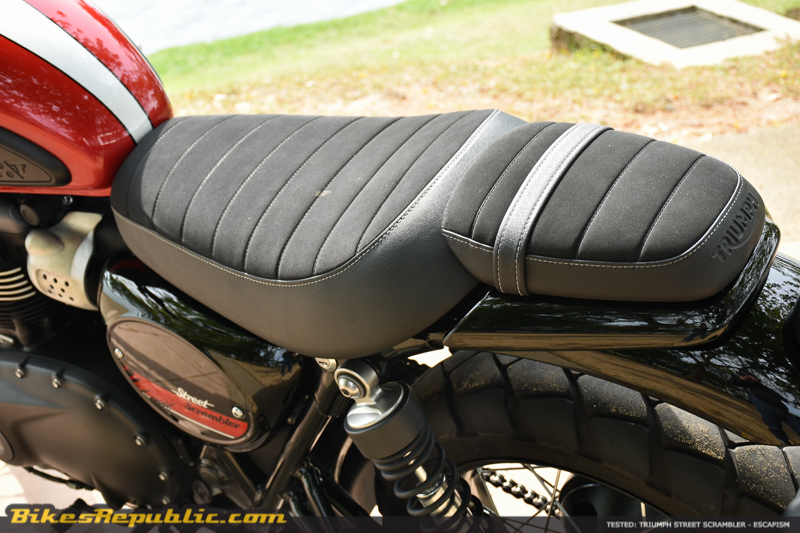 I looked at the instrument cluster and it was the familiar face on the Street Twin's. It may look simple but the LCD screen provided plenty of useful info, including fuel range (yay!).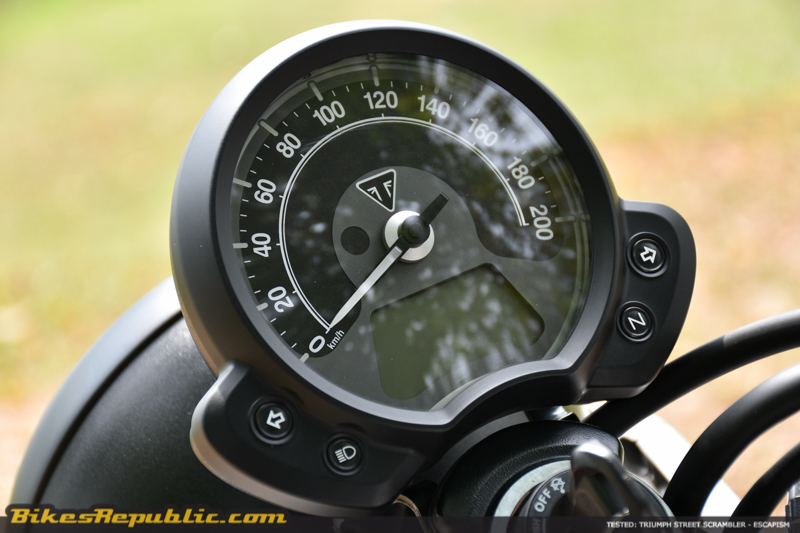 The engine fired up without hesitation to the familiar irregular throb of a 270-degree crank. Just the right amount of vibration was allowed through but the bike felt alive.
First gear engaged with a clack but the action was positive, the hallmark of Triumph's transmissions. I let out the clutch, gave it throttle and BROOOOAR it took off down the road! Whoa, boy!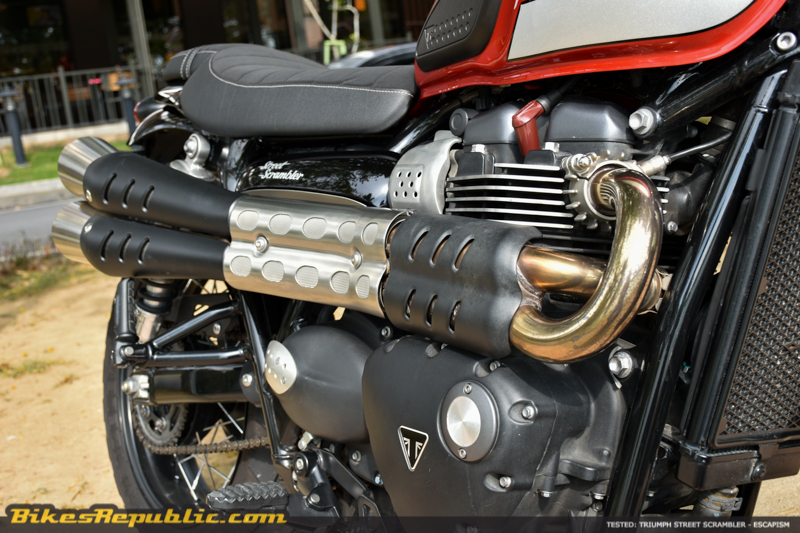 Its handling was instantly apparent. The 19-inch wheel may need slightly more effort (due to the centrifugal force) to get it turned but it was flick-flick-flick once you're committed. The suspension was well-sorted as it soaked up bumps and the "knobbies" didn't induce vibrations. Triumph had reduced the swingarm by 50mm over its sibling, resulting in a fast turning bike.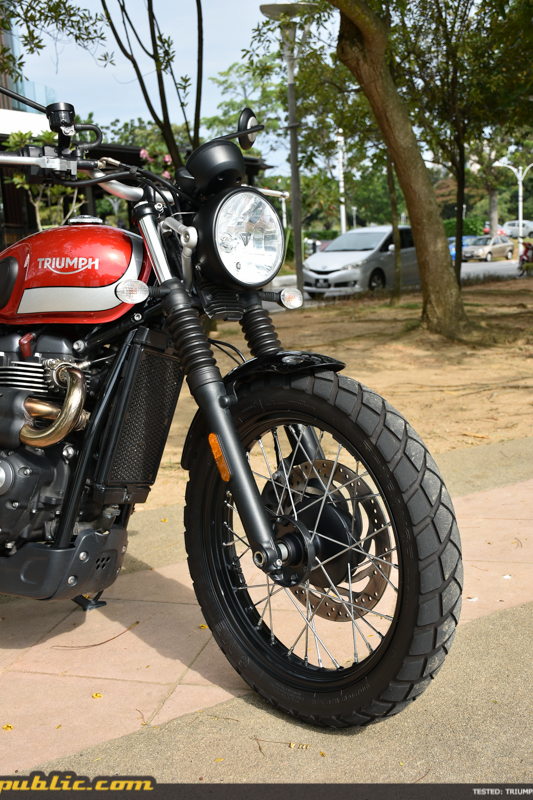 We were supposed to congregate at the Rawang R&R at 6.30am on Saturday for the ride but I couldn't make the time and left an hour later, planning to catch up at Sungai Perak before the convoy resumed.
While filling up at the Rawang R&R, I met a gentleman who was smitten by the Scrambler. As a pattern of what was to come, the questions were, "How does it handle?" "How fast can it do?" "How many cc's?" and most of all, "Is that exhaust hot?" Everywhere I went, people would walk up and ask questions with, "That's a nice bike," as the prelude while ignoring the flashier, faster, modern bikes in the vicinity. They somehow looked disappointed when told it belongs to Triumph as a demo bike.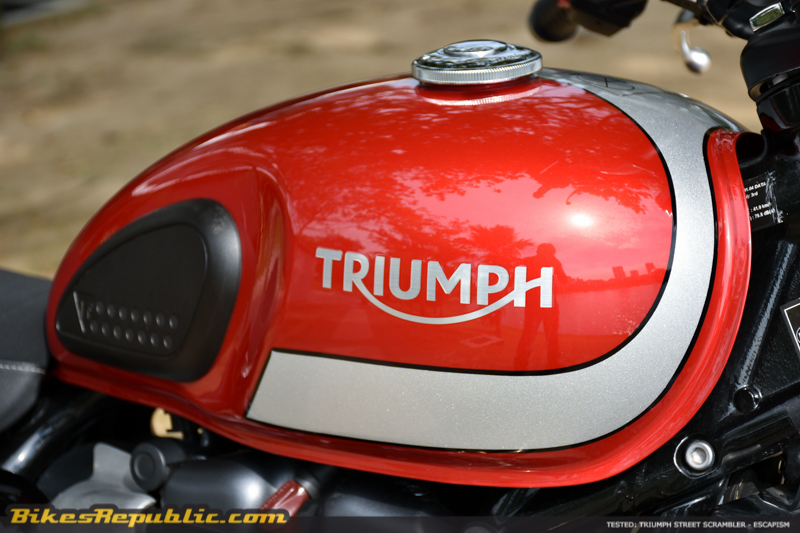 Having slept for only two hours, I decided to take it easy and droned along at the speed limit. It was during this time I discovered many things I've never noticed.
Over to my right was a mountain range. The early morning sunlight had just started kissing its slopes. Thick clouds caressed the tops intimately, as if jealous of the sunlight. On the left, well, it was just oil palm estates but it was only then I  discovered that Dato' Lee Chong Wei is the "Eco Ambassador" for a building materials company called Pentens. The morning air was cool and fresh, with which I filled lungsful of. I even flashed the "peace" sign at an AES camera (it didn't fire).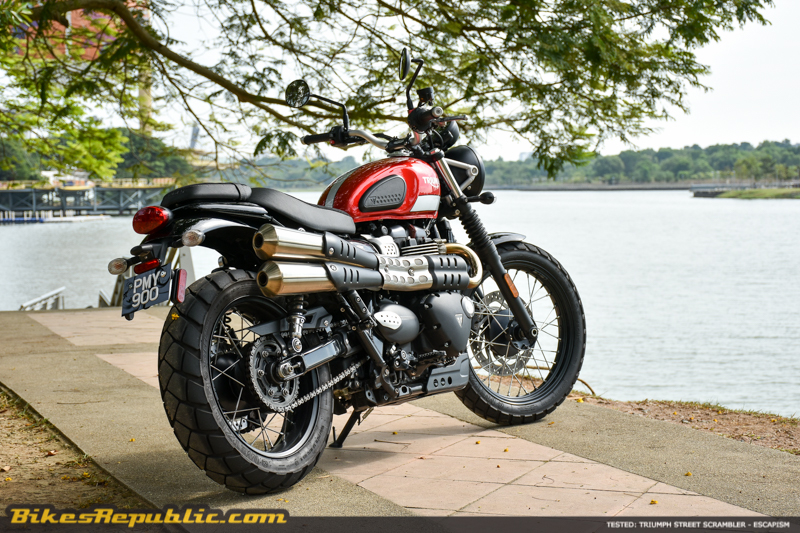 I was in a state of zen. A huge group of Suzuki Belang 150 blew past on either side. I smiled. Solutions to deep-rooted problems started to filter in through the air, as I sang Raindrops Keep Falling on my Head to myself.
Remember the "nice bike routine"? It happened even riding! As I readied to overtake a car, my peripheral vision caught sight of this black MPV next to me in the right lane. I backed off to let it pass but it stayed put and matched my speed. I looked over to see two kids and a teenager snapping pictures on their phones. Their Mum gave me a thumbs up.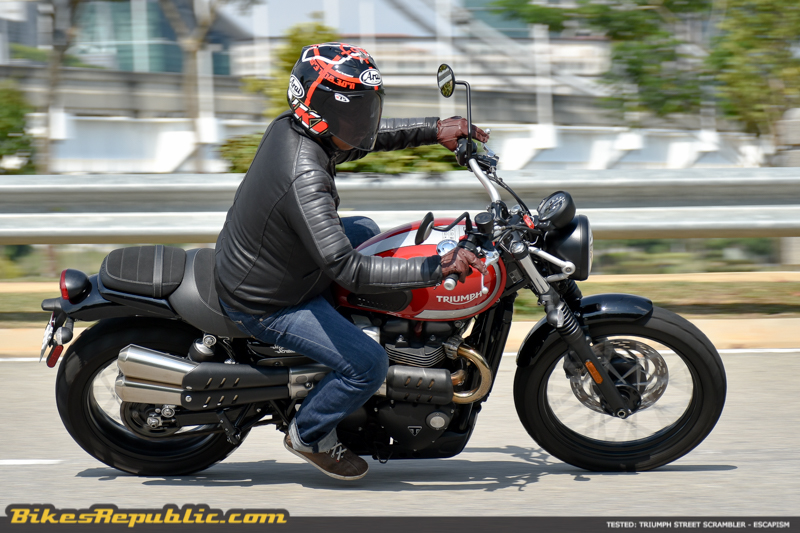 I kept on cruising, thighs far apart, arms stretched straight out. The engine was humming along, the wheels tracked perfectly over the bumps, until I passed Ipoh and started up the twisty section to the tunnel. Still minding my own business, Uncle Camry swept past two lanes directly into my path to round a curve, and braked 20 metres in front of me! He must've thought he was going wide.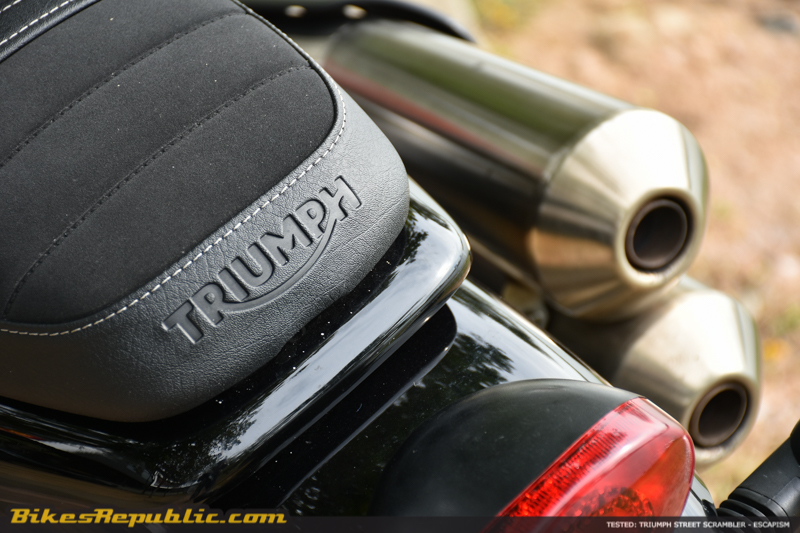 A blast of throttle awoken the bike's fat midrange and I slingshot past him. Speed picked up so quickly I had to push my buttocks back and crouch onto the tank. The bike charged through every turn like a naked sportbike (I kid you not!). A few corners up and I came across a group Triumph Tiger riders. I passed them on the outside of a turn and waved. Sorry guys, wasn't trying to show off. To be fair, they had passengers and were being careful.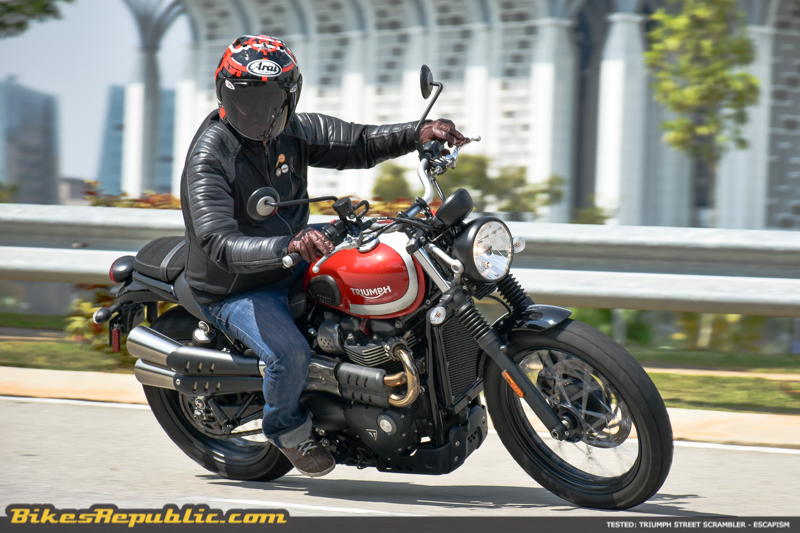 If the bike had felt stable when cruising straight up and down, it was disconcertingly stable when leaned fully over. Eh?
I split both lanes in the tunnel, horn blasting away. Traffic was backed up when I exited the tunnel, due to two trailers up ahead going I think I can, I think I can, side-by-side. Slicing in and out of the traffic, the brakes were super strong, despite having only a single 310mm disc gripped by a two-piston caliper up front. The forks didn't dive all the way down when I gave the brake lever the grip of death, either.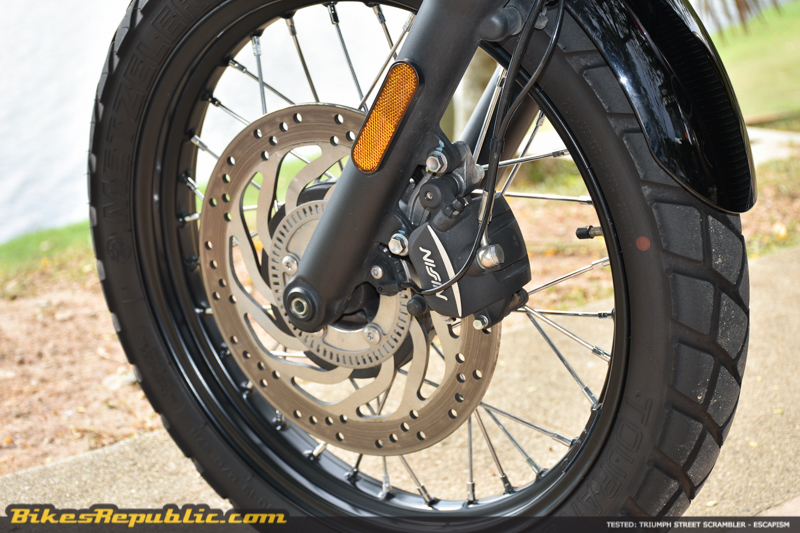 I was now singing Turbo Love to the roar of the engine. Suddenly, there they were, those Belang riders. They stood no chance.
We fueled up at Sungai Perak R&R and continued on the trip. Man, those Tiger 800s were fast! I had to ride almost prone on the tank all the way to Juru just to keep up. Now all my misgivings about "classics" were blown away into the slipstream as the engine obliged without feeling like it wanted to go IED. Five speeds were enough, never needing me to row for the non-existent sixth gear. Windblast was surprisingly acceptable even at those speeds. I'm a highway starrrrr!!!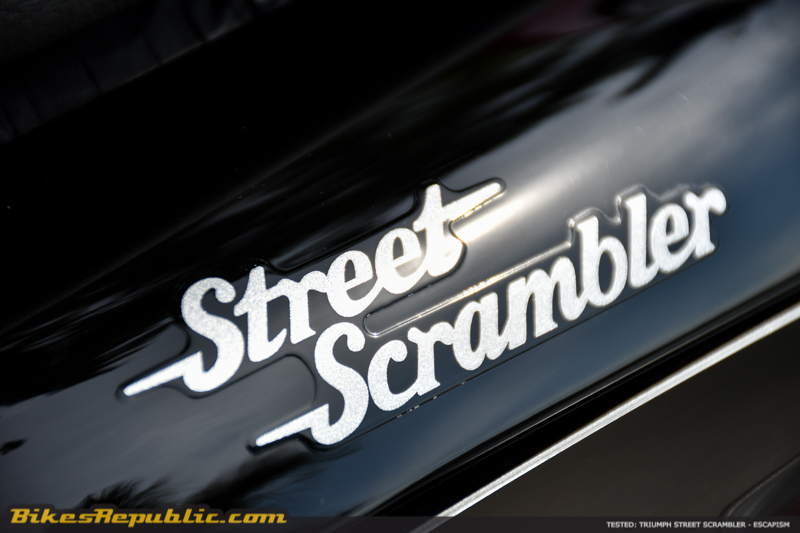 Reaching Prai, I gunned for the first Penang Bridge, when I should've turned onto the new one. All along the way, the locals thought they could teach an uncle on a "classic bike" some lessons. Hah! Hooligan mode on! Welcome to the jungle, we got fun and games!
Everywhere around Penang, other motorcyclists would crane their necks over for a good look of the Street Scrambler, and many asked the same set of questions.
Riding around Penang and later back in Kuala Lumpur also revealed how well the Street Scrambler is suited for the daily commute. There's just power everywhere, allowing you to zap traffic with so much ease. No wonder, because maximum torque arrives at a low 2850 RPM while maximum horsepower is produced at 6000 RPM. That's a mountain range of 3150 RPM separation between maximum torque and maximum horsepower, ensuring a flexible power delivery. It means you didn't have to keep shifting gears while tackling the traffic. The exhausts made enough music to alert drivers, despite being stock.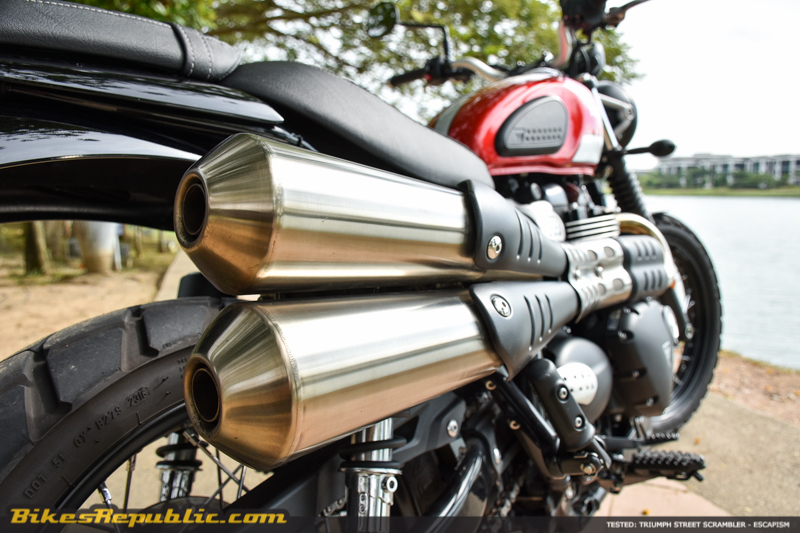 Oh, before I forget, the Street Scrambler is equipped with Triumph Traction Control (TTC) and ABS that you could turn wither or both off for offroading. Triumph Malaysia had brought one for an offroad event at Mat Daling and it passed with flying colours.
And no, the high-level exhaust didn't flambé my right thigh. It felt hot of course, but it wasn't like touching an unprotected section of the exhaust pipe. In fact, the hot air from the radiator was hotter.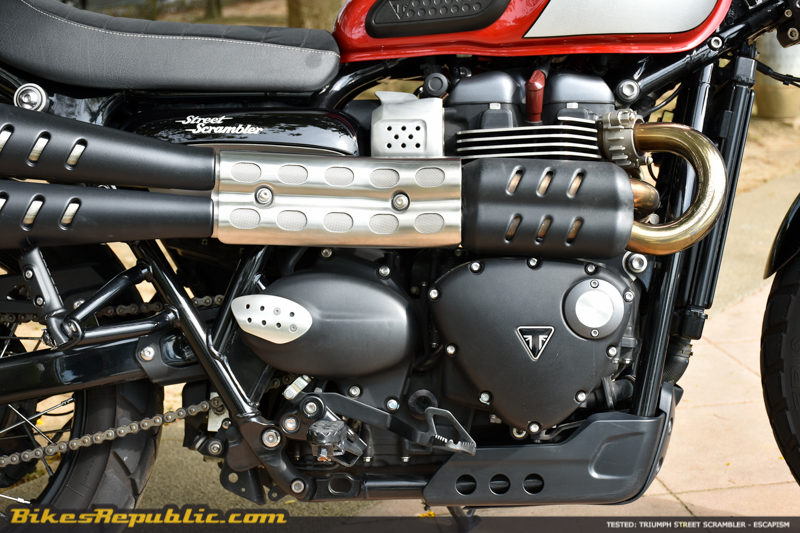 In conclusion, there are days or instances when a certain switch is flicked on and we want to go out and ride a certain way. On one day, we just want to carve canyons as  Joe Rocket. The next day we just want to cruise and soak up the environment. Or camp in the jungle by riding offroad the next week. Commuting on a motorcycle on a daily basis, in the meantime. You certainly want a bike that's pretty but not kitschy. Heck, you could even be Justin Bieber or Miley Cyrus (God forbid!) just for a day to cheese people off (God forbid X2). Or how about dressing up dapper? Or just go out there and get away for a while?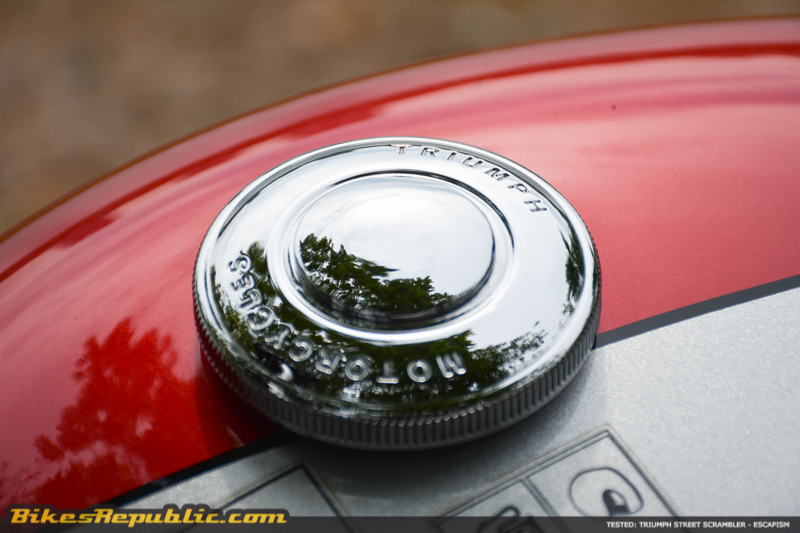 However, super-segmented machines could do only the one thing, two max, that it had been designed for. You can't go offroad on an R1, can you? A cruiser can't corner like a naked sportbike, can it?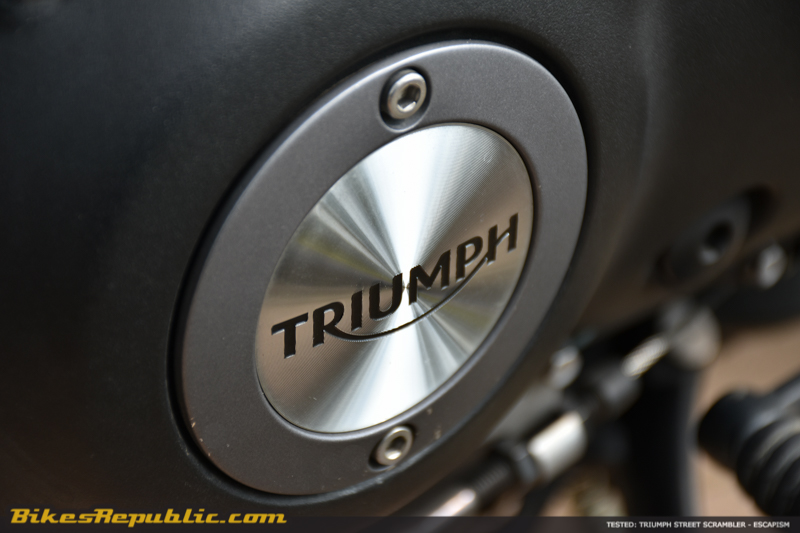 What the Street Scrambler stands for is freedom. The freedom of choice on who you want to be, how you want to be, what you want to be. Free from constrictions, free from conventions, free from barbed wires. Escapism. Or rather, The Great Escape.
And you don't have to be Steve McQueen.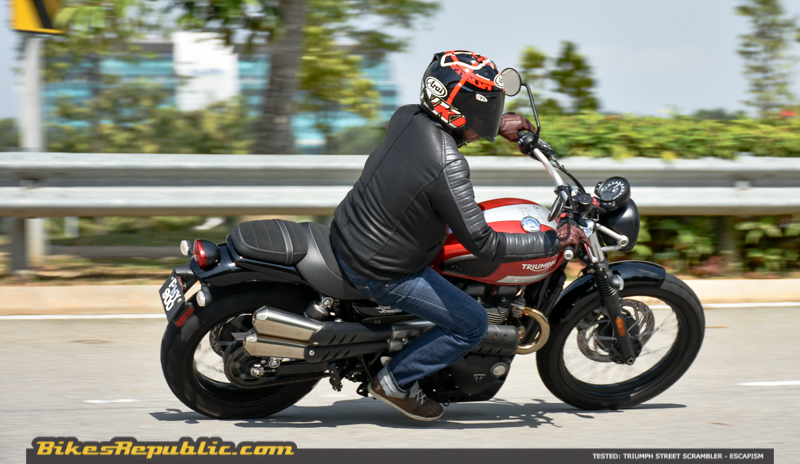 TECHNICAL SPECIFICATIONS
| | |
| --- | --- |
| ENGINE | |
| Engine type | Liquid-cooled, 4-stroke, DOHC, 8-valves, 270-degree crank, parallel-Twin |
| Compression ratio | 10.55 : 1 |
| Bore X Stroke | 84.6 mm X 80.0 mm |
| Displacement | 900 cc |
| Fuel system | Multipoint sequential electronic fuel injection |
| Maximum power | 54 bhp (40.5 kW) @ 6000 RPM |
| Maximum torque | 80 Nm @ 2850 RPM |
| | |
| TRANSMISSION |   |
| Clutch | Wet, multiplate, assist |
| Gearbox | 5-speed |
| | |
| CHASSIS | |
| Front suspension | KYB 41mm telescopic forks, 120 mm travel |
| Rear suspension | KYB twin shocks, adjustable for preload, 120 mm travel |
| Front brakes | Single 310 mm disc, Nission two-piston caliper, ABS |
| Rear brake | Single 255 mm disc, Nissin two-piston floating caliper, ABS |
| ABS | Switchable on/off |
| Front tyre | 100/90-19 |
| Rear tyre | 150/70-R17 |
| | |
| FRAME & DIMENSIONS | |
| Frame | Tubular steel cradle |
| Swingarm | Two-sided, tubular steel |
| Trail | 109 mm |
| Rake | 25.6 degrees |
| Wheelbase | 1446 mm |
| Seat height | 790 mm |
| Dry weight | 206 kg |
| Fuel capacity | 12 litres |