The GIVI Golden Triangle Adventure 2017 Explorers left Cambodia behind for Vietnam on Day Five.

Downtown traffic was the main concern as we neared Ho Chi Minh City.

Vietnam proved to be another contrasting experience.
13th November 2017, Ho Chi Minh City, Vietnam – It's time for the GIVI Golden Triangle Adventure 2017 to leave Cambodia (for the time being) as we pushed forward to Vietnam.
The weather stayed clear all morning, thankfully, but the downside was it was starting to get hot by 8am as we prepared to head out from the Phnom Penh Hotel.
Apart from crossing the great Mekong River at Naek Loeung, the rest of Cambodia was uneventful, to put it succinctly. with more small towns interspersed with paddy fields along the way. Traffic was moderately heavy with the usual mopeds, large SUVs, among those huge Peterbilts and Mack trucks, and of course, more mopeds. It may look like there are many curves and corners along the way, but it was straight in reality.
Still, am just happy to be here to see a whole different country.

And that notion brought along a surprise as we reached the Cambodia-Vietnam border crossing at Moc Bai.
Just as with the border crossing from Thailand, there were a number of casinos on the Cambodian side, and they were called glamourous names such as those in Las Vegas. We didn't get to find out if "what happens in Vegas stays in Vegas," tho'.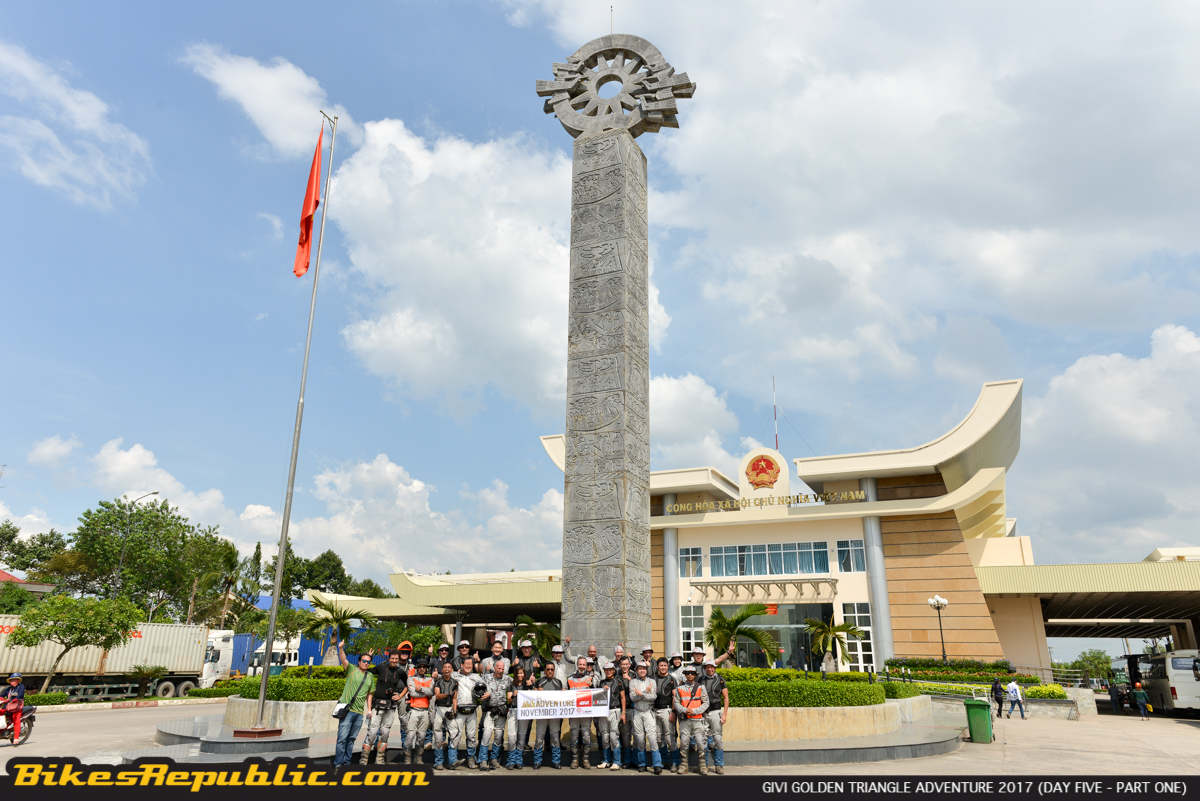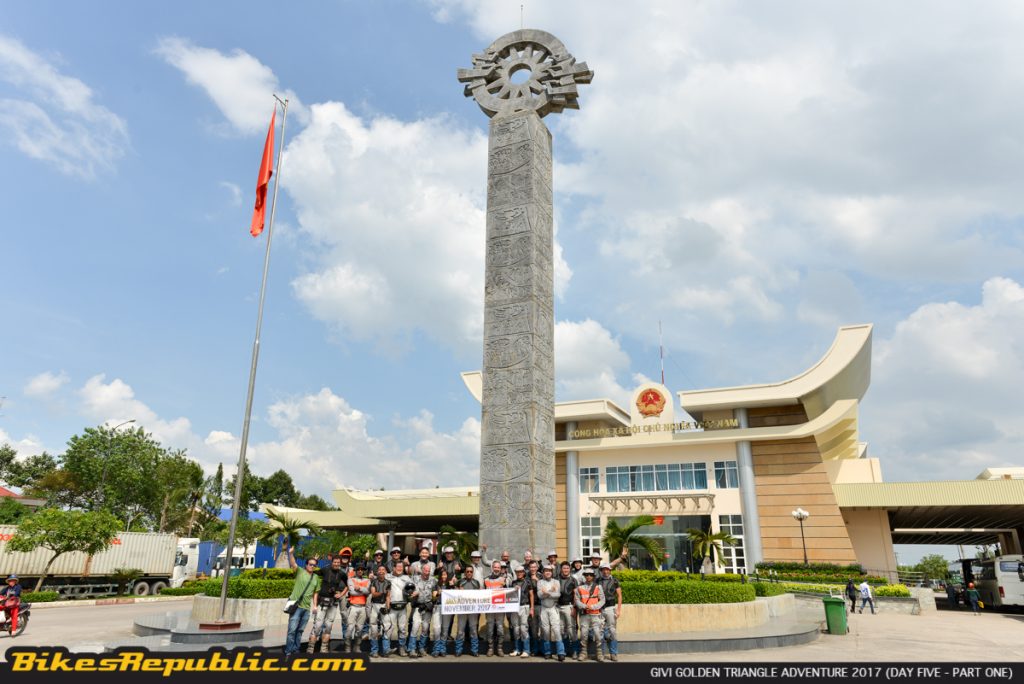 The Moc Bai Border Crossing consists of beautifully constructed buildings in the traditional Vietnamese style. The administration building was no doubt modern, but it was unmistakably Vietnamese. We stopped to wait for the organizers to sort out the paperwork, while we took photographs with the GIVI Golden Triangle Adventure 2017 banner, to stamp the evidence that "we were here."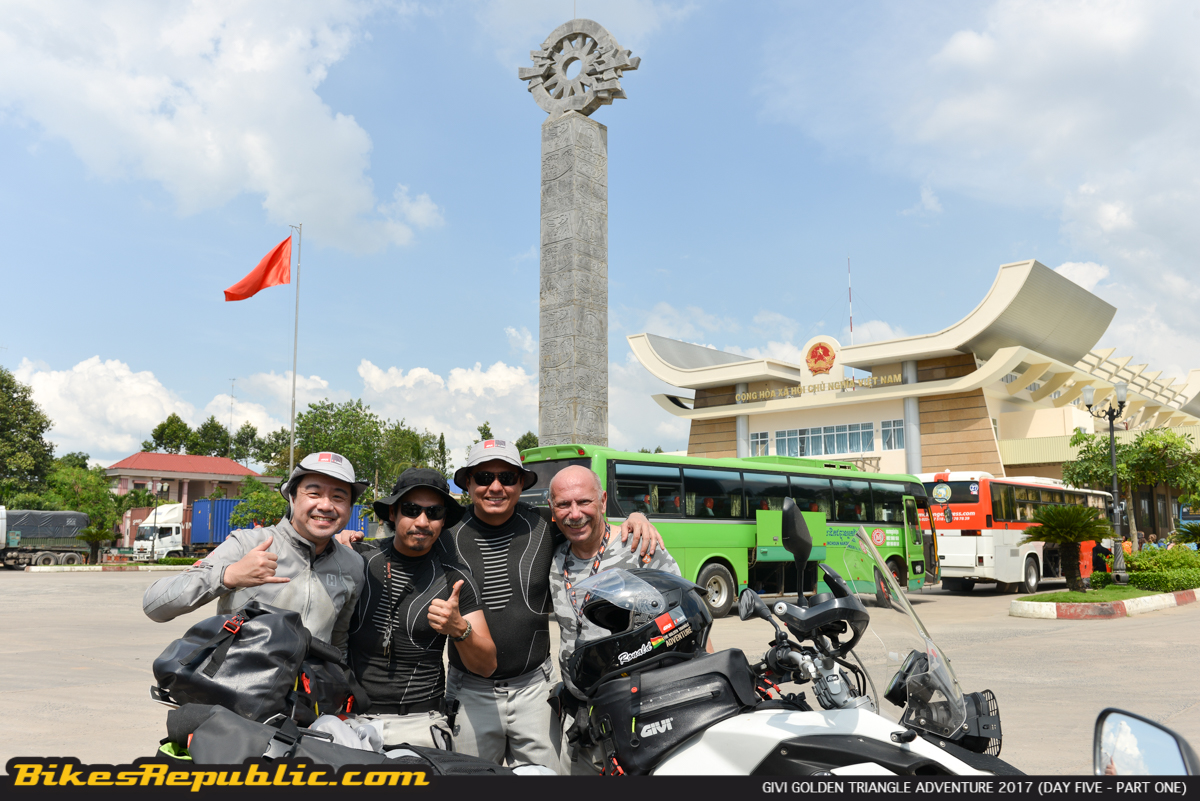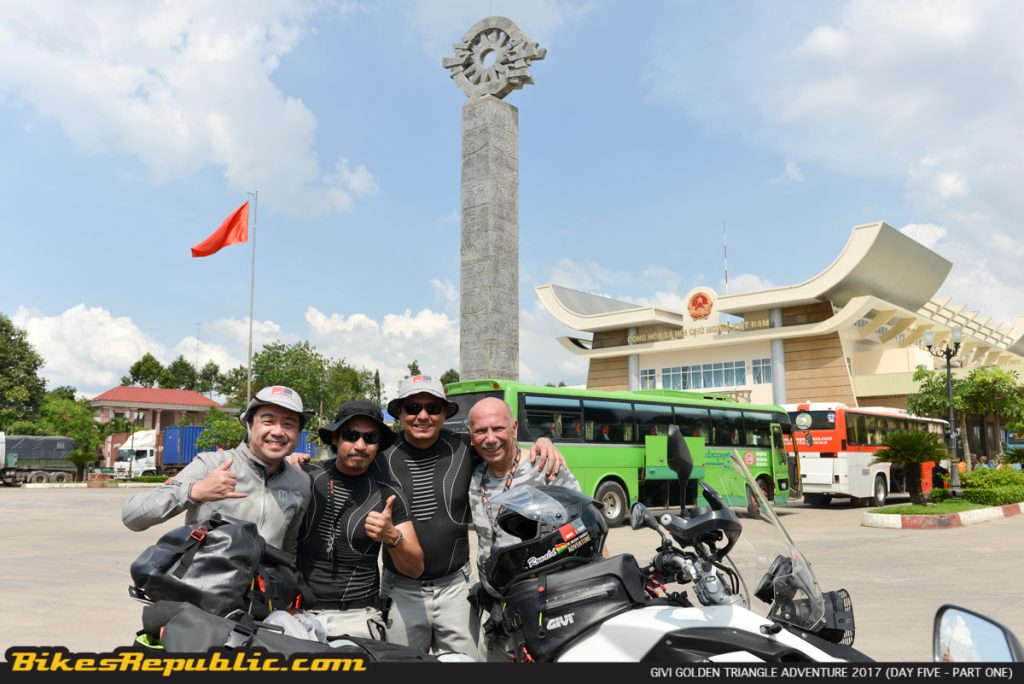 Then as we were running around with our cameras and our phones, the marshals announced, "Okay, let's go!" What? Wait, that was just like 20 minutes. We waited for almost an hour to cross into Cambodia a few days prior.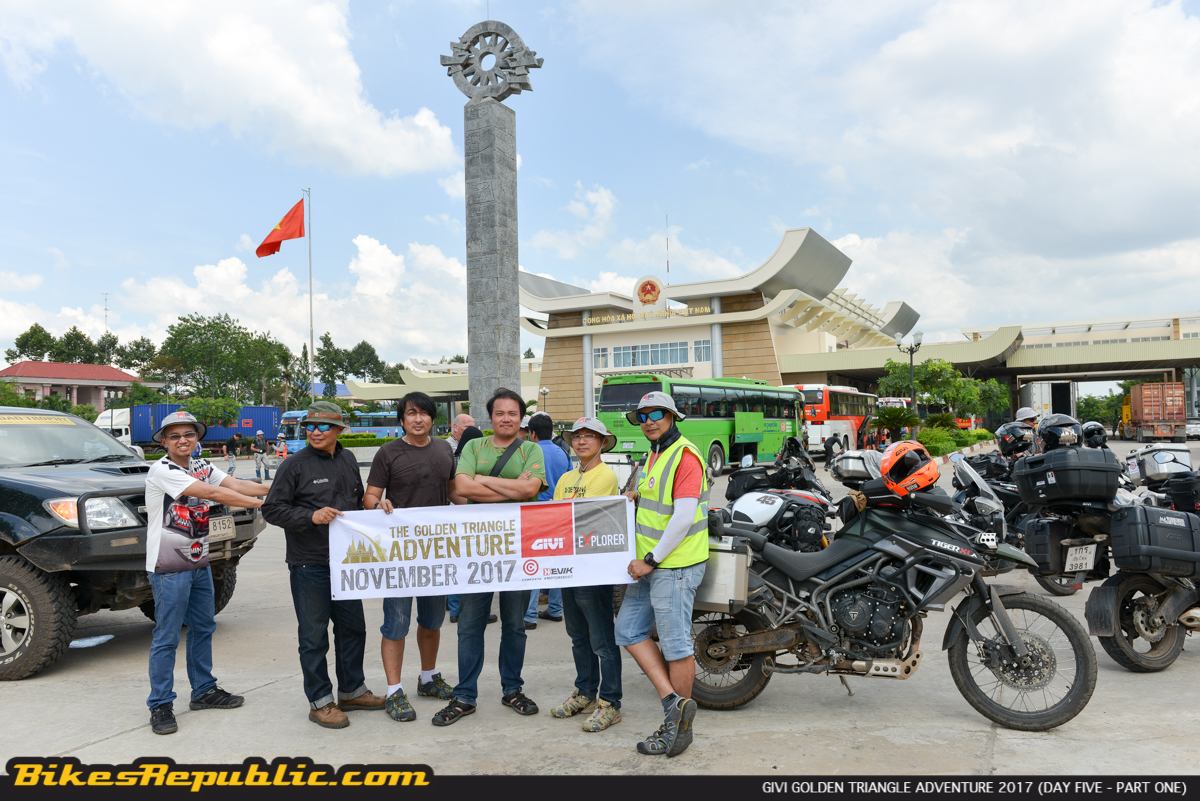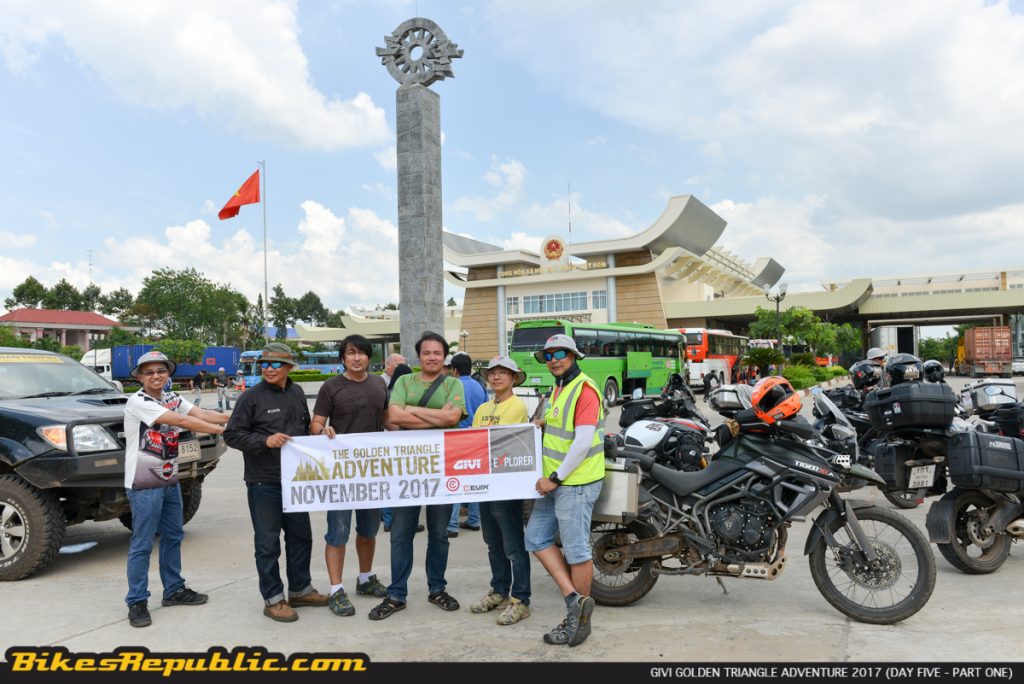 I noticed a blue and yellow Honda CBR600RR among us for the first time. It had a loud exhaust, semi-slick tyres, but no mirror and he was way up front of the pack.
It turned out that he was our guide to the hotel from the border. The Vietnamese authorities prohibits the entry of overseas motorcycles, unless you're guided by a government-designated guide.
So nevermind, since we've only 100 kilometres to go to Ho Chi Minh City.
We were swallowed up by packs of mopeds soon enough. Well, "pack" isn't the correct word, but swarms would be accurate.
Before I proceed further, please allow me to state on record that this isn't a criticism of the way people ride and drive in their own countries. Instead, it serves as one of the episodes in the GIVI Golden Triangle Adventure 2017.
We had been briefed earlier by Joseph about the traffic in Vietnam and Ho Chi Minh City. I've seen pictures and documentaries about Vietnam, so I made an offhand joke with a few guys that we might be surprised to find a local sitting on one of the boxes when reach the hotel.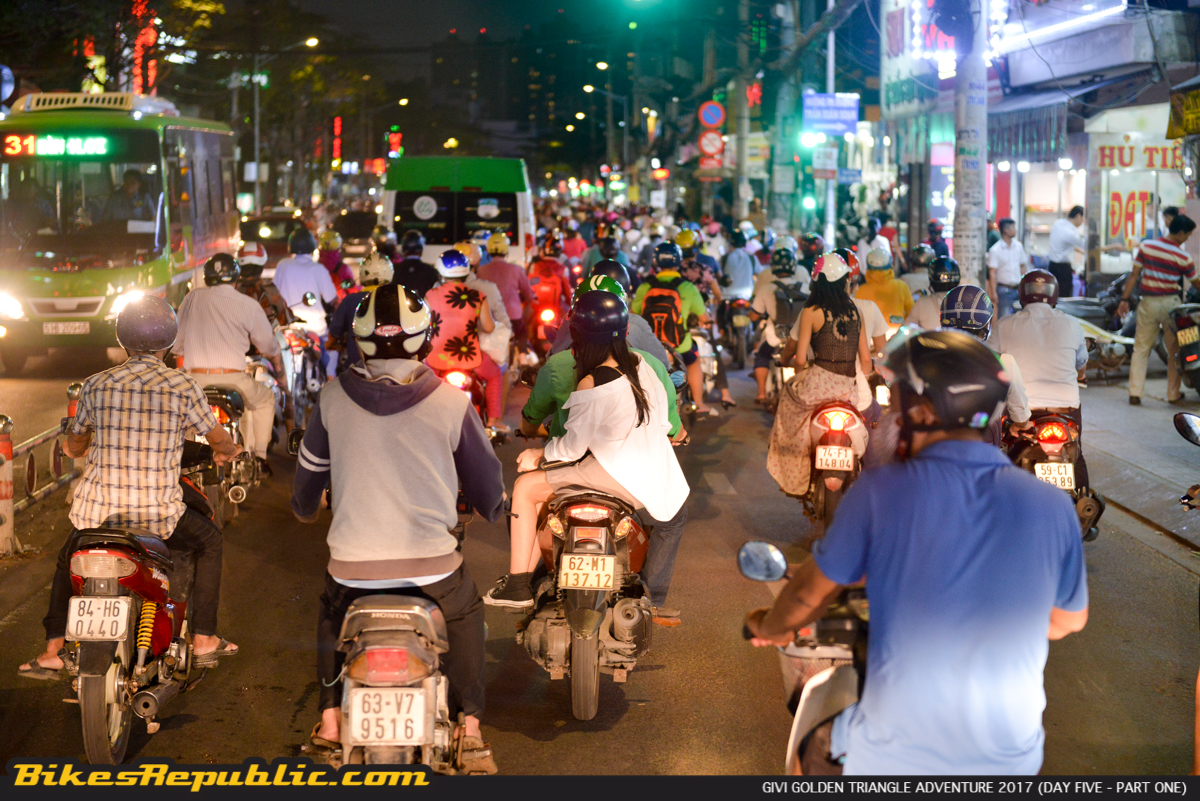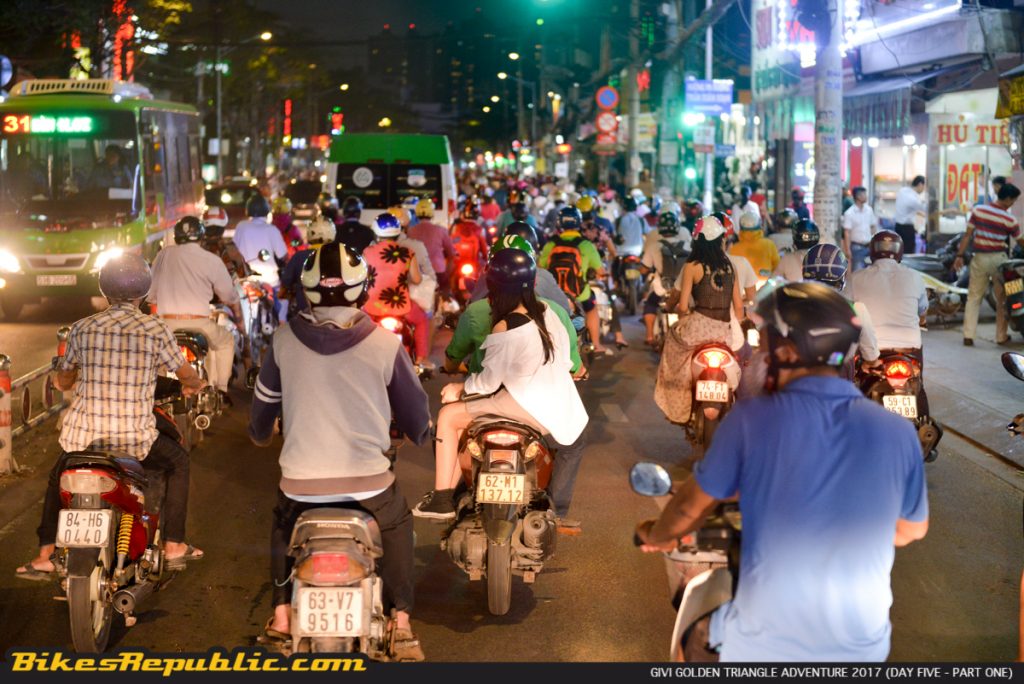 Right in the thick of it, it was disconcerting at first, but conditioning, survival instinct and defensiveness kicked in as the mopeds crossed right in front of us, or overtaking one another without checking behind or alongside, etc. The duty to avoid them and stay save therefore fell squarely on the shoulders of each Explorer. Still, that didn't mean being aggressive, instead one should be assertive. Oh yes, there's a huge difference between the two.
Anyway, most of us started to struggle further along, including the hardworking Marshals who were getting overwhelmed. They had nominated me as their assistant marshal after the first day, so we did what I we could to open a path for the rest of the convoy.
But most of us started to get an inkling of something was wrong as we kept riding in the same traffic for two hours without getting anywhere. Worse of all, there wasn't even a split second to check out the sights.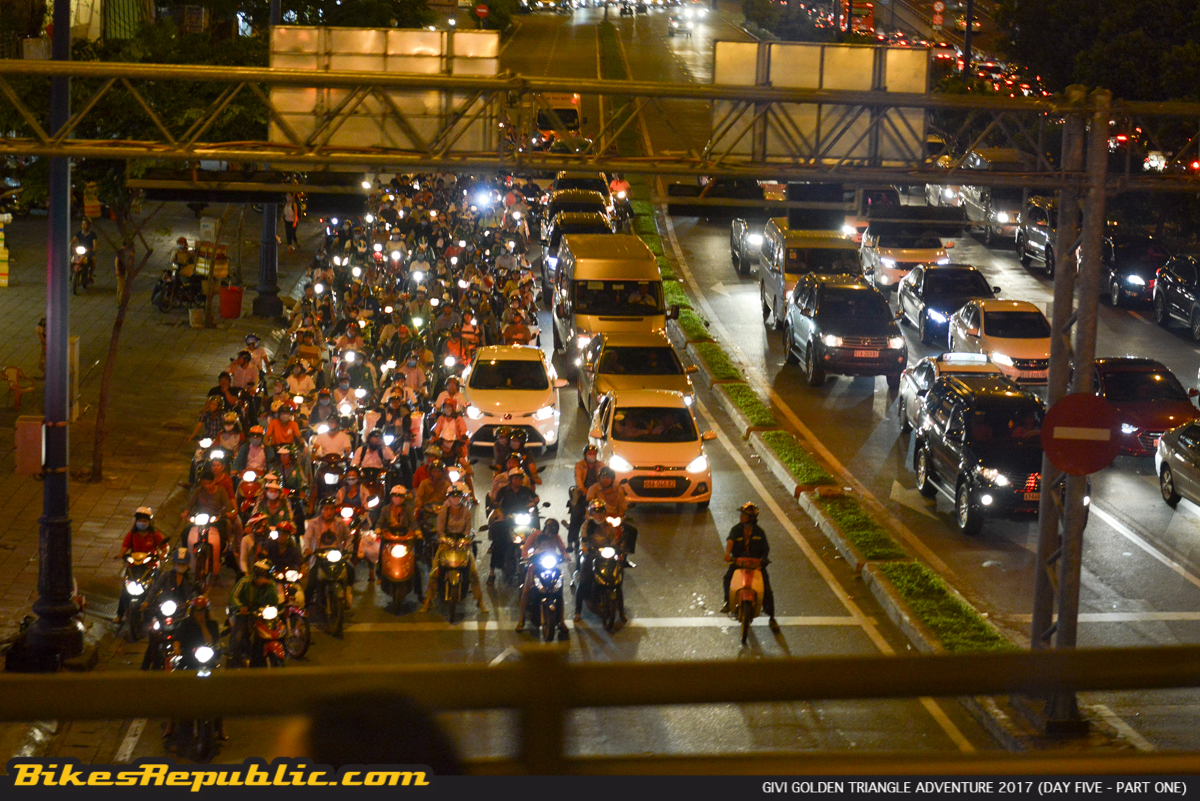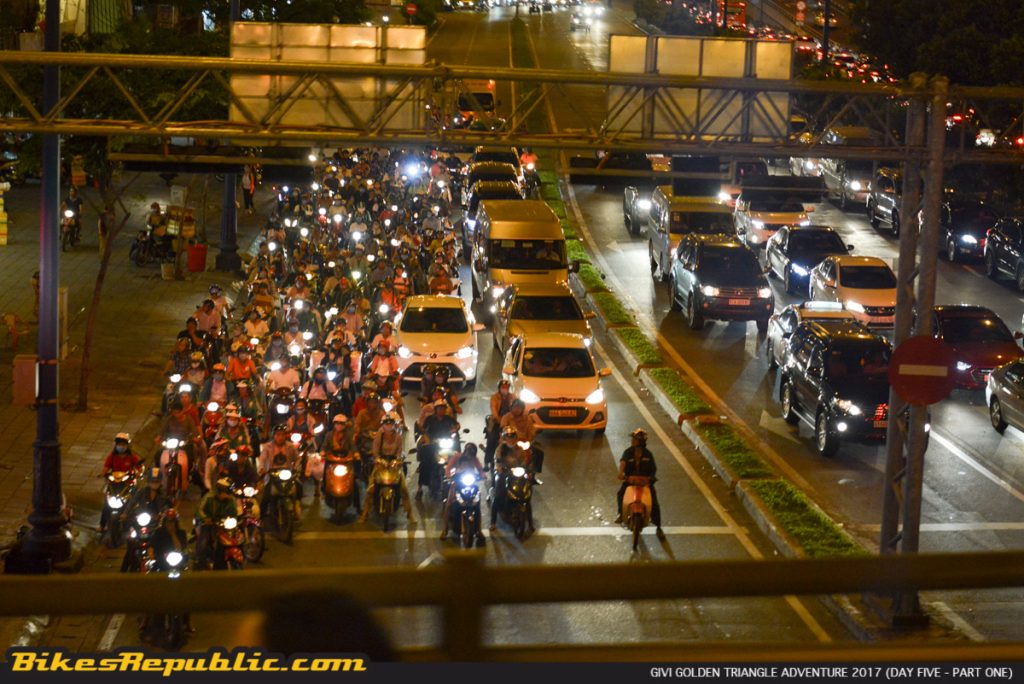 Remember the guy on the CBR? With no mirrors and being prone on the tank, he couldn't look behind to see where we were. He had been briefed back at the border crossing to take another route (Joseph and Giorgio are familiar with Ho Chi Minh City) to avoid the gridlock, but he had guided us down the very route we had wanted to avoid.
So, we ended up covering 25 kilometres in two hours.
However, all of us made it to the Merperle Crystal Palace Hotel safe sound and that was what mattered the most.
It had taken us the better part of a day to cover the 289 kilometres from Phnom Penh. By comparison, that distance (minus 3 kilometres) was the same as travelling from the Rawang R&R to the junction of the Sultan Abdul Halim Muadzam Shah Bridge (the new Penang Bridge). But, that's what an adventure is: Experiencing something totally different from everyday norms.
Click here for Day Five (Part Two) of the GIVI Golden Triangle Adventure 2017.
Click here for Day Four of the GIVI Golden Triangle Adventure 2017.
Click here for Day Three of the GIVI Golden Triangle Adventure 2017.
Click here for Day Two of the GIVI Golden Triangle Adventure 2017.
Click here for Day One of the GIVI Golden Triangle Adventure 2017.