Being seen while riding at night might make the difference between life and death, Halobelt helps you to be more visible with its strip of flexible light and we get to play with it for about a month.
If you are like me then riding at night is a normal occurrence thanks to either work or late night teh tarik sessions, mostly the second. And one of the main worries of night riding is visibility, to see and more importantly, be seen.
While most rear light on a modern bike is bright now days, still statistically we all know the more visibility we have the better the odds of being spotted and avoided.
Reflective strips or stickers helps but its a passive system whereby it needs a source of light to work and additional lighting on the bike might not be the best answer to many for various reasons from legality, electrical or warranty issues.
So here is one simple solution, the Halobelt from America. As the name suggest its a belt or a loop with a simple clip and adjustment system to fit size 0 to 46.
Half of the belt is made of a stretchable material with a reflective paint and the other half is where the magic is located. You have a 17inch long strip of what looks like a flattened fibre optic with a reflective backing and a small rechargeable Lithium Ion battery pack with built in LED at one end.
You can wear it in several ways but we had it on like a trap of a sling bag across the back and on one shoulder with the light facing backwards.
The battery pack has a switch and a mini usb port for charging, the switch feels ok but the usb port covering is a bit flimsy. Oddly enough instead of stamping its Halobelt brand name on the battery pack, it says rechargeable instead.
According to the manufacturer the electrics are water resistant which is good enough for riding in wet conditions unless you plan to swim with it. We had it go through a few light to medium showers while riding and so far it still fires up whenever we turn it on.
You have three choices of colours, blue, green and yellow and these can either be illuminated in Solid mode where its constantly on or Flash mode where the LEDs will blink at a quick pace.
We found that having it lighted on solid mode is good enough in all conditions and could easily be spotted about 500meters away in pure darkness. In "bright" conditions where theres streetlights a rider with a Halobelt stands out even in heavy traffic.
The Flash mode is too much of a distraction to other road users in normal conditions and maybe more suited in an emergency situation in case of a breakdown or something.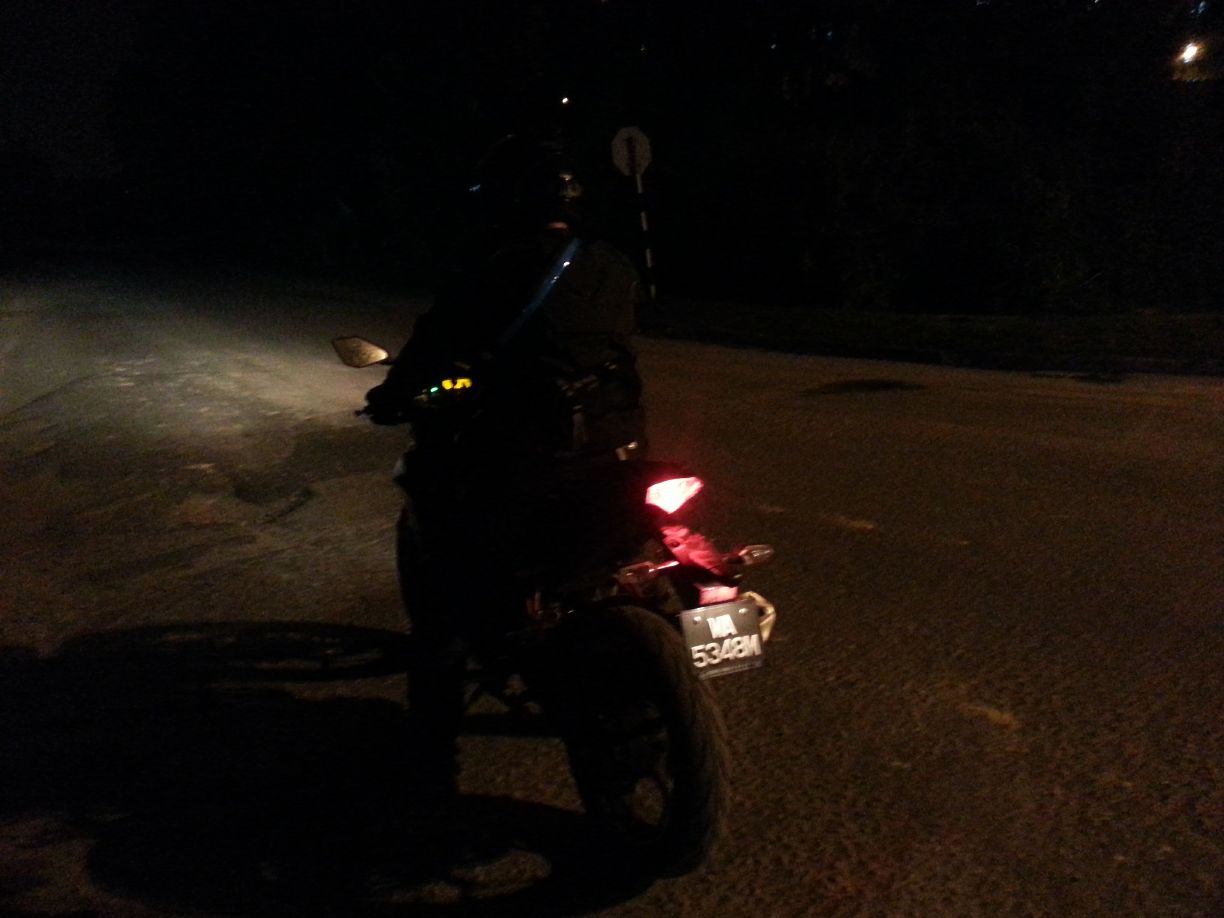 As you can see how a rider looks with and without the Halobelt on.
While there is a circuitry to make the light blink, it doesn't look like it has a steady light feature where it could keep the light bright all the way till the battery is flat. Instead the light will slowly dim as time goes by.
Luckily it stays bright as the battery power can last for several weeks with regular use of 30 to 40 minutes per night and its quick to recharge.
The belt weights only about 4.4ounces in total and most of the time we didn't notice we had it on until its time to take off the riding gear.
And thats the best part for us, its a little less worry as a biker, its like having an angel right behind you while you ride.
Recommended retail price is RM150, small price to pay for added safety but better yet as for now its on offer at RM80, for more information call 01117604492