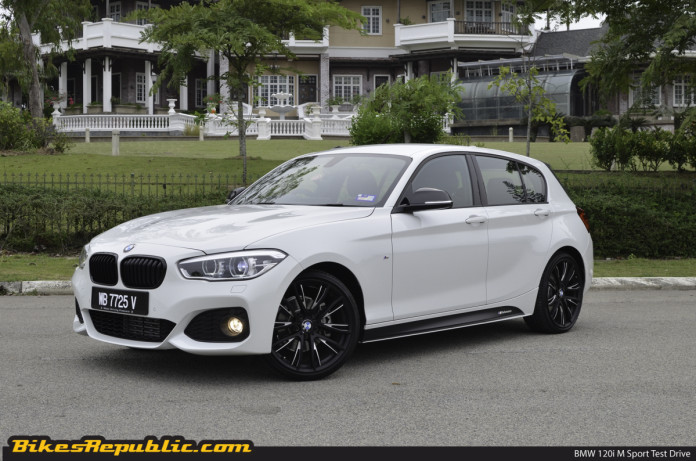 THE current generation BMW 1 Series has got all the makings of becoming an instant classic. Being the only rear-wheel-drive car in a largely front-wheel-driven segment, it offered unrivalled handling and agility. However, it was let down by its looks, not to mention the steep asking price it held on our soil being a fully imported (CBU) model.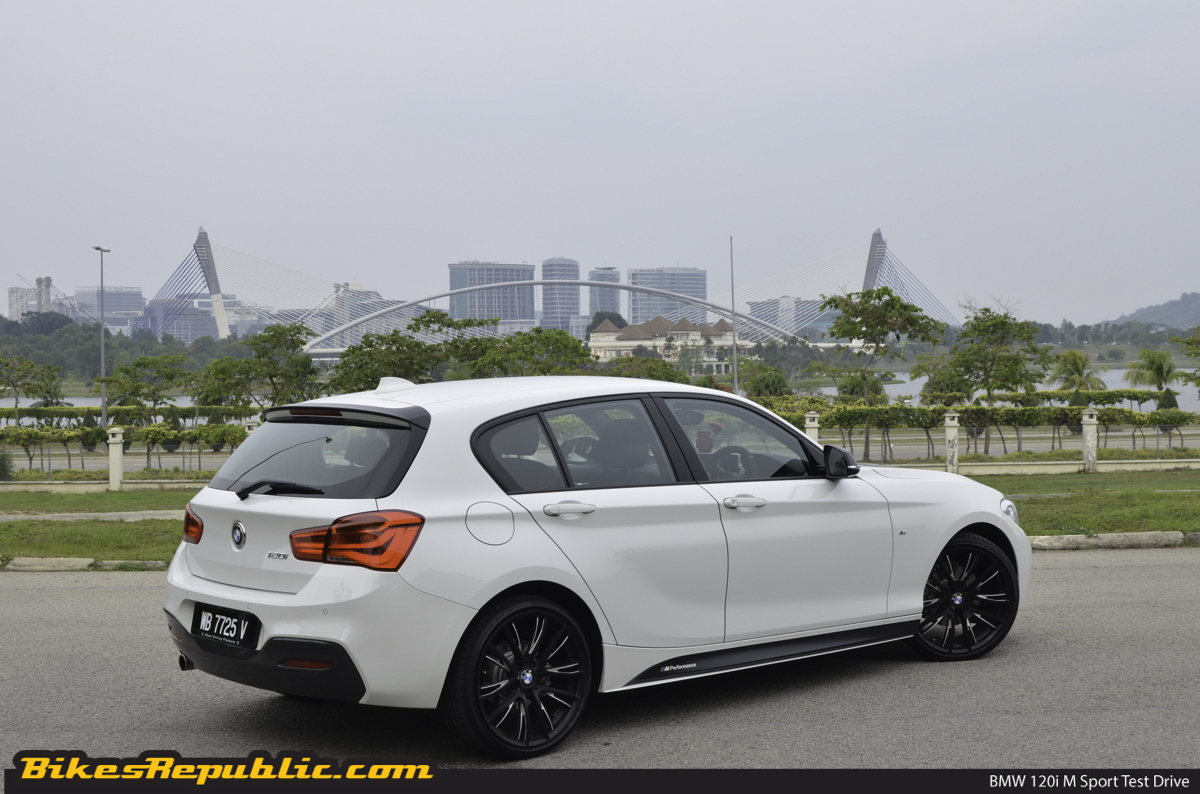 Thankfully, the Bavarian marque has heard the cries of many, resulting in this model's sorely needed facelift, not to mention its desirable new pricing as a locally assembled (CKD) model now too. The Malaysian-flavoured range may have shrunk to just one lone 120i M Sport variant, but after a few days helming it, the car's brilliance is hard to refute.
The changes on the outside are indeed mild, most notable of which being the restyled headlamps, taillights and grille. Nevertheless, this has done wonders to it. In our test unit's case though, the optional M Performance bits such as the 19-inch alloy wheels and aerokit further enhances things, and matches well with the pearlescent white paint. Though they are costly, the optional exterior bits does beg one to seriously consider forking out the extra cash.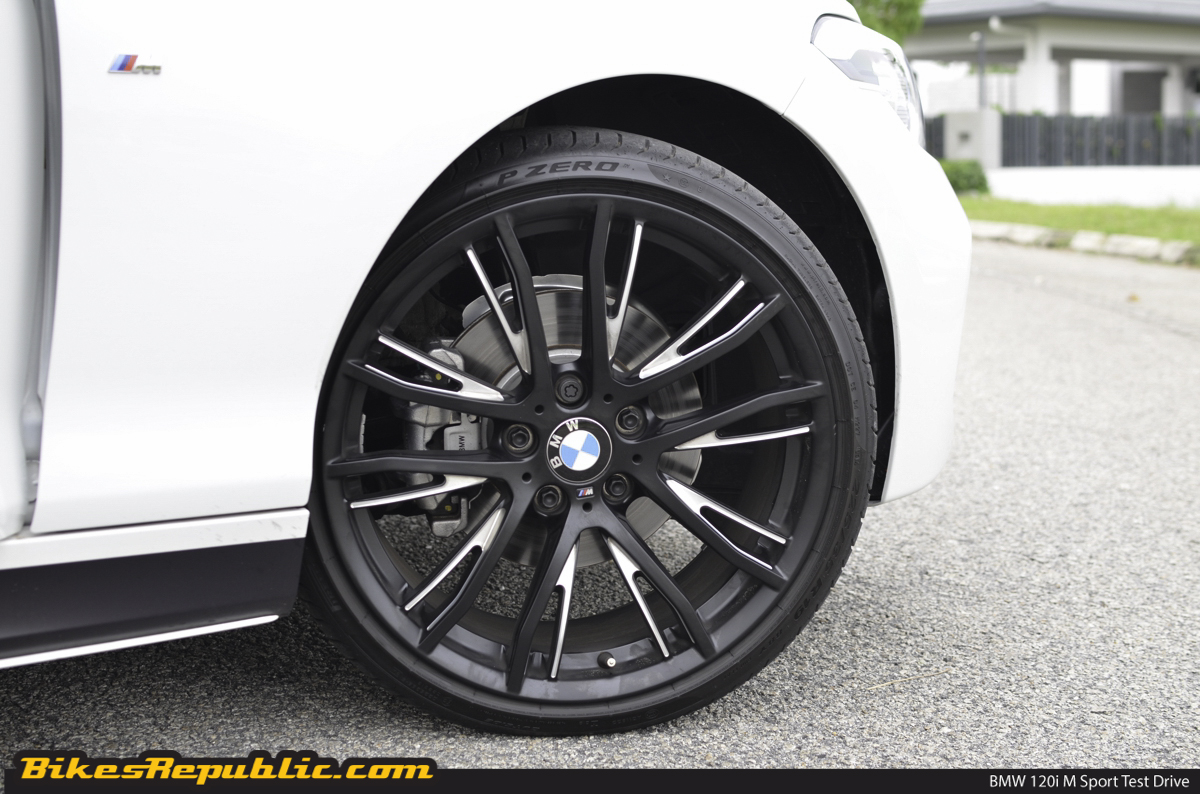 On board, not much has changed with the cabin, which is not entirely bad news. You can opt for a more racy look though thanks to the vast array of optional M Performance interior bits you see richly laden in our test unit. Some do feel a tad bit tacky such as the carbon effect transmission console surround and strip along the dash, but some like the alcantara-wrapped steering wheel, stainless steel pedals and LED-lit door sills begs one to seriously consider. Overall though, we reckon that those who fancy them would not mind spending a little more, but the standard trimming is still quite pleasing nonetheless.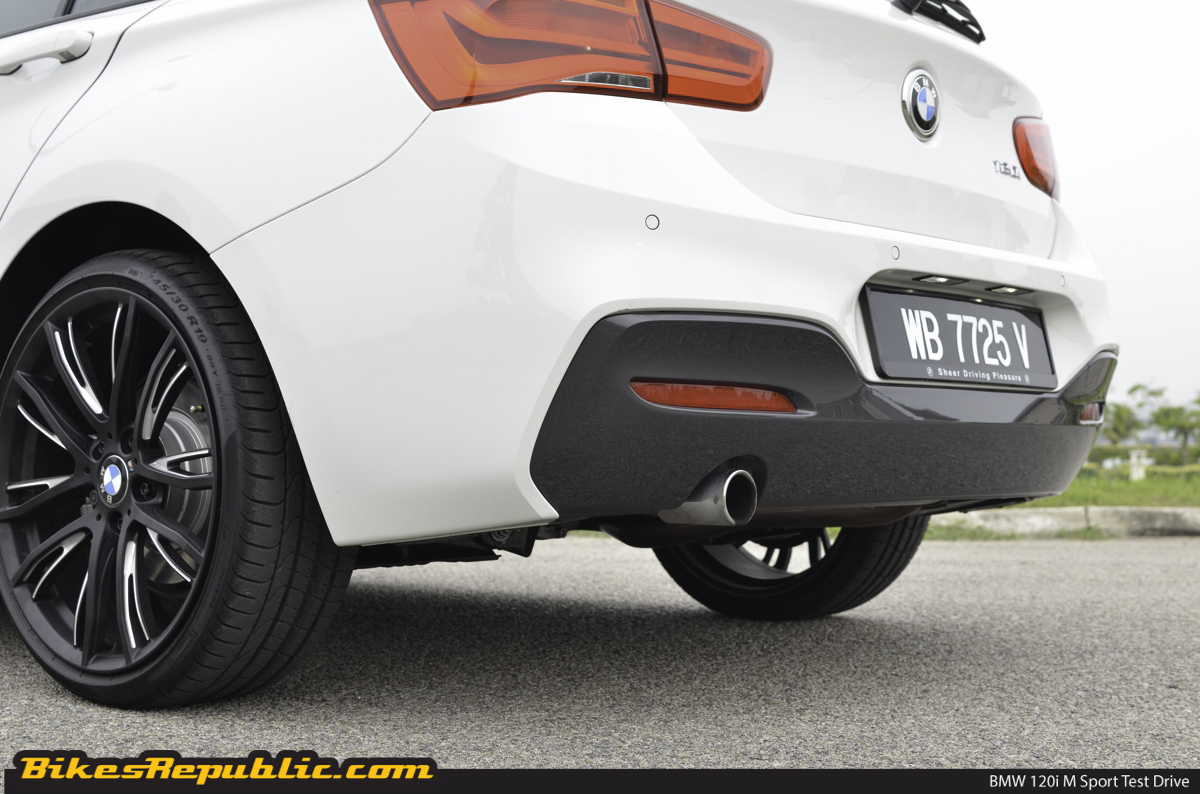 As far as the basics go, this 120i M Sport has got thing rightfully in order. Amongst the creature comforts here include dual-zone automatic air-conditioning, keyless entry and engine start, an updated iDrive infotainment suite, as well as a crisp-sounding seven-speaker audio system. What we loved most here were the highly supportive seats covered in plush alcantara and premium fabrics, as well as the driver-centric layout of things signature in all BMWs.
Downsides on board are predictably few, but they are not deal-breakers. The biggest one has the be the lack of head and movement room in the rear seats, not to mention the central driveshaft tunnel's intrusion that further reduces legroom too. Other than that, the 120i M Sport's cabin still feels rather exquisite thanks to rich use of premium materials and fabrics, not to mention this locally assembled car's high wind noise suppression, and the high quality fit and finish that is akin to the brand's CBU models.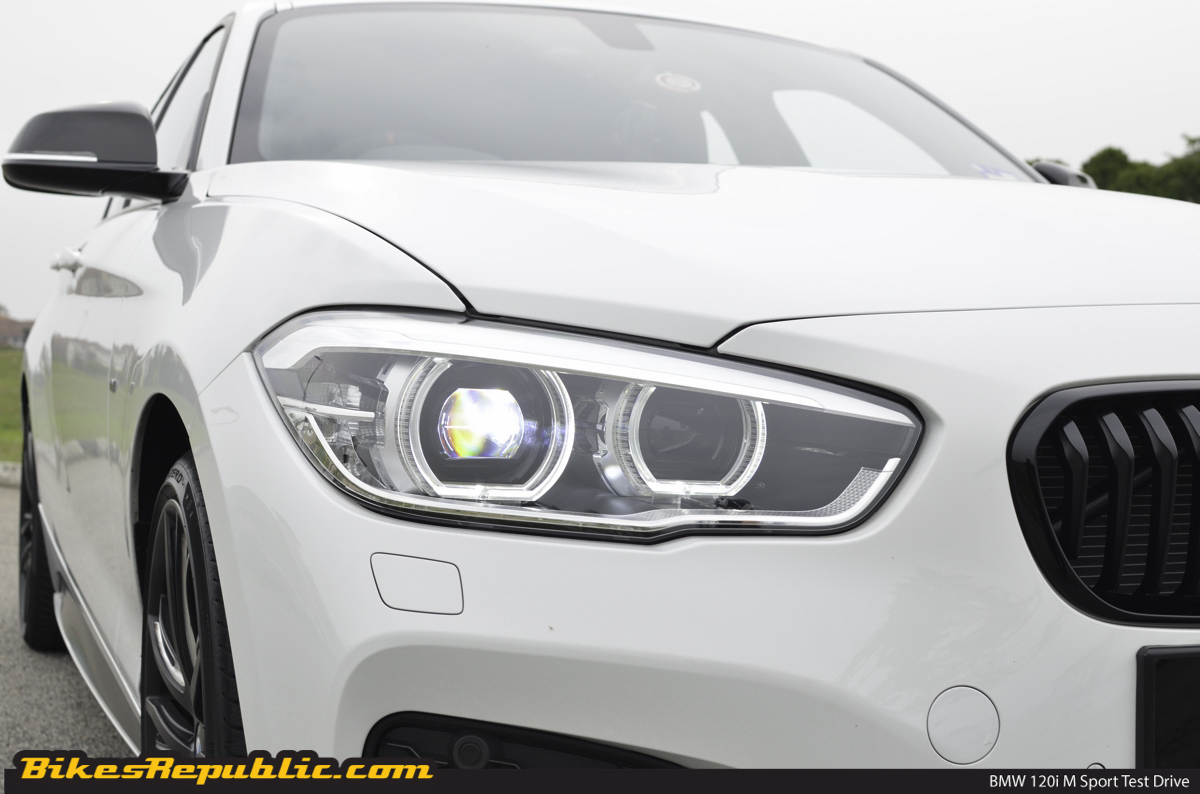 However, the 120i M Sport's true brilliance begins to shine as soon as you get it going. Power comes from a 1.6-litre turbocharged four-pot mounted up front that develops the healthy figures of 177hp and 250Nm of torque. Power is sent to the rear via an eight-speed automatic, with the package further complemented with BMW's offer of multiple selectable driving modes as well.
The claimed century sprint time stands at a respectable 7.7 seconds whilst top speed has been rated at 222km/h, which is not bad given the claimed weight of 1,395kg. True, compared to its front-driven segment rivals, the 120i M Sport is both less powerful and noticeably slower too. However, power is nothing without control, and the 120i M Sport has got that in abundance thanks to the standard-equipped M Sport suspension kit.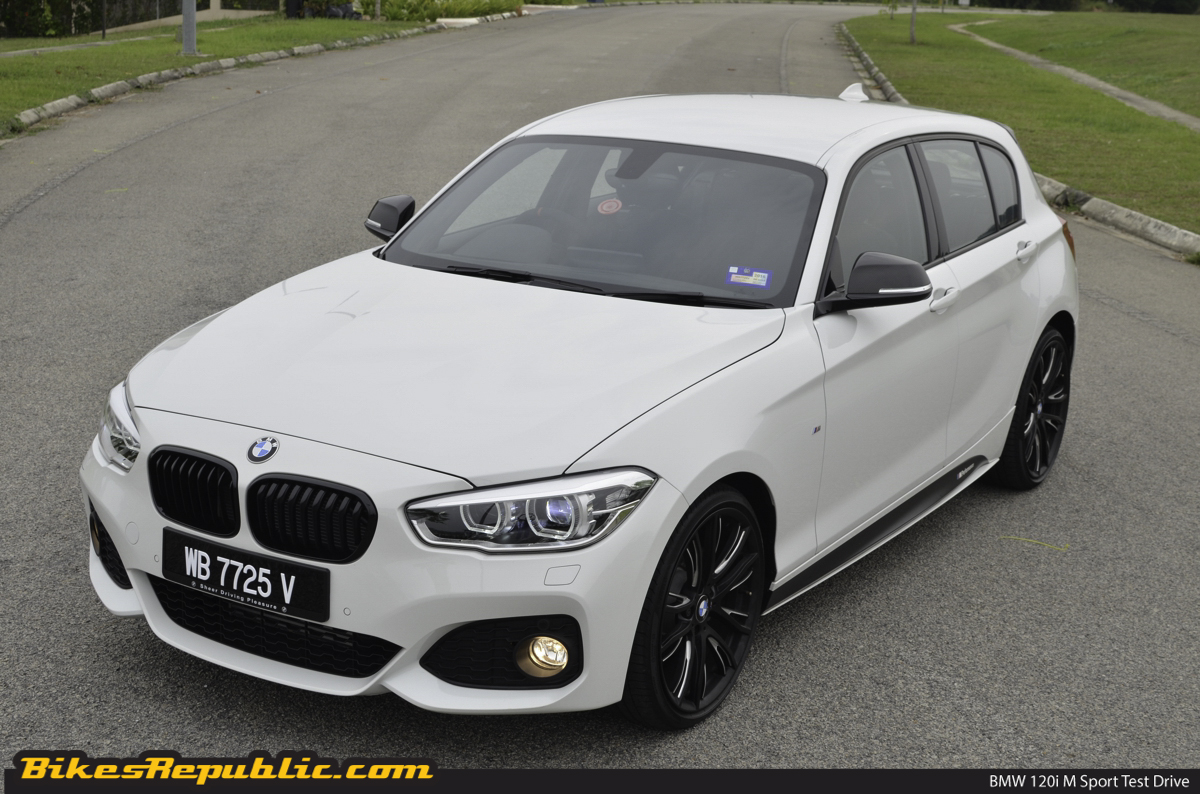 What you get as a result is a much more precise handling package with better turn-in ability, which complements the 120i M Sport's highly balanced chassis further. Sweetening the deal are the acclaimed Pirelli P-Zero sports tyres wrapped around those aforementioned optional 19-inch alloys. Though they get a little noisy as the speedo needle surpasses 130km/h, one easily forgives them simply because they allow this hatch to corner as if it is on rails.
Despite being primed with stiffer and lower 'sports' suspension, the ride does not feel as harsh as the kit primed in the rivalling Mercedes-Benz A250 Sport. Instead, this M Sport kit is a lot more forgiving and highly compliant with very minimal body roll, making this 120i M Sport easier to live with should you task it as a daily urban driver.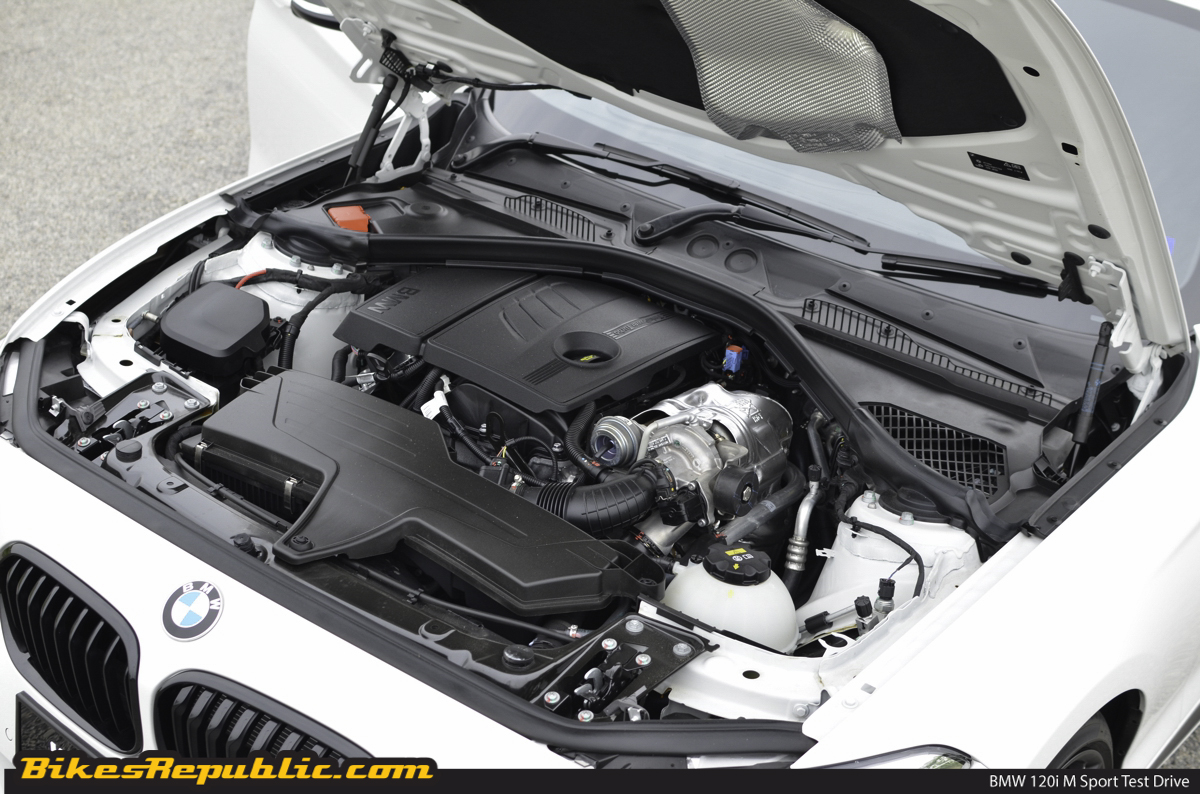 Furthermore, this is one hatch that does not give you that dreaded front-wheel understeer as all its rivals does, offering a more precise cornering ability instead. And, for those brave enough to turn off all the electronic driver aids, the chance to slide the rear out with opposite steering lock during corner exit is simply irresistible.
The only 'Achilles heel' here is perhaps the absence of steering-mounted paddle-shifters in this locally assembled (CKD) model, which we believe would have cap off what is already a very dynamic and slick transmission to begin with. That aside, this is indeed a package any occasional or serious driving purists would lust for. Unless it is a RenaultSport Megane, you simply cannot get this much agility in a front-wheel-drive rival.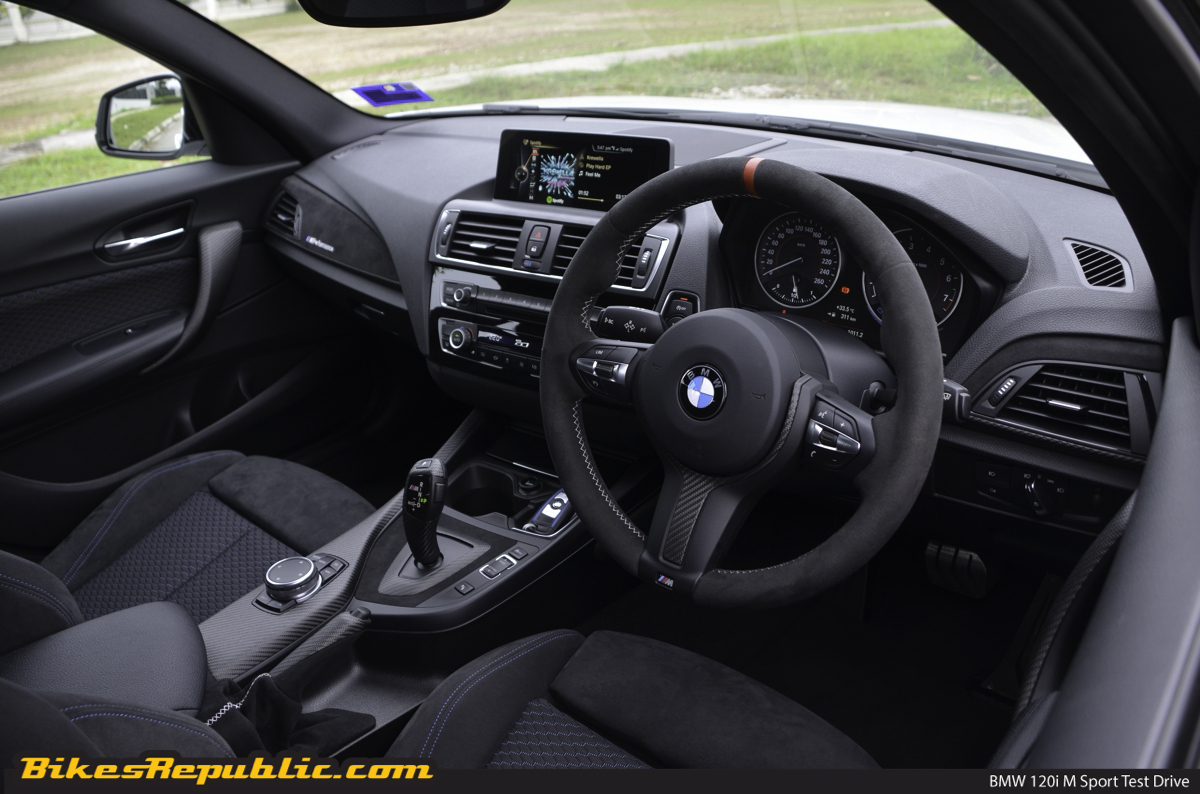 Another brilliant feat is having said said excellent handling packaged in a car that is now not only stylish and plush, but one that is also decently practical and very efficient. There are things like the Eco Pro driving mode and automatic engine idling stop-start that ensures you spend less time filling up the tank whilst the standard boot space of 360 litres is also decent, with the 60:40 split flat-folding rear seat able to extend that even further.
Best of all, unlike the CBU pre-facelift model that had starting prices between RM170,800 and RM253,800 depending on variant, this lone but refreshed locally assembled CKD model's base price of RM219,800 sans options, road tax and registration costs holds so much more value-for-money. The icing to this cake is the inclusion of BMW's new five-year unlimited mileage factory warranty and five-year or 100,000 km free service deal.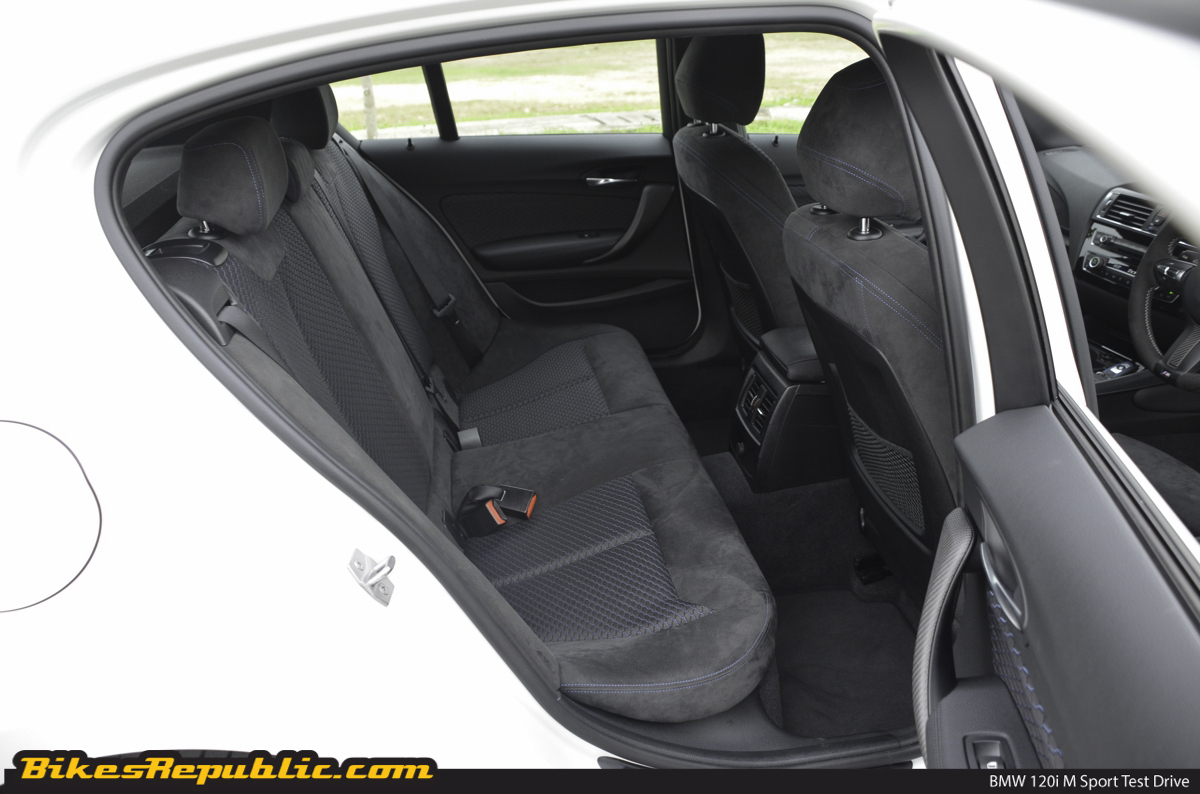 The only hurdle past that is the question of how much one is willing to spend for the tasty M Performance options. We reckon the larger wheels and sticky Pirelli rubber would suffice, but we leave this area to one's own desire. Other than that, there is very little to dispute about this Beemer's exceptionally brilliant package as a whole.
BMW 120i M Sport
1.6-litre turbocharged, in-line four-cylinder, direct injection petrol
8-speed automatic
177hp@4,800­ – 6,450rpm
250Nm@1,500 – 4,500rpm
7.2 seconds
222km/h
5.9 litres/100km (combined)
RM219,800 (without options)
Gallery