Yamaha's Yuki Ito won SuperSports 600cc Race 1 in the rain-hit Japanese round of the FIM Asia Road Racing Championship while poleman Yuki Takahashi crashed out at the complex Suzuka Circuit, Japan on Saturday.
The PETRONAS Hong Leong Yamaha rider led the field across the finish line in 32'16.873s, negotiating precarious track conditions that steadily worsened throughout the 13-lap race.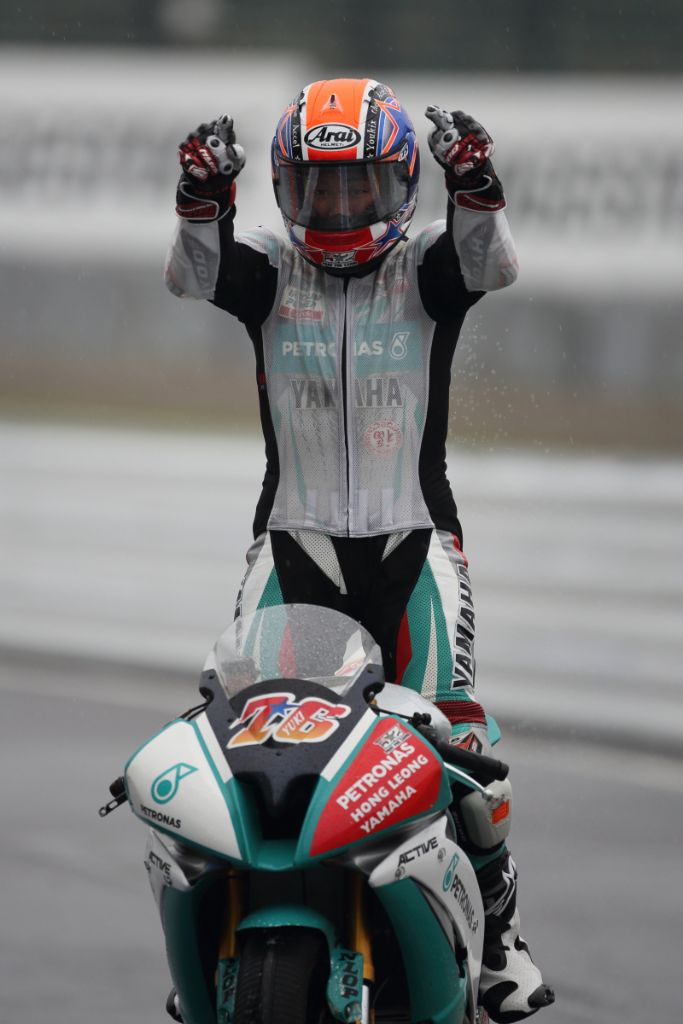 Ito however had to wait until lap-7 to take command of the race from Yuki Takahashi (Musashi Boon Siew Honda Racing) who lost control of his bike and crashed into the gravel bed in lap-7.
Tomoyoshi Koyama (T.Pro Yuzy Honda NTS) completed the race second with 32'24.233s ahead of Noriyuki Haga (Team Kagayama Suzuki ASIA) in third place, 32'25.549s, making it an all Japanese affair.
"I am very happy to win here because the first two rounds this season did not go so well. However, this win did not come easy because I struggled a lot from the start. I could not keep the pace with Takahashi and almost crashed midway through the race. At that point I was about two seconds behind and thought that there was no way I could win," said Ito.
"To to my surprise, Takahashi retired with six laps remaining. I took a safe approach and maintained a steady pace without taking much risk because behind, Koyama and Haga were gaining on me. Thank you to the team for giving me a good setup. Hopefully we can secure another win for Race 2 tomorrow," he added.
Separately Takehiro Yamamoto continues to assert dominance at his home track after he took a commanding victory in the Asia Production 250cc.
Takehiro who last won in Malaysia was challenged by AP Honda Racing Thailand duo, Nakarin Athiratphuvapat and Apiwat Wongthananon in the early parts but his experience racing in the wet at Suzuka paid off as he steadily pulled a gap over his rivals.
The Trickstar Racing rider eventually wrapped up the 8-lap race in 22'05.316s ahead of the Thai riders.
Race Direction however later disqualified Nakarin's result after he was found guilty of a dangerous maneuver in the opening lap, moving Apiwat who timed 22'05.316s to second while Takehiro's teammate, Ryunosuke Hyodo was promoted to third with 22'12.477s.
Lastly Norizman Ismail did everything right to win a frantic Underbone 130cc battle that saw a lot of riders retire due to slippery track surface.
The Harian Metro Y-TEQ SCK Honda Racing rider was seen going neck-to-neck with Ferlando Herdian (BKMS Indonesia Racing Team) at the start of the race before the latter crashed out.
With his closest rival out of the picture, Norizman rode a lonely but consistent race, crossing the finish line in 18'33.199s.
Meanwhile poleman, Gupita Kresna (Manual Tech KYT Rextor) finished second after overtaking Sasitharen Sukumaran (T.Pro Yuzy Honda NTS) at the last turn. Both riders completed the race in 18'44.552s and 18'44.831s.
Results:
SuperSports 600cc
1.Yuki Ito (Yamaha) 32'16.873s 2.Tomoyoshi Koyama (Honda) 32'24.233s 3.Noriyuki Haga (Suzuki) 32'25.549s 4.Dimas Ekky (Honda) 32'39.770s 5.Hazlanshah Mohd Noor (Kawasaki) 32'41.941s
Asia Production 250cc
1.Takehiro Yamamoto (Kawasaki) 22'03.084s 2.Apiwat Wongthananon (Honda) 22'05.316s 3.Ryunosuke Hyodo (Kawasaki) 22'12.477s 4.Gilang Hendra (Yamaha) 22'34.721s 5.Ayumu Tanaka (Yamaha) 22'40.578s
Underbone 130cc
1.Norizman Ismail (Honda) 18'33.199s 2.Gupita Kresna (Kawasaki) 18'44.552s 3.Sasitharen Sukumaran (Honda) 18'44.831s 4.Fareez Afeez (Yamaha) 18'56.788s 5.Wahyu Aji Trilaksana (Yamaha) 19'04.996s