Prince Lubricants Racing Team ends season-opening Malaysia Superbike Championship 2015 (MSC 2015) weekend with mixed results but remains as strong as ever.
It was a day of mixed fortunes for all three riders in the Prince Lubricants Racing Team. Nevertheless, all three riders managed to garner plenty of valuable lessons and points as the weekend comes to an end, especially for rookie Superstock (B) rider Linggam Rammoo.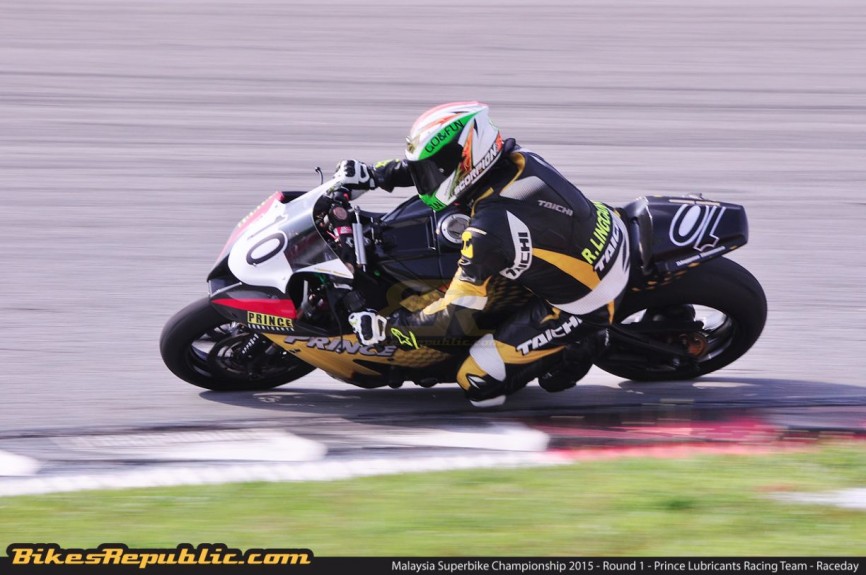 Linggam's campaign appeared promising following his sixth place category ranking after yesterday's qualifying, placing 15th on the Superstock category's large grid of 41 bikes. However, things did not go as smoothly as planned during both Race 1 and Race 2.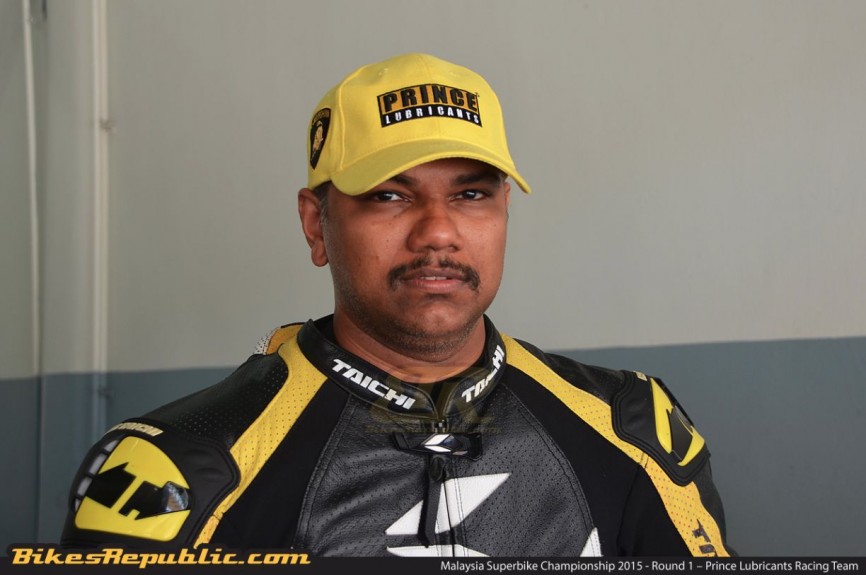 "In the first race was challenging for me. My starting was not so great, which was why I dropped down a few places. My main concern for the first race was to finish the race and return back safely," said the 30-year-old Superstock rookie. He added, "I also had a small issue with my shifter as I could not downshift properly." Linggam ended Race 1 is 20th overall, and 12th in the Superstock (B) category.
"In Race 2, I was much more prepared for the race start, but my starting position wasn't ideal on the far left in 13th. I couldn't fend off all the other bikes coming up from the right, so I did more chasing up the order here," described Linggam in regards with his second race. With a more prepared mind, Linggam was able to keep up with the pack, and would eventually improve on his Race 1 performance here, finishing 15th overall and 6th in the Superstock (B) category.
"I am happy and I had a lot of fun this weekend. Furthermore, the data showed that I have a chance in keeping up with the top three guys in my category," said Linggam when asked on how the weekend was overall. Besides addressing the issue with his bike's downshifting, Linggam further added, "My next concern is to improve my fitness level further as I discovered that I began to feel slightly exhausted towards the tail-end of the race." One thing for sure is that Linggam is definitely enjoying a good start to his professional racing career with the Prince Lubricants Racing Team.
The team's youngest rider, Ian Dublin, also had quite a tough day on his hands. Despite the 14-year-old qualifying strongly in third, mechanical issues and mistakes saw him settling for a fourth place finish in Race 1 of the Open 250 class. "I couldn't do much as I was already pushing the bike to its limits. I am not entirely happy with, but given the situation, I have accepted it."
Ian's weekend came to a premature end after low-siding out of turn 14 and contention in Race 2 whilst fighting for position. While unhappy with his DNF, the youngster was relieved to have gotten out of it unscathed. "I learnt a lot today despite finishing fourth in the first race and crashing out in the second. That's racing," admitted the youngster.
When asked on what were the issues he and team intends to address before Round 2, Ian said, "We partly know that the issues lies in the engine tuning and mapping, so we just need to fine-tune this and hopefully the bike will perform optimally again."
The team's lead rider, Colin Robin, also had quite an eventful day. Amongst the three, Colin was the only rider that had to deal with racing in two different weather conditions. A late-morning thunderstorm delayed much of the day's scheduled first half, forcing many in Colin's Superbike category to adapt their setup and change to wet tyres for the first race.
Colin, who started from fifth on the grid, would eventually settle with a 13th place finish in Race 1. "I didn't enjoy Race 1 too much. I decided to go for the points and stay upright here. I know I should've pushed harder, but at the end of the day, sometimes its better to just pick up some points for the year," said the 50-year-old Aussie veteran who competes in the premier Superbike (A) class.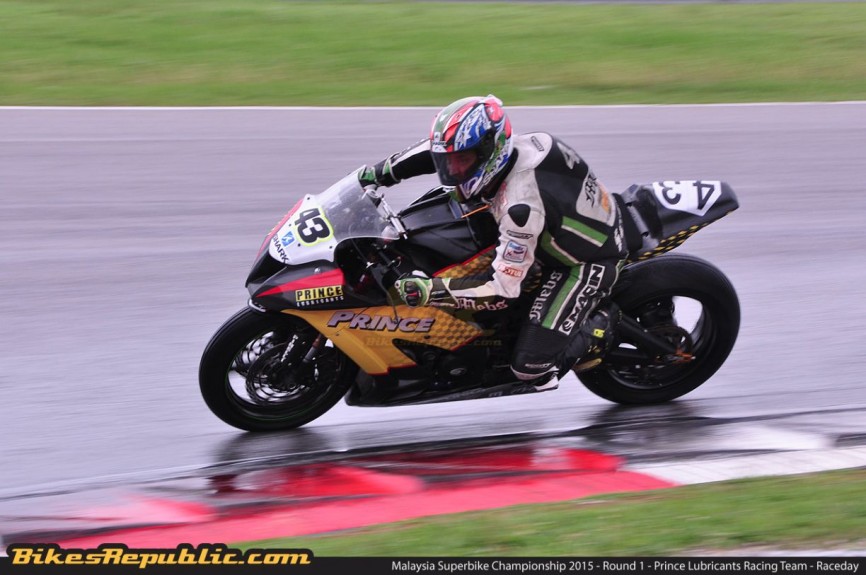 In describing the conditions, Colin said, "It was greasy, but it wasn't that bad. Other guys were going fast, which proves you could indeed go faster, so it was really up to me." Fortunately for Colin, the weather conditions improved for Race 2 as it stayed clear and dry, allowing the Aussie to climb back up the order.
"I enjoyed Race 2. My finishing position wasn't as good as I wanted it to be, but I still had an enjoyable race," said Colin. He also shared that he had the pace to keep up with the lead group in Race 2, but admitted he took a little more time acclimatising to the setup and conditions at the start of the race.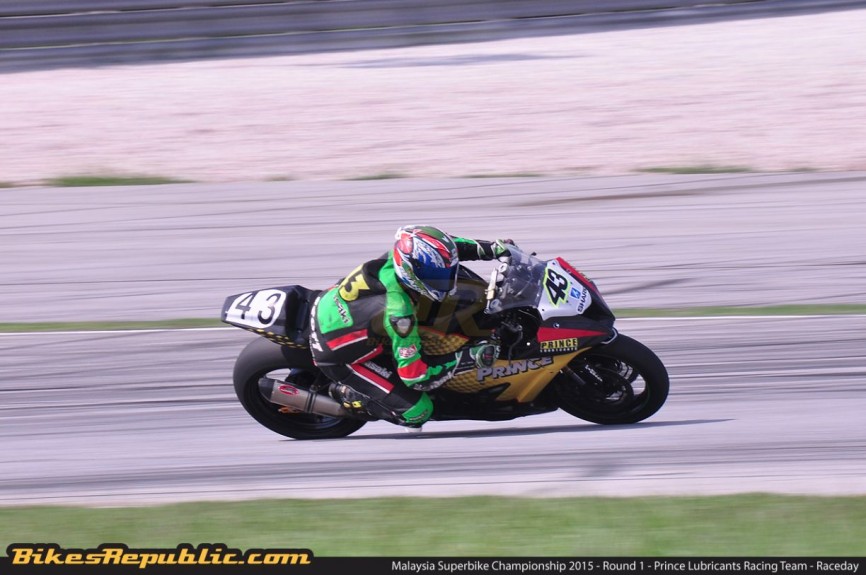 "I had some nice slides, especially in Turn 10. But, I got to do something about this. Sliding isn't fast, but its fun!" the Aussie cheerfully shared about some of his best moments in Race 2. As a racer, Colin ends the weekend on a strong note, and further shared that his attention will be focused on getting his race bike setup properly once more to combat the aforementioned sliding 'issues'.
As a coach, Colin was more or less upbeat with the performance of student-teammates Linggam and Ian. "I know he had some issues with downshifting, but his improvements in both races is great. I'm happy to see him progressing well," shared Colin in regard with Linggam's results.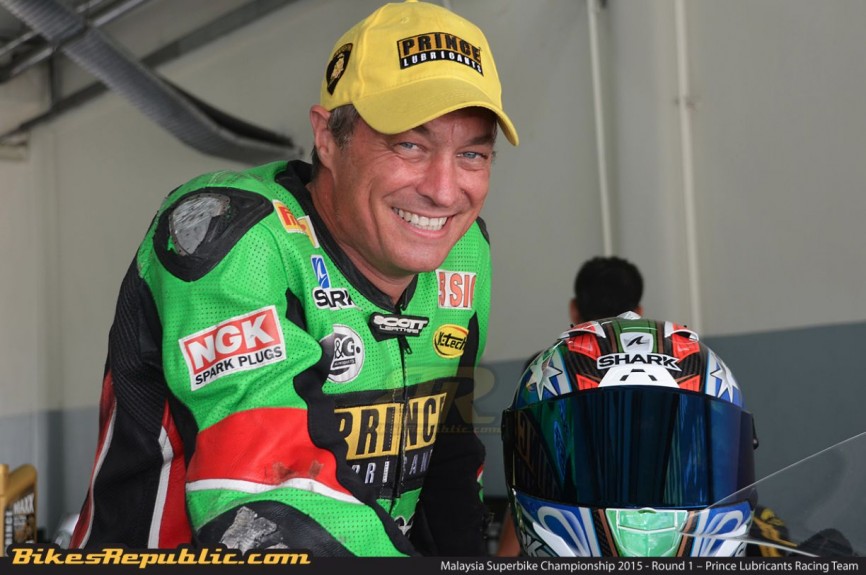 Colin continued, "I think we need to see how we can get better tuning and drivability in Ian's bike. Ian's a good rider, but for some reason, the other bikes just seem to come up easily," expressed Colin on the performance of his other student, Ian Dublin. Colin further added, "We got to find something in his bike definitely."
Check out our photo gallery below of the Prince Lubricants Racing Team in action over the weekend during MSC 2015 Round 1. More on our official BikesRepublic.com Facebook page as well.