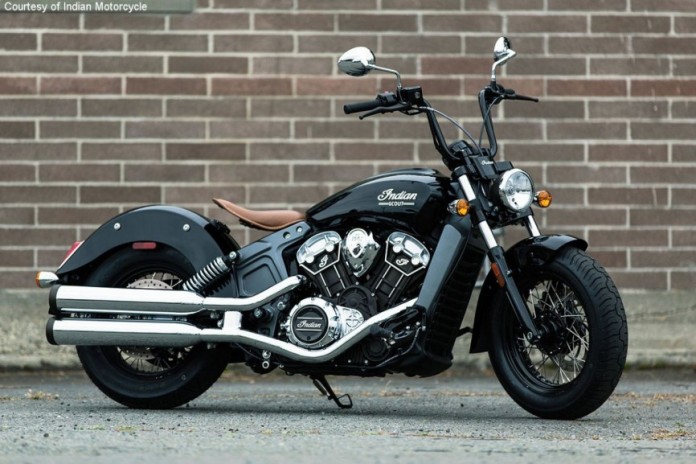 Indian Motorcycles 2016 models were announced last week by the American manufacturer. Similar to rivals Victory, Indian Motorcycles' 2016  model updates go only as far as cosmetics and new colours. However, all models in the range can be now equipped with EU certified accessory Remus exhaust pipes.

2016 Scout
With its compact design, low 643mm seat height and ABS as standard, the Indian Scout boasts a liquid-cooled 1133cc V-twin engine, with 100b on tap. For 2016 the Scout comes in five colours. Wildfire Red(new), Thunder Black, Thunder Black Smoke, Silver Smoke, Indian Motorcycle Red.
2016 Chief
Riders can now opt for the Chief Classic (cruiser) with its classic looks, much cleaner now following some re-work carried out for 2016: solo vinyl seat, black switches, single headlight and cast aluminium wheels. It now also only comes in one colour; Pearl White.
Next there's the Chief Vintage (bagger) with its beautiful fringed leather saddlebags and seats, and quick-release windshield (all as standard) making this the option for those who plan to ride on extended road trips. Four colours are available with one of these being new for 2016.
The Chieftain (bagger) has a large fairing with a power-adjustable windscreen (to offer superb cruising comfort), genuine leather seats and hard saddlebags with remote central-locking. It's available in four colours in 2016 with two of these new.
Finally there's the Chief Dark Horse, which is matte black from end-to-end with only a few flashes of chrome (accessories are available to fully blacked it out). 
2016 Roadmaster
The Roadmaster is all about comfort for long distance cruising, and will be available in five colour options with three of them being new.