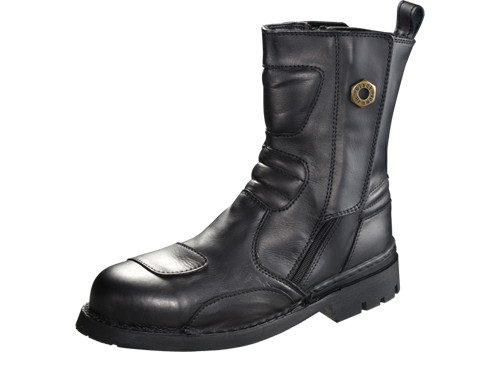 If you are looking for a wear-it-all-day-long riding boots but at a very affordable price, then you might want check out the BH 4884 riding boots by local safety footwear manufacturer, Black Hammer.
We got our hands on a pair and had a go at it for the last few months. What we found is that Black Hammer have blended the versatility of a walking boot with the protection of a safety boot and round it up with some extra features that can usually be found on a riding boot like a shifter pad.
The boot is made out of genuine leather, tough enough for rough wear but also soft enough to be comfortable. Apart from the steel toe cap and steel plate in the mid sole, some areas have been beefed up for added protection like on the heel and shin areas.
A double lock stitch means the boot won't be separating from its non-slip sole while a double zip, one on each side of the boot provides easy access for your foot to go in or out. Though not waterproof, the boots held up nicely as it remained dry in a drizzle or being hit by those irritating splashes you get while riding after the rain.
As mentioned, the boots are comfortable enough to be walked in all day albeit being on the slightly heavy side, probably thanks to all that steel in them. And with all that steel, we found that you can trip those magnetic sensors built into the road for the traffic light to turn green on your side.
They also worked fine while riding and we had no problem shifting gears in a few bikes that we tried it on.
The boots retails at RM289 and can be found at many shoe stores or even some hardware stores nationwide.