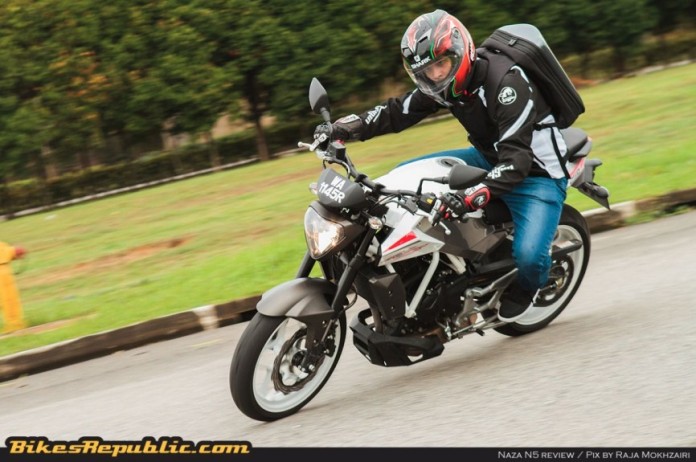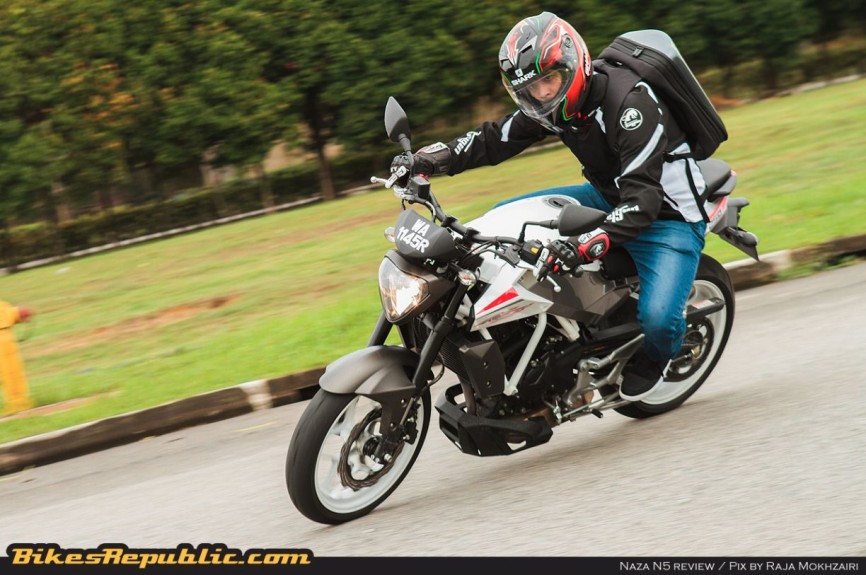 New Naza N5 250cc single-cylinder naked stands at becoming the best value-for-money starter bike you can buy.
A quick glance back at the year that was 2014 will tell you one thing, and that is the fact that it was the year of the sub-250cc single cylinder entry-level bikes in our growing market. Two of the market's biggest players set the pace here, and they were non other than Japanese powerhouse Kawasaki, and local conglomerate Naza Group with its Naza Bikes brand.
It first started off with the launch of the Naza N5 naked and the Kawasaki Ninja 250SL sport in May, followed by the Kawasaki Z250SL naked just two months later.
Whilst a fully faired sport version of the Naza N5 has yet to arrive, the new Naza N5 naked does have a stiff competition to face from the green-liveried Japanese powerhouse. However, after spending a week test riding one recently, things don't look too bad for the rebadged Korean naked.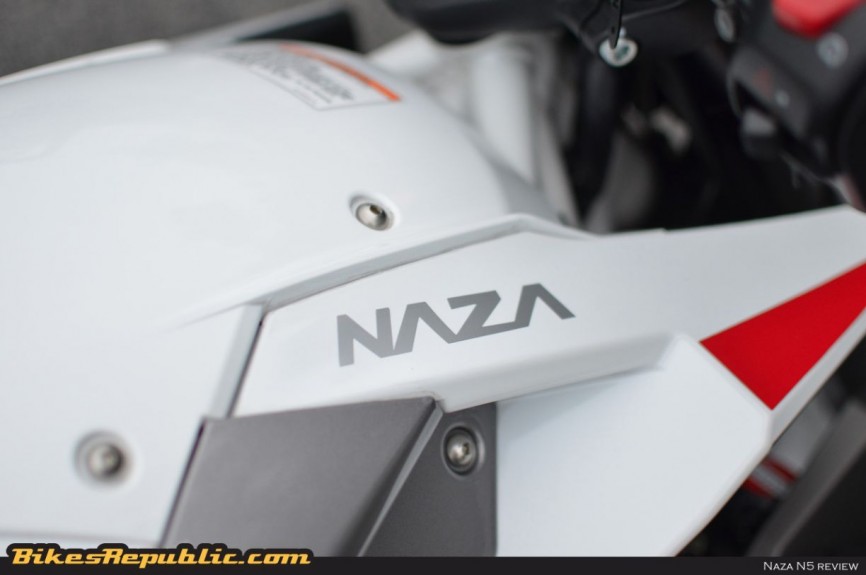 If you don't already know, Naza Bikes are essentially rebadged iterations of models made by venerable Korean bikes brand Hyosung. In fact, the Naza N5 can find its origins in the Korean brand's GD250N Exiv model that made its global debut not too long ago.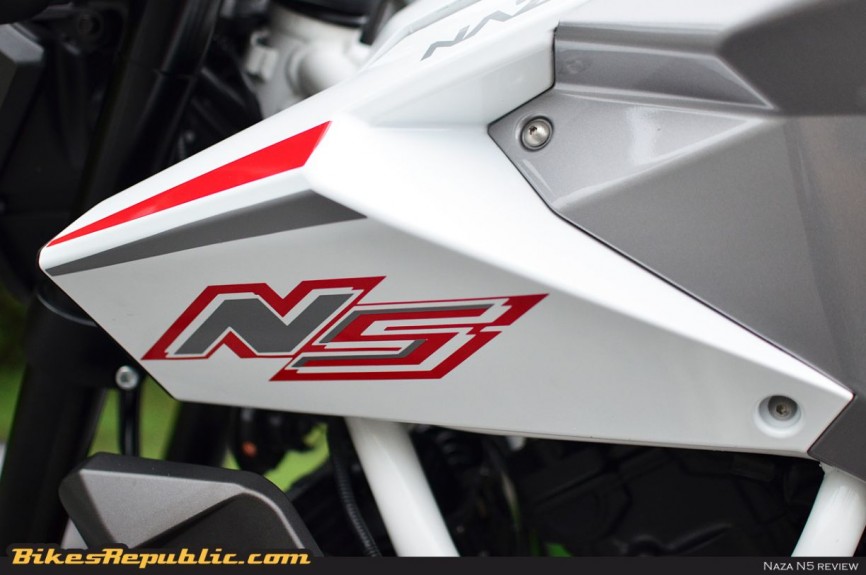 In the flesh, the Naza N5 actually looks pretty good. It boast a sharp and sporty design language, with its wider set handle bars, and bikini fairings lining its radiator giving it a much more muscular stance and appearance as well.
You could be forgiven for mistaking this with the Keeway RKV 200G since they both share a similar triangular headlamp design, but everything else around the Naza N5 looks decent and well built.
What is also a bonus is the way the Naza N5 does not look like a small bike. Like the rivalling Kawasaki Z250SL, it looks like a full-fledged motorcycle instead thanks to that seemingly large-sized 11-litre fuel tank's design, the equally massive-looking 17-inch wheels, and the naked's overall chassis design.
Propulsion comes courtesy of a thumpy 249cc DOHC single-cylinder liquid-cooled four-stroke engine primed with four valves, fuel injection, and an electric starter.
The mill healthily generates 28.4hp @ 8,500rpm and peak torque of 26.1Nm @ 7,000rpm. Power is sent to the rear wheel via a six-speed constant mesh manual transmission primed with a wet multi-plate clutch unit.
The powertrain is then encased in an innovative steel tubular trellis perimeter mainframe design, which has a steel tubular assembly sub-frame attached as its rear section. Also worth noting is the fact that the rear double swingarms are made of lightweight aluminium.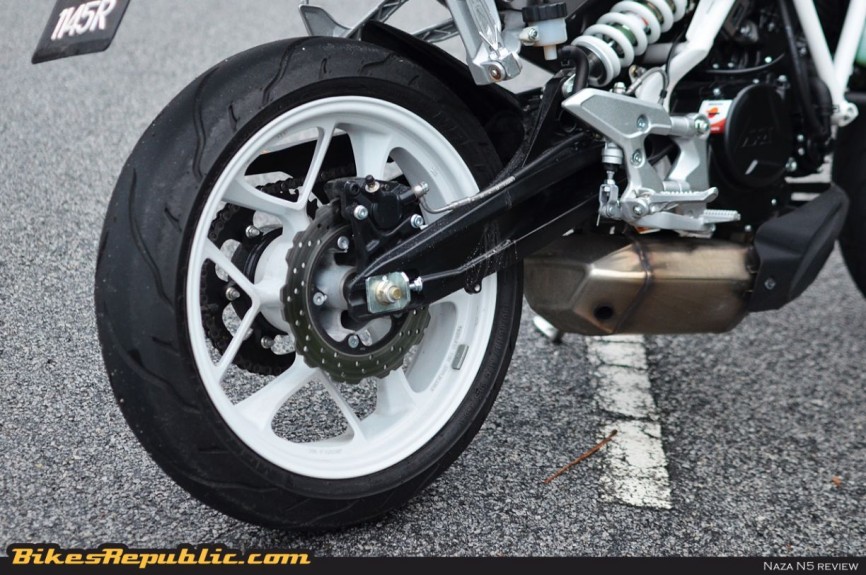 Up front, the chassis is primed with a pair of 37mm inverted or upside-down telescopic front forks and a single 300mm wavy disc brake with a quad-piston caliper.
The rear, on the other hand, gets a single gas-charged hydraulic shock with preload adjustability, and a single 230mm wavy disc brake that employs a dual-piston caliper instead.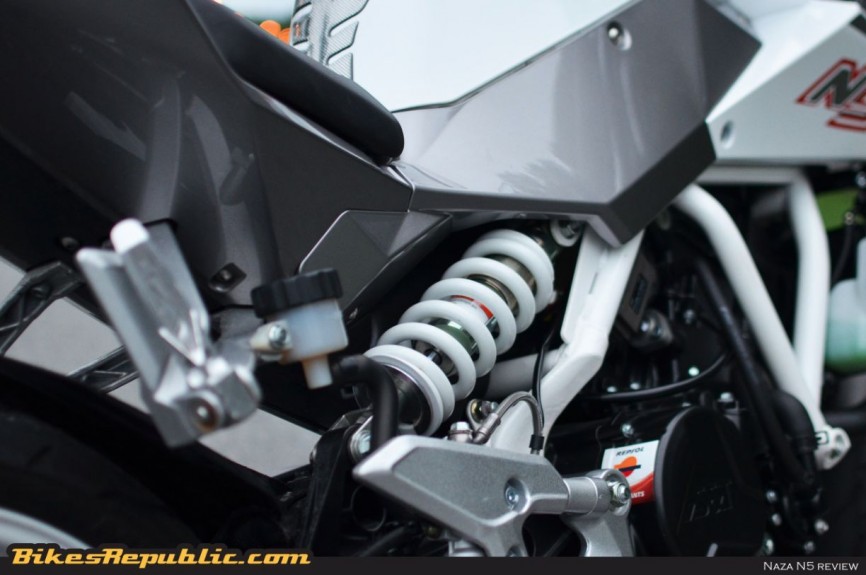 On the move, this package feels quite similar to the rivalling Z250SL we tested not too long ago. The light 145kg kerb weight means that the Naza N5 is relatively easy to chuck about in the bends and corners, and equally just as easy to lean about in them as well.
Matching that well are the excellent grip provided by the standard-equipped MRF tyres found on our test unit.
Overall though, the Naza N5 does handle pretty well. It felt taut and compliant, easy to chuck about, and is indeed forgiving as well thanks to the adequately strong stopping power from its brakes, which are also easy to modulate despite the lack of ABS.
You can call it a forgiving bike, but we see it rather as a good starter platform for novices and newbies alike.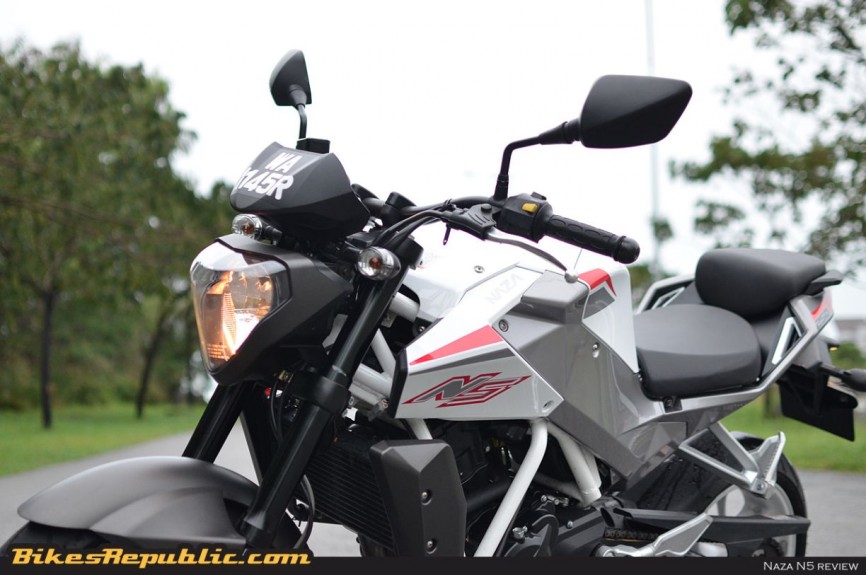 We also noted that the Naza N5 felt noticeably larger too than the rivalling Japanese naked with the wider-set handle bars, but it isn't too much of a chore to manage its 1,937mm length, 1,055mm height, and 800mm width.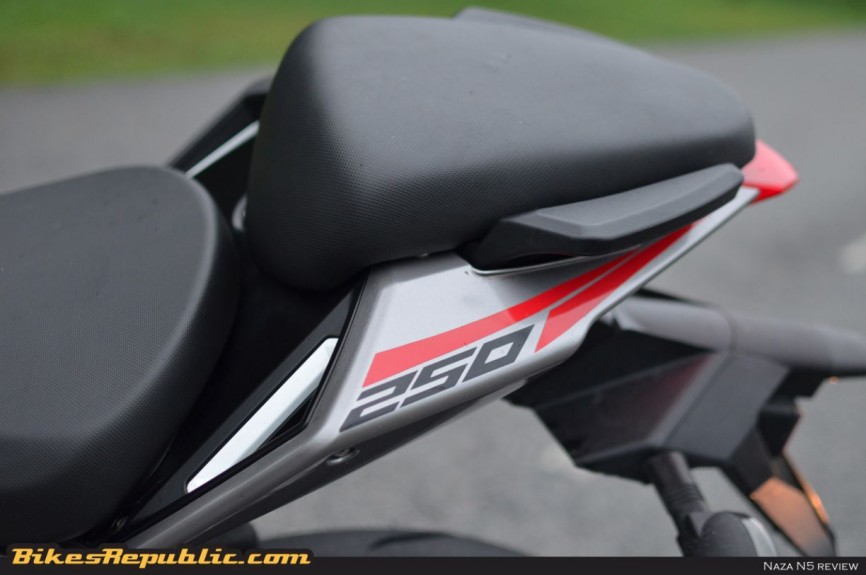 Though it shares the same 780mm seat height at the Z250SL, the Naza N5 feels much more like a motard or supermoto with a more up-right sitting position.
In a sense, the Z250SL's rider ergonomics feels much more streetifghter than that of the Naza N5's standard naked ergonomics.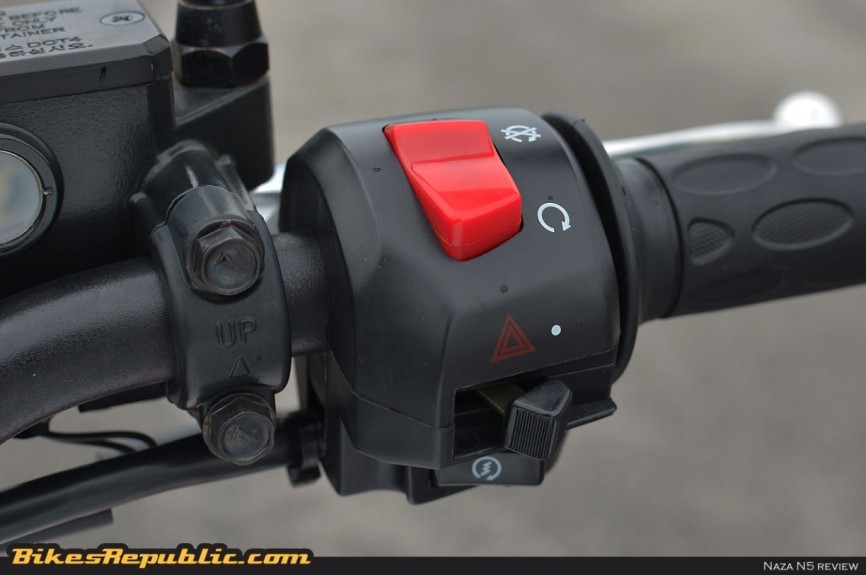 As expected, the lack of fairings means that wind protection is almost non-existent once you hit higher than average speeds. But overall, the Naza N5 is not uncomfortable to say the least after deducing it to have a fairly balanced its springs and dampers settings.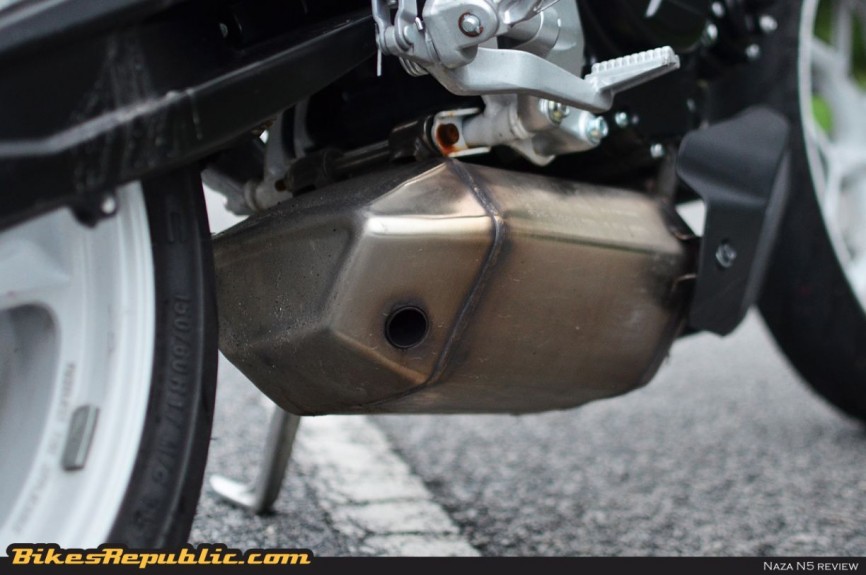 Our only other gripe whilst riding it is that seemingly large silencer exhaust mounted in the belly's tendency to scrape and clunk itself against the tall speedbumps one may find whilst charting through certain neighbourhoods or streets.
The problem is amplified if you carry a pillion along, but this is easily combated with a slight adjustment to the rear shock, or by going around these bumps.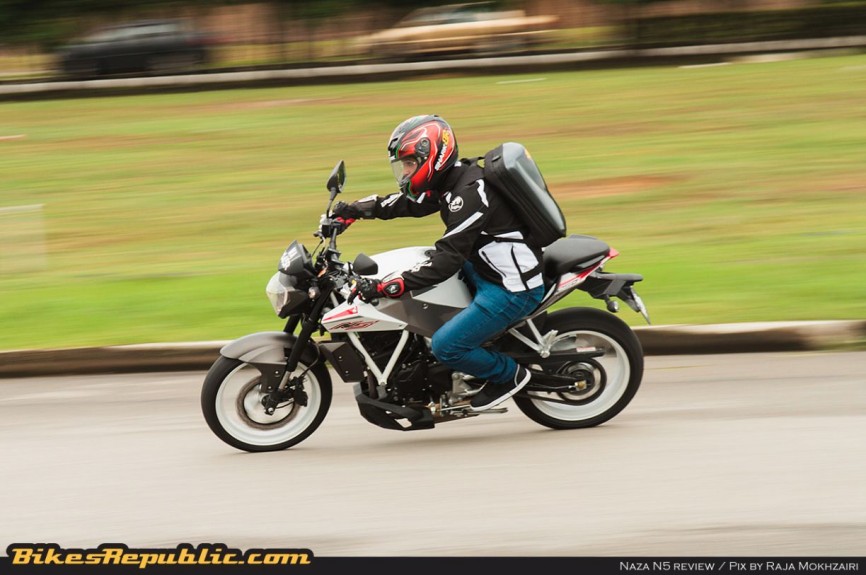 As you would normally expect of any 250cc single, the Naza N5 is actually quite a fun and easy bike to ride once you get used to its riding position. Adding further to that is the beefier sound of this Korean-made single cylinder as oppose to the more linear soundtrack of the rivalling Z250SL's single.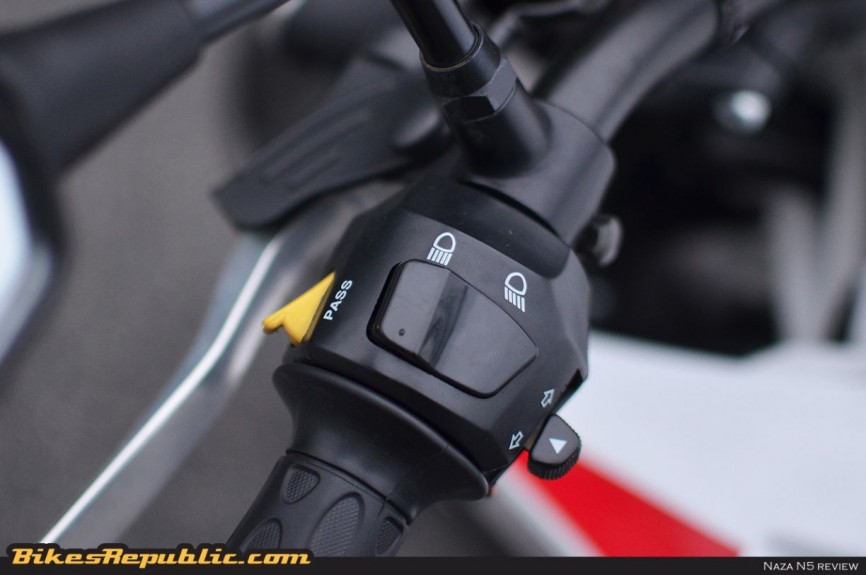 We agree it feels a tad bit rougher with noticeably more vibrations, but that beefier note it makes, especially when nearing its 10,000rpm red-line is sweet.
Don't expect much out of this thumpy single when it comes to top-end power – it typically runs out of breath quickly. But you can expect it to putter the bike around easily during an urban commute. You could just leave it in sixth and cruise steadily at roughly 80km/h or 90km/h too.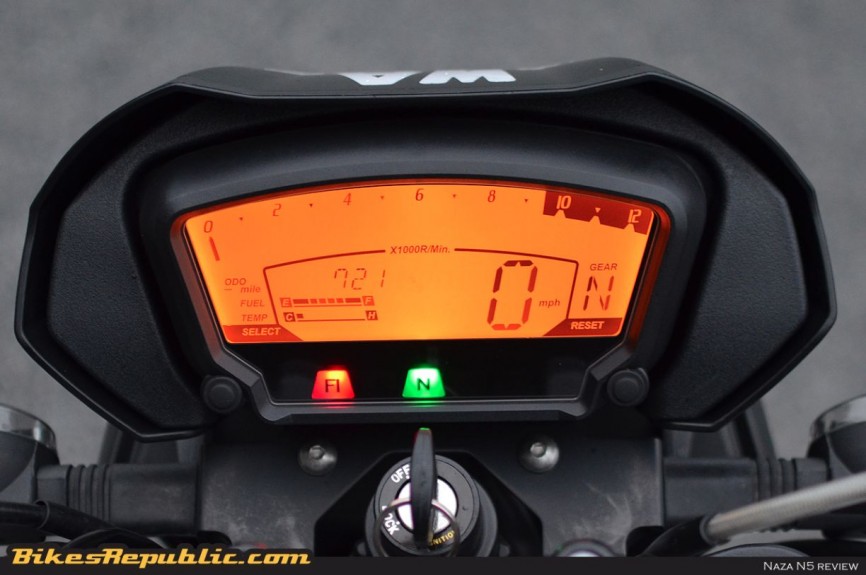 Providing a much easier ride on the rider's mind is the cool and high-tech digital instrument screen mounted up-front. The data and readouts are easy to see and catch for most, having its rev-counter bar running across the top, large numbering for the speedo, as well as the neat digital fuel and temperature levels next to it.
For some odd reason, our test unit's instrumentation gave us imperial readings (miles per hour or MPH) instead of the usual metric units (kilometres per hour or KM/H).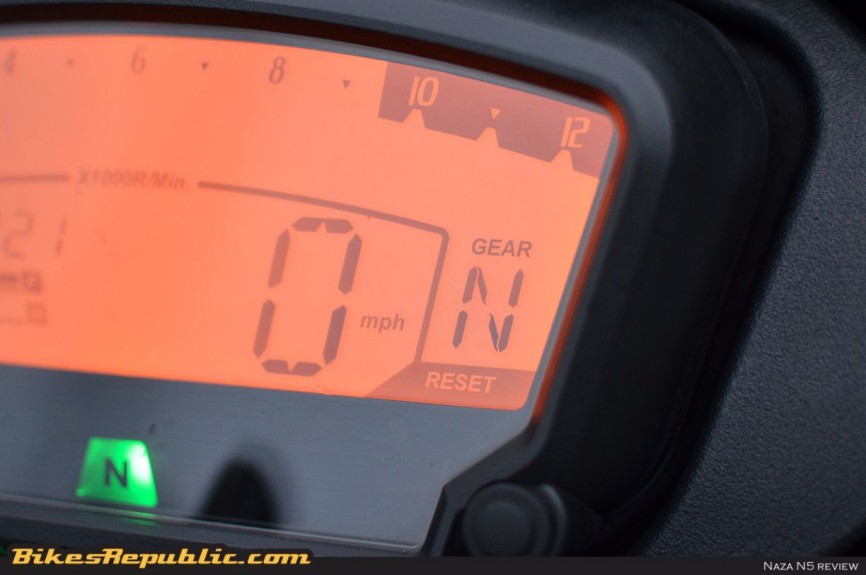 But what is truly neat here is the fact that the screen provides a gear indicator – the one item the rivalling Z250SL lacks. Though it does not sound like a critical item, it actually makes riding all the more easier for most novices and newbies.
Knowing what gear you're in is pretty essential, and the Naza N5 is perhaps the only one in its category to offer this small yet key feature.
At the end of the day, the Naza N5 is hard for us to fault in many ways that one. Not only is it well-built, it is easy to ride and push, and works well as both a commuter or a weekend fun-toy if needed be.
Like the Z250SL, we truly appreciate its ability at providing a pure sense of riding fun that is still uncorrupted by power and electronics. As far as first impressions go, this is on 'Kool Korean' many would want to consider.
If the Naza N5 tickles your fancy, then you need only to meet its on-the-road asking price of RM13,988*. Now that's an enticing offer, especially when you note that it is more affordable than the rivalling Kawasaki Z250SL's RM15,739 sticker price as well.
*price stated is offered to the first 500 customers since launch.
Test-rider's gear provided by Winmaster Sdn Bhd
 Shark S700 full-face Guintoli replica
Furygan Skull Vented riding jacket
Furygan AFS-110 racing gloves
Ryo riding sneakers
Sol riding backpack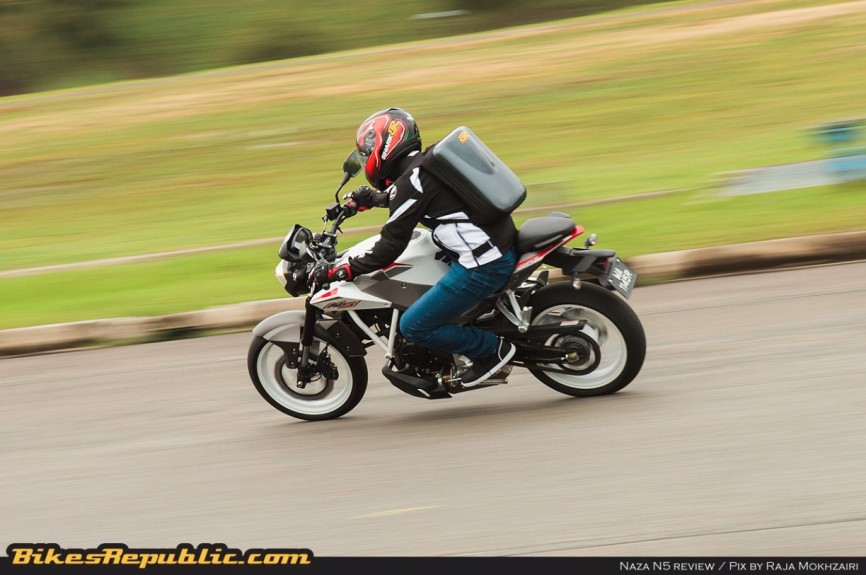 2014 Naza N5 gallery (Action shots done by Raja Mokhzairi)