FSR Technology is renowned for their electronics mastery in producing high-end performance ECUs at affordable prices for a selection of popular small-capacity motorcycles here in Malaysia. Earlier today, they've successfully launched their latest TuneBoss ECU for the Yamaha YZF-R15 V3 at their TuneBoss Owners Trackday at Sepang International Circuit.
This advanced standalone Engine Control Unit (ECU) promises to unlock the true potential of the popular Yamaha R15 model when it comes to engine performance. With TuneBoss' track record, it's hard to deny that their products have been proven to offer significant gains off and on the racetrack. Any Yamaha R15 owners who are looking to step it up a notch should definitely consider getting one of these for your bikes.
The function of the TuneBoss ECU is particularly to set the bike's fuel adjustment accurately for optimal air-fuel ratio, remove any RPM restrictions set on the bikes from the factory, and control the ignition timing with precision for optimum combustion. It's also Bluetooth-enabled so that owners can opt for different mappings and perform simple diagnostics on the bike without having to go to the workshop.
This, in theory, will help the bike to maximize its overall performance, offer better RPM range in between gears and shift patterns, and of course, the potential to offer better acceleration as well as top speed. The latest TuneBoss ECU offers all of this in a 'plug and play' package where any owner can simply swap the stock ECU with the TuneBoss unit without any hassle of going to shop or hitting the dyno.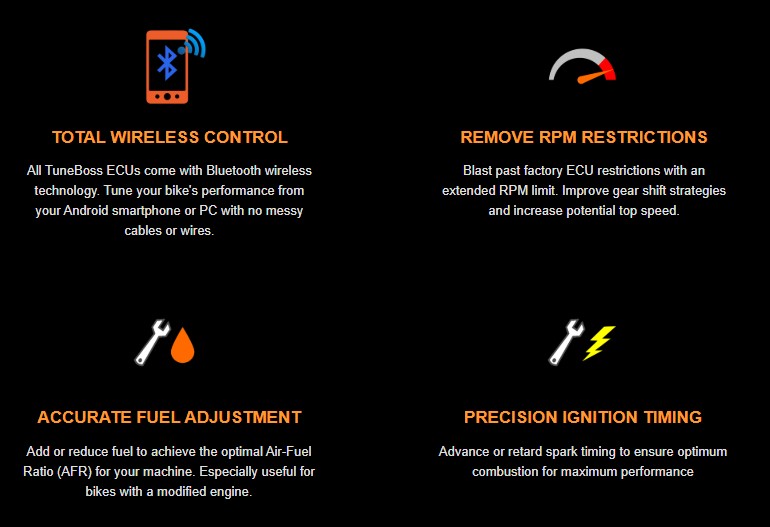 Upgrading the Yamaha R15 stock ECU is one of many offerings that TuneBoss has to offer when it comes to upgrading the bike's overall power output. Owners who are interested to unlock your machine's full potential can head over to any of their dealers as they also offer a full tune-up package which includes exhaust systems, quick-shifters, and many more.
We've personally tested what the new TuneBoss ECU is capable of earlier today at SIC where FSR Technology prepared a selection of bikes for media members to play around with. We started with a standard Yamaha R15 with no modifications followed by the same R15 equipped with the new TuneBoss ECU, and finally, a fully modified R15 tuned by TuneBoss themselves.
The new ECU unit costs around RM699 but around 30 Yamaha R15 owners who booked their ECUs earlier got an RM100 discount when they came to their track day to get the new ECUs fixed right into their bikes. We can roughly say that we felt some improvements with the new ECU and the official first impressions review will be posted soon once we have all the juicy details.
FSR Technology Debuts New TuneBoss Products at the 2018 Malaysian MotoGP