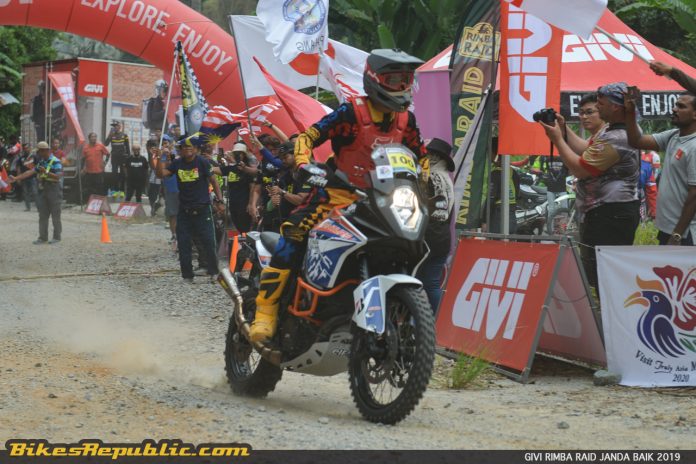 Rimba Raid 2020 is set to be held at Mat Daling from 24th to 26th July 2020.

The route is between 360 to 420 km.

The number of spots for competitors has grown to a total of 230.
Mark your calendars – Rimba Raid 2020 is set to be held at Mat Daling from 24th to 26th July 2020.
Details are scant at the moment, but here's what we gathered from Rimba Raid's official Facebook page:
ROUTE
360 to 420km route consisting mostly of jungles.
10% of consists of plantations with a mix of medium- and high-speed sections.
10% are technical but unlike Green Hell in Janda Baik.
DURATION
Day 1 for scrutineering.
Day 2 for race to Mat Daling.
Day 3 for a race to a yet determined venue.
Day 4 event ends.
NAVIGATION
Electronic roadbooks issued on GIVI mounts and brackets.
Secondary navigation tool are GPS units supplied by competitors themselves. This is mandatory.
CHANGE OF ELIGIBLE BIKES
Class C will be dropped.
An Enduro Rally Class consisting of Open to singles 250cc above will replace Class C.
FEs (four-stroke enduros) and TPIs (two-stroke transfer port injection) are eligible but subject to certain conditions.
Roadgoing trail bikes such as the Honda CRF-L, Kawasaki KLX, Suzuki DR can be fitted with bigger fuel tanks and other modifications.
Pure enduro bikes must be in near-stock configuration with standard fuel tanks (exhaust and suspension mods are acceptable).
ENTRY DETAILS
Entry fee will be announced later.
NUMBER OF COMPETITORS
Class A – 100
Class B – 30
Enduro Rally – 100
Rimba Raid has definitely gone from a hobby event to a full-fledged competition on the motorsport calendar. The number of competitors has grown tremendously and is attracting more and more overseas riders. However, Malaysian riders still hold the title as "Kings of the Jungle" up to this year's event.
Rimba Raid could also be seen as the breeding ground for talent. Recently, the three members of the Malaysian team in team BMW Motorrad International GS Trophy had competed in Rimba Raid.
So, do join Rimba Raid and bring your family along to witness some of the best off-road action.