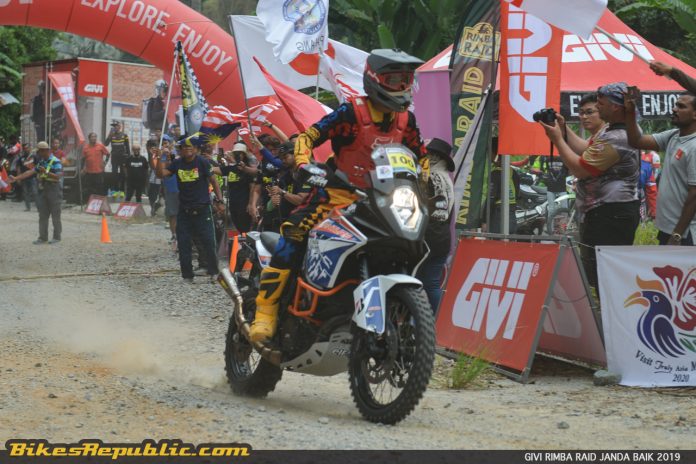 Gabit Saleh won in the Class A category at GIVI Rimba Raid Janda Baik 2019.

He won on the KTM 1050 Adventure despite falling three times.

This was the biggest and best GIVI Rimba Raid to date.
Gabit Saleh won in the Class A category at GIVI Rimba Raid Janda Baik 2019, yesterday (Saturday, 27thJuly).
Gabit is the defending champion from the GIVI Rimba Raid Mat Daling 2018. He rode his trusty KTM 1050 Adventure as KTM Malaysia's factory rider.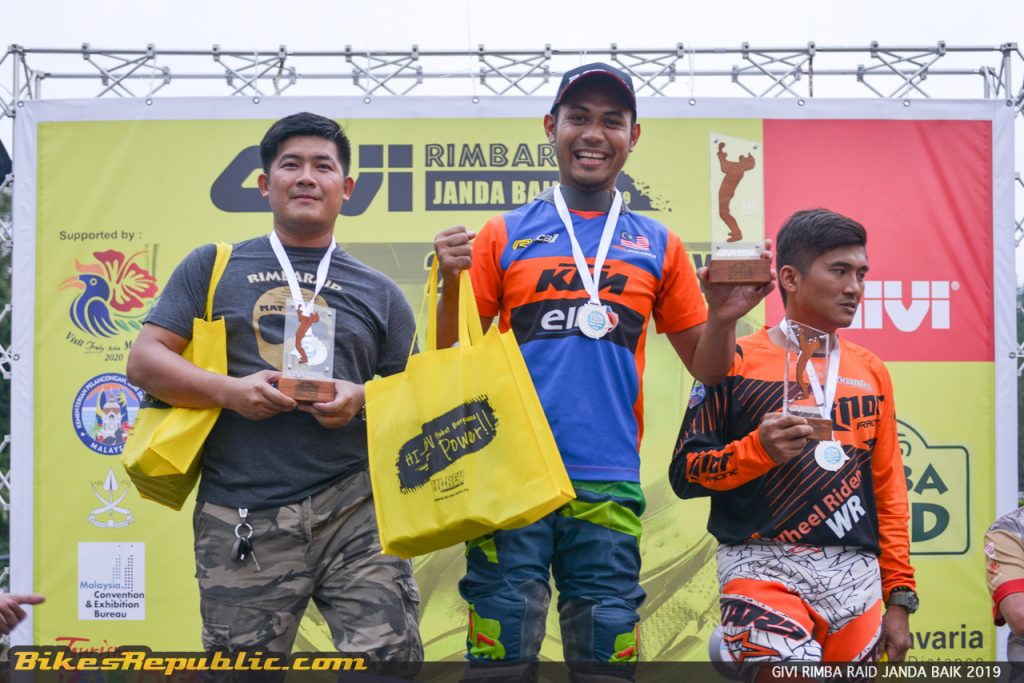 Class A is the premier class of the competition and is for bikes above 800cc.
However, the win didn't come easy. "Alhmadulillah I managed to defend the title. I was aiming to finish only, actually and didn't think about winning actually," the 2016 FIM Asia Supermoto Champion said. "The competition had gotten tougher since last year, especially with the entry of Jeremias Israel who represented the GIVI team."
When GIVI Rimba Raid stalwart and organizer Dato' Captain Nik Huzlan wasn't joking when said the trail was going to be tough. In fact, he dubbed the third and final section as "The Green Hell."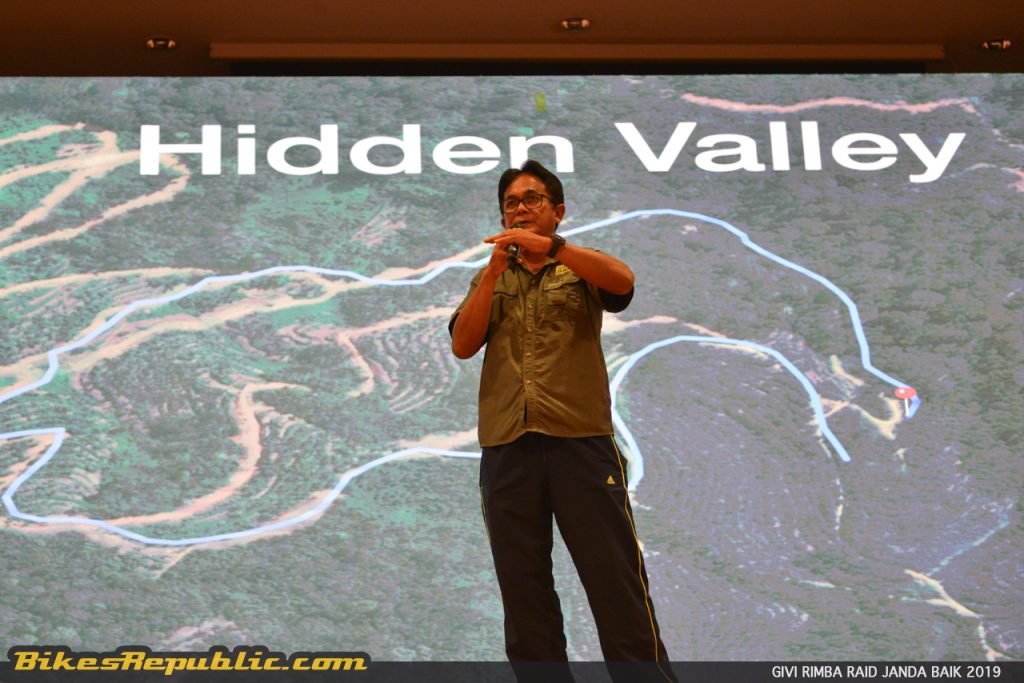 "The first section was easier with loose gravel, so I used the opportunity to make up time. I managed to catch up to Bee Wong. But the second section was difficult, but I didn't expect it to be so hardcore! I was surprised to see the big rocks and river!" Gabit revealed. "Then I dropped in the second river. The fall snapped the front brake lever."
But Gabit didn't become champion because he gave up easily.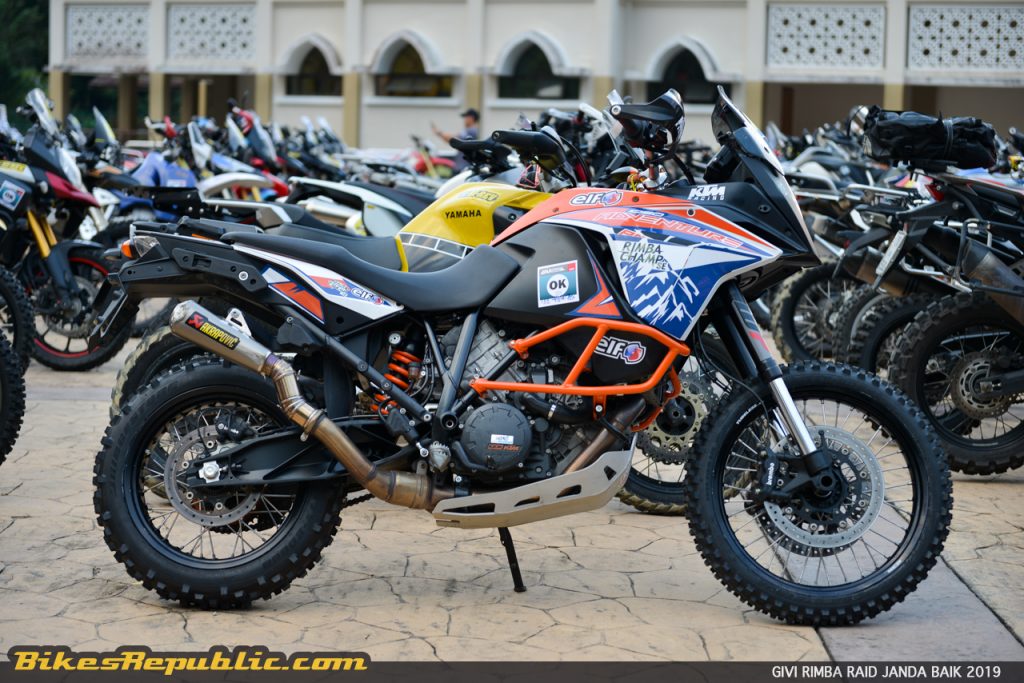 "I kept going and maintained a steady pace and caught Bee Wong again. At that point I started calculating the fact that Bee was the first rider to be flagged off, while I was the thirteenth. So, I knew that I had made good time and we crossed the finish line almost together."
What was more incredible was him finishing in 48 minutes, 40.440 seconds despite dropping it three times. That speed was incredible enough on the road, but this was off-road!
GIVI Rimba Raid attaches a transponder to each bike for accurate timing. The participants are flagged off one at a time, hence the best time wins.
Bee Wong was so close to winning the race but as always, he was cheerful of being able to finish at all, let alone in second place.
"It's easy in the first stage but I was beat by the second due to the difficult and muddy terrain. I saw Gabit behind me a number of times, but he crashed each time. So, I decided to play safe and maintain a good pace," he said.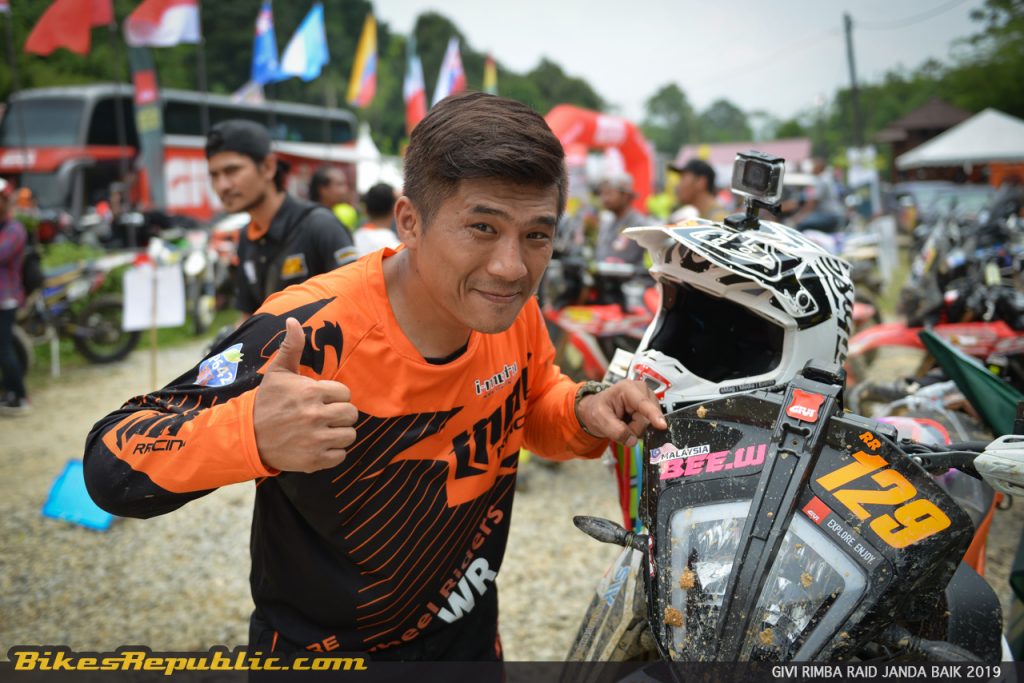 Bee was riding one of only two of the new KTM 790 Adventure R currently in circulation in the country.
His brother, Alex Wong finished in third. He rode the same BMW F 800 GS as he did in the Mat Daling.
It was heartbreak, however, for Chilean and GIVI Explorer rider Jeremias Israel. He had shown great pace from the start by conquering the terrain and other riders on the new Triumph Scrambler 1200 XE. Unfortunately, luck wasn't his side.
"I was enjoying myself, smiling in my helmet and passing many guys on the trail," he told us during the post-race interview. "Then I started coming downhill to a part which opened up wider and I decided to go faster. Ahead of me was another competitor, on a BMW R 1200 GS, perhaps. He started to struggle and paddle with his feet when he hit the puddle. Behind him was a marshal on a green bike (Kawasaki KLX150) and in a yellow vest. At that point, he decided to overtake the rider and moved wide, which was directly in my path. Since I already committed to the line, I had nowhere to go and laid the bike down."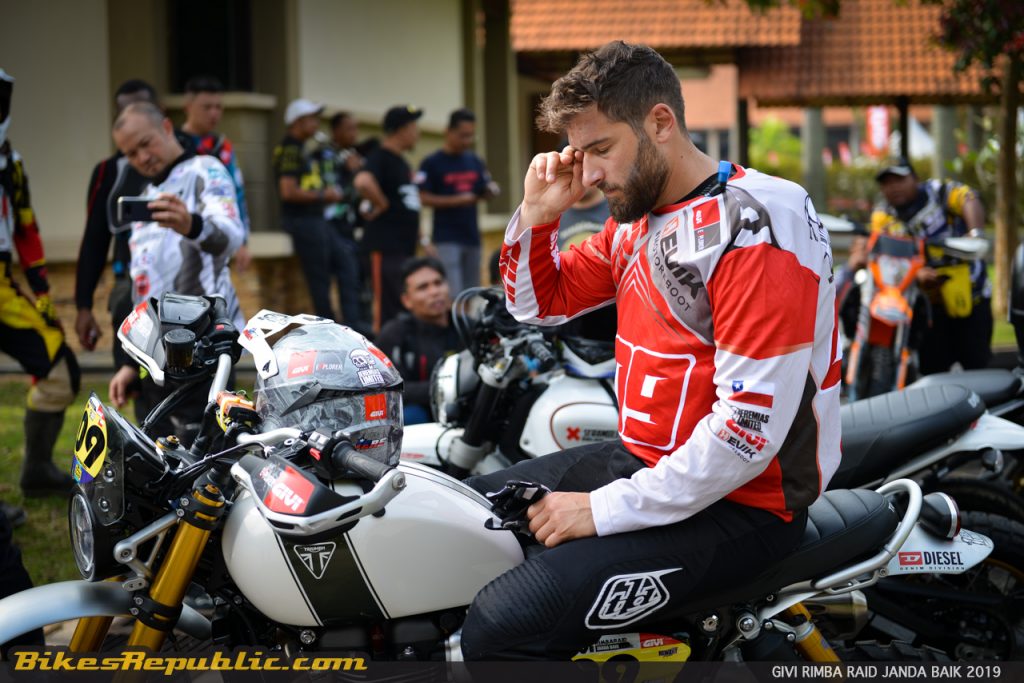 The crash messed up his front brakes. "I picked the bike up and continued, but the brakes had pressure at one moment and none the next. It was too dangerous to continue that way. I feel bad for Triumph, but racing's that way."
But Jeremias has some good thoughts about GIVI Rimba Raid, "It was good to see all the guys with so much motivation that they'd bring their expensive bikes into the jungle. I met riders with many different skill levels but I'm sure they'll improve by the next GIVI Rimba Raid."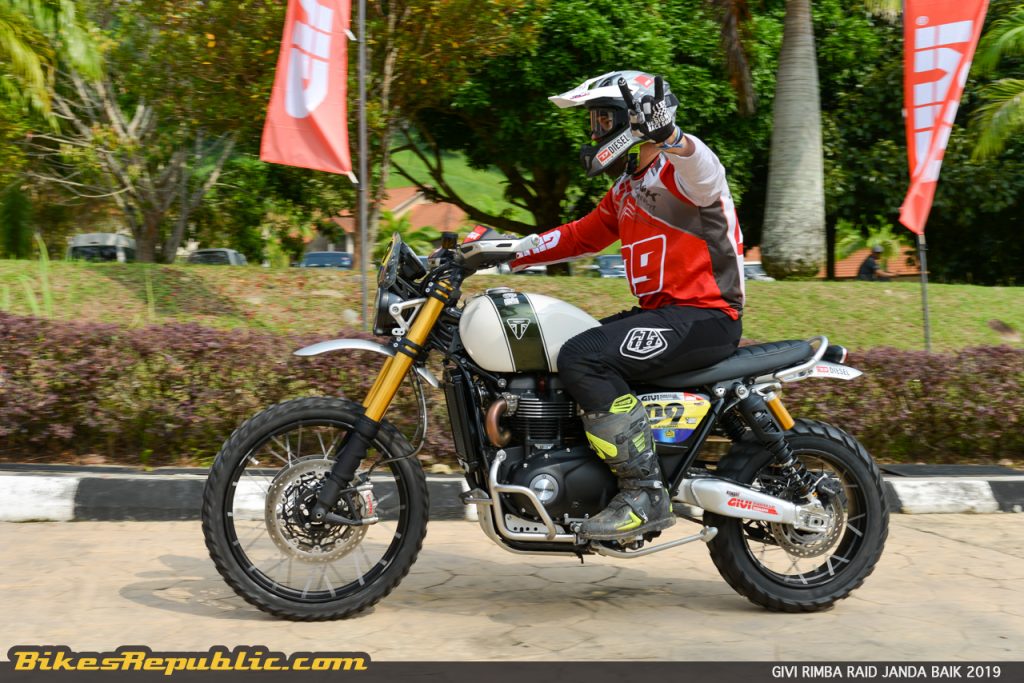 The trail was definitely tougher than at Mat Daling as many riders attested. While the trails at Mat Daling was 126-km long, it was only less than 60 km in Janda Baik. Many probably thought it was going to be too easy, but it was apparently otherwise. Apart from that, rains in the past two days had turned the ground soggy. Consequently, the start was delayed from the planned 9am to 11am in an attempt to let the sun dry out the track.
Of the 150 riders who started the event, 40 were stuck. There were 70 riders in the big dual-purpose Class A but only 17 finished.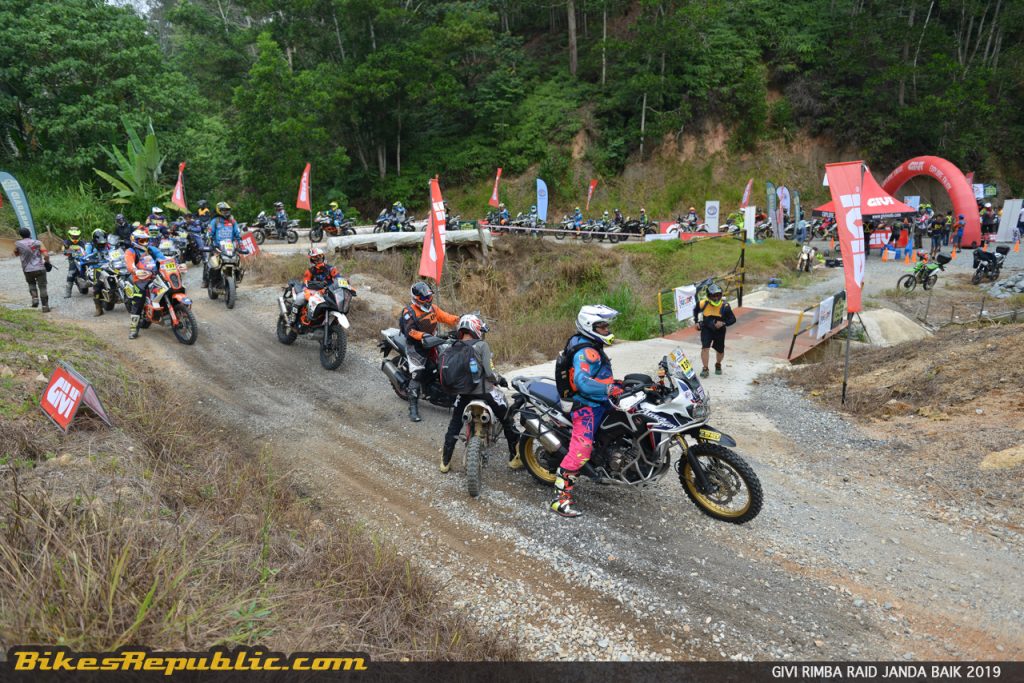 Dato' Captain Nik has said many times before, "I wanted to give the competitors a tough race, but not an impossible race."
Gabit had this to say, "It was tough for me so I could only imagine how hard it was for the other guys, especially those on the big adventure bikes."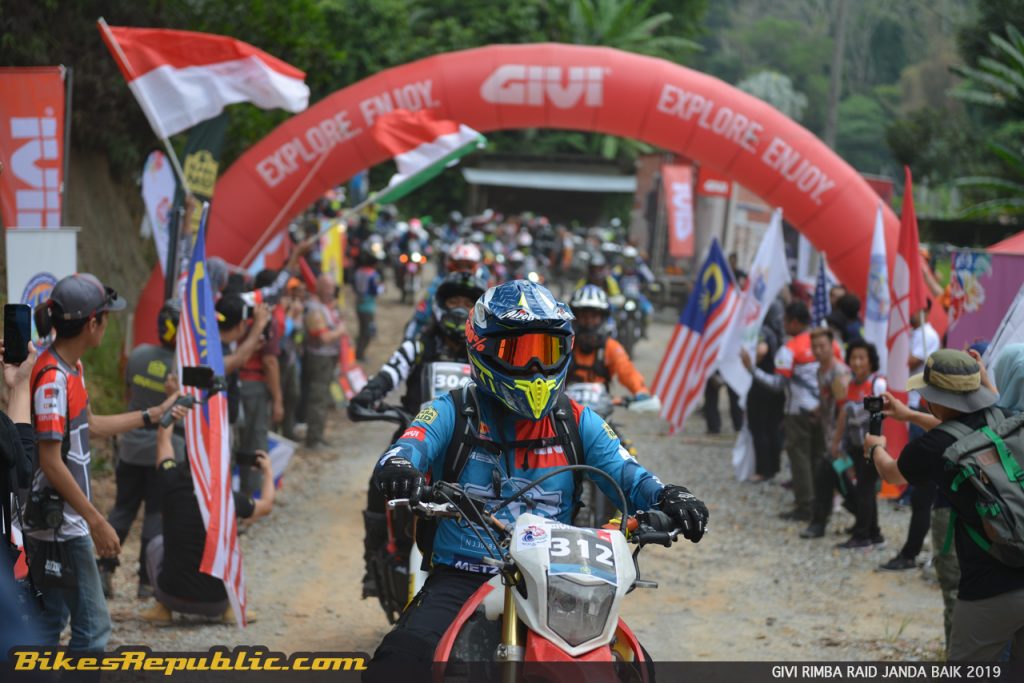 "It was way tougher than in Mat Daling," said Bee Wong, "That's why I was pancit (exhausted) in the second sector."
Jeremias had a different view, "It was okay, I guess. I've ridden in many races and countries such as The Dakar Rally, also in Colombia, Qatar and so forth. The weather was quite cooling in the jungle, too."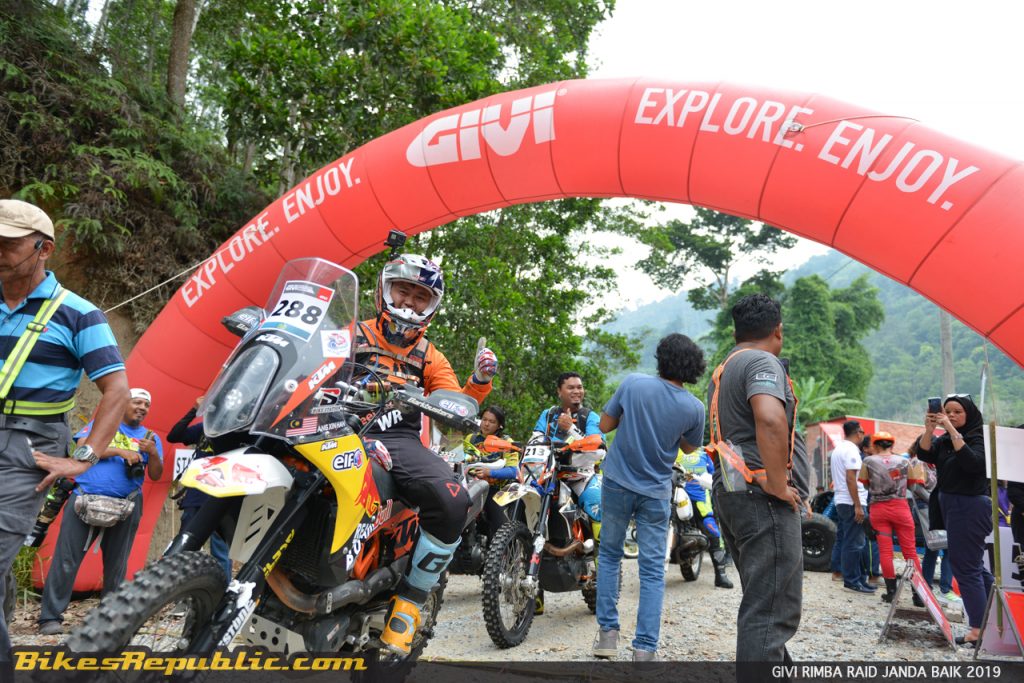 In addition to Gabit, Bee and Jeremias, the Thai riders were the ones everyone looked out for. They had held qualifying rounds in their country and sent the top 20 of their best riders. Anusorn Ubonsuk finished fourth. One guy crashed heavily but nursed his injured hand and destroyed bike to the finish.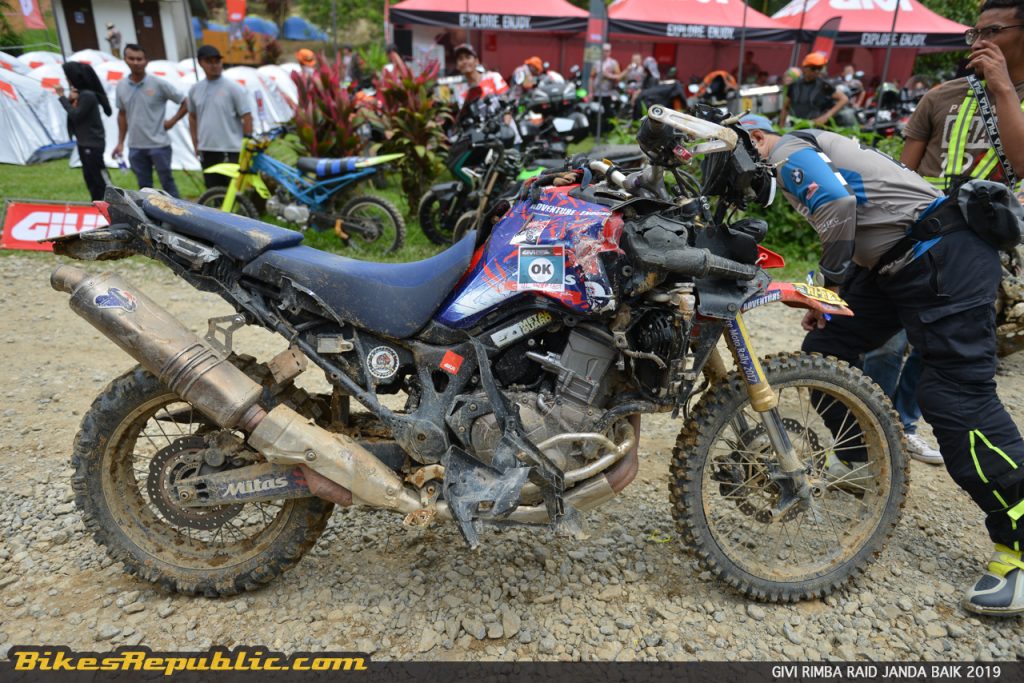 But no matter how you cut it, GIVI Rimba Raid has grown up to be a major event and brand. There were 150 participants from 16 countries, up from 105 of 11 nationalities. There were many more applications, but the organizers had to limit it to the final number of 150 due to space and logistical constraints.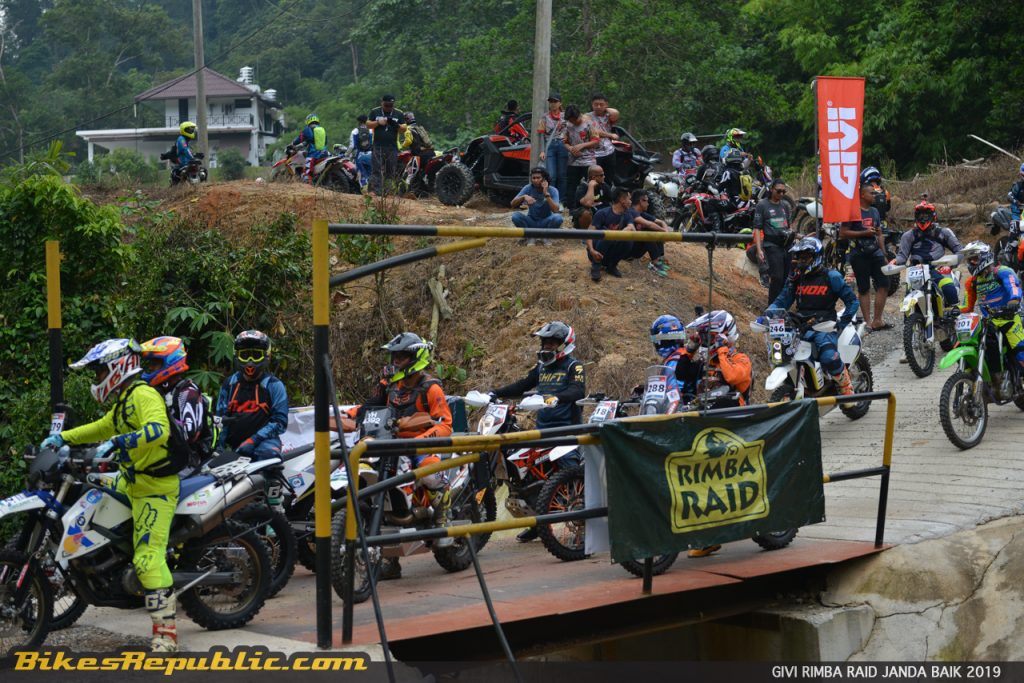 GIVI's support had also lent the big brand image that the race deserves. The hardworking crew were already on site 3 days before the event to set up. Another part of the crew had to also work in conjunction with the GIVI Malaysian Adventure 2019 ride. The epic ride consisted of 40 riders, among them GIVI's dealers from 14 countries. Malaysia was selected this year to commemorate the brand's 25th anniversary in the country.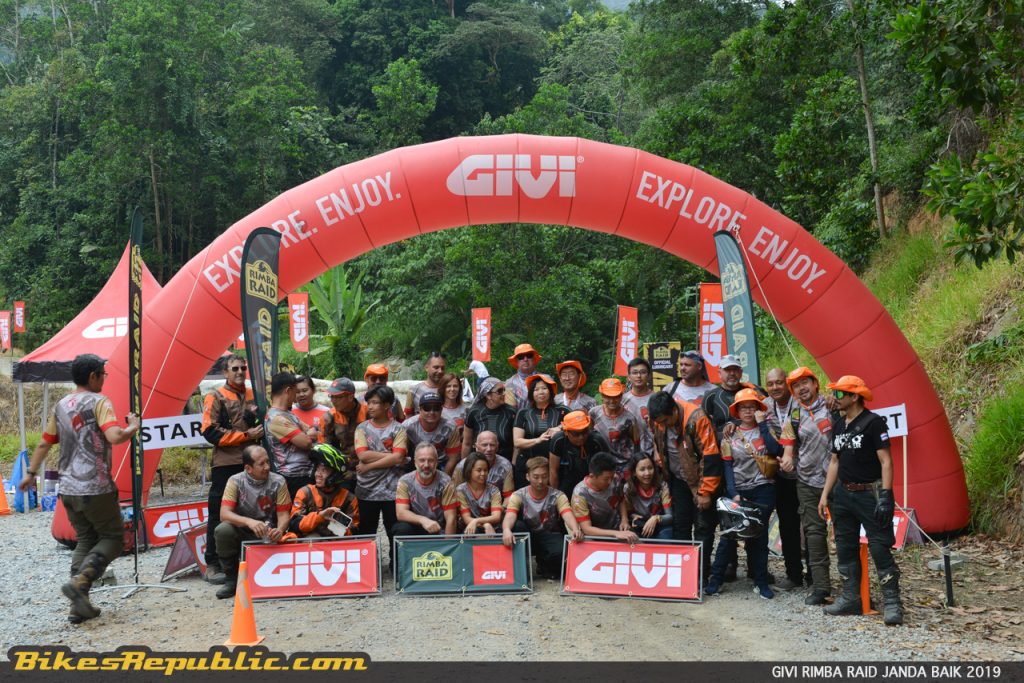 "Thank you GIVI, because the race has definitely grown a lot from before," commented Gabit. "Also, thank you to Rimba Raid and my sponsors."
The Tourism Board of Pahang also joined in this time, as it was an unprecedented opportunity to promote eco-tourism in the state.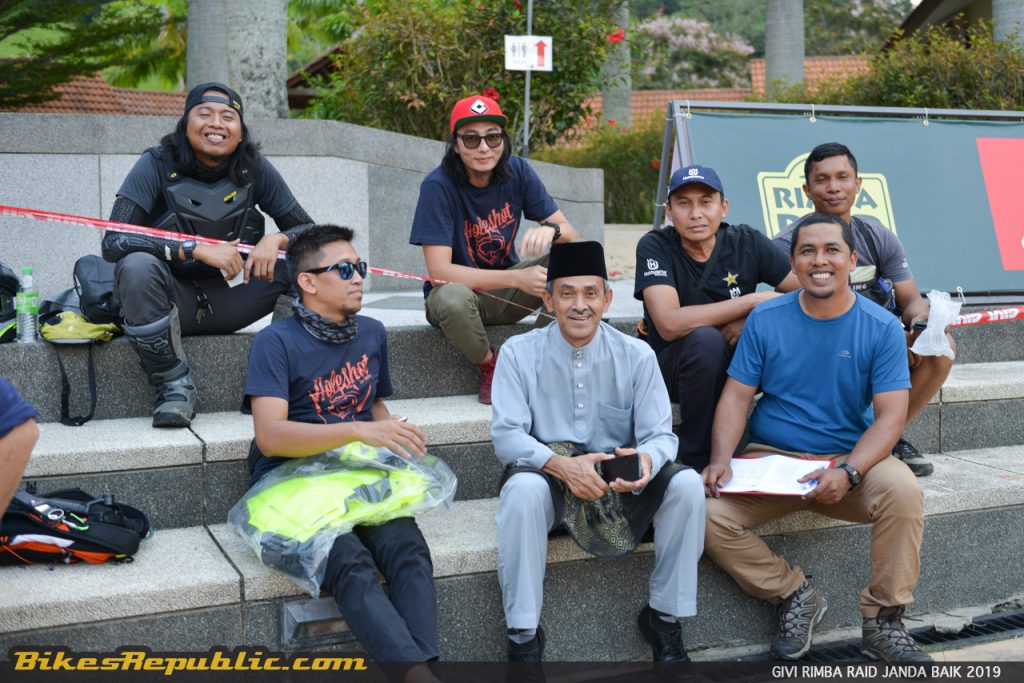 There were also other classes in GIVI Rimba Raid. But this particular event included an exhibition race for buggies and quads. The Bombardier Maverick X turbocharged quads were a sight to behold!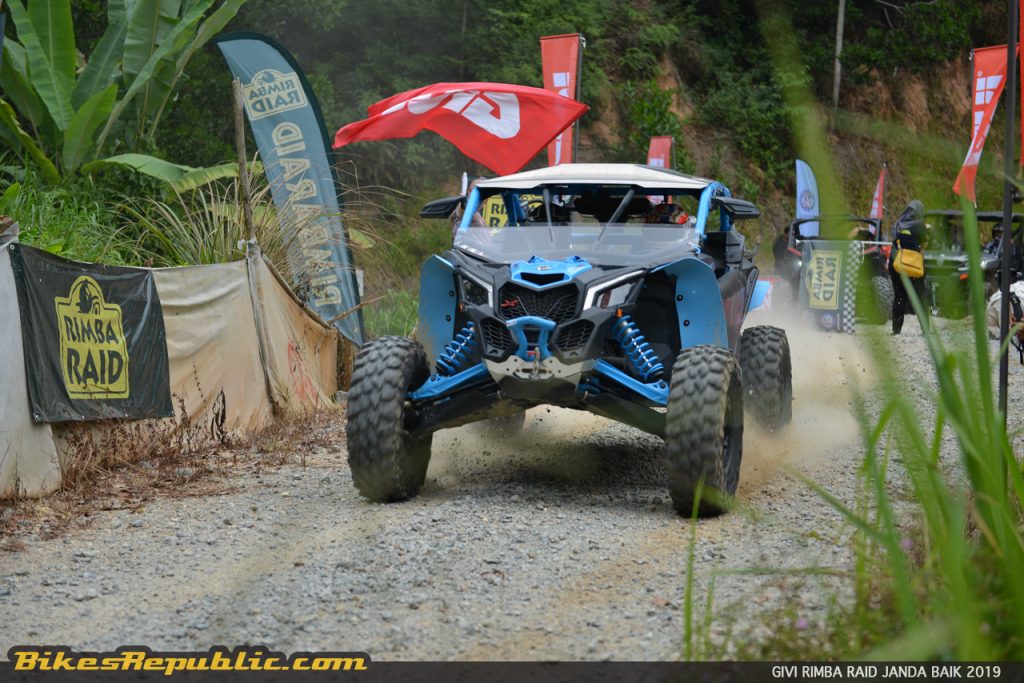 Class B (for bikes 800cc and below) was won by Shamsul Azhar Bin Abu Hazim, better known as Acoi Pangkolo on the AJP7.
Class C for dirtbikes up to 250cc was won by Muhammad Hazlami Bin Mustapha Kamal.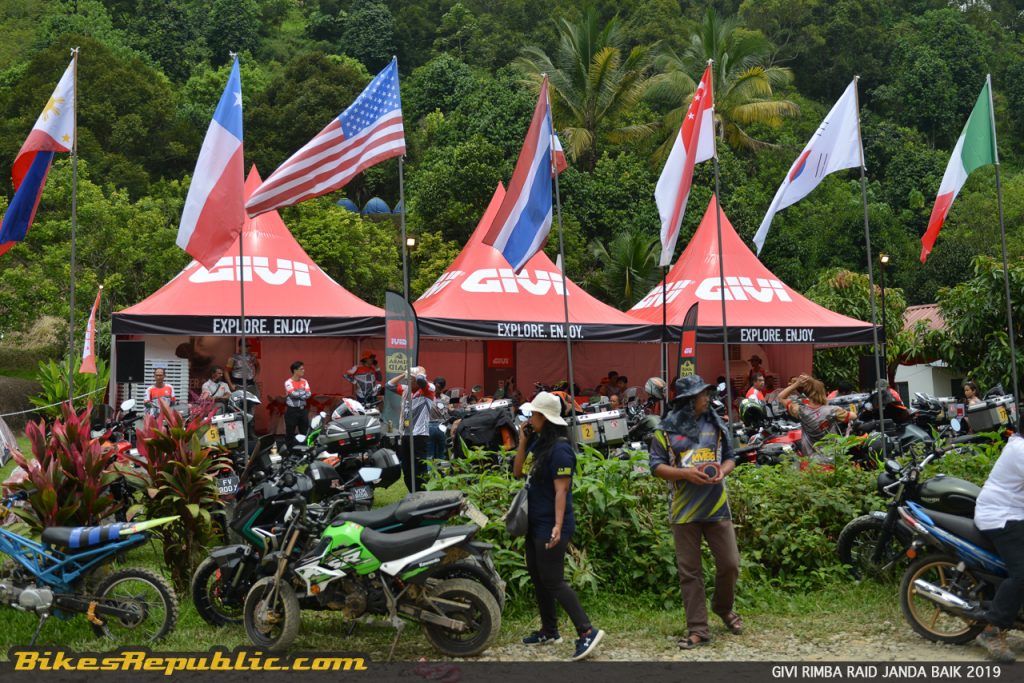 As for the environment, GIVI Rimba Raid organizers worked hard to minimize the impact on the jungle as much as possible. No trees were cut down and no part of the trail was hewn. Bridges were built over certain streams. Riders were told to bring hydration packs instead of water bottles into the trail. They also employed a cleaning crew to sweep the trail for rubbish. The jungle will then return to its normal state within six months.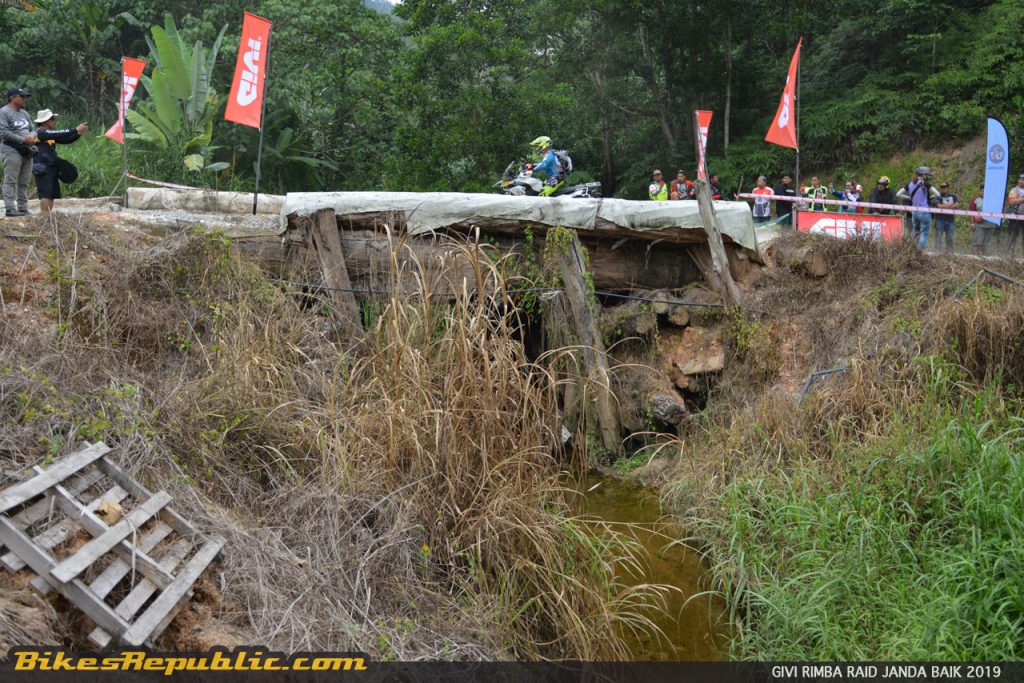 PICTURE GALLERY