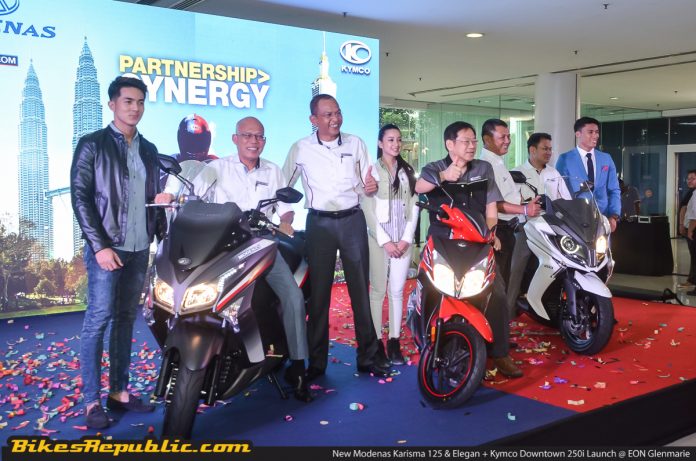 New Modenas Karisma 125 & Elegan 250 scooter launched – from RM5,278.80* and RM13,599.80* respectively.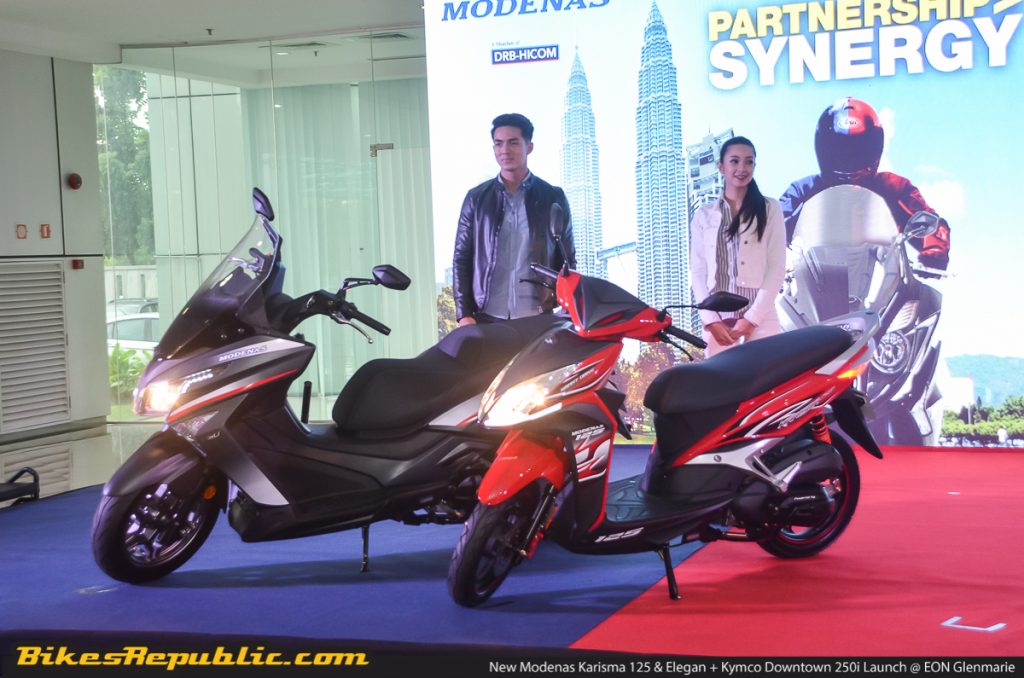 National motorcycle marque Modenas (Motosikal dan Enjin Nasional Sdn Bhd) marked the launch of two new scooter models earlier today. Joining its line up now are the new Modenas Karisma 125 & Elegan 250.
Both were the result of the recent joint venture inked between Modenas and leading Taiwanese manufacturer Kymco. Here's a detailed look at both scooters.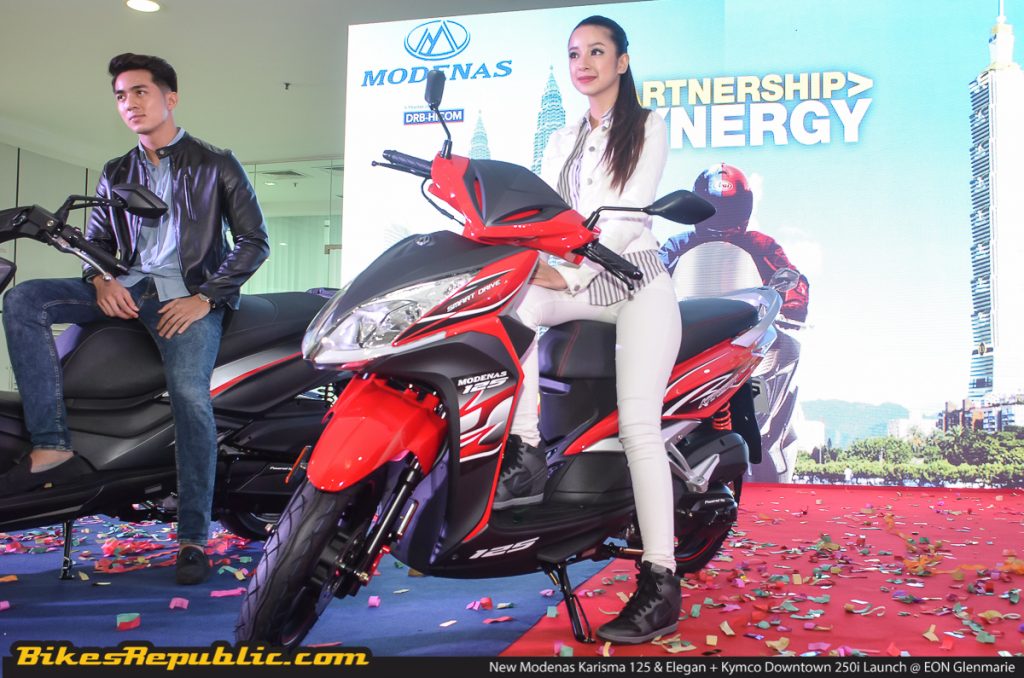 Modenas Karisma 125
We'll start off with the new generation Modenas Karisma 125 model that replaces the outgoing model that's been around since 2003. The replacement model boasts a sharp and dynamic new design that's matched with a new powertrain.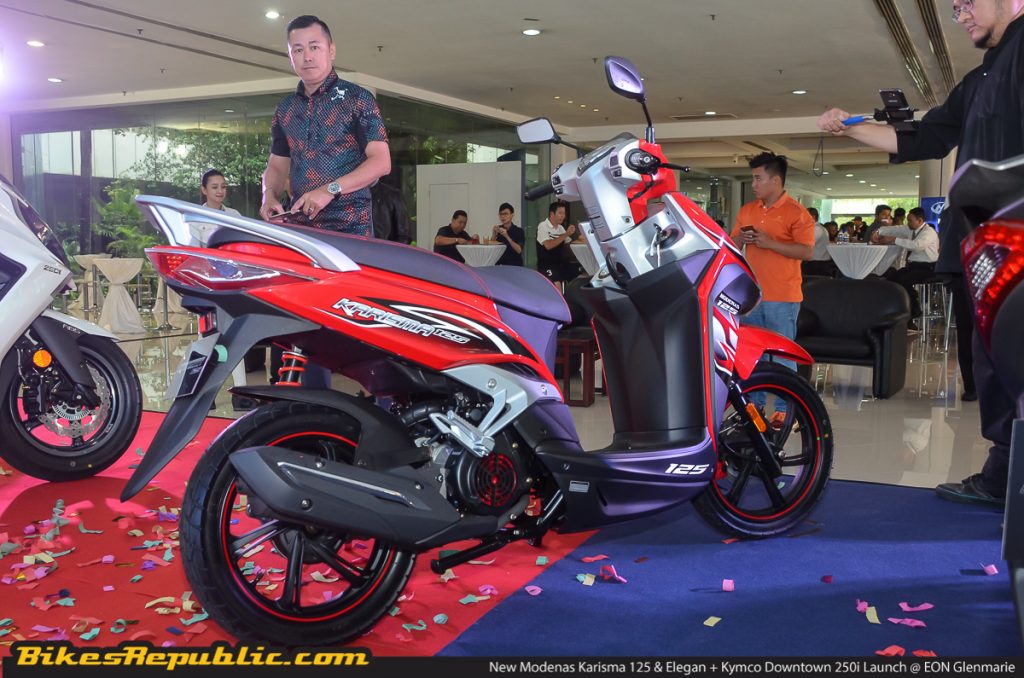 Propelling the scooter is an air-cooled four-stroke and carbureted 124.8cc (125cc) SOHC single-cylinder that makes roughly 9.4hp @ 7,500rpm. Paired with a twist-and-go CVT automatic transmission, the mill is tasked with bringing this scooter's claimed dry weight of 113kg up to speeds.

The chassis is brimmed with telescopic front forks and a five-step adjustable rear trailing swingarm plus single shock suspension setup while anchors come in the form of a 220mm disc brake up front paired with a rear drum unit. Fuel, on the other hand, is stored in a 4.6-litre tank unit.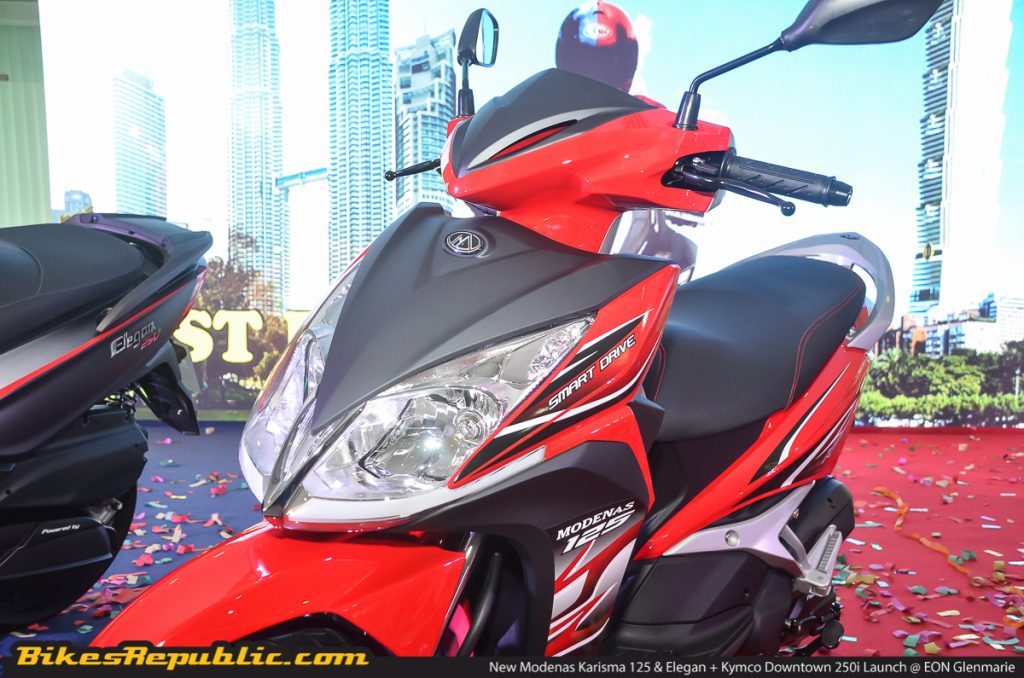 Notable features include the twin halogen headlamps plus LED tail lamp, larger new 14-inch wheels promising greater stability and handling, plus a wider new seat design with enhanced comfort levels. The under-seat storage bin is large enough to store a half-face helmet and it also features a USB charging port.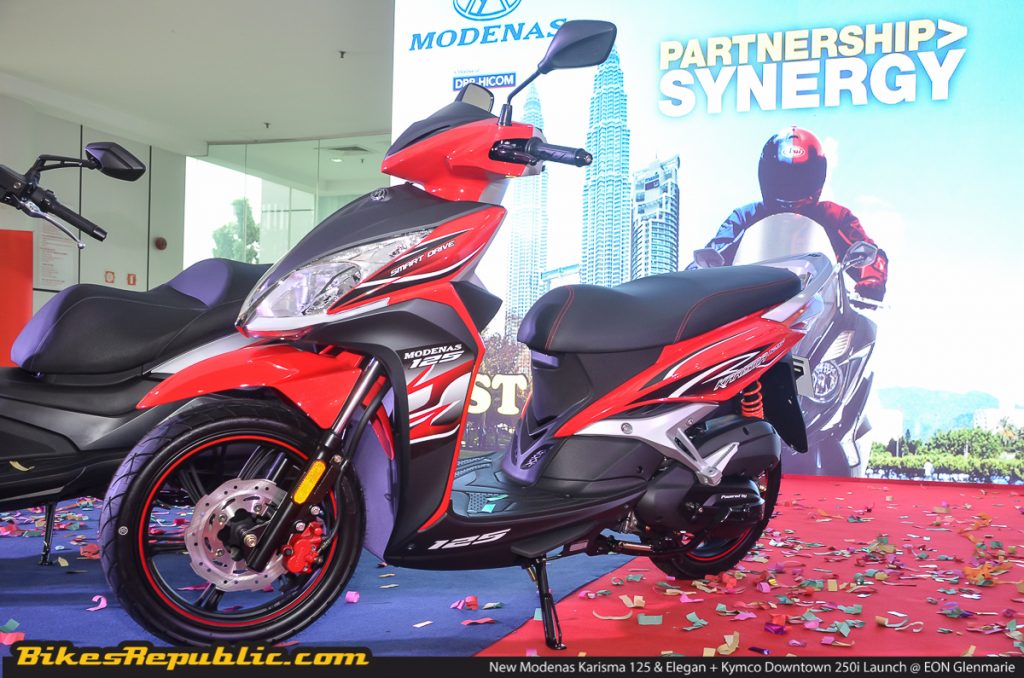 Designed and developed for the urban youths of Malaysia, the new Modenas Karisma 125 carries a basic retail price of RM5,278.80 (with GST).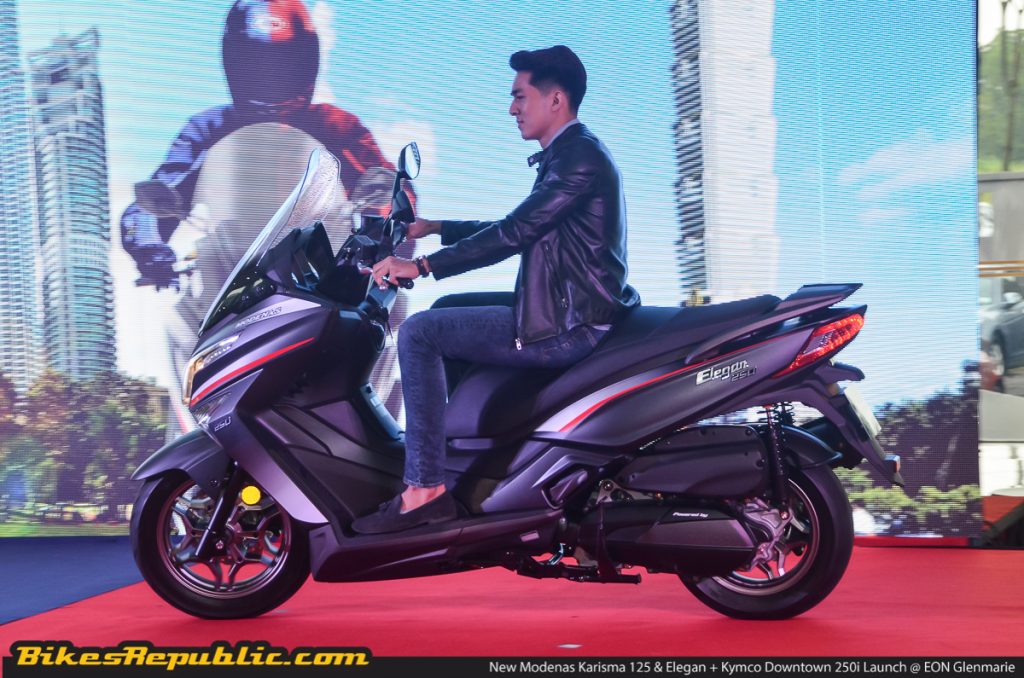 Modenas Elegan 250
Next up comes the new generation Modenas Elegan 250 that replaces the outgoing and highly popular Modenas Elegan 150 that's been around since 2004. Based off the Kymco X-Town 250, the new Elegan also boasts a sharp new design and an enhanced features list as well.

Powering the new generation Elegan 250 is a liquid-cooled four-stroke 249.1cc (250cc) SOHC single-cylinder unit primed with electronic fuel injection. It healthily generates roughly 22hp @ 7,000rpm and also comes paired with a twist-and-go CVT automatic box to bring its claimed dry weight of 193kg moving.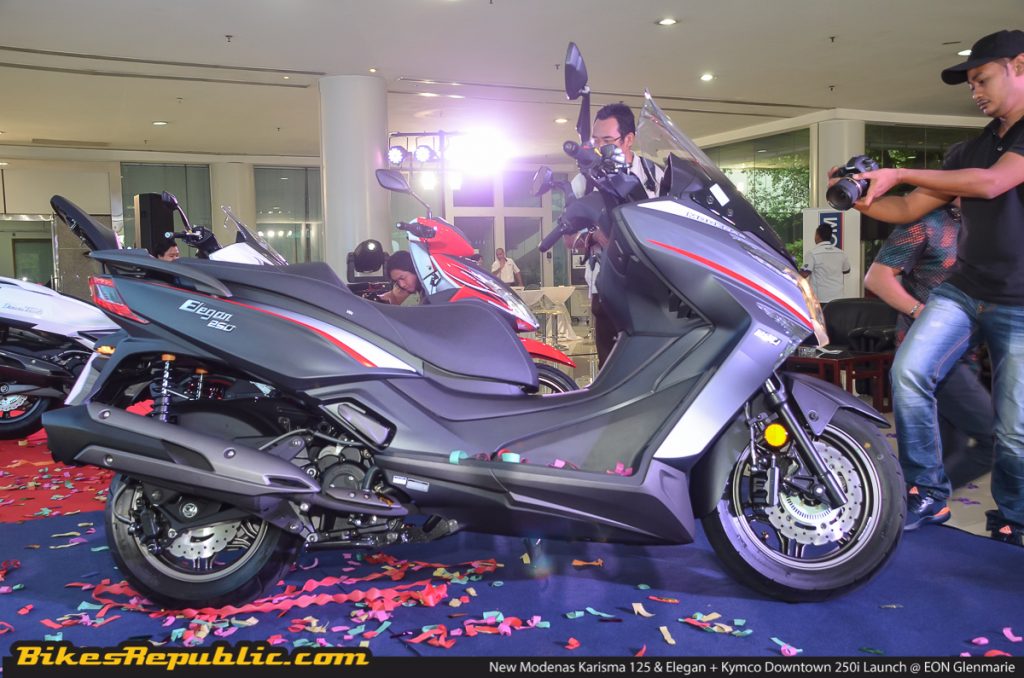 Like the new Karisma, the new Elegan he chassis also features telescopic front forks and a rear trailing swingarm setup, but the latter gets a twin shock setup instead. It also benefits with a larger 12.5-litre fuel tank, all-round disc brakes measuring 260mm up front and 240mm at the rear, as well as a four-stage adjustable brake lever to boot.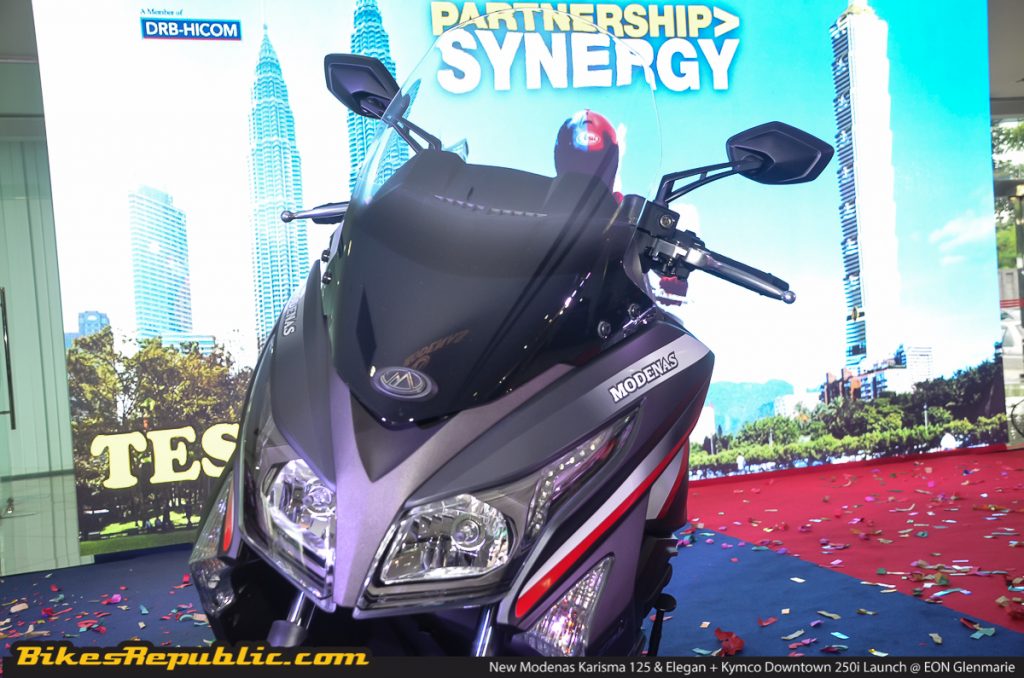 Complementing its stylish design is the dual headlamp with LED daytime running lights plus a snazzy LED tail light design, as well as the 14-inch front and 13-inch rear wheels. The dash also features an LCD display screen integrated with the analogue speedometer and rev-counter clocks.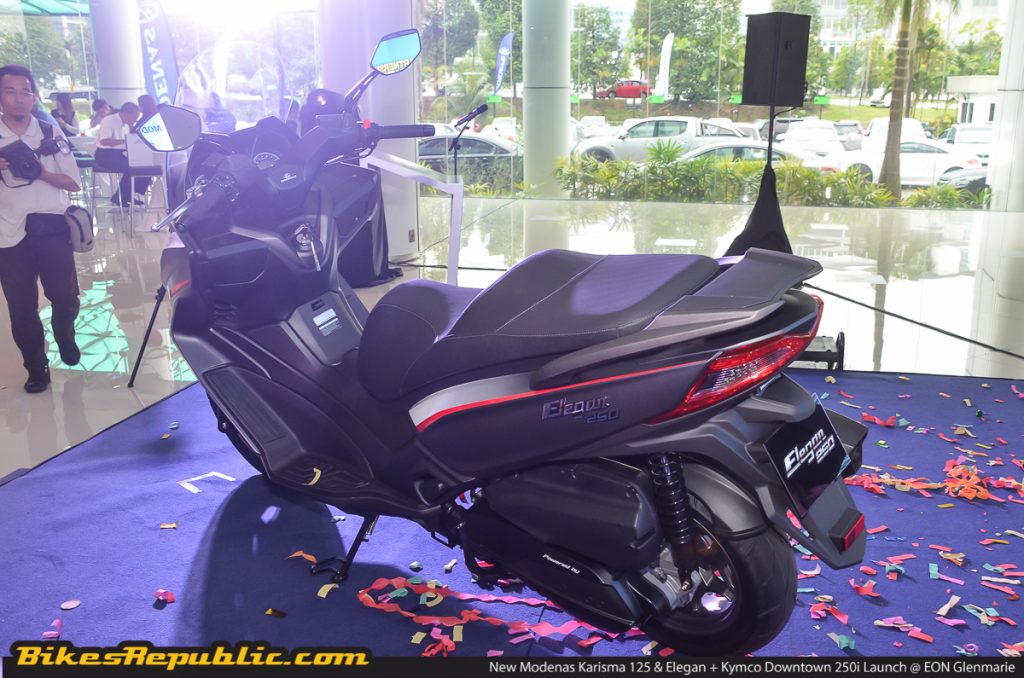 Other notable features include the improved new 2-up seat saddle covered in leather, a large under-seat storage bin, as well as a nifty glovebox in the headstock primed with a USB charging socket. All of which were meant to enhance the new Elegan 250's practicality further over its predecessor.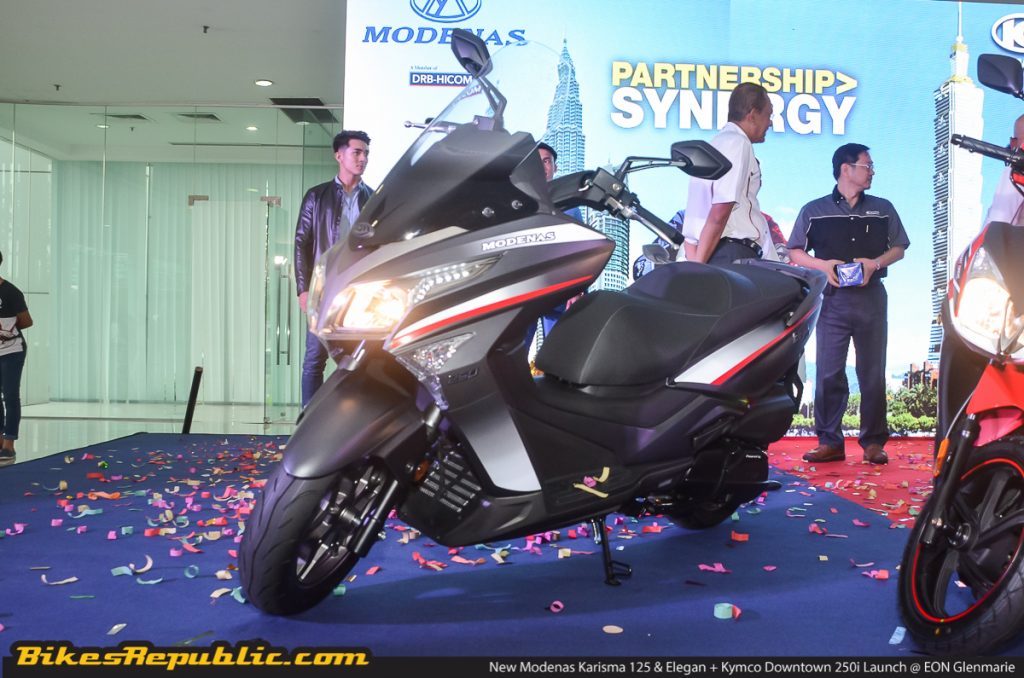 Designed and developed for the young urban executive, the new and B2 license-friendly Modenas Elegan 250 will go on sale with a basic retail price of RM13,599.80 (with GST).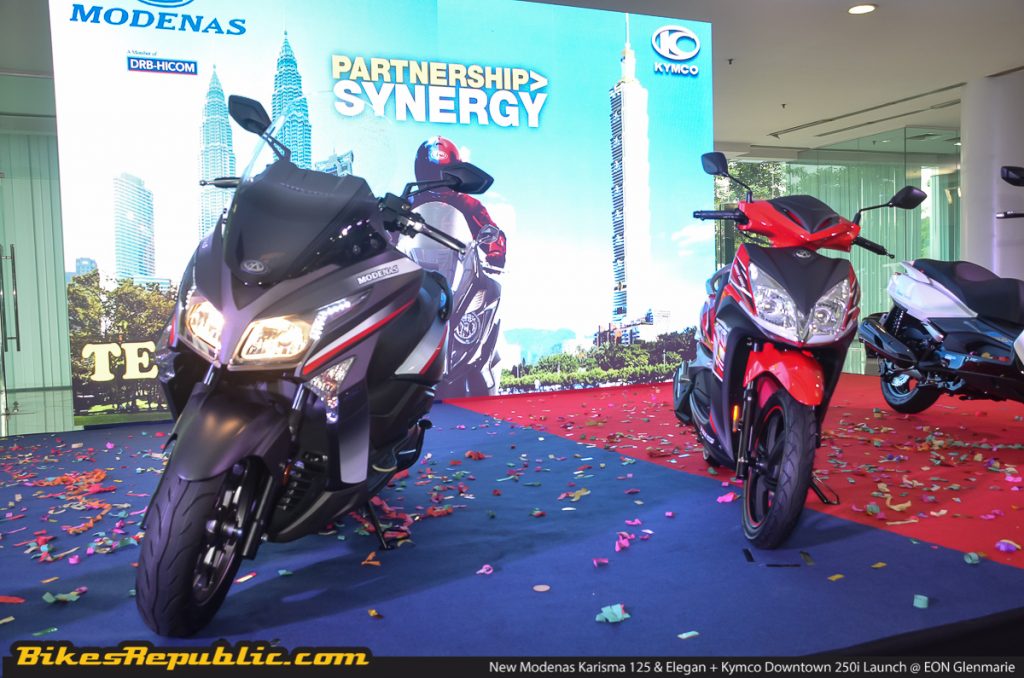 Check out more images of the new generation Modenas Karisma 125 & Elegan 250 scooters in the gallery we've prepared below. Don't forget to also check out our report of the new Kymco Downtown 250i model that was launched alongside them that's coming up shortly.
Modenas Karisma 125
Modenas Elegan 250