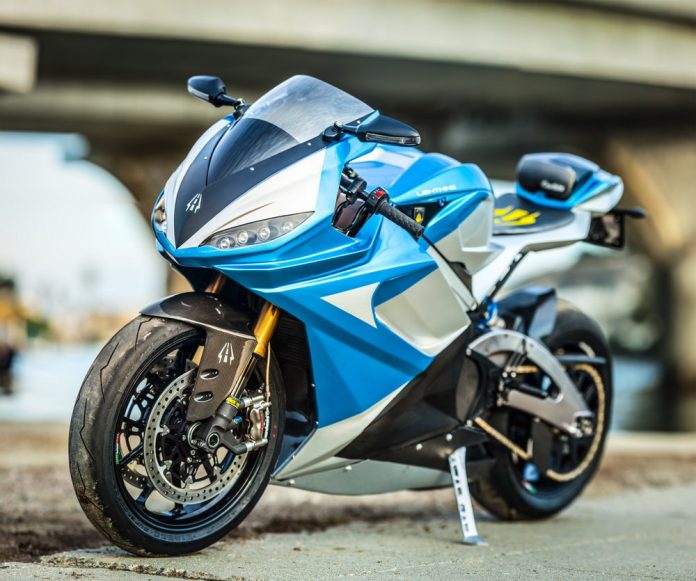 The Lightning LS-218 electric motorcycle is the world's fastest production motorcycle.

It hit 351 km/h at the Bonneville Speedweek in 2010.

It finished more than 20 seconds ahead of a Ducati Multistrada 1200 at Pikes Peak International Hill Climb in 2013.
If there's still any fear in anyone about electric motorcycles being slow, the Lightning LS-218 should not only bat those misgivings out of the ball park but launch it into Pluto's orbit.
That is because the Lightning LS-218 boasts these figures: 200 bhp, 228 Nm, 351 km/h.
But it's not just a bunch of fantastical numbers on paper.
Lightning brought the bike's prototype to the Bonneville Speedweek in 2010. It beat out all other purpose-built Bonneville bikes by clocking 218 mph (351 km/h) and set the new record as the world's production motorcycle, both gasoline- and electric-powered.
Hence, the bike became known as the LS-218.
However, Bonneville was all about straightline speed. The manufacturer wanted to build a bike that handles well, too.
So, they entered the Lightning LS-218 in the prestigious Pikes Peak International Hill Climb (PPIHC) race. The bike charged up the 20-km (12.42-mile) long, 156-turn hill in 10 minutes, 00.694 second and decimated the record. The second competitor to cross the line was the Ducati Multistrada 1200 in 10 minutes 21.323 seconds. Yes, the Lightning finished the race more than 20 seconds in front. By comparison, the majority of electric bikes ran the course in the mid-12 minute range. The Lightning was the King of the Hill among gasoline and electric motorcycles.
A number of LS-218s have been delivered to customers since 2014 but they were still built in small numbers. But the American manufacturer has since expanded their distributor network and is now mass producing of the bike.
The Lightning LS-218 boasts great componentry throughout. The froks are from RaceTech with Öhlins NIX30 internals. At the rear shock is an Öhlins TTX36 shock. Both items are fully adjustable. Braking duty is handled by a pair Brembo GP4-RX calipers and Brembo 320mm T-Drive discs up front.
Other main concerns about electric motorcycles are the range and charging time. Lightning offers three options of battery packs. The 12 kWh pack has a range between 161 to 193 km, the 15 kWh option provides 193 to 241 km range, and a new 20 kWh pack offers up to between 257 to 290 km, per charge.
Charging time is as fast as 30 minutes on a DC fast charger, and 120 minutes on a level 2 charger.
Lightning says there are more models on the way.
So, there you go. Not all electric bikes are like those KFC Delivery scooters.