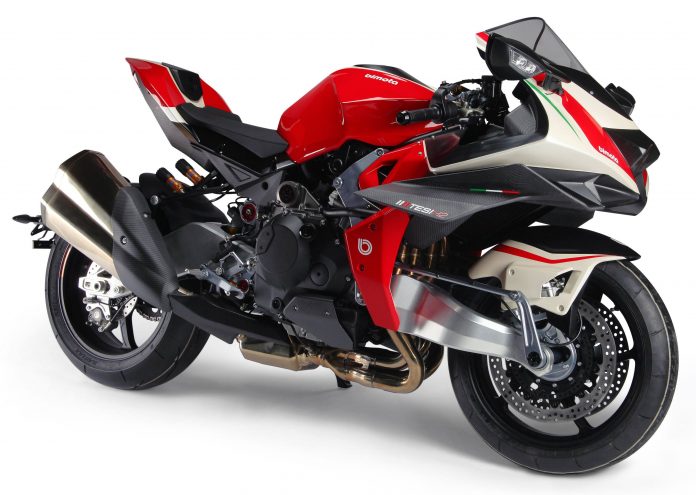 Rumours of Kawasaki buying a stake in Bimota turned out to be true.

They purchased 49.9% of the shares.

The Bimota Tesi H2 made its debut at EICMA 2019.
There were earlier rumours about Kawasaki buying into Bimota and it turned out to be true when they unveiled the Bimota Tesi H2 at EICMA 2019.
It seemed that some time was needed to discover that the Italian Motorcycle Investment S.p.A. who purchased 49.9% stake in Bimota was set up by Kawasaki Motors Europe. In turn, Kawasaki Motors Europe is actually wholly owned by Kawasaki Heavy Industries.
The previous Swiss-Italian owners Marco Chiancianesi and Daniele Longoni still hold a 50.1% controlling stake in what will soon be known as Bimota S.p.A. Operations will remain at Rimini. It was reported that the deal took three years to conclude.
Launched at EICMA 2019, the Bimota Tesi H2 which is a H2 supercharged engine stuffed into the Tesi chassis.
The Tesi is radical that it uses a swingarm for the front instead of forks and hub centre steering. The concept was already explored in the previous Tesi and Tesi 3D. However, the Tesi H2 will be a faired bike instead of the naked 3D.
You can read more about the Tesi 3D and other Bimotas here.
Future bikes will most probably be designated as KB, now that Kawasaki is onboard.
It's all good news because Bimota have always pushed the enveloped of motorcycle technology, specifically in terms of chassis design, where manufacturers fear to tread.