New tyres need to be broken in.

Pushing on new tyres can be dangerous.

The break-in process isn't difficult but calls for some restraint.
Upon the completion of replacing my tyres, J.S. (Head Mechanic at Sunny Cycle) warned me, "Don't push on the new tyres yet. One guy did that right after leaving the shop and almost high-sided."
His words couldn't be truer. New tyres need to be broken in before you can push hard on them.
Why are New Tyres Slippery?
Notice the shiny surface on a new tyre? No, that's not "wax," contrary to popular belief. Instead it's a release agent which tyre manufacturers use to coat the mold in order for the tyre to be removed easily.
Certain makers don't use release agents but utilize different compound mixes in the curing process for the soft rubber to flow easier into in the mold. This type of compound makes it easier for the rubber to form the intricate patterns on the tread and markings. But it also leaves a shiny surface.
How to Break them in Then?
Our job is to rid the tyres of that shiny surface.
Besides that, there are many different chemicals and components (up to 150!) that make up a tyre. While it may seem that they are homogenously, they actually require repeated heating and cooling process (heat cycles) to do so. This could only be done by introducing forces and stresses during riding.
No, weaving around like MotoGP riders doesn't work. Keep in mind that their tyres are already warmed up at least an hour before they take to the track.
Manufacturers actually suggest between 150 to 300 kilometres of riding to break in your new tyres. As for the sides, introduce lean angle progressively rather charge into corners for max lean.
Also, mind your acceleration and braking. Stay progressive and smooth for those few hundred kilometres.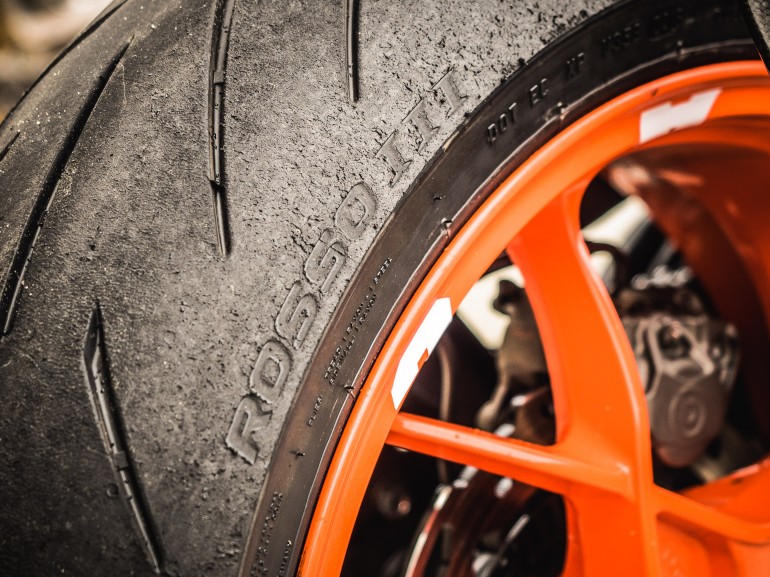 Bear in mind that tyres have "memory." No, we don't mean that they've got built-in RAM chips. Instead, how your tyres behave later in their lifespan depends on how you broke them in. If you tend to be extra aggressive, the extra heat and stresses will "cook" the compound. You will probably end up with a comparatively harder compound by their mid-life. However, take it too easy and they will be slippery even after the 200 – 300 km break-in period.
A good indicator is if the new tyres turn blue after a day's ride, it means you've pushed too hard. If they're still too shiny and almost like new for too long, it means you're too conservative.
There's a middle ground in there which you can find over time.