The 2020 Honda CBR1000RR Fireblade was spied being tested at Suzuka.

It didn't debut at the Tokyo Motor Show as expected.

This is an all-new bike.
Okay let's move away from Ducati for a while (yes, there are more) and head over to another great sportbike — the 2020 Honda CBR1000RR Fireblade.
We were expecting its launch at the recent 2019 Tokyo Motor Show but it didn't turn out that way. Instead, the new model was caught testing at Suzuka by a Japanese photographer, who then uploaded the pictures and video to his Twitter account @n_mode_log.
HRCが鈴鹿サーキットに持ち込んで来ているこのテストマシンは何だ⁉️
タンクのところに「性能車①」ってラベルが確認できる。
#MFJGP #SuperBike #HRC pic.twitter.com/Owzh8cUs1m

— NOBU㌠ @JO3VHC (@n_mode_log) October 23, 2019
Honda has said before that this will be a new CBR1000RR, rather than a mere update.
At first glance, you can see a new fairing which is more enclosing compared to the outgoing model's. Besides that, there are gills at the bottom.
However, look closer at the front and you'd spot something which resembles a large inlet with winglets in them. This is the "aerobody" which the manufacturer patented a few months ago. They're enclosed, rather than hanging out in the breeze unlike the Ducati Panigale V4 and V4 R's. Honda also patented "active aerodynamics" for the rear in the form of foldout winglets, but they don't appear in these photos.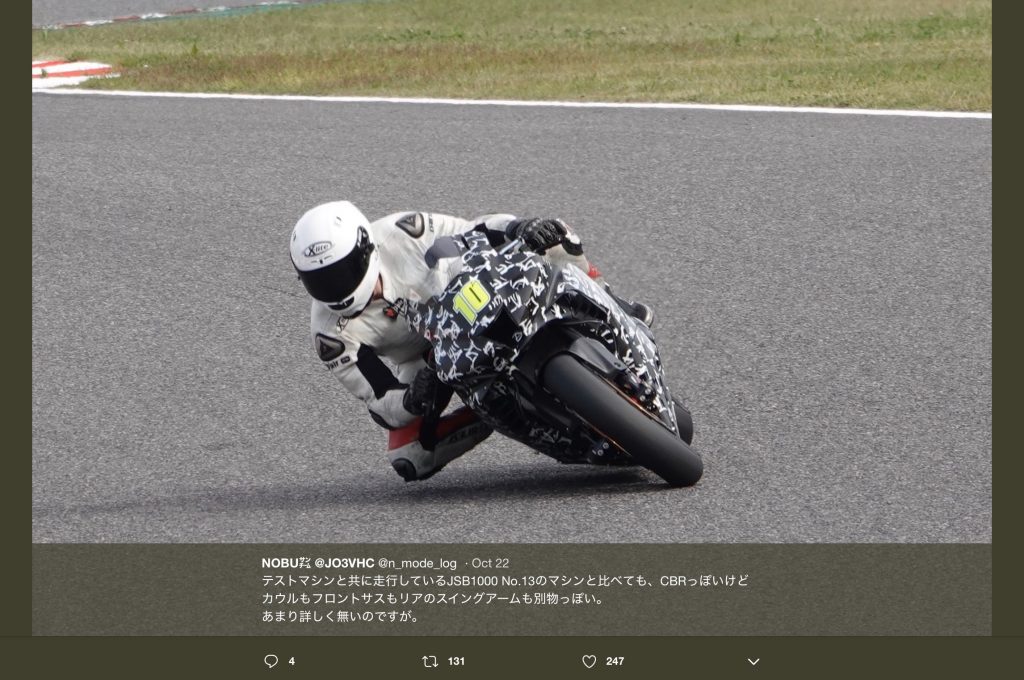 But these pictures showed the race version of the bike, signified by the front fork set up. The purple-coloured slider tube shows that its coated with titanium nitrate and the true giveaway is the thin plunger-like travel sensor.
However, bear in mind that superbike racing dictates no modification to the frame and bodywork over the streetbike.
Peeking through the fairing's opening also reveals what seems to be a new frame. The cutouts in the swingarm also look different.
Honda brought along a 2019 CBR1000RR for comparisons and the uploader also shot its pictures.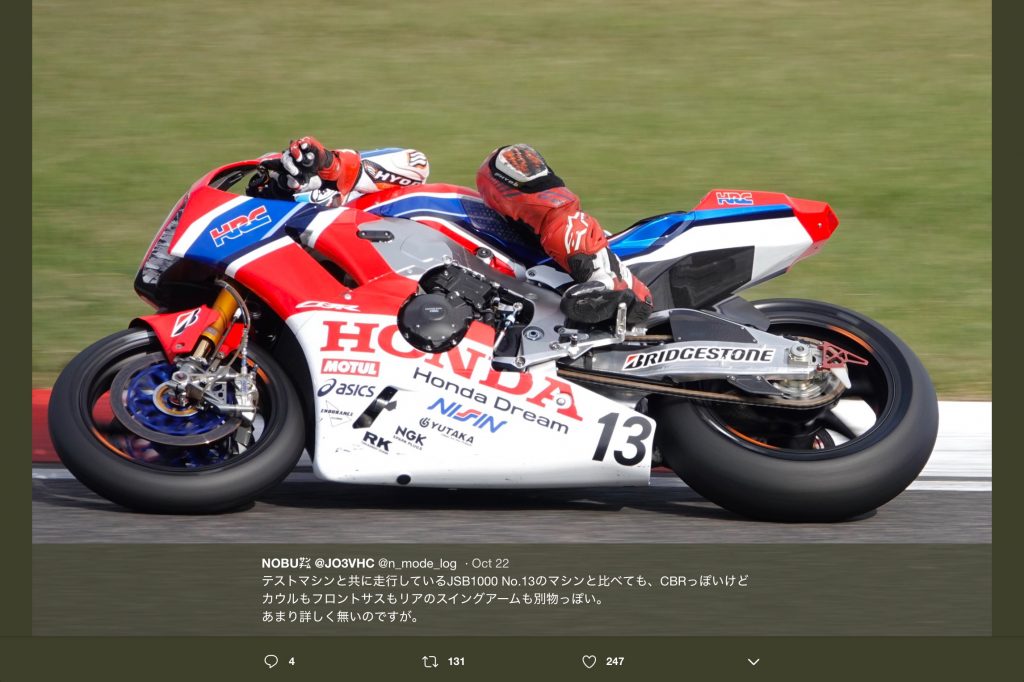 There was also a video and the bike has an inline-Four engine, quashing rumours of a V-Four.
今日HRCが鈴鹿サーキットで走らせていたマシンですが、動画も撮っていたのでUPしておきます。
#MFJGP #SuperBike #JSB1000 pic.twitter.com/cPaj3v4gTl

— NOBU㌠ @JO3VHC (@n_mode_log) October 23, 2019
Hope to see it at EICMA 2019.
All pictures credit @n_mode_log