KTM Malaysia is having a special campaign called aspiRC Trade Up that is designed to give you better value for your current bike when you trade it in for a RC 200.
You just have to bring in your current motorcycle and KTM will give you RM2,000 more than the current market value of your bike.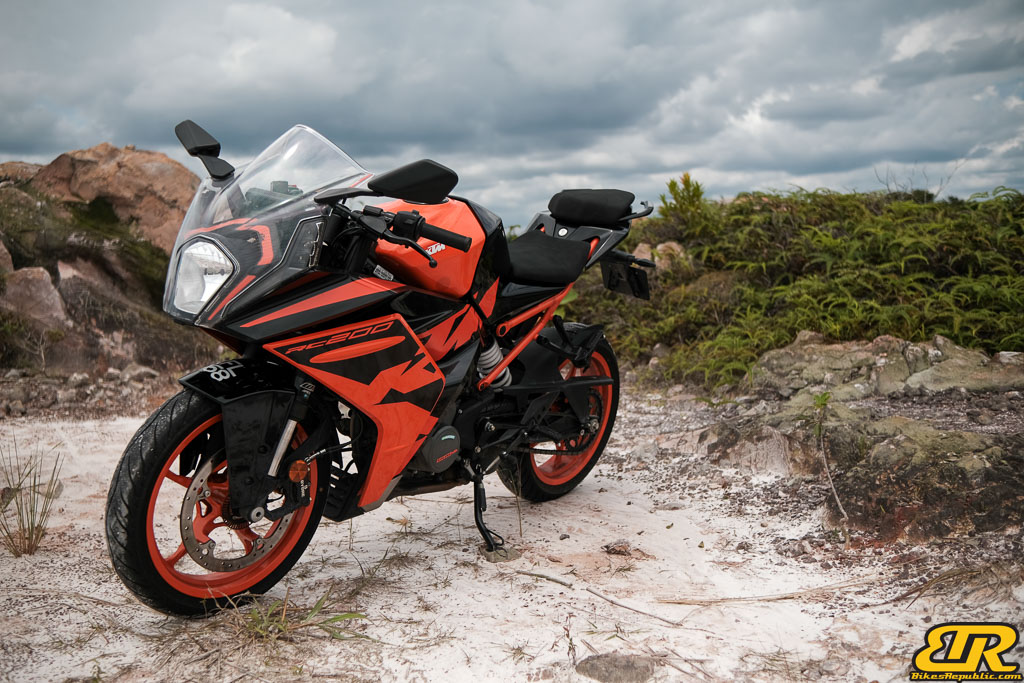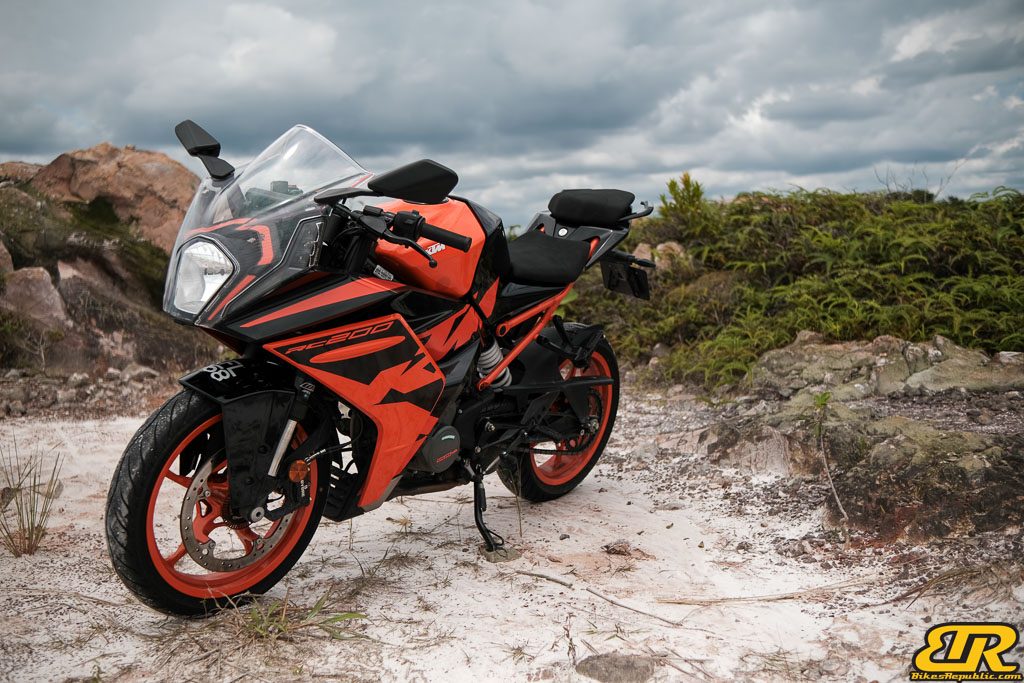 So for example, if the market value of your bike is at RM5,000, KTM Malaysia will give you RM7,000 for it.
With that, you do not have to worry about losing money on your old bike and having to fork out a higher down payment. KTM Malaysia is essentially sorting that out for you, so all you have to do now is visit your closest KTM dealership and talk to the sales team there.
So there has never been a better time to trade up to a KTM RC 200.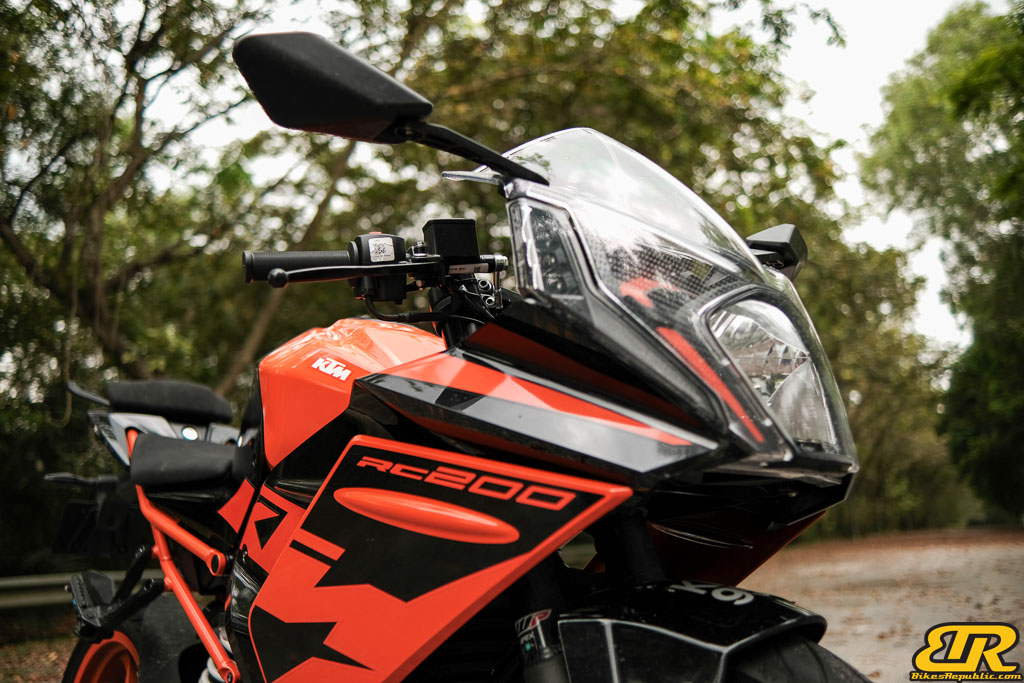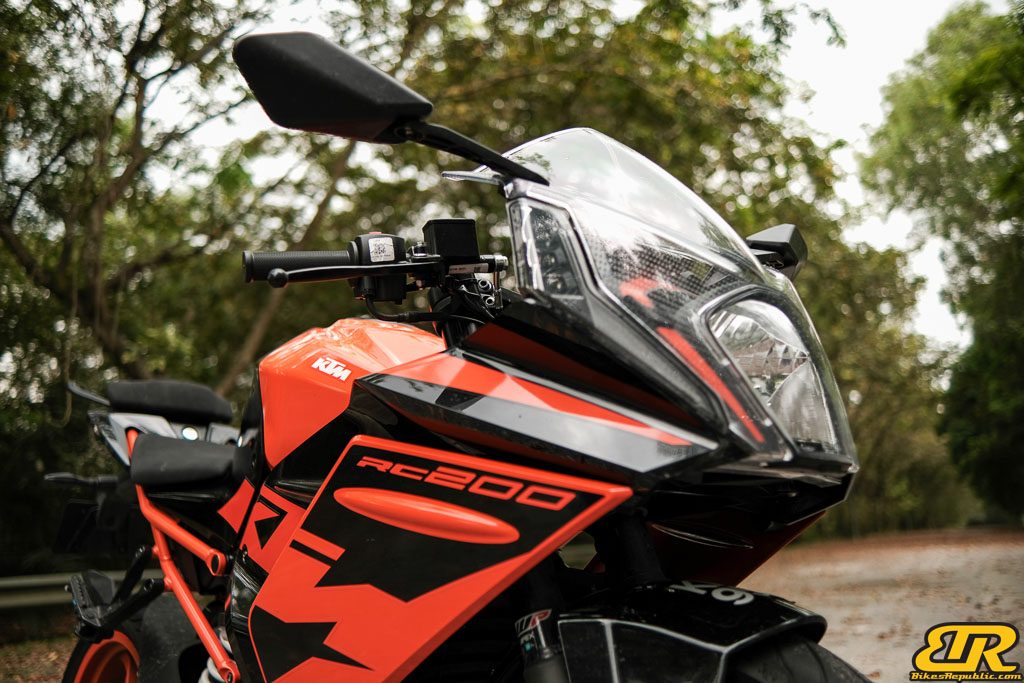 The RC 200 may have been around for a while already, but it has been continuously improved and enhanced and yet it remains as one of the most exciting bikes in its class.
Some have criticized its design but none in its class have such functional, race inspired aesthetics. The design of the RC 200 follows the RC16 MotoGP race bike where the front provides positive aerodynamics that makes the bike more efficient as it cuts through the air.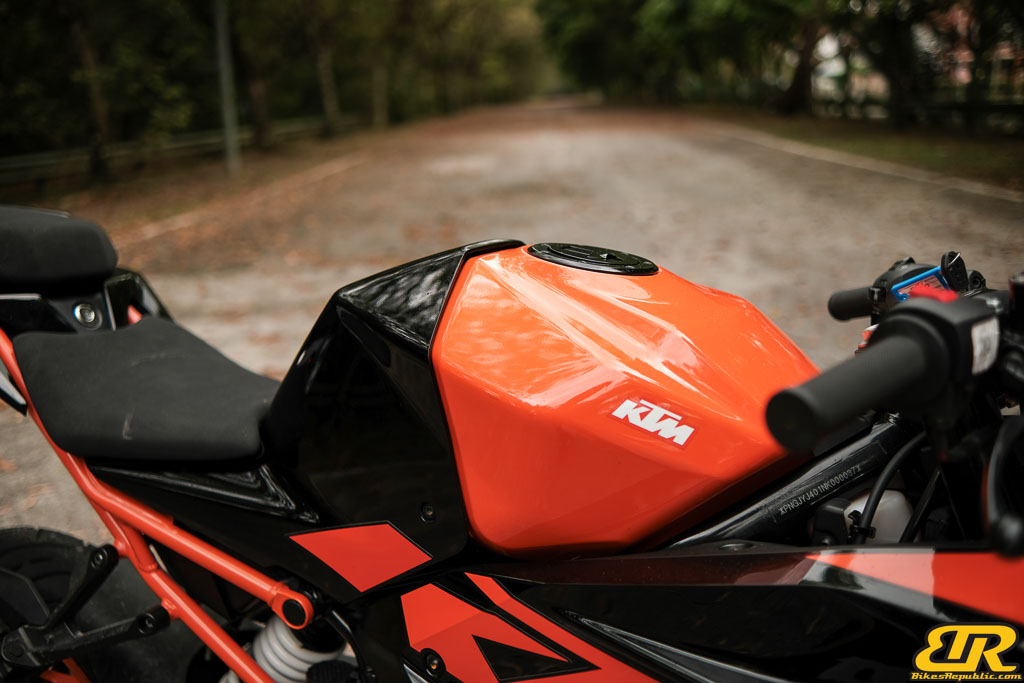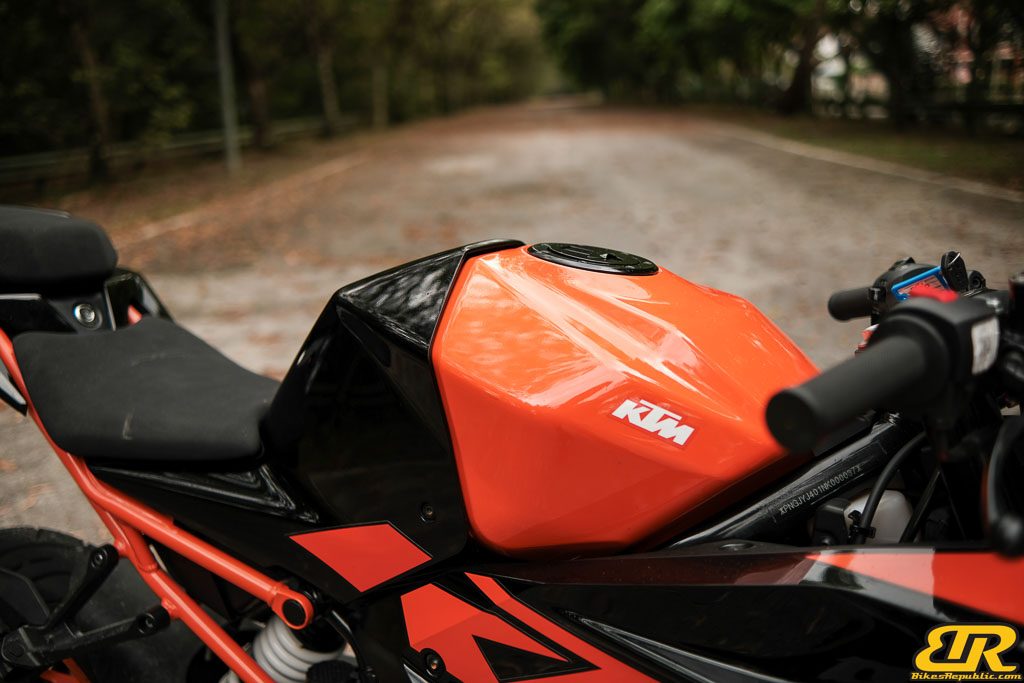 And just like the race bike, the bodywork has been specifically designed to be easily dismantled and reinstalled. This is very much in line with KTM's tagline – "Ready to Race".
The riding position of the RC 200 is also spot on. Aggressive enough for corner carving and yet comfortable enough for daily use. To ensure this, the handlebars are adjustable. As compared to previous models, the handlebars are now positioned 15mm higher than before for better posture which makes the bike more comfortable for long distance riding, especially for your shoulders and wrists. But you can also drop the handlebars by up to 10mm when you want to ride your favourite track.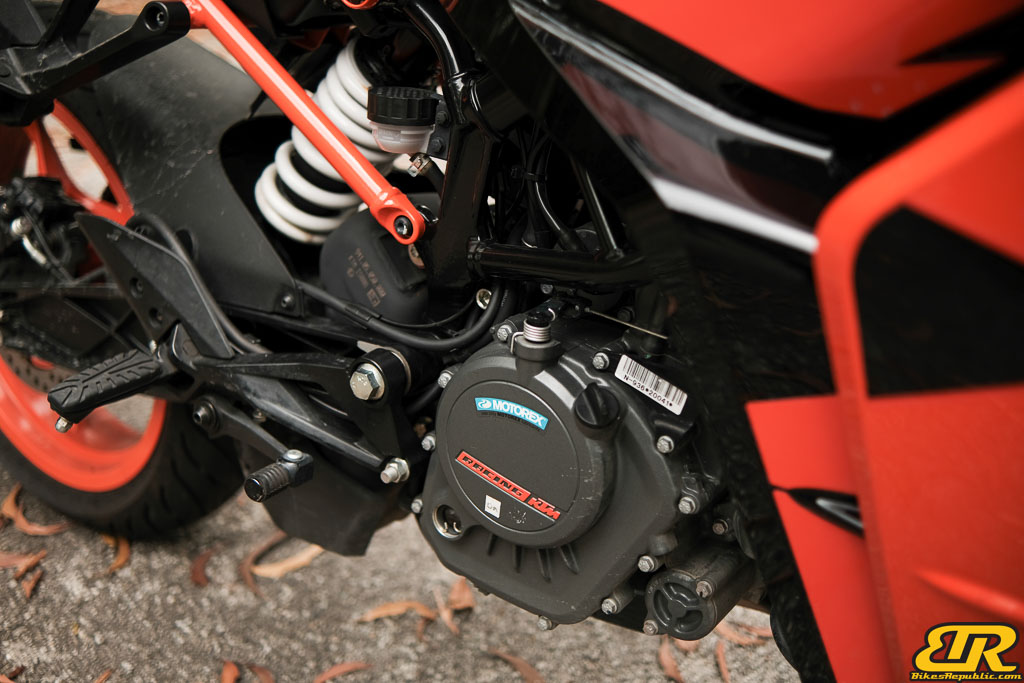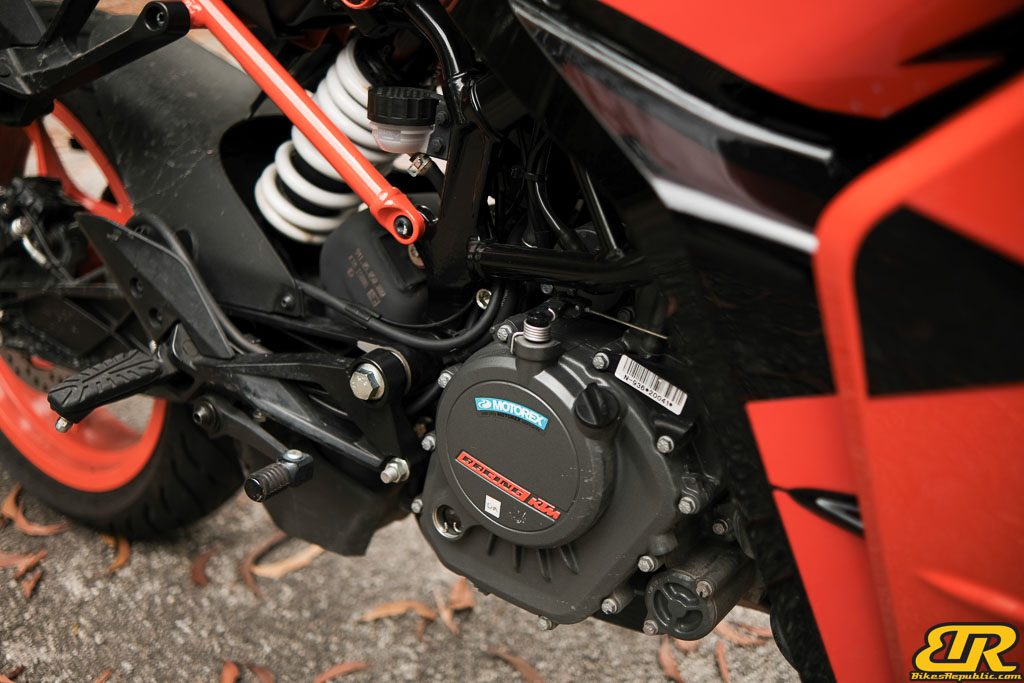 The KTM RC 200 will particularly appeal to those who like a nimble handling bike. With adjustable WP Suspension, the rear monoshock can be adjusted for pre-load to your preference.
The RC 200 was redesigned in 2022, and part of the redesign efforts focused on the front of the bike. This redesign resulted in a lighter front end with most of the weight of the bike focused on the center. For example, the wheels too have been lightened by 3.4kg and this results in lesser rolling resistance, providing for better acceleration and easier corner entry. All this clever engineering resulted in better weight management that ultimately contributed to lighter and more agile handling.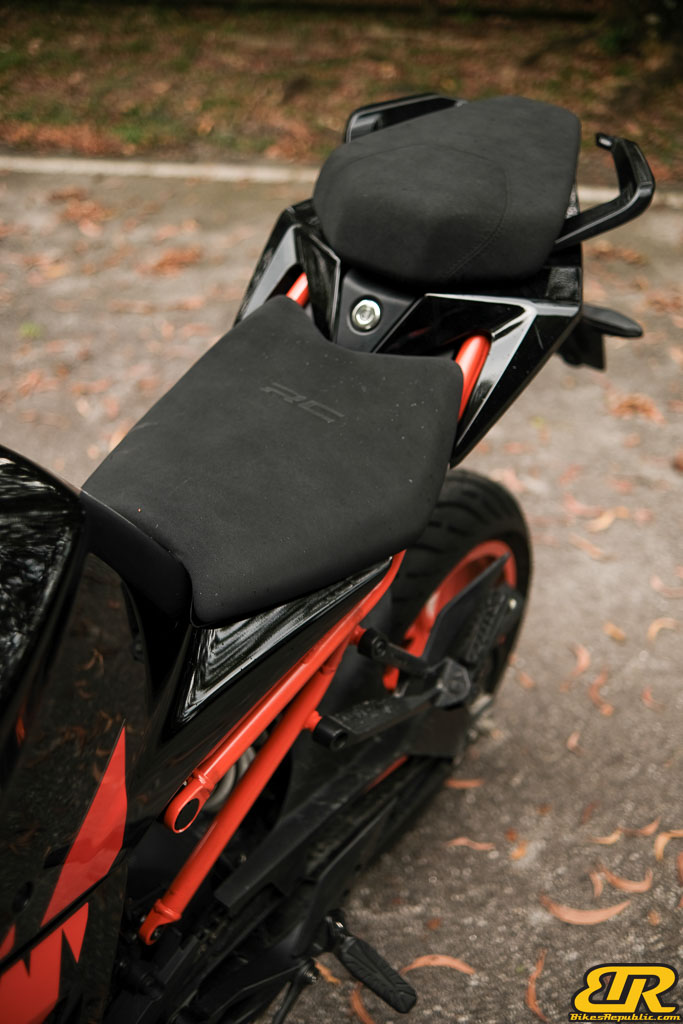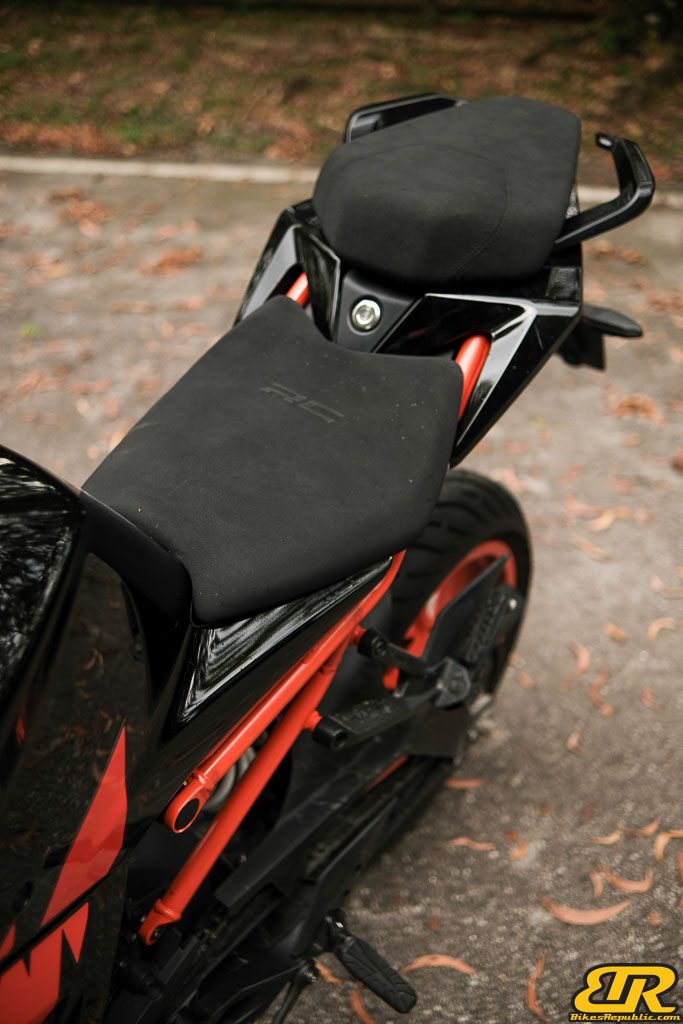 Top speed is another aspect that comes under occasional criticism. Rated at 137km/h, top speed is good enough for highway cruising without compromising on comfort and safety, which is ultimately what is important for KTM. And besides, the bike has racing in its DNA, and we all know that a race is won in corners and not in a straight line.
But most importantly, the RC 200 is the most powerful in the 200cc range of bikes. It partially achieves this through the clever use of a larger airbox that is 40% bigger than its rivals. This is important for power production, as the more air that goes in, the better the engine breathes, and you get better power delivery.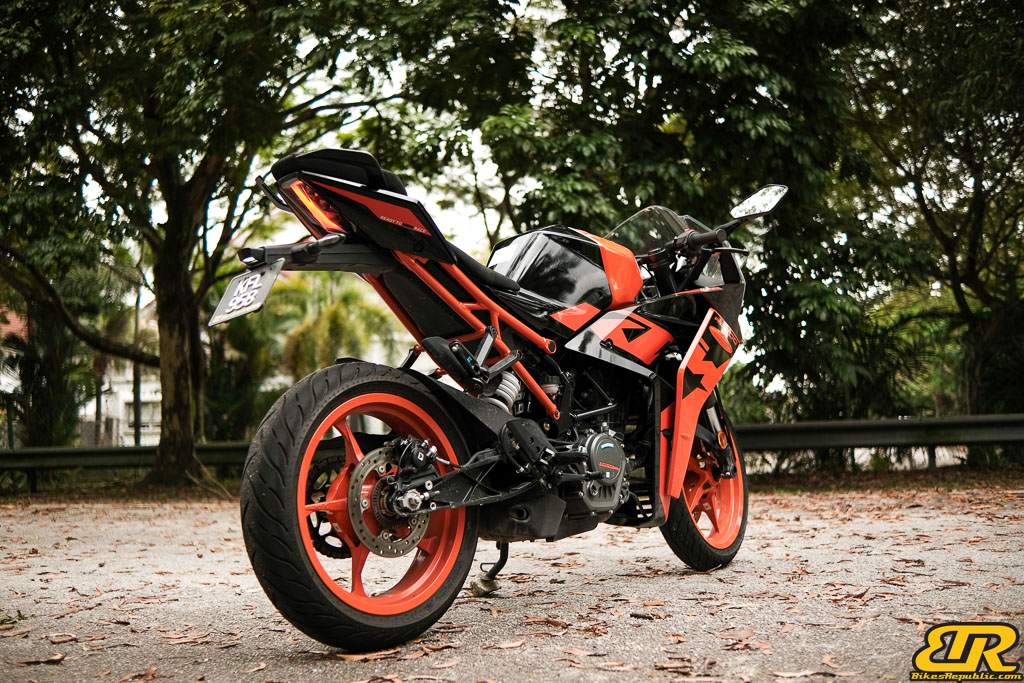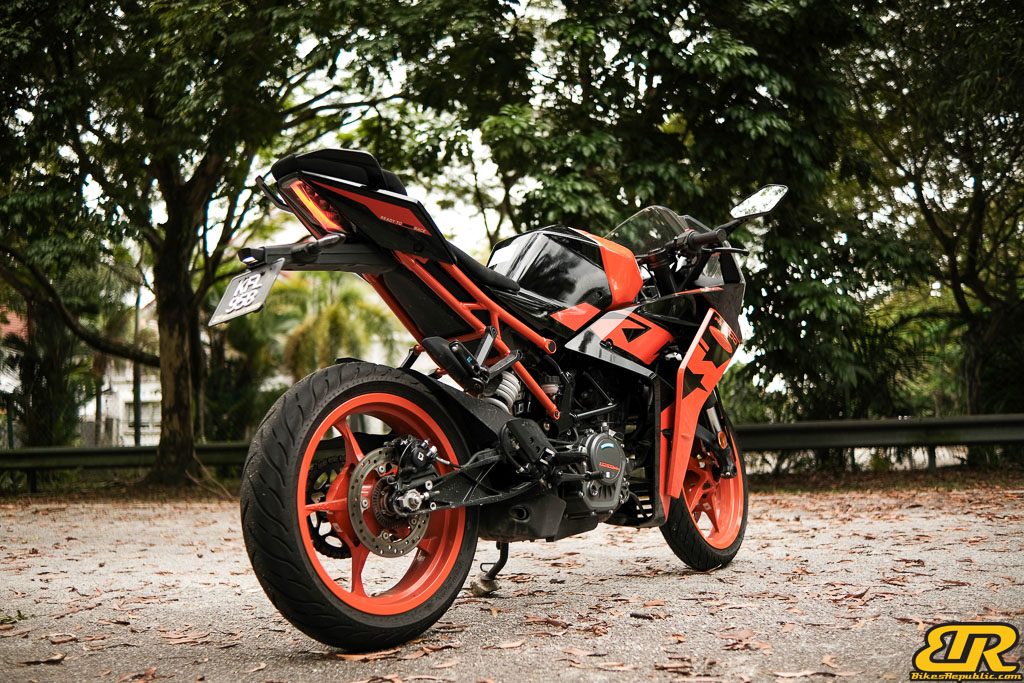 However, the RC 200 is not all about performance alone. It is also a friendly commuter if you so wish. The volume of the fuel tank for example has been increased to 13.7-litres from 9.5-litres before. This gives it better range which means that you can also go touring with your riding buddies if you wanted to.
But buying a RC200 is one part of the journey, owning it over a couple of years is a completely different thing. And this is where the RC 200 excels again. With most bikes in its class having a short service interval, the RC 200 has a service interval of 5000km. This is perfect for those who are looking to trade up to a sports bike from a moped as it will provide for longer service intervals and thus making the RC 200 easier on the wallet over the long term.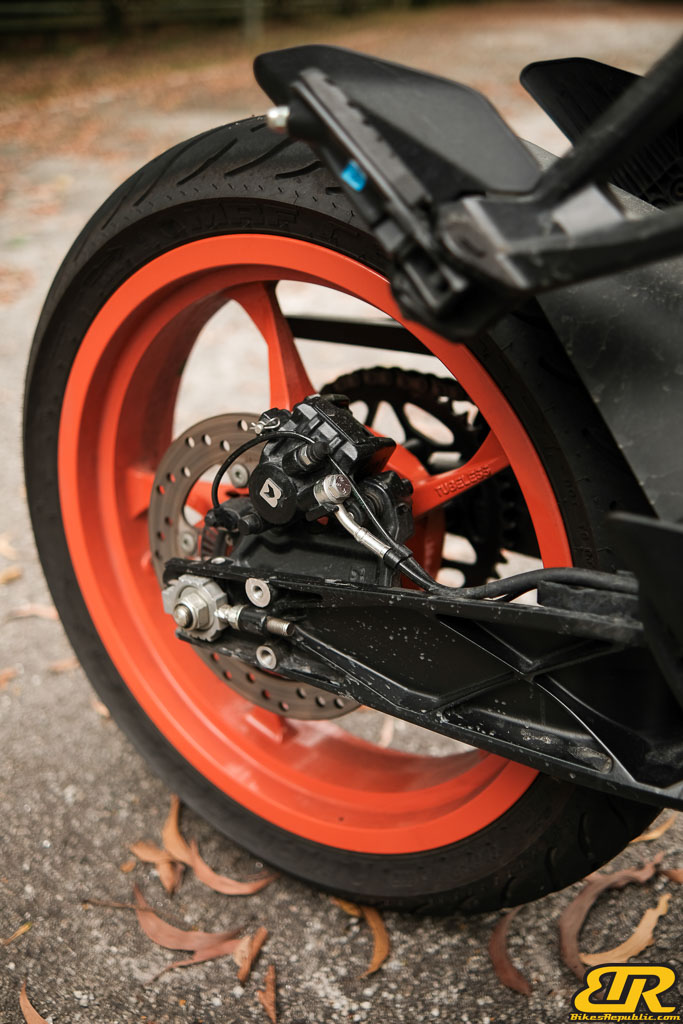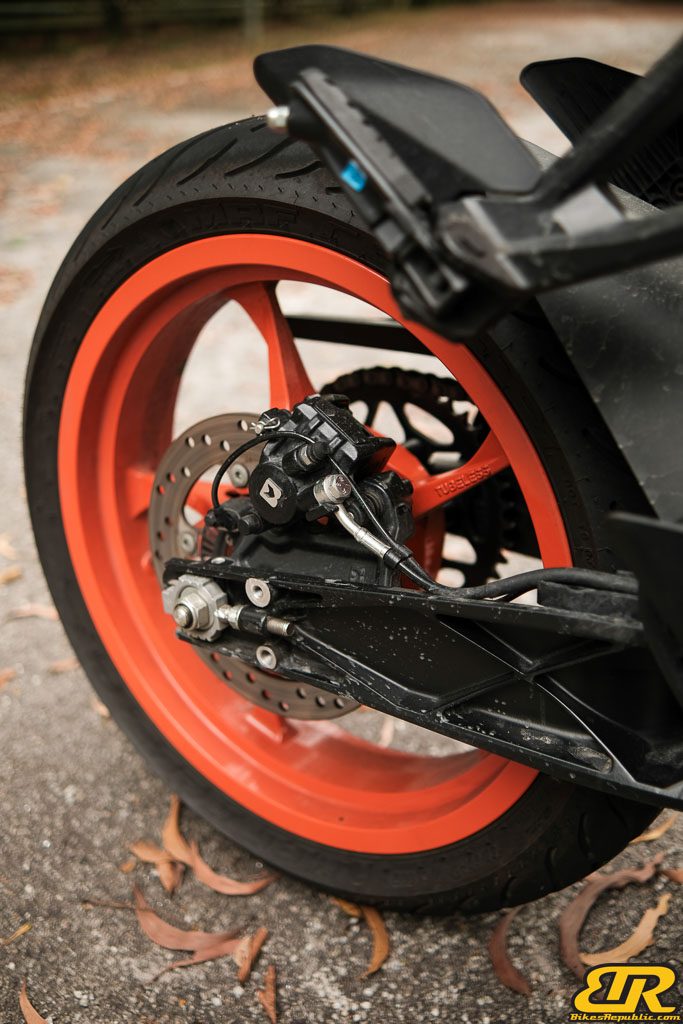 All of the above does not matter though if the RC 200 did not prioritise safety. You can have a fast bike but what is the point of that if it did not stop as fast? Providing stopping duties are a pair of four piston ByBre calipers.
Provided by legendary brakes manufacturer Brembo (hence the name, By-Brembo), a four-piston caliper grip a single 320mm disc up front while a single-piston caliper manages a 230mm disc at the rear.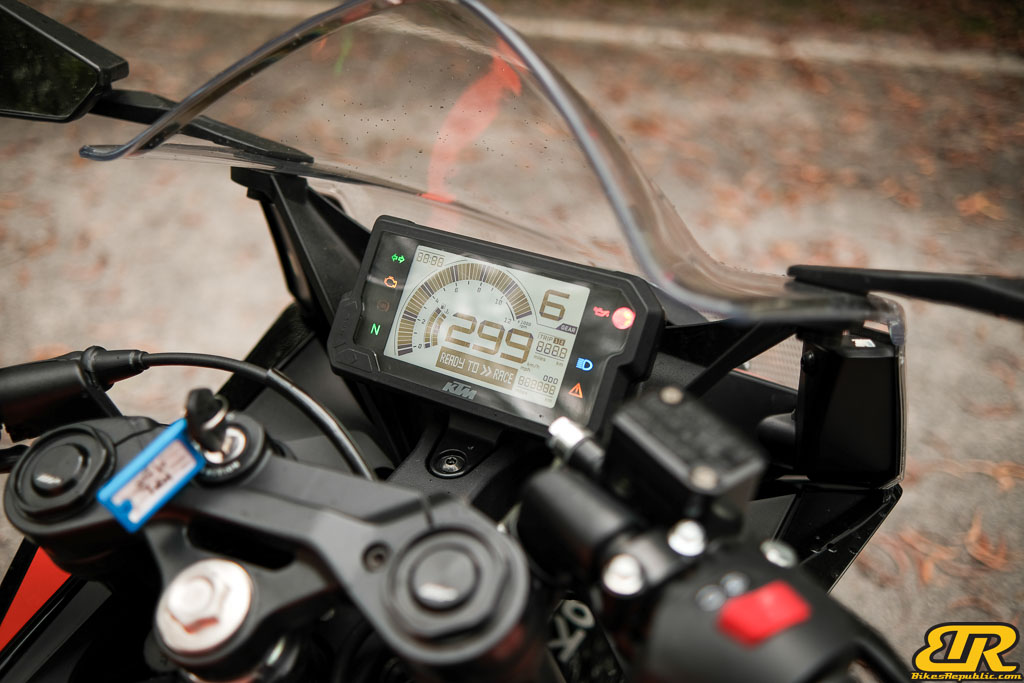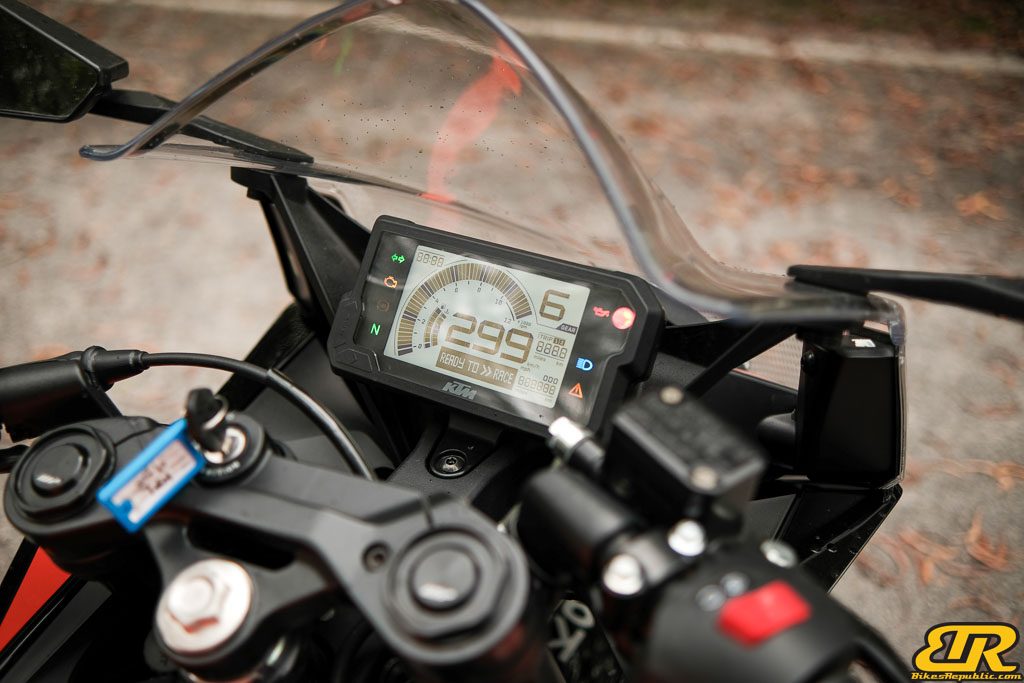 The big discs are great for heat management, which means that you can have some serious fun with the RC 200 without worrying about brake fade. And if you are the type that likes to brake late and hard, you will be happy to know the RC 200 comes with dual-channel ABS provided by Bosch.
Not only that, the RC 200 also has a Supermoto mode that lets you switch off ABS-interference and slide the rear wheel. A slipper clutch is also on duty to help you manage the rear wheel.
Now with the KTM aspiRC campaign, this is the best time for you to fulfil your aspirations of owning an RC 200.