In a thrilling display of power, precision, and fanfare, Triumph Motorcycles unveiled their eagerly awaited 250cc motocross bike at the SuperMotocross World Championship Final held at the iconic Los Angeles Memorial Coliseum on Saturday, September 23, 2023.
Spectators at the event were treated to a spectacular show as two new Triumph motocross bikes made a grand entrance, accompanied by a dazzling array of pyrotechnics and fanfare that left the audience in awe.
The event marked the public debut of the production-specification motocross bike, generating immense excitement and anticipation among the motocross community.
The honor of piloting Triumph's new motocross machine fell to none other than Jeff 'Six Time' Stanton, a legendary figure in the motocross world who clinched his last championship victory at the Coliseum.
Stanton, who currently serves as the manager of Triumph's Adventure Experience in the United States, demonstrated the bike's capabilities with finesse and enthusiasm. Joining him was motocross icon Ricky Carmichael, often hailed as the Greatest of All Time (GOAT), who showcased a bike featuring his unique graphics and non-standard specification components.
A significant announcement came during the event, as the date for the full reveal of the new Triumph 250cc motocross bike was unveiled on giant screens within the stadium. Enthusiasts and fans can mark their calendars for November 28, 2023, when all the details about this exciting addition to the motocross world will be unveiled.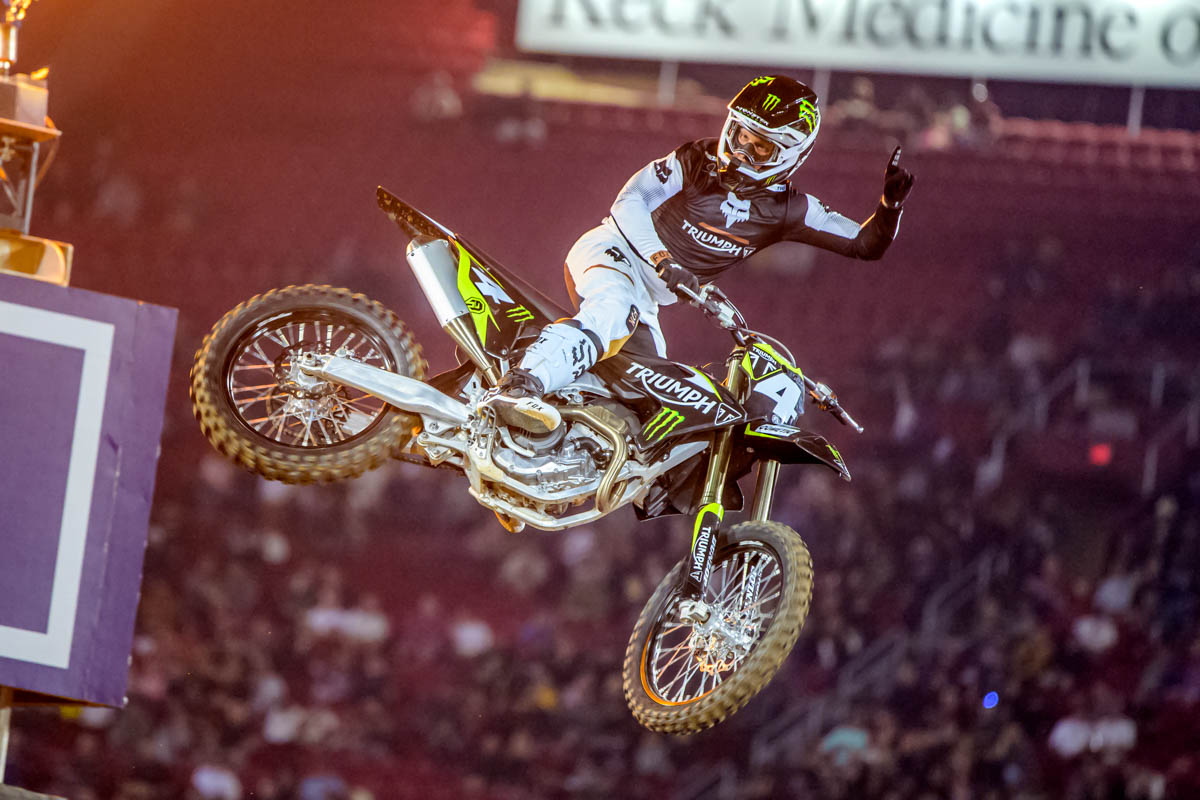 Speaking to his fellow commentators after his exhilarating ride, Ricky Carmichael expressed his enthusiasm, saying, "I'm so happy to finally show the fans what we've been working on for the past 4 years. The bike feels great, it looks great, and it's fast. I'm really pleased with what we've delivered, and I can't wait until we can share the final details on November 28th."
Jeff Stanton, reflecting on his triumphant return to the Coliseum aboard the Triumph, commented, "The Coliseum is a special place for me, and to be back here on the Triumph is an absolute honor for me. The new graphics look like nothing else in the paddock and give the bike a really sharp and distinctive new look that I think the fans are going to love."
In conjunction with the bike's unveiling, Triumph also launched its brand-new Triumph Racing website and social media channels. To stay updated on all the action and developments, enthusiasts are encouraged to follow Triumph Racing on Instagram and Facebook under the handle @OfficialTriumphRacing.