The 2018 Triumph Street Triple 765 RS was officially launched with two other variants last August.
While we know that the Street Triple 765 RS is a perfect track day weapon, how it performs with everyday riding is also being considered.
The 2018 Triumph Street Triple 765 RS is priced at RM66,900 (basic price with GST).
It was late last August when Triumph Motorcycles Malaysia officially launched the latest generation naked bike series, the 2018 Triumph Street Triple 765. The media test ride was conducted at the Sepang International Circuit (SIC) to allow some media members to have a go on what the bikes are all about.
https://www.youtube.com/watch?v=RESSqsOxkEY
The Malaysian market has been blessed with three different variants of the new Street Triple which are the base Triumph Street Triple 765 S, mid-range Triumph Street Triple 765 R LRH (Low Ride Height), and the top-of-the-line Triumph Street Triple 765 RS.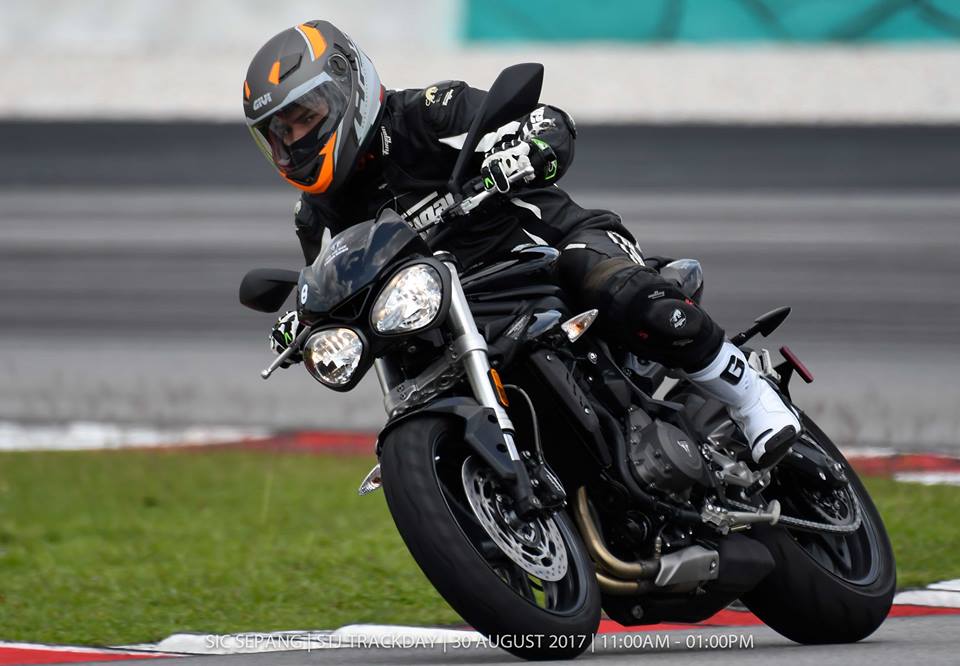 This particular writer got to experience the Street Triple 765 RS first before any other model and was only able to clock in about three laps before the track day session was red-flagged. As we waited for things to return to normal, the timing moved us onto the base-level Street Triple 765 S shortly after.
Although the Triumph Street Triple 765 S was exciting enough to go for some decent laps around SIC, it was meant for everyday riding for daily commuters who are looking for that something spectacularly extra to and from the workplace. At the back of my mind, the RS gave quite an astounding impression as the perfect track day weapon even with that limited amount of time on the saddle.
Last month, Triumph Motorcycles Malaysia granted us a second chance to truly experience what the Street Triple 765 RS is all about. A big thanks to Dato' Razak al-Malique, Chief Operating Officer of Fast Bikes Sdn Bhd (Triumph Motorcycles Malaysia) for making it happen.
Remembering my brief outing with the Street Triple 765 RS last year, the bike was etched in my mind as the ultimate middleweight track day machine capable of doing things normal riders wouldn't do out on the streets. It took most of us under two laps to familiarise with the bike's ergonomics, control, and power delivery before gaining some confidence to push a little bit more.
Given enough time that day, we're sure that many riders would be scrapping their knee sliders on the asphalt faster than you can say "Wow, can knee down ah this bike!" In the present, the thought of the Street Triple 765 RS being able to perform well as a daily machine was a bit sceptical since most track day beasts are not exactly bred for normal everyday riding scenarios.
After a number of days riding as much as possible, we can honestly say that the RS is more than capable of handling the normal duties of a daily form of transportation but the probability of squeezing that throttle equipped with Ride-by-Wire is very, very high. Opening up the gas and flying down the open road was like the first time we saw the Hulkbuster Iron Man armour; Powerful, electrifying, and endless exhilarating shivers throughout the body.
When you have a sexy 765cc, inline-three, DOHC, liquid-cooled engine producing 121hp at 11,700rpm and 77Nm of torque at 10,800 at your disposal, keeping things away from the "drop a gear and disappear" side is very hard to resist. In the track, getting it above 220km/h on the straights was a blissful experience and on the roads, cruising on highway speeds was enchanting.
(QUICK NOTE: This will be the same engine that Moto2 will be using starting next season in 2019.)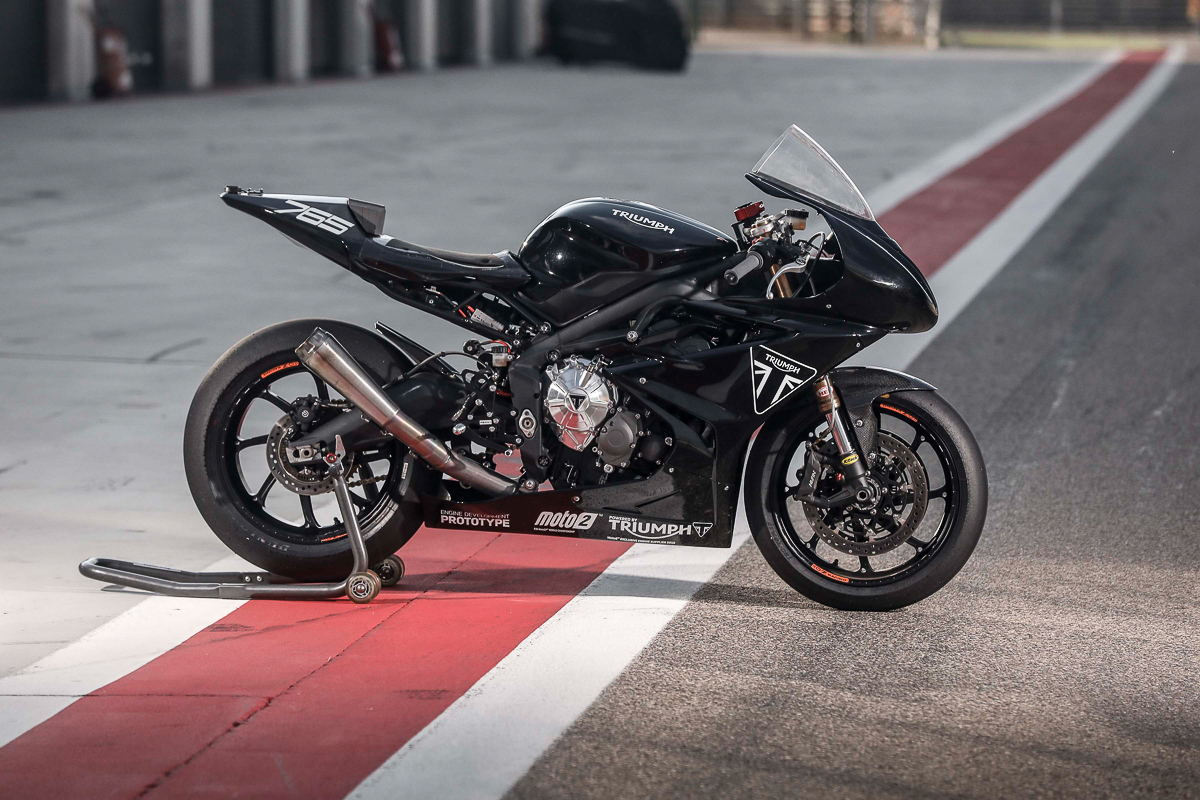 As for fuel consumption, we clocked it doing somewhere around the 5-litre/100km mark with all that hard riding thrown into the mix. In theory, it can go up to 348km for every full tank of fuel (17.4 litres) but us being able to reach 300km before we had to stop to refuel is already very commendable for a performance-oriented bike.
To make things even more delicious, a quickshifter comes as standard for this variant and accelerating from traffic lights is a thing of beauty without any of that overwhelming sensation you would normally get from this kind of bike and power output.
All that power is driven down to its rear wheel via a slip-assisted six-speed transmission. Gear transitions are smooth, quick, and gentle even with all that torque. Another great thing about the RS is that it comes ready with some serious rubber attached to its 17-inch wheels which are the Pirelli Diablo Supercorsa SP.
This was one of the major factors as of why we had so much fun on the tracks last year and also some good weekend rides up and down mountain roads. There's not a lot of weaknesses that can be said about the Street Triple 765 RS except for the tyres which won't last very long for daily commutes. This might lead to a much worn middle section while the sides remain crisp and still very grippy state.
With that being said, the base Street Triple 765 S offers a much friendlier option for those wanting the same package at a more affordable price. At RM52,900 (basic price with GST), it's a tad lower than the RS which comes at RM66,900.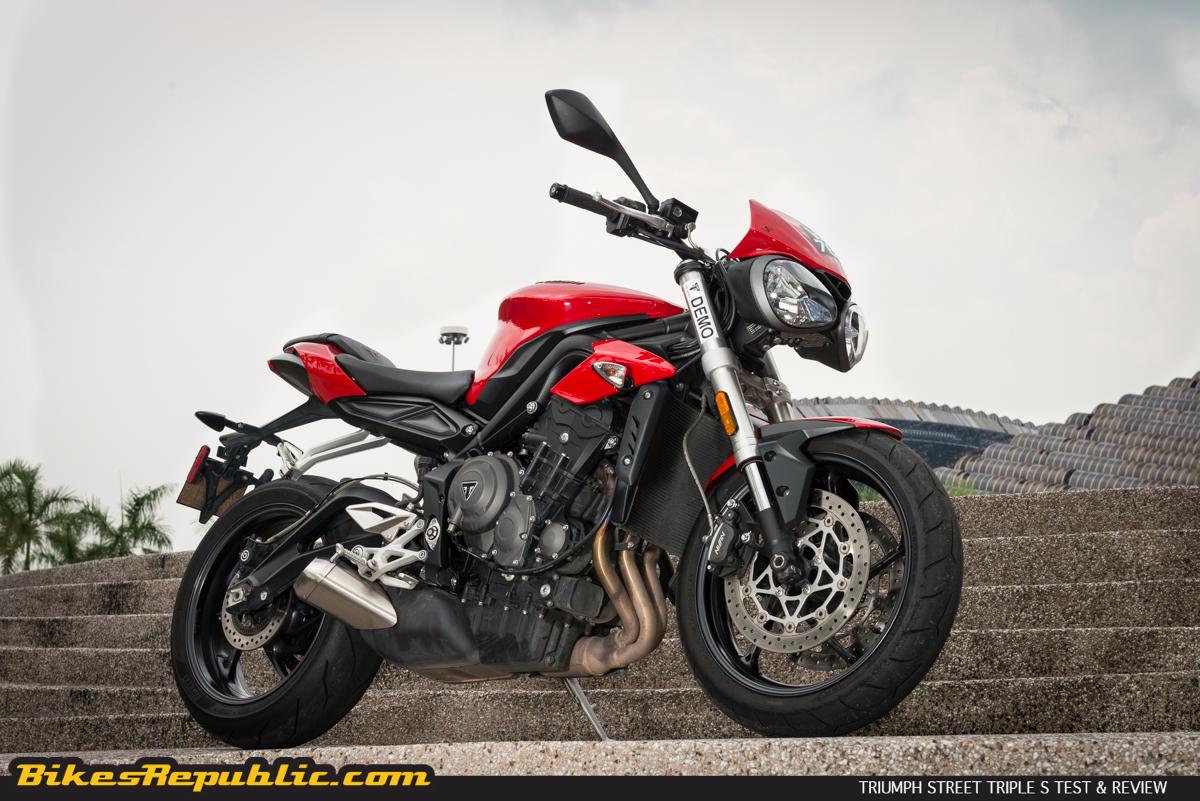 The extra 14K does make a lot of difference especially with some lovely extra like a fully-adjustable 41mm upside-down Showa Big Piston Forks, fully adjustable Ohlins STX40 shock with piggyback reservoir, twin 310mm front Brembo M50 four-piston radial monobloc calipers, and a single 220mm rear Brembo single-piston caliper just to name a few.
The result? A suspension package that is so versatile that it caters to any sort of rider, riding style, and road conditions. The brakes are super responsive and allow great lengths of modulation according to how to the rider likes it. This makes the RS particularly enjoyable in the braking department as much as how fun it is blasting off from traffic lights. If agility is the name of the game, the RS wins it by a mile.
Again, great performance requires some sacrifice in the durability department. In short, the brake pads won't last as long as the ones designed for everyday use like the package available on the Street Triple 765 S. That's the price of performance and you'll have that in abundance with the RS.
As one of the top performance naked bikes in the world right now, riding ergonomics can be said to be quite comfortable apart from a slightly higher seat height. While this allows for a slightly more aggressive riding stance compared to the S, the RS is still very much a good machine to ride even when going through endless traffic jams in congested cities.
We would say that weight distribution is evenly displaced across the machine even if your arms are slightly stretched out to reach the handlebars. The fuel tank's design allows for optimum grip using your lower half of the body and with a decent core strength, it's actually quite hard to exhaust your arms when riding the RS.
Working the clutch is never tiring and modulating the throttle can be as forgiving as you need it to be (provided that you leave it in the normal Road mode). There are five different riding modes in total; Rain, Road, Sport, Track, and Rider Programmable. Like we said earlier, the RS is perfect for any riding condition (apart from off-road, of course. To have some fun in the dirt, get the new 2018 Triumph Tiger 800 XCx. You can thank us later.)
Keeping it in Road or Rain modes will have higher levels of electronic intervention from its traction control, throttle sensitivity, and power delivery which are noticeable in the first two gears. The RS is very forgiving especially for newer riders when engaged in these two modes but once you're used to how it handles, kick it up a notch by engaging Sport mode to make things a bit firmer which is particularly useful when you head out of the city and onto winding roads.
Track day enthusiasts would appreciate this Sport mode but those who are regulars at the circuit can opt for the one mode that is not available on the R and S models; Track mode. We did have a short taste of how it felt last year in Sepang as it allows better performance under heavy braking and sudden acceleration. It allows the rear tyre to slip upon exiting corners and less rear wheel lift mitigation once you bite down hard on the front brake. So much fun, this bike.
(QUICK NOTE: For professional riders, there's also the 'Rider' mode which allows complete customisation of all the electronic riding aids.)
Switching from one mode to other along with other settings like ABS and traction control can be done with five-way joystick control connected to its eye-catching five-inch full-colour TFT display. There's no better way of saying how it looks apart from comparing it to an Apple iPad. Yes, ladies and gentlemen. It's truly that beautiful to look at.
A good mixture of aggressive and smooth lines makes the RS one beautiful bike to drool over even at a standstill. Paired with that Matte Silver Ice colour option, you know you have the right bike when you stop to admire it once you're done riding (which we did, more frequent than you think).
All in all, the price of RM66,900 (basic price with GST) is actually a bargain considering all of the pieces of equipment that are usually found on high-end superbikes ranging over RM100,000. The 2018 Triumph Street Triple 765 RS is a master of track days but also a tamed machine for the everyday man. In other words, this baby is both the Beauty AND the Beast.
First Ride: Triumph Bonneville Bobber Black, Tiger 800 XCX, Tiger 800 XRX