Shafiq Rasol crowned as Malaysian hero after taking maiden Shell Advance Asia Talent Cup series win on home soil in Race 1.
The Jalur Gemilang has finally flown on the top spot of the podium in the Shell Advance Asia Talent Cup series today after Shafiq Rasol took his maiden victory in Sepang for Race 1 of the sixth and final round today.
Despite having settled to start from fifth place on the grid following his crash in qualifying yesterday, Shafiq's determination paid off handsomely. Throughout the race, Shafiq kept himself in the lead group in the 13-lap race, battling against three Japanese riders – Kaito Toba, Yuta Date, and Takuma Kunimine.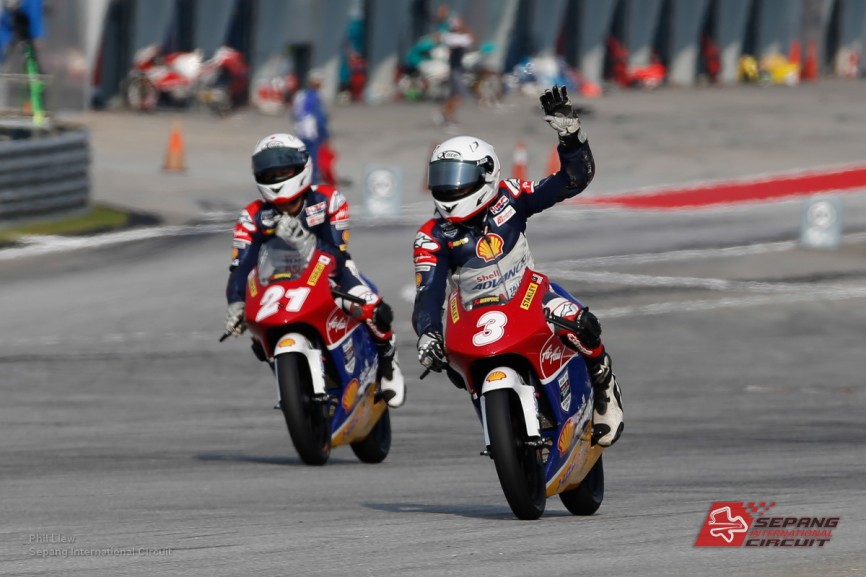 Alas, in the final corner on the last lap, it was Motegi all over again as both Date and Toba again made contact, forcing both to go wide and opening the gap for Shafiq and Kunimine. It was a four-way fight down the straight after that towards the chequered flag, but it was Shafiq who crossed the line first ahead of Toba in second, Date in third, and Kunimine in fourth.
Whilst the four-way battle for the lead kept everyone at the edge of their seats, Malaysian rider 'Ayoi' Nazirul Bahauddin and pint-sized Japanese counterpart Ayumu Sasaki were forced into retirement. Ayoi was the first to go in the opening lap, high-siding out of Sepang's ill-fated Simoncelli corner. Sasaki also suffered the same fate on Lap 7, high-siding on the exit of Turn 10 into the gravel.
Further down the order, Malaysians Fakhrusy Rostam and Adam Norrodin finished the race in sixth and eighth respectively, making them the only other two of the seven locals to make to top ten aside from Shafiq.
"When I saw Date and Toba touched, I knew this was my chance," said Shafiq when we spoke to him shortly after the race. He added, "I feel extremely happy now that I've done my country proud by winning. I will do my best again in Race 2 tomorrow and push as hard as I did today."
Although missing out on a chance to claim a win and perhaps some well-needed points, Toba was pleased with the day's result. "I was thinking of overtaking Date in the final hairpin, but I pushed too hard and forced both of us wide," admitted Toba. Toba continued, "For the sake of the championship, I scored some points today and I am happy. I will now focus for Race 2 tomorrow."
Unlike their previous 'last lap last corner' drama in Motegi, both Toba and Date managed to salvage podium finishes this time round. Describing the moment, Date stated: "Of course, today was a hard race for me. But, we manage to improve our time and pace here as compared to our last outing here."
Race 2 will take place at noon tomorrow just before the scheduled Moto3, Moto2, and MotoGP races.