The 2015 instalment of the Shell Advance Asia Talent Cup is proving to be one of the most exciting two wheel races.
In Thailand we saw multiple riders battling out for a podium finish until the last lap.
In Qatar for Round 2, Race 1, we saw up to four riders duking it out until the finish line. Just forty-three thousandths of a second separated the top four. You don't even see that happening in MotoGP or any other race in the world for that matter.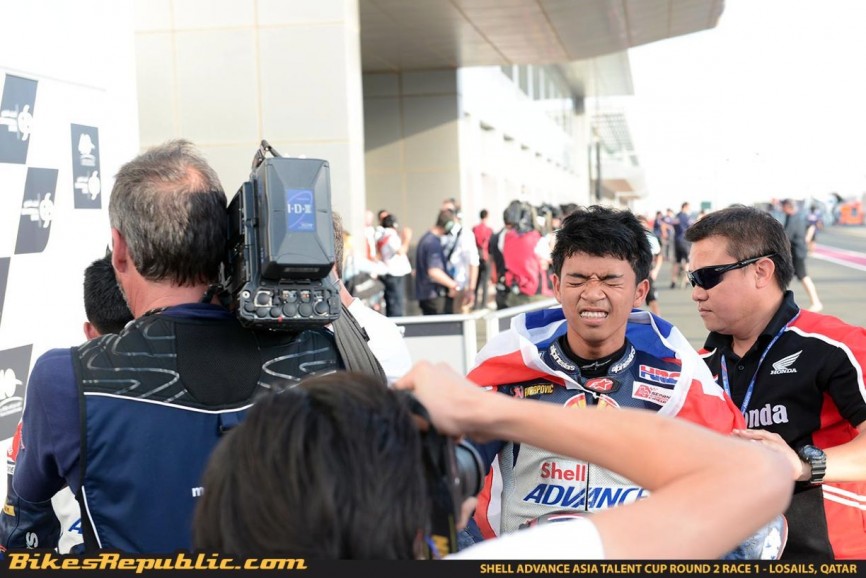 The 14 lap race saw a group of nine riders break away from the rest of the field, with pole sitter Atiratphuvapat and Sasaki dicing at the front, as well as Japanese rider Masaki, who was the first to set a fastest lap, which also lowered the SAATC track record by 1.7 seconds.
Strong winds however brought top speeds down, which also meant that riders could not match the qualifying times they had set.
There was some drama when Malaysian riders Azman and Rostam crashed out of the leading group under braking at the first corner.
Rostam got on the brakes a little too late than expected, and ended up crashing into Azman. Rostam's bike was also damaged beyond repair, which means he will be racing on a new bike for Race 2 today. Both riders walked away uninjured.
The leading group of Atiratphuvapat, Izdihar, Chantra, Kunimine, Masaki and Sasaki were constantly swapping positions and at times were six-wide in the braking zone. It was clear the race would come down to the very last corner.
On the last lap Sasaki made a break, with only Masaki sticking with the leader, but one of the characteristics of the Losail circuit is the long home straight, with the finish line a long way from the final corner. This means that the rider who exits the final corner first, is often not the one to take the race win as riders have a chance to take advantage of each others slipstreams.
So it was on this occasion, with Sasaki leading out of turn 16 onto the straight and Masaki on his back wheel. They were so close as they approached the line that they actually touched, and in fact were overtaken by both Kunimine and Chantra, who seemed to come from nowhere, to knock Sasaki down to third.
Despite missing out on the race win, Ayumu Sasaki remains the leader of the Shell Advance Asia Talent Cup after Race 3 of the scheduled 12. The Japanese rider has a lead of 10 and 11 points respectively over Atiratphuvapat and Chantra.