Suzuki has ventured into new territory with the introduction of the GSX-S1000GX. Suzuki says the new machine represents the ultimate sports crossover by the company and marks its entry into the crossover sector that marks a departure from their traditional offerings.
One of the standout features of the GSX-S1000GX is its electronics package. Powered by a six-axis Bosch IMU (Inertial Measurement Unit) and equipped with electronic suspension from Showa, Suzuki says this motorcycle is designed to deliver an exceptional riding experience.
The GSX-S1000GX introduces the Suzuki Advanced Electronic Suspension (SAES) system, a first for the brand. With 150mm of suspension travel in the front and rear, it creates an upright riding position that enhances the rider's field of view and ensures all-day riding comfort. Moreover, the extended suspension travel excels at smoothing out bumps and imperfections on uneven surfaces.
SAES offers four selectable modes: hard, medium, soft, and a customizable user setting that allows riders to fine-tune the suspension according to their preferences. This level of adaptability ensures that the GSX-S1000GX can handle various terrains and riding styles with ease.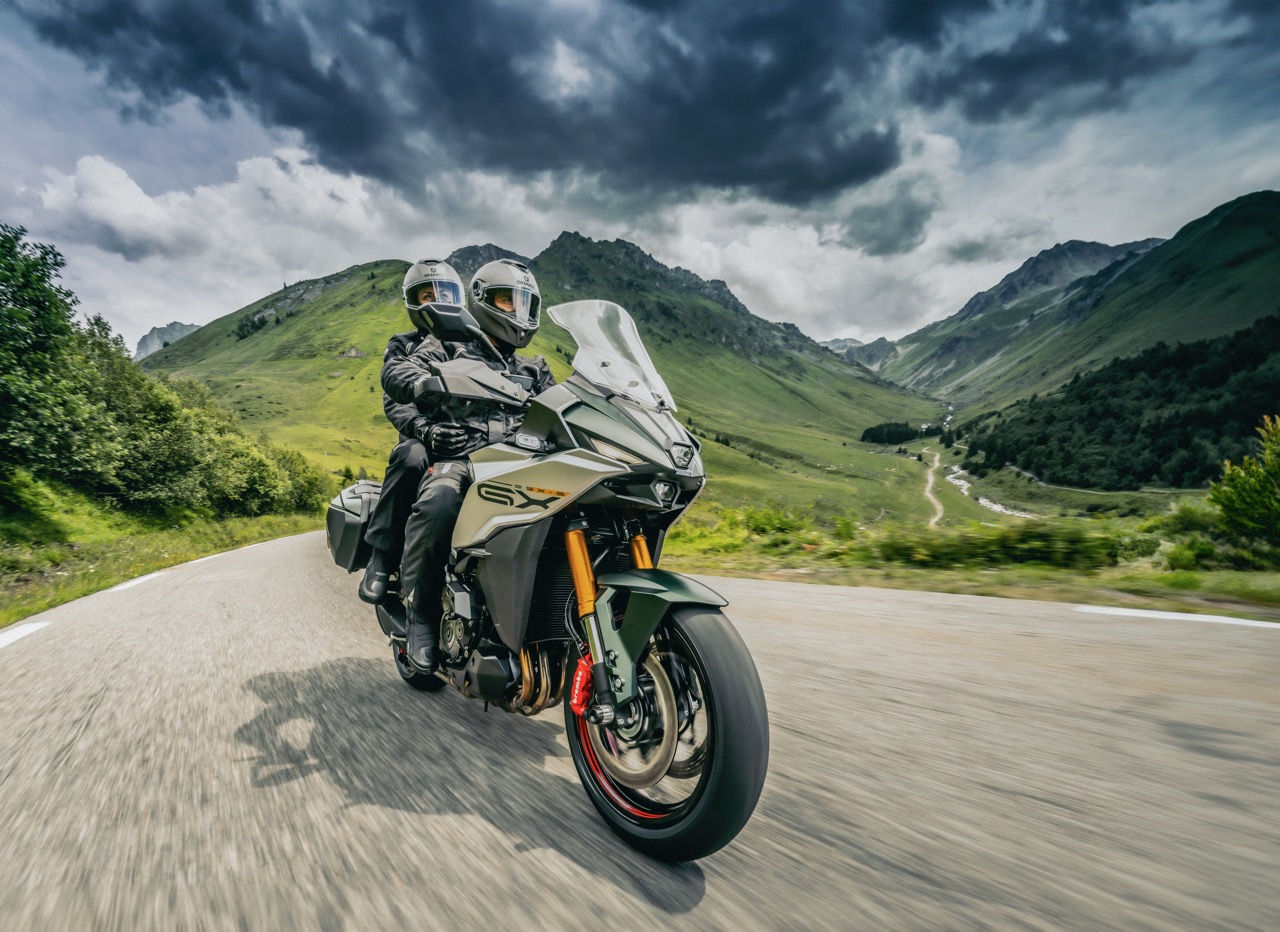 To further enhance ride quality, the Suzuki Road Adaptive Stabilization (SRAS) system is also added, detecting uneven road surfaces through input from the IMU and wheel speed sensors. When necessary, it activates the Suzuki Floating Ride Control (SFRC), which not only smoothens the ride but also adjusts electronic throttle valve settings for a gentler, more controlled throttle response.
The rear suspension's spring preload settings are electronically adjustable, offering riders the convenience of quickly switching between auto mode and four manually adjustable modes. These modes cater to single riders, single riders with luggage, or tandem riders, each with their specific preload settings for a customized experience.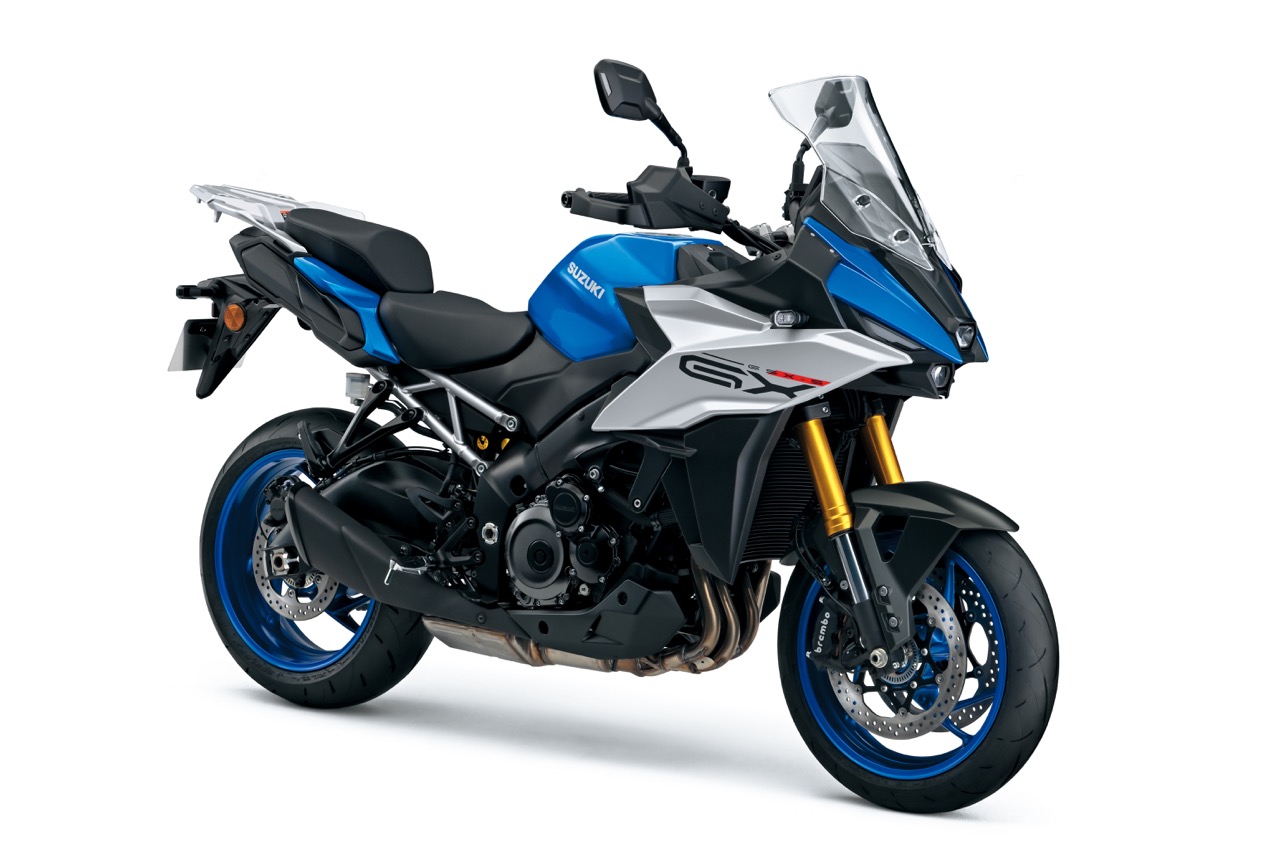 Adding to the GSX-S1000GX's versatility is the Suzuki Drive Mode Selector (SDMS-α), which provides three riding modes: active, basic, and comfort. These modes govern power output characteristics, traction control, integrated Lift Limiter (anti-wheelie), Roll Torque Control, and electronic suspension settings. Riders can stick with default settings or fine-tune them to match their unique riding preferences.
A notable debut on the GSX-S1000GX is Suzuki's Roll Torque Control, which calculates lean angles and speed to optimize power output and acceleration while cornering. Unlike traditional traction control systems that reactively cut power when wheel slip is detected, Roll Torque Control operates preemptively and smoothly, ensuring uninterrupted drive and reduced jerkiness during cornering.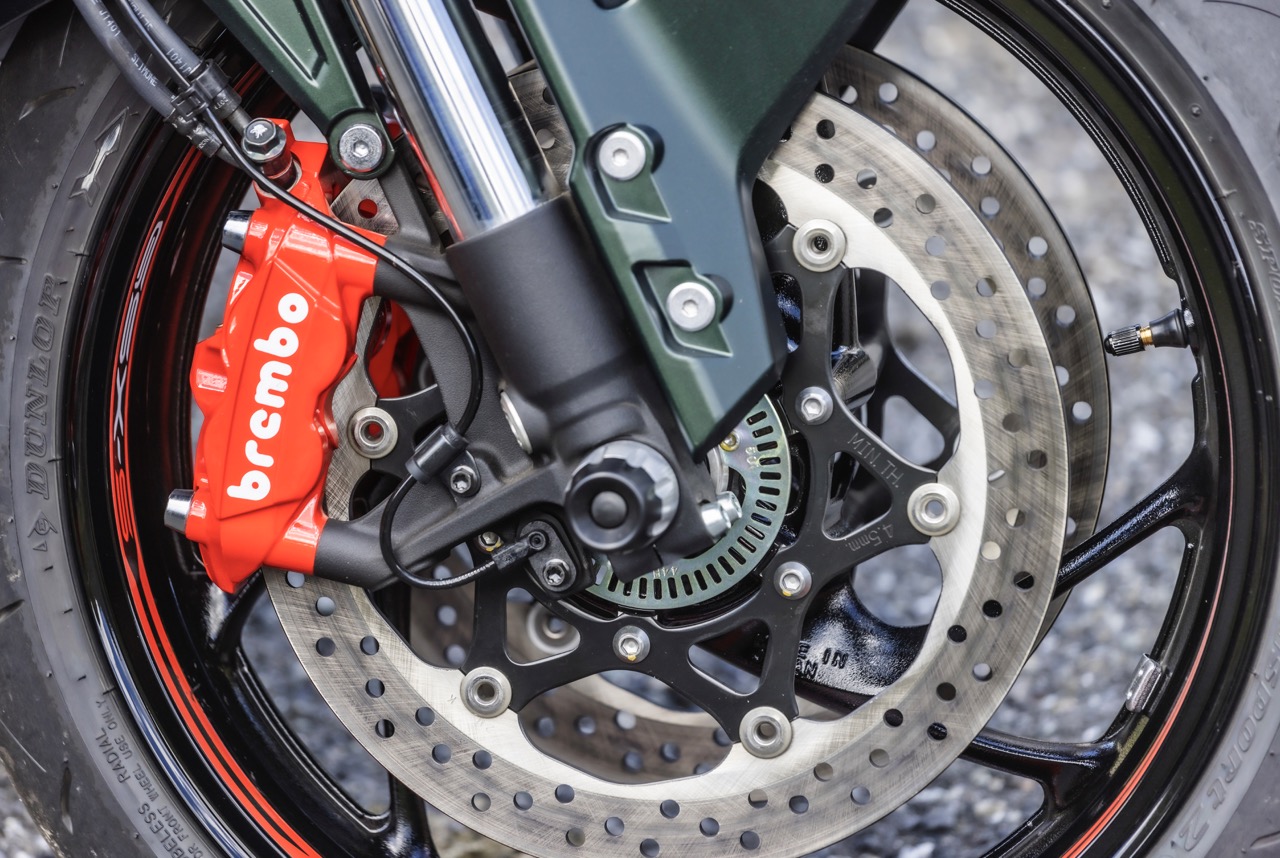 The motorcycle also features a ride-by-wire throttle, a bi-directional quickshifter, cruise control, lean angle-sensitive ABS, Slope Dependent Control to prevent rear wheel lift during downhill braking, easy start, and low RPM assist.
All of these electronic systems are monitored and controlled via a 6.5-inch color TFT screen that offers smartphone connectivity through the Suzuki mySPIN app. This feature allows riders to access maps, view contacts, make and receive phone calls, access their calendar, and enjoy music on the go. Charging your phone is made convenient with a USB socket located on the instrument cluster.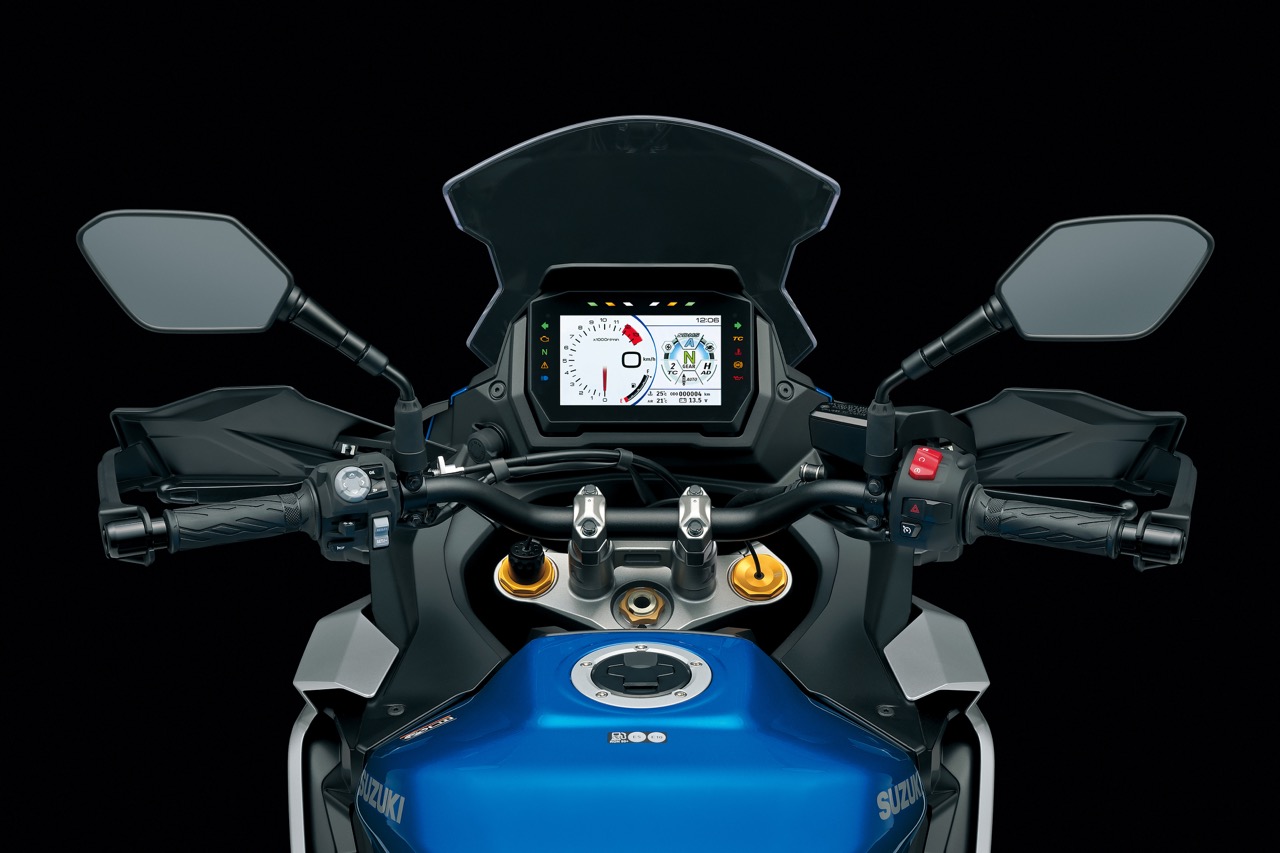 Powering the GSX-S1000GX is Suzuki's signature 999cc inline four-cylinder engine, derived from superbike technology. Known for its impressive low-end and midrange power, it delivers 152PS at 11,000rpm and 106 Nm of torque at 9,250rpm. This engine is nestled within a twin-spar aluminum frame, coupled with a race-proven aluminum swingarm from the GSX-R range and a lightweight subframe.
The GSX-S1000GX doesn't just impress with its performance and technology; it also showcases aggressive new bodywork and features full LED lighting both front and rear. The addition of hand guards and a spacious luggage rack enhances practicality, and the motorcycle's luggage capacity can be further expanded with genuine accessory 36-liter panniers.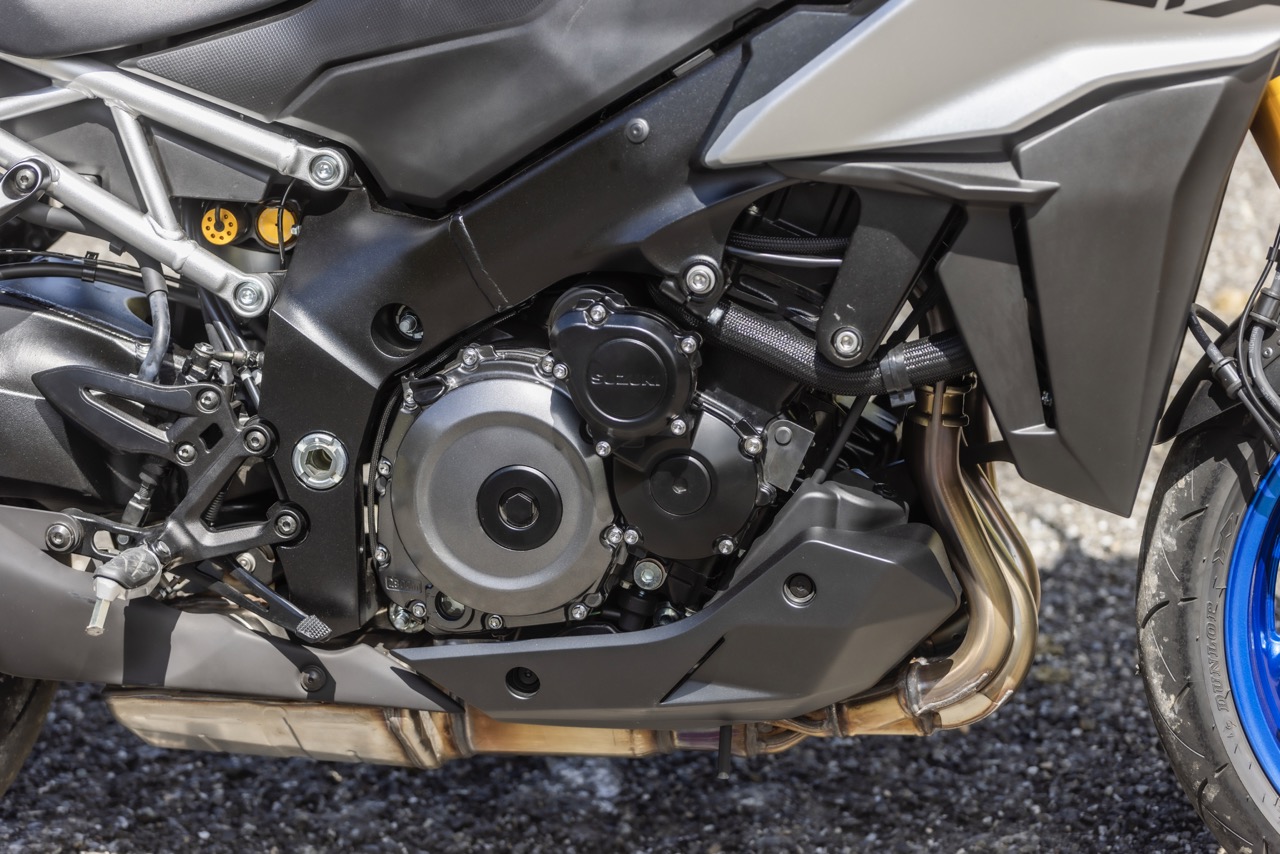 The GSX-S1000GX comes in Suzuki's trademark Metallic Triton Blue, Glass Sparkle Black, and a new and captivating Pearl Matt Shadow Green.