In an exciting revelation for motorcycle enthusiasts and eco-conscious riders, Kawasaki has officially introduced its inaugural electric motorcycle models, the 2024 Ninja e-1 and Z e-1, marking a significant foray into the realm of electric mobility within the United States.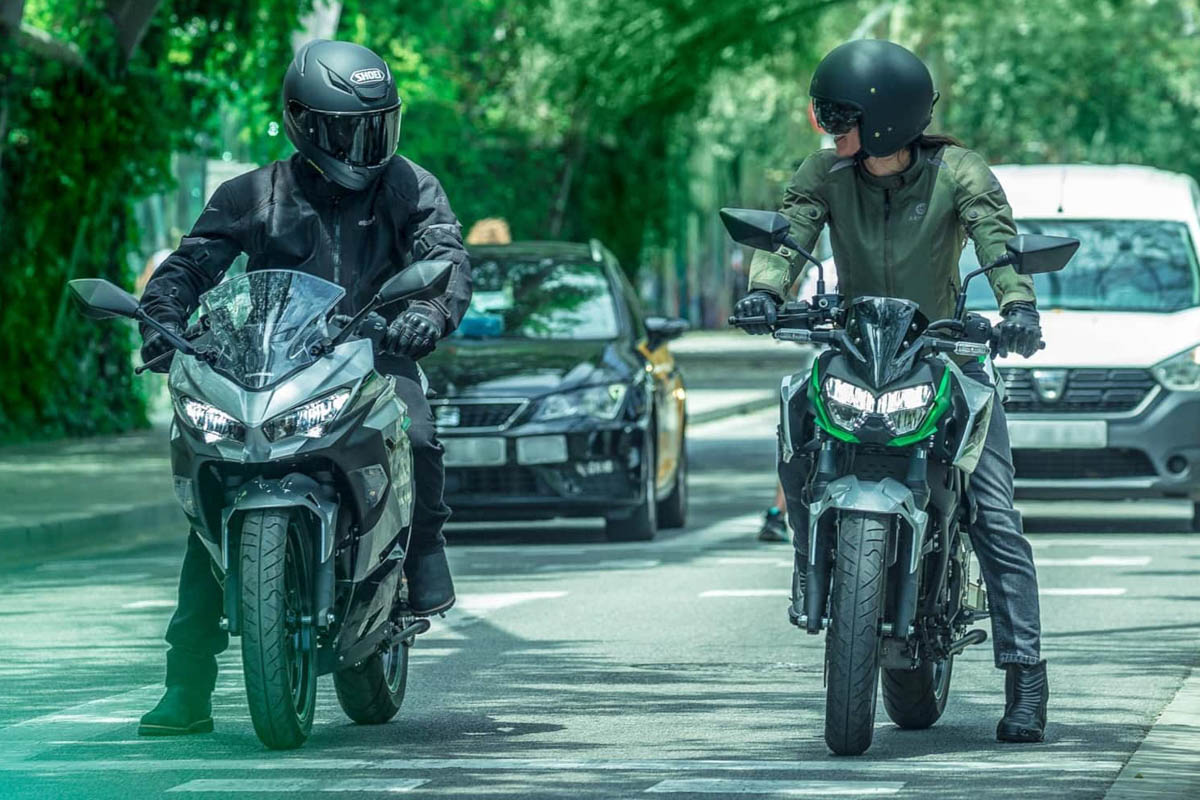 Design and Performance
Visually, the Ninja e-1 and Z e-1 seamlessly blend with the distinctive design language associated with their respective lineages, maintaining the iconic styling cues of their Ninja and Z families.
Beneath their striking exteriors, both motorcycles are equipped with a 5-kilowatt (approximately 6.7 horsepower) interior permanent magnet synchronous electric motor capable of delivering a peak power output of 9 kW (about 12 hp).
Furthermore, these electric bikes incorporate regenerative energy during deceleration, an attribute common among electric motorcycles, eliminating the need for a clutch.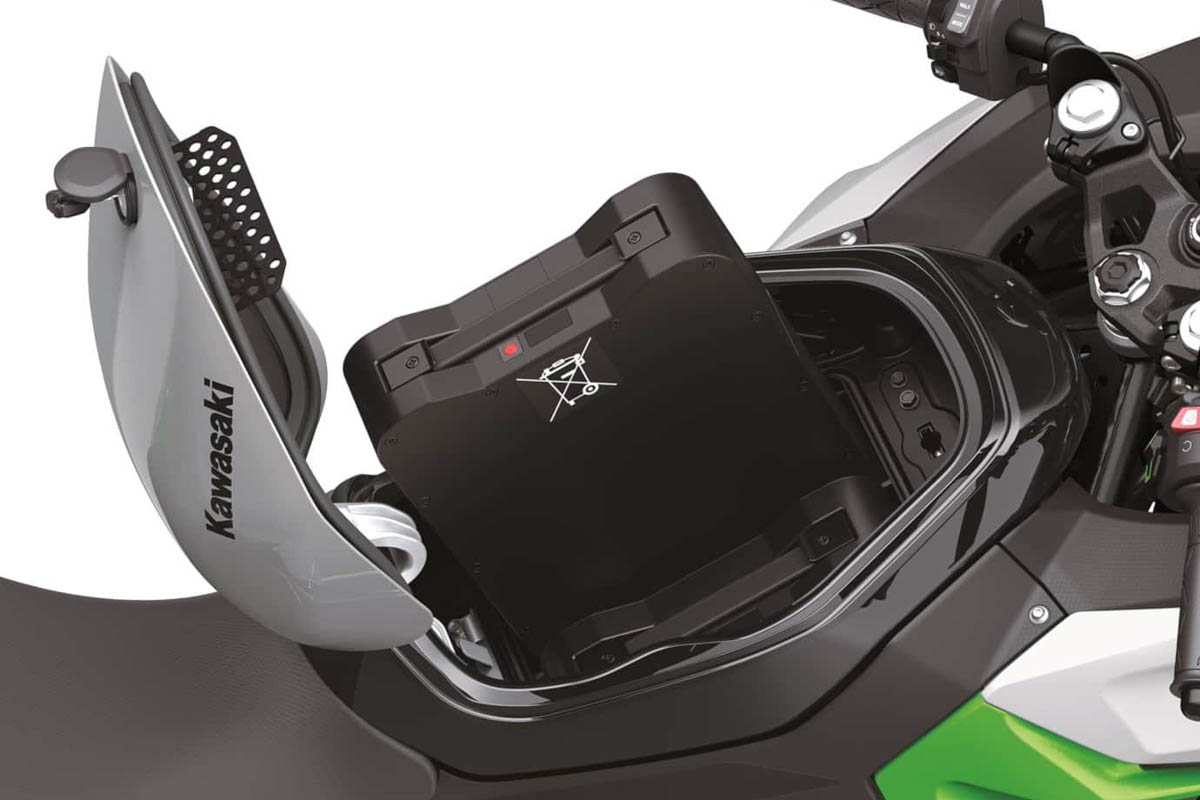 Battery and Charging
Powering the 2024 Kawasaki Ninja e-1 and Z e-1 are two removable 30 amp-hour battery packs, offering riders convenience and versatility. Charging these batteries can be achieved through three distinct methods: direct connection to a standard household outlet, utilization of a dedicated docking station, or plugging the bike itself with the batteries in place.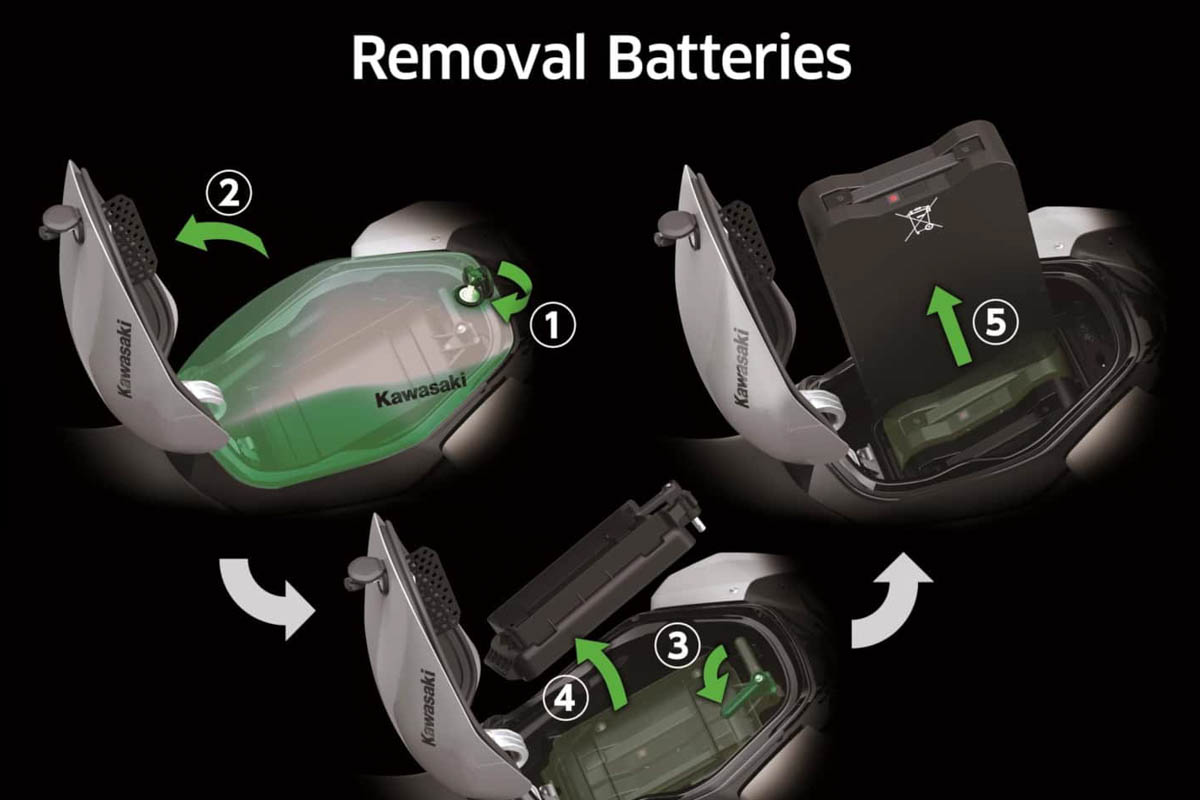 A full recharge of each battery pack is estimated to take approximately 3.7 hours. Additionally, a separate 12-volt battery supplies power to the lights and instrument cluster, mirroring the conventional setup found in combustion-engine motorcycles.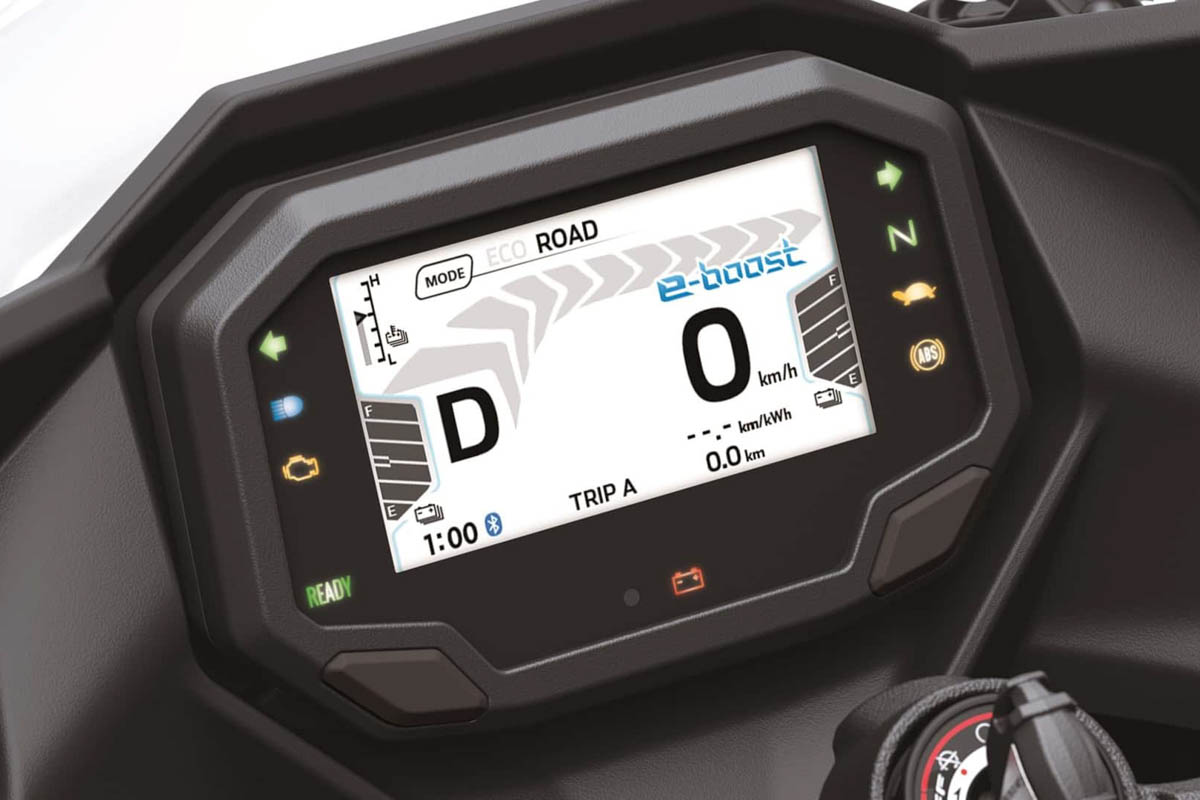 Range and Performance
Kawasaki provides an estimated range of 72km on a single charge for both models, taking into account usage in Road mode without engaging the e-Boost feature. It is important to note that real-world range can vary due to factors such as rider weight, wind conditions, terrain, and riding style.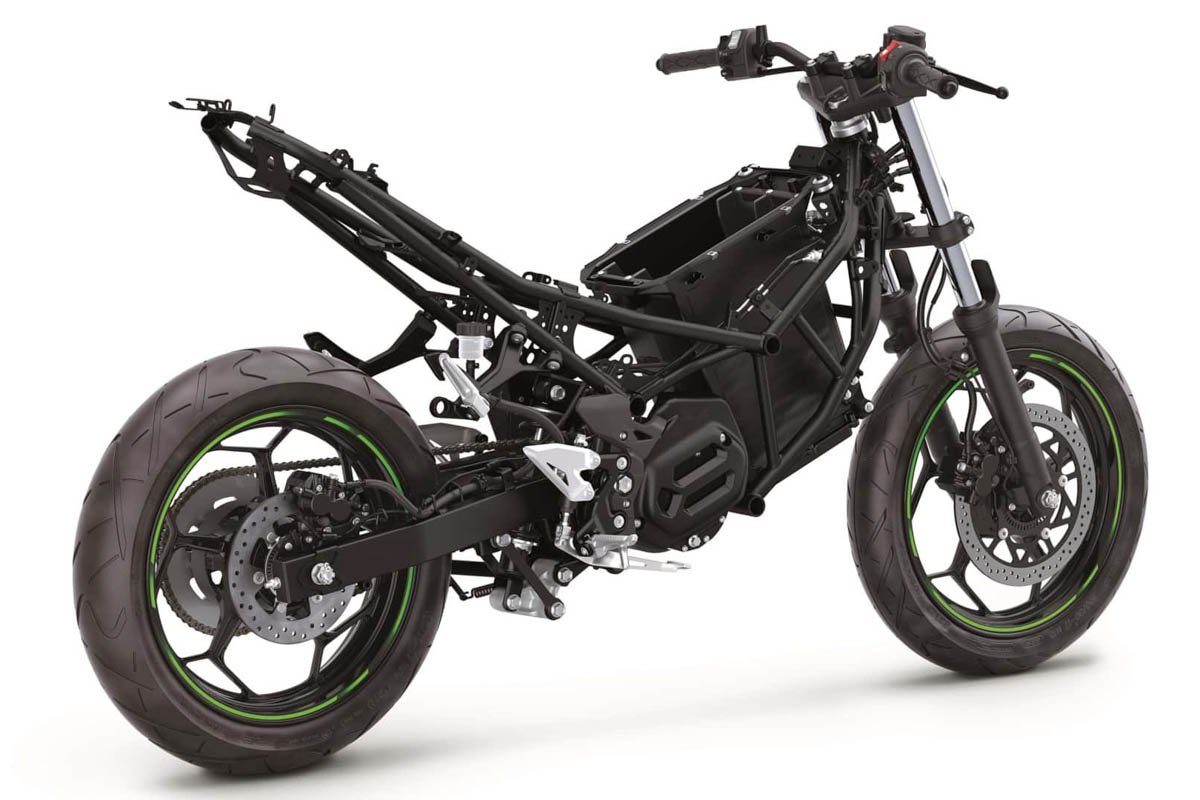 Chassis and Handling
Both the Ninja e-1 and Z e-1 feature a familiar steel trellis frame design and share common suspension components. The front suspension comprises a 41mm telescopic fork with 119mm of travel, while the rear utilizes a bottom-link Uni-Trak setup offering 132mm of travel and four-way adjustable preload.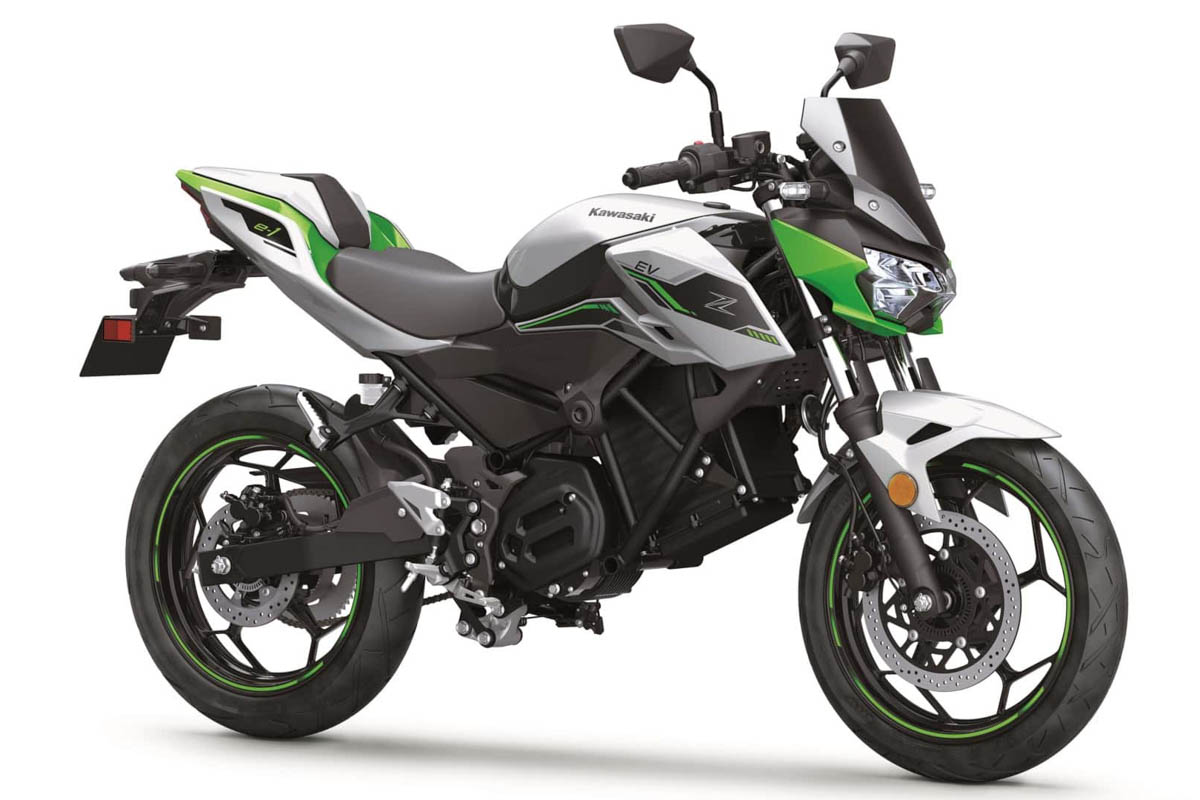 Braking systems consist of single two-piston calipers on both front and rear wheels, with the primary distinction being the size of the discs. Both motorcycles are equipped with 17-inch alloy wheels and feature standard ABS for enhanced safety.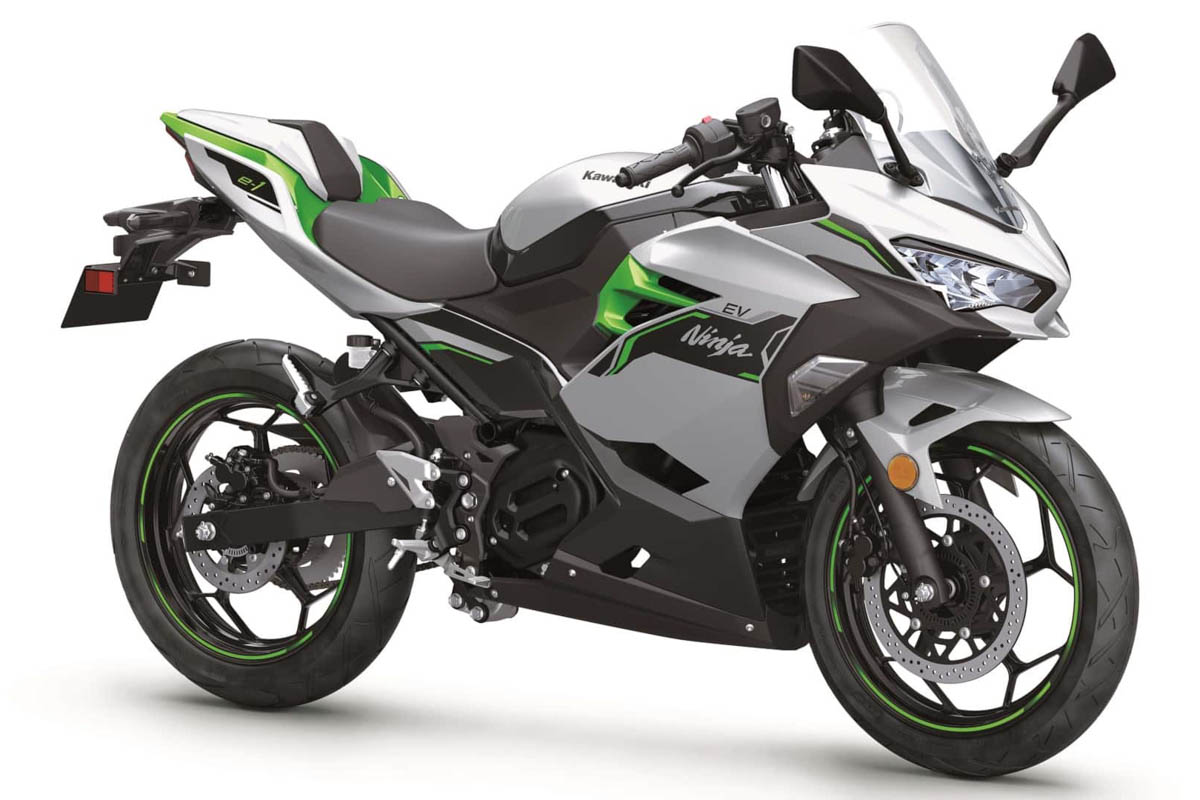 Dimensions and Weight
The Ninja e-1 and Z e-1 exhibit similar dimensions, including a 1,365mm wheelbase, 1,980mm length, 170mm ground clearance, and a seat height of 785mm. Also these electric bikes share a rake of 24.4 degrees and a trail of 94mm.
However, differences emerge in terms of width, height, and curb weight. The Ninja e-1 measures 686mm in width and 1,105mm in height, weighing in at 140kg.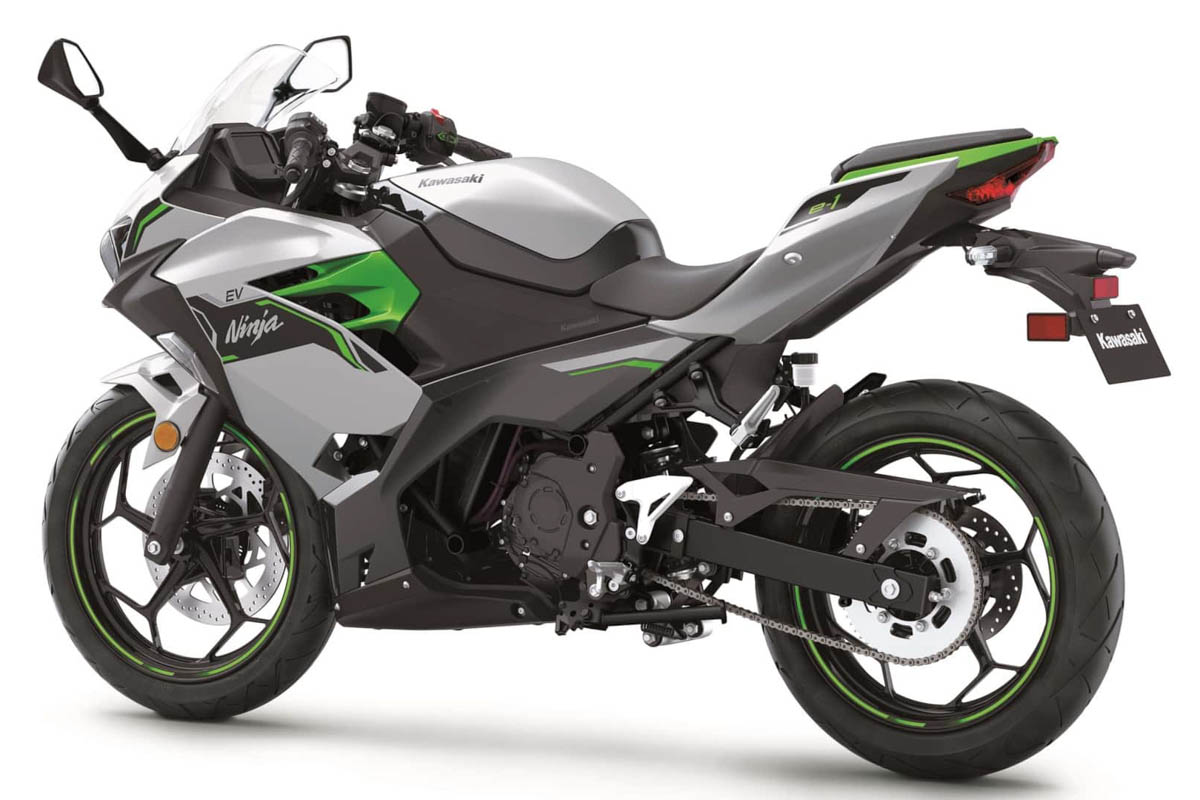 Conversely, the Z e-1 boasts dimensions of 730mm in width and 1,035mm in height, with a lighter curb weight of 135kg.
Power Modes and e-Boost
Both models provide riders with two power modes, Eco and Road, catering to different riding scenarios. Eco mode prioritizes range by offering a gentler power response and electronically limiting the top speed to 60km/h, while Road mode is tailored for everyday use, allowing a top speed of 80km/h.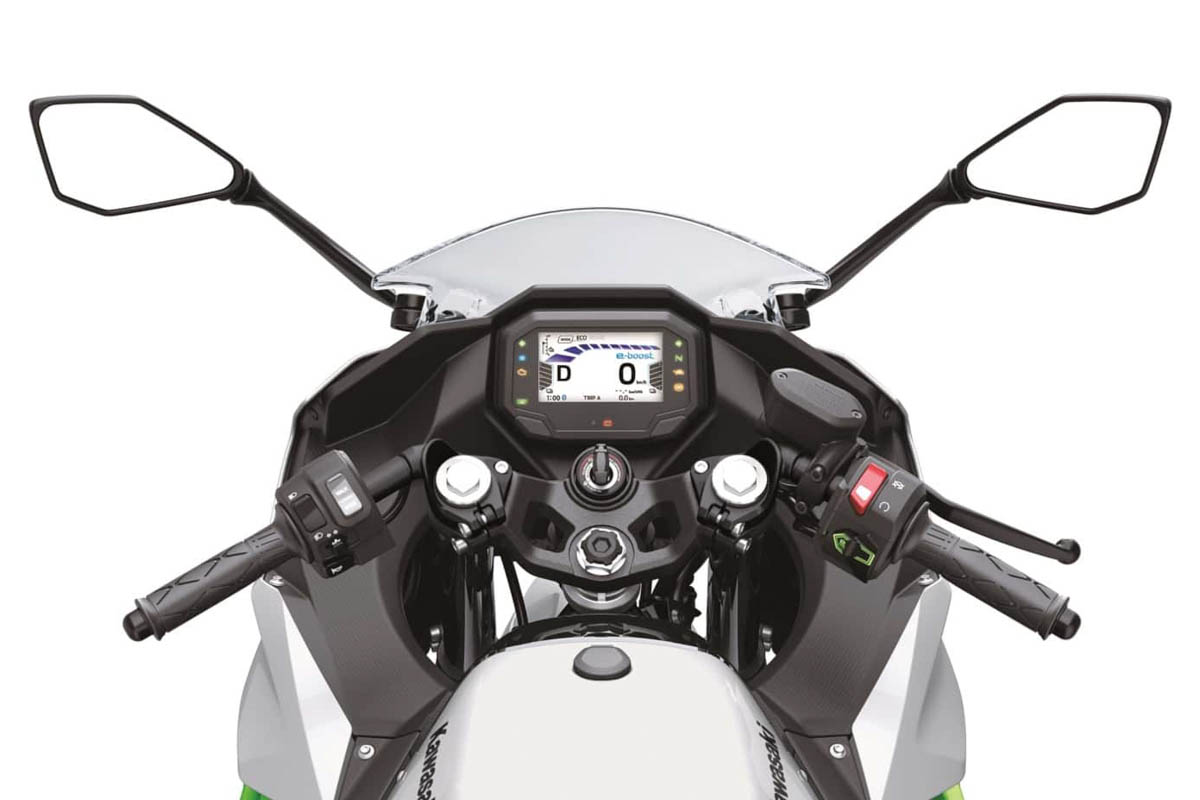 Furthermore, an e-Boost function is available in both modes, temporarily granting extra power for improved acceleration and a higher top speed. This feature elevates the top speed to approximately 85km/h in Road mode and 60km/h in Eco mode, albeit for a limited duration of 15 seconds to prevent overheating.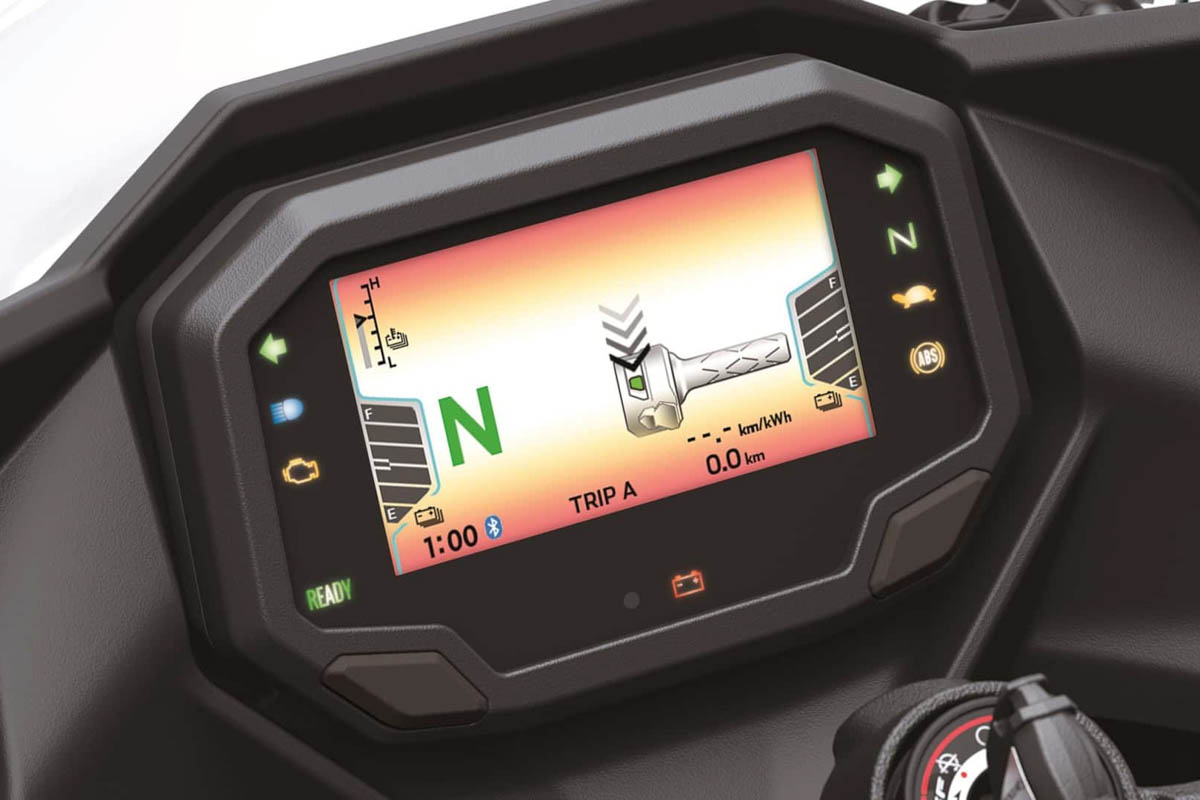 Walk Mode and Connectivity
To simplify parking maneuvers, Kawasaki has integrated a Walk Mode as a standard feature on both the Ninja e-1 and Z e-1. This mode enables controlled movement at low speeds, with a maximum forward speed of approximately 4.8km/h and a reverse speed of around 2.9km/h.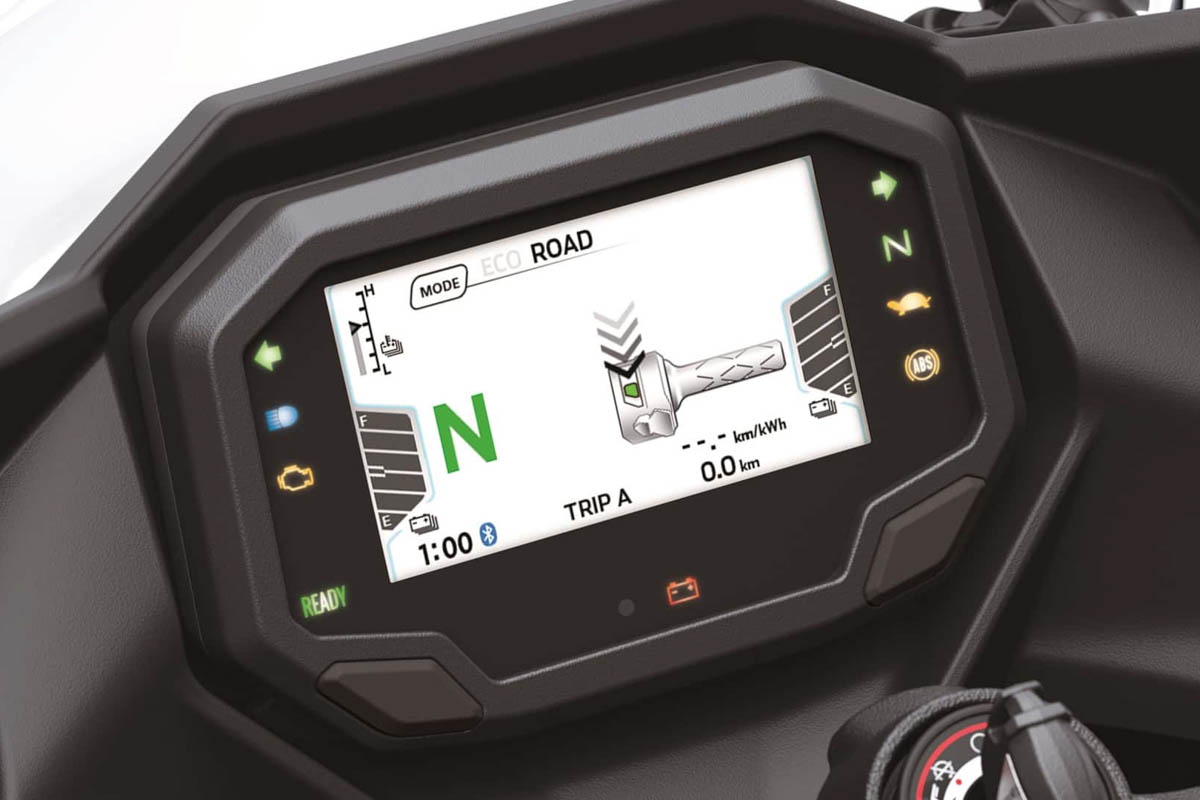 Both motorcycles are equipped with a 4.3-inch TFT color display, offering customizable light and dark modes. Additionally, riders can enjoy seamless Bluetooth connectivity with their smartphones through Kawasaki's Rideology the App.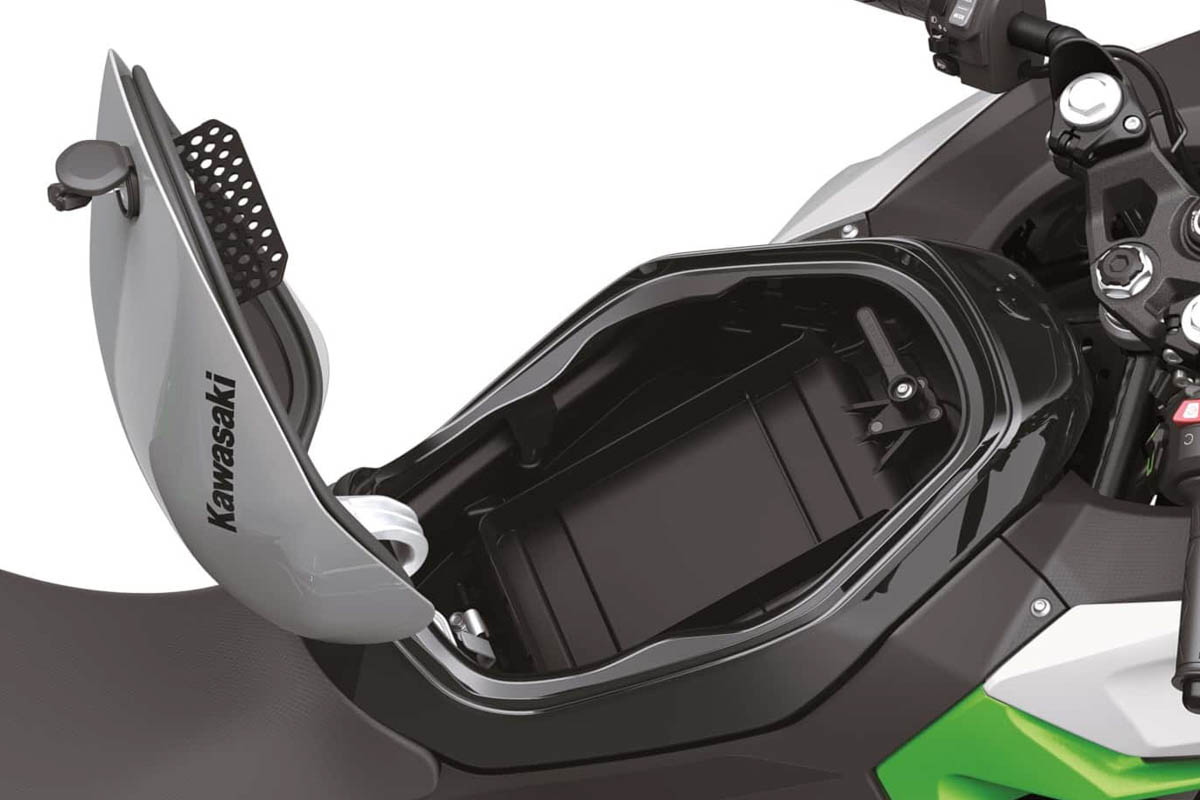 Storage
The Ninja e-1 and Z e-1 feature a compact front trunk (frunk) in the space traditionally occupied by a fuel tank in combustion-engine motorcycles.
Additionally, there is a small underseat storage area capable of accommodating items such as a U-lock and housing the adapter for direct wall charger connection.
Pricing in the US
According to Kawasaki USA, the Ninja e-1 is priced at USD7,599 (RM36k) while the Z e-1 starts at USD7,299 (RM34k).