Harley-Davidson finally unveiled its much anticipated 2016 model year lineup last week, which will see the addition of a few new models, namely the Dark Custom Iron 883, Dark Custom Forty-Eight, the Softail Slim S, Fat Boy S, and of course, the return of the Road Glide Ultra.
Powered by the 883cc Evolution V-twin, the Iron 883 is intentionally raw and comes with clipped fenders, blacked-out powertrain and exhaust, drag-style handlebars and a solo tuck-and-roll seat cover. Other styling elements include a ribbed air cleaner cover and bullet-hole details on the belt guard, exhaust shields and front fender brace. Handling is improved by new cast aluminum black wheels with machined highlights that reduce unsprung weight by about 5kg. Ride quality gets a boost with a new cartridge-style fork and new emulsion rear shocks with progressive-rate springs and a threaded pre-load adjustment collar.
As for the 2016 Forty Eight, it rolls on a fat 130mm front tire suspended by a new 49mm cartridge fork and accented by a chopped fender. The classic 2.1-gallon peanut fuel features horizontal stripes, a throw-back to 1970s style that's repeated in the seat stitching, slotted exhaust shields, rear sprocket and belt guard. New lightweight cast-aluminum wheels feature nine split spokes and a solid black finish with machined highlights. A side-mount license plate and combination stop/tail/turn signals keep the rear fender uncluttered.
And then we have the S Series limited-edition cruisers—the Fat Boy S and Softail Slim S, which are powered by the Screamin' Eagle Twin Cam 110 engine. Restyled with minimal bright work, the new S Series models offer tough curb appeal, as well as electronic cruise control, ABS and the H-D Factory Security System as standard equipment. The Softail Slim S has a classic, lean bobber style, and its Twin Cam 110 features the Screamin' Eagle Stage 1 high-flow intake with optimized jet-black over/under dual shotgun mufflers.
On the Fat Boy S, the Twin Cam 110 engine has the Screamin' Eagle Ventilator intake and optimized jet-black over/under dual shotgun mufflers. It rolls on bullet-hole aluminum disc wheels and features a massive headlamp and nacelle, half-moon rider footboards and a classic five-gallon Fat Bob fuel tank. Slammed suspension and a low-slung seat put the rider just 24.25 inches off the pavement.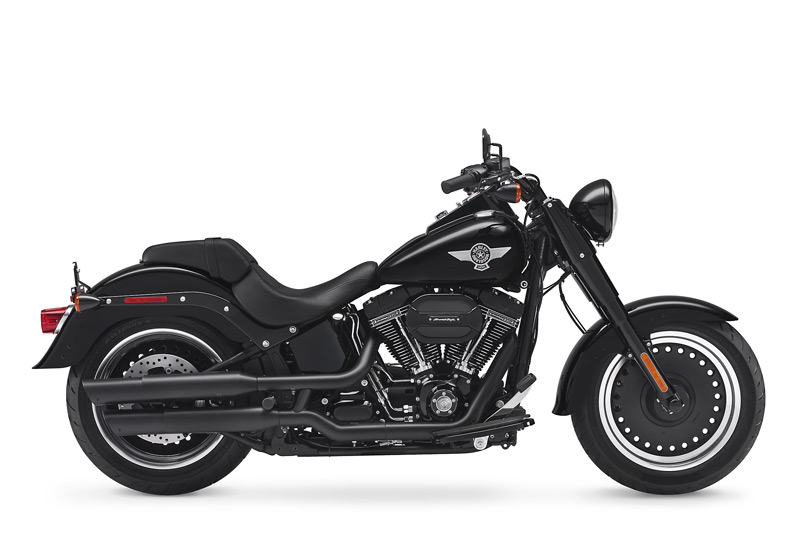 Following a two-year absence from the Harley-Davidson Touring line, the Road Glide Ultra has been updated with enhanced style, comfort and performance, all part of the multi-year, customer-led Project Rushmore product development effort. It features improved aerodynamics, optimized touring ergonomics and the power of the Twin-Cooled High Output Twin Cam 103 V-twin.
The 2016 Road Glide Ultra features all of the Project Rushmore enhancements, including a stout 49mm fork, Reflex Linked Brakes with ABS, sleeker fenders, lighter Enforcer cast aluminum wheels, improved instrument graphics and hand controls. Standard equipment includes cruise control and the BOOM! Box 6.5GT infotainment system with color touch screen, GPS and Bluetooth capability.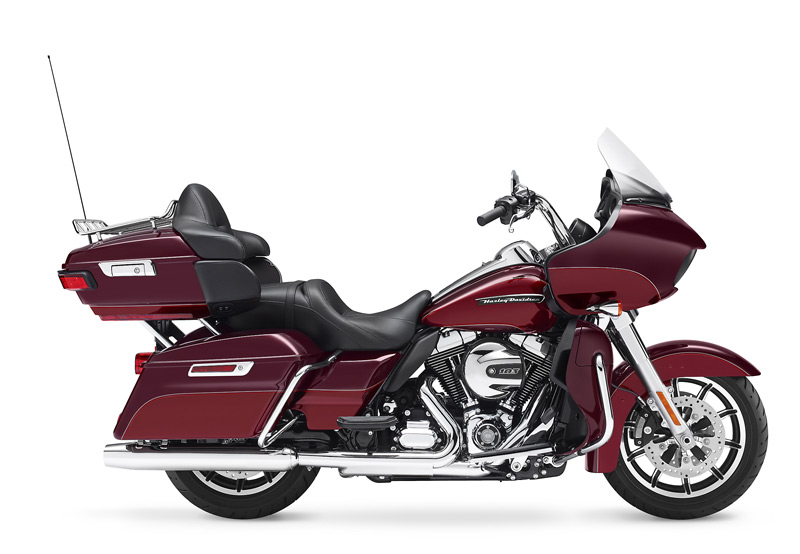 The Twin-Cooled High Output Twin Cam 103 engine combines air cooling and precision liquid cooling to maintain peak performance under the most demanding loads and riding conditions, with 10.7 percent more peak torque than the standard Twin Cam 103 engine.
Passenger accommodations are more generous and restyled luggage includes sleeker hard saddlebags and a new Tour-Pak shape that offers 4 percent more capacity than the previous design.