Rookie MotoGP rider Pol Espargaro shares his insights towards this weekend's Malaysian MotoGP.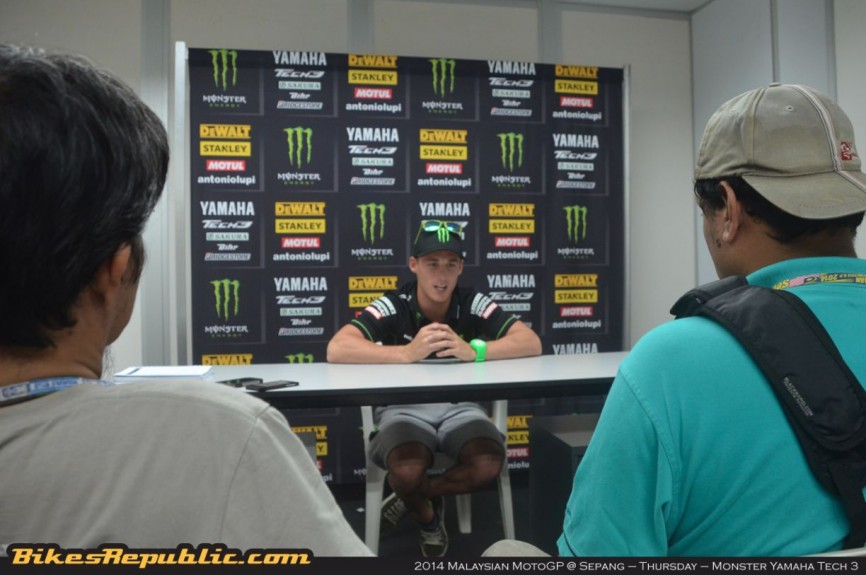 It's been a sensational year for rookie MotoGP rider Pol Espargaro. Not only is he racing this season astride one of the satellite Yamaha race bikes, 23-year-old Spaniard Pol shares the grid with his 25-year-old older brother Aleix as well. (Read our interview with Aleix Espargaro here)
We managed to have a quick chat with the young Spaniard about things and here's what we managed to gain.
What are your feelings about being in the Monster Yamaha Tech 3 outfit this year?
"Yeah, it has been really nice. They are amazing. The team is like a family. They take care of me very much. They had some rookie riders before in past seasons and they know how to explain to the rookie riders on how to do things. I am happy here. I feel like I'm home with them."
How has it been racing alongside an experienced teammate like Bradley Smith?
"Well, you know how it is. What we always say is that the first guy you have to win over (against) is your teammate. It has been really difficult this year, because he was really strong in the beginning especially. And, when I was in the young category, I was trying to follow him, but it was impossible. Now for me, it is starting to be a little more easier as I get comfortable with the bike."
Can you share with us the differences between your bike and the bike Valentino Rossi and Jorge Lorenzo uses?
"Well, we really don't know. It looks like it is really close, our bike. But you know, the most important part on this bike is the electronics systems, traction control, and everything. It looks like they know a little bit more how to improve it at each race, each track, they know how to manage in getting the best setting for each track. For me, being in my rookie year, it is really difficult to understand and tell on what to improve. I'm sure with a little more experience, it will be a little easier to get a good setting."
Personally, what are you looking forward to in Sepang this weekend?
"Well, it is an important circuit and race for me, especially because this is the first track where I rode a MotoGP bike. During pre-season, we were here for testing. For me, it would be really nice to come here again to go on the bike to check what I changed during the season, to check what I improved or what I'm doing wrong than pre-season. It'll be interesting to know what I change, and if I make a step forward or not. It would be nice."