In a much-anticipated reveal on October 3, 2023, Ducati introduced the world to the 2024 Ducati DesertX Rally—a formidable off-road motorcycle designed to elevate the riding experience for enthusiasts.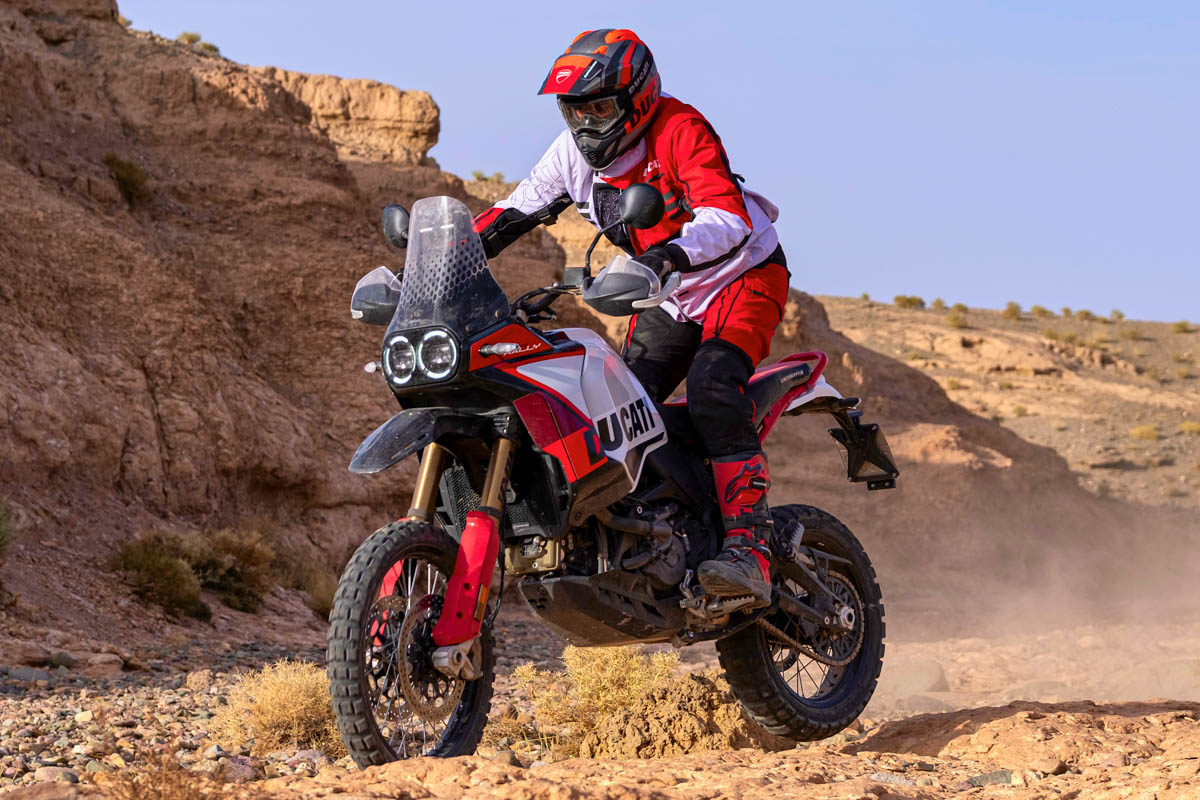 Building upon the already impressive DesertX, the 2024 Rally edition brings a host of enhancements, notably in suspension and wheel technology, catering to the demands of serious enduro riders.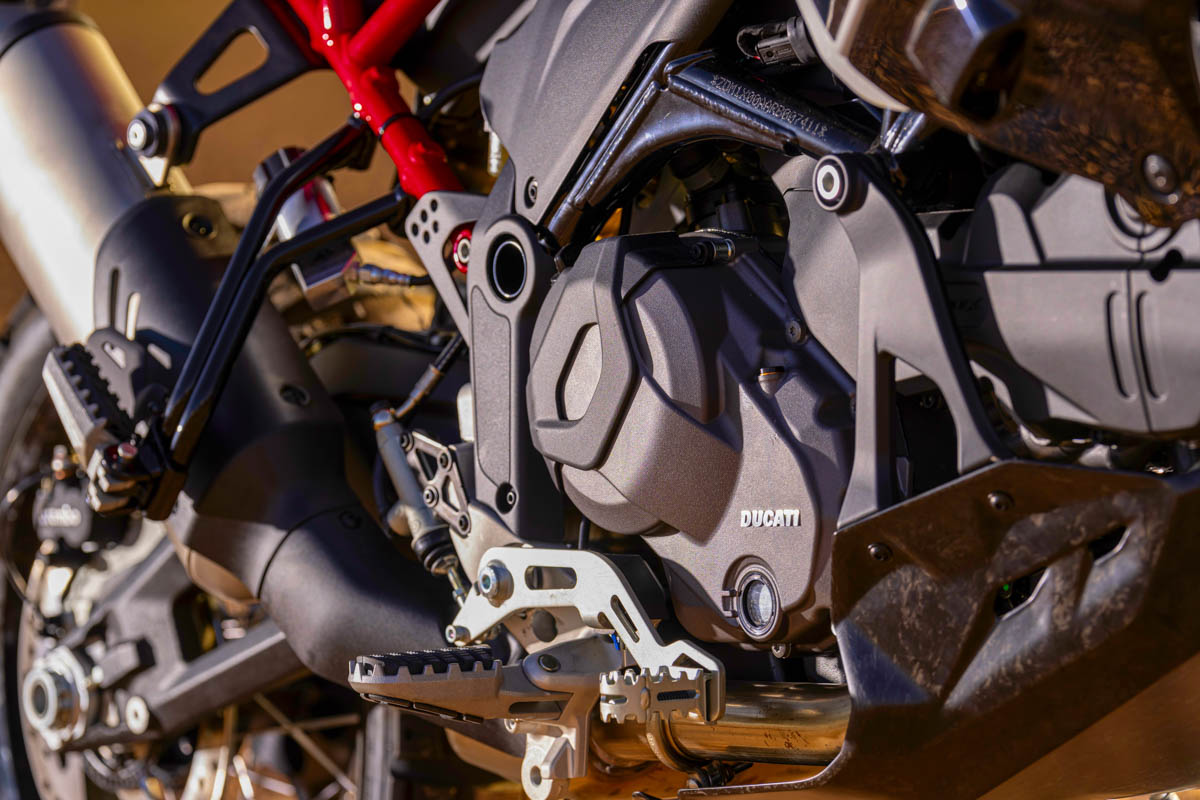 A Powerhouse Under the Hood
At the heart of the 2024 Ducati DesertX Rally is Ducati's robust 937cc Testastretta 11-degree engine. This powerhouse boasts a claimed output of 110hp @ 9,250 rpm and 92Nm @ 6,500 rpm, ensuring an exhilarating off-road experience.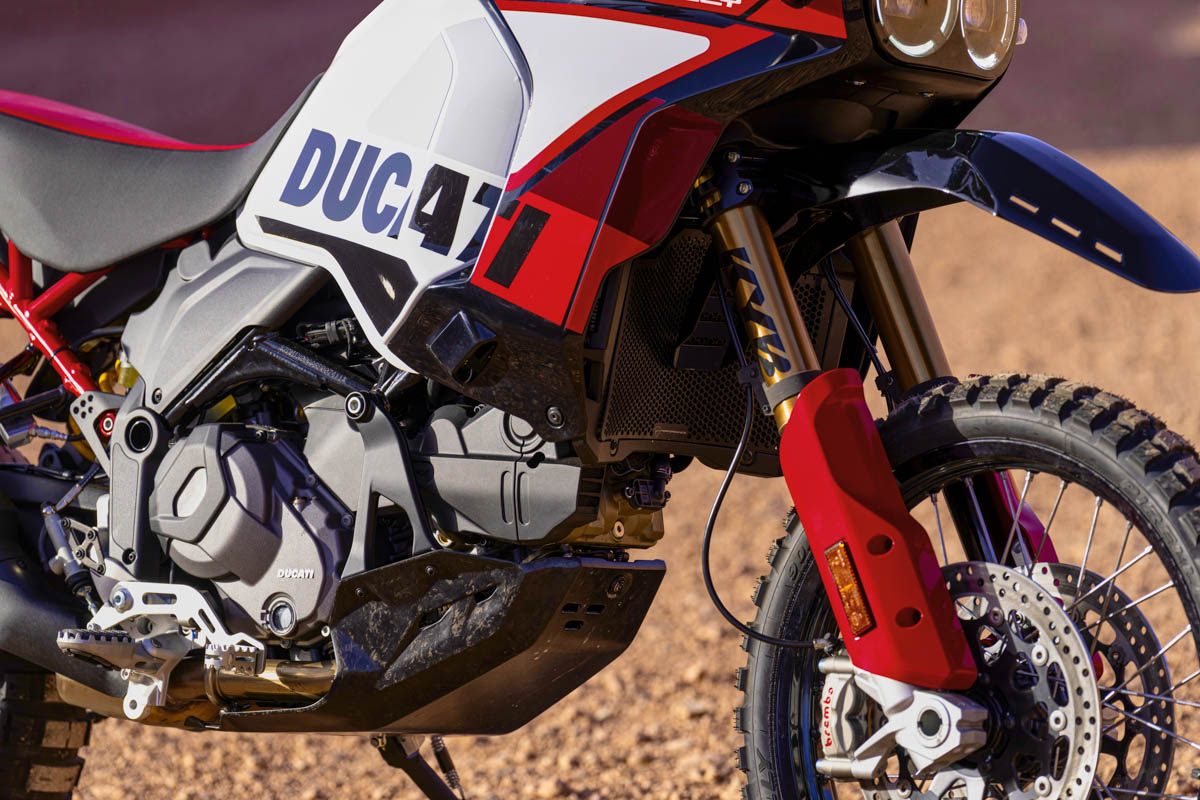 Suspension Enhancements
One of the standout features of the DesertX Rally is its upgraded suspension system. The front suspension now boasts a 48mm KYB closed-cartridge fork, complete with adjustable compression and rebound settings.
Meticulous engineering has been employed to minimize cavitation, utilizing a closed-cartridge design, while friction is reduced through Kashima coating on the fork tubes and a diamond-like coating (DLC) on the sliders.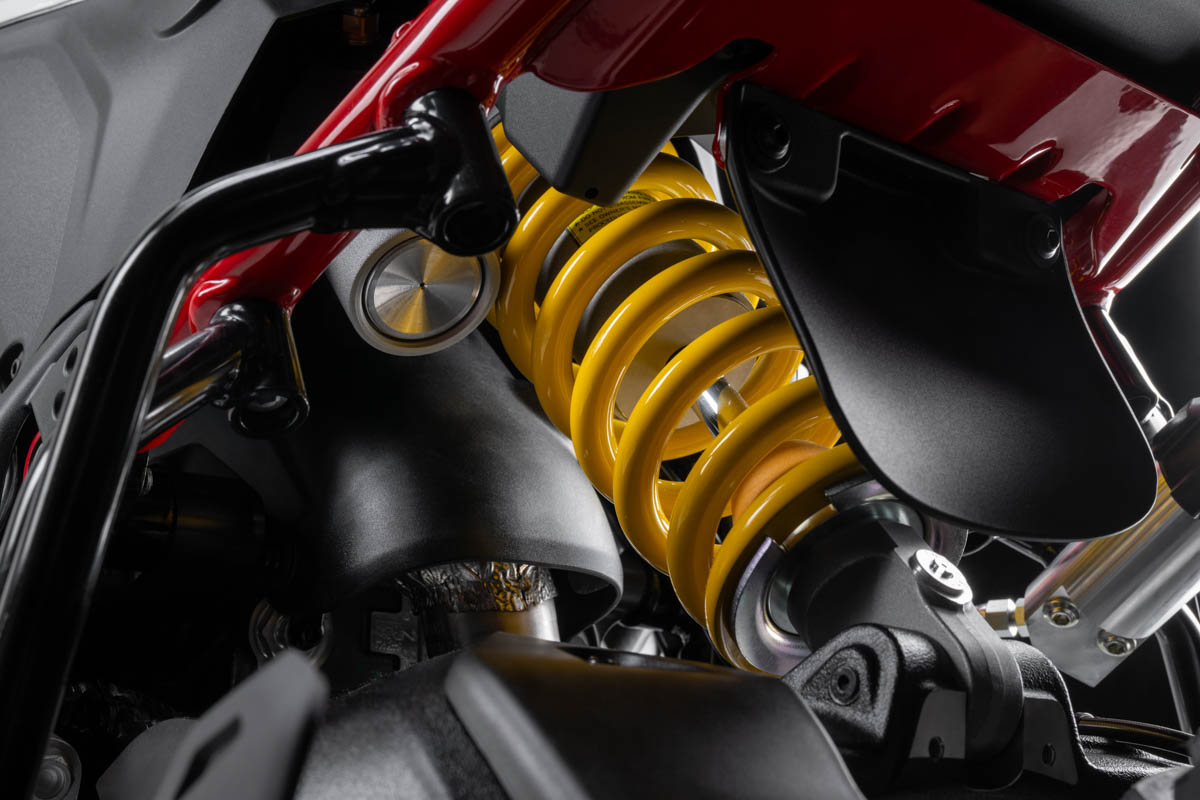 At the rear, a KYB shock absorber with a 46mm piston offers adjustable compression at high and low speeds, as well as preload and rebound adjustability.
These improvements translate to impressive suspension travel—250mm up front and 240mm at the rear. The bike offers a substantial ground clearance of 280mm.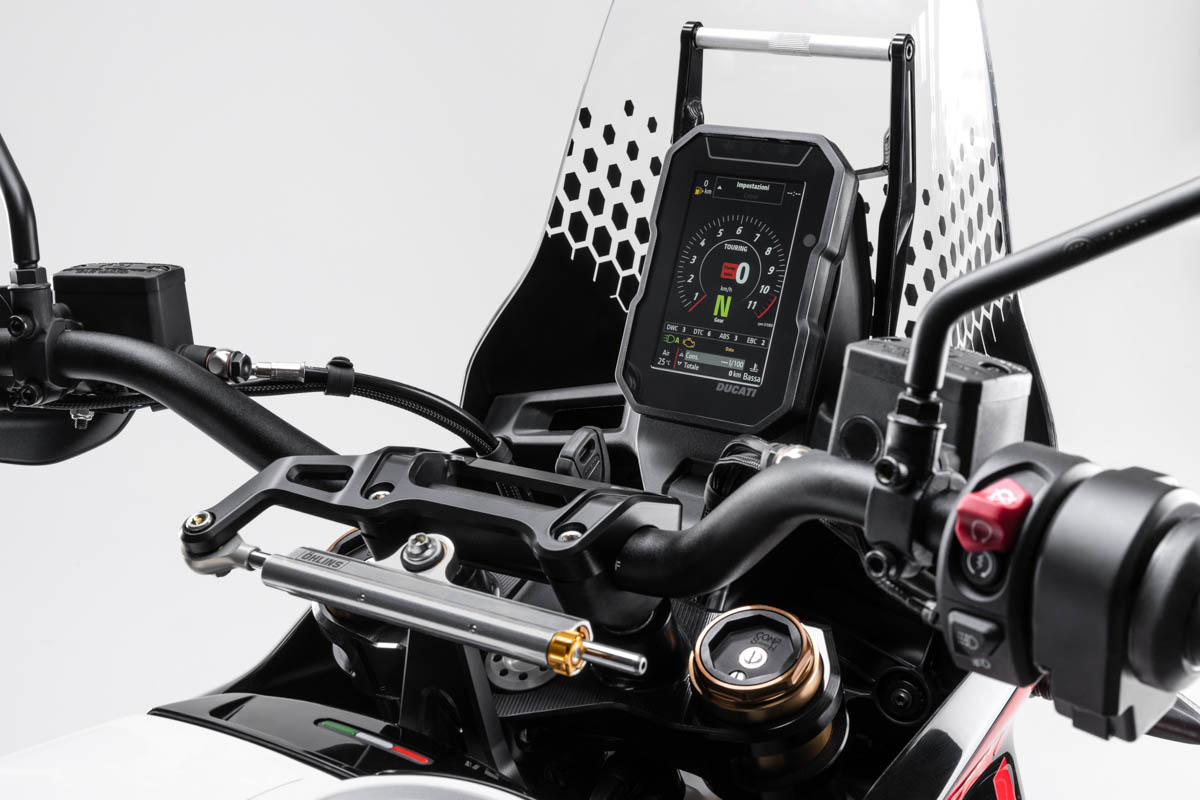 To further enhance control, an adjustable Öhlins steering damper has been integrated into the handlebar, working in harmony with the upgraded suspension system.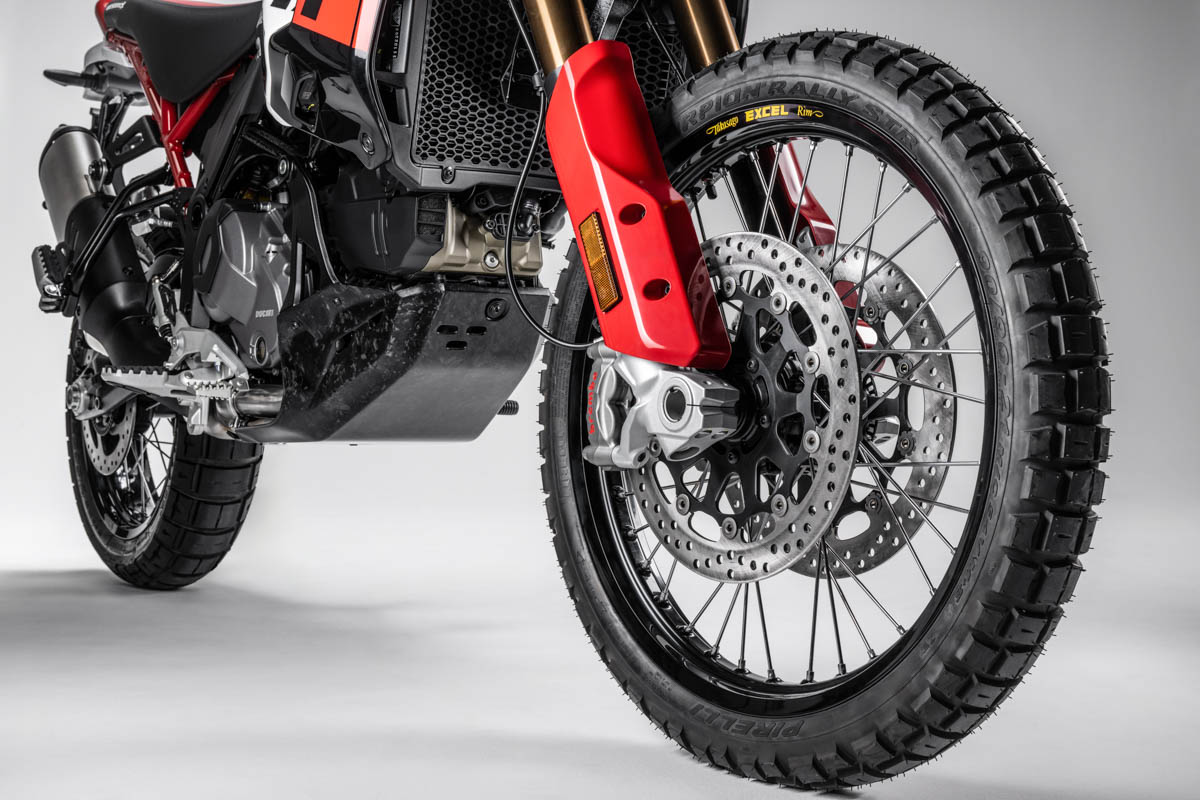 Wheels and Tires
The DesertX Rally sees a significant transformation in its wheel technology. Billet aluminum hubs anchor the robust carbon steel spokes, which radiate outward to lightweight Excel Takasago rims.
These wheels collectively shed 0.5 kilograms of unsprung weight compared to the stock DesertX wheels. The wheel setup comprises a 21-inch front wheel and an 18-inch rear wheel, all wrapped in high-performance Pirelli Scorpion Rally STR rubber.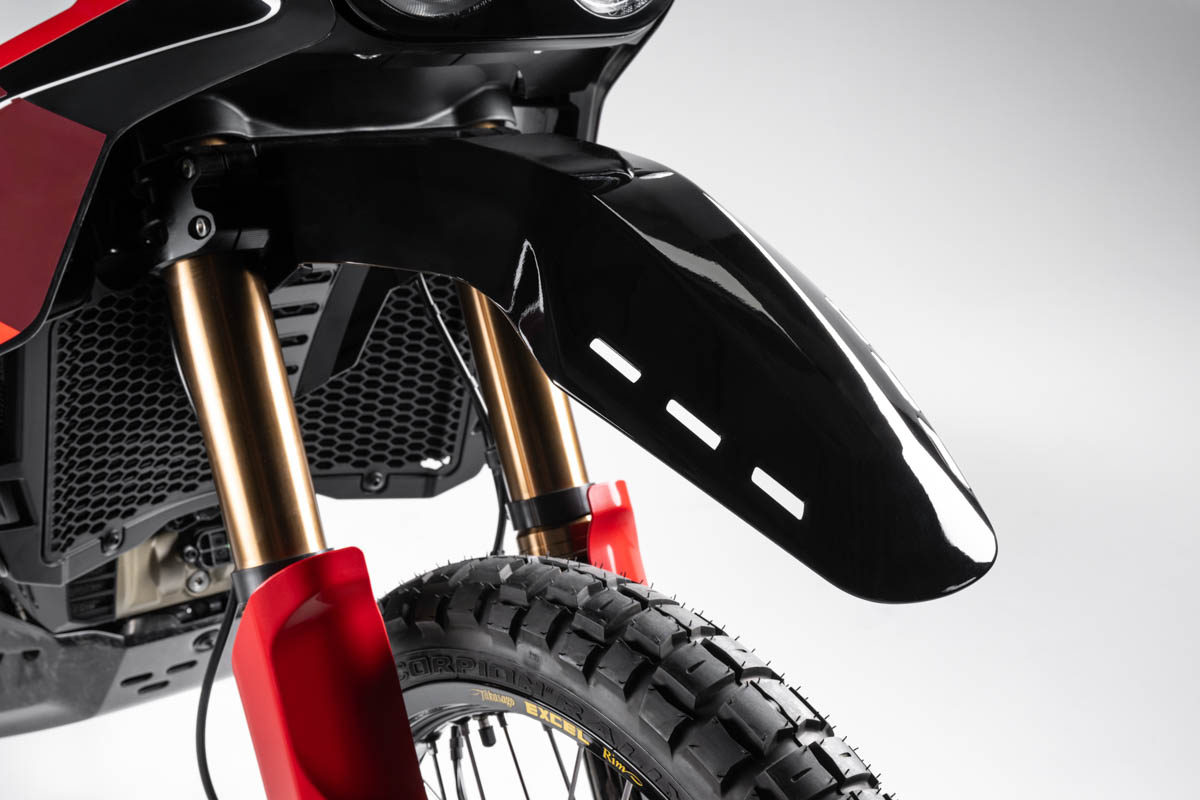 Additional Features
Ducati has not overlooked the finer details of the 2024 DesertX Rally. The bike now features a high front mudguard, equipped with a split brake line to accommodate relocation.
Machined fork clamps, adjustable brake and shift pedals, and a distinctive Iron Giant livery—exclusive to this model—add to its visual appeal. These enhancements complement the existing suite of features offered on the standard DesertX.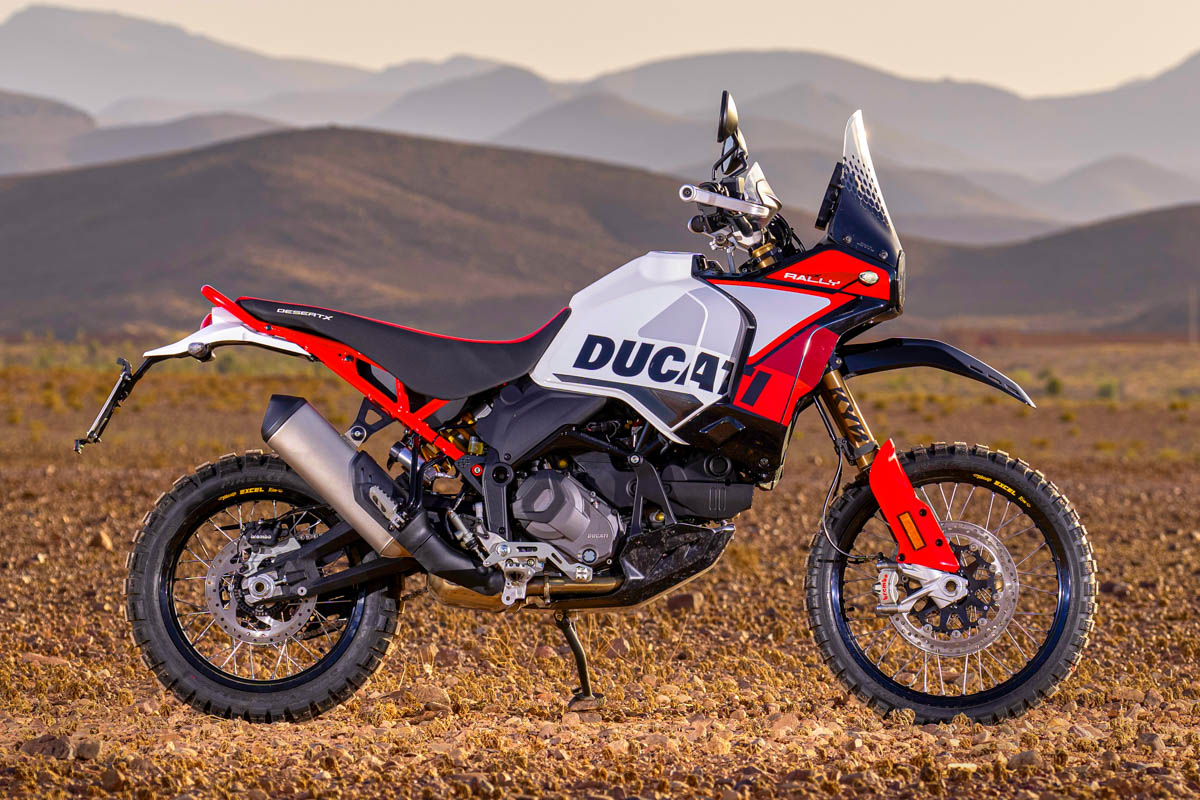 Extended Range with Auxiliary Fuel Tank
For riders seeking extended range, Ducati offers an optional auxiliary fuel tank that mounts at the rear of the bike.
This accessory provides an additional 8 liters of fuel-carrying capacity, resulting in an estimated 40 percent increase in range compared to the standard 21-liter tank.
The 2024 Ducati DesertX Rally is poised to redefine the off-road adventure experience with its formidable engine, advanced suspension, and wheel technology. Whether conquering rugged trails or embarking on long-distance journeys, this motorcycle promises an unparalleled riding experience for enthusiasts worldwide.