Ducati shows off an impressive line up for 2015 in EICMA 2014 that includes the 1299 Panigale, Multistrada DVT, Diavel Titanium, as well as Monster 821 & 1200 S Stripe.
This is an important show for the Bologna-based two-wheels institution, being their home ground and all. Ducati does not disappoint, and here's what we can gather.
1299 Panigale
Ducati has updated the Panigale supersports line up, this time bringing forth a new 1299 Panigale version to replace the 1199 version. As always, three iterations were revealed, a standard 1299 Panigale followed by a 1299 Panigale S version, and a more focused 1299 Panigale R version.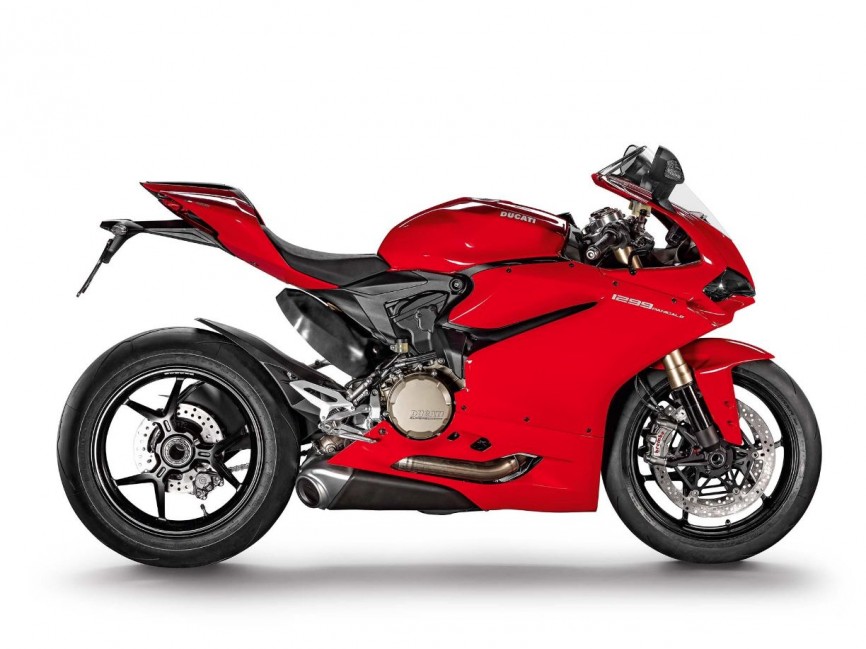 In the standard S version, the 1199's 1,198cc Testastretta L-twin is replaced with an updated and larger 1,285cc version after having its bore increased to 116mm. The R, on the other hand, sees it retaining the original 1,198cc displacement, allowing it to comply with current WSBK racing regulations on production-based race machines.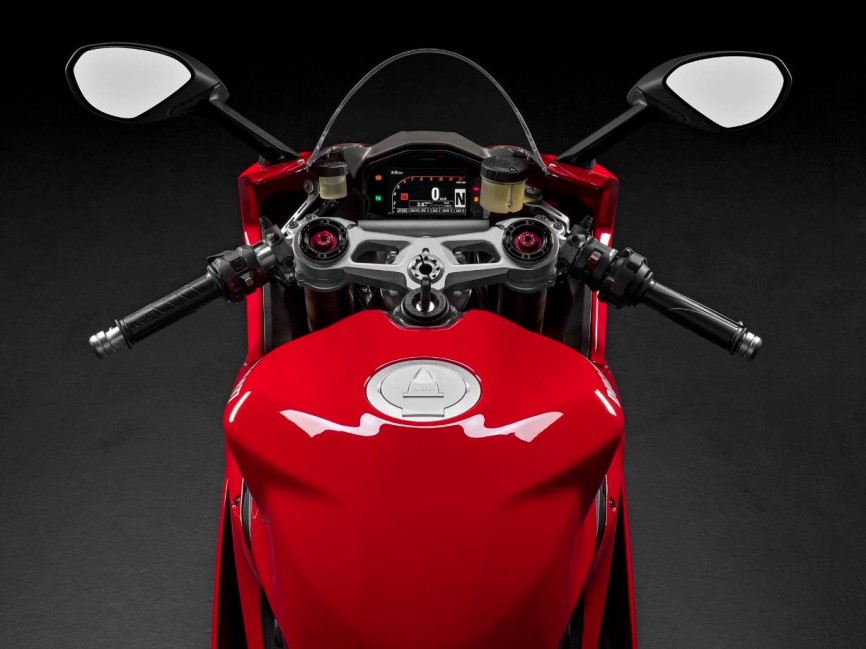 All three version now boast the class-leading power figures rated at 205hp, and will feature a newly-added Cornering ABS function as a result of adopting a new Inertial Measurement Unit (IMU), followed by an updated Ducati Quick Shift (DQS) system offering clutchless up- and down-shifts.
On board, all three versions sport revised chassis geometry, having its steering head angle now set at 24-degrees, as well as its fork pivot lowered by 4mm. All these promises to give the 1299 an even more precise steering response over the 1199 it replaces.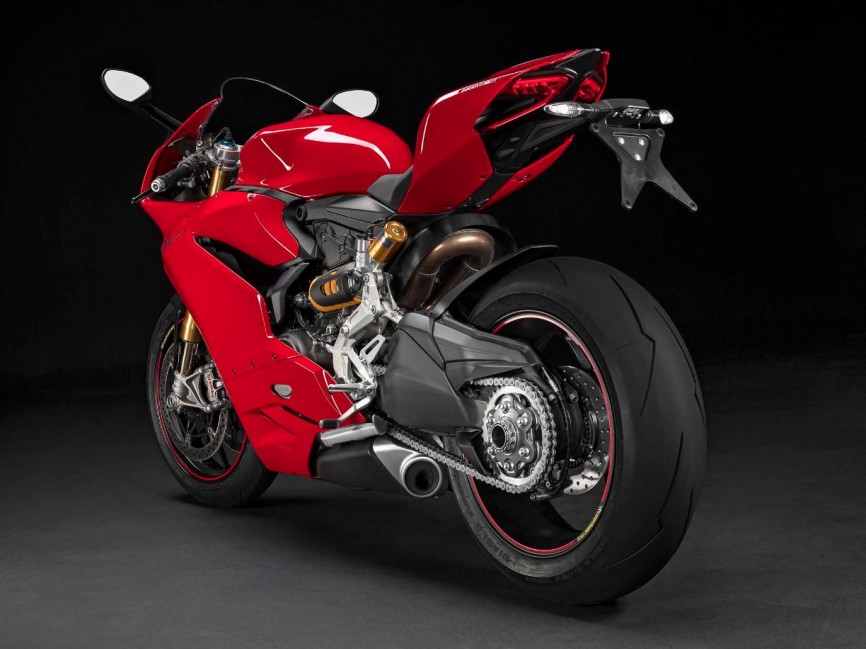 Additionally, the 2015 Panigale R makes do without the S version's new Ohlins Smart EC semi-active electronic suspension. This then allows the R to keep a wet weight of just 184kg. The R does however get the GPS-equipped iteration of Ducati's DDA data acquisition system.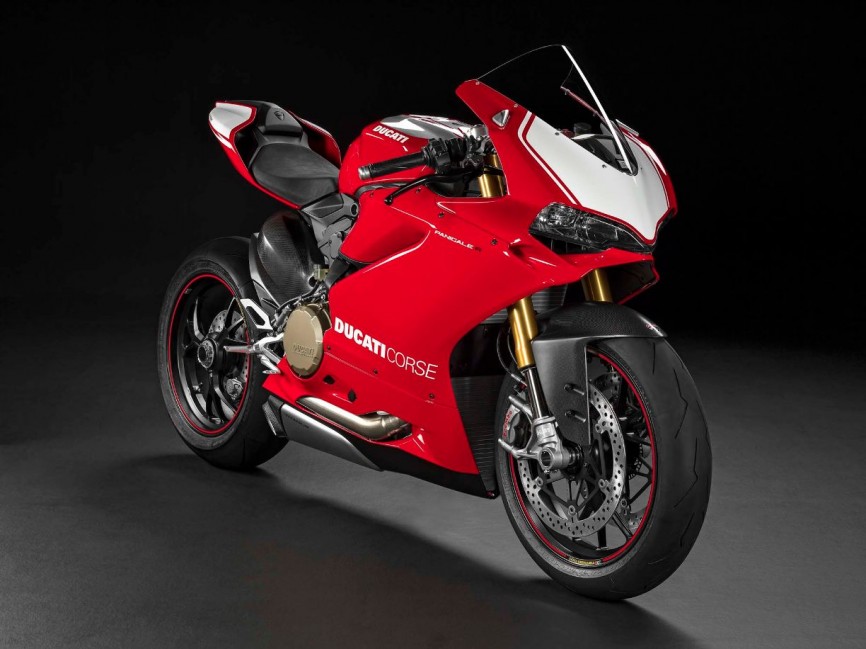 Crucially, the new Panigale R also gains a tungsten-balanced crankshaft and two-ring pistons derived from the Panigale Superleggera, meaning the Panigale R WSBK race machine will able to have it starting next year. Other notable race-focsed features equipped in the R include a mechanical Öhlins suspension, a lithium-ion battery, and an Akropovič full-titanium competition exhaust.
The chart below should give you a better understanding of the 1299 and its three versions, alongside the 899 Panigale supermid.
2015 Multistrada
Regular followers of BikesRepublic.com would now about the new Testastretta DVT engine we reported just a few weeks back, and the rumoured plans of fitting it into the updated-for-2015 Multistrada sport-tourer/adventure-sport.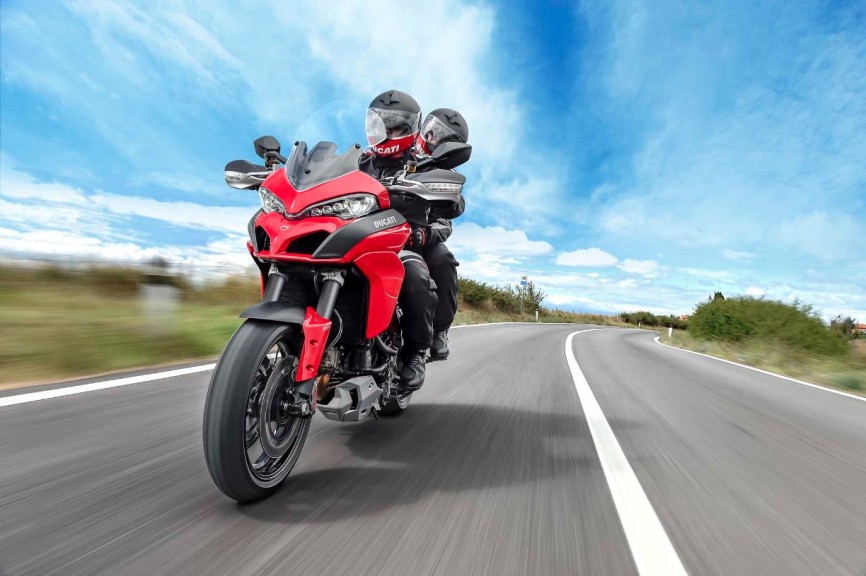 Well, the rumour is now indeed fact after Ducati took the wraps off the new-for-2015 Multistrada during EICMA 2014 in Milan. Besides the new Testastretta DVT L-twin engine, which now offers 160hp, Ducati have also opted to give the Multistrada a proper facelift as well.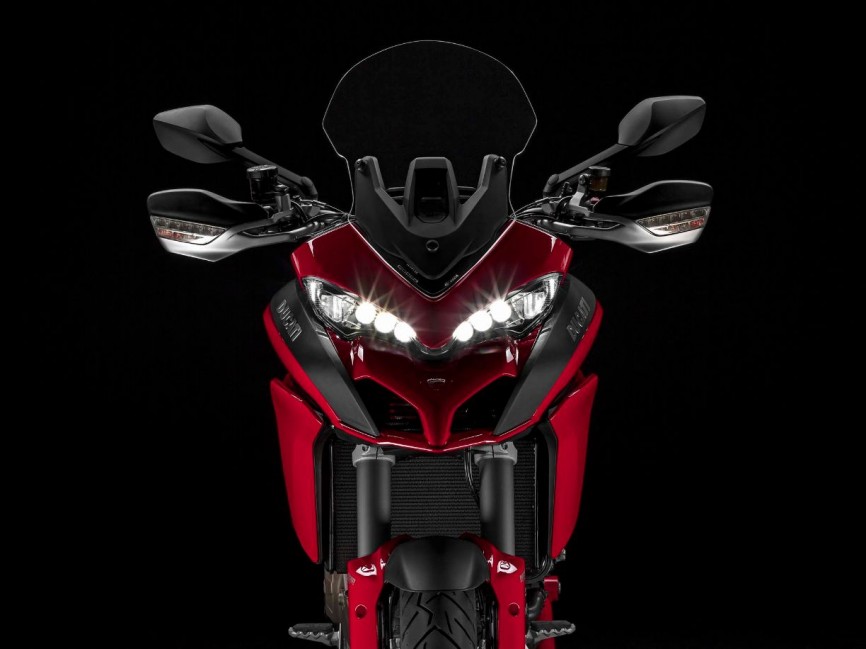 Visual changes include the shortened front beak to accommodate the redesigned air intakes, followed by a full-LED headlight unit, revised windscreen and seat adjustment parameters, as well as a cleaner-looking integrated luggage rack.
Crucially, the 2015 Multistrada is also fitted with the new Bosch MSC Cornering ABS package, bringing along with it a new IMU to enhance the DWC wheelie control and eight-level DTC traction control features even further. The new IMU also grants with enhanced functionality for the Ducati Skyhook Suspension system. Lastly, the 2015 Multistrada will also offer riders with new cornering LED brake lighting technology, and an electric cruise control system.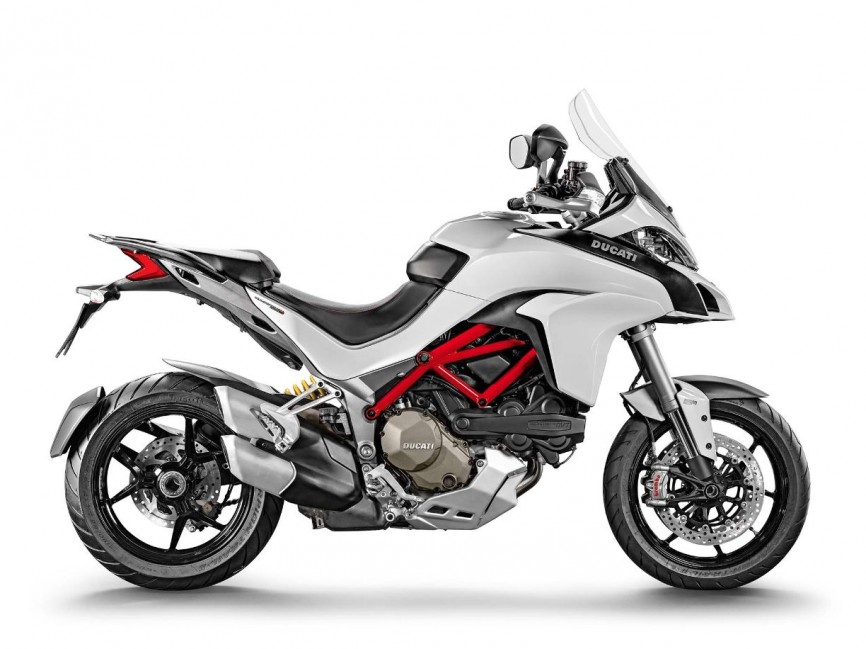 Furthermore, Bluetooth multimedia connectivity comes as standard in the Multistrada 1200 S version, allowing phone connection with the new Ducati Entertainement System equipped on board. Also available are four personalisation packages listed below:
Touring Pack: heated grips, panniers and center stand
Sport Pack: road-legal Termignoni exhaust, carbon fibre front mudguard, machined-from-billet aluminium brake and clutch reservoir caps.
Urban Pack: top case, tank bag with lock and USB hub
Enduro Pack: supplementary lights and Ducati Performance components by Touratech: engine protection bars, radiator guard, oil sump guard, bigger kickstand base and off-road footpegs
On paper, it looks like the 2015 Ducati Multistrada is ready to thwart the challenges posed by the newly-revealed BMW S1000 SX, KTM 1190 Adventure, and the heavily updated Kawasaki Versys 1000 as well.
Monster 821 & 1200 S Stripe
Not much to report here except for the new 'Stripe' livery being offered for the new generation Monster 821 and Monster 1200 S nakeds. As the name implies, it is essentially the new generation Monster donning a 'go-faster stripe', plus several minute exterior enhancements.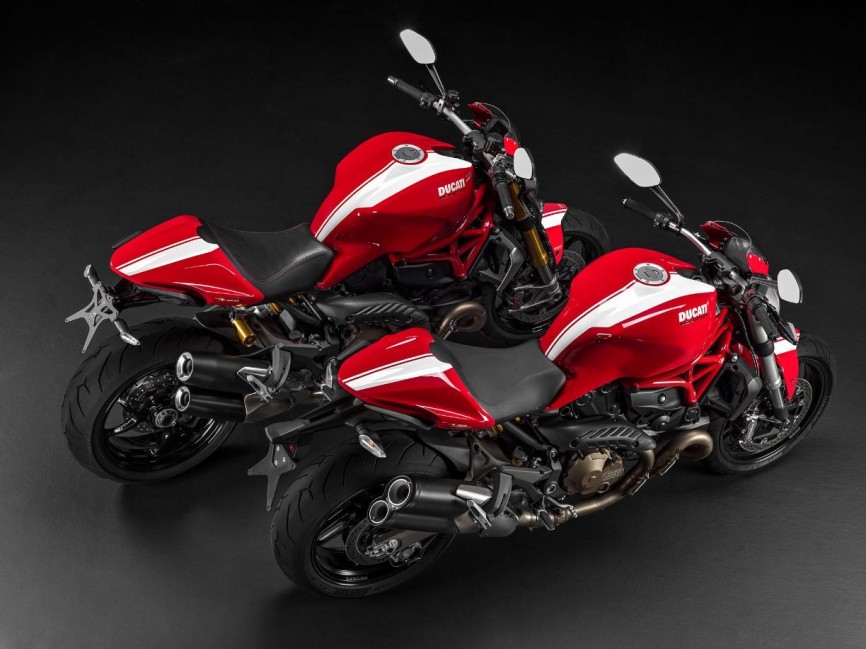 Thus, no mechanical changes whatsoever here. But that stripe really adds more charm to it. Check out the gallery at the end of this post and see just how the new stripe livery adds more character to the ever popular and lovable Italian naked bike.
Diavel Titanium
Just like the Monster Stripe above, this is just Ducati exercising another enhanced exterior and aesthetics move. The 'Titanium' variant is indeed new to the Diavel.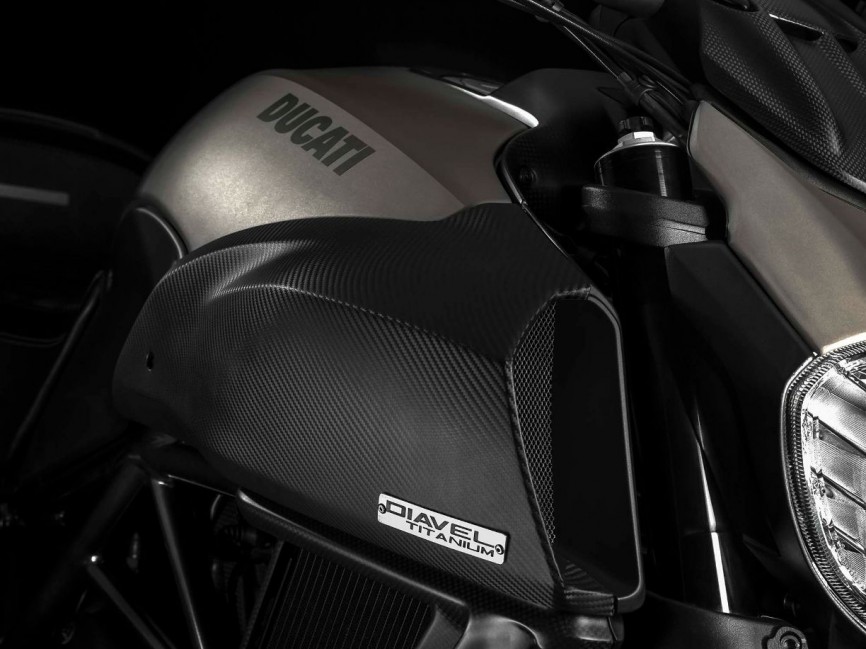 This iteration primes the Diavel powercruiser with a special new graphics scheme to go along with the equally special 'Titanium' paintwork it dons. Again, the mechanicals remain unchanged, so you still get the same 1,198cc L-twin as seen in the 2015 base model Diavel.
Other changes include a redesigned and widened passenger seat cover, larger carbon fiber air intakes, carbon fiber radiator covers, micro windscreen, front and rear mudguards, front sprocket cover, and filler cap. The exhaust has also been ceramic-coated black, with the silencers being composed of brushed stainless steel, giving it a even more premium outlook.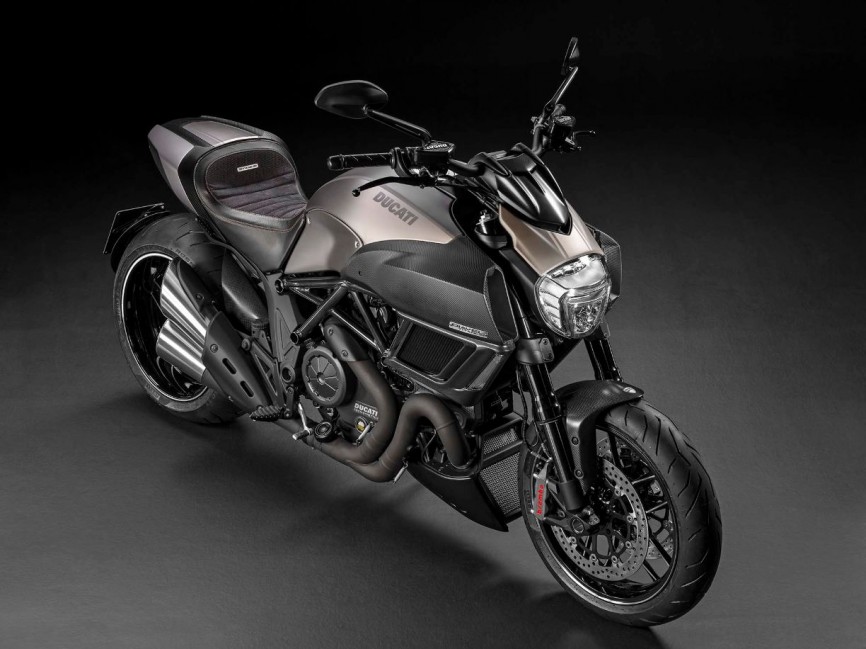 While it may be just Diavel with a specially enhanced exterior, Ducati will only produce 500 units of the Diavel Titanium. This should make it a collector's favourite without a doubt.
2015 1299 Panigale
2015 1299 Panigale S
2015 1299 Panigale R
2015 Multistrada 1200 DVT
2015 Monster 821 & 1200 S Stripe
2015 Diavel Titanium

Sources: Asphaltandrubber (Link 1, Link 2, Link 3, Link 4) and
Visordown (Link 1, Link 2, Link 3, Link 4)