Didi Resources, the official distributor for Aprilia and Moto Guzzi, among others, is organizing a track day on 9th September 2018.

There are two categories, one for Aprilias and one for all modern classics in the "Modclass."

You may rent your racesuit at the track, although you need to bring your own full-faced helmet.
When Didi Resources promised great things to rejuvenate the Aprilia brand in Malaysia, they were serious at it. The new custodian and authorized distributor of Aprilia motorcycles in Malaysia is organizing a track day for Aprilia owners at the Sepang International Circuit on 9th September 2018.
Piaggio Group Confirms The Appointment of a New Distributor for Aprilia in Malaysia
The Aprilia Track Day is open to all Aprilia owners of any model. Riders can choose between Beginner, Intermediate and Advanced categories, and there are two sessions allocated per category.
The entry fee is RM220, inclusive of track time, refreshments and door gifts.
It'll be great to see and hear Aprilia's V-Fours and V-Twin ridden in anger on the track again.
Also held on the same day are sessions for "Modclass" motorcycles, which is open to all modern classic motorcycles, although it is organized by Moto Guzzi Malaysia.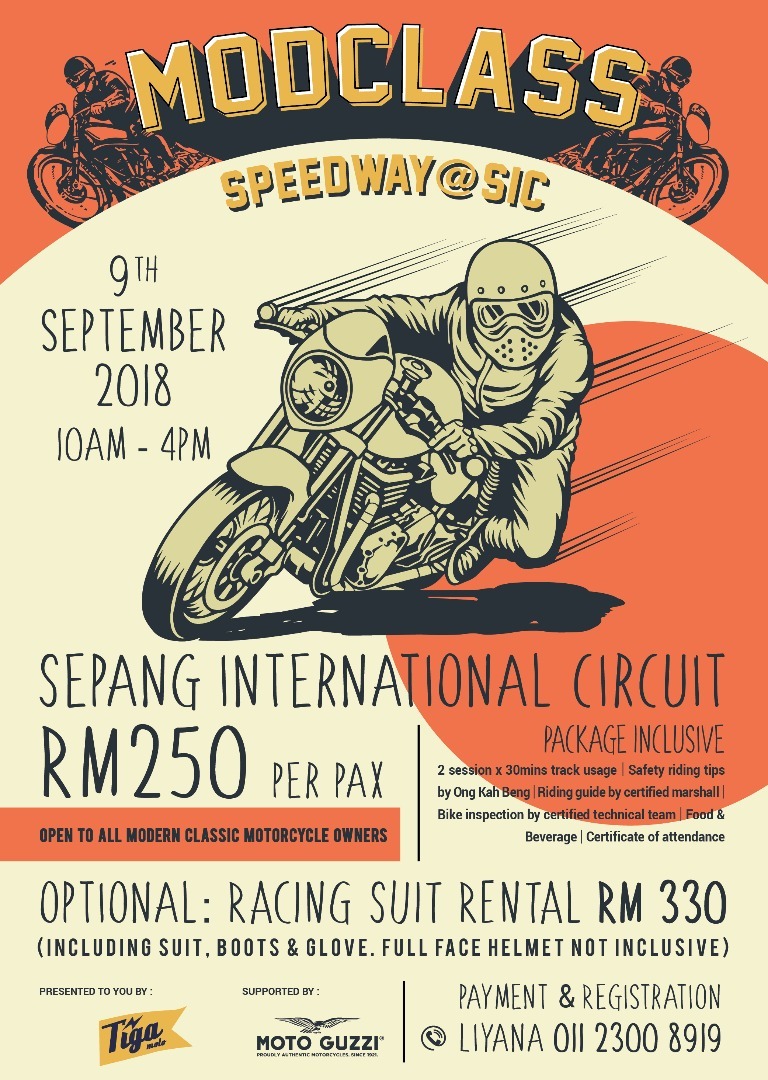 The entry fee is a little higher at RM250, but it includes a safety riding briefing and short training by "Foreman" Oh Kah Beng. Besides that, there is also a guided ride by certified marshals and motorcycle inspection by trained personnel. As with the Aprilia sessions, the Modclass fee also includes food and refreshments. Riders will also receive a Certificate of Completion at the end of the day.
For the Modclass, it will be the best opportunity to settle the score among modern classics to see which is faster!
You need not worry if you do not own a racesuit as you can rent a set which includes the suit, gloves and boots at RM330 for the entire day. You will need to bring your own full-face helmet, though.
Please register quickly as there are limited slots and they are going fast! You may refer to this link https://goo.gl/forms/wd3bJSCrdXrGQm2R2 to register or get in touch with Liyana at 011-23008919.
See you at the track.