So, thanks to Tuesday being Malaysia Day and you filed in for leave on Monday, that gives you four days to roll around in happiness.
But where to go? Genting? Boring. Cameron? Done that last week. Gunung Jerai? Done that the week before that. Kuala Kelawang? Too short of a ride. Melaka? Ikan bakar again? Kelantan through Gerik? Saving that for next month.
Then how about a trip across the border? No not Singapore, Penang have better food. What I mean is Thailand.
Riding over across the borer is actually easier then you think, so here is my two part Thai border crossing guide, from the paper works to procedures, to where to go, safety, food and some extra tips that I have gathered along the way in my travels there.
It may sound simple to the ones that have done it before, but I know how it feels to be a newbie at this with no one to explain to me to whats actually going on.
First, prepare the documents-
Apart from a valid passport, riding license, make sure your road tax and insurance is good. You will need two copies of your vehicle registration card, the one for the bike you are riding across.
If the vehicle is not under your name, as in your dad's or friend's name or company, then you will have to prepare a letter of consent in English, which says you have the authority or approval to ride and cross the border with the bike.
Its a simple letter and a copy of the owner's identity card if its under your family's or friend's name, but if its registered under a company it has to be an official letter by the company complete with company letterhead and chop.
The other set off paper you will need to cross the border with your bike is a Thai vehicle insurance, which you can pick up along the way right before the border near Changlun.
As you get there, near the town of Changlun that is, you will start to notice a lot of money changer stations or stopover along the road. Most of these places especially the big ones also sells the Thai vehicle insurance.
The insurance will be around RM20 along with the service helping you to fill up the "white card" or arrival card, cheap yes but bear in mind that it barely covers anything and just enough to make it legal for you to cross the border. Even if it says it covers up to RM500,000 so best that you play it safe when you get there but more on that later.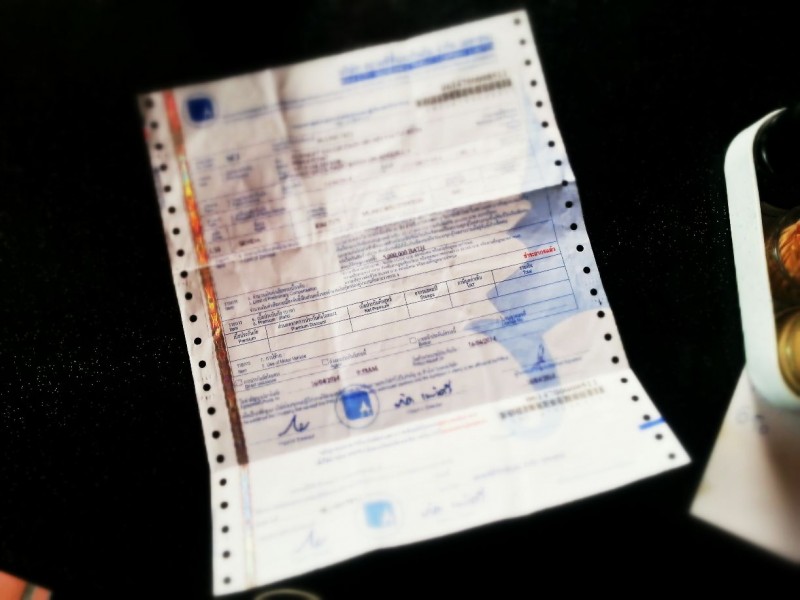 Next is the crossing procedure-
As you reach the Malaysian border checkpoint in Bukit Kayu Hitam, look for the bike lane and use that.
You will get to a booth where you don't even have to get down from your bike. Just pass your passport to the officer inside the booth and you are good to go as soon as he or she passes your passport back.
Ride over slowly across the no man's land until you reach the Thai side of the border, find a safe place to park your bike and make sure its not obstructing any traffic as the place is heavy with trucks, cars and everything that rolls.
Walk over to the immigration booth and present your passport along with the white card and RM2.
Once you are done then walk over to the custom's booth and pass them your passport, copy of registration card, letter of approval if the bike us not under your name and the Thai vehicle insurance.
After they pass you the papers back, get it checked by a second officer which they will point to you where to go. The second office may ask to check your bike before approving or approve the papers and pass it back to you straight way. From there you are good to go, riding in the land of tom yum.
Its the same with crossing back to Malaysia, get passport cleared, then customs and cross back to Malaysia. Depending on traffic you can clear the border crossing as fast as 30 minutes or if it's not your lucky day, I know someone who lined up for two hours.
And thats it for part one of the guide, part two coming soon so keep tuning in to Bikes Republic.