The MotoGP Grand Prix of Qatar was the first overseas MotoGP we attended, and the first one under the cover of darkness. This presented a whole list of challenges with photography, but it would turn out well in the end. In this picture, all Italian riders (from right) Andrea Dovizioso of Ducati, Danilo Petrucci of Ioda Racing Project , Valentino Rossi of Yamaha and Andrea Iannone of Pramac Racing all pose for a picture right after taking the obligatory season opener picture.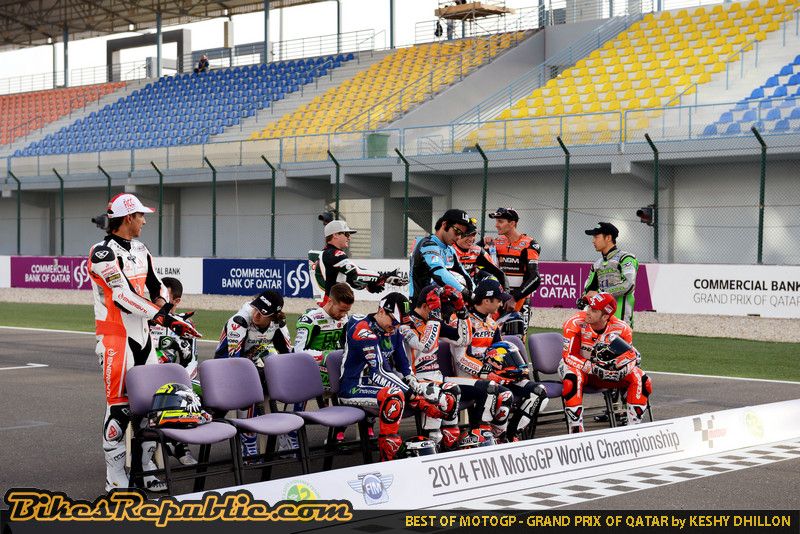 It seemed to be quite difficult to get everyone together with all of them having hundreds of hands to shake, and beam a smile at all the cameras as well. But mostly, the MotoGP riders seemed more interested in catching up with each other after the long break.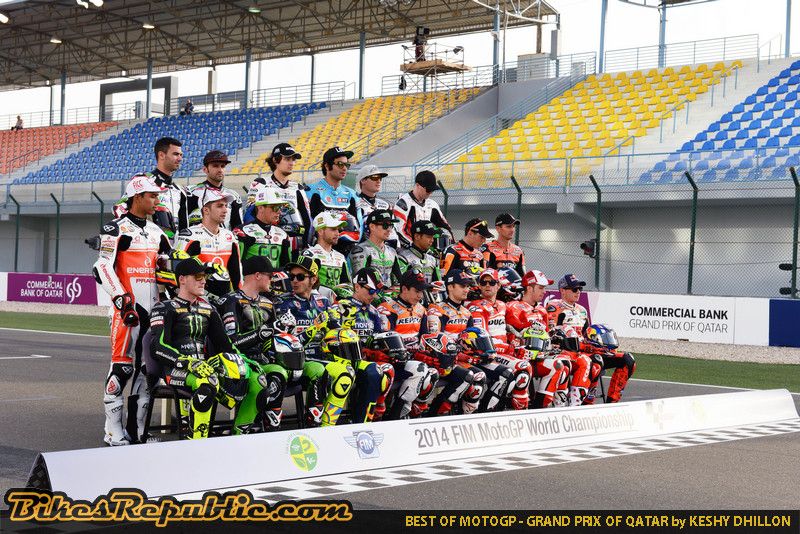 Even after all had taken their seat, it still took a good 10 minutes for everyone to settle down and look in the same direction.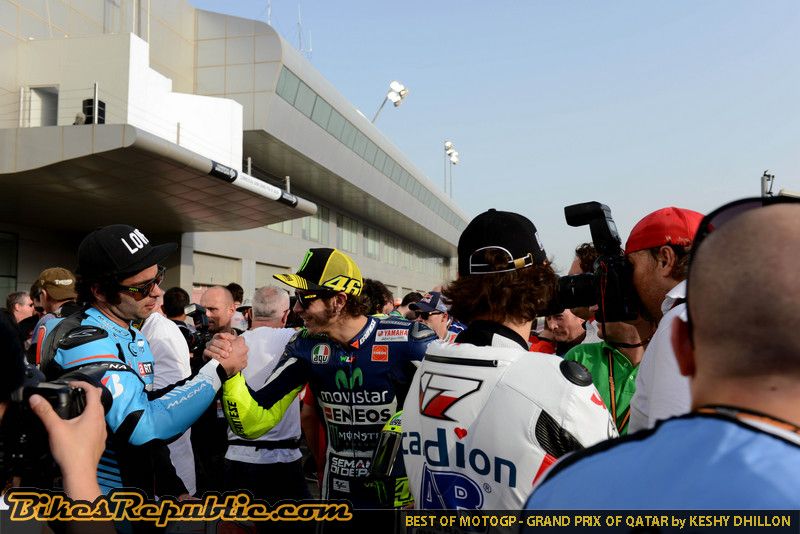 Rossi meets Petrucci for the first time since the world champion returned to Yamaha for 2014.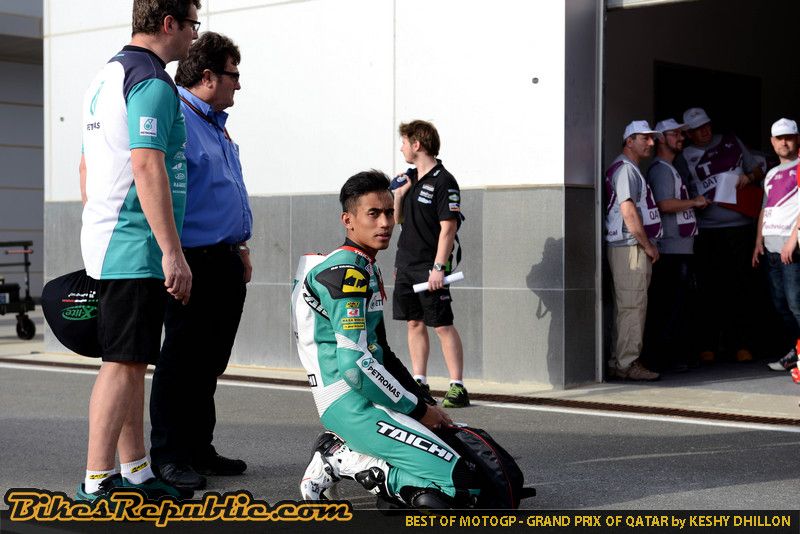 Malaysian Moto2 rider Hafizh Syahrin kneels while his bike gets inspected by the marshalls.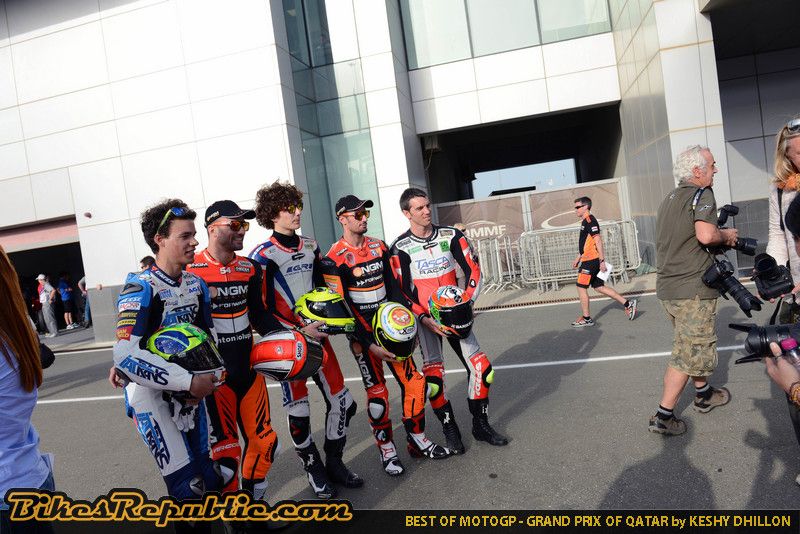 Moto2 riders, (from right) Franco Morbidelli of Italtrans Racing Team, Mattia Pasini of NGM Forward Racing, Lorenzo Baldassarri of Gresini Moto2, Simone Corsi of NGM Forward Racing, and Alex de Angelis of Tasca Racing.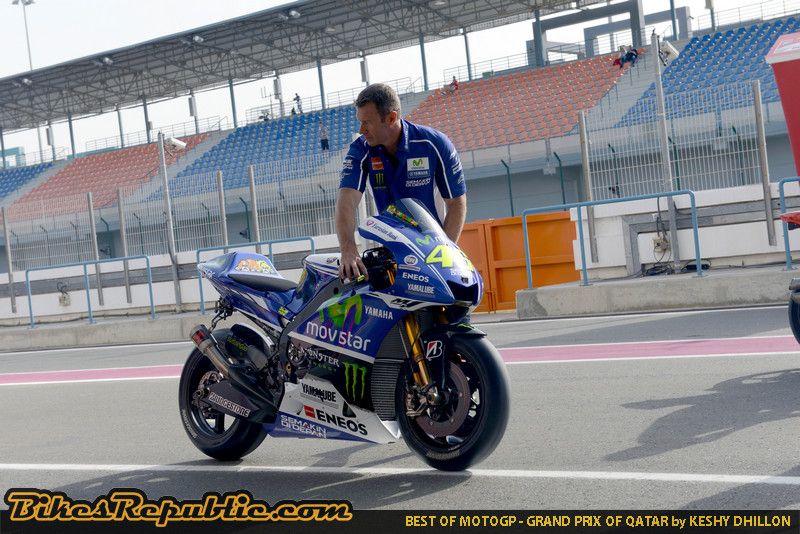 Rossi's race horse on the way to inspection.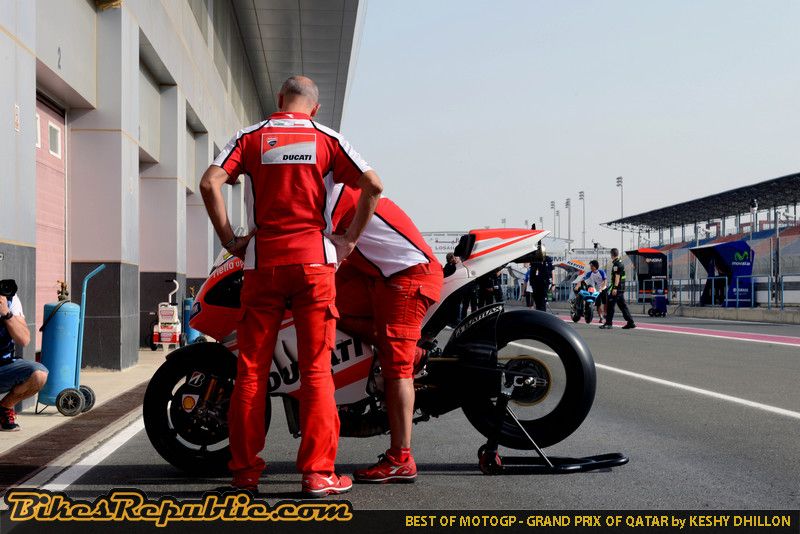 Ducati has had to play catch up for the past few years, the team seems to be on an uptrend and the rider pairing of Andrea Dovizioso and British rider Cal Crutchlow seems to be working great as well.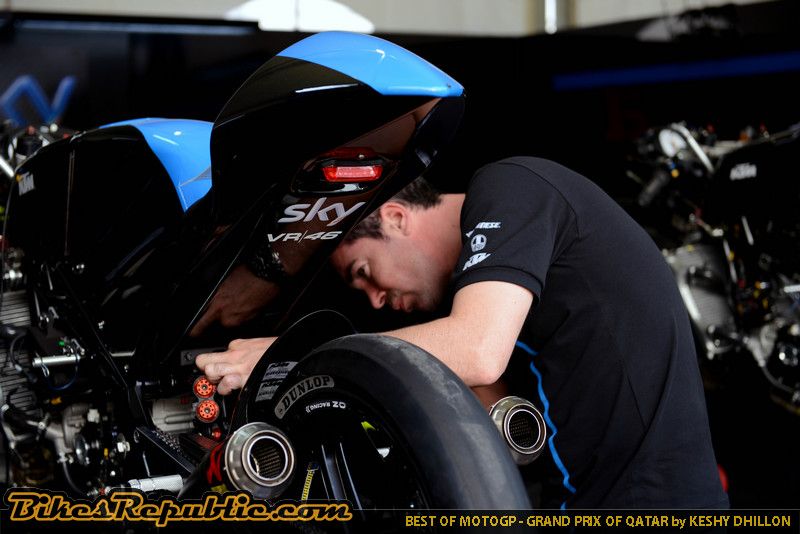 A mechanic works on the race bike of Moto3 team Sky Racing Team VR46 which is owned by Valentino Rossi.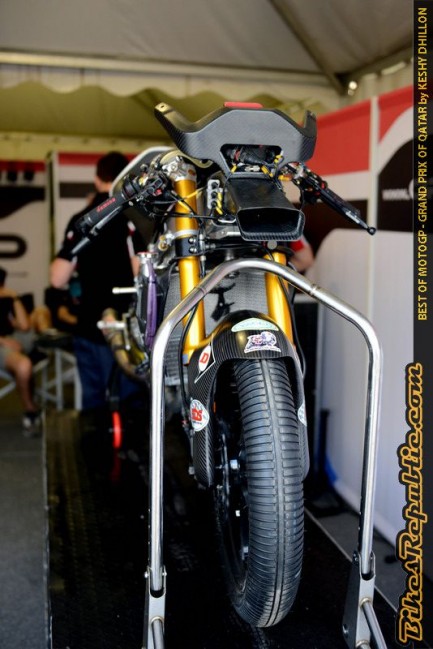 A look at the internals of a Moto3 race bike. Seems so simple but it is brutally complicated and expensive to set up your bike to win races.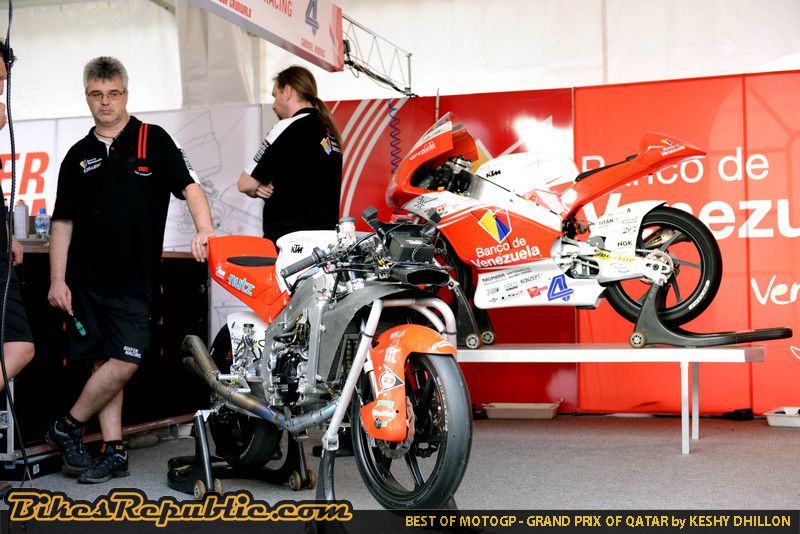 Points to note from the two pictures above, rain tyres vs full slick race tyres.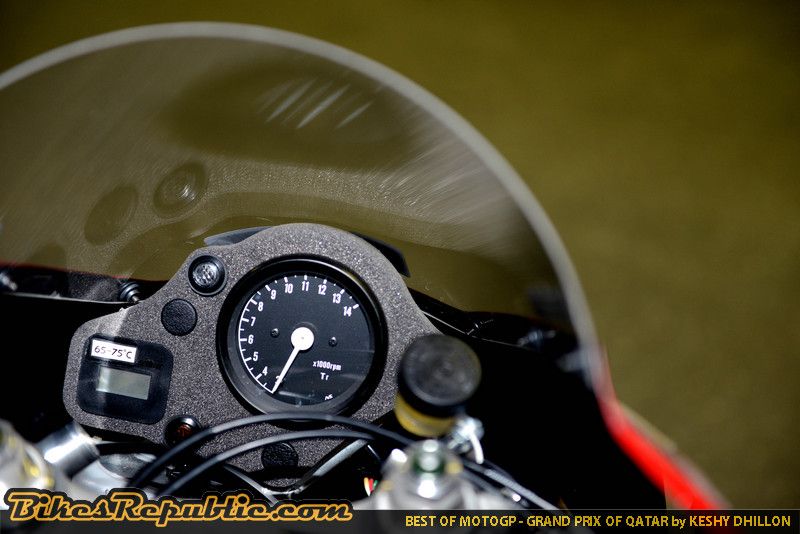 There is nothing greater than a classic round analogue rpm dial. No nonsense information, no drama, just pure engine speed and a tiny screen presumably telling the temperature.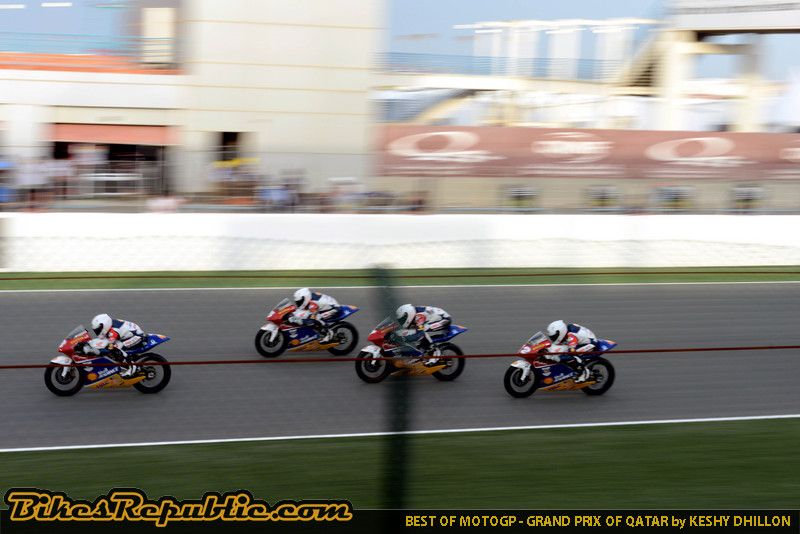 SAATC riders take on one another at the start/stop straight during practise on Friday. The SAATC is a programme put together by Shell Advance and DORNA in an effort to give young Asian riders a chance to shine on the world stage.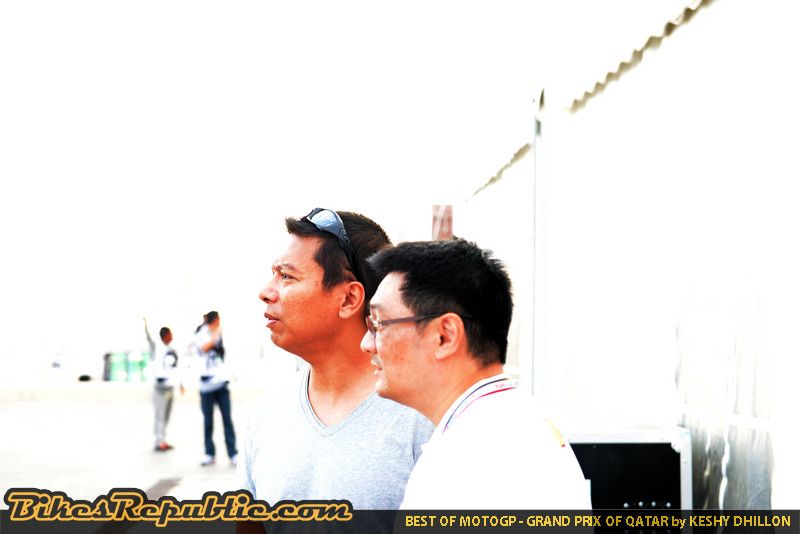 I completely messed up this shot with the wrong camera settings, a side effect of shooting in full manual mode, the camera may not be ready for "that shot". Here is Sepang International Circuit Datuk Razlan Razali and Shell Advance Global Brand Manager Mr Kar Tai Koh.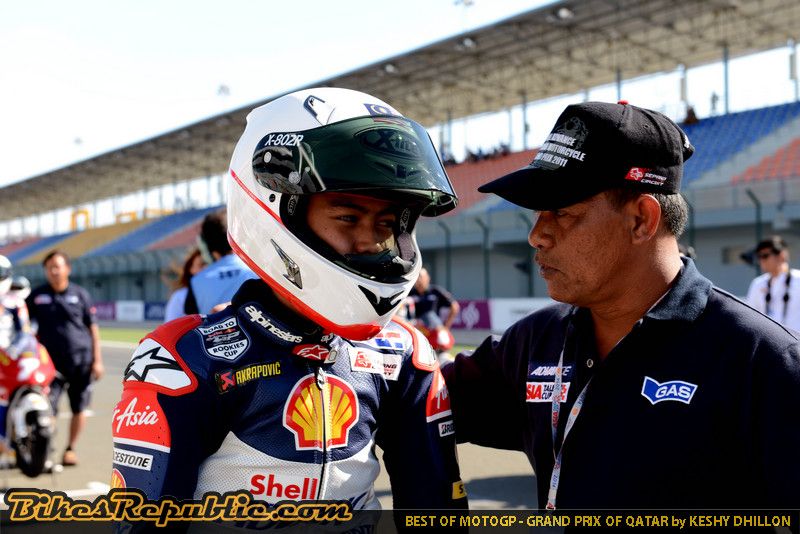 A father's prayer: SAATC rider Adam Norrodin shares a word with his father who was clearly nervous since he had two sons on the grid – Adam and Ibrahim Norrodin.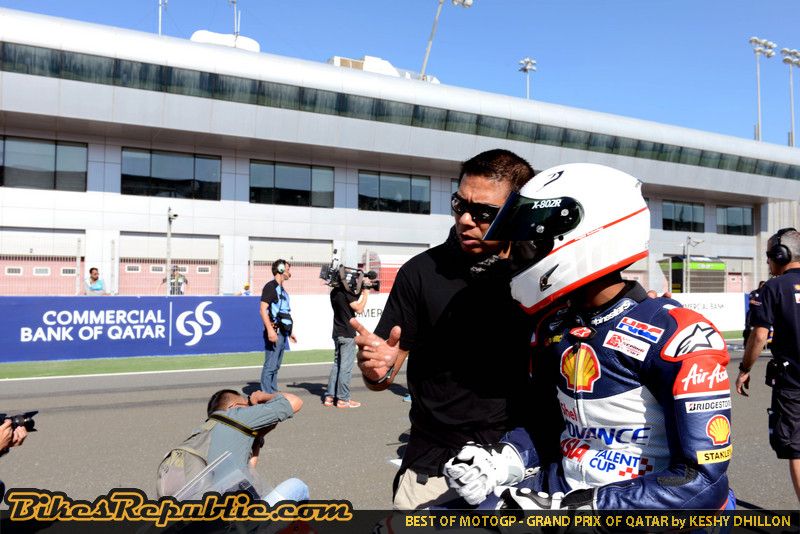 Datuk Razlan offers a word of advise to a Malaysian SAATC rider at the start grid.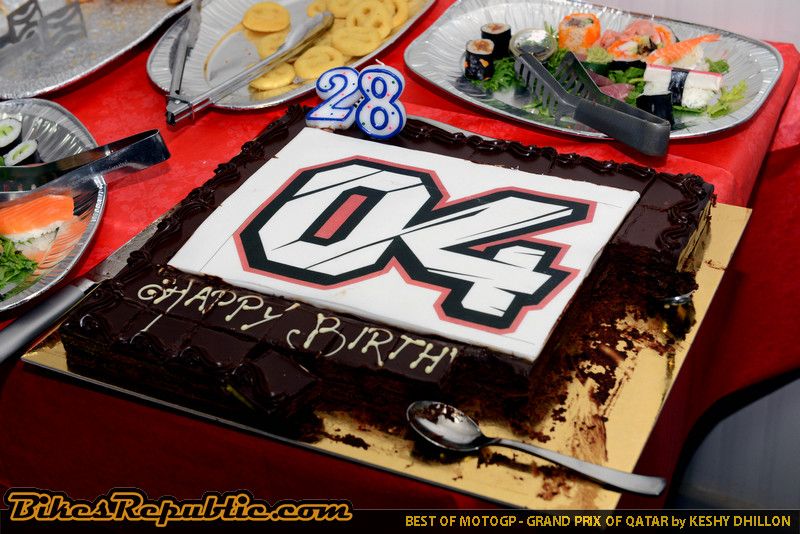 Andrea Dovizioso's birthday cake, yes we had some and yes it was delicious. His team made it themselves at their roving kitchen.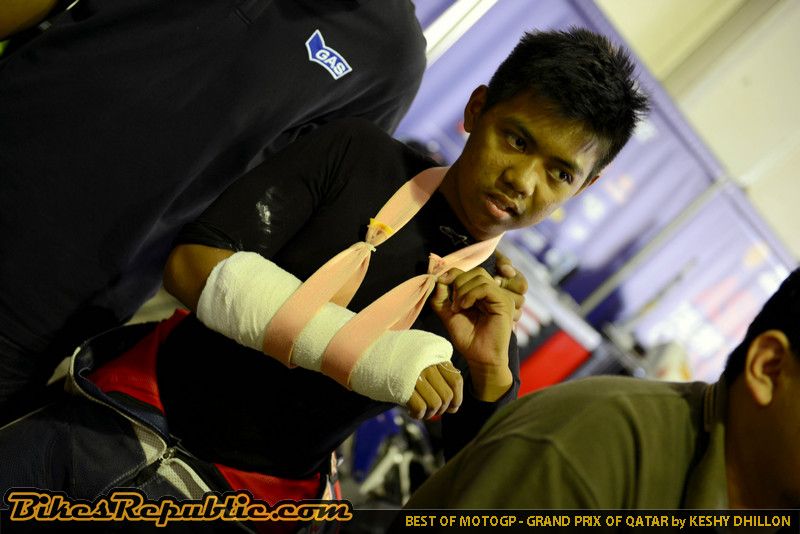 Ibrahim Norrodin was a wildcard last minute entry, but despite that he was amongst the fastest riders and made it up to third place. However, an error into turn one of the final lap resulted in him crashing out of the race. He suffered minor injuries with no broken or fractured bones. He will be fit to race again.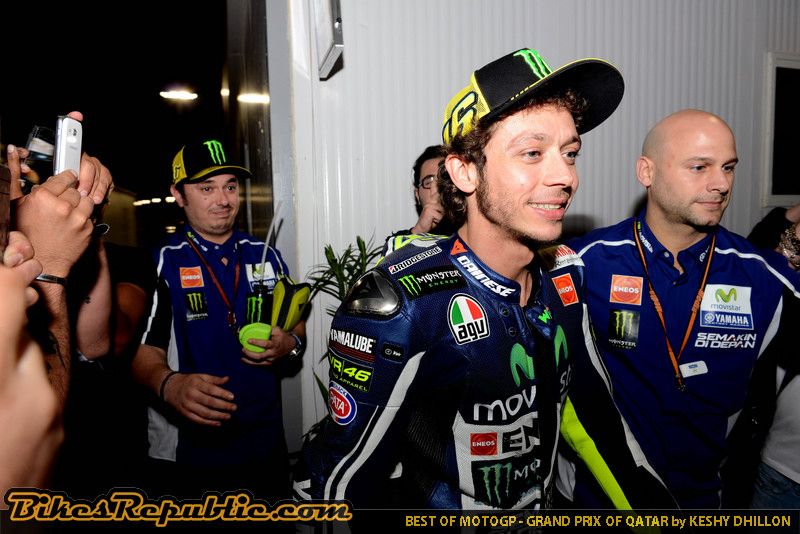 While walking around I noticed a large group of people waiting outside the Yamaha camp about 30 minutes before the start of the race. 10 minutes of waiting later out comes Rossi.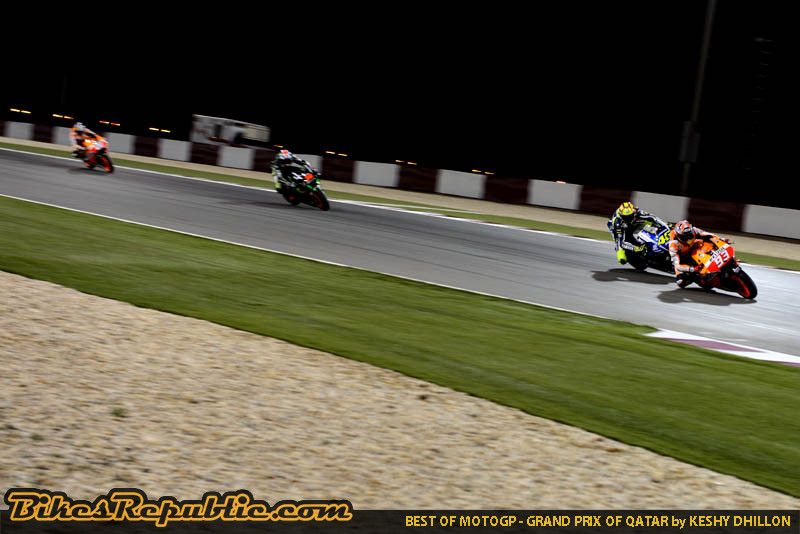 It was Marc's race, but Rossi put up a great dogfight. This is Rossi at turn one right before overtaking Marquez.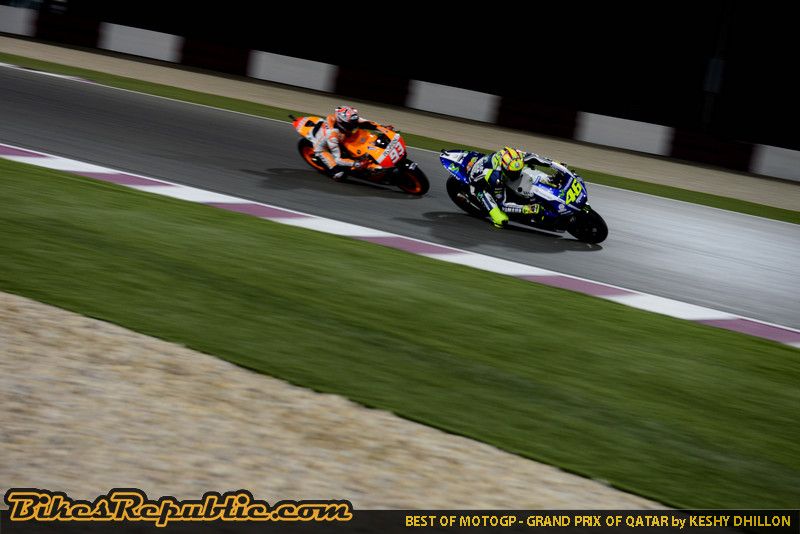 Rossi lays it down to Marquez at turn one.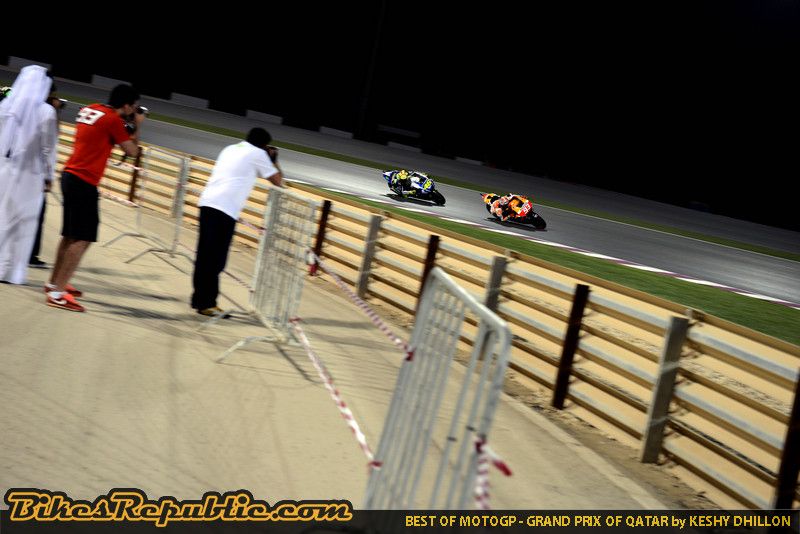 Only for Marquez to take back P1 and hold on to the lead till the end of the race. Another thing you will notice in this picture is regular (non-media) people standing track side. This is common at the Grand Prix of Qatar; there are more people standing track side than there are people at the grandstand. It does seem a little too much, but it sure felt like it from where I was standing.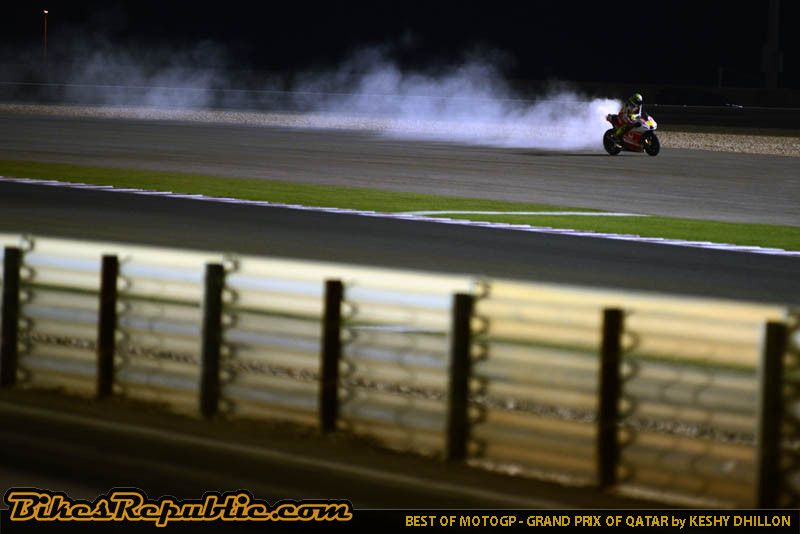 Someone blew an engine during practise.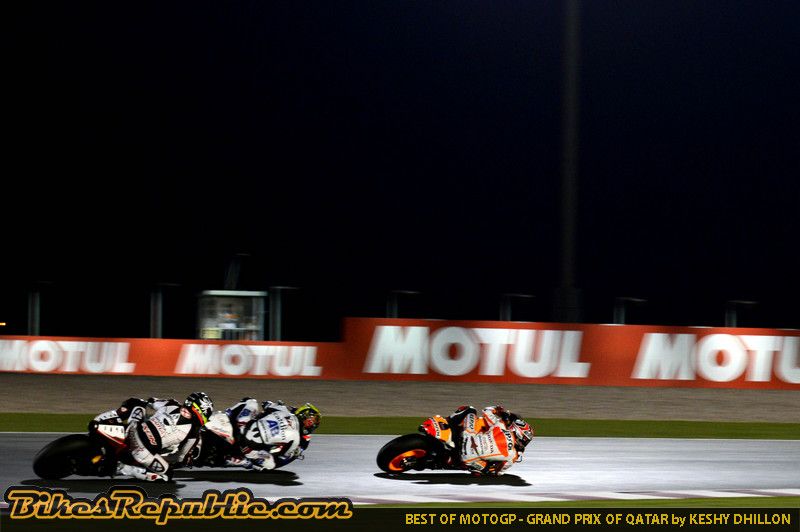 While Marquez leads two other riders during practise session. Pay close attention to their riding style, see how Marquez is much lower than the others.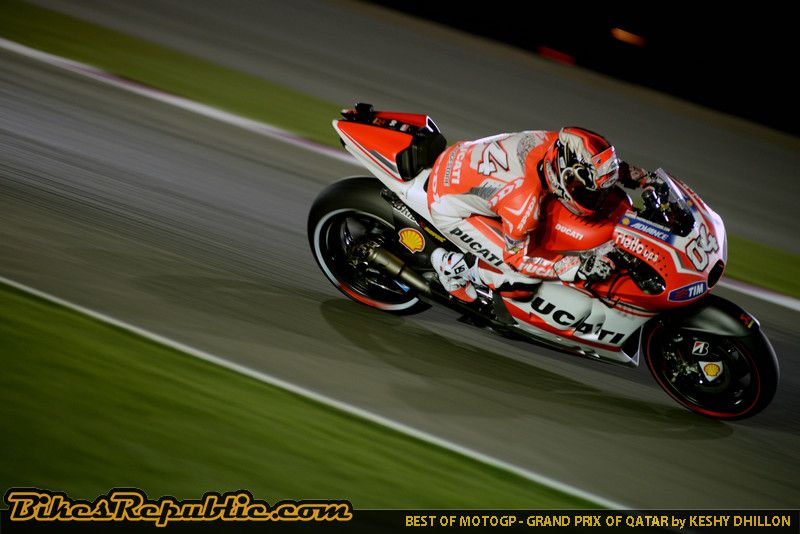 Dovizioso during qualifying. He qualified in fourth place and finished the race in fifth place after taming an understeering Ducati.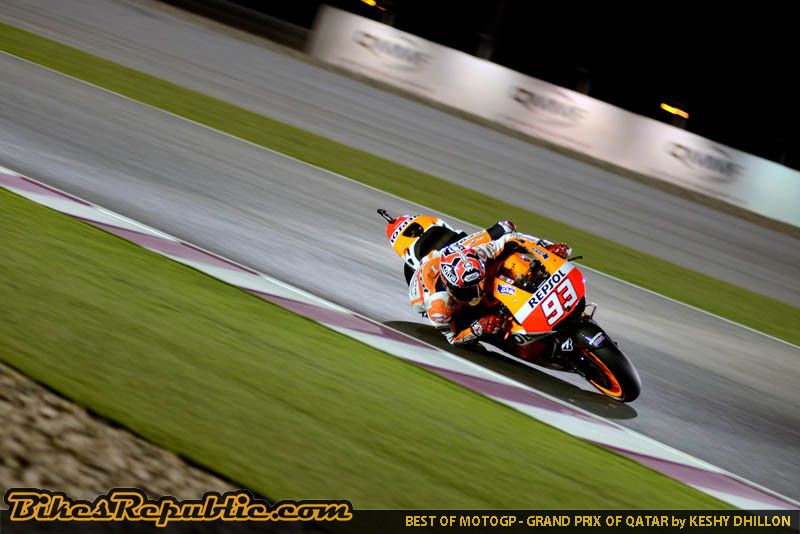 Mr Elbow Down during qualifying.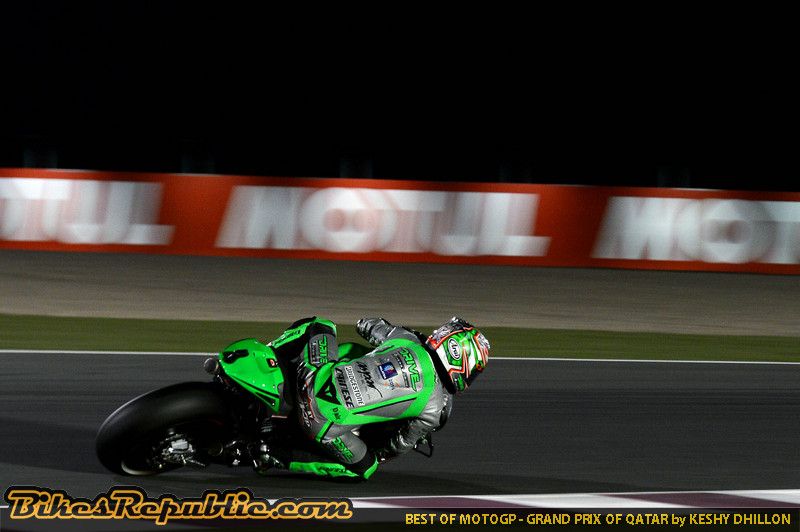 Nicky Hayden during qualifying.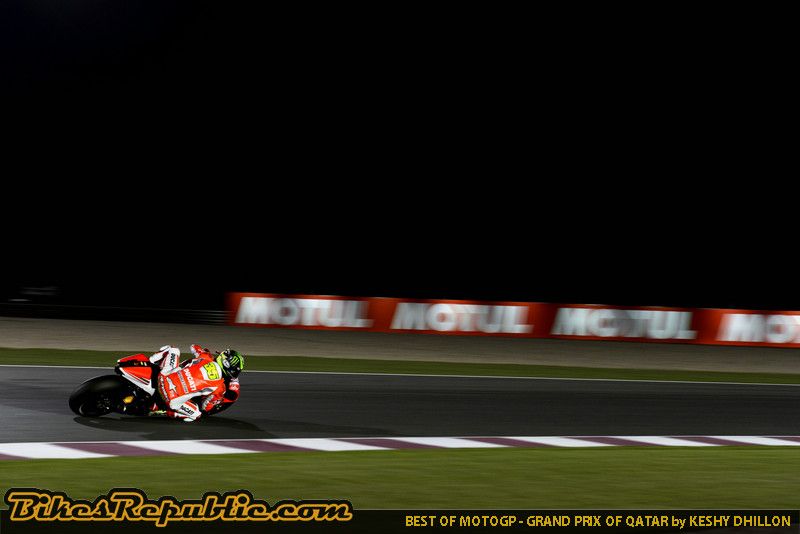 Cal Crutchlow during qualifying. He qualified eight and finished the race in sixth place.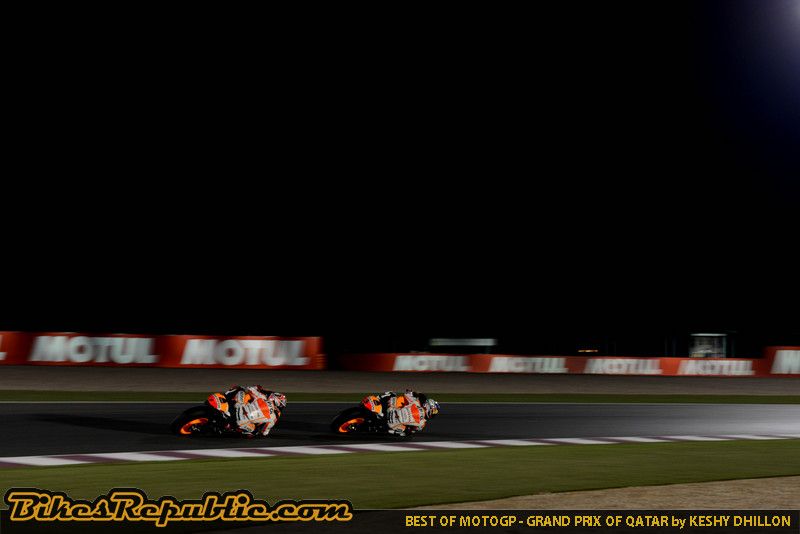 Formation attack. Marquez leads Pedrosa during practise.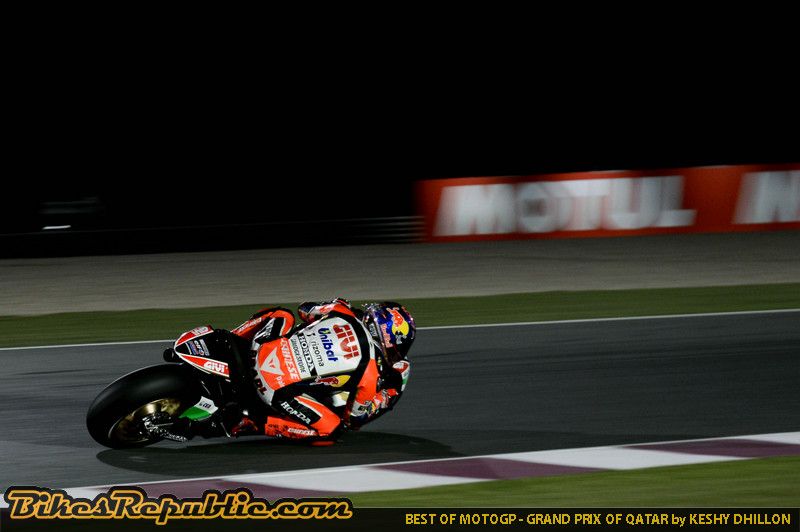 Stefan Bradl during qualifying. He did not finish the race after crashing out embarrassingly. He later said in an interview, "Actually it's difficult for me to express my feelings," he said afterwards. "In some way I did a very good job because I got a good start from the third row and had a perfect first lap."
"I was not expecting such a strong performance considering the issues we had in the build up but for the race I felt strong and determined. Basically I can't say why I crashed because I made the same move on the lap before but I lost the front in turn six. Luckily I am OK and the positive thing is that I took a big step in the race."
He concluded, "Several riders crashed on left corners so probably the humidity was too high and affected the grip level. Anyway let's look ahead to Austin which is another track that I like very much."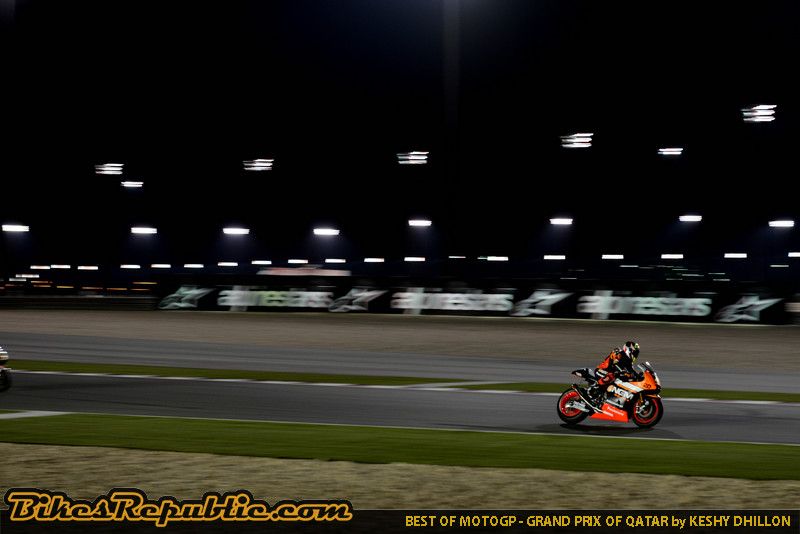 NGM Forward Racing's Aleix Espargaro under the Qatari lights. He will go on to finish the race in fourth place.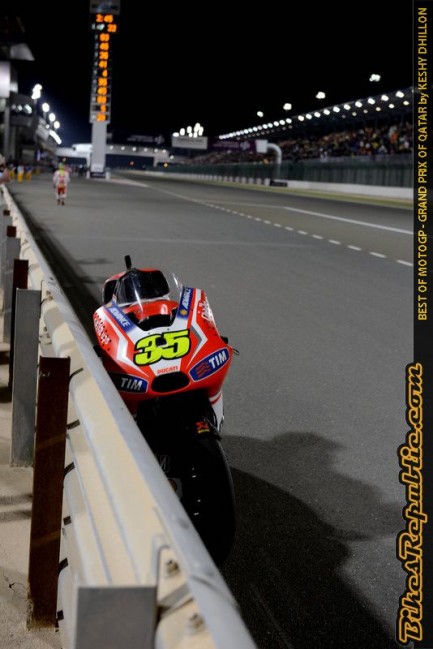 You know the bike is crap when the rider refuses to ride it back to the pits after crossing the chequered flag. Crutchlow can be seen walking away in the distance after he abandoned his bike at the pit exit lane. He was seen throwing his arms up in frustration after getting off his bike.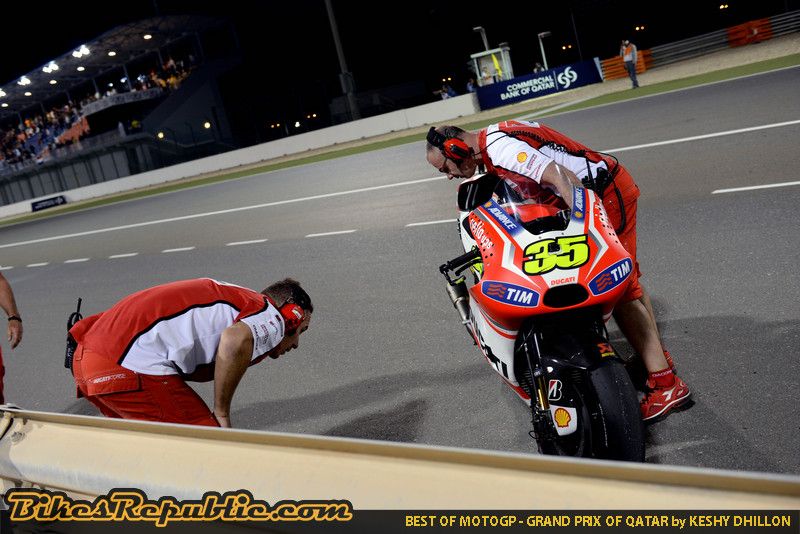 And finally, Ducati mechanics scramble to the bike and try to figure out what went wrong.