Youths from all over Asia, totalling 126 riders, undertake selection process to join the Shell Advance Asia Talent Cup Moto3 series for 2016. UPDATE: 13 new riders selected.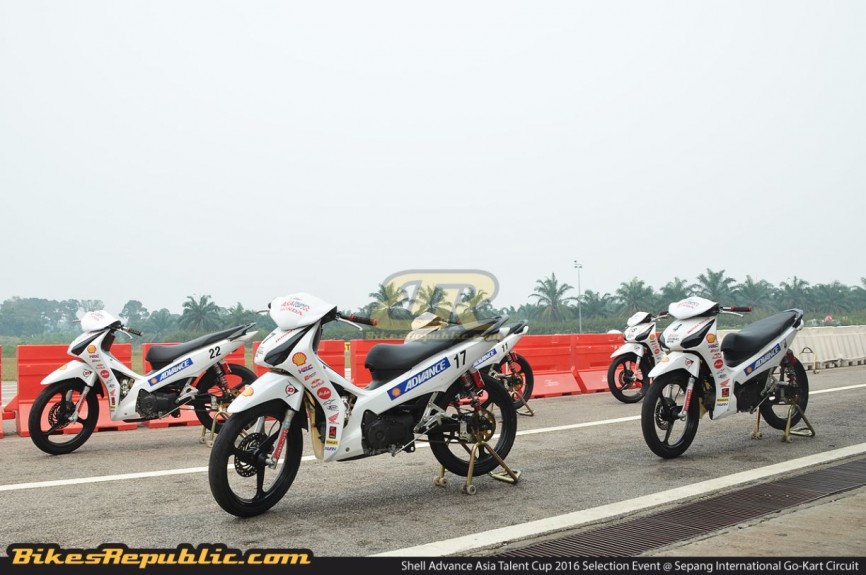 Barely two weeks after crowning its 2015 champion, the Shell Advance Asia Talent Cup series has already kicked itself into high gear for next season with its 2016 selection process.
Despite the worsening haze pandemic, the selection event got off to a roaring start today in the Sepang International Go-Kart Circuit, which is located within the grounds of the main Sepang International Circuit (SIC) venue itself.
Amongst the hundreds that signed up during the registration process this year, organisers Dorna have pre-selected about 126 youths for the first phase today (see full list here). All riders present hail from across the region, some from as far as New Zealand and Australia as well.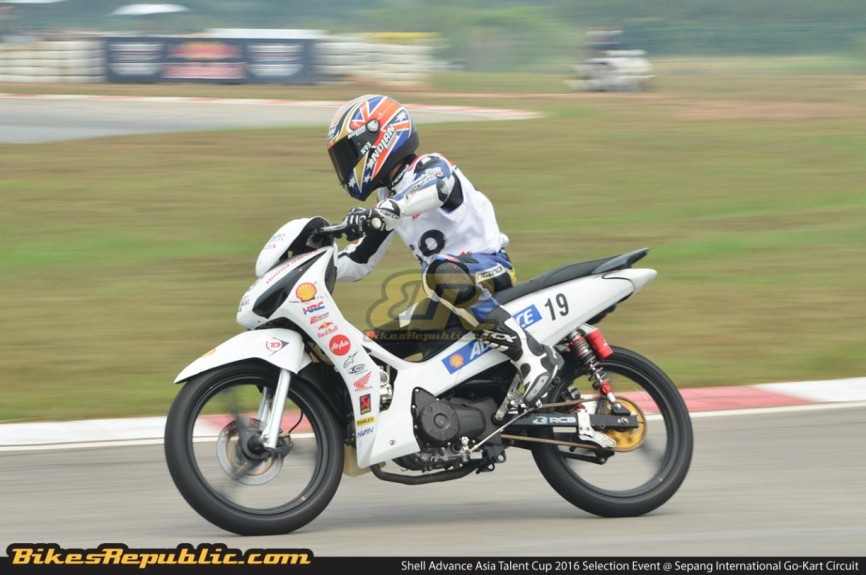 We spent a brief moment on the grounds earlier today whilst series coach Alberto Puig and team undertook their scouting process. As with the previous two selection processes, riders were required to show their skills whilst charting across the kart track astride Honda Future underbone race machines similar to the ones used in the Honda One Make series in the Malaysian Cub Prix.
Malaysia was represented by a sizable contingent, but two riders stand out the most. They are none other than former Asia Talent Cup riders Nazirul Bahauddin from Malacca and Ibrahim Norrodin from Batu Pahat, Johore. Despite their exit, both Nazirul and Ibrahim have kept their racing game up in the local scene, with Nazirul moving up the ranks within the Malaysian Cub Prix series this year too. Former series reserve turned full-time rider Ibrahim, on the other hand, is vying to make a return to join his brother Adam once again.
Other sizable contingents hailed from Japan, Thailand, as well as from both Australia and New Zealand. Amongst them were 12 pupils from the MotoDNA academy, and they are supported by the presence of their coach Mark McVeigh as well today.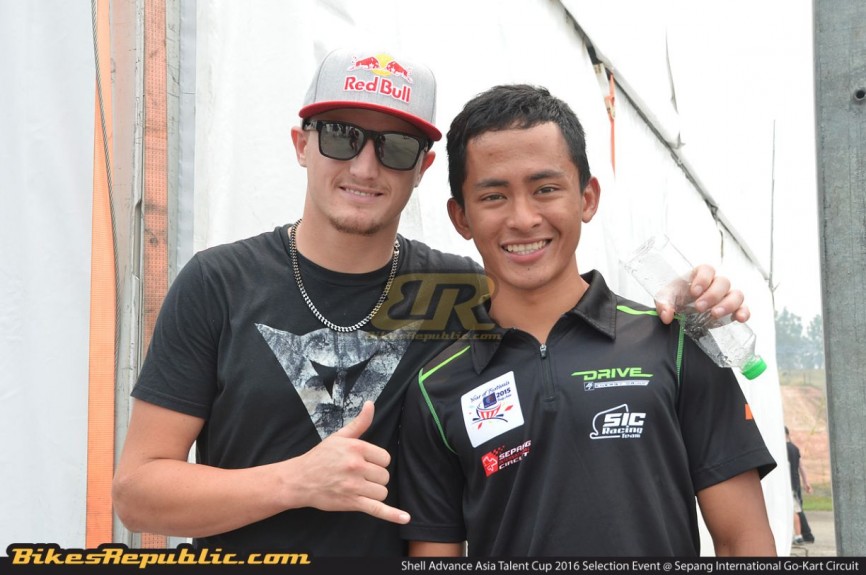 Giving the youths a huge treat today were the presence of present MotoGP rider Jack Miller, alongside none other than local Moto3 hero Zulfahmi Khairuddin and national Moto2 rider Hafizh Syahrin.
Besides observing, the trio were more than keen in showing a few pointers to their respective countrymen undergoing the try-outs. Other notable presence today were current Asia Talent Cup riders Adam Norrodin, who was showing his support for his brother Ibrahim, as well as Shafiq Rasol.
Following today's selection event, the committee, which is comprised of organisers Dorna and sanctioning body FIM, will convene again to finalise the next 22 riders who will take part in the 2016 edition of the Shell Advance Talent Asia Cup.
The current 2015 season will hit the track one last time this weekend for two races in support of the weekend's 2015 Shell Malaysian MotoGP main event.
UPDATE:
As the day ended, the committee has announced that 13 new riders were chosen from today's selection event. The list consists of riders hailing from Japan, Indonesia, Australia, and India.
Here's the full list:
| | |
| --- | --- |
| RIDER | NATIONALITY |
| Tom Stewart William Edwards | Australia |
| Ahamed Kadai Yaseen | India |
| Irfan Aradiansyah | Indonesia |
| Dwiki Hardhiana Suparta | Indonesia |
| Faldhan Novayaser Mardani | Indonesia |
| Alif Akbar Utama | Indonesia |
| Basyiruddin Samhan Mashuri | Indonesia |
| Riku Sugawara | Japan |
| Yuki Kunii | Japan |
| Shogo Kawasaki | Japan |
| Muhammad Izam Ikmal | Malaysia |
| Muhammad Khairul Ikhwan Bin Ajis | Malaysia |
| Amirul Hakim Bin Mohd Rizal | Malaysia |