Thailand's Somkiat Chantra snatches Asia Talent Cup 2016 champion's title after winning dramatic Race 2 in Sepang.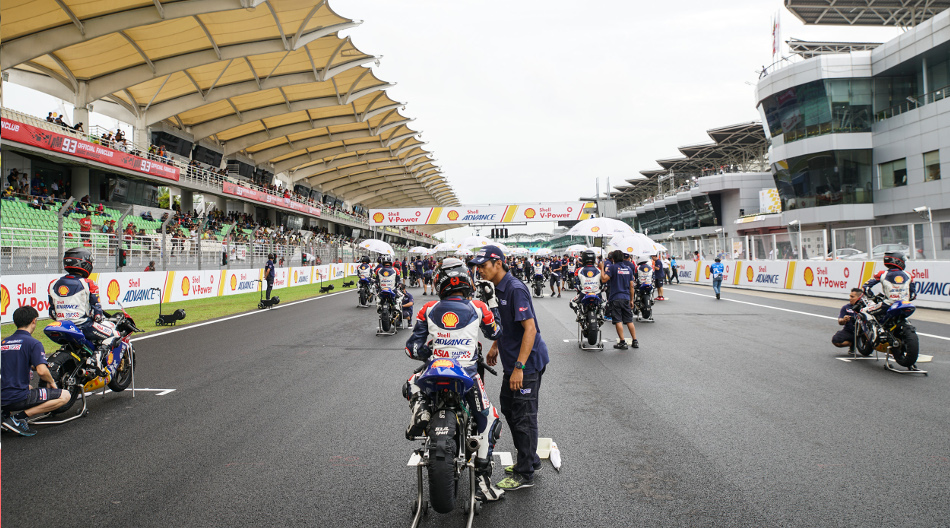 For one last time this season, Asia's most talented young riders lined up the grid for Race 2 of the Shell Advance Asia Talent Cup 2016 Round 6 in the Sepang International Circuit (SIC) yesterday with dramatic and surprising outcomes.
The weekend initially began as a battle between Indonesia's Andi izdihar and Japan's Ai Ogura for the title, with Thailand's Somkiat Chantra holding an outside chance at things. Izdihar seized the initiative after securing pole position on Friday and winning Race 1 yesterday.
As the lights went out in Sepang for Race 2, the heavy downpour that hit the circuit earlier during the 2016 Shell Malaysian MotoGP main event incubated strong challenges for the all riders astride their Honda NSF250R machines.
Unfortunately, Ai Ogura's day came to a disappointing and early end when he crashed out in the early parts of the race. Andi Izdihar, on the other hand, tried his might to defend against the charges of Somkiat Chantra and Turkish racing sibilings Can and Deniz Oncu before crashing out spectacularly.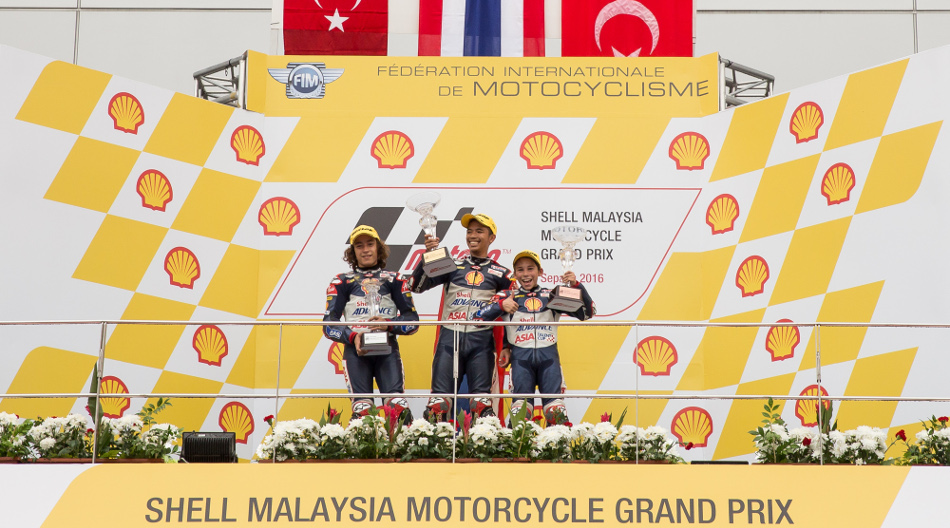 With both Ogura and Izdihar out, Chantra's needed to fend off the strong charges from the two Turkish youngsters plus Ryusei Yamanaka and Shogo Kawasaki. The latter Japanese rider then crashed out spectacularly too in the last parts of the race, giving Chantra the space to cruise to an easy victory indeed.
As the chequered flag waived, Chantra was first across the line whilst the Oncu brothers settled for second and third – the Turkish duo's first podium finishes in fact.
Even with a DNF from yesterday's Race 1, the 25 points Chantra collected from winning Race 2 saw him jump up from fourth and into first with 178 points in total. Just five points separated him from Ogura in second and a further 11 points from Izdihar in third.
Making it even more special, Chantra became the Asia Talent Cup series' first ever non-Japanese national and the first Thai national to be crowned champion. Chantra has proven that Asia's finest don't just hail from the Land of The Rising sun, but also from the famed Land of Smiles.
As the 2016 season concludes, rest assure that series coach Alberto Puig has got his hands full already for 2017 following the recent selection event held last week in Sepang as well. Surely, we can expect to see more of the region's best young talents shine as the Asia Talent Cup series returns in 2017.
In the meantime, you can relive both races through the attached videos below.
Asia Talent Cup Round 6 – Race 1
Asia Talent Cup Round 6 – Race 2