An epic Sunday ride out with the ever-growing Harley-Davidson V-Rod Owners Group of Malaysia.
As many of you would already know, the Harley-Davidson brand is a celebrated name amongst many bikers on our soil. Need proof? Take a look at the sheer size of the Malaysian Chapter of the Harley-Davidson Owners Group, or simply known as the HOGs.
But amongst the many models churned out by the American bar-and-shield brand, perhaps the one model that has been considered as one of its most 'underrated' has to be its V-Rod. First introduced in 2001, the V-Rod is perhaps Harley-Davidson's first new-generation model that signalled the brand's embracement of the future.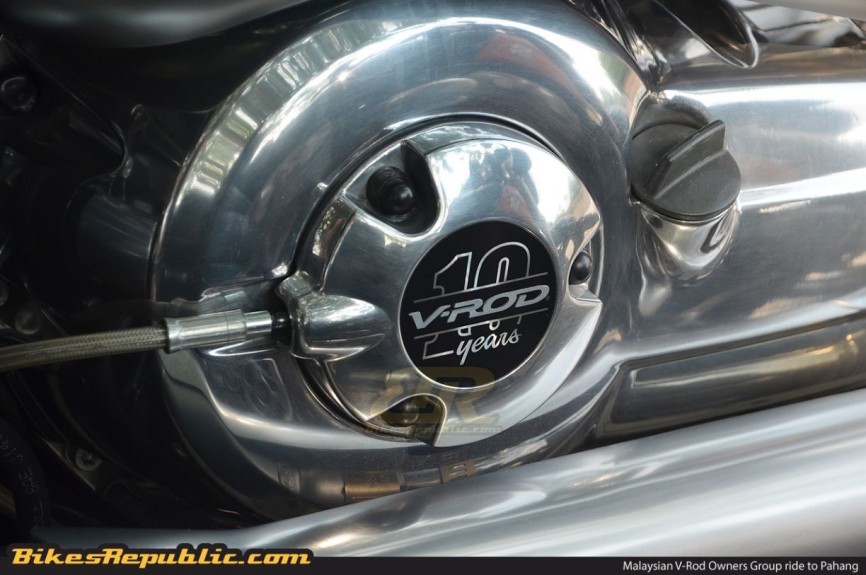 When it arrived at the start of the new millennium, the V-Rod was indeed a breakthrough for the brand, even when compared with the more recent all-electric Project Livewire demonstrator. It featured H-D's first new generation liquid-cooled V-twin with overhead camshafts, having developed this 1,250cc mill together with German sportscar maker Porsche. As its name suggested, it was literally a 'Revolution' within the brand.
Whilst the V-Rod, and its subsequent variants did not sell in huge numbers as its more traditional stable mates did, the V-Rod did have its own desirable charm, drawing a different set of non-traditional owners. To gain an insight into this, we were given an exclusive opportunity in joining in on a Sunday ride-out to Temerloh and Jerantut in Pahang with the Malaysian V-Rod Owners Group last weekend, where we talked about the V-Rod itself with some of its members over a tasty feast of 'ikan patin'.
First of all, the group, isn't exactly official just yet. The movement, so to speak, started with two passionate owners, Simon Ng and Daniel Tham, who started a Whatsapp chat group uniting all the owners. "I and Daniel started the group after we did our adventure ride from KL to Ho Chi Minh City, Vietnam via Phuket, Thailand last year during Songkran. A lot of folks doubted the V-Rod's long distance touring abilities, but I and Daniel proved otherwise with our ride. Then together, we sought to change the perception of the V-Rod amongst owners and non-owners," explained Simon, who is a full-time corporate trainer and public speaker.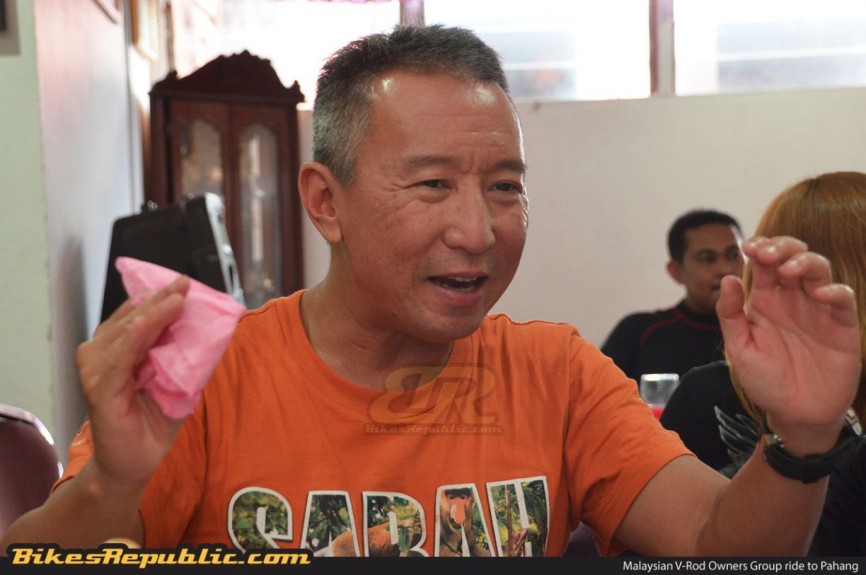 Simon added, "A lot of people did not believe the V-Rod could actually go the distance. Even the Vietnamese riders that followed us in our ride kept asking us on when are we turning back? They thought we were a little out of our minds!" Unlike the Vietnamese group, who had a full-blown support vehicle crammed with parts and crew, Simon and Daniel completed their journey on their own accord, and perhaps becoming the first V-Rod owners anywhere to complete such a distance across three nations. This subsequently led the duo in initiating this little yet exclusive group.
The group has kept its membership exclusive towards V-Rod owners. Affectionately called 'Rambo' amongst his peers for his love of sleeveless muscle tops, construction entrepreneur Daniel has been described by Simon as the group's active recruiter, slowly consolidating V-Rod owners into the aforementioned chat group since their epic ride to Vietnam last year. "We did our first 'official' group ride earlier this year into the small settlement of Titi in Semenyih. Back then, we managed to gather about 17 V-Rod owners, and we rode through some twisty roads, which was a really fun experience for the group," explained Daniel.
Whilst the earlier ride was an achievement in its own right, the group's recent outing in search of some tasty 'ikan patin' delicacy up into Pahang has eclipsed that entirely. The duo outdid themselves, bringing together a total of 23 V-Rods and their owners, with 21 of them hailing from Kuala Lumpur and the remaining two owners hailing from Pahang state itself. This is perhaps the largest V-Rod gathering ever recorded in Malaysia.
Very few of the V-Rods have made its way onto our shores by both the brand's official distributor Naza Prestige Bikes, as well as the various grey importers present. And, unlike any other models made by the H-D brand, the number of V-Rods in Malaysia is akin to the numbers of a rare sportscar. Our best estimation is that there are no more than 60 or 70 presently roaming our roads.
With that in mind, as well as the V-Rod's classification as a 'dragster' or power cruiser, it is easy to see that the models' owners in Malaysia are a slightly different bunch in character when compared to regular H-D owners we've seen. Amongst the variants present in the ride were its two most popular ones, namely the V-Rod Muscle and the Night-Rod. Each also boasted its own unique array of customisation, reflecting their eclectic owners in the process as well.
Our experience of the group in their ride through the Karak Highway and trunk roads towards Pahang state was indeed a memorable one. Embracing the V-Rod as a 'dragster' or power cruiser, the riders rode on a much faster pace compared to other regular H-D rides, but it remained in a somewhat relaxed tone. Accompanying this was the very bass-rich but distinct soundtrack of more than 20 grunty and torque-rich liquid-cooled V-twins riding as a pack.
Even meeting and chatting with the owners was somewhat a surprise as most are not your typical or average H-D owner type. The members were mostly in their early 40s, each with their own dynamic personalities to match their bikes, with a few exceptions here and there. Amongst them as well were two lady riders – a rare sighting in any bike group indeed, as well as renowned local actor and celebrity Jehan Miskin.
In fact, it was Jehan that brought our attention to this group of select bikers, with Jehan himself being a member as he owns one tastefully tricked out Night-Rod. As for the group's moderators, Simon shares a similar taste with Jehan in owning a Night-Rod, whilst Daniel 'Rambo' reflected his personality through ownership of a V-Rod Muscle.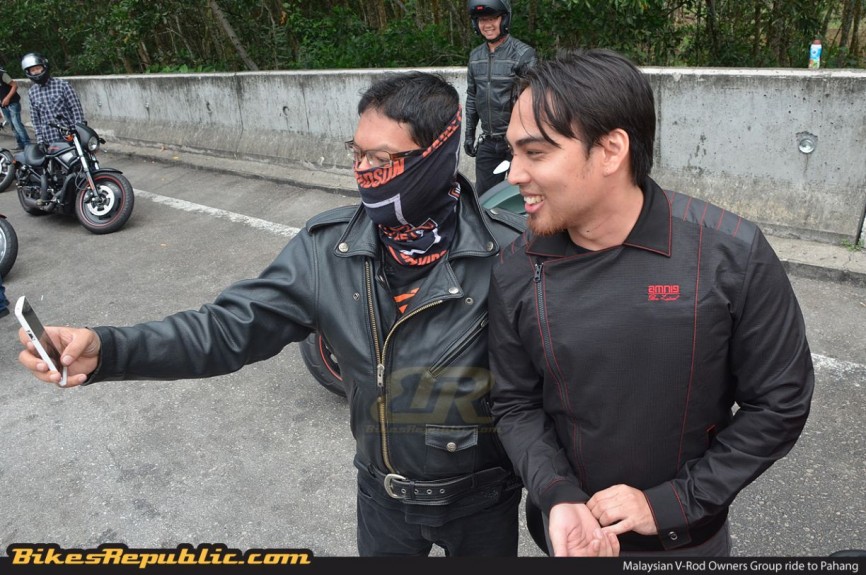 Besides the perception change, Simon reiterated that the group's formation was intended first and foremost to celebrate the V-Rod itself. As the movement grows in terms of its size, Simon and Daniel also shared their future plans and ambitions with us.
The first of which is the road towards 'legitimising' the group. "When the number is right, say 40 owners, I forsee the need to register the movement and making things official and formal. Right now, we are on the road towards that," explained Simon, who's face quite literally lit up when this subject was asked. Furthermore, the duo stated that by doing more and more activities like their recent Pahang ride, they intended to welcome more V-Rod owners from all over the country in order to accomplish this mission.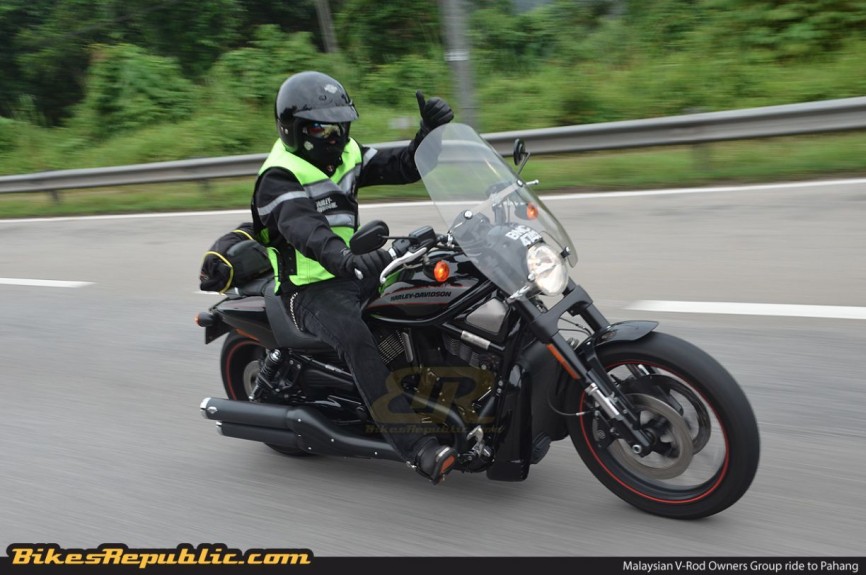 The next agenda, according to both Simon and Daniel is indeed quite epic. The duo are in the midst of planning a group ride into Thailand to conquer the Kingdom's infamous 1000 Corners route in the Mae Hong Son province. "There is a strong and large V-Rod movement in Thailand, and they are just as exclusive as we are. We intend on tying up with them to perform this ride, and this will happen as soon as we get enough participants," said Simon.
In preparation to that, his counterpart Daniel further added, "We are also organising a group ride up to Sadao, Thailand sometime in June for Sadao Bike Week. Hopefully, we'll get a high turn out for this as how we have achieved in this ride."
Though not an official group just yet, the strong yet uniting passion displayed by the group's members, as well as its two key moderators, is undeniable. In fact, we would not be surprised to see the group successfully registering itself sometime soon. Interested V-Rod owners who are not apart of the group yet can get in touch with its unofficial 'recruiter' Daniel Tham aka Rambo via his Facebook page.
Malaysian V-Rod Owners Group ride to Pahang 2015