Sights and sounds from last weekend's 1 Minimoto Challenge Malaysia race weekend in Speedway PLUS, Subang.
Last weekend, the 1 Minimoto Challenge Malaysia (1MCM) race weekend took place for the first time in Malaysia.
Held in the Speedway PLUS kart circuit just off the ELITE Highway in Subang, it was a weekend filled with thrills and spills in various sizes, notably from talented kids and youths competing on Kayo MiniGP bikes.
This is the first MiniGP challenge of its kind ever held on our soil in fact, and the first MiniGP tournament of its kind held in the ASEAN region as well. The 1 Minimoto Challenge Malaysia event was also supported by a series of pocket bike challenges, followed by the Supermoto CKD and Supermoto Open races.
The event was organised by HB Motorsports and Pitrides Motorsports, with the technical partnership of Kayo MiniGP Malaysia, as well as sponsors Strada 7 Racing and Area 22 Performance Parts. Notably, 1 Minimoto Challenge Malaysia also garnered the support from the government, namely from the Ministry of Youth and Sports Malaysia (also known as KBS) and the Ministry of Tourism Malaysia.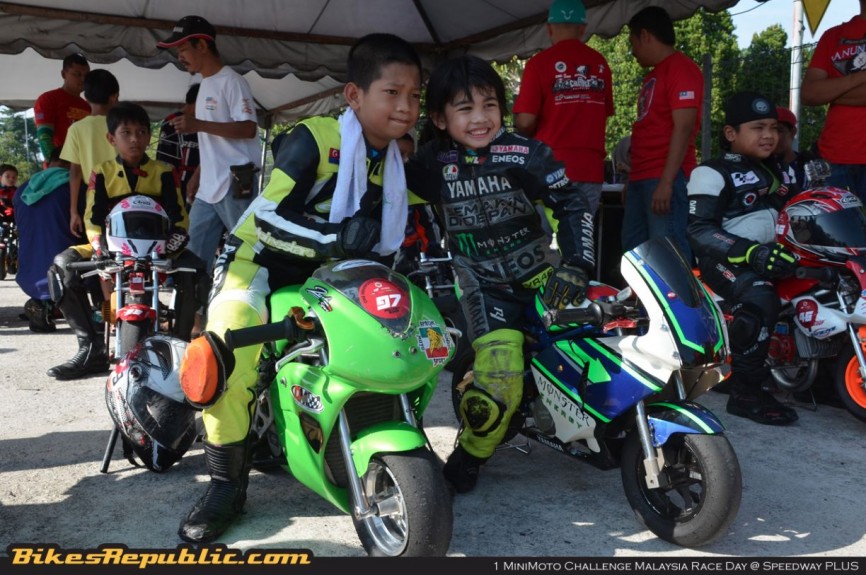 A total of 45 riders from as young as seven years old participated in the challenges held over the weekend, with 18 of them hailing from outside the nation.
Some of these came from as far as Tunisia, Hong Kong, and Taiwan. Despite the presence of highly skilled international riders, the local talent pool did not disappoint, displaying the nation's true potential and passion for motorcycle racing.
Practice and Qualifying session were held on Saturday, giving all participants a chance to familiarise themselves with the 1km-long Speedway PLUS karting track. What made the day even more challenging was the heavy downpour that delayed many of their sessions. Nevertheless, the heavy downpour did little at extinguishing the riders' intent and need for speed on raceday Sunday.
Things kicked off with Pocket Bike races where two categories were competed – Novice and Expert. Though held as support events, the sight of five and six-year-old kids clad in full gear astride these tiny two-strokers lapping the Speedway PLUS circuit is a sight to behold.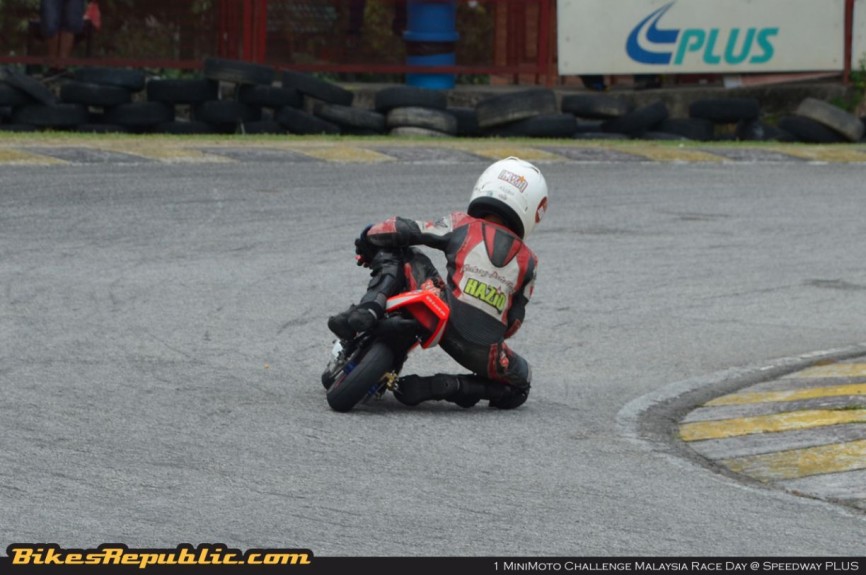 Given their tiny sizes, each pocket bike race only lasted about five laps, but they proved to be just as dramatic to watch as the MiniGP.
The same can be said about the Supermoto CKD and Supermoto Open support events.
Held in between the MiniGP and pocket bike races, the larger bikes and the older 'kids' riding them put on spectacular display of true racing skills, having no incidents throughout all their races.
What was also respectable was their united solidarity these riders showed during their podium ceremony. All five podium winners in the Supermoto Open category brought out a special tribute for fellow rider and pilot Capt. Eugene Choo who tragically lost his life in the MH17 incident.
Making an appearance over the weekend was Shell Advance Asia Talent Cup (Shell Cup) rider Helmi Azman. Helmi was more than happy to lend his supporting voice for the kids in the pocket bike races, paying homage to the very avenue where he started racing.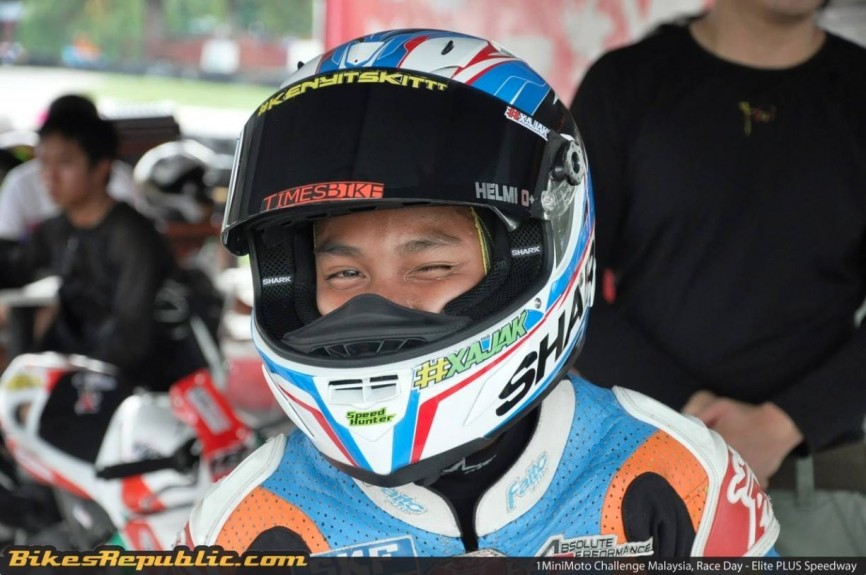 Later on, Helmi also took part in a fun MiniGP demo session with members of the media present, showing off his tremendous skill and fitness levels first hand to us in the process.
However, Sunday's main highlight were the MiniGP Open challenge races. Given its large number of participants, 1 Minimoto Challenge Malaysia organisers held six races held in total to filter the competition.
Three of which were group challenges contested over 10 laps, followed by two 'last chance' qualifying races lasting 10 laps each, and one 12-lap Final battle. Suffice to say, the day was filled with intense, nail-bitingly close racing action from all the participants, especially in the two last chance qualifying races.
The final race saw 20 bikes take the grid, comprised of top five riders from the group races, and the top five riders from the last chance qualifying races.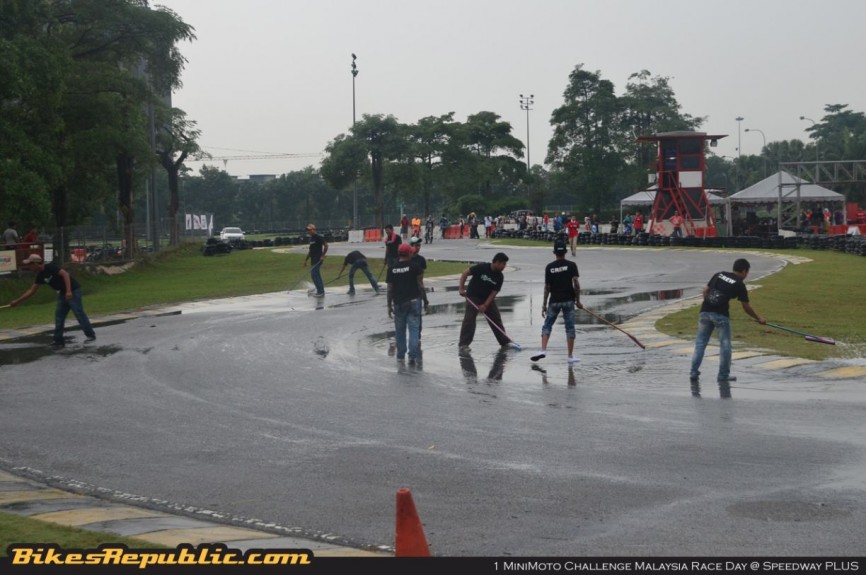 Despite the heavy downpour delaying the start and shortening the race distance by half (12 laps were scheduled but only 7 laps were completed), all 20 riders nevertheless put on an excellent show for fans in the wet, displaying their skills at handling the notoriously tough-to-handle MiniGP bikes in the wet.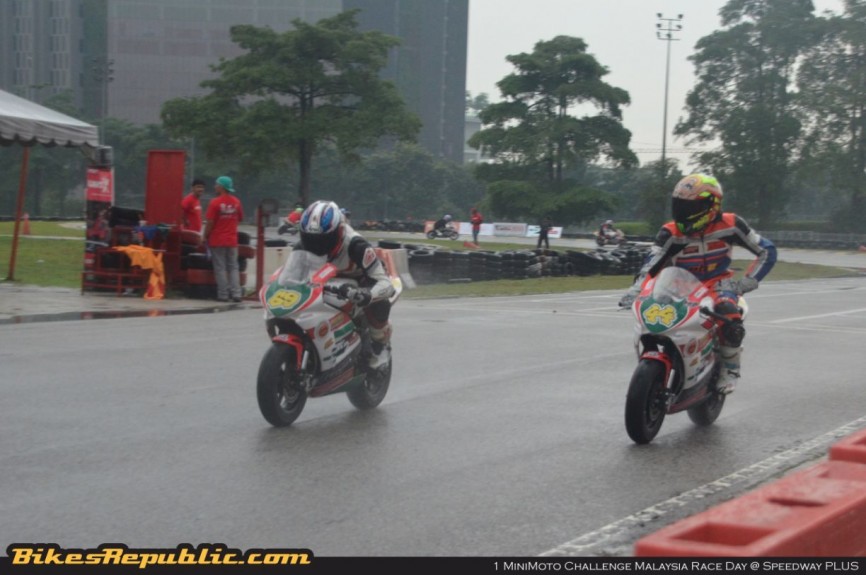 By day's end, it the title of MiniGP champion in the 1 Minimoto Challenge Malaysia weekend was claimed by Taiwanese rider Chao Sung-Kai, while Malaysian Azrul Affendi Bin Hadi claimed second, with Hong Kong national Fung Chin Yan claiming third.
Malaysians Muhammad Rashidi Bin Ismail and Mazlan Bin Mustapa Ayob rounded off the final podium spots in fourth and fifth respectively.
Organisers HB Motorsports and Pitrides Malaysia are planning to hold another MiniGP tournament later this year in October. Rest assure we will have details on this as soon as it is made available to us.
For now, enjoy our extensive gallery of the weekend below. More images are also available on our official Facebook page.
1 Minimoto Malaysia Challenge Gallery