Day 2 of the Triumph Motorcycles Malaysia London Adventure trip opened up a free day for this writer.

He decided to visit the famous tourist sites since it was his first ever visit to the city.

The places included Hyde Park, Buckingham Palace, Big Ben among others.
Dato' Malique and the Tan family had to attend the Triumph Global Dealer Conference on Day 2 (23rdOctober 2018) of the TRIUMPH MOTORCYCLES MALAYSIA LONDON ADVENTURE trip. That meant a full day of excursions for me.
I sat up in my bed 4am and couldn't go back to sleep. My temples pounded in excitement, adventure. I turned on the telly (TV). "It is going to be a blustery day but there's plenty of sunshine. We should see 15oCelcius in the afternoon and dropping to 5oCelcius at night," said the weatherperson.
15o Celcius is like the weather up in Cameron Highland at night. I was thinking of just wearing a knit sweater and hoodie, but Dato' Malique advised that I should put more layers on. He's very well-versed with the city.
Asep had invited me earlier to visit the National Motorcycle Museum in Birmingham. It's a 5-hour return trip by car, however. It pained me to refuse but I had to, since it was my first trip to London.
PLANS FOR THE DAY:
Stroll under the canopy of yellowing leaves in Hyde Park;
Witness Changing the Guard at Buckingham Palace;
Head to Westminster Abbey to see where Sir Isaac Newton among others is interred;
Visit Big Ben and the Houses of Parliament;
Turn back towards St. Paul's Cathedral;
Head back to Tower Bridge to photograph it in evening sun and with the lights on at night.
Greedy? Not according to Google Map, anyway.
Okay, let's be on our way. Chop chop!
GETTING THERE
Travelling in London is easy as the Underground train services (colloquially called "The Tube") wind through the entire city like a spider's web. Or how an earthworm digs through the soil.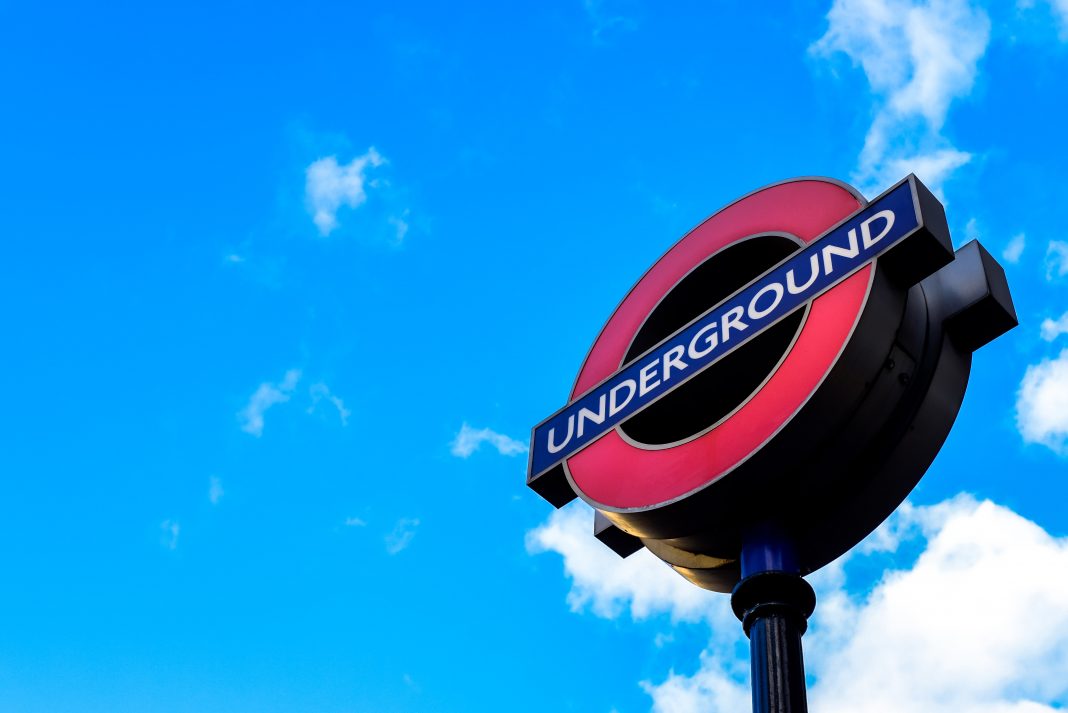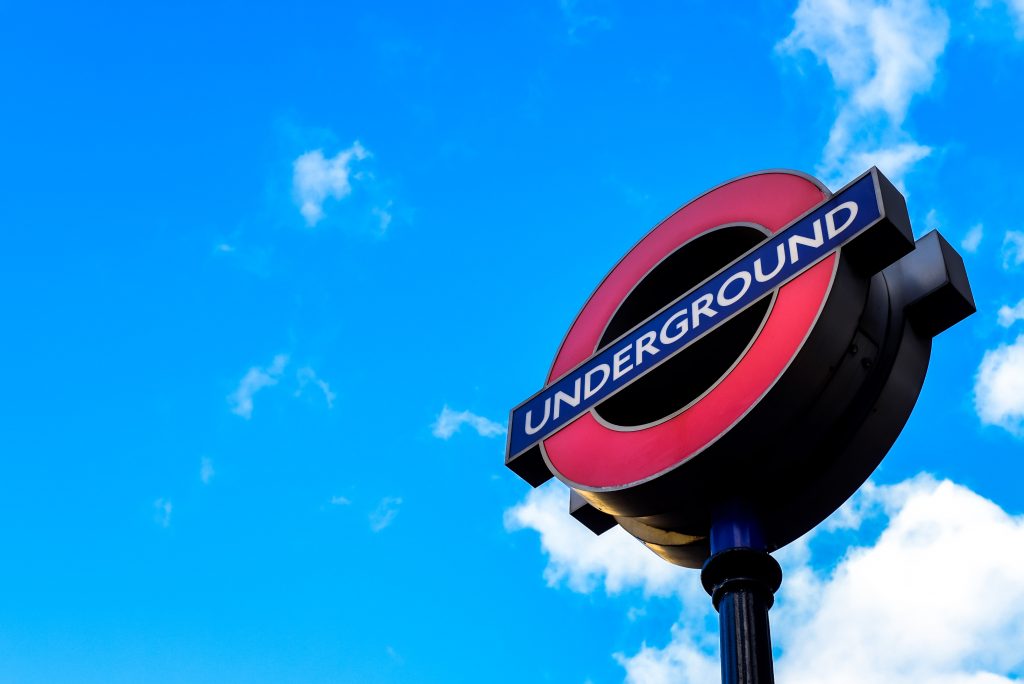 There're also above-ground tains, busses, taxis, Uber, Santander bicycles besides The Tube. There's even a River Thames ferry service. The best way of seeing the city is by these methods since you're above ground, but the Tube is the fastest as you don't have contend with traffic.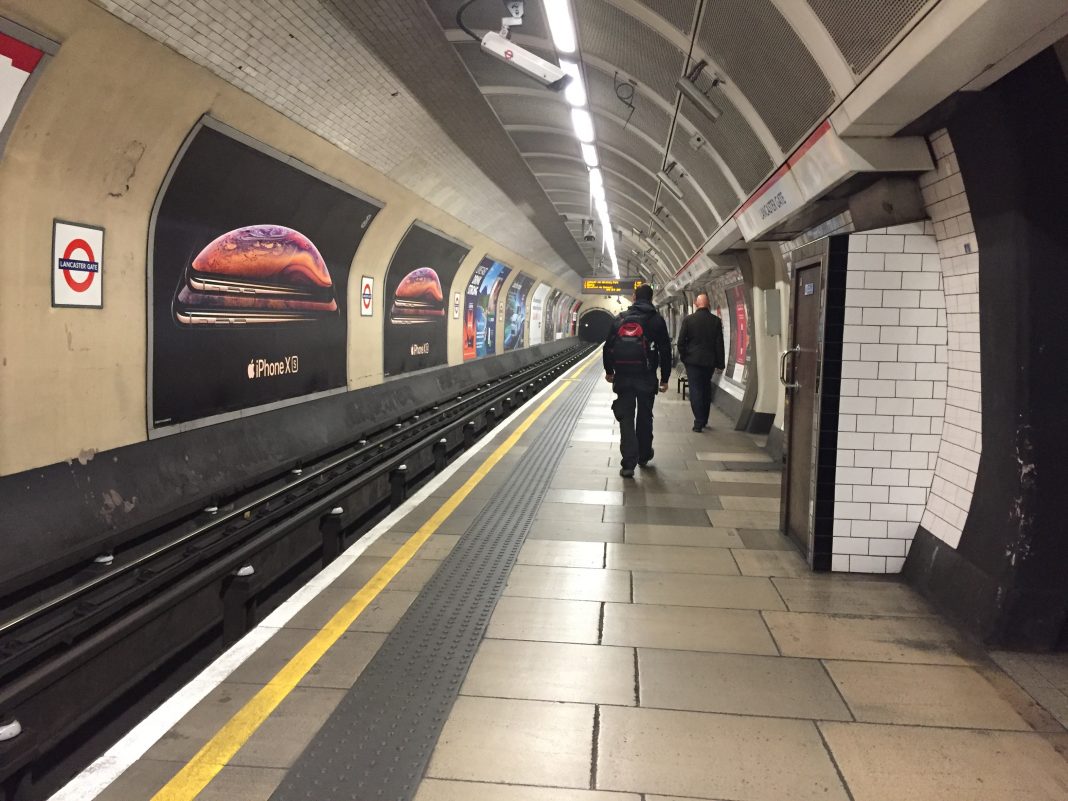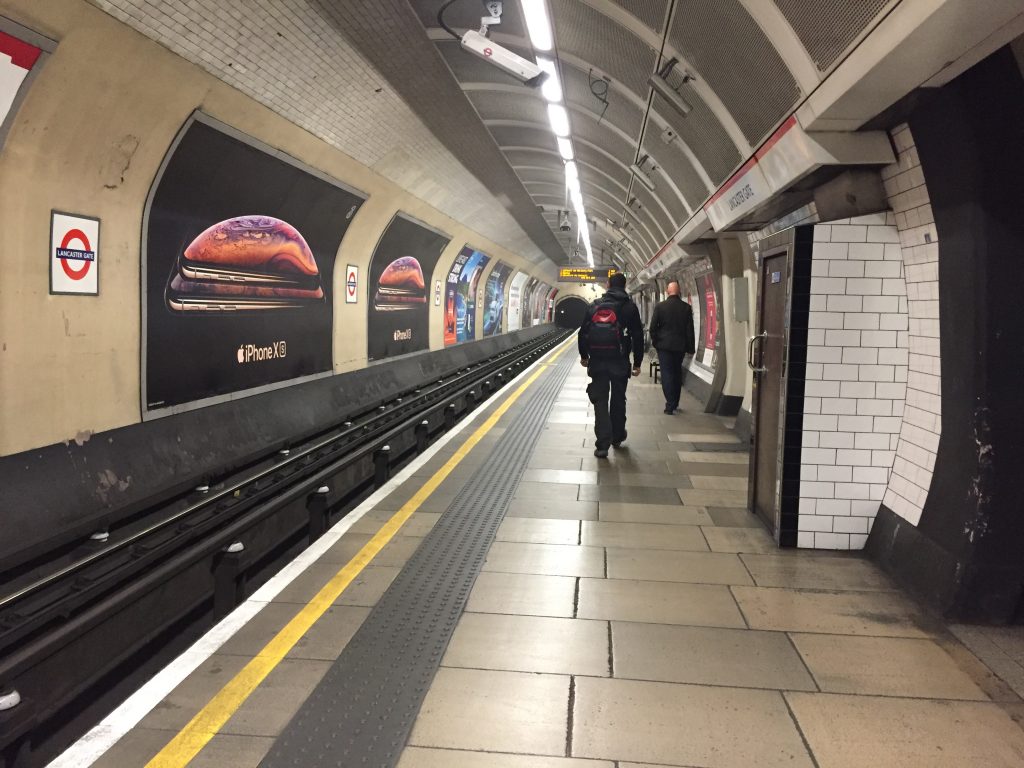 Google Map suggests which form of transport to take and it's up to you to decide how quickly you want to get there, or if you're willing to change trains or transports multiple times.
However, comfortable sneakers are a must since you'll be doing lots of walking.
HYDE PARK
I left the Grange Tower Bridge Hotel at 7.30am and walked to the Tower Hill Underground Station for the train to Hyde Park Corner station.
30 minutes later, I entered the park from the south-eastern end and found what I had always wanted to see. Paths leading into the distance under canopies of trees with black trunks and yellow(ish) leaves.
The leaves were still greenish-yellow as the autumn weather hasn't turned really cold. We would later learn that it's the first time in 50 years.
To cut the story short, Hyde Park was massive! How huge? Try 350 acres. For a more relatable representation, the distance between Speaker's Corner at the northeast end to Hyde Park Corner is 1.9km! Henry VIII established the park in 1536 as a hunting ground before it was opened to the public in 1637.
Hyde Park was recently named as the world's fourth most valuable park at £19 million.
Deciding that Speaker's was too far, I veered onto a side path ended up at the lake called "The Serpentine." I've covered walked 1.93km (1.2 miles) in Hyde Park, so far.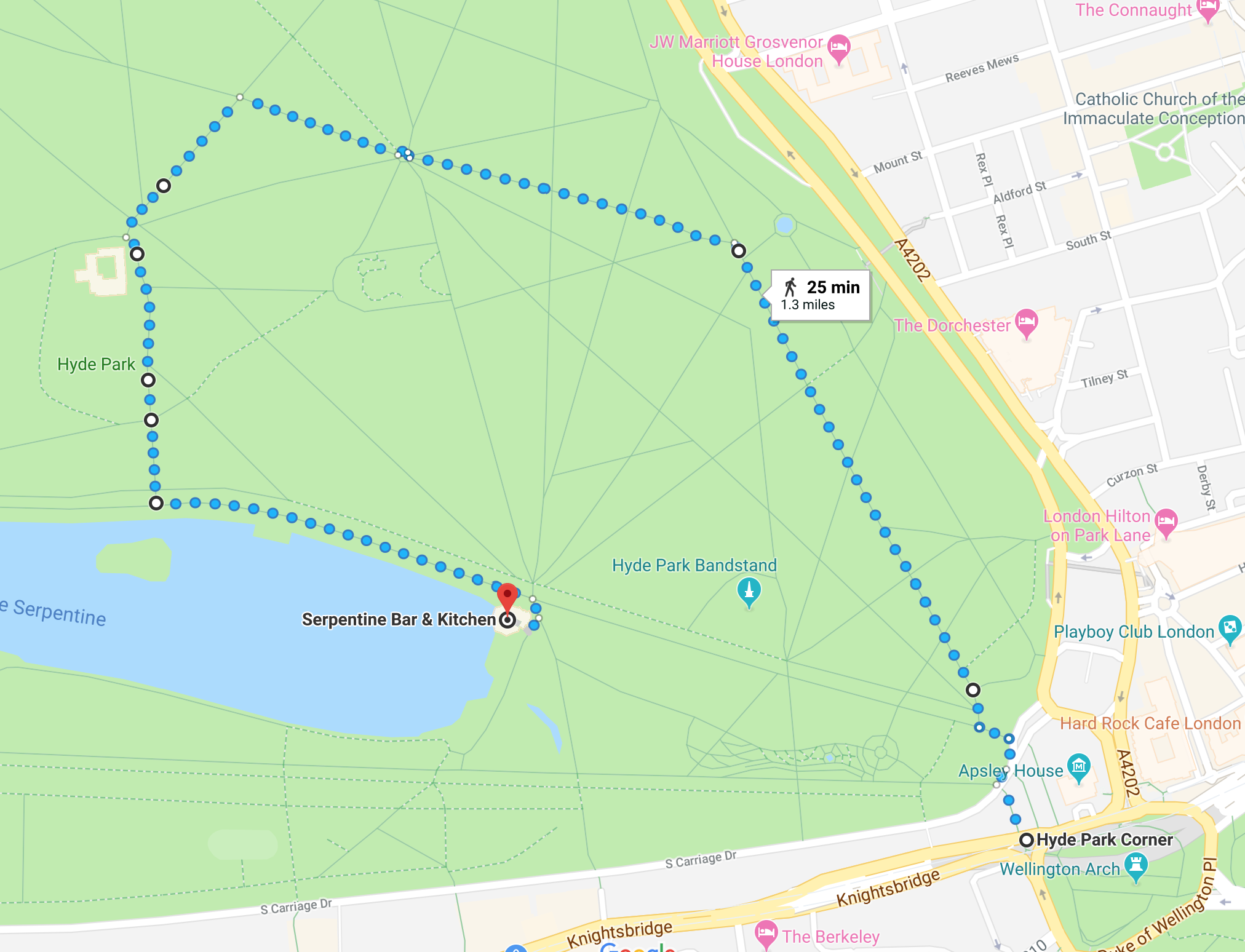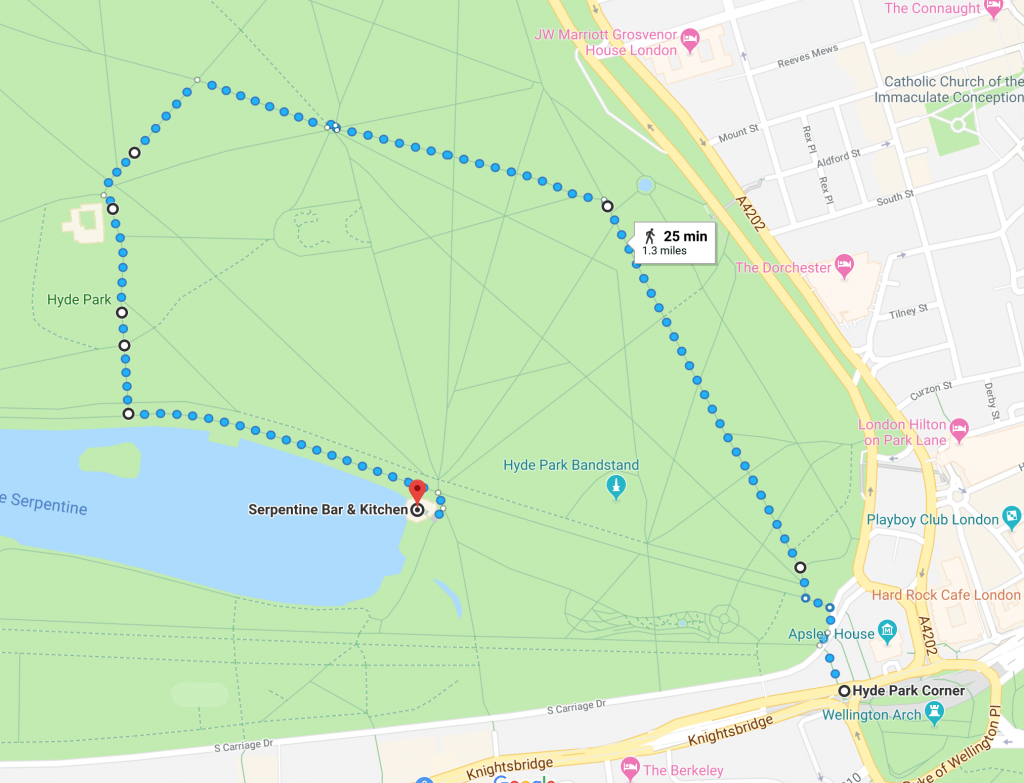 There was a light wisp of fog hanging over the lake when I got there. Geese, ducks, gulls, pigeons, besides many species of birds hung around.
I found a café called Surpentine Bar & Kitchen at the southern bank. Feeling pretty cold despite being wrapped in a t-shirt, knit sweater, hoodie and down jacket, I stopped for a hot latte. I went outside and took a bench to enjoy the view and cool air.
I suddenly realized I was this one crazy Asian sitting outside relishing the cold while all the Mat Sallehs were inside the heated café…
I continued my stroll through the park towards the Palace afterwards. Guided by Google Map, I was soon back at the arch where I first entered the park. Right at the moment, a mounted policewoman came through. She nodded at me and said, "Please stay where you are." I nodded back.
Then, the first horse-mounted soldier rode up in ceremonial regalia.
Having researched about the royal troops prior to the trip, I identified him as part of the King's Troop, Royal Horse Artillery. They're a ceremonial unit of the British Army, created in 1946 as an homage to horse-mounted troops by King George VI. When his daughter, Queen Elizabeth II succeeded to the throne, she decided to retain the unit and its name in his honour.
More troopers followed behind, including six-horse units towing World War I 13-pound field guns (cannons).
The unit parades in such fashion only when there are state functions such as the monarch's birthday, royal weddings or state visits. They'd ride to an area in Green Park and fire their cannons as a ceremony. I couldn't believe my luck that I saw them!
WELLINGTON ARCH – CONSTITUTION HILL
Crossing the road brought me to the awe-inspiring Wellington Arch. It was built in 1826, but the current dark quadriga(four-horsed chariot) was installed in 1912. King George VI planned it (and the Marble Arch) to commemorate Britain's victories in the Napoleonic Wars.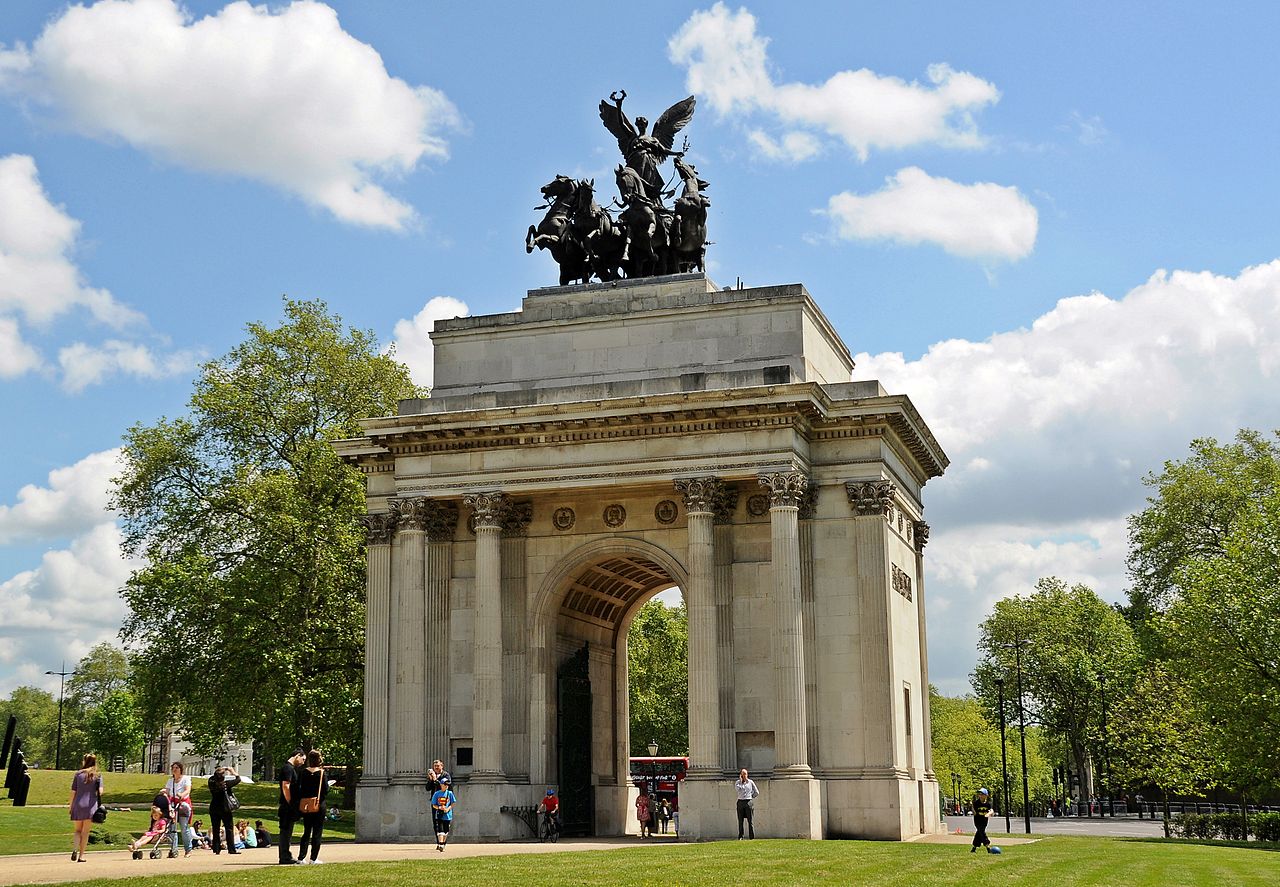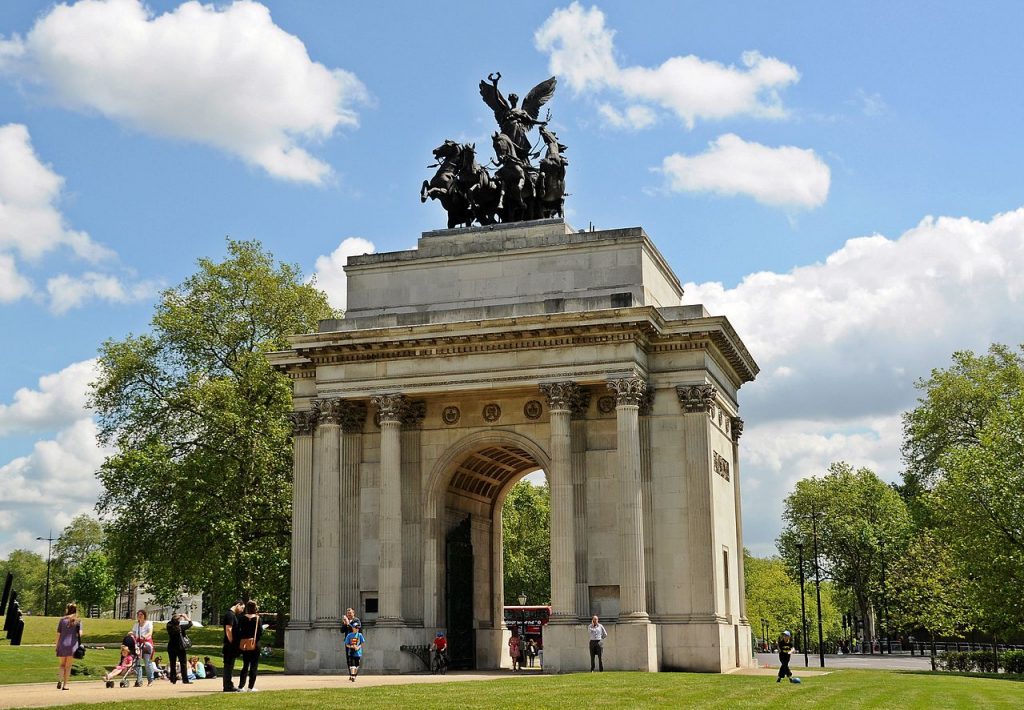 The arch used to be the outer gateway to the road leading from Buckingham Palace called Constitution Hill. It's therefore the grand entrance into central London.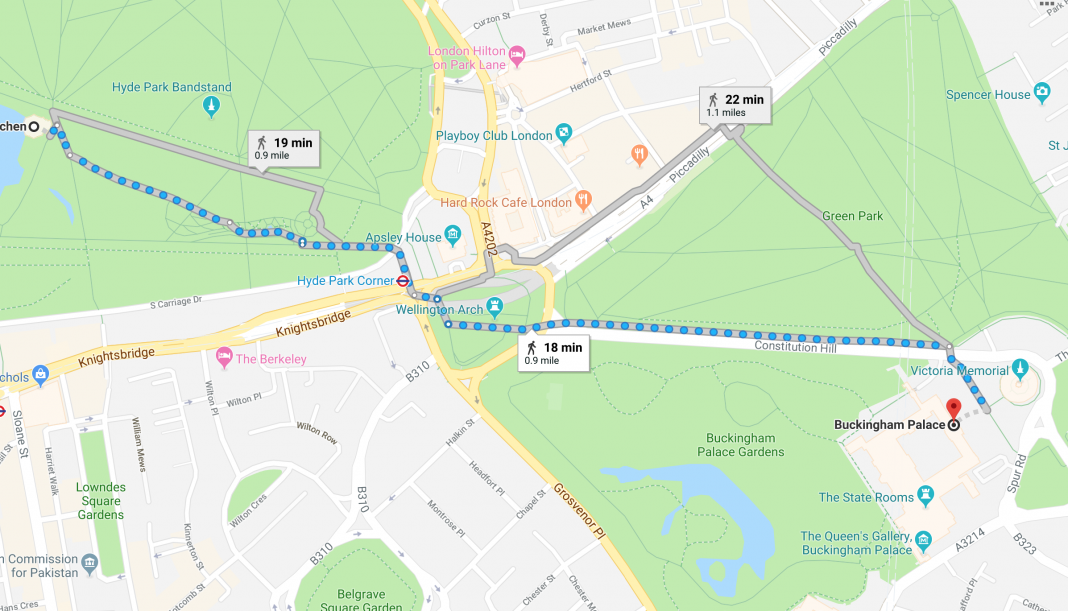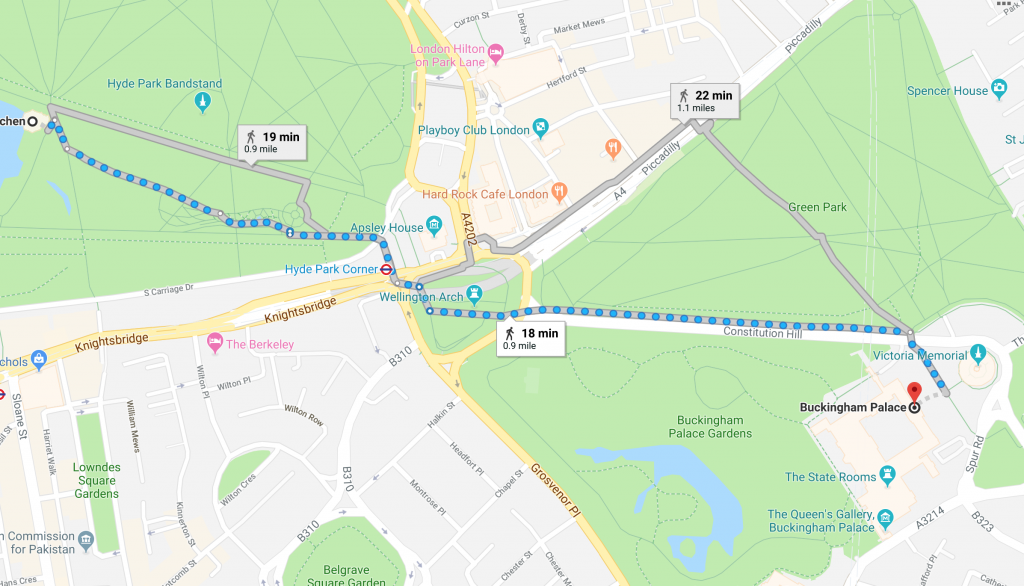 Next was the Commonwealth Memorial Gates. They're monuments to pay tribute to armed forces of Commonwealth countries who served Great Britain during WWI and WWII, including those in the Battle of Malaya.
The main thruway along Constitution Hill was closed. More and more security personnel started to appear. I soon spotted a large signboard which announced the time of the ceremonial firings to be performed by the King's Troops who I ran into earlier. It turned out that the King and Queen of The Netherlands were visiting England at that very moment. I almost slapped myself a few times to believe that I was really here!
BUCKINGHAM PALACE
It got more and more crowded the nearer I got to Buckingham Palace. Thousands were waiting to witness the Changing of Guard. There was no good vantage point, so I proceeded further up The Mall and staked out a position.
Just in time too! I heard a marching band from the Palace and there they were, the Queen's Guards marching proudly by in their iconic red tunics and black bearskin hats.
Tourists may think of them as novelties, but they're actually operational soldiers. Besides that, it's a myth that the guards would not respond to provocations (as some uncouth Chinese tourists found out the hard way).
It's too bad I didn't have more time. I had to leave as soon as the Queen's Guards passed and had to miss the Queen's Life Guard cavalry.
ST. JAMES'S PARK
Google Map showed the fastest route as walking down Birdcage Walk, but St. James's Park proved too beautiful to resist on this beautiful morning. I caught a glimpse of it from the embankment outside the Palace earlier.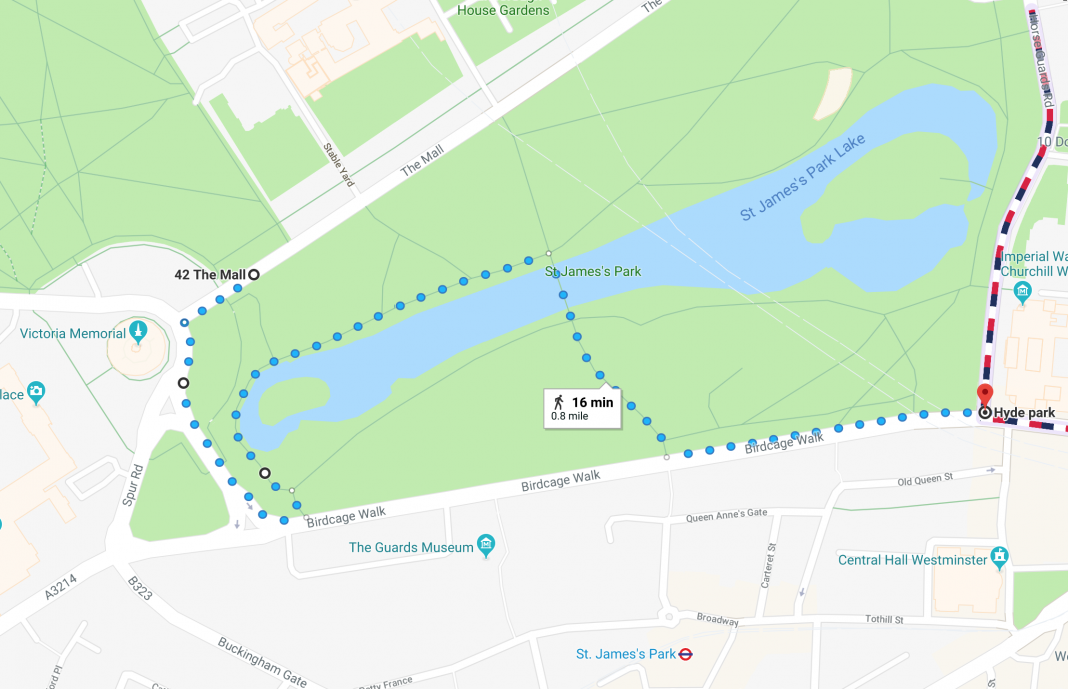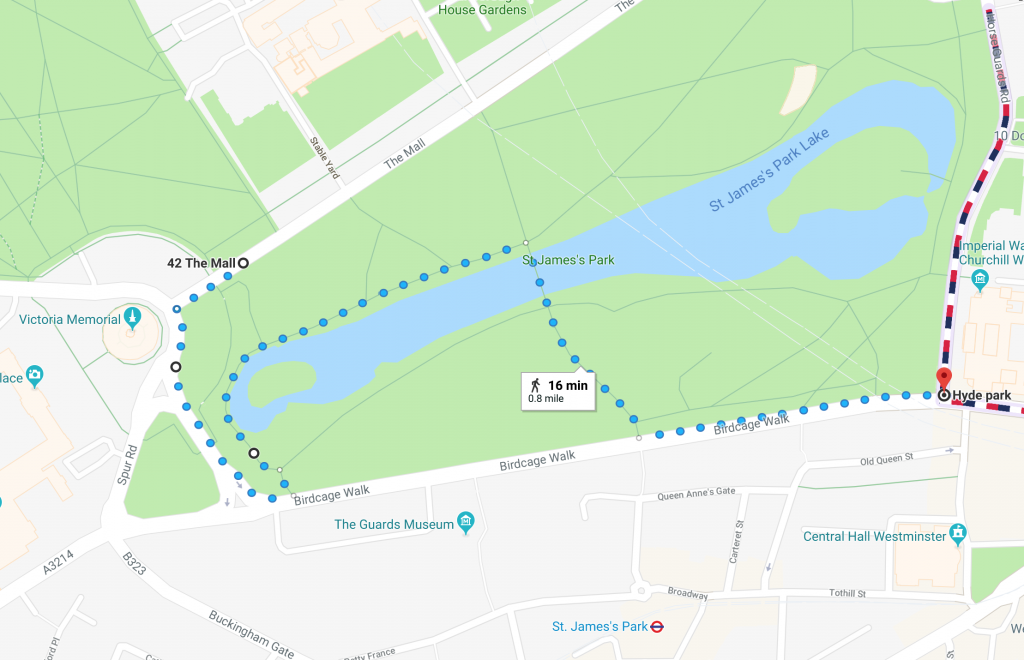 I'm glad I gave in to my heart. Pathways wind romantically through the park, flanking a lake. This 57-acre site was established in 1603 (415 years ago!), although not its present form.
There were birds everywhere, but the pelicans were the most notable. These're the descendants of those presented to King Charles II by a Russian Ambassador in 1664.
I'm starting to love London. It's as if I was breathing in history everywhere I went.
Crossing the Blue Bridge which straddles both sides of the lake afforded a great view of the Horse Guards, HMS Finance Ministry, the London Eye, The Shard to the east and Buckingham Palace to the west. A large island called "Duck Island" on the eastern bank obscured the view to Downing Street where the Prime Minister's official residence is located.
INTERLUDE
We'll stop here for Part 1 as the article is getting too long. Next up are Westminster Abbey, Big Ben, the Houses of Parliament.
Please do check out our coverage of the Triumph Motorcycles Malaysia Visit to London (Day 1) report.
Triumph Motorcycles Malaysia Visits London – Day 1 "Game of Crowns"